Bikanervala, a brand with its footprint in many countries and quite a few cities in North India, Delhi in particular, very recently opened its first outlet in Chennai ! Needless to say, anyone with a vague Delhi connection went beserk on hearing this. Social media handles were on full throttle since the past few weeks. For those who are not aware, Bikanervala is over fifty years old and has transformed itself from just a sweets shop to a globally recognized brand selling Indian sweets and snacks. They have a wide variety of sweets on the menu, they also serve breakfast, quick meals, and an elaborate North-Indian cuisine too. They also have a wide range of savories and sweets under the brand name Bikano. In addition to this, their baked goodies are quite popular too, whether it is the cookies or brownies or just bread.
Pardon my limited exposure, I have only heard about the mention of their name a couple of times when we were discussing something about Haldirams. I've never had an opportunity to try them in India or abroad.
The moment I got to know a big brand like Bikanervala opened in Chennai, decided to check it out. This is something I love to do! 🙂 Made up a plan with another foodie friend and the primary agenda was to try some chaat, a couple of dishes and end with some sweets. It was a very early dinner plan, and we reached the restaurant around 06:45 PM.
The restaurant is located on College Road, a little ahead of K.C. Das. If you are driving through Greams Road, at the very end where there is a signal for you to turn to Egmore, proceed a little ahead (without turning to Egmore) and you will see the place on your Left side. They did have a parking for a 'quite a few' cars, but the demand vs supply was just over the roof. As time progressed the entire road had cars parked on one side.
This was clicked after we finished the dinner. I deliberately under exposed the shot to get the name clearly. It was too prominent to miss.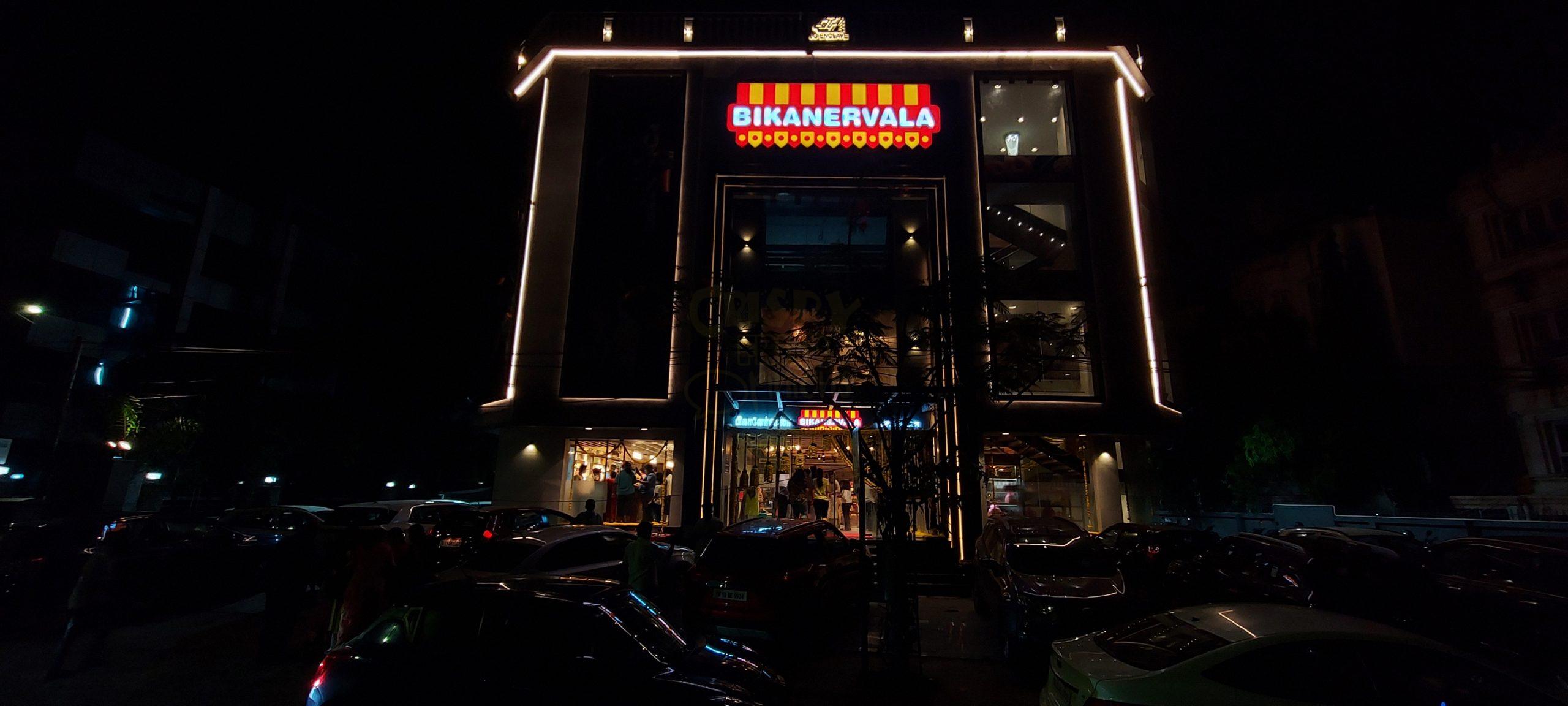 The decorations for the Inauguration still seemed to be on.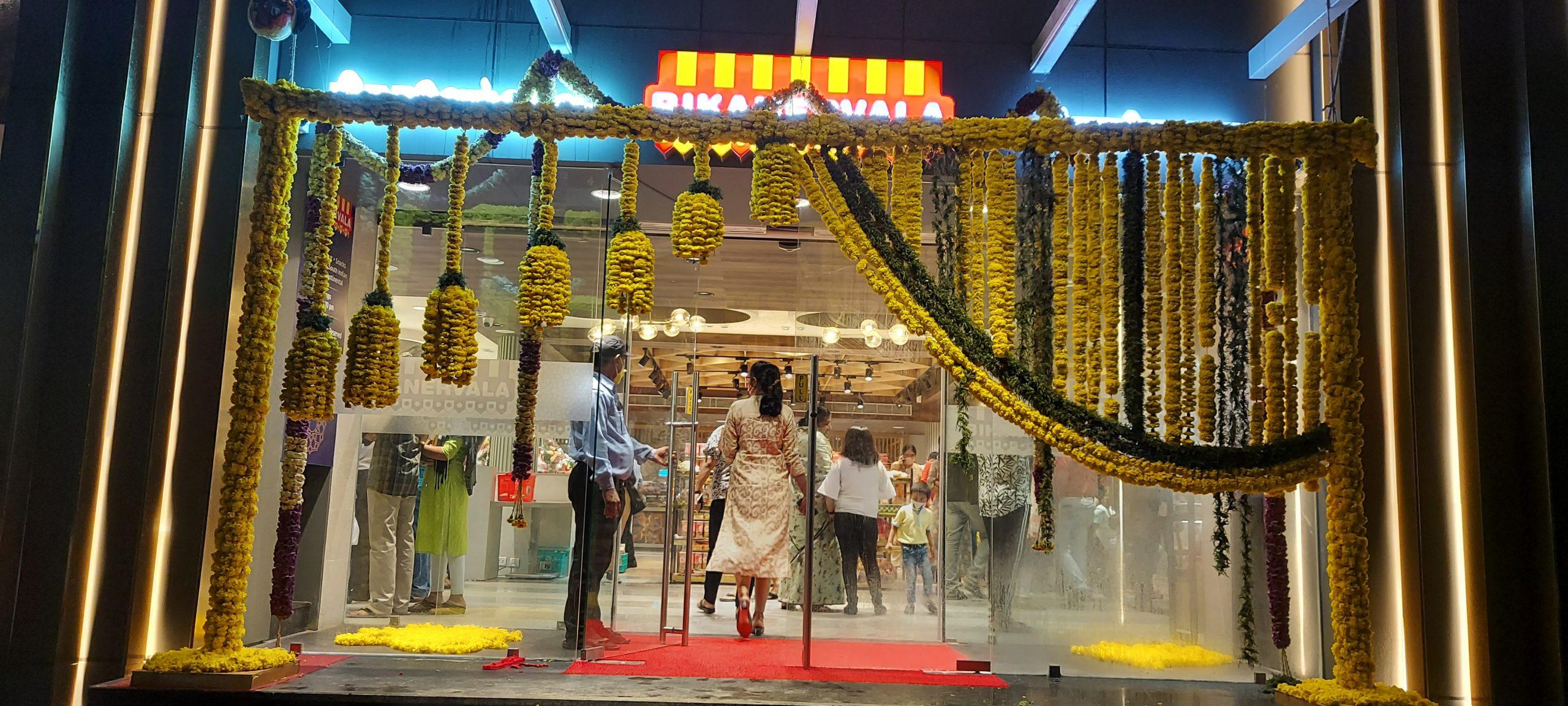 Ground floor had the Sweets, Chaat, Juices and beverages sections. The First floor was a proper restaurant set up. There was some logic explained around this – You can get stuff from ground floor served in the first floor, but the vice versa is not true. 🙂 However, we did see people being served Chole Bhature which is essentially a restaurant Item. So we decided to sit on the ground floor.
Like Eating Circles, this is another place where you pay in advance and place the order. This was not the most convenient set up considering the crowd. We had to go thrice and stand in the queue in between the dinner as we couldn't plan all at once. We were given a Table Number and it was 19.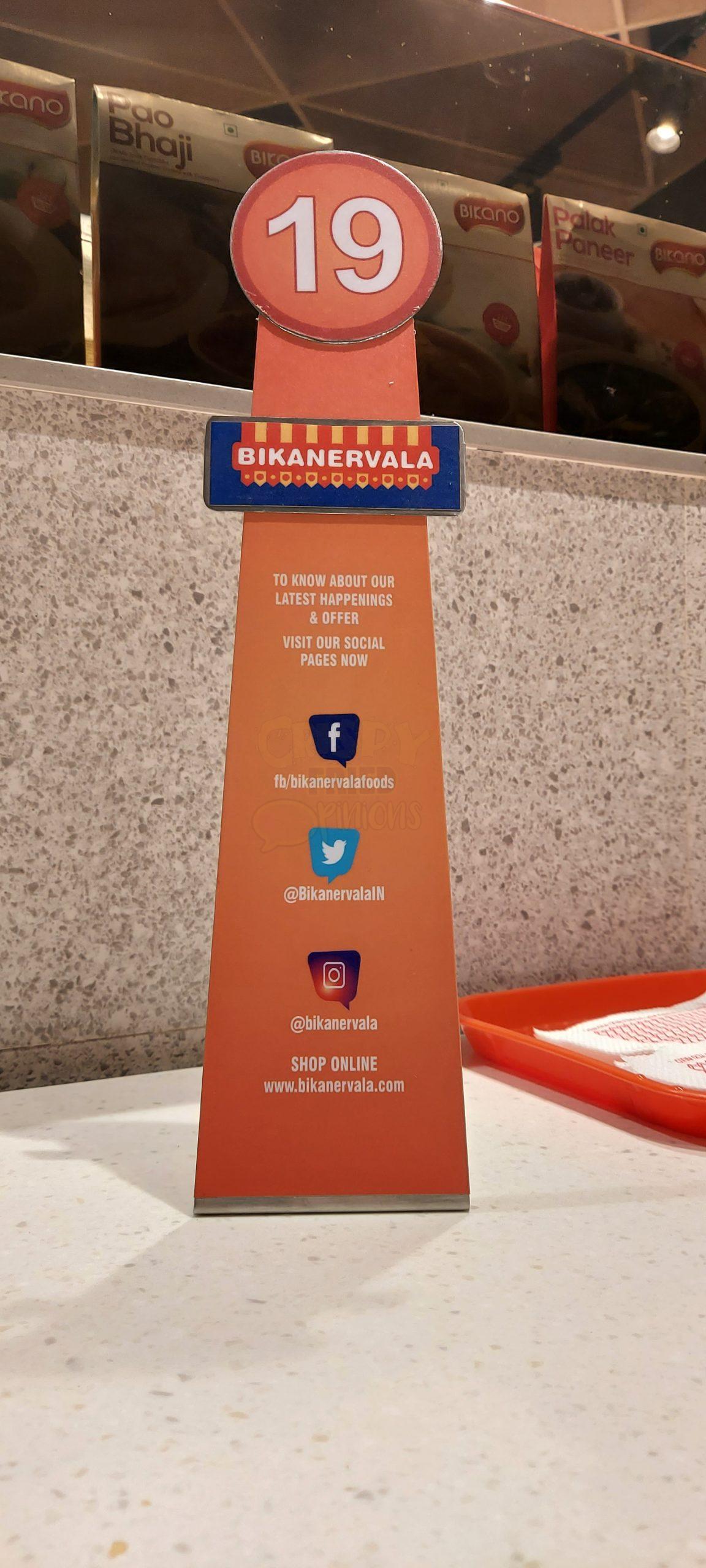 Out of the first set of four dishes we ordered, Papdi Chaat came first. Dahi Papdi Chaat is something I never miss when I have chaat. It was tasty. Fresh Curds, crispy papdi, tasty mint chutney, it was good. We enjoyed this.
Pav Bhaji came next and this was one of the best dishes of the evening. The Buttered and toasted Pav was wonderful. The Bhaji was super tasty and we relished it.
Raj kachori was a dampener. It was very ordinary and didn't live up to the expectation. Neither the filling nor the outer made any significant impression on the palette. It felt like an extension of Dahi Papdi chaat, nothing special.
Aloo Tikki was nowhere to be seen, and finally after a few reminders, it came. One of the two Tikkis was broken/cut and on enquiring, we were assured that it was done before pouring the chutney on it and thats how it was served. This was very tasty, we liked it, but as a quick thought that came to my mind, the Aloo Tikki at Kakada Ramprasad would beat this hands down.
Pyaaz Kachori and Samosa were next to come. Both of them were okayish, very mediocre. Maya Chaats Pyaaz Kachori and the Samosa at Bombay Lassi would be ahead by miles.
Chole Bhature, one of my favorite North Indian dishes was the next to come. It was a very toned down version and lacked the punch I would expect in a typical Chole Masala. The one I had at Sree Gupta Bhavan or the one I made at home was much more flavorsome, I thought. Bhature was good and well made.
Now to the disappointment of the evening – The Tandoori Platter on a sizzler. Perhaps one of the most expensive dishes, and we had to leave more than half of it. Paneer was rubbery and chewy. Tandoori Aloo Bharwa was one of my favorites at Bhangra restaurant that I actually marked it as one of the Best 10 dishes I had in 2019. This one hardly had any flavors, the paneer filling almost making no impression, we let it go. The veg Seekh kebab was perhaps the best of the whole lot. They did say it had Mushrooms, but I didnt see any. This was certainly something we wished we hadn't ordered.
The only good thing about it was we got a complimentary Butter Naan and Dal Makhni with this. Both were very good and we liked it. The Dal Makhni was very well made and flavorsome.
Finally to the sweets – I just had a Rasagulla and friend had a Rasamalai in addition to the Rasagulla. I loved the rasagulla, the sweet syrup was flavored with rose essence I think unlike the plain ones. I liked that.
Finally Desi Chaai in a Kulhad to end the dinner, it was very good.
We were there for a good two hours and the dinner session bordering on gluttony 🙂 Thankfully decided to end it. Wanted to get some parcel home, but the queue at the billing counter got longer and longer and we decided otherwise. During that time, spotted a sweet which was quite expensive, I thought. I don't think I have seen anything as expensive in a normal sweet shop. That's for another time. 🙂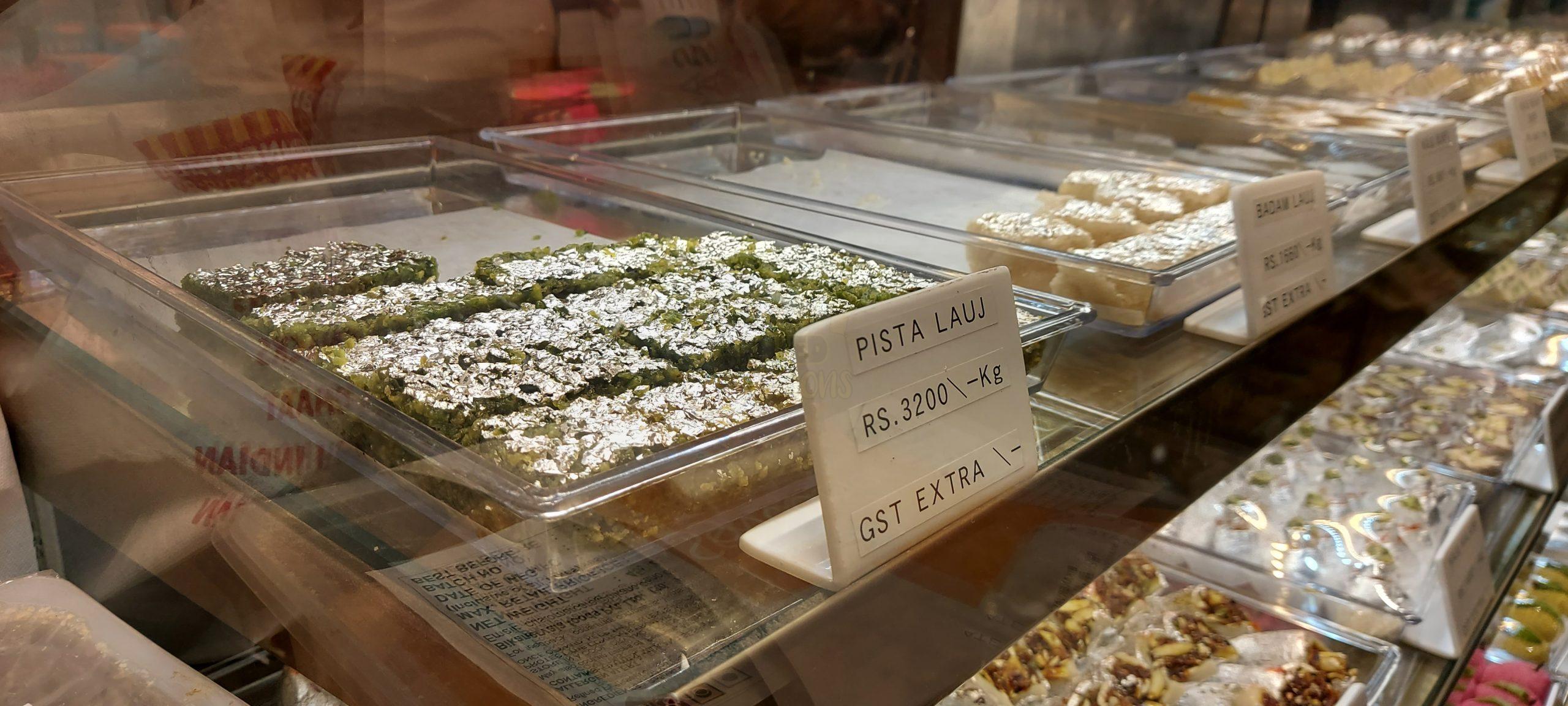 New place, new setup, I can totally understand the teething issues and I'm not even complaining on service-related stuff. In fact, a couple of them asked me more than once if we were got all that we ordered and helped us with the order. It is just a matter of time before things settle down and coordination improves.
Coming to the food, quite a few dishes were sub-par. Coming from a brand so popular, they hardly made that kind of an impression. I have certain friends who vouch for food at Bikanervala, Delhi. Hope they get that standard here too. Paneer in Chennai restaurants has only become better and better over the years and I couldn't accept that Bikanervala couldn't get that rite. Quite a few dishes weren't available – Paneer Pakora, Bread Pakora, Dhokla were all not available. Would be good to get that sorted too.
Frankly I was not wow'ed by their food this time, but I will certainly be open to trying them out again after they settle down.
We paid about 1.2K in all, running three times to the counter in between dinner. Perhaps this hassle could have been avoided had we gone to the first floor. Overall, a just-above-average outing today!