Kaylir Canteen is a name that has been recently popping up all over social media. A couple of posts and discussions about this place on a food group on Facebook made me visit this place sooner than I thought I would.
This place is located in CIT colony in Alwarpet, roughly in a street diagonally Opposite to Isabel Hospital, if that will help to locate it better. The graffiti and art on the entire building was eye-catchy. The valet parking was helpful.
They had both al fresco and indoor seating, we preferred the former and it was quite lovely looks wise.
As I had mentioned, after going through the discussions on the food group, I had gotten past all ambiguity regarding ordering food, self service and disposing off plates. So I was quite informed and prepared for all these. These additional instruction boards helped too.
It was a pay in advance model, and we were handed out a small menu which wasn't very elaborate. Fair enough, I thought. If they are able to do justice to what they have listed on the menu, that would be great! Quickly ordered 1 Plate of Idli, 1 Pongal, 2 Medhu vadais, 1 Ghee Podi Onion Dosa, 2 Filter Coffees and paid 290 bucks through GPay.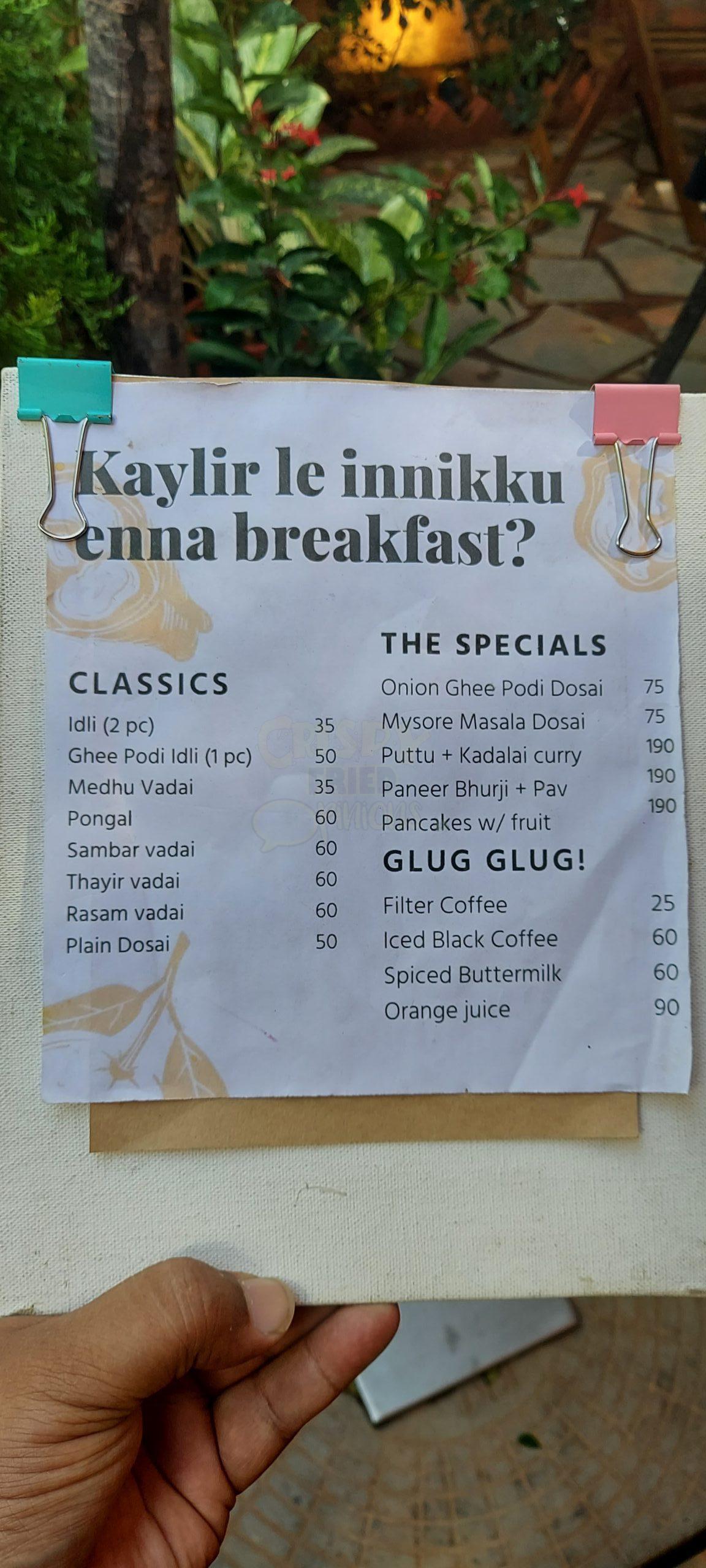 Clear directions were given to us as we entered, so pretty much knew what to expect. Picked up a couple of glasses/Tumblers, a bottle of water, and spoons from the counter.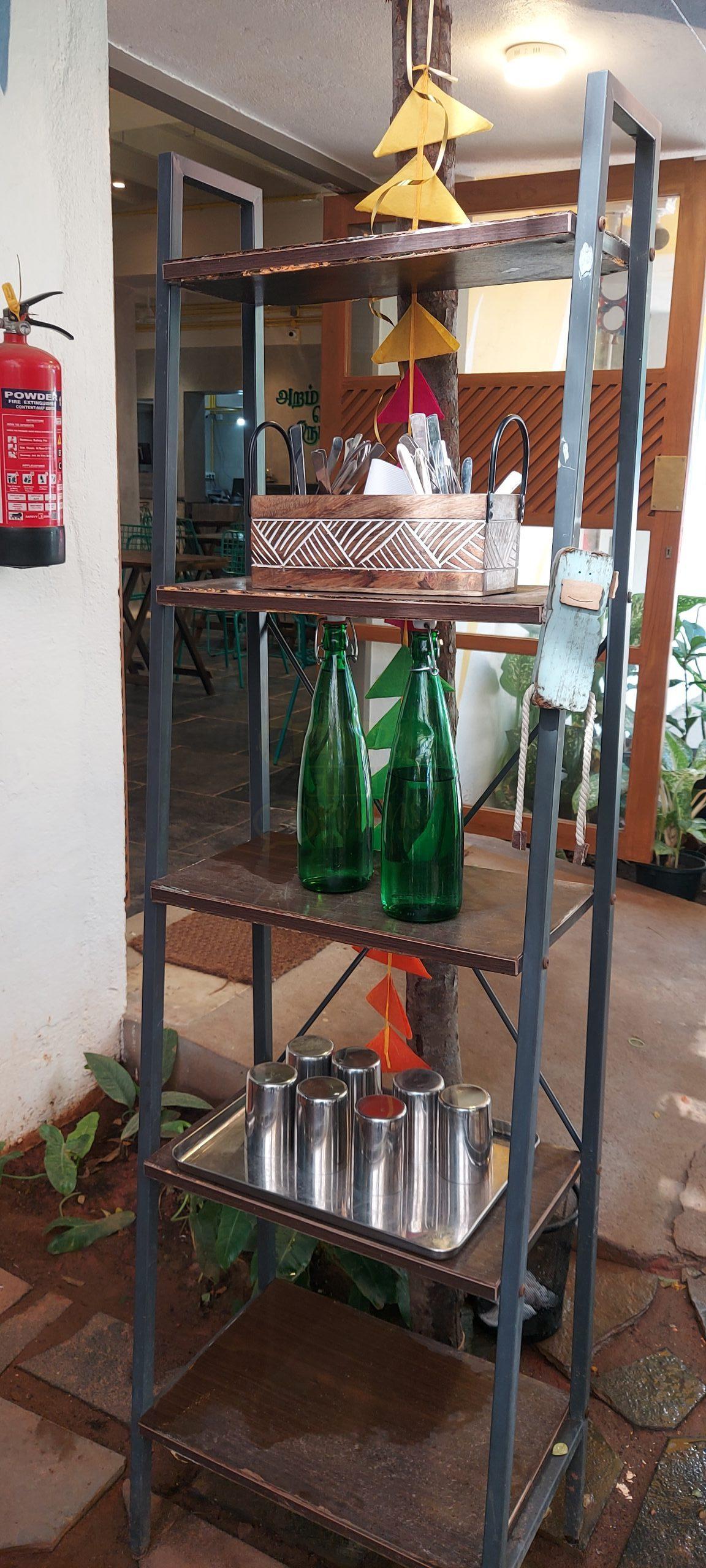 In some time, a lady at the counter called out my name and I collected Pongal and Idli while the Vadais were getting ready. Pongal was absolutely wonderful! Pretty much one of my usual orders for breakfast, this one had everything right! Chutneys were super fresh and tasty. Sambhar very homely and tasty too. Idlis were pretty good too.
Another trip for the Medhu Vadais. The vadais were wonderful, soft and fluffy and most importantly well-cooked on the inside and crisp on the outside. Loved it.
Once more to the counter for Ghee Podi Onion Dosai. Again, a nice aroma of Ghee on the first mouthful, Podi and onion did total justice to this. Size was small, not the usual restaurant dosa size, more like the Bengaluru Darshini dose size.
Finally, had to get up one more time for the Coffees. Good coffee, nothing worth complaining!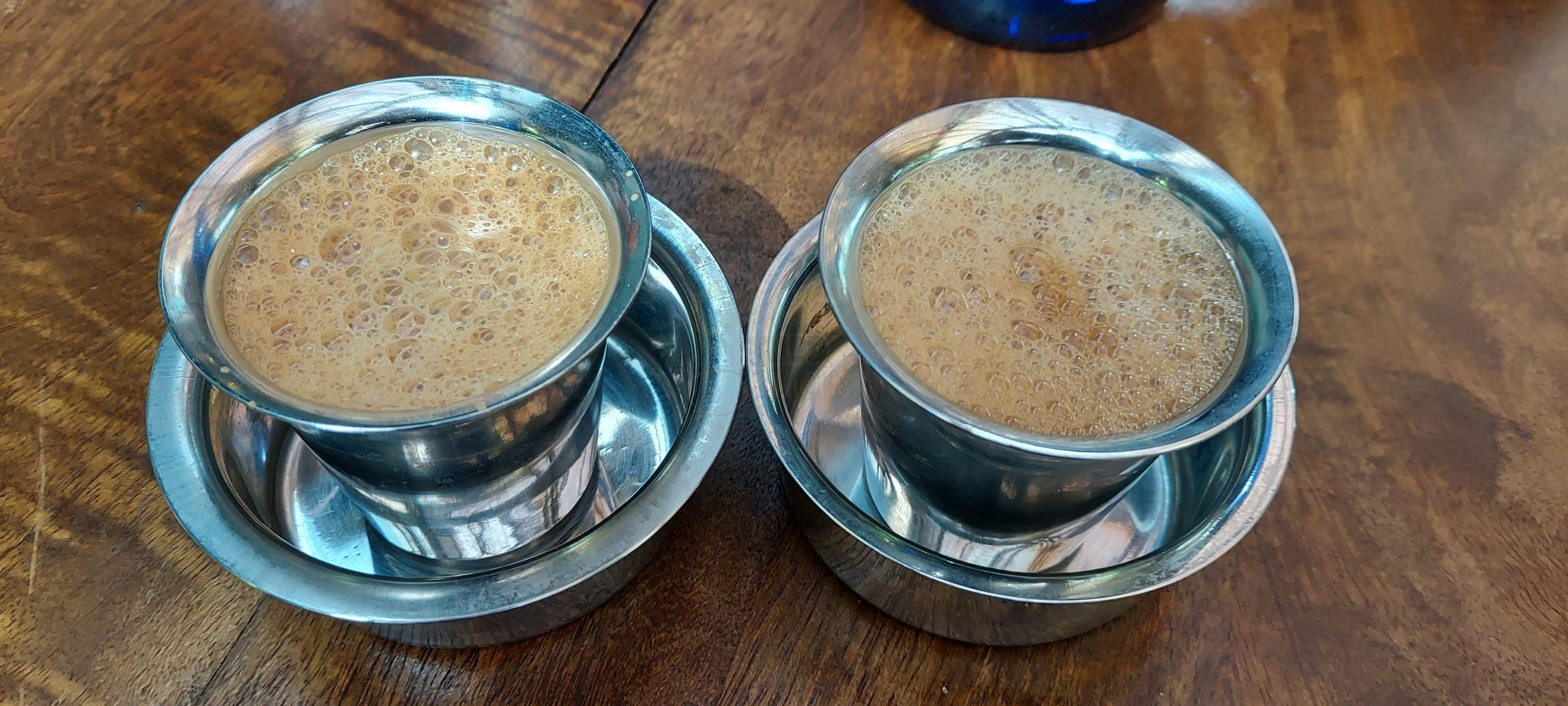 Overall, not a slightest complaint with the food we ate!
Now coming to the other aspects –
If you have any expectation of being pampered with service, it clearly isn't going to be so. Four trips to the counter to pick up my food, and that's definitely not the most convenient thing at a restaurant, I agree, but since the establishment calls themselves as a 'self-service' model, it is perfectly understandable and I don't have any complaints with that.
Al Fresco dining in Chennai isn't very comfortable except for the 2-3 months from December to February. This is my humble opinion, and others may not agree. It wasn't very comfortable until they switched on a fan after a while. I should have opted to sit inside which may have been better. The lovely ambience pulled me to sit outdoors, so this is definitely not a complaint too.
The ordering and service model worked quite okay today when there was very limited crowd, but is sure to get chaotic on weekends, when the place gets super busy! The lady at the counter kept shouting quite a few names who did not show up, and the plates of Pongal and Dosai were waiting at the counter for quite some time. Imagine a packed house, quite noisy, the people are hardly going to hear the name being called. It is high time they adopted a restaurant pager system which would make the serving efficient, and the experience, a lot better.
There could be a prominent board 'Please leave your plates here' exactly where the plates need to be dropped. I knew it was somewhere there, but had to ask to be sure. Also the waste disposal and the plates disposal needs a bit of an effort. Probably someone at that counter to help or assist old people would be good. Only wishful thinking. Since I do that pretty much at my workplace, it came to me quite naturally ! 🙂
I would have certainly passed on this feedback had I spotted the owners there. I did ask if they were around, to which the reply was negative.
Overall, a nice place serving good food at reasonable prices. I would definitely like to try their 'homely' meals which seems to be quite popular too.