This is a mixed post with information on stay and food. Hotel Mayura Sudarshan is a KSTDC property in Ooty. We made a hassle-free booking through MakeMyTrip for two families for two nights. We booked two premium rooms each, very comfortable stay.
Initially when we got to know it was a Govt. maintained property, had some second thoughts, but after reading a few reviews, we decided to give it a try. It was definitely a wonderful place which I'd recommend without a slightest hesitation.
We reached around 5PM and check-in was super easy, we were escorted to our rooms immediately. The rooms were basic, but clean and neat. Typically old school fittings, locks, etc, but nothing to complain at all.
We decided to have some coffee and tea and stroll around the property before it got dark, and it was just beautiful! The property overlooks and is adjoining a huge Horticulture garden spread about 44 acres which is also maintained by KSTDC. Entry to the garden is free for guests staying at the property, while outsiders have to purchase a ticket for entry. Coffee was okayish and Tea was good. So changed to Tea during the rest of the trip. 🙂
Finally, after relaxing a bit, we decided to have dinner at the nice little restaurant within the premises. It looked beautiful and the service was quite personal and attentive.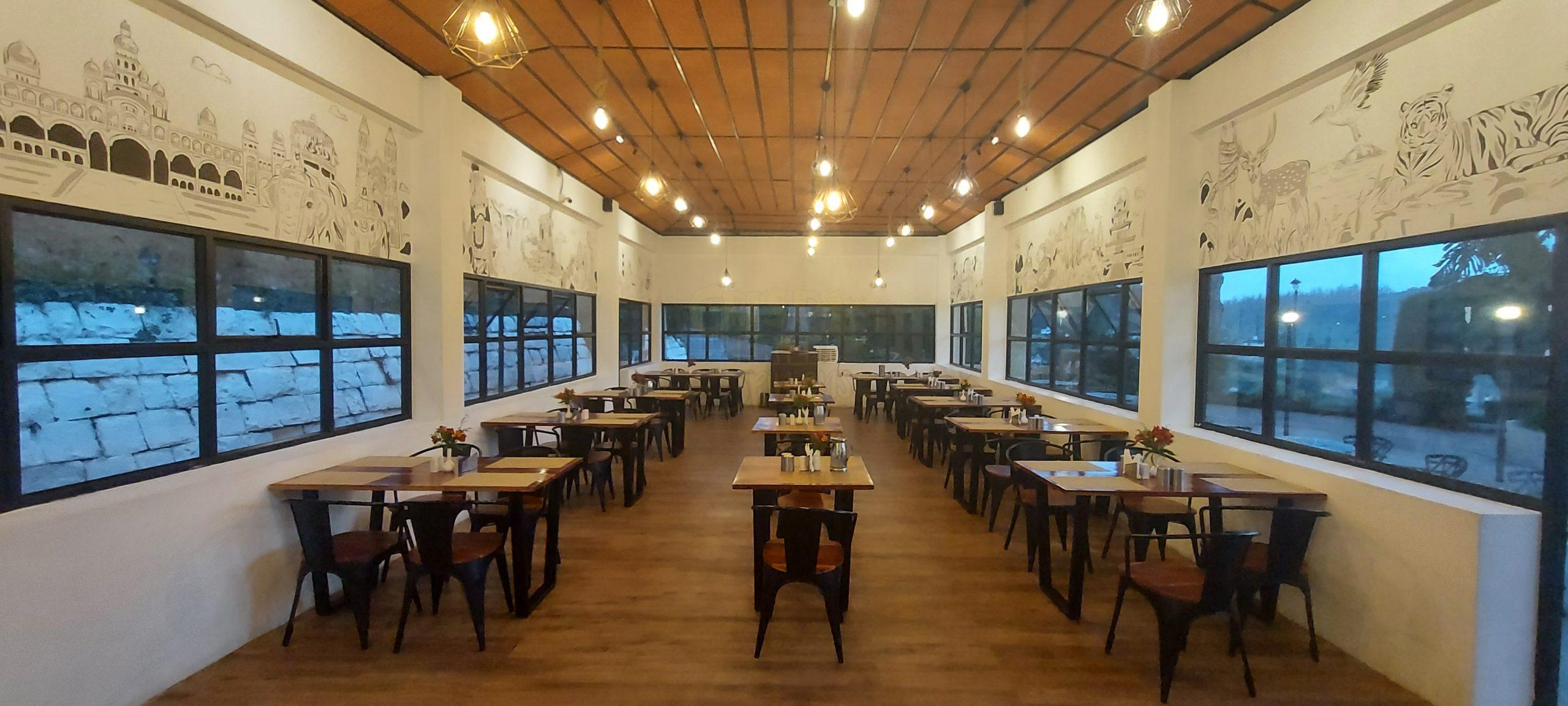 We ordered Manchow Soup, Onion Pakora, French Fries and egg Omelettes to start with, and Chappathis and Aloo Paratha with Dal Fry, Paneer Butter Masala and Kadai Vegetable. Food was tasty, and only the Paneer Butter Masala was a little thinner than expected, but it got better during the next day dinner. The weather was super pleasant at 11 or 12 degrees Celsius and the hot soup and starters was super comforting! Everything was served hot, including hot drinking water. We had a very nice time!
Breakfast was complimentary, and Sunday breakfast was a tad special. 🙂 Egg omelette on the menu. There was Idli, Dosa, Semiya Bath, Pongal. Again, food was good, nothing worth complaining. Accompaniments were tasty too. While kids had some bread toast with Butter and Jam, some cornflakes, I stuck to South-Indian. Pongal was super yummy and different, runny in consistency and more like dal khichdi. Semiya Bath was good and chutneys were tasty.
The day was quite elaborate with a lot of sight seeing, to the Botanical Gardens, Rose Garden, Boating in Pykara and my Wedding Anniversary lunch at Ascot Restaurant, in Club Mahindra Derby Green Resort. After a visit to the Benchmark Tea Factory, we returned to our rooms quite exhausted.
After some rest, we went back to the same place for dinner. This time, not as elaborate as the previous evening. We decided to keep it light. Almost a repeat of the previous evening's main course – Chappathis, Aloo Paratha, Kadai Veg and Paneer Butter Masala and Curds. This time Paneer Butter Masala was awesome! Again, a good dinner!
Next morning, before check-out, we had another complimentary breakfast at the property. This time no eggs, but there was medhu vada. Idlis, coconut Rice, Crispy Dosa, and Pongal. Medhu Vada was super crispy and nice. Idlis were good with two chuttneys, Crispy Dosa was good with the potato masala and Pongal came late, but was good. Finished with a tea.
With that we finished a wonderful stay at the property. Throughout the stay, we didn't have anything to complain. Service was good. KSTDC has set really good standards for a Govt Property. The last time I stayed in a Govt Property was the TTDC Resort on ECR. We did have a good time there too. Looks like Govt properties are getting better and better.
My last stay in Ooty was at The Irinjalakuda House aka IJK House. We did check out some restaurants back then. Earl's Secret in The Kings Cliff and Shinkows were some popular places I checked out back then.