Litti Chokha is not one of those dishes that is easily available in North-Indian restaurants in Chennai. The moment I saw the flyer from Mr. Papdi in Velachery in Chennai Food Guide, I had already made up my mind that I'll be one of the first ones to try ! 😉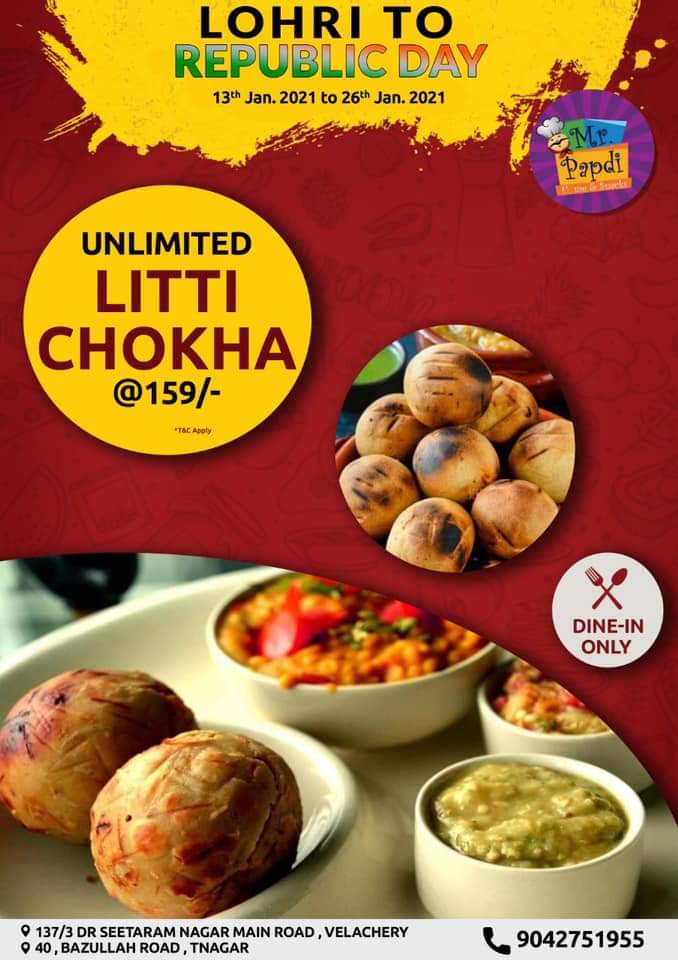 A little titbit on what Litti Chokha is – Litti Chokha has its origins from the state of Bihar. I've read that it is popular also in Jharkhand and Eastern Uttar Pradesh. Litti is a stuffed whole wheat dough ball, and Chokha is a mashed relish that is served with Litti. The stuffing that goes into the Litti is Sattu which is basically roasted gram flour with a mix of spices. Litti is typically roasted on hot charcoal or dried cow dung fire. It can also be roasted on coal grill, tandoor, tawa or baked in an oven, sometimes deep-fried too.
Unfortunately, I haven't tasted authentic Litti Chokha from these places in North India and do not have a valid comparison to make. However, I did enquire if the Litti was roasted on hot charcoal to which the owner of the restaurant replied in the affirmative. I told her that I was there to try the unlimited Litti Chokha offer and soon was served with a plate of 3 Littis with two types of Chokha.
Chokha is generally made with Tomato, or Potato or Baingan (Eggplant) or in a combination of two or three of these. Here there served it separately as Tamaatar Chokha and Aloo Chokha.
The form factor of Litti was slightly different, it was slightly flattened and not round. That prompted me to ask them again it was roasted on coal, as I couldn't clearly make that out. Anyways, will go by what they said – "Yes"! The Littis must have been dunked in ghee after roasting as they were served dripping ghee and it was yummy ! I loved it, totally! The first mouthful of litti and tamaatar chokha definitely felt like far away from our flavors. I would have liked the Aloo chokha slightly spicy, it was good though.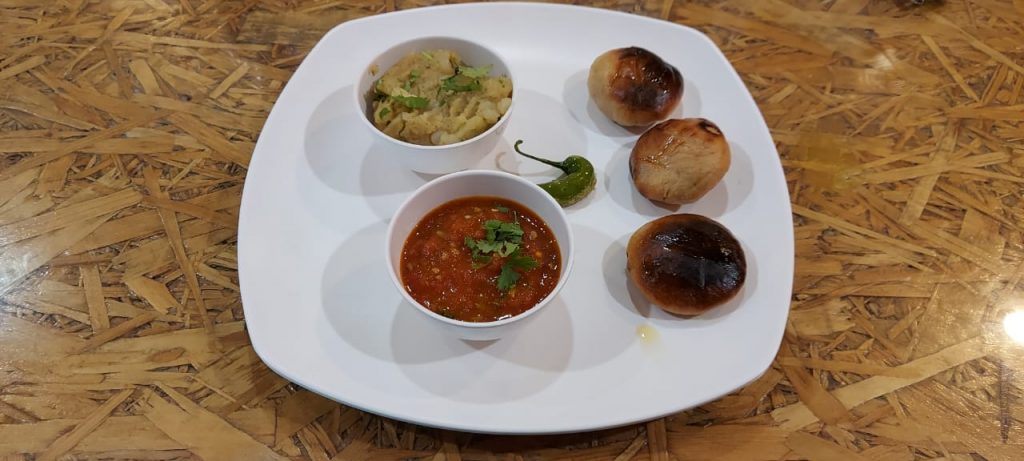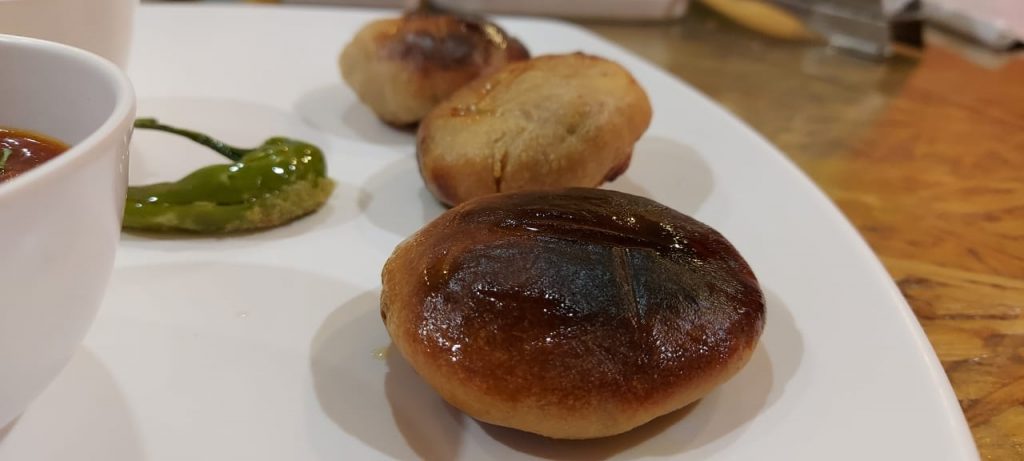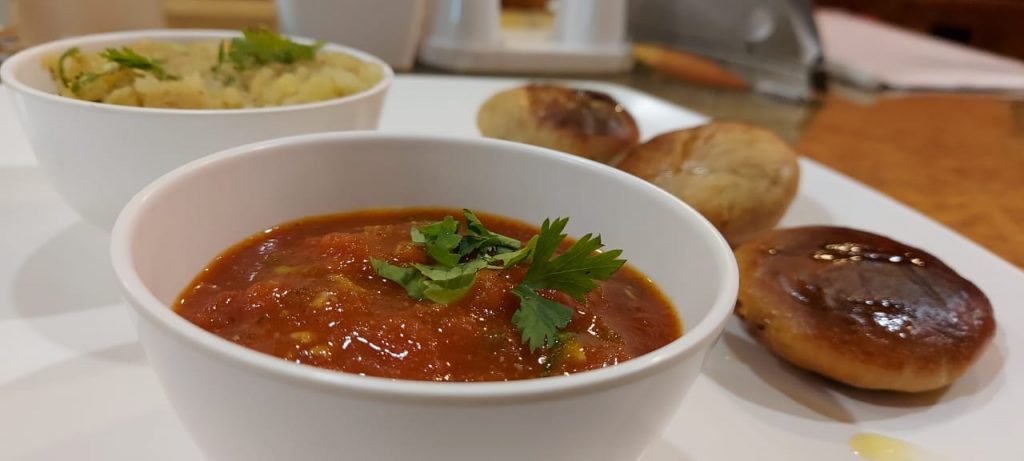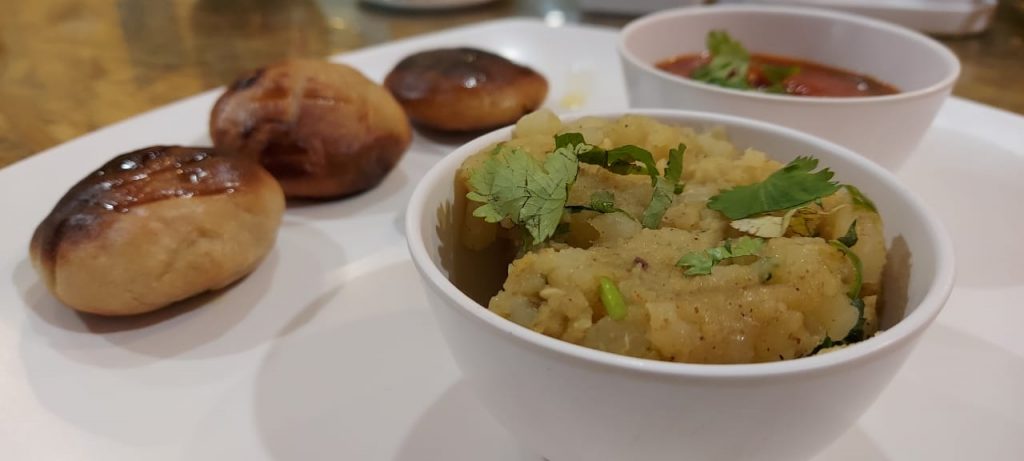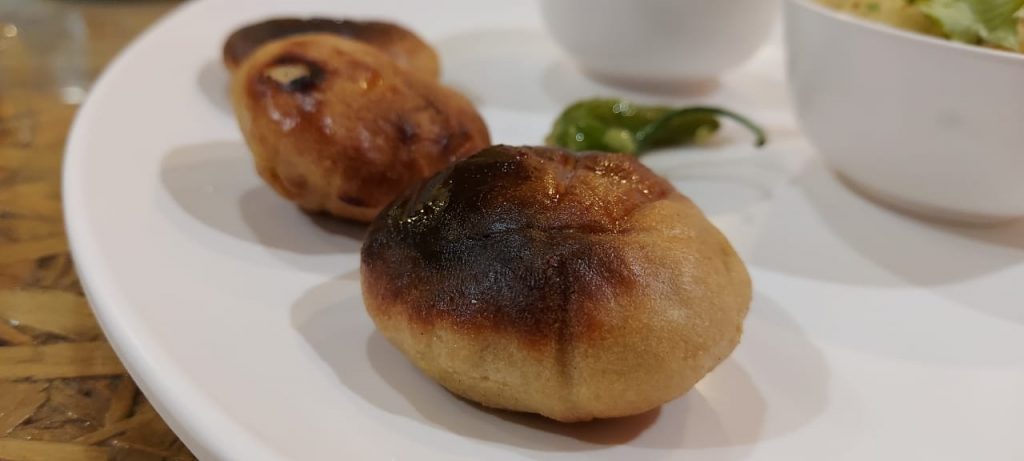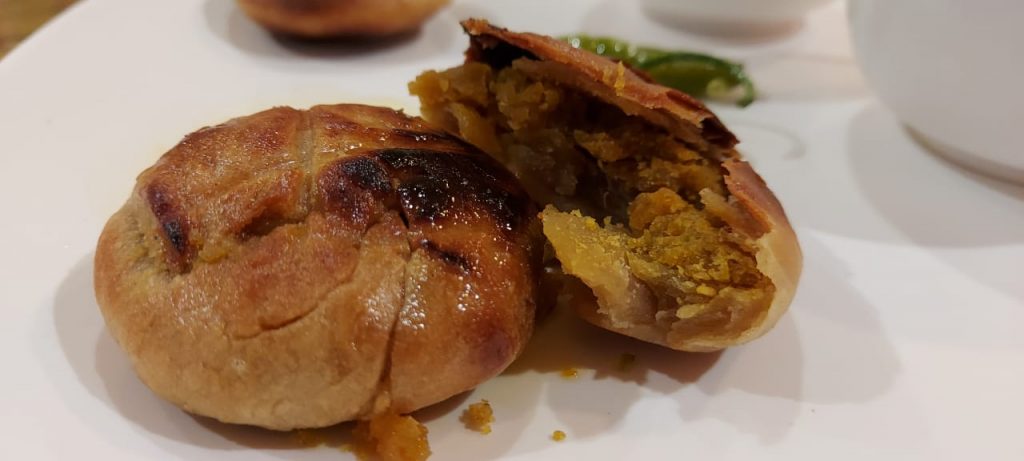 Meanwhile the owner told me they also have Baingal (Eggplant) Chokha, but that wasn't a part of the unlimited litti chokha. I was totally okay with that and was glad she informed me that. I was served a cup of Baingan Chokha. It tasted good but I was expecting a more obvious smoked smell as in Baingan Barta. It was very subtle, or almost negligible. I had three Littis initially, then two more and then two more. That's it, couldn't eat anymore. 🙂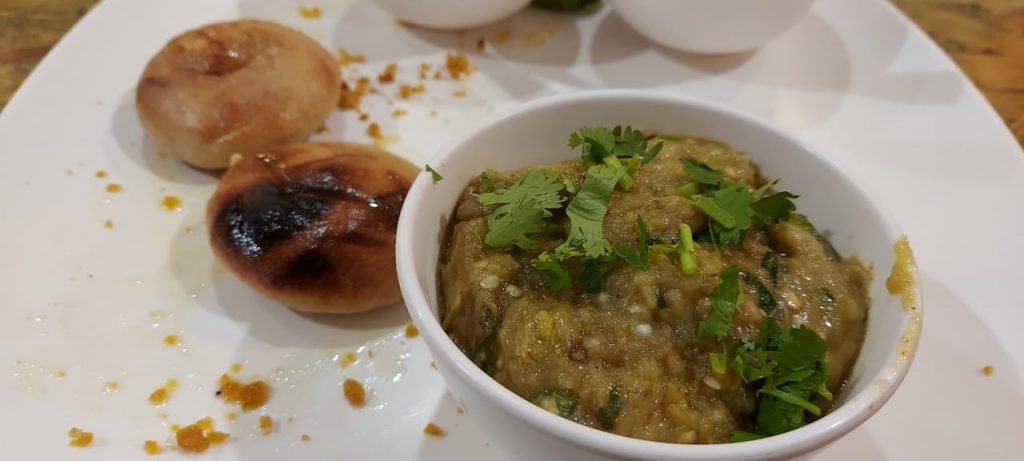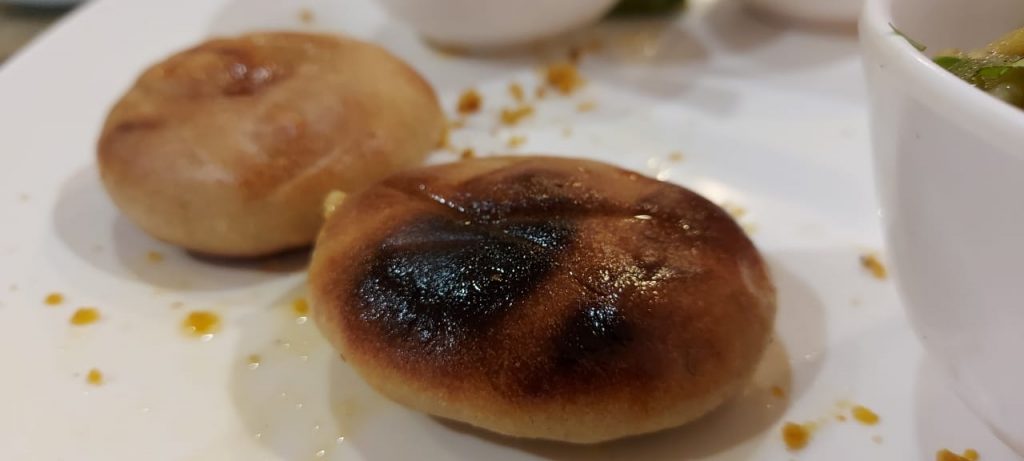 Ordered a Rajasthani Thandai, it was yummy!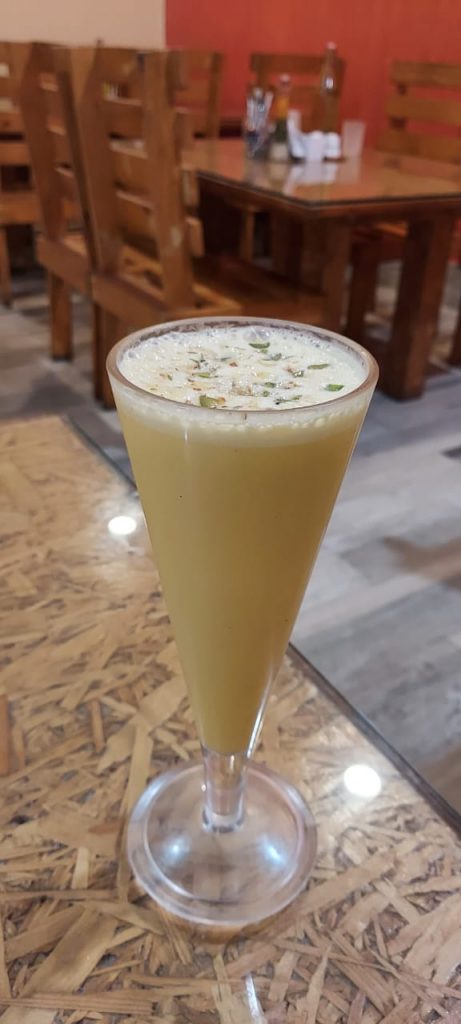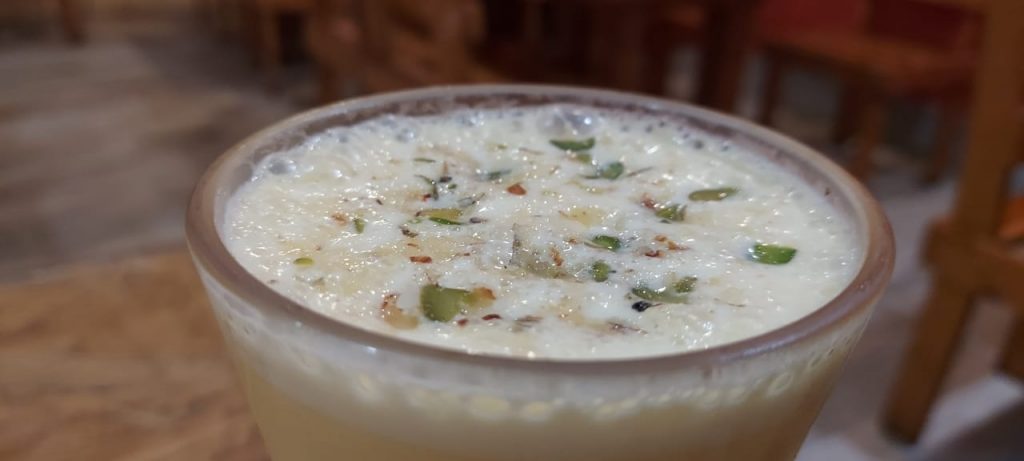 This is my first visit to this restaurant. It is a basic place, not fine or upscale dining. They seemed to have an elaborate chaat, dinner, and dessert menu. I'll definitely come back to check a few more dishes out!
There's also a live counter at the entrance on the road serving puchkas, jalebis and a few other dishes.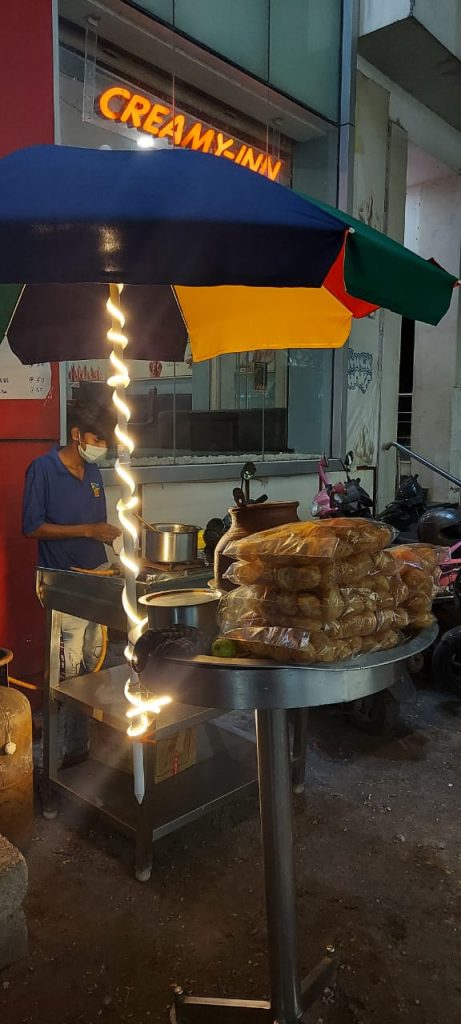 I paid 344 bucks in all, for the unlimited Litti Chokha, the extra Baingan Chokha and Rajasthani Thandai. I definitely liked the experience.
If you're someone who loves North-Indian flavors, I'm sure you'll like this too. I know a few friends who're particular about not choosing a North-Indian restaurant for food. This is certainly not for people like them 🙂