Kaldan Samudhra Palace, one of the most luxurious properties on ECR, a grandeur truly worth an experience! Well, I didn't stay in the property as yet, but a cousin hosted us for a dinner. Needless to say, enjoyed every moment of being there!
The architecture and lighting is a sight to behold! Right from the entrance, the property looks magnificent! The swimming pool is just awesome with all the lighting. Clicked a few pictures of the property before settling down for dinner. We were told that many facilities are yet to open, perhaps in a month from now.
The restaurant is operational and had a buffet for dinner. We were 6 pax in all, perhaps the earliest ones for dinner at around 07:15PM. Since we were the only ones in the restaurant, decided to take a tour of the buffet counters, check the dishes and then get back to the seats. It was quite an elaborate spread overall!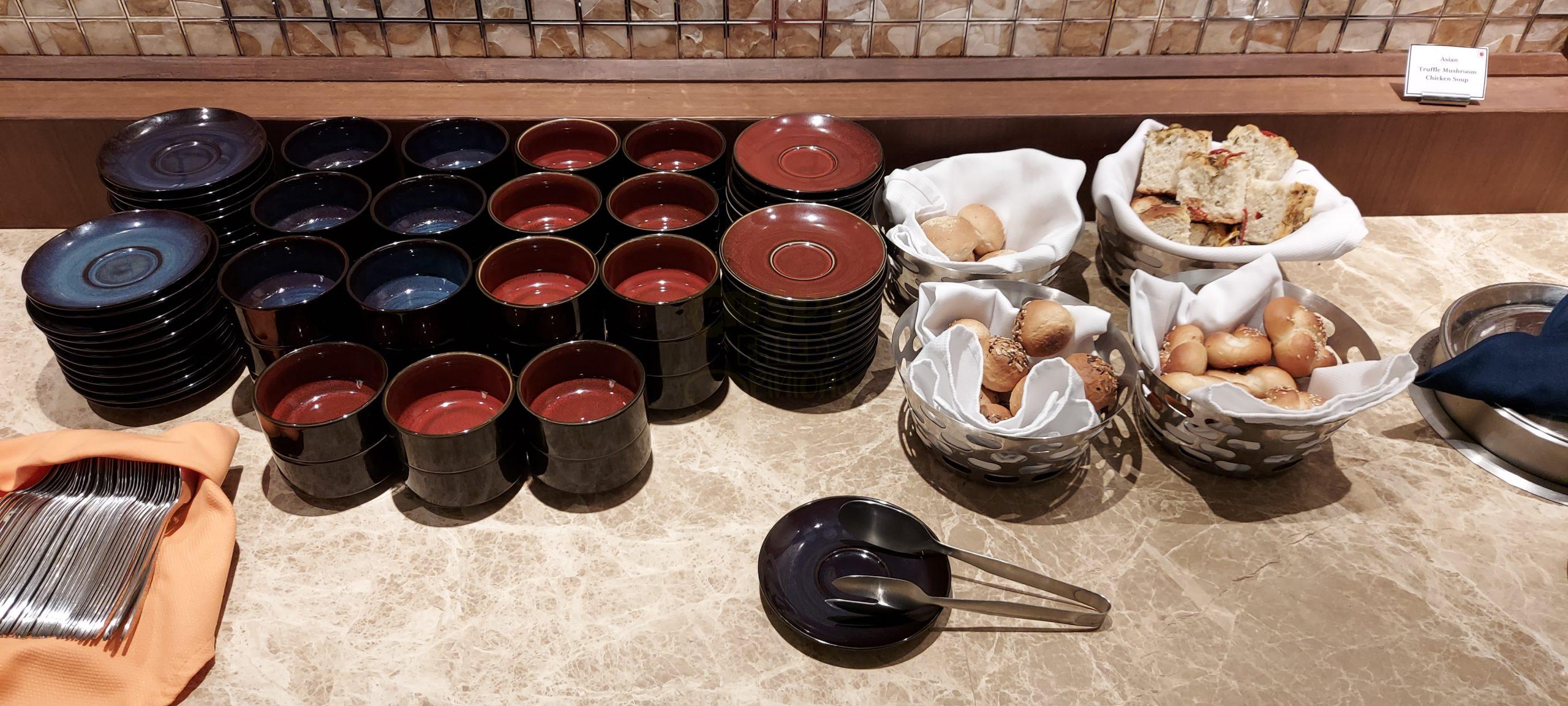 An elaborate salad Bar
Cheese Platter 🧀 – Reminded me of my struggle with Cheese in Norway ! 🙂
Starters and Main Course
Desserts
Curd Rice and Pickle 🙂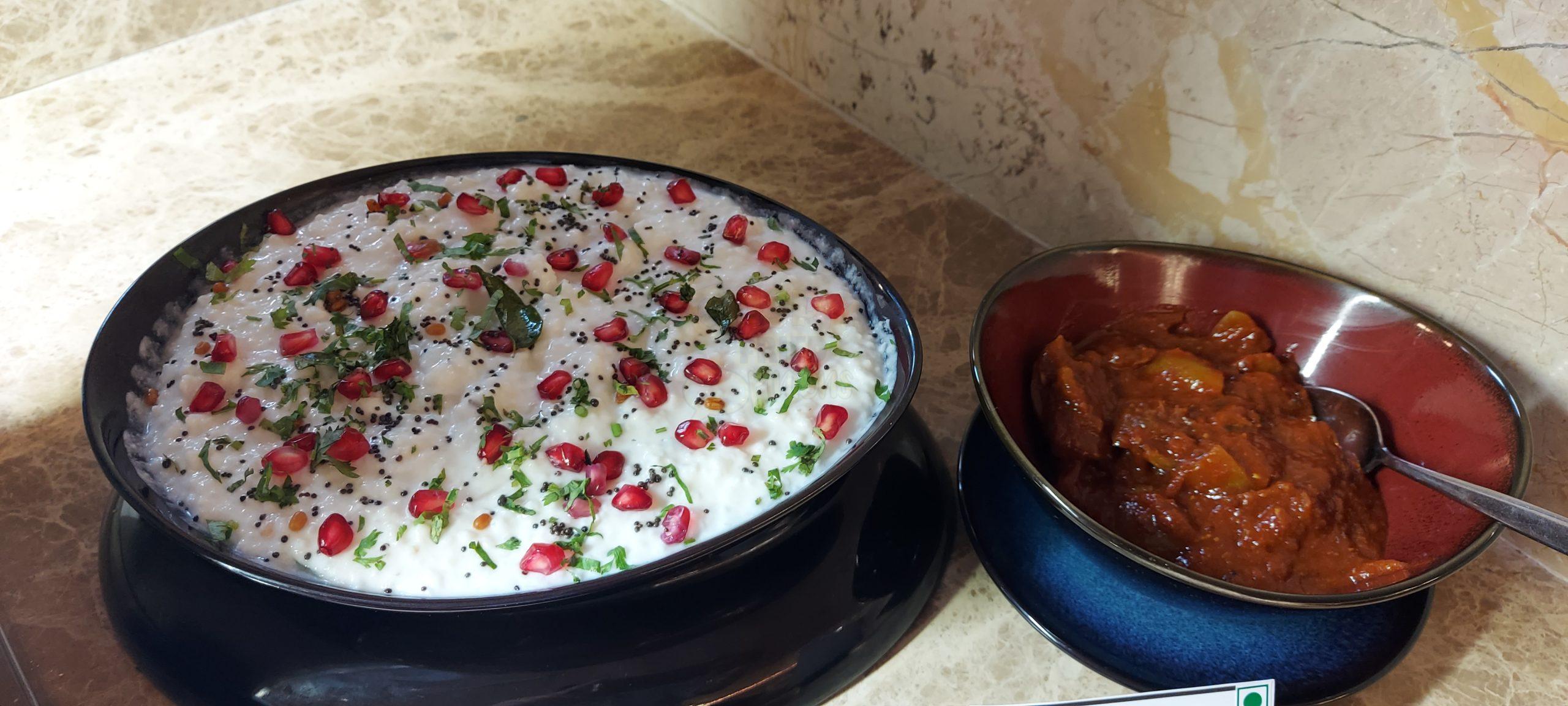 Not easy to click food pics in a buffet, but I have tried my best to take you through what I had !
We started with Truffle Mushroom Chicken Soup, served on the table. It was a clear soup, very flavorsome and tasted good. The chicken piece in it wasn't great, let it go. I have encountered this issue in many places when you order a chicken clear soup. Still unsure of what causes this! Not properly thawed, perhaps!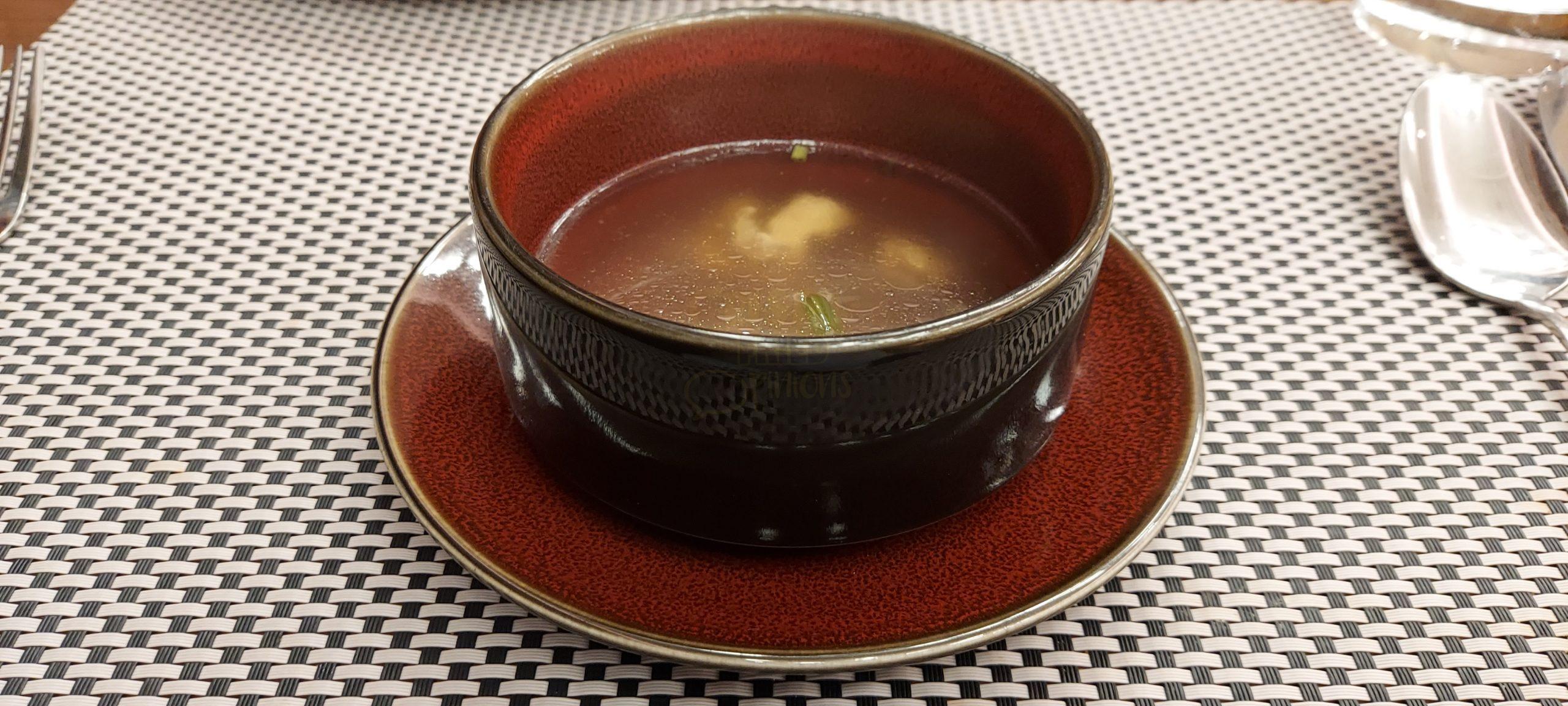 I came back with a loaded plate of starters – Punjabi Murgh Tikka, Chermoula marinated Roast Chicken, Hariyali Paneer Tikka, Cheese Arancini, Kaikari Kuchi, and American Jacket Potato. Chicken Tikka was wonderful! Soft and succulent and the mint chutney for accompaniment was good. Roast Chicken was good too, Chermoula is new for me, didn't quite catch the African flavor. Haryali Paneer could have been softer. It was perhaps because it was on the hotplate for too long. Kaikari kuchi was more like a vegetable cutlet lollipop, loved it! Had quite a few of them. Cheese Arancini was good, and so was the American Jacket Potato. Came back with another round of starters.
Meanwhile Watermelon and Orange juice was served on the table. It was fresh and good!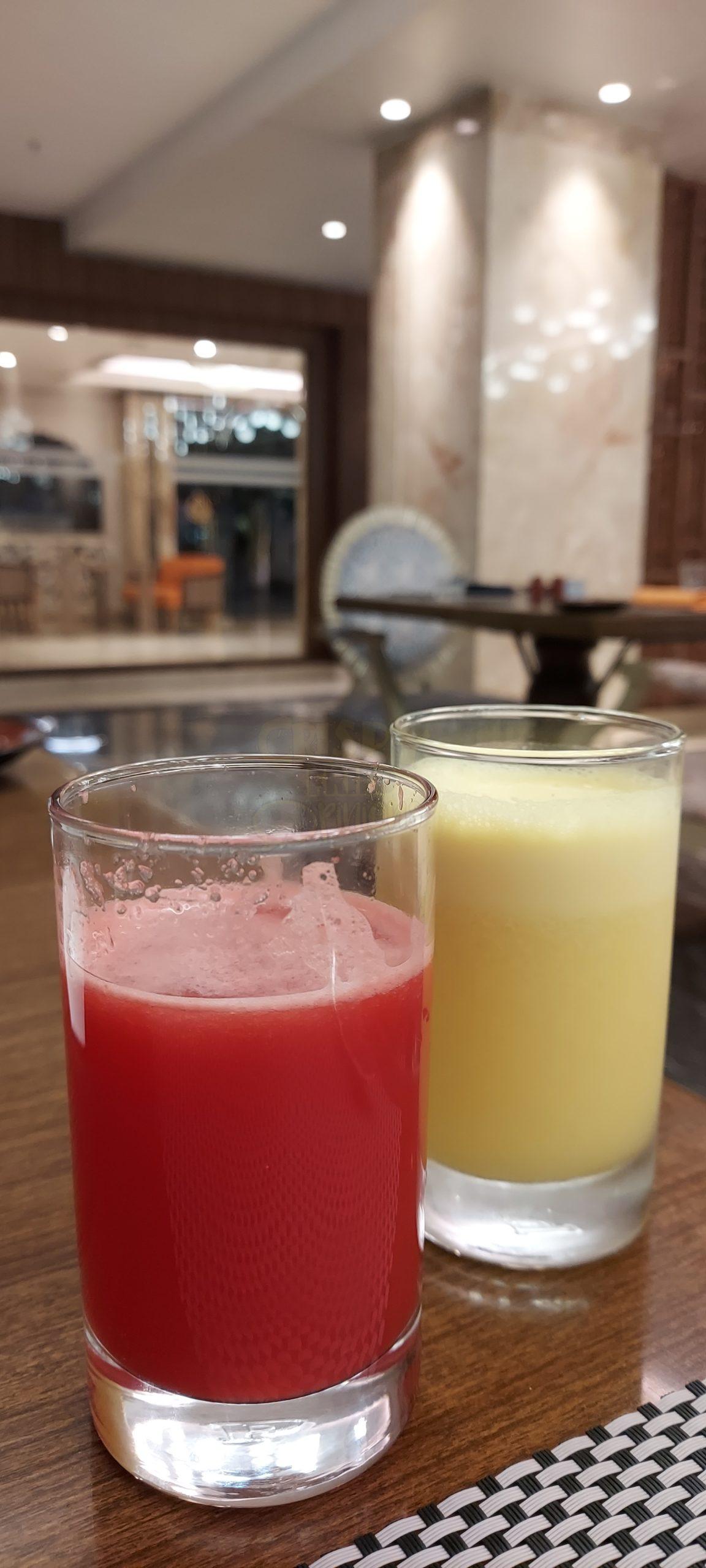 Wanted to try some of the 'specials' from the salad bar – Sundried Tomatoes Mozzarella and Romaine Lettuce Salad, Roasted Pumpkin with Grilled Pepper and Blue Cheese, Grilled Bell Peppers with Feta, Pine Nuts and Corn Salad. While everything was wonderful, my palate still couldn't take the blue cheese easily. Took a little of it, had to leave it. 🙂 Had a similar unpalatable experience with Gorgonzola many years ago.
Pizza and Pasta was served on the table from the Live Counter. We opted Chicken for both and Pasta with white sauce. Both the dishes tasted good! Pasta, in particular, was very tasty with the white sauce just right and cooked 'al dente'.
Now to the main course! Literally tried a couple of spoons of different dishes – Mirapakaaya Annam, Jeera Pulao, Chilli Garlic Fried Rice, Pad Thai, Massaman Veg Curry, and Hyderabadi Bagara. There was seriously nothing I would complain about, though Pad Thai was just okay. Rest of them were good.
Now a couple of them wanted a Mango juice. It was chilled Frooti/Slice/Maaza kinda drink. A couple of Lime Sodas with Sugar.
Finally to the desserts – Masala Chai Pannacotta definitely would have been great, sadly it wasn't sweet. Looked like sugar was totally missed in its making, Chocolate texture Gateaux and Raspberry Coconut Bavarin were absolutely awesome! Basbousa and Bread Pudding was okay, more like a neutralizer to the sweet. On the Indian side, Beetroot Halwa was good, Baked Rasagulla was good, Kaju Sandwich with Gulkand in between was wonderful, Malpua was okay! Ice cream, I didn't touch, only clicked it, others had it. With that we finished the desserts! Really really full by now!
I ended the dinner with the Black Coffee while others had their soft drink. Not the best coffee, but glad they accommodated my request at that time. No complaints.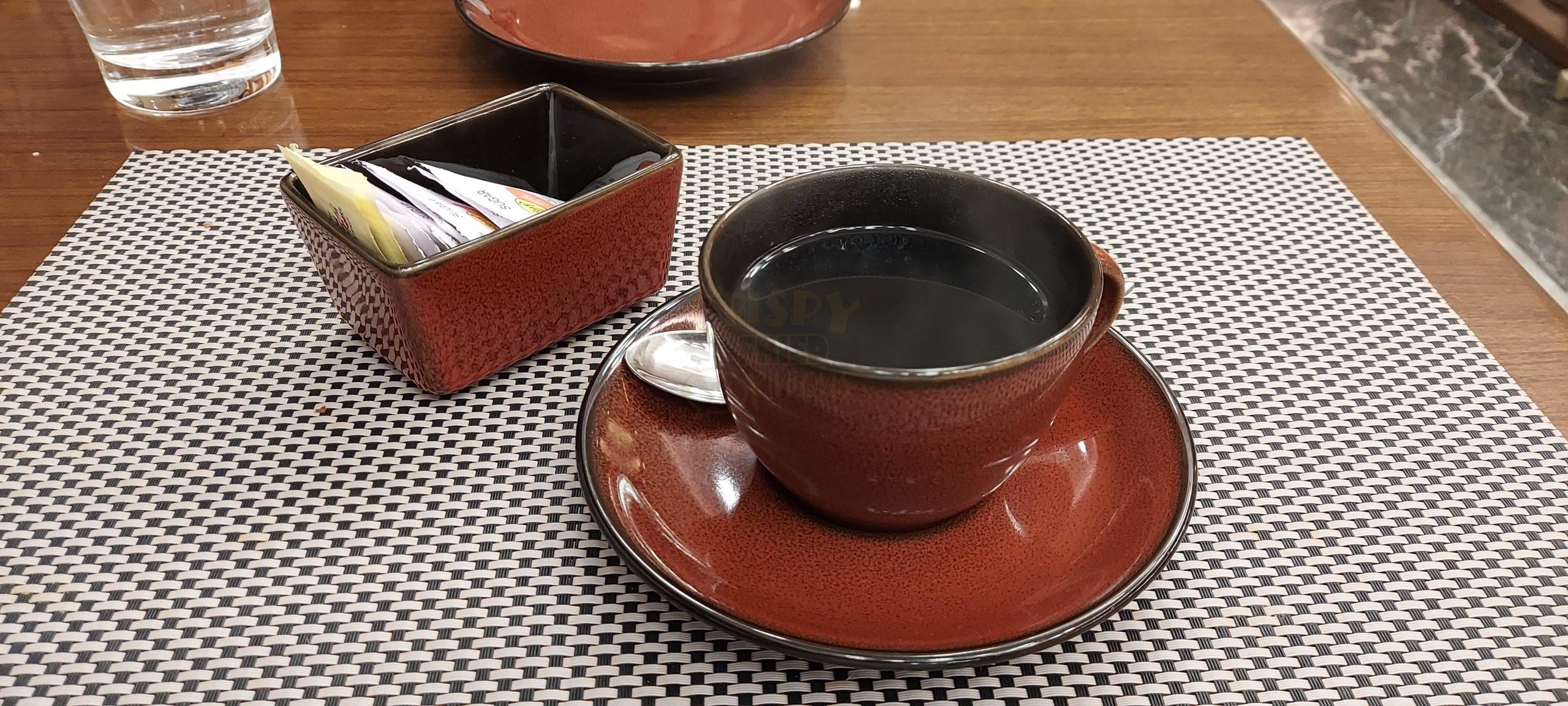 Special mention to Thamizh, who was very very courteous and served us with a smile all throughout the dinner!
I also had a chance to greet celebrity Chef Venkatesh Bhat before we started dinner! Overall, a wonderful dinner, I'd say. Buffet was around 2K per person, I think. I'd certainly come back another time when all the facilities are open, and perhaps to stay some time!