When it comes to food, Sowcarpet has a charm of its own! In the narrow lanes buzzing with activity all day long, you will find some of the choicest eateries which have been in business for many years now. The first food walk I have done here was back in 2014, which was an initiative of Chennai Food Guide – Mint Street Food Walk.
Whether it is about having a proper meal at a restaurant like Sree Agarwal Bhojanaalay or Poonam's Gujarati Bhojnalaya colloquially called Gujarati Mandal, or just food hopping from one eatery to another, the place has it all. You may also choose to try Gujarati Breakfast at this place.
I'd recommend you read this post before you go further as this is one of the most common food trails one chooses in Sowcarpet – A Food Walk through Sowcarpet.
However, this visit with a friend was purely based on a recommendation to cover places which I haven't tried earlier. Let's start 🙂
Chotu & Motu Sweets on Mint Street is quite a famous chaat place too, The narrow entry into the complex takes you to a small eatery that literally takes you by surprise! Crowds already relishing the food there! Ordered a plate of Dahi Puri and Pani Puri.
You can order 4pcs or 8pcs of Dahi Puri, we ordered 4pcs. It was quite a sight to witness what goes into this puri! He must have put a hundred things into it! 🙂 Finally, the Puri was served. We loved it! Getting a fully loaded puri in one mouthful is quite a challenge, but we managed to do that quite well. 100 bucks for 4 puris, may seem pricey, but this is one of a kind.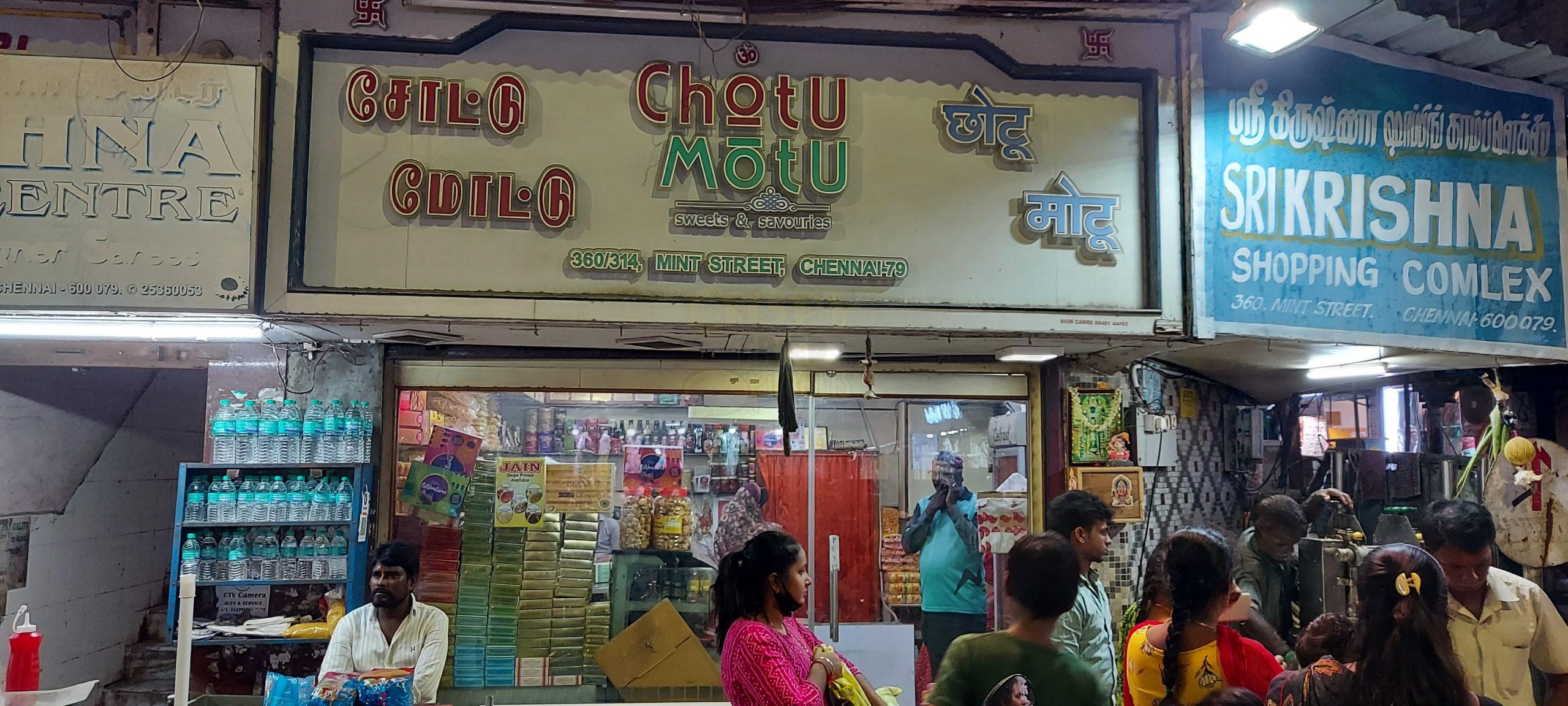 Pani Puri was wonderful too, very flavorsome, but quite spicy though! 50 bucks for a plate of Pani Puri.
Without a second thought opted for a glass of sugarcane juice right outside Chotu & Motu. 'Sells like hot cakes' should be reworded as "Sells like sugarcane juice', I thought! 🙂 That was the speed in which people pounced on the juice. 30 bucks for a small glass of chilled juice. If you're in the mood for a Sandwich, do not miss the Sandwich shop right in front of Chotu & Motu.
Next stop was Kicha's Corner. It was about 300m walk from here, and we had no trouble locating the place with Google Maps. Pleasantly surprised to see the owner lady speak Telugu, was nice to converse in Telugu. Checked with her on their specialties and she recommended we try their Puff and Kacha! She also recommended Bunza, we decided that was for another time.
Puff was wonderful, I think I heard it was Wheat Puff, not sure, have to confirm that next time. The filling was good too, 40 bucks for this.
Kacha was basically a Khakra Sandwich, but the filling totally different. I think it had loads of veggies, cheese and Mayo. It tasted good too. 70 bucks for this. Should certainly come back to try more. This place was quite crowded too.
Next stop was going to be one of the oldest restaurants in Sowcarpet. Hari Om Bhavan, and their Puri-Saagu is quite famous, I was told. We were feeling quite stuffed by now, just ordered one plate of Poori. We got 4 Pooris, a slightly watery Saagu and Bombay Chutney. This didn't quite have the elements of the Pithla, but tasted pretty good. It was priced at 66 bucks, pretty good if not amazing! The Gulab Jamuns looked wonderful, but we didn't try!
Finally, not wanting to miss one last place on the list of recommendation, headed to Hotel Prayag on Mint Street, diagonally opposite to Kakada. In fact, you have to cross Kakada, Jantar Mantar and Anmol Lassiwala and we were so stuffed that the slightest temptation did not dare to get any close ! 🙂
Ordered just 2 Rotis and a Paneer Butter Masala on the waiter's recommendation. This was the most average of all that we ate. Tandoori Rotis extremely hard and chewy in spite of being served piping hot, and Paneer Butter Masala was okayish, not wow! Paid 190 bucks here, I'd probably try another time to be sure of my impression about this place.
With that we ended our Food Walk, and hopped on to our two wheelers which we managed to park close to the intersection of NSC Bose Road and Mint Street, and rode off!
If you like what you just read, please feel free to share and spread the word! 🙂