An impromptu dinner plan with family ! It started with a conversation about making Mushroom soup at home, and how the Puree of Mushroom soup at Gossip was the best we've had so far, and that's it ! Decided to go to Gossip and start with the soup! 🙂
Since it was decided quite late, we reached only around 09:10PM. Thankfully, while most of the tables were taken, we got one instantly. The place has really nice vibes, felt like it was definitely weekend! Didn't take very long to decide, but had to wait for a while for the waiter to show up to order.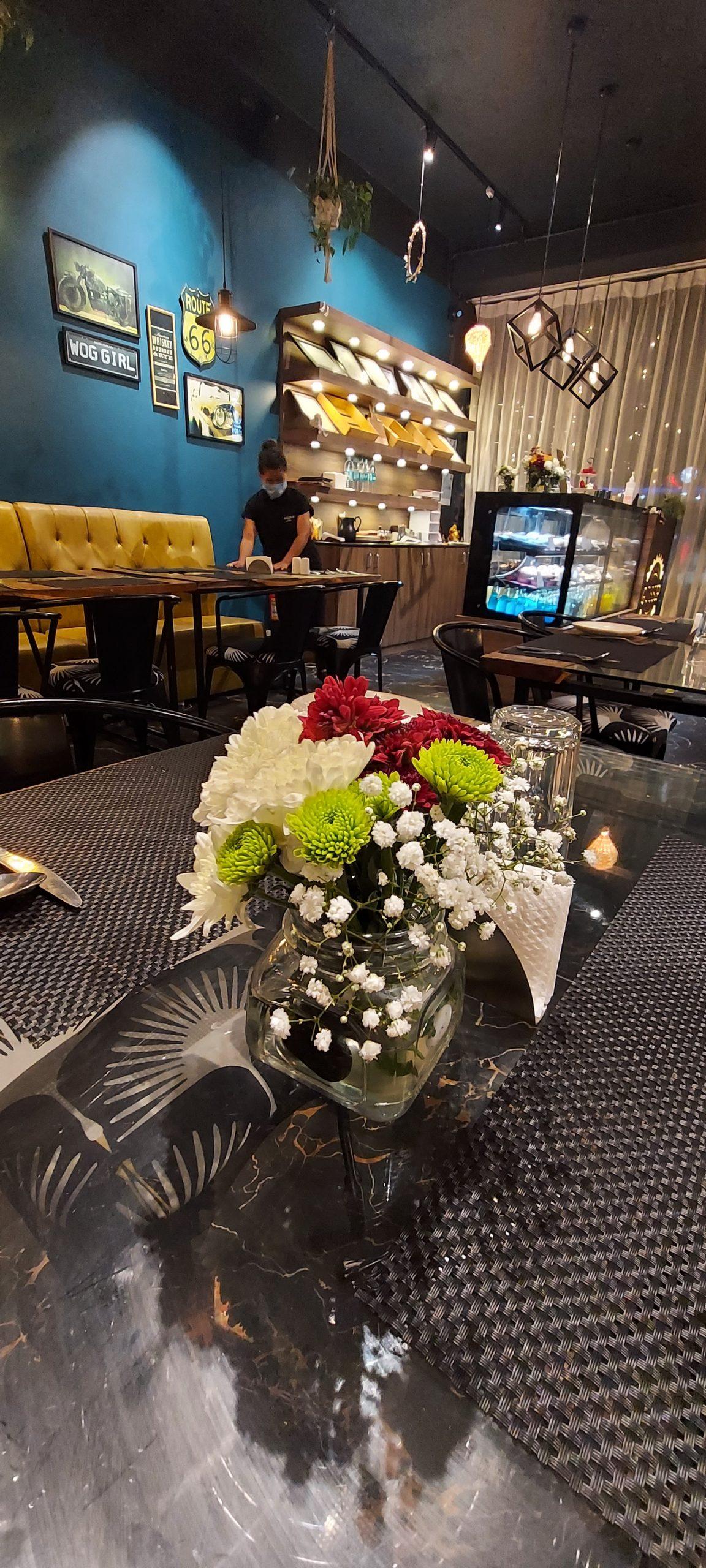 No prizes for guessing what the soup order was! Yes, Mushroom Soup indeed! 🙂 It was exactly how I remembered it from last time, perfect consistency and perfect temperature to relish the taste. The only change was a Karuvepillai Arancini with parmesan cheese that was dunked in the soup. It was good, but didn't specifically alter the taste of the soup. I'd have liked it as much with croutons or cheesy bread.
Bruschetta, one of my favorites too, was served with the topping unlike last time when the bread and the topping was served separately. This is how I have seen it in most places. Homemade garlic and herbed bread topped with Tomatoes, Basil, Garlic, Cheese and Olive Oil. Every single bite was superb! Couldn't make out if there was sundried tomato pesto in it.
Stuffed Crumb Fried Mushrooms was good too, the Garlic-Mustard-Cheesy dip that came along with it elevated the taste of the dish! It disappeared in a jiffy!
Afghani Paneer was the last to arrive, and it took quite some time and we realized why after it arrived! It seemed to be quite a delicately-made Grilled Paneer sandwich with a spiced Saffron sauce as filling. Didn't quite get how the outer covering was made, but held the paneer together nicely. It was tasty, more on flavor, less on spice.
A couple of flavors of Goli Soda – Cola and Pineapple. It was more for the excitement to open it, than the drink itself.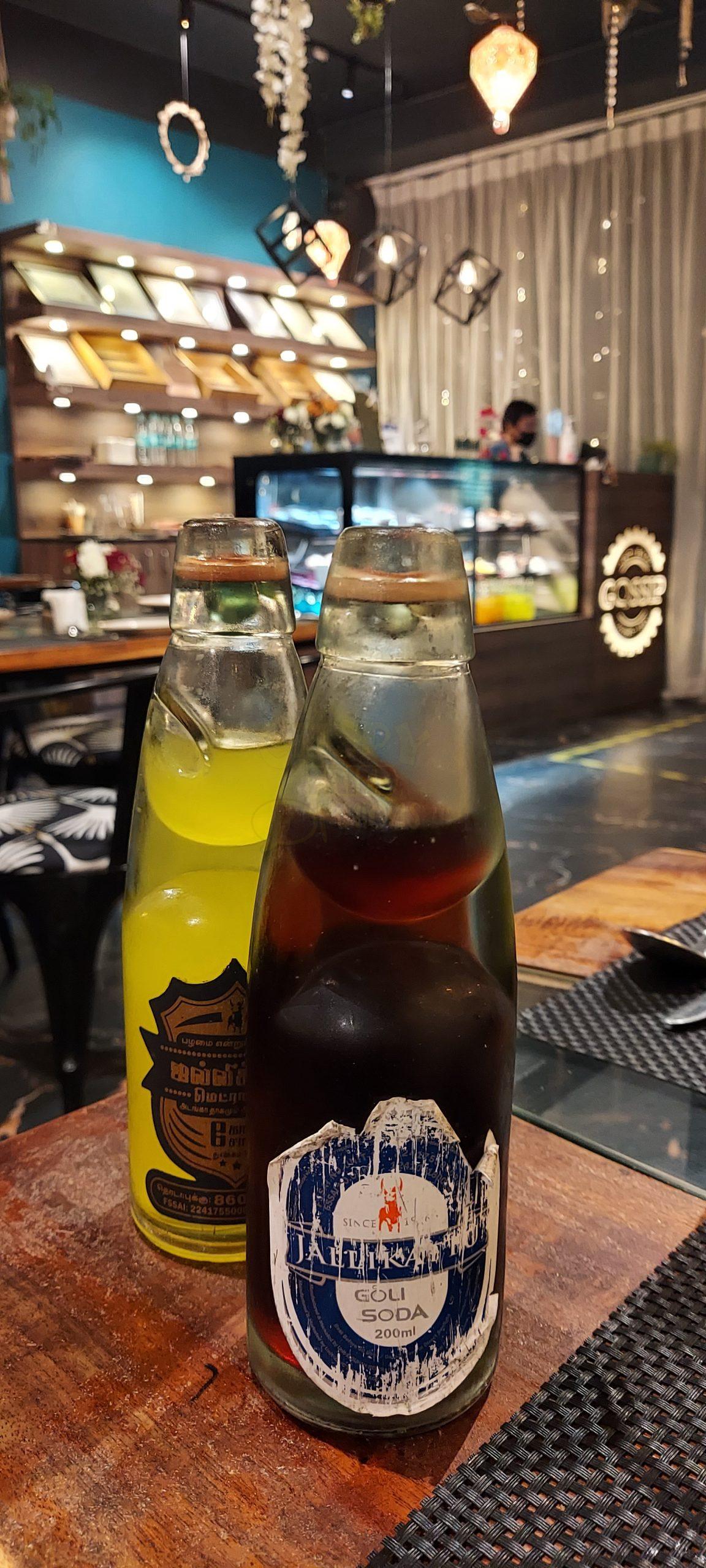 While we were still having the Afghani Paneer, the waiter came with three main courses which we had to quickly make way for and accommodate. I would have liked it served just a few minutes later, after we finished the starters.
Mixed Mushroom Stroganoff which had Shiitake, black mushroom and button mushroom cooked with mustard, red wine, sour cream and gherkin. While I have mostly eaten Button mushrooms, the other ones seemed to have a slightly chewier texture and bolder flavor. The dish was served with peanut rice, which was good.
Mixed vegetable Pie which was basically mixed vegetables baked in a pie shell, served with cream and cheese along with stir-fried vegetables and peanut rice. It was cheesy and tasty!
Mixed Veg White Sauce Pasta with Macaroni as the choice of pasta. It was very tasty, daughter's favorite. It had mushrooms, aubergine, zucchini, peppers, tomato, garlic, and cheese! It was exactly how it had to be – al dente, we liked it.
Now to the desserts! We decided to order two and share!
Tender Coconut Mousse is one of our favorites here, so much that we had once made a trip just for this. The naattu sakkarai topping makes it less cloying while giving it the necessary sweetness.
Fresh Fruits and Nuts Baklava Tart. This was bigger as compared to what we remembered last time. The flaky baklava pastry as the base, topped with cream and fresh fruits and nuts. Probably it was the salted cream cheese, it tasted very good along with the fruits and the baklava.
Most of the times I have been here, the owner Mr. Hari had been around to personally take care of our orders. A pleasant conversation with him certainly makes you feel at home and elevates the dining experience! However, this time, he wasn't around and the service certainly could have been better in many aspects. Firstly, it wasn't warm! A smile, a greeting, a proactive check to see if we needed something, it was all missing. Had to wait for more than five minutes on more than one occasion just to make an eye contact with the waiter. A simple thank you or a Goodbye as we leave would do a lot to make a positive impression about the place! It certainly wasn't bad attitude, they just needed some training! So certainly not one of the best services in an upscale restaurant such as this. I'm sure to pass this as a feedback to Mr. Hari too.
We paid 3.3K in all, and I would say food is clearly the winner here that would make me go back again and again!
Here's a compilation of my visits to Gossip Bistro, and probably a few more on my Facebook Page.
Valentine's Day dinner 2021
Sunday Breakfast Buffet 2019
Christmas special menu 2018
My First visit in 2016