Even before I go into the details of this particular visit to Gossip Bistro, I have to mention this is one of the nicest restaurants that one shouldn't miss in Chennai. Food, ambience, the long drive on ECR, the warm hospitality of Hari and Ramya who own this restaurant, the elaborate Sunday Breakfast Buffet spread, their Tender coconut mousse, the reasons are plenty. I have been here quite a few times, and the first visit in 2016 is still so vivid in my memory. Glad I made it with family on Valentine's Day, for dinner.
I had reserved a table, but had to move it by 30 minutes owing to a terrible traffic jam on the way to ECR. Finally made it, and quite understandably so, had to wait just for sometime before the table was ready!
The place was a packed house buzzing with activity, decorated quite aptly for Valentine's Day. We settled down in a jiffy and were ready to order after a quick peep into the menu card.
p.s: Any unintended intrusion into privacy is regretted. This was meant to click the decorations, not people.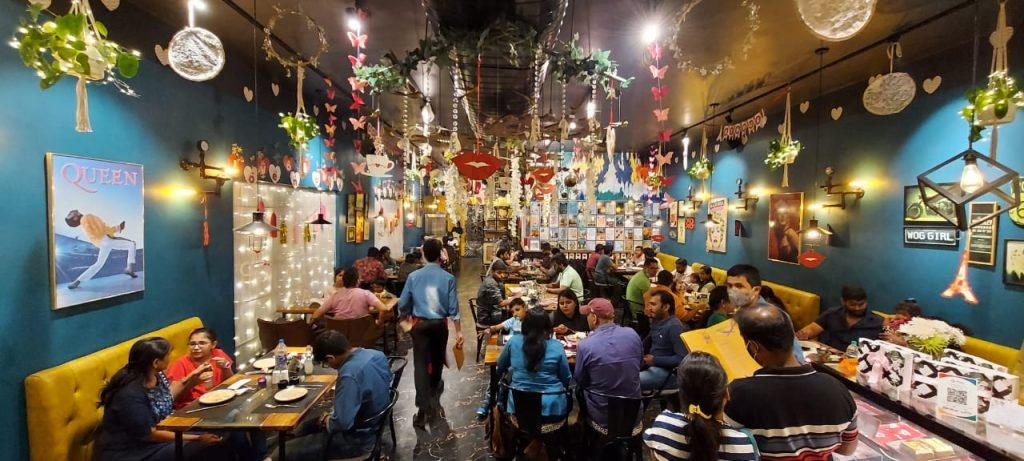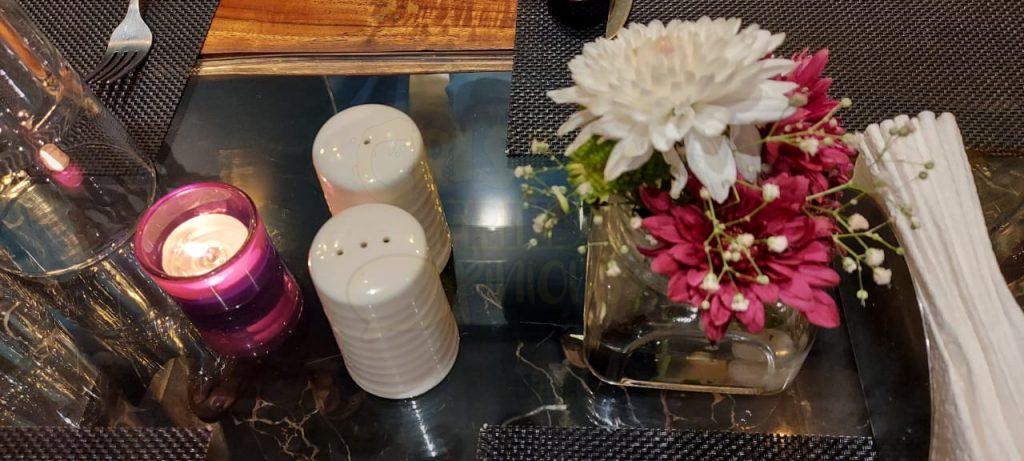 Ordered Cream of Tomato soup and Puree of real mushroom soup, to be served one by two each. Just amazing! The flavor of mushrooms and cheese in the soup was simply delicious. Tomato soup was equally good, the garlic crouton in it was yummy too.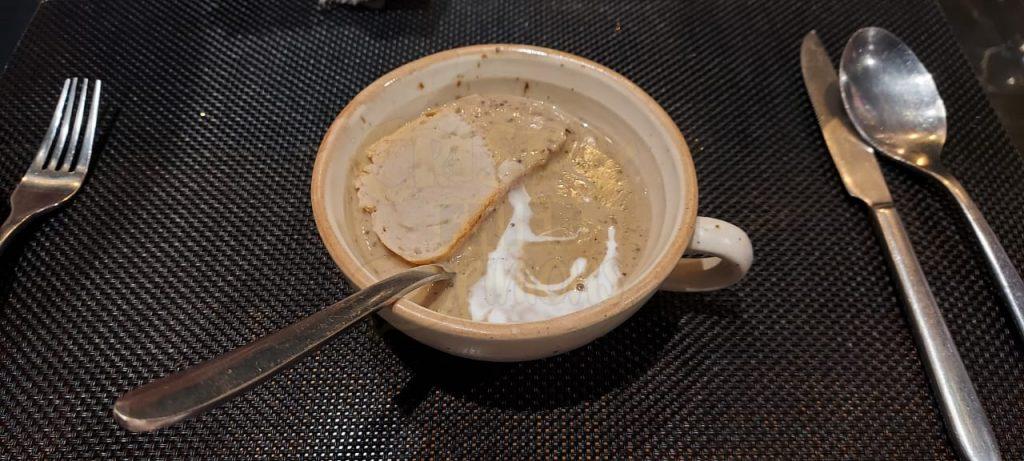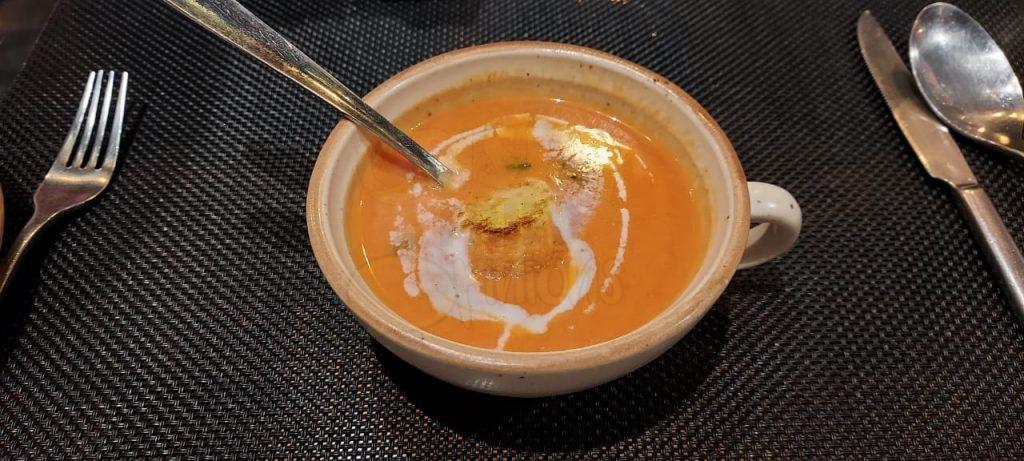 Bruschetta was exactly how it was described in the menu. Instead of the bread with topping, it was served on the side and we had to top in ourselves. The garlic and herb bread was wonderful, and so was the tomato, basil, garlic, cheese and olive oil salad.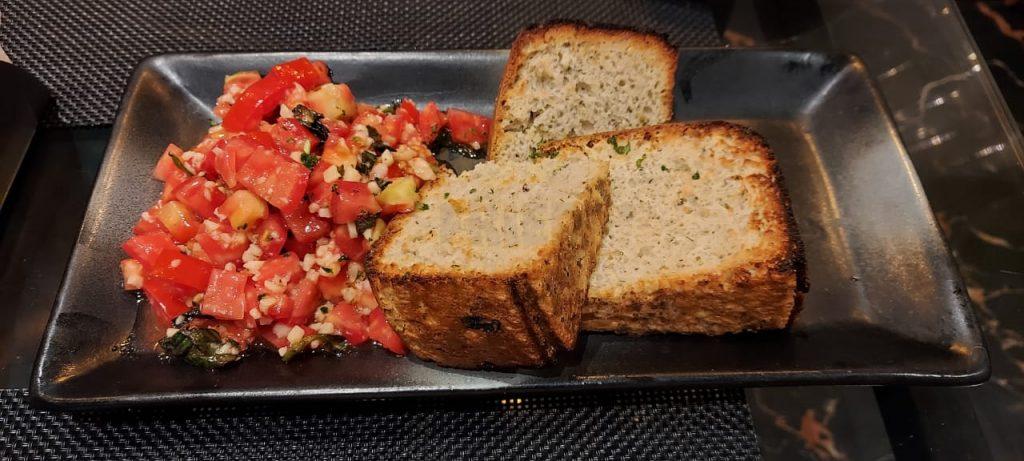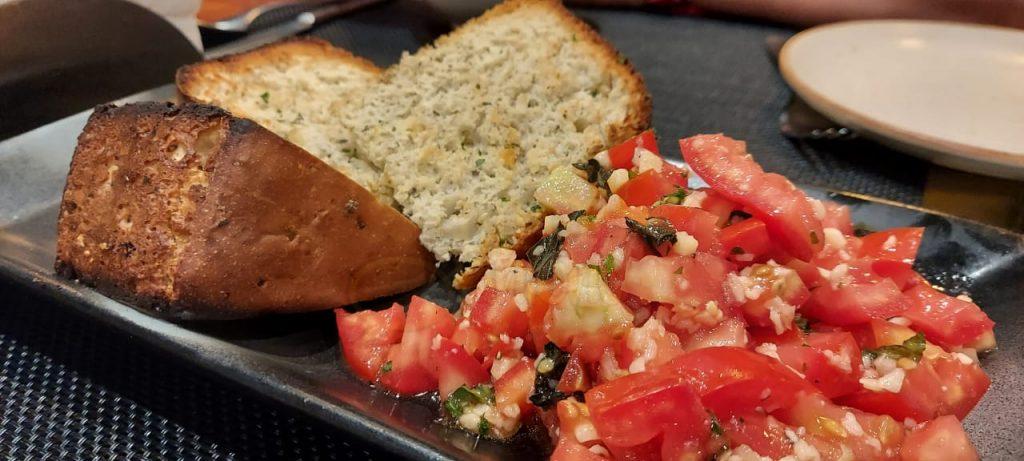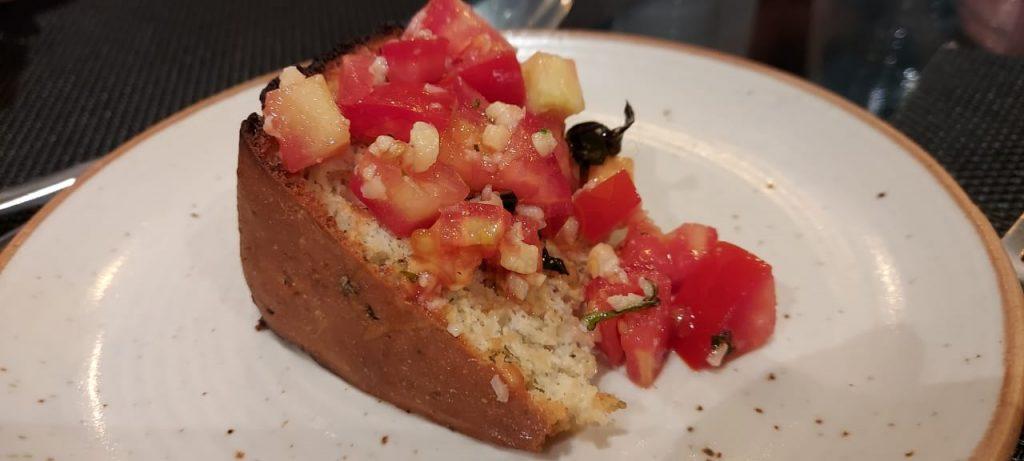 Boston Barbeque Chicken was good, perhaps a tad too tangy I felt, the smokey barbecue flavor being very subtle. Chicken was soft and succulent and not one bit chewy. One of the dips that came along was made of blue cheese and that wasn't very easy to handle, it is more of an acquired taste I think. Immediately reminded me of my struggle with Gorgonzola at the Madras Pavilion, ITC Grand Chola few years ago 🙂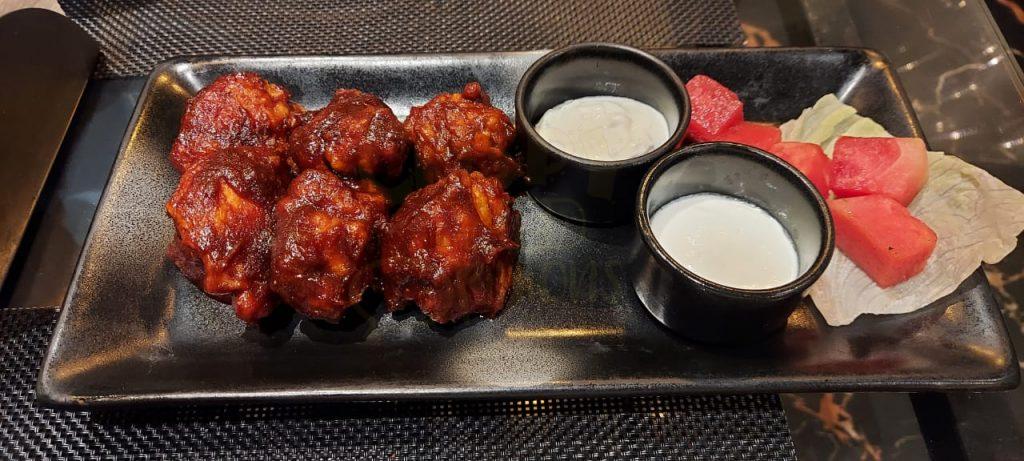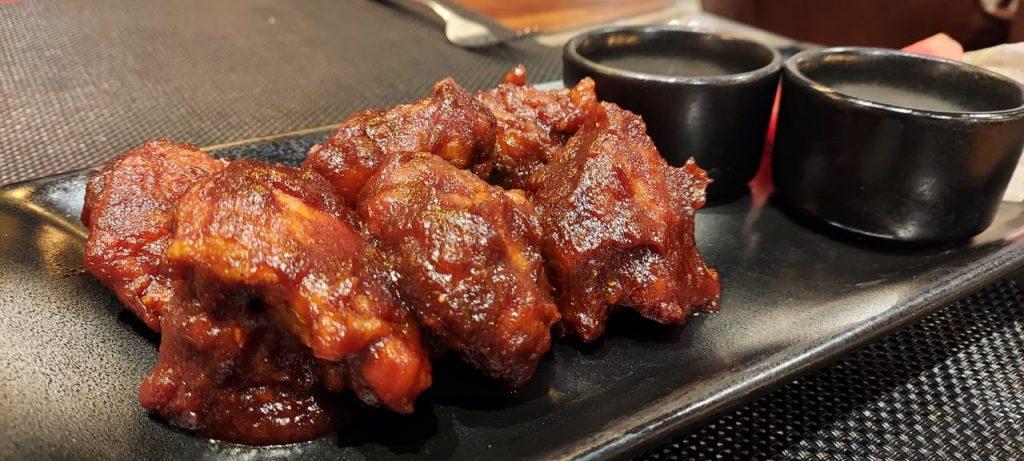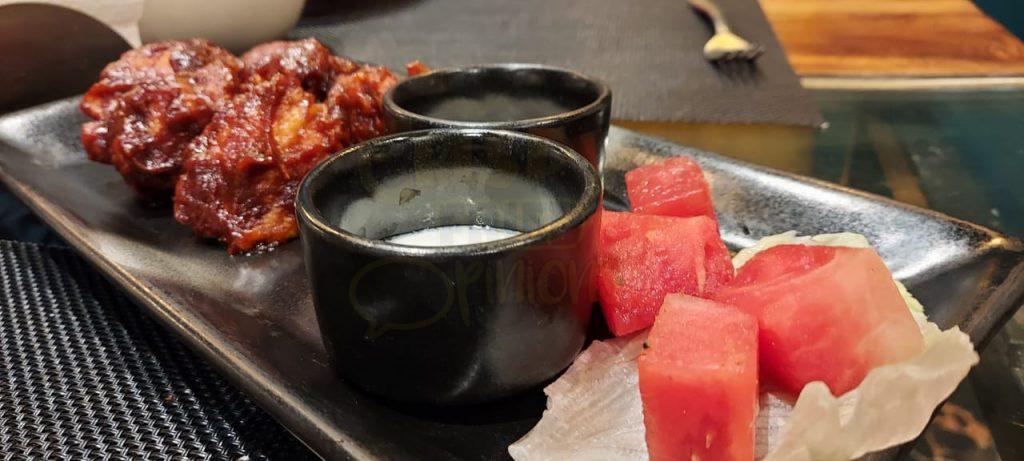 Prawns Olivetti, a dish our family loved on our last visit. They ordered it without a doubt and loved it this time too. It was basically prawns stir-fried in olive oil with garlic, chilli flakes, olives, lime juice and coriander.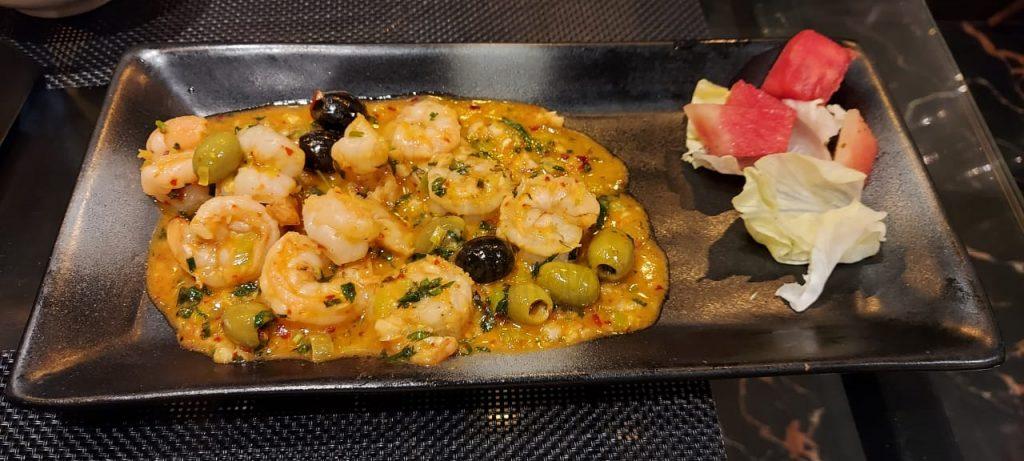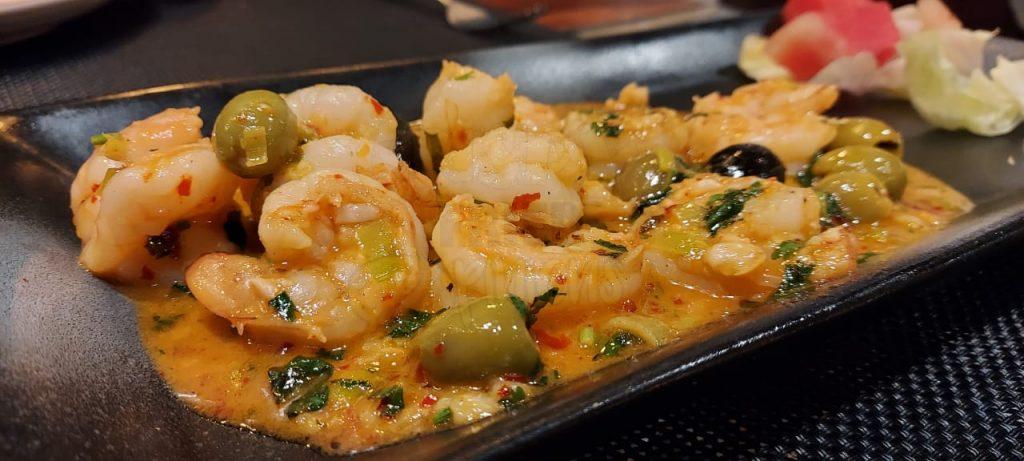 Aam Nimbu Chicken (hope I got the name rite) was melt in the mouth chicken kebabs with a slight flavor of lemon. Couldn't make out the mango there, but it was yumm! We didn't need the dip, it was just perfect even without it. This was one of their new dishes on the menu, I was told.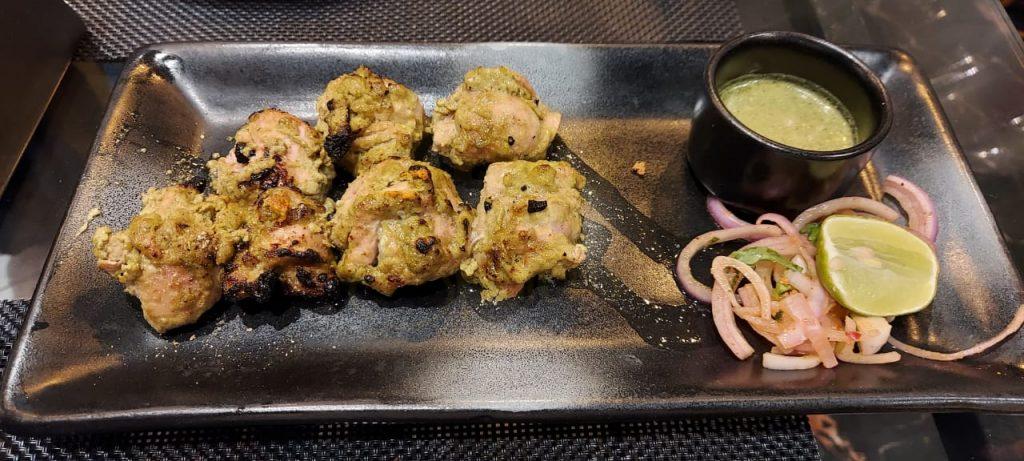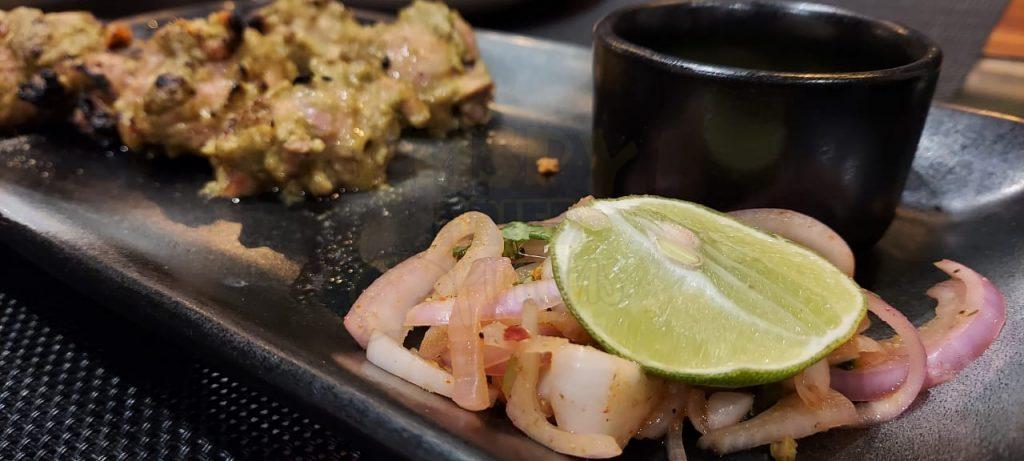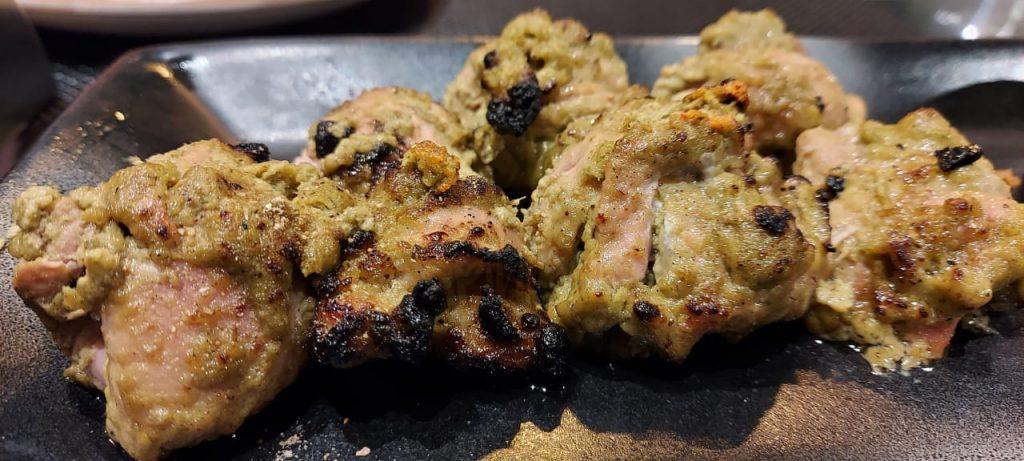 Daughter spotted Goli soda and wanted to try. Lucky they had only two and we got both of them.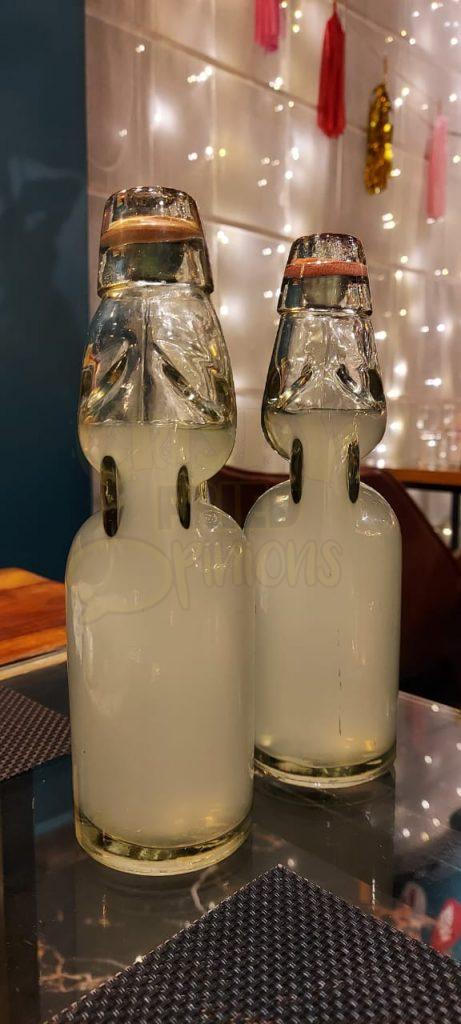 Moving on to the main course, the first dish that caught my attention was Stuffed Chicken Breast. The description would make anyone drool – Chilli flakes, jalapeno, green chilli and cheese and oregano stuffed into the chicken breast, grilled and served on a bed of paprika, peppers, cream and cheese sauce. It was served alongside butter-sauteed veggies and peanut rice. Everything tasted wonderful, the peanut rice was so yummy !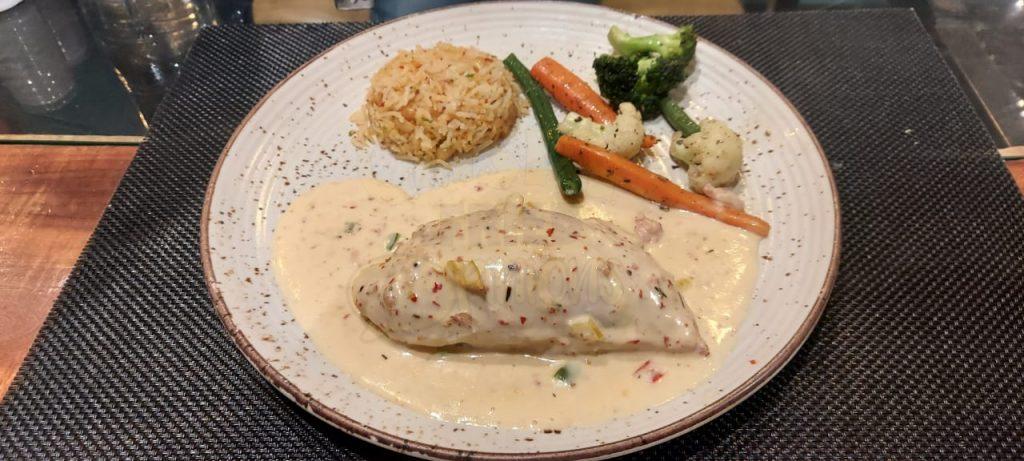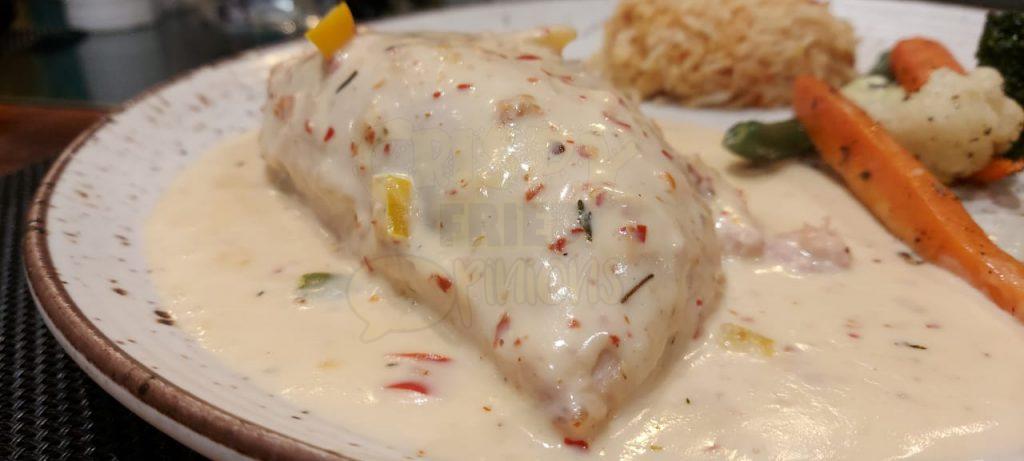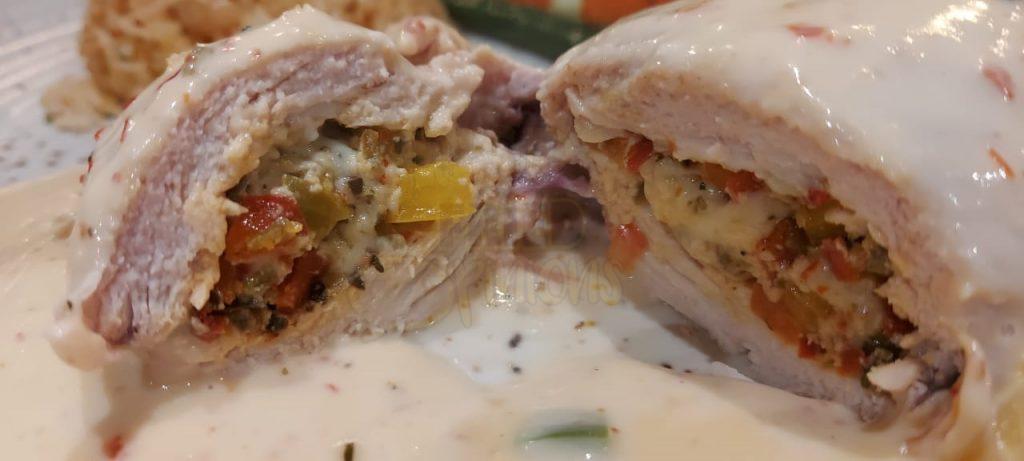 Wanted to try a vegetarian dish. Ordered a Mixed Vegetable Pie. Mixed veggies stir-fried with garlic, peppers, chilli flakes, oregano, cheese and cream and baked in a pie shell. It was cheesy and needless to say, we liked it. This was also served with the same acompaniments as the other dish.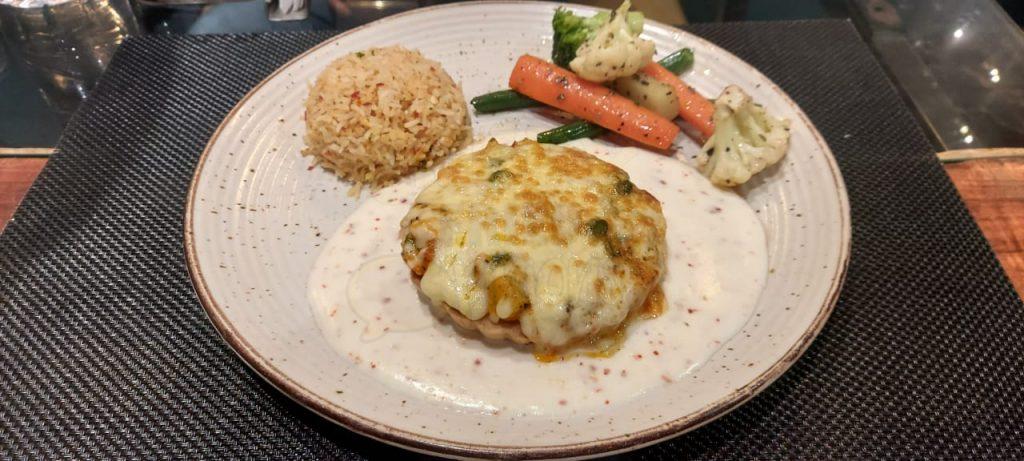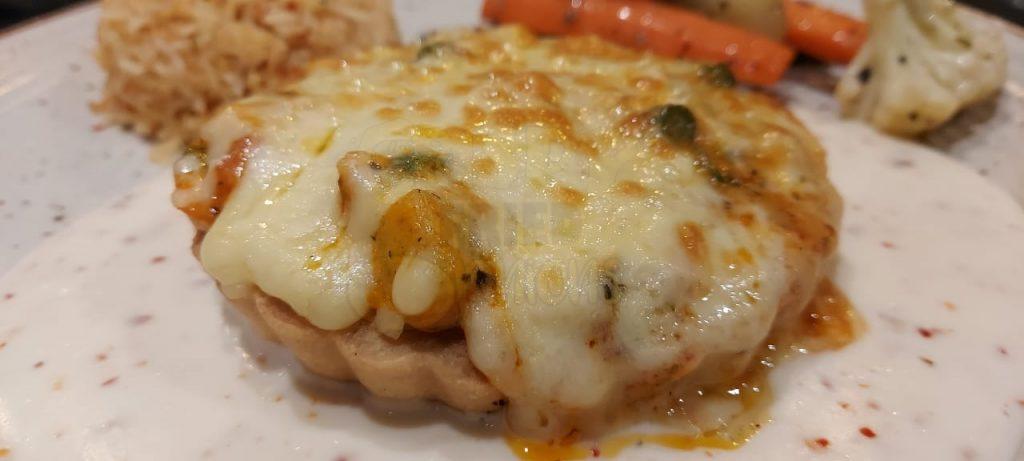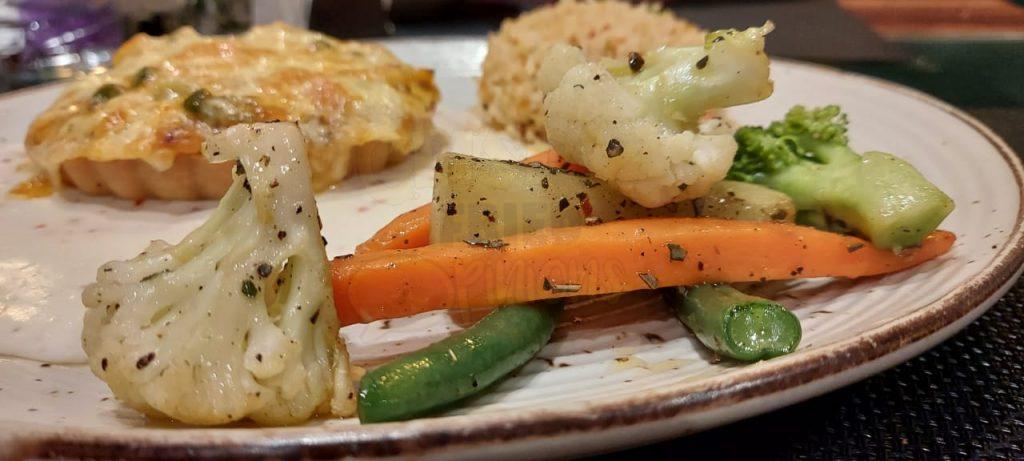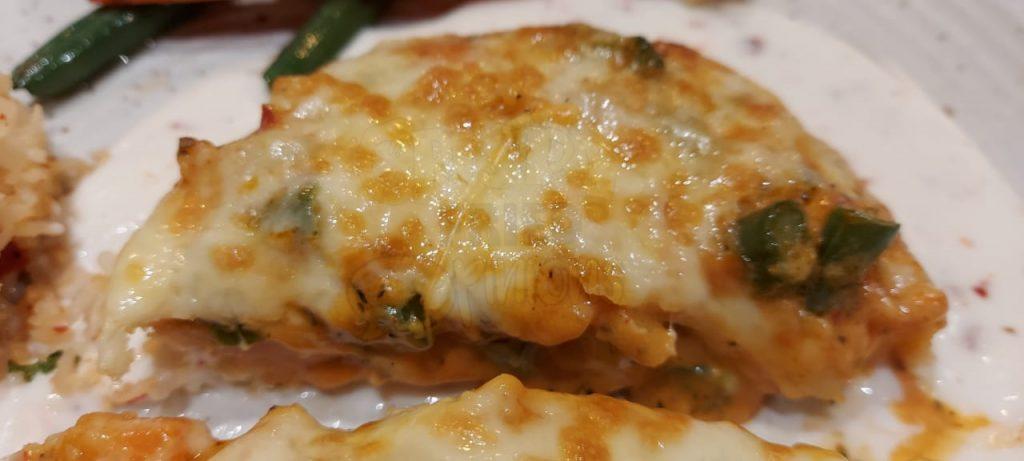 Barbecue Chicken and Sliced Sausage Pasta – Barbecue chicken, chicken sausages, Olives, Onion, Cheese and cream with Penne. It tasted good, but personally we thought we would have liked the White sauce, or even Arabiatta sauce better than this.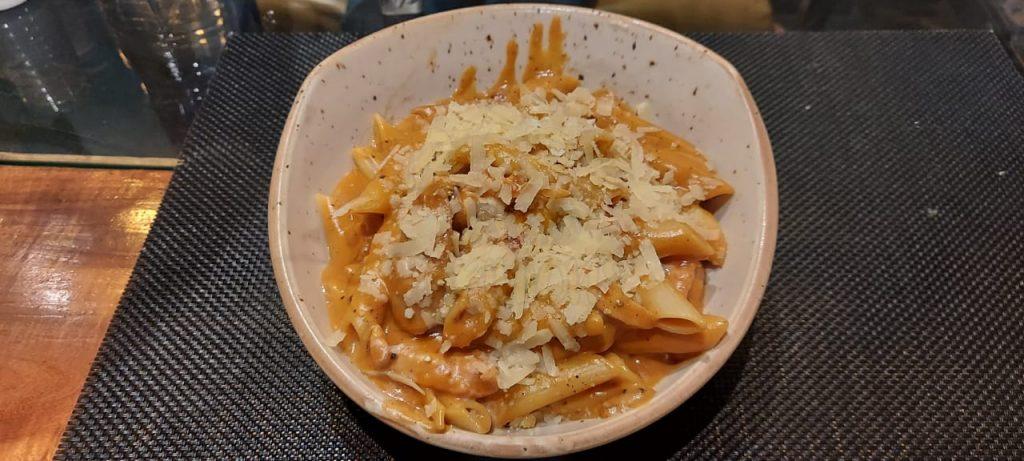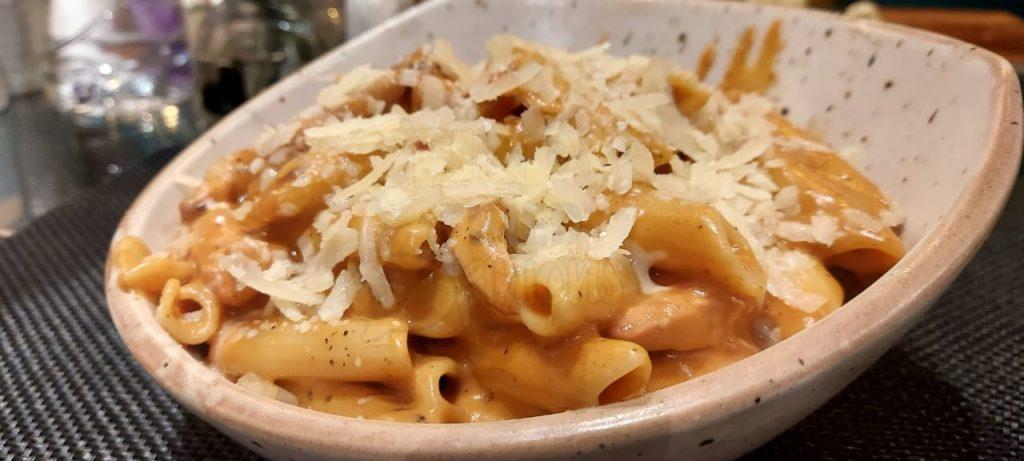 Decided to order just 2 desserts – The 'must-have' Tender Coconut Mousse was first. Absolutely fantastic! It is one of my favorites here!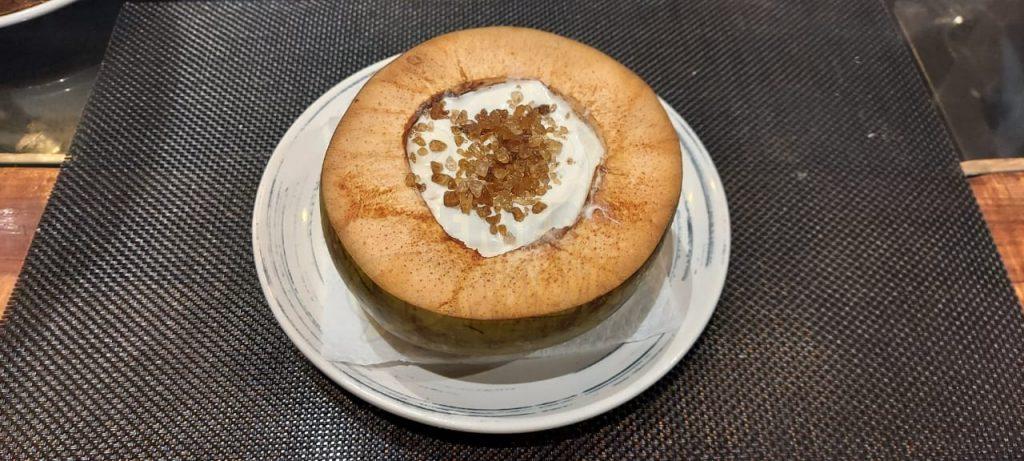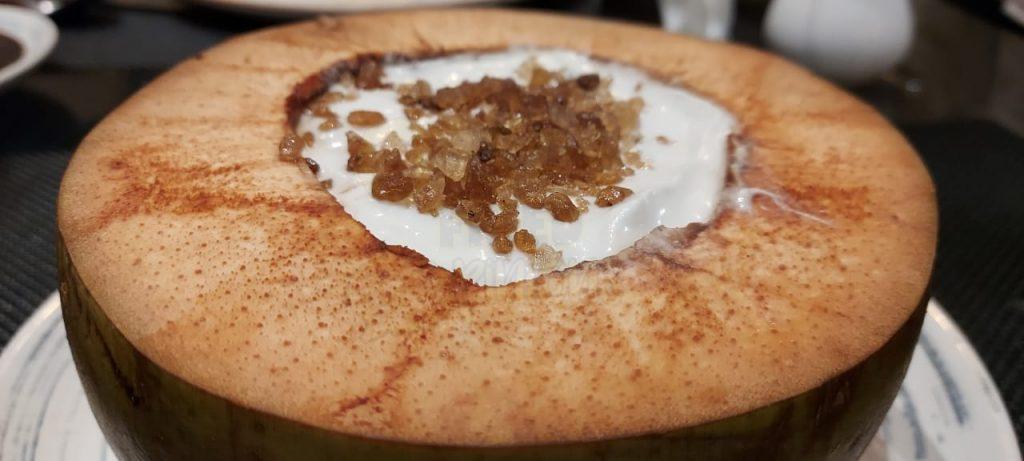 Eskimo Choco Bomb was a nutty fudgy brownie with Vanilla Ice Cream, the chocolate dome on the outside was the showstopper! Hot chocolate sauce poured over the dome, it melted and revealed the brownie and ice cream inside! A delight to watch!
Note: The below 3 pics except the last one are screen-grabbed from my video, forgot to click pics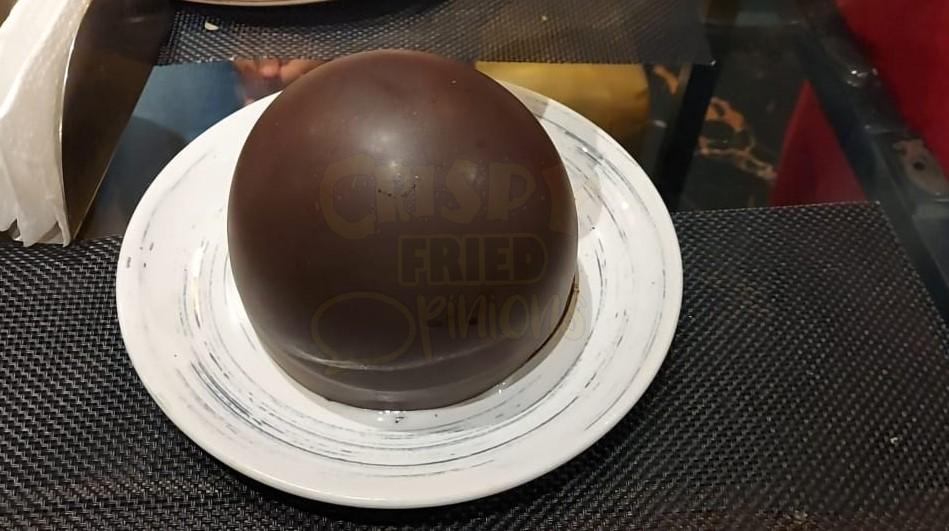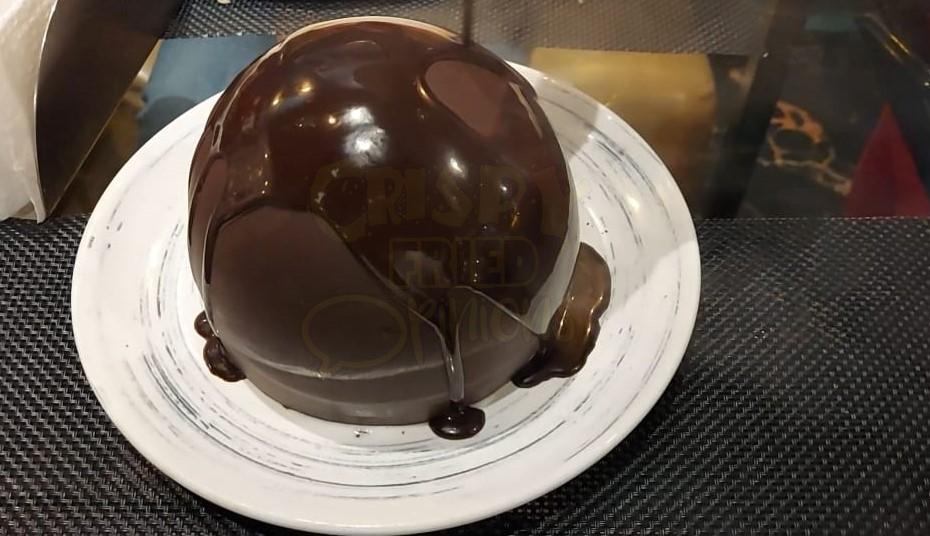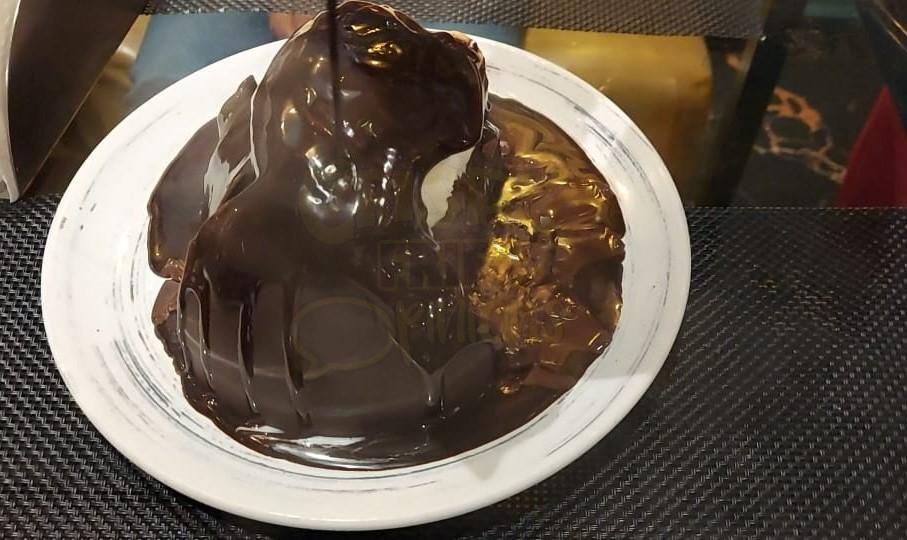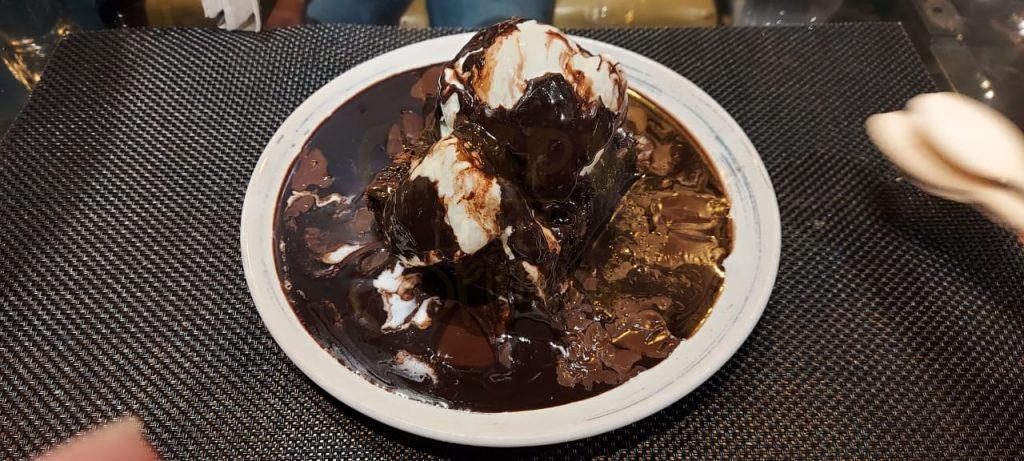 We got one of their new desserts to taste, it was on the house – Fruit and Nut Baklava Tart! Baklava made into a tart, loaded with nuts and whipped cream and topped with fresh cut fruits -Mangoes, Strawberries, Apples, and Kiwi. It was just awesome, sure order on my next visit.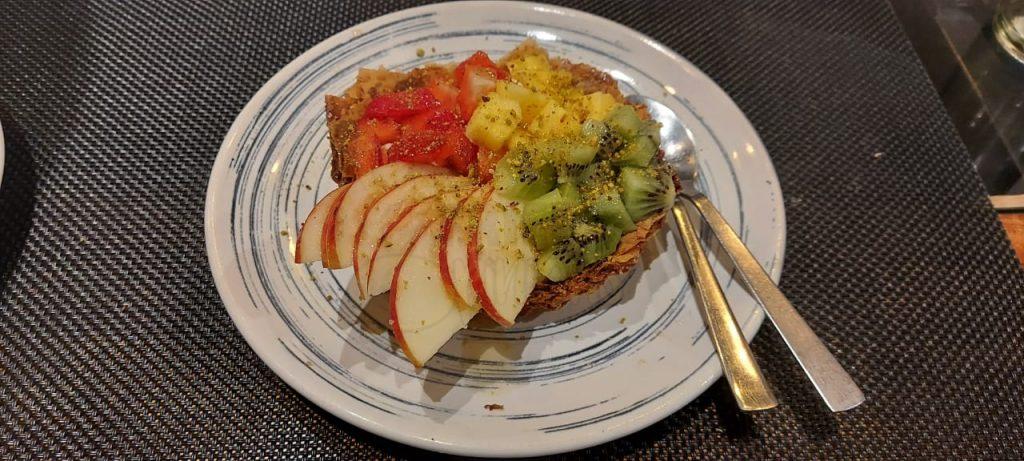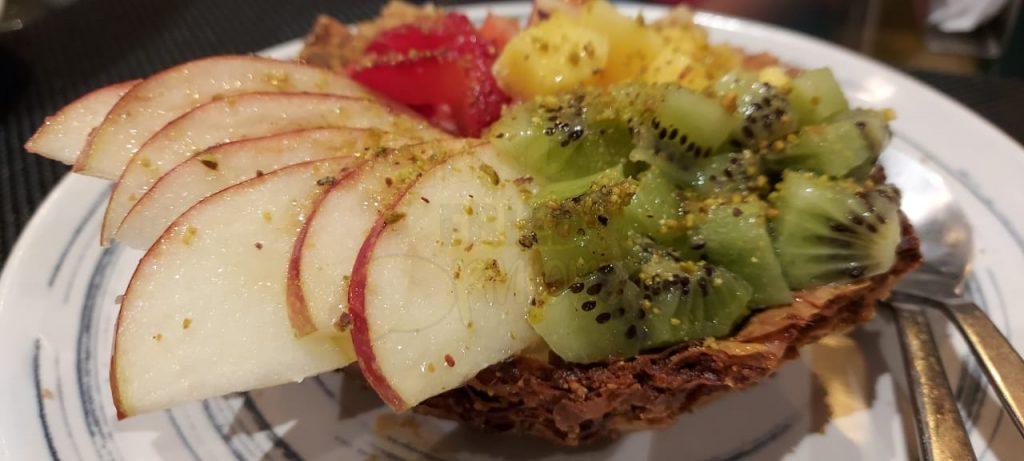 Thus far and no further, we decided! We paid a little more than 2K in all, quite less for what we ate! As a friendly gesture, I got a 25% discount on the bill and the desserts were waived off too! Tried to push to get it included, couldn't do much amidst the crowd, and I had to accept it as Hari insisted. Thanks very much for that ! A wonderful and memorable dinner overall, I'd say!
I did see a few anxious faces waiting for table, a few disappointed ones as they couldn't be accommodated, a few dishes taking time to make it to the table, and so on. With this kind of a packed house, it was quite understandable! This is something we have missed witnessing almost the whole of 2020, and I really do not want to crib about anything to do with crowd 🙂 It is good to see people, dot!
As I already mentioned, if you haven't visited this place, you really should!