More than a decade ago, Pind took Chennai food scene by storm! They established themselves as one of the best vegetarian restaurants serving Punjabi cuisine in Chennai. Not long after that, they started Bhatinda Xpress in Velachery, which was primarily focused to cater to the non-vegetarian audience. Since then, I have made umpteen visits to Pind for their sit-in buffet, a la carte, and more recently tried their elaborate Special Patiala Thali with a big crowd, but somehow a visit to Bhatinda Xpress did not happen all along, after the very first time in 2014.
Meanwhile they had opened a couple of branches on the Thuraipakkam-Pallavaram 200 Feet Radial road, one at each end! 🙂
Recently, a family outing ended with a lunch at Bhatinda Xpress, Thuraipakkam. This is my first visit here. They have a takeaway cloud kitchen on the first floor, Pind on the second floor, and Bhatinda Xpress on the Third, a building all for themselves! 🙂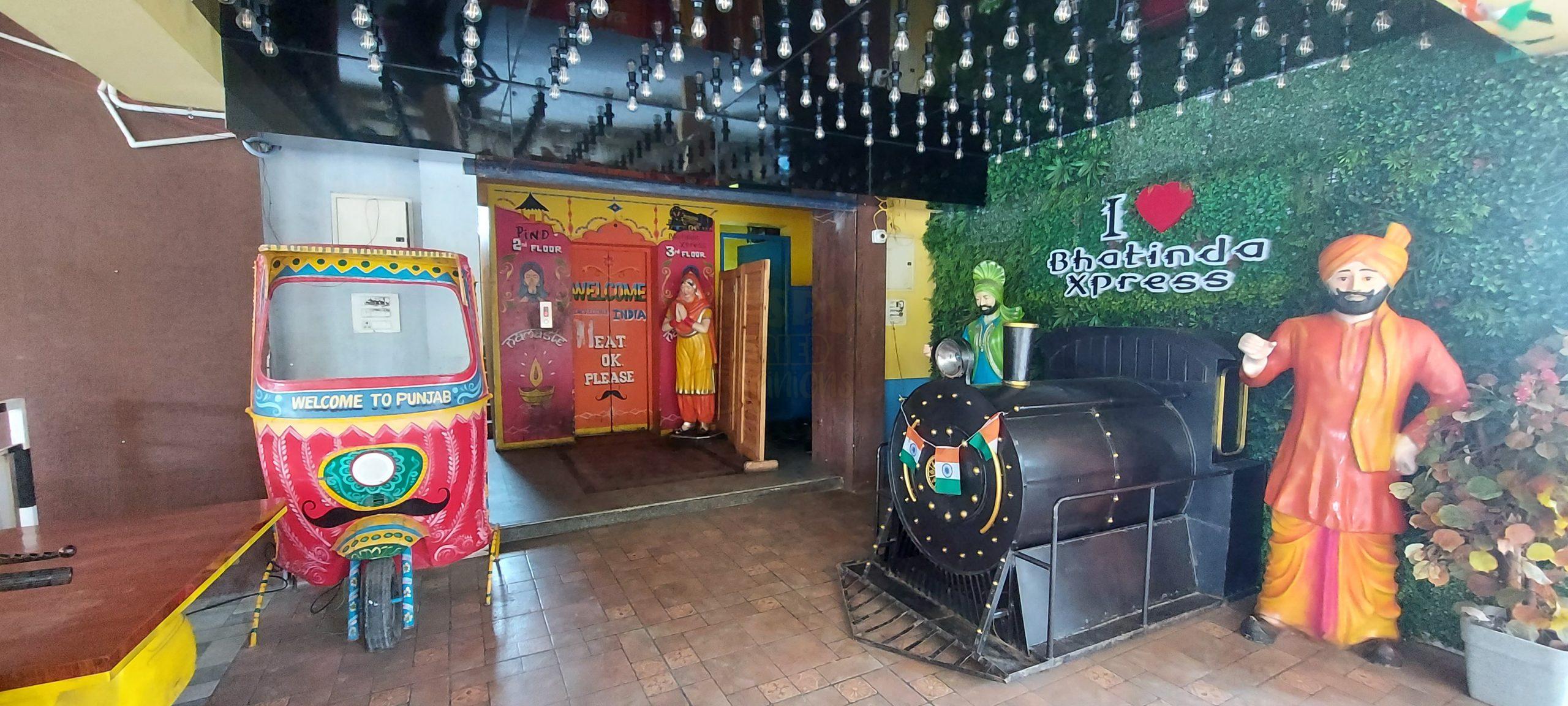 What was interesting was the themed-setup in Bhatinda Xpress! They could have done it like pretty much a normal restaurant accommodating more covers, but they set it up like a train and platform. You actually feel like sitting in a train or beside it, and dining, on a table of course. 🙂 Tried to capture a few clicks of the place without intruding into others' privacy.
It was a full house on a weekend and we had to wait for over 20 minutes for a table. Finally, managed to get one of the seats inside the Bhatinda Xpress compartment.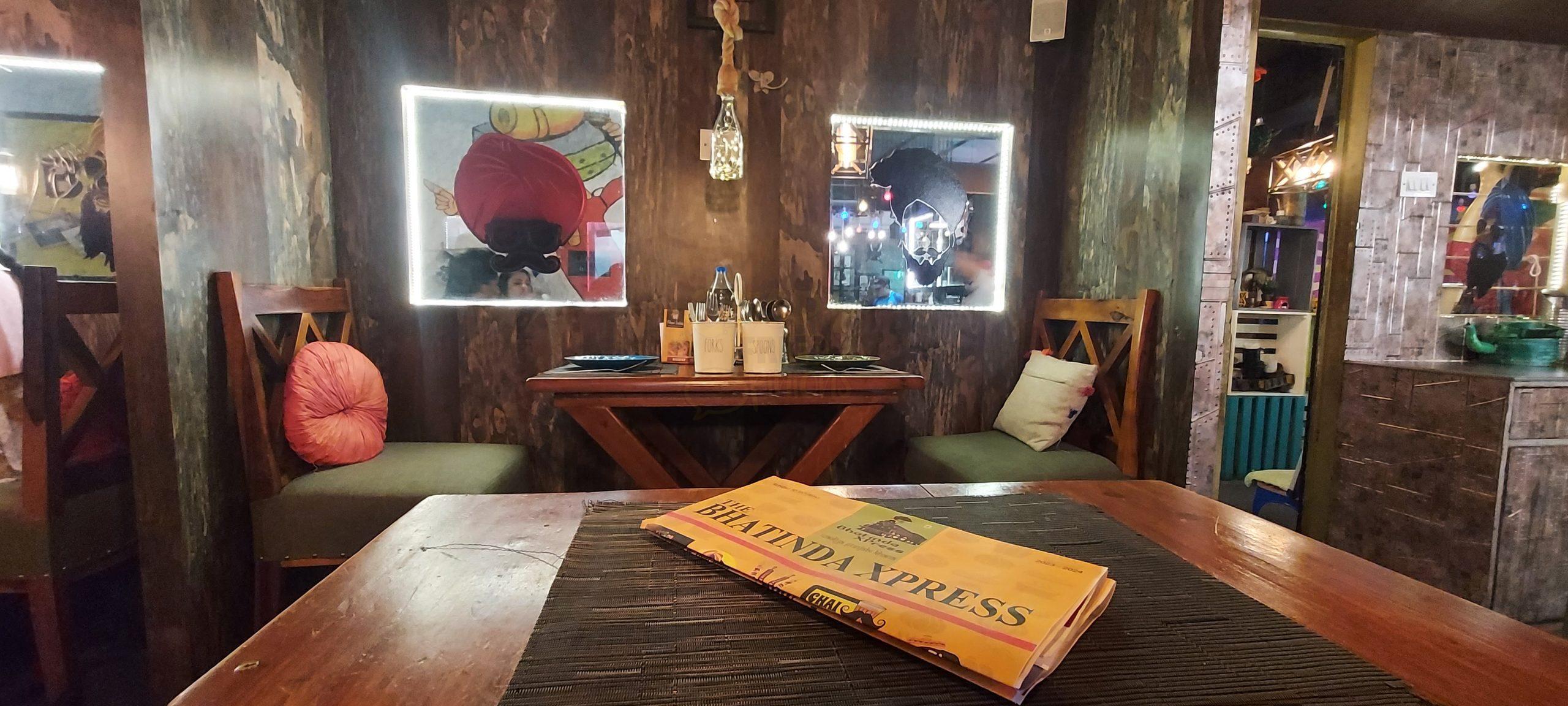 We started with a Chicken Manchow soup to be served one by two, on daughter's request. Soup was good, served at the right temperature, and tasty too! Retrospectively discussed about having a Chinese soup in a Punjabi restaurant, we decided to keep the rest of the dishes 'pure' Punjabi! However, the menu had an elaborate Chinese and Arabian sections too.
Masala Papad was good, quite as expected, tasted yum, with the mint chutney and toppings.
Did not want to miss their Tiranga Paneer Tikka, which is our favorite in Pind, ordered one of that. Absolutely soft paneer, probably should have stayed a little longer on the tandoor I suppose. Maybe due to demand, it was taken off too quickly!
Achari Chicken Tikka was wonderful, loved it. Just as an observation, maybe a little bit salty, if someone is watching their salt intake. Definitely not worth complaining.
We chose to order some breads and gravy for main course.
Roti, Butter Roti and Garlic Naans were ordered along with Chicken Changezi and Methi Malai Murgh! Breads were hot and fresh and wonderful.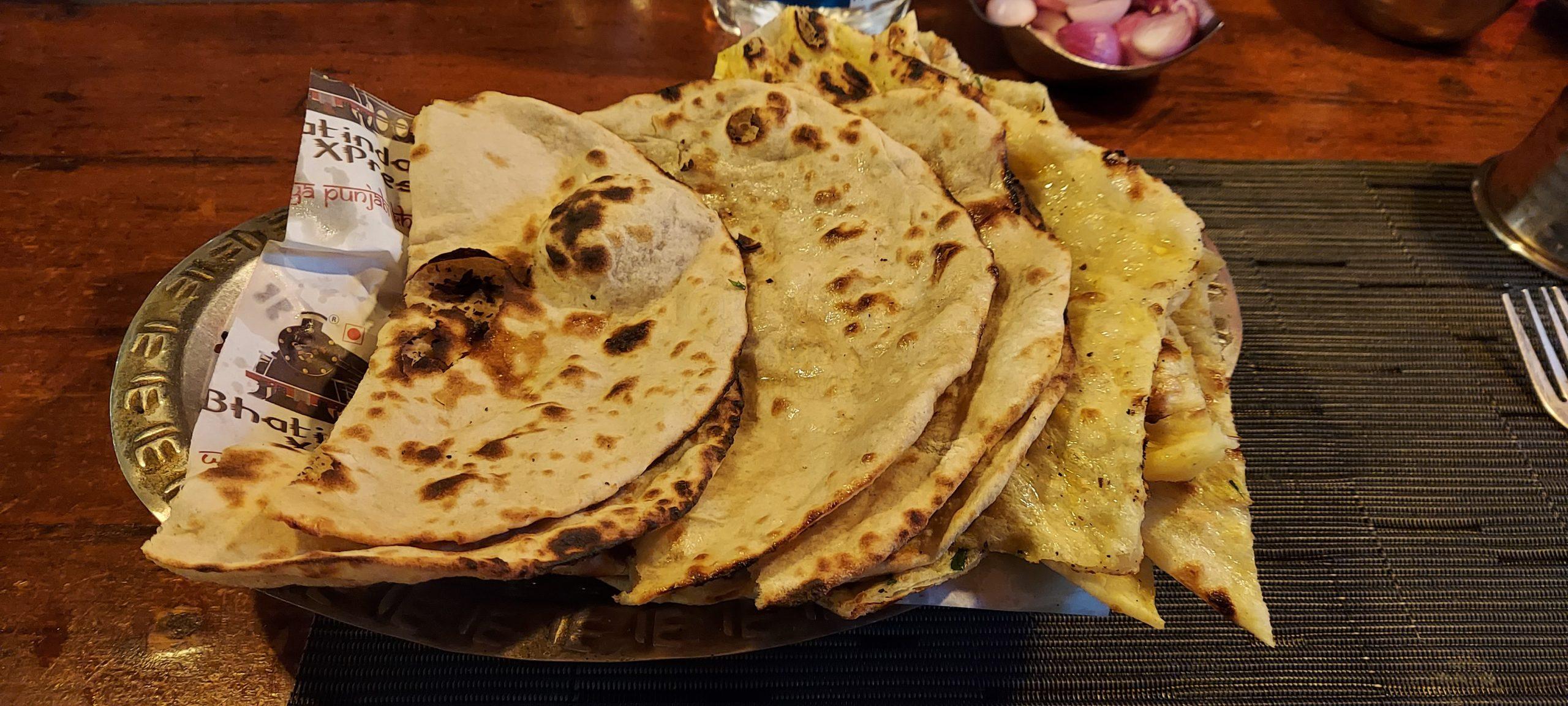 Chicken Changezi was very salty. There were four pieces of chicken in it. We served it equally amongst all of us and then started to eat! It was too much of a hassle to complain or send it back as there was hardly anything left in the bowl. It was all on our plates. So we managed.
Methi Malai Murgh was wonderful. Mild and very tasty. The chicken pieces in it were very soft and well-cooked and it was a perfect accompaniment to the Rotis.
Surprisingly no desserts on the menu. Only Lassis and Juices. We ordered 1 Lassi, 2 Lime Soda and 1 Punjabi Masala Beer Pint! It tasted as lovely as it sounded, though it was only Chaach! 🙂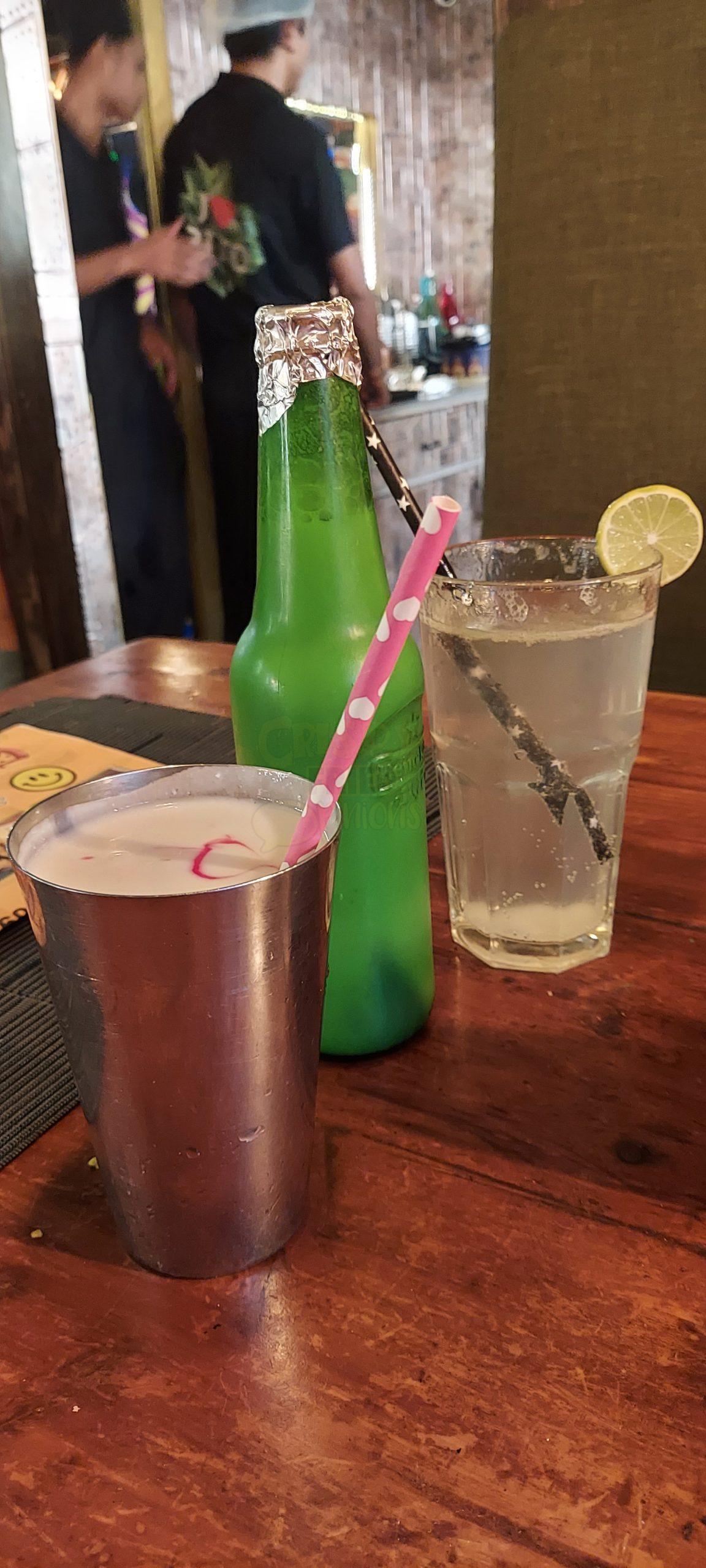 A wonderful lunch, overall. Paid about 2.6K in all, this restaurant is not to be mistaken for a dhaba kind of a place, clearly an upscale dining restaurant, both food and price-wise. 🙂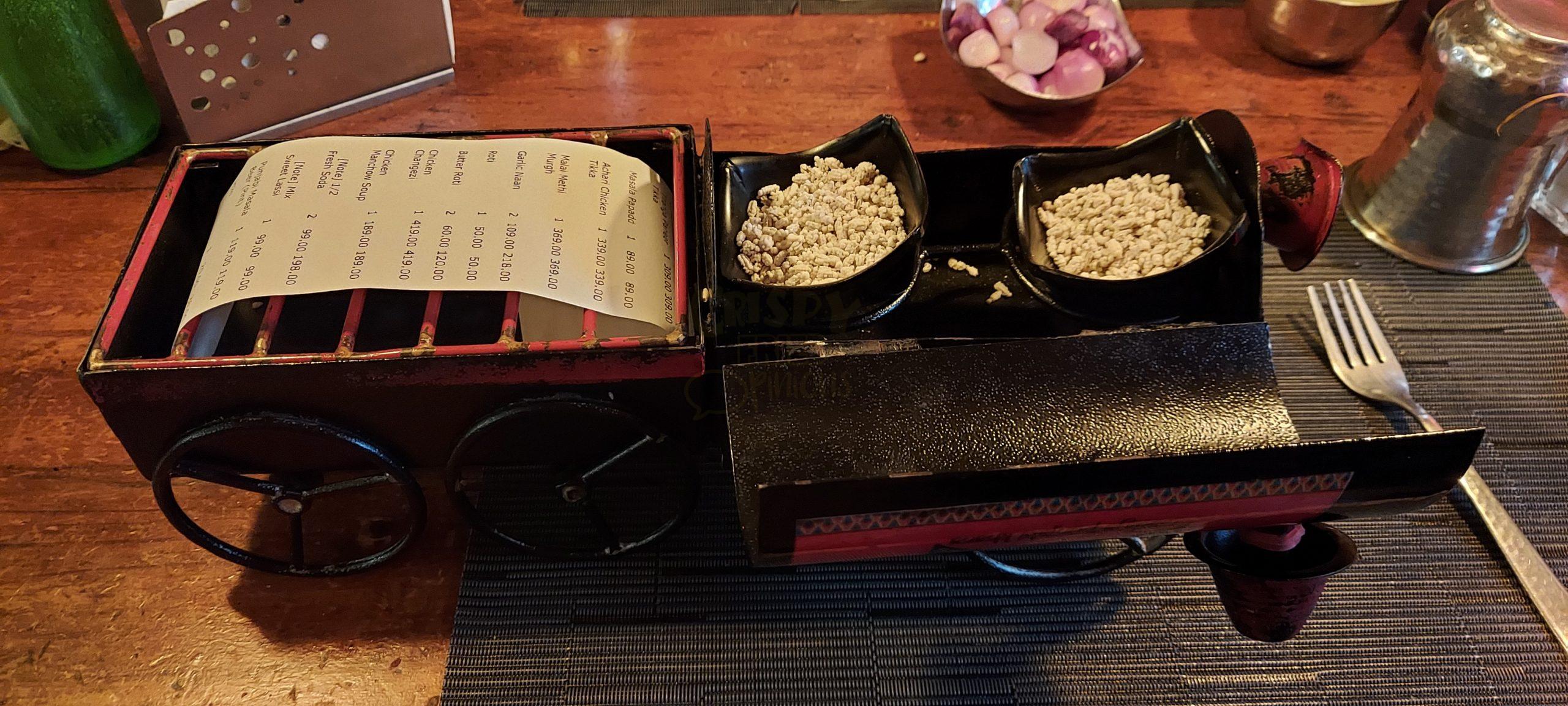 Certainly one of the nice restaurants I'd recommend if you are looking for Punjabi food in Chennai!