I feel I should definitely mention this before writing this review. Six years ago, I visited a place called Prems Graama Bhojanam for the first time, to understand that healthy millet food can be very tasty too! Since then, I have lost count of how many times I have visited that place for breakfast, lunch, and dinners. In fact, their Mini Breakfast was one of my most favorites dishes of 2019. Their Cholam Dosa was a killer. For me, millet food has always been synonymous with Prems Graama Bhojanam.
That said, when I heard of another place by name Millet Maagic Meal, that also primarily serves millet food, I was quite excited to try. Drawing comparison to Prems Graama Bhojanam in the back of my mind was only natural. However, I'll not be doing that in this review.
A friend and I decided to catch up for dinner in Anna Nagar, and immediately decided to check out Millet Maagic Meal. They have two outlets – Alwarpet and Anna Nagar, we chose the latter. The place was quite easy to spot with Google Maps. We entered into a small place, that could seat about 20 or 24 Pax, I think. Ambience was pretty basic, but the place was neat and clean. We were pretty much the only diners all through the time we were there. A couple of them did takeaways during this time.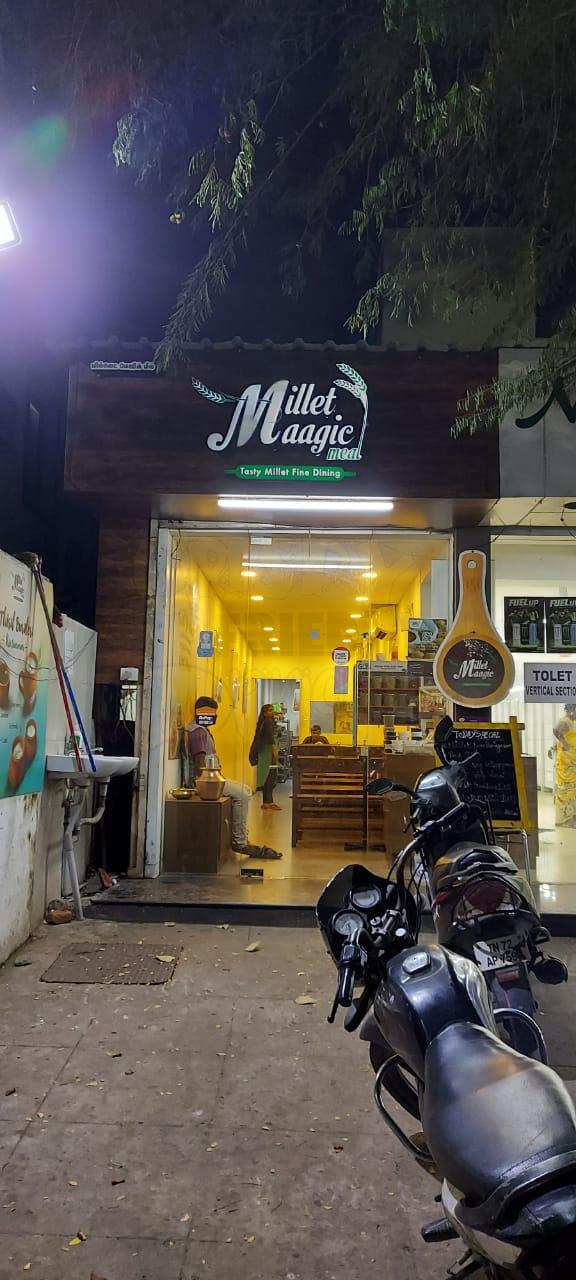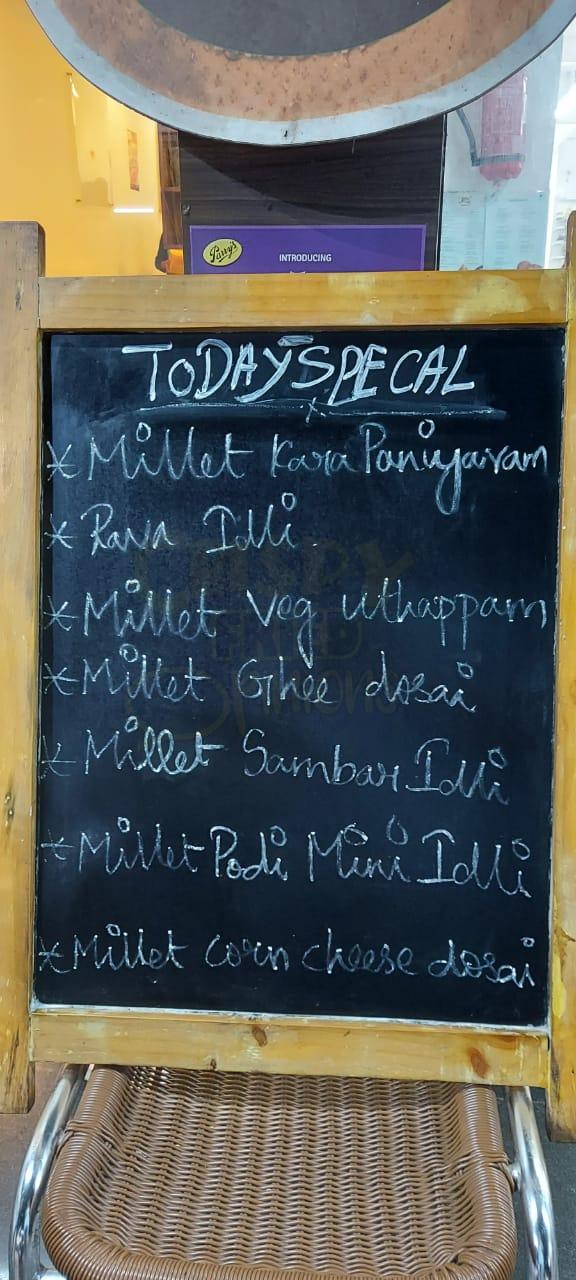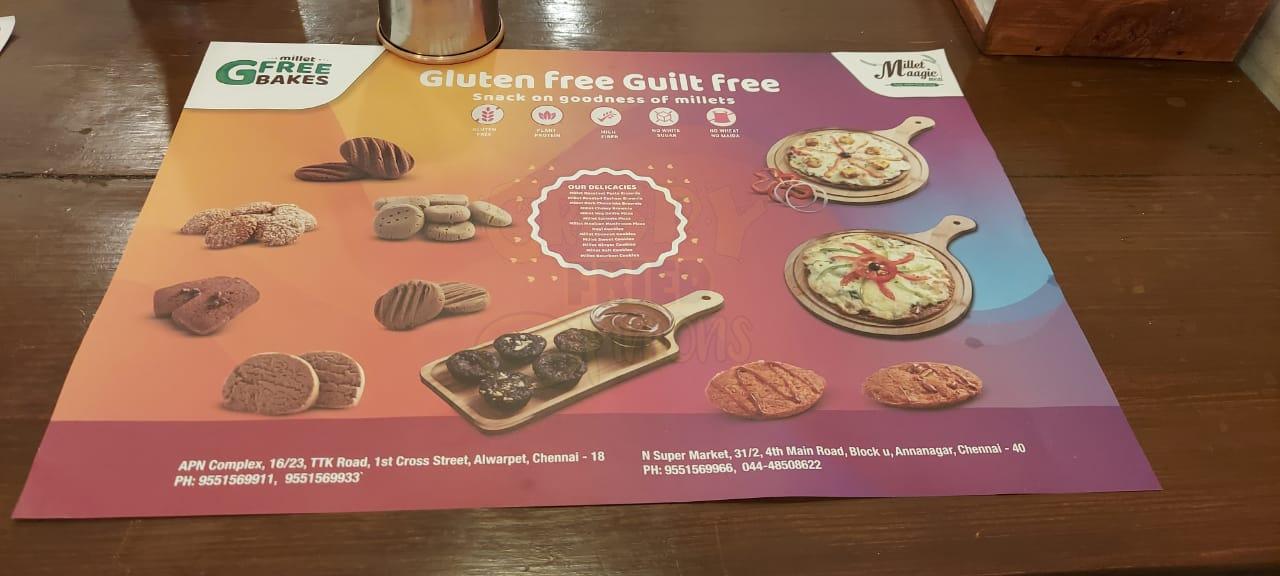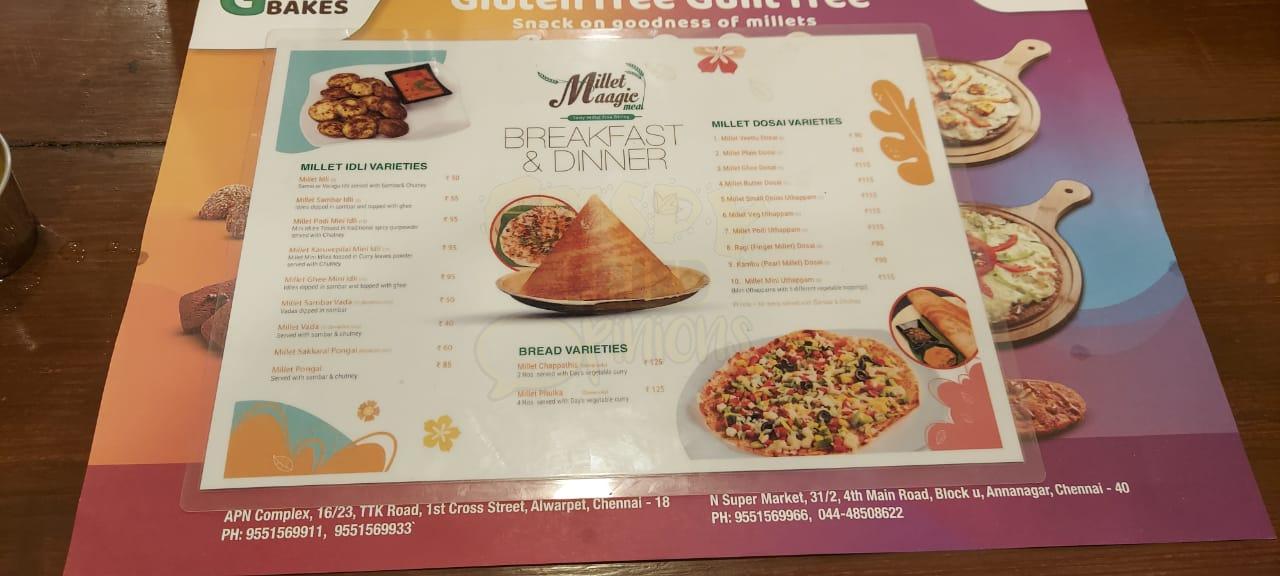 We were served a small shot glass of Paanakam as a welcome drink.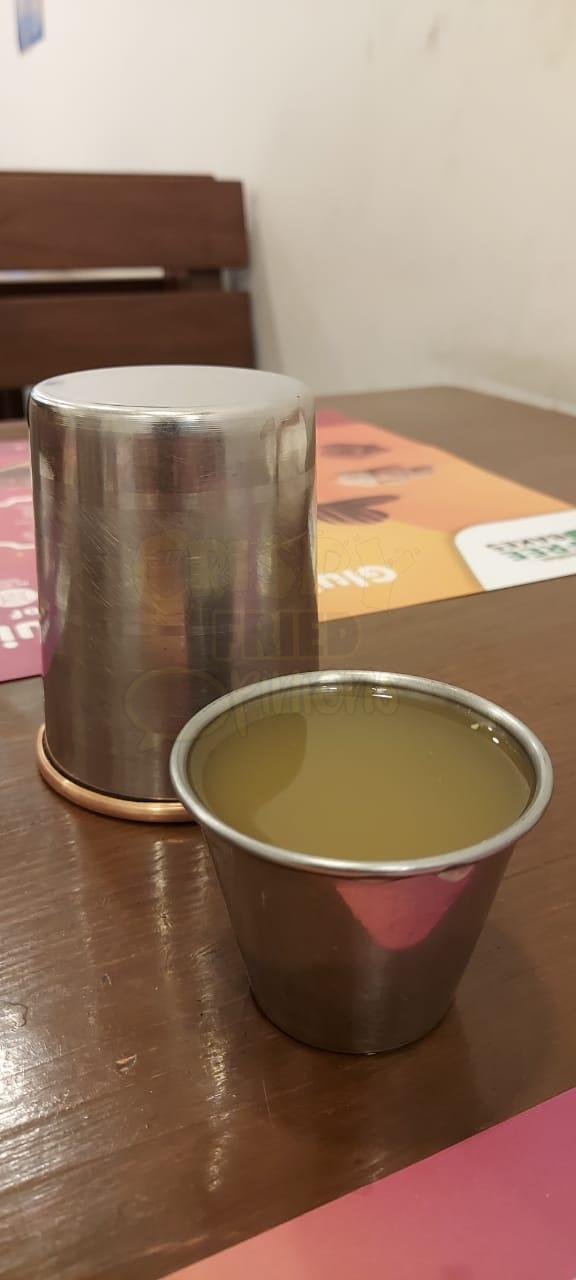 We asked the waiter to suggest their special signature dish(es). This is one question where I would expect the other party to put their best foot forward. He suggested Paniyaaram, Dosai and a few dishes, for all of which he seemed to give the same weightage. So we decided to take a look at menu and order.
We ordered Ghee Podi Idli and Karuvepillai Podi Idli. Food was served in pretty decent time, in eco-friendly areca plates. There were two chutneys served alongside, but it was neither the usual coconut chutney nor the tomato one. Later on, we got to know one was chow chow and another was Radish. Coming to the Ghee Podi Idly, the podi and/or the idli lacked salt. It hardly had any punch, it was too bland to my palate, and the flavor of ghee was hardly noticeable. It wasn't bad at all, for that matter, nothing was close to being labelled bad. It just failed to make any significant impression. Karuvepillai Podi Idli was much better compared to this one, Karuvepillai podi generously coated on the idlies, it was good. Again, this is just a personal preference, I would have liked the usual chutneys better. We were told Idlies were made of Varagu (Kodo Millet).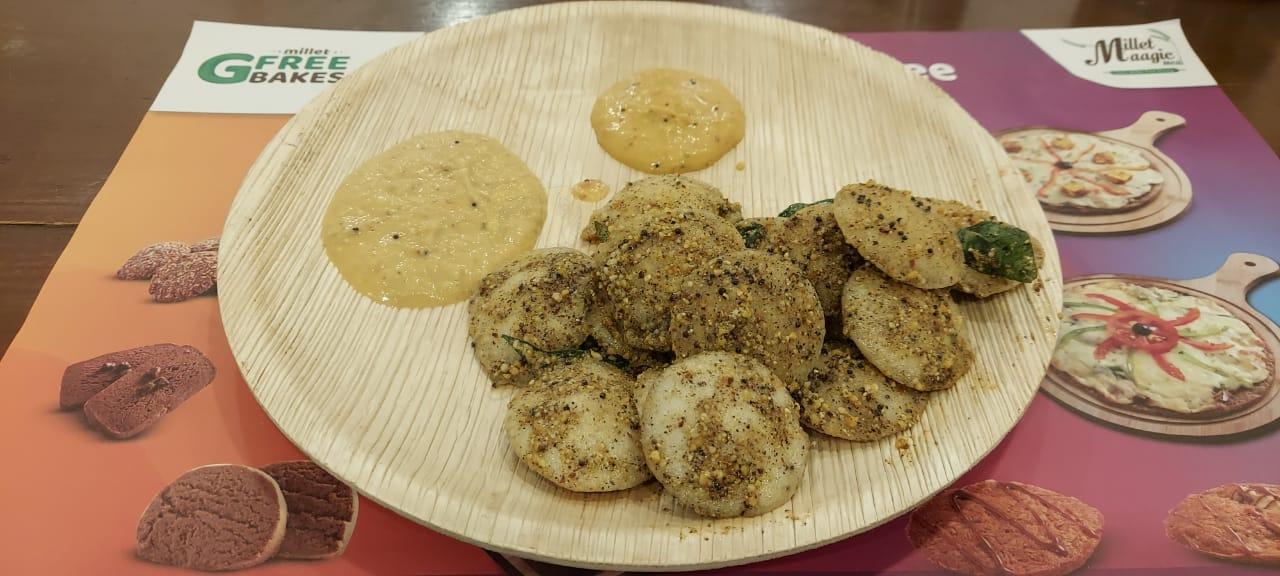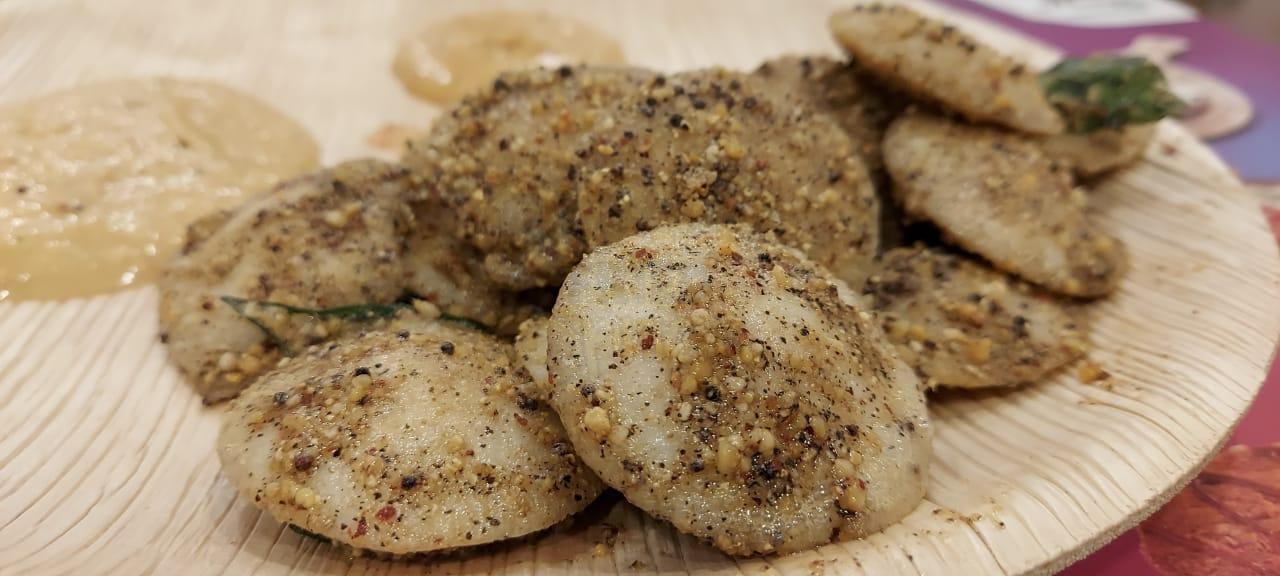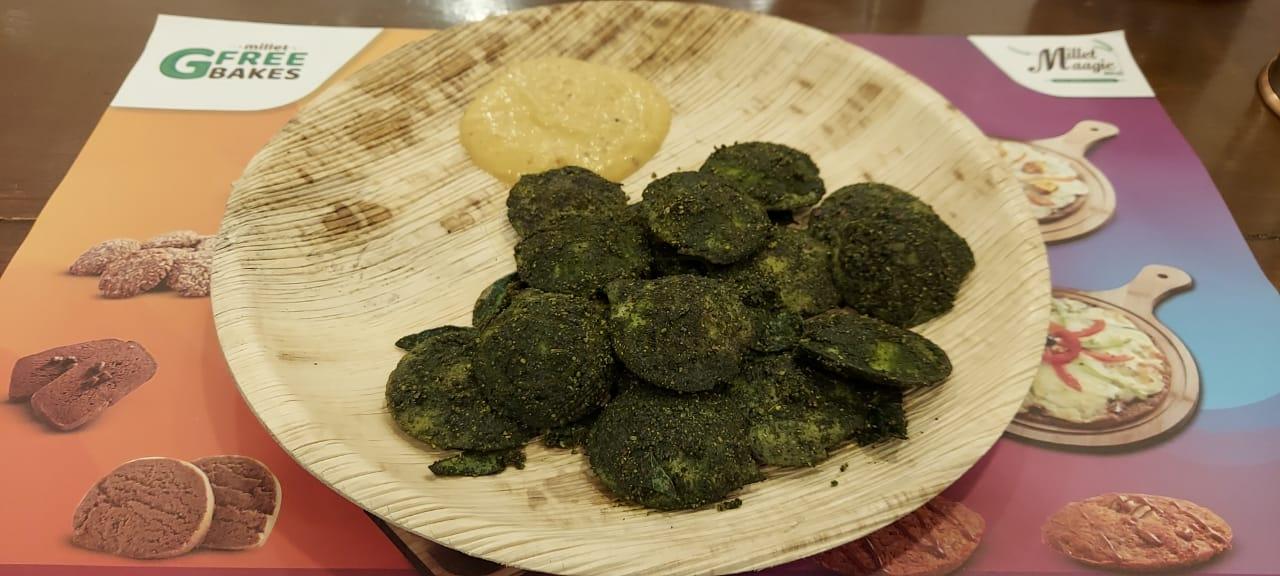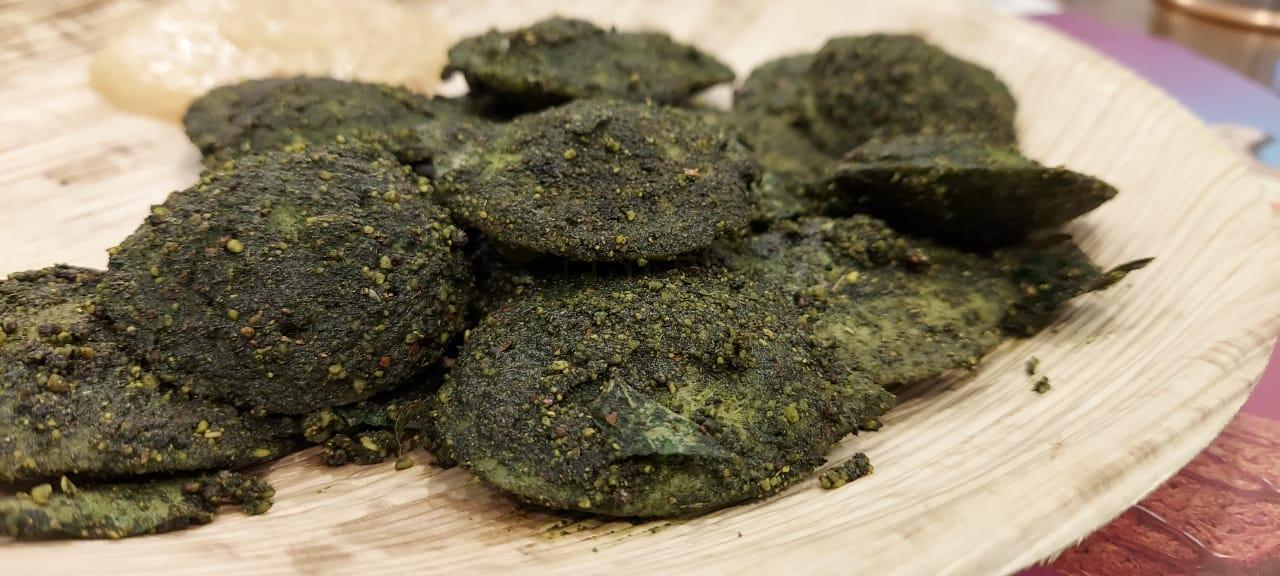 Sambhar tasted very good like homemade. It was brinjal and probably chow chow in the sambhar. We ate a very little of it.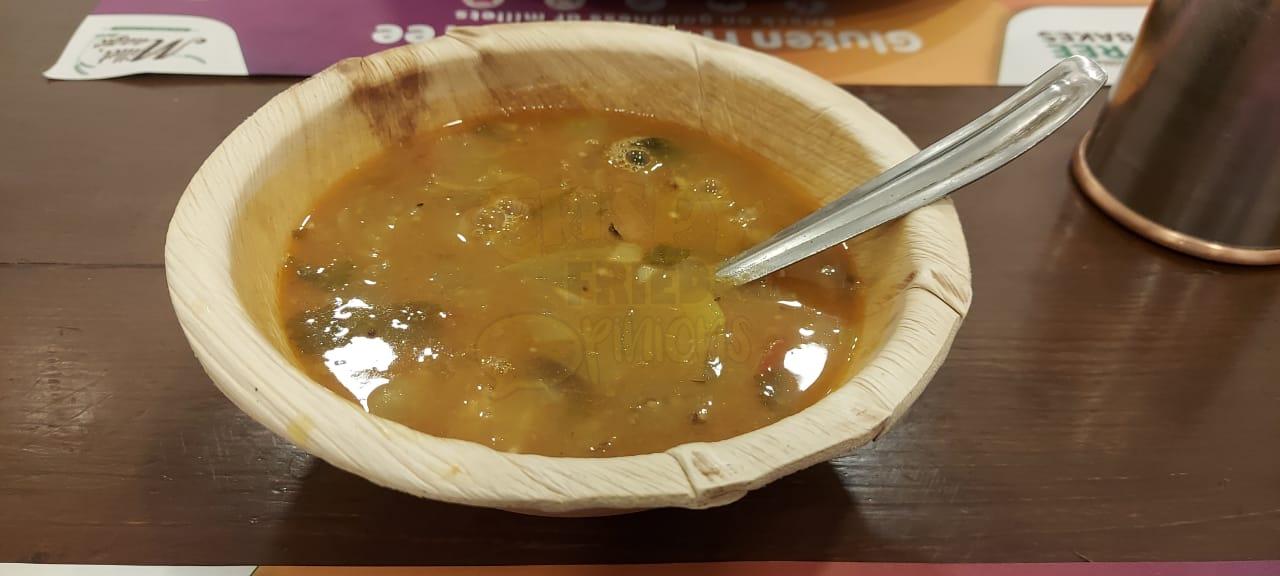 Next, we ordered a 5-Mini Oothappams, and a Pizza Dosa.
5-Mini Oothappams were basically the same bottom with 5 different toppings – Onion, Carrot, Tomato, Capsicum and Podi. We were told all Dosais were made of Saamai (Little Millet). Interestingly this was served with thick coconut chutney with coriander, in addition to the two other chutneys served earlier. That was wonderful. Out of these, Onion Oothappam was good, the rest were okay, as the toppings did not add any significant value except the visual appeal. Again, tasted pretty decent. Podi Oothappam was a bit too dry.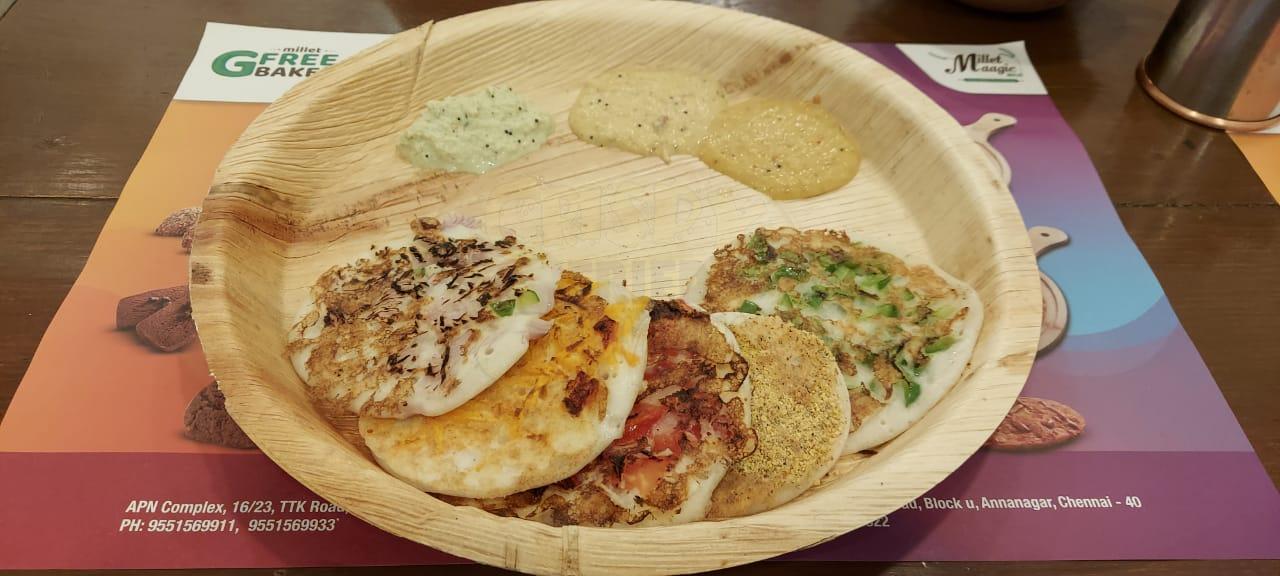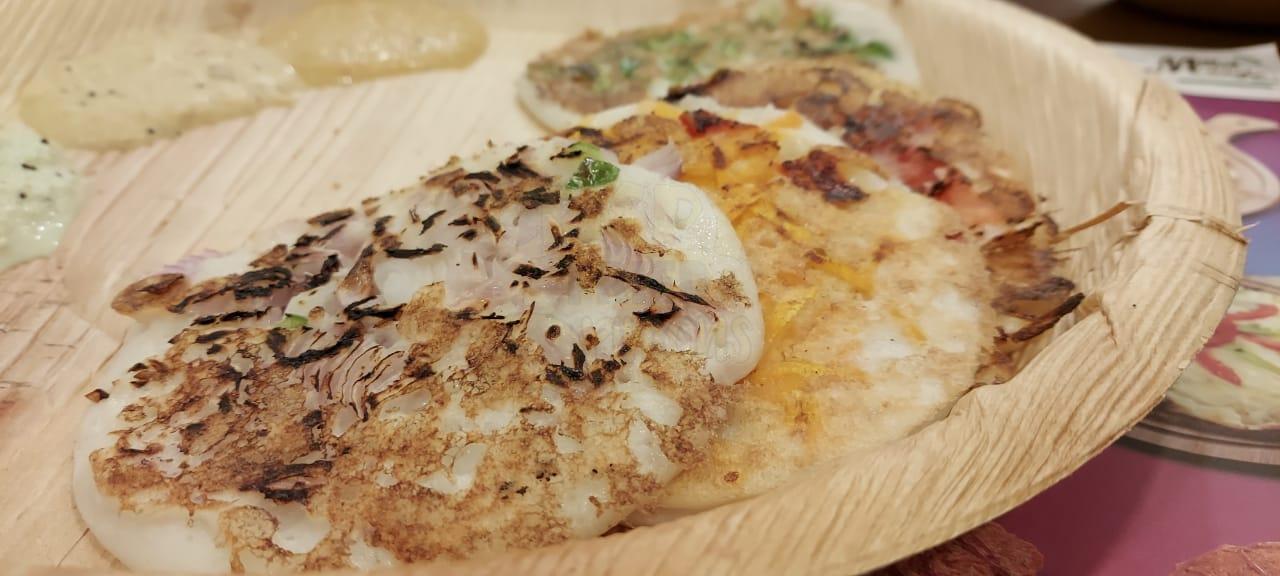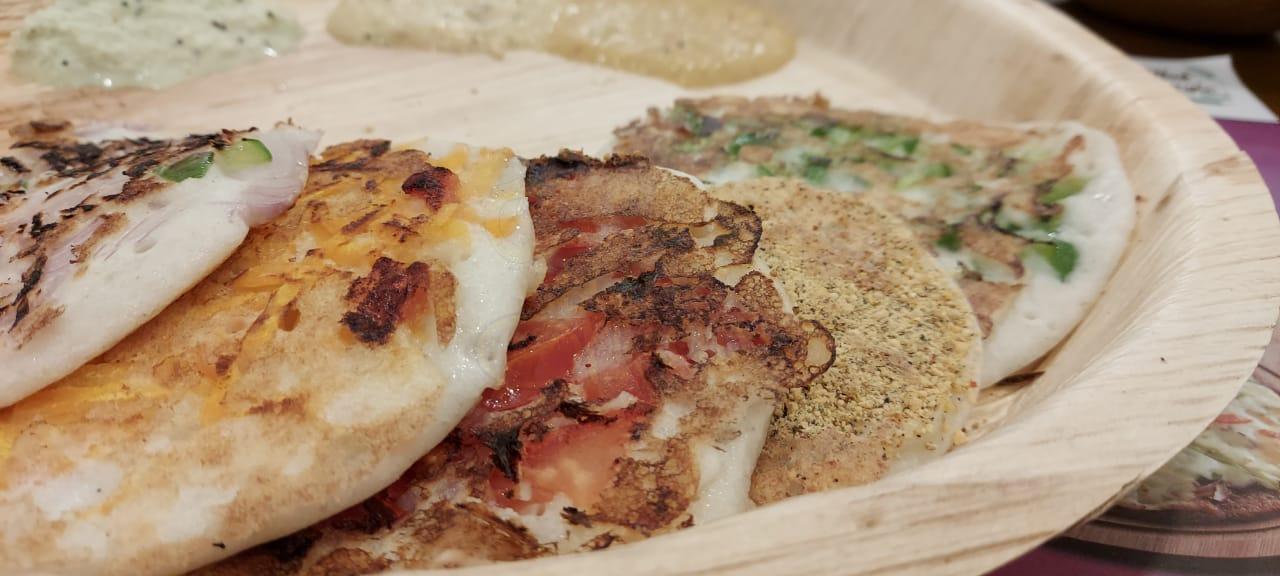 Pizza Dosa was very good. A dosa base with pizza toppings, nice and cheesy, a slight sprinkle of Italian seasoning, and tomato ketchup. Veggies on the top were nicely cut, fresh and crunchy and some green olives too were added. This would be a definite hit with the kids, I thought. This was also served with three chutneys, which was quite odd. I couldn't dream of dipping the pizza dosa into one of these chutneys. It tasted good just as it is. This was definitely a winner!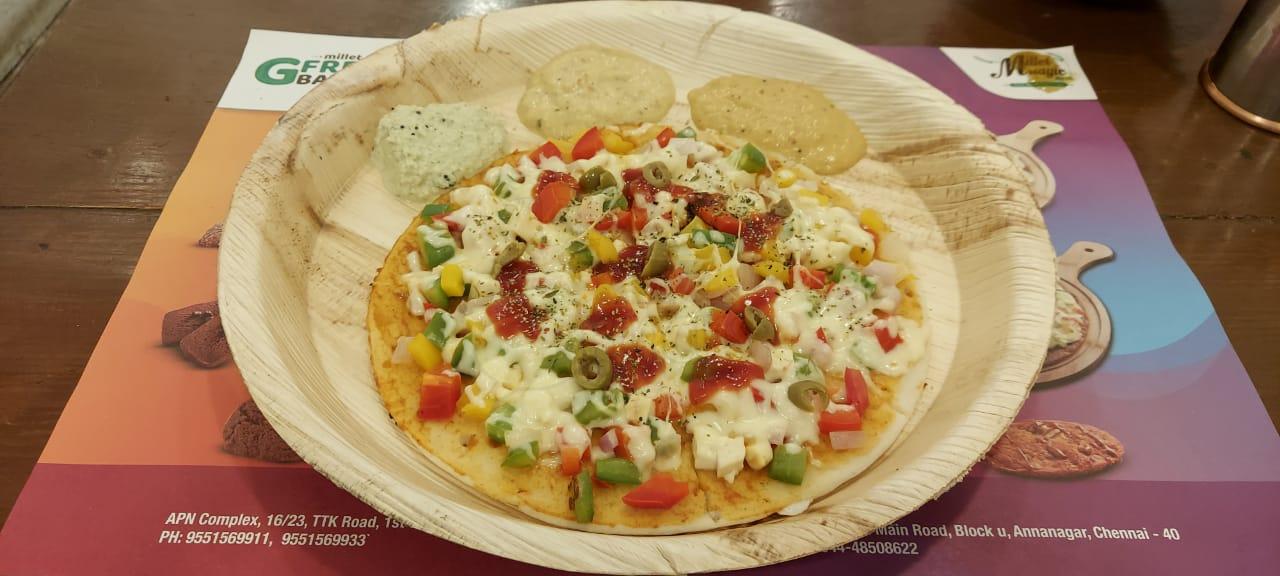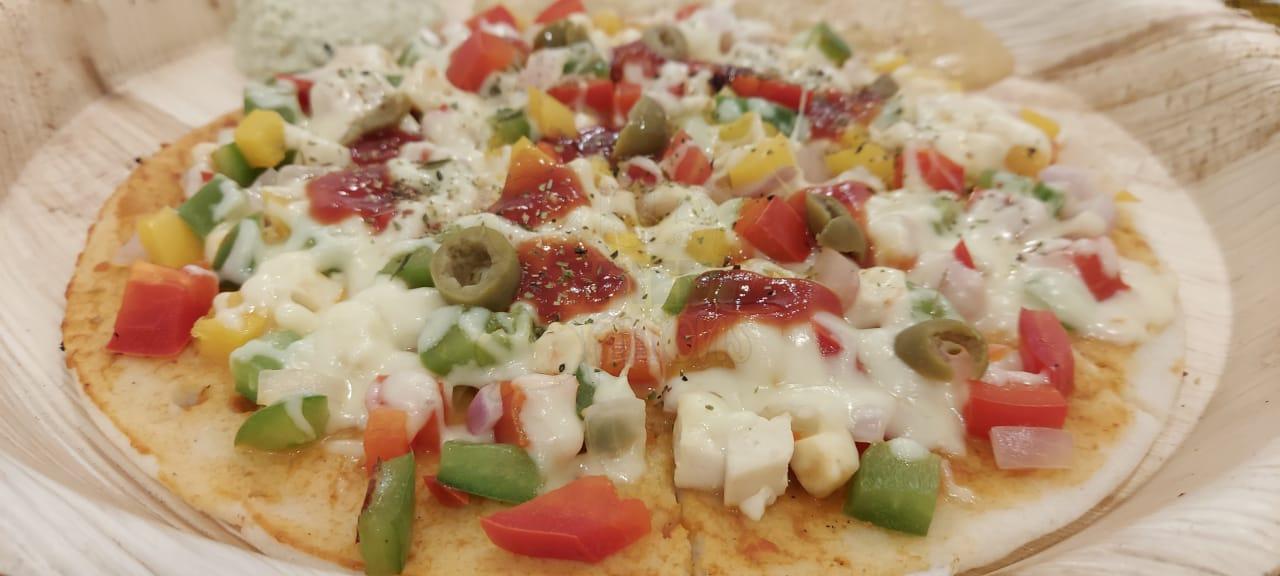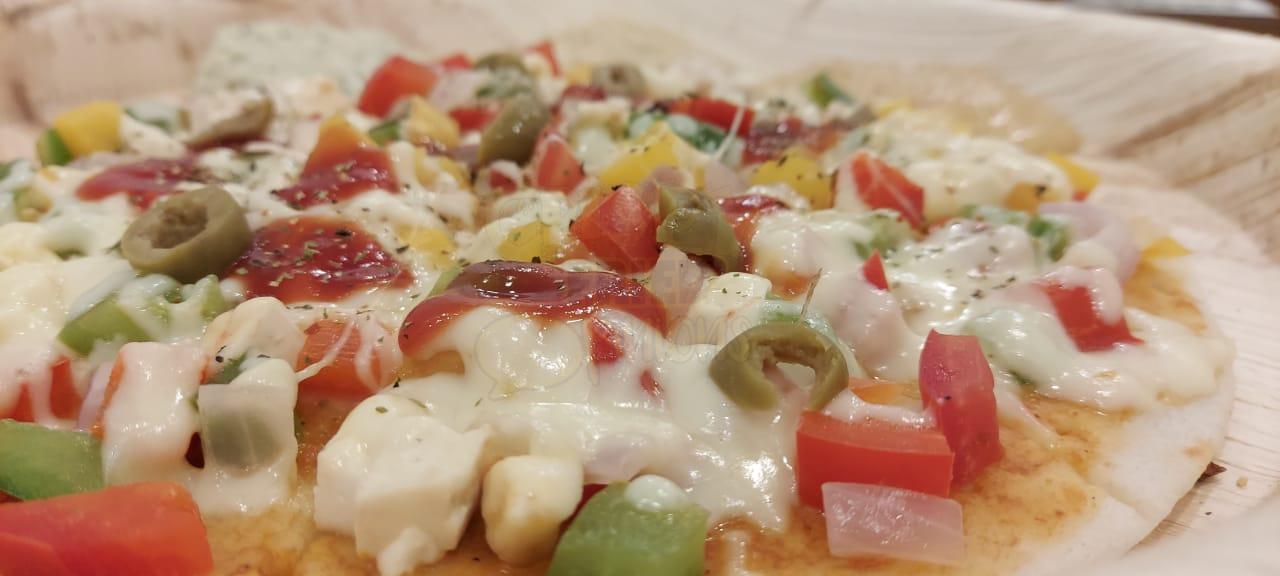 We checked if they had any desserts, to which they replied in the negative. Thankfully they had Paanakam and Neer Mor. We ordered one each and decided to share. Paanakam is something I grew up drinking, more like an offering for the deity on Rama Navami. I felt the paanakam lacked the punch. The flavor of Tulasi (holy basil), pachcha Karpooram (edible camphor) and sukku (dry ginger) were hardly noticeable. Perhaps it was deliberate, not to add them, I am not sure. Neer Mor was one of the best I've had in the recent times., very tasty! The perfect masala Mor/spiced buttermilk.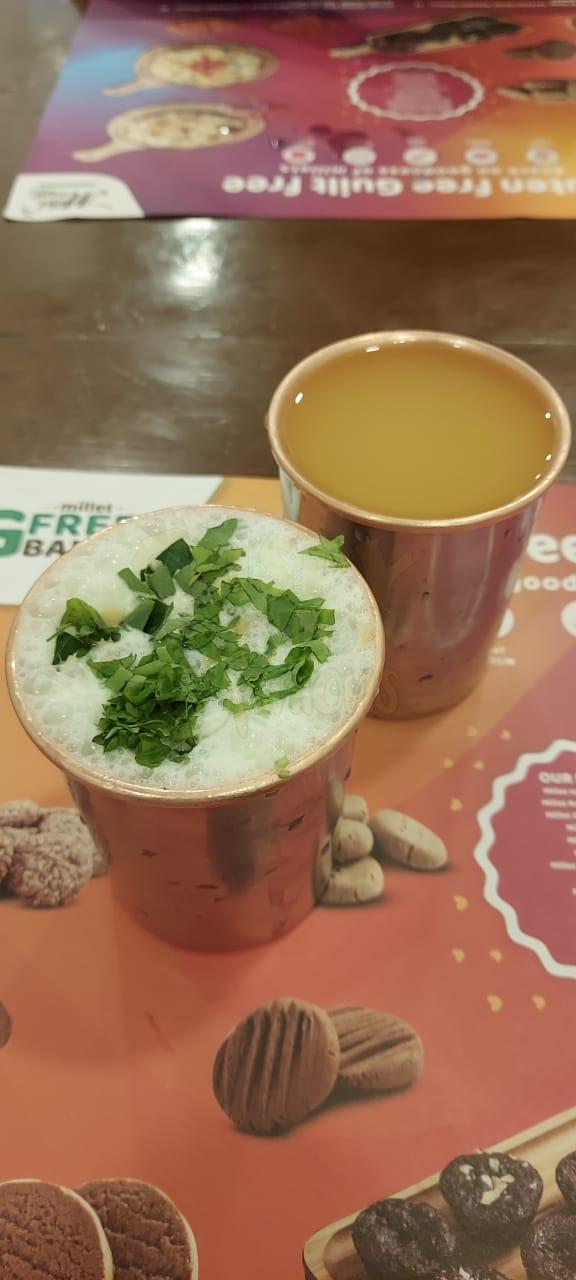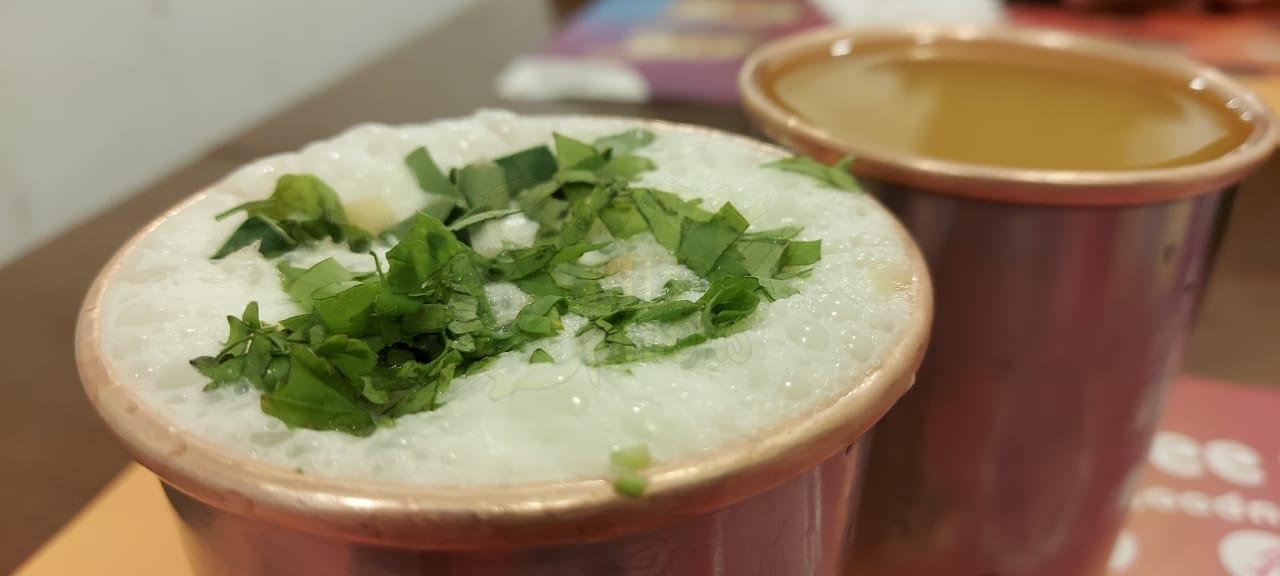 They also had a wide range of millet items – various flavors of Murukku, cookies, and so on. Sampled a couple of murukkus and they tasted good.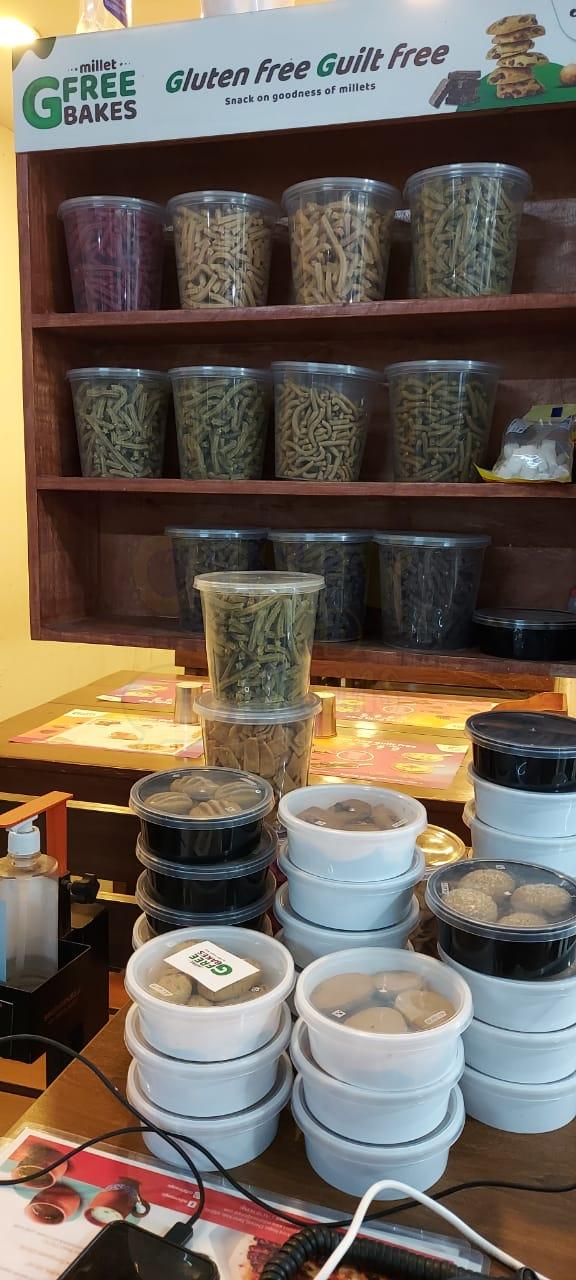 That's pretty much how our dining experience ended. I wouldn't say it was an amazing experience that would woo me back at the next possible opportunity, but it was just a decent experience based on what we ate. We paid 540 bucks in all, that's quite nominal I would think.