A Sunday lunch outing in Mahabalipuram was on the cards for quite sometime. A friend planned it all and the date was fixed as 28th February. Needless to say, it was a drinks and lunch outing!
My friend has been here a few times, and he knew the owner Mr. Muthukumaran well, and we were certainly made to feel special with the hospitality extended to us.
We reached roughly around 1PM, a person promptly came to take our car and park it safely. We had a 4-seater corner table reserved for us, and the view of the beach couldn't be any better. We were like 50 meters from the sea, it was just awesome!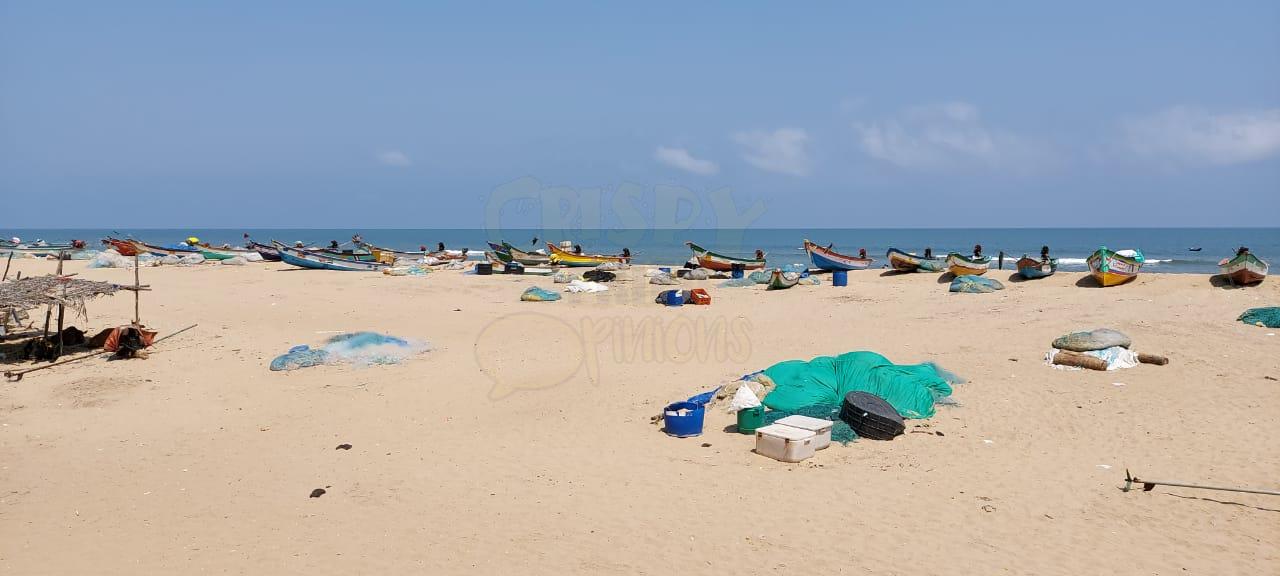 We settled down in a jiffy and were ready for the next formalities. Like many other restaurants in Mahabalipuram, BYOB is allowed here and we had a bottle of Jim Beam Bourbon, just for the two of us, one friend had beer, and the another one was going to drive us back to Chennai. 🙂 He was quite happy with his dose of Lime juice!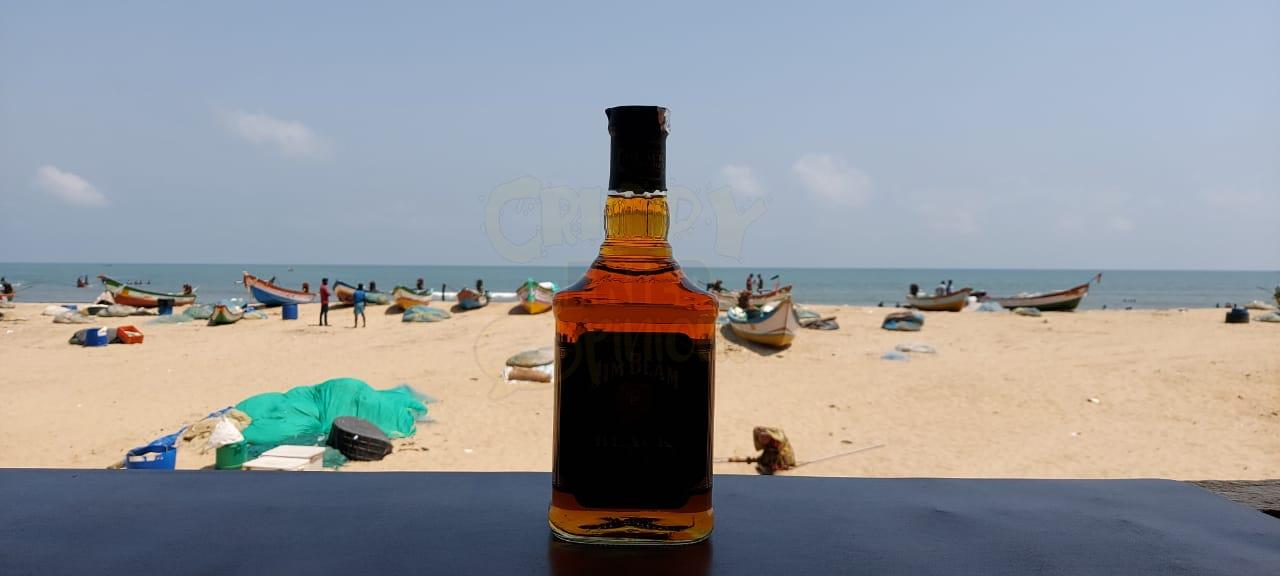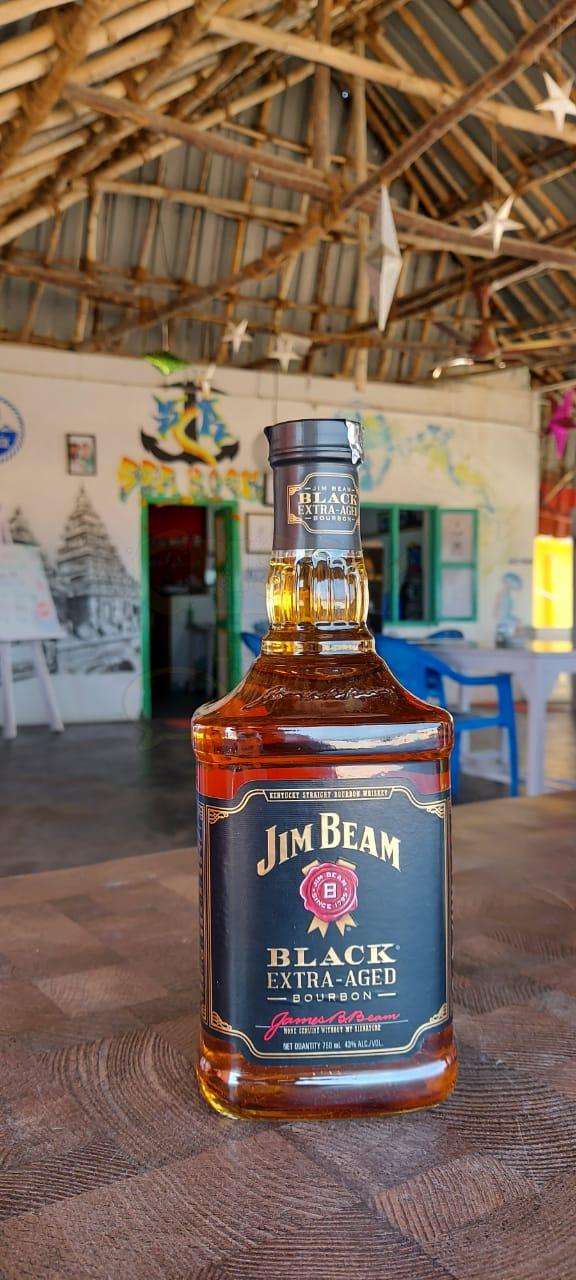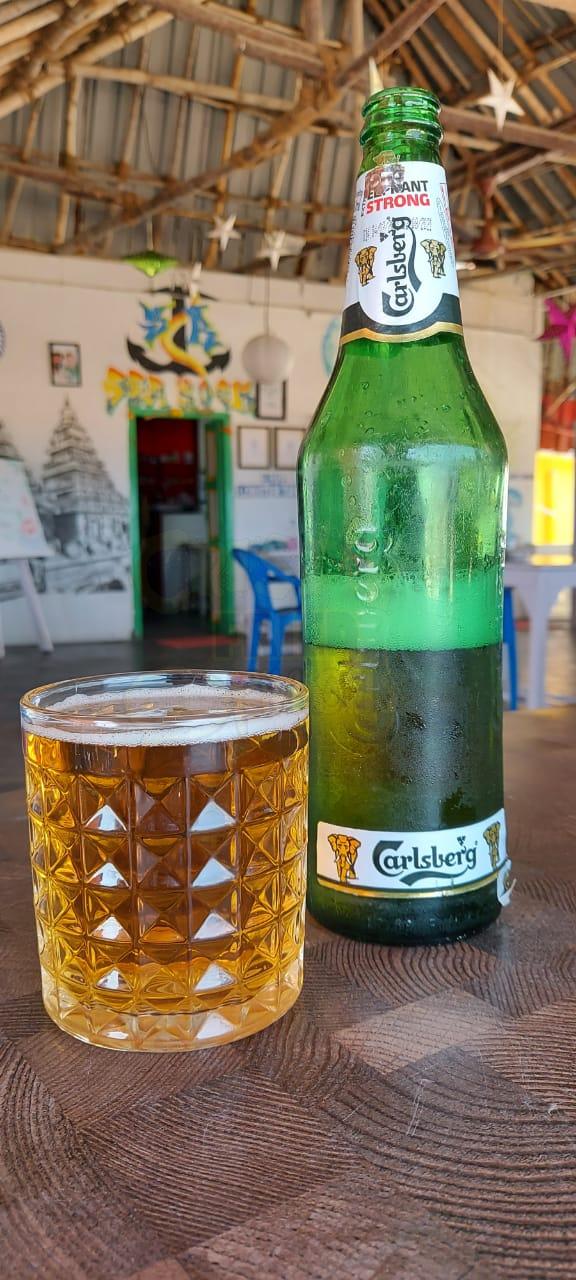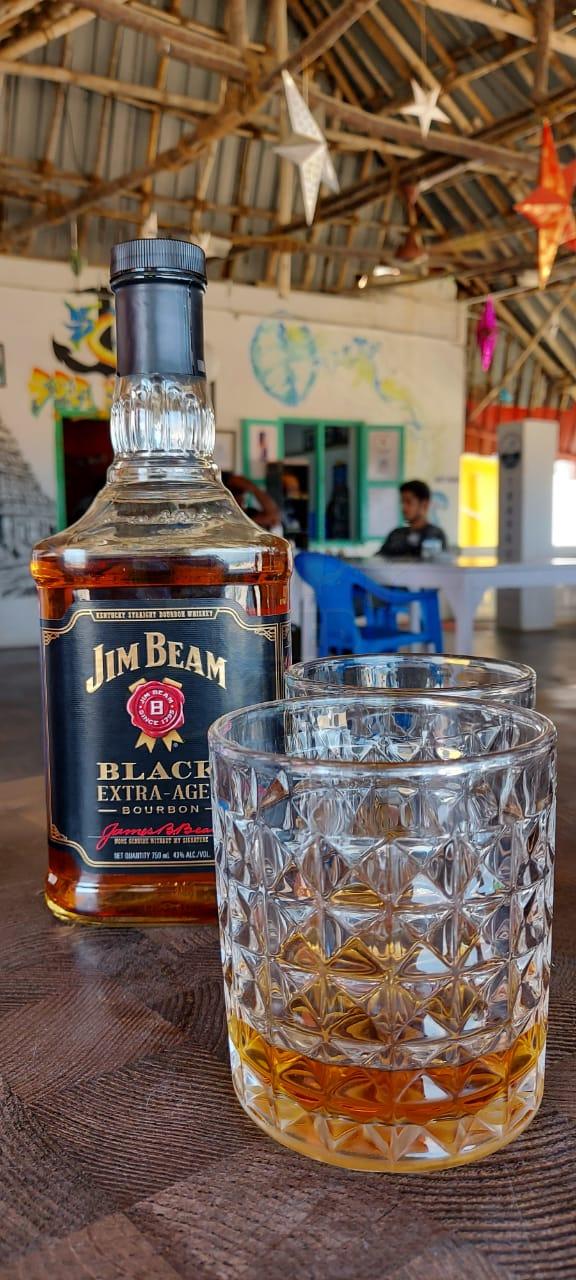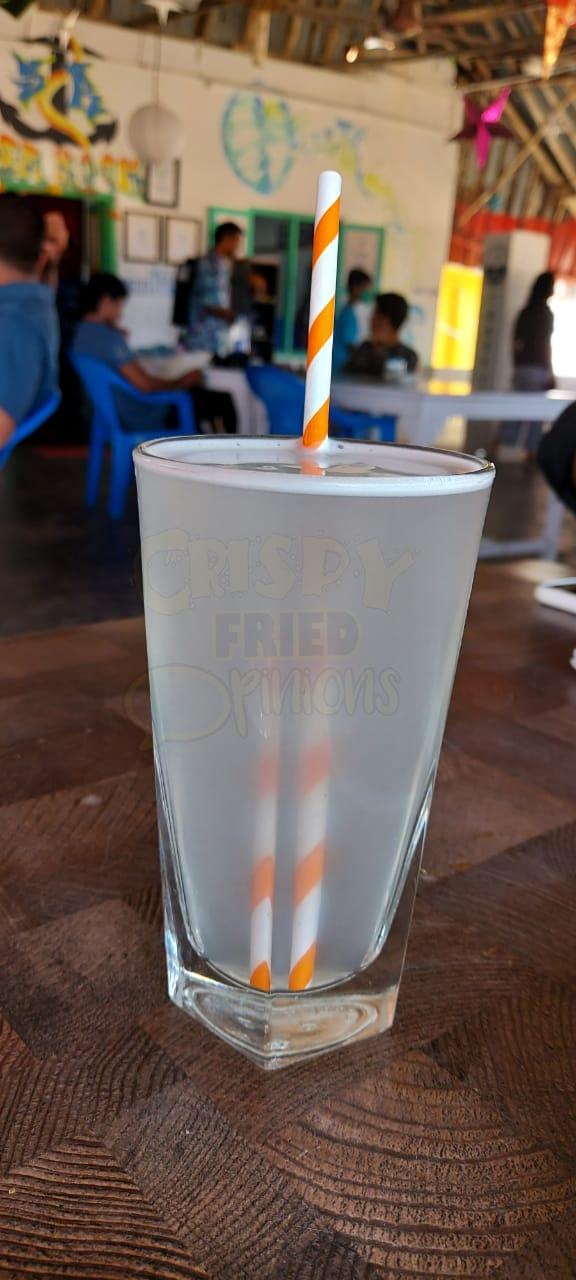 Friends went full on with seafood, and I had to stick to what I know best – Chicken 🙂
Squid, Prawns, Fish Fry and Chicken arrived one after another. Friends loved it and raved about them being so fresh! Chicken was pretty good too, a plate of raw cut onions along with it made it even better.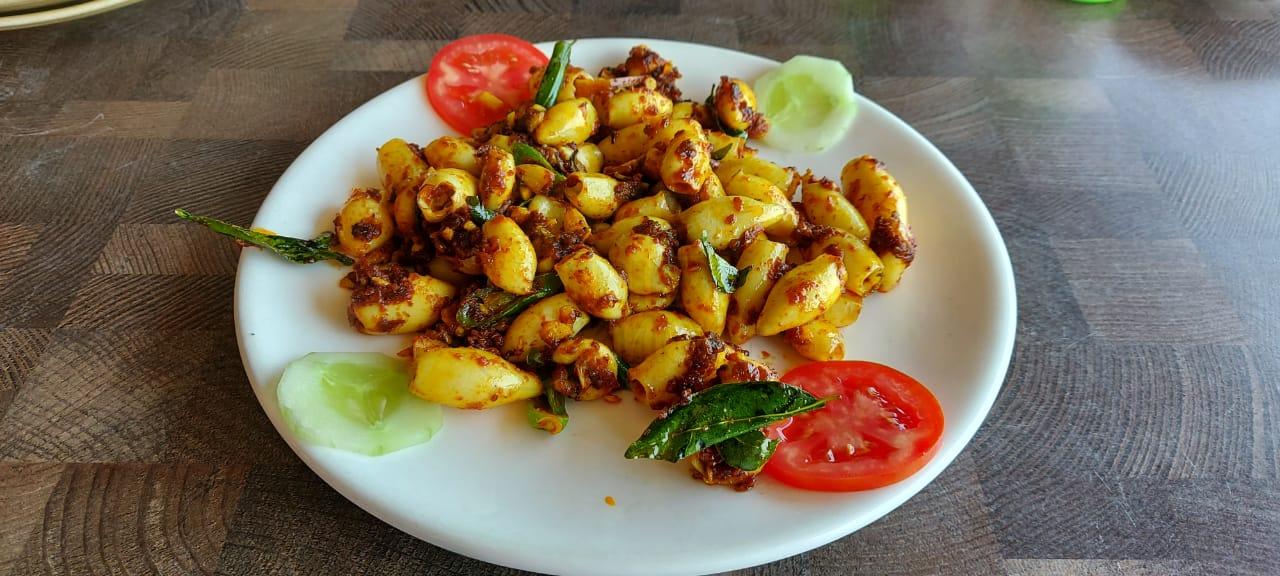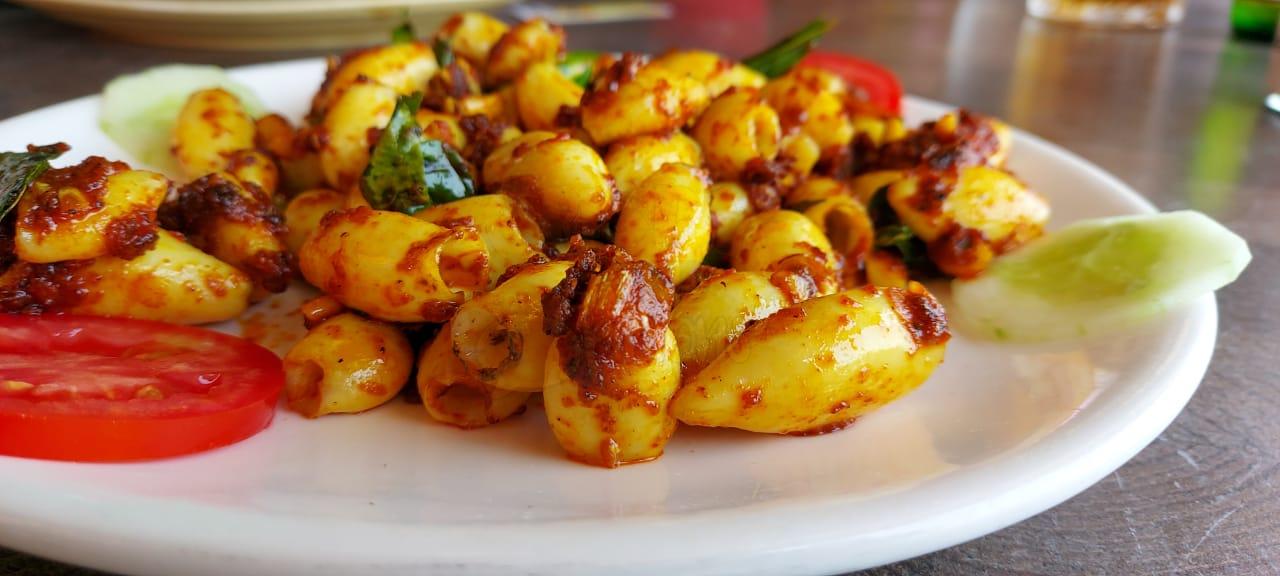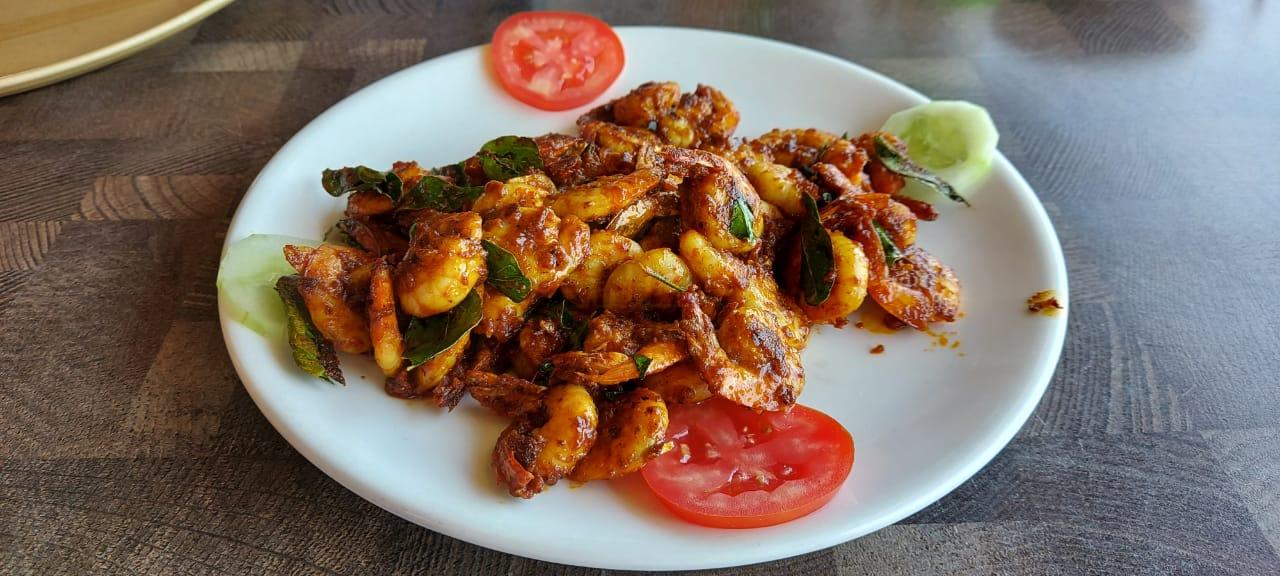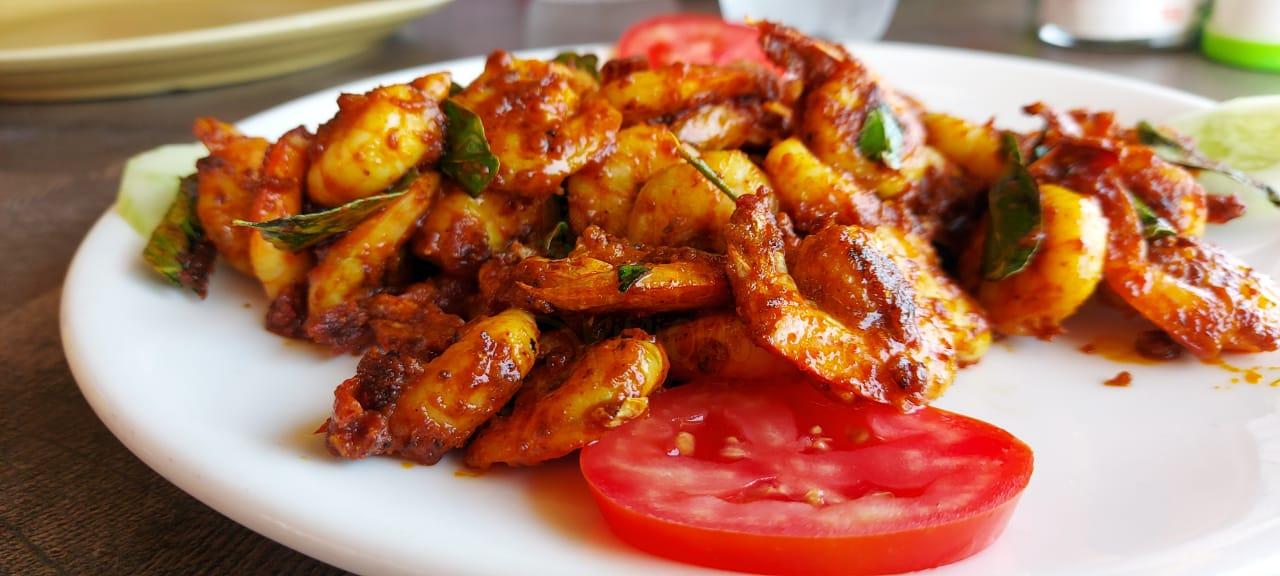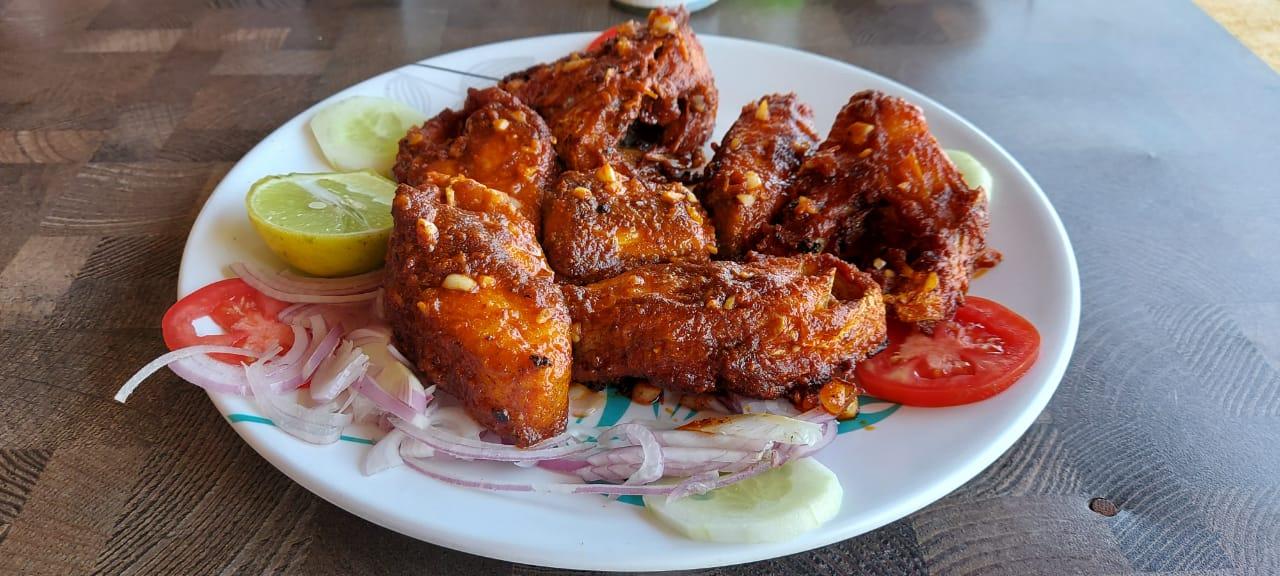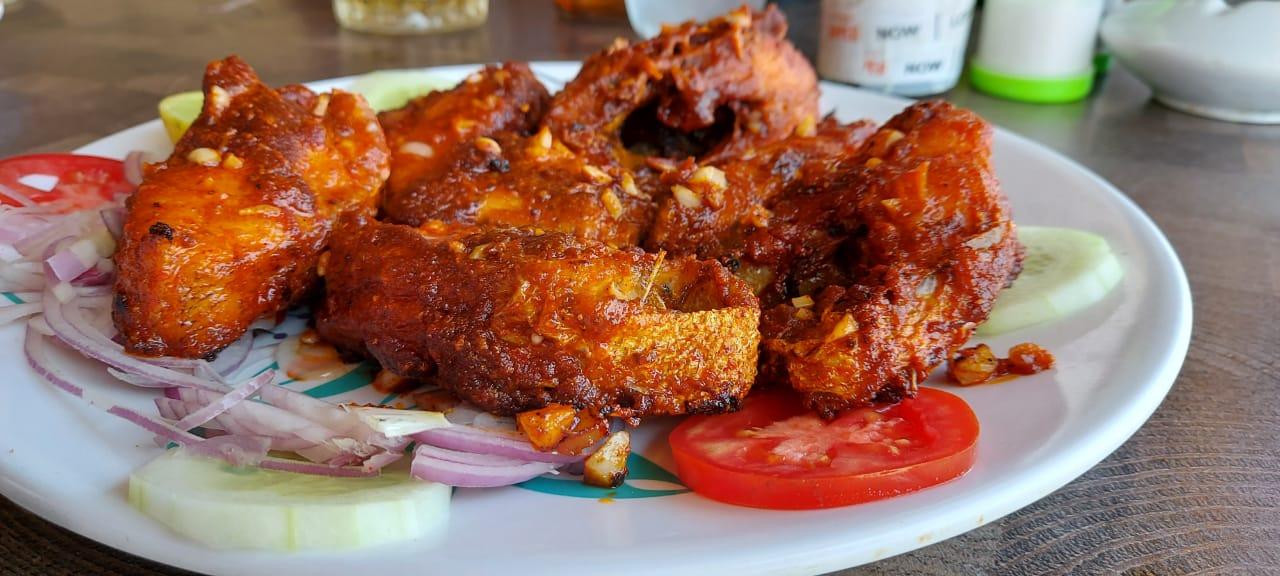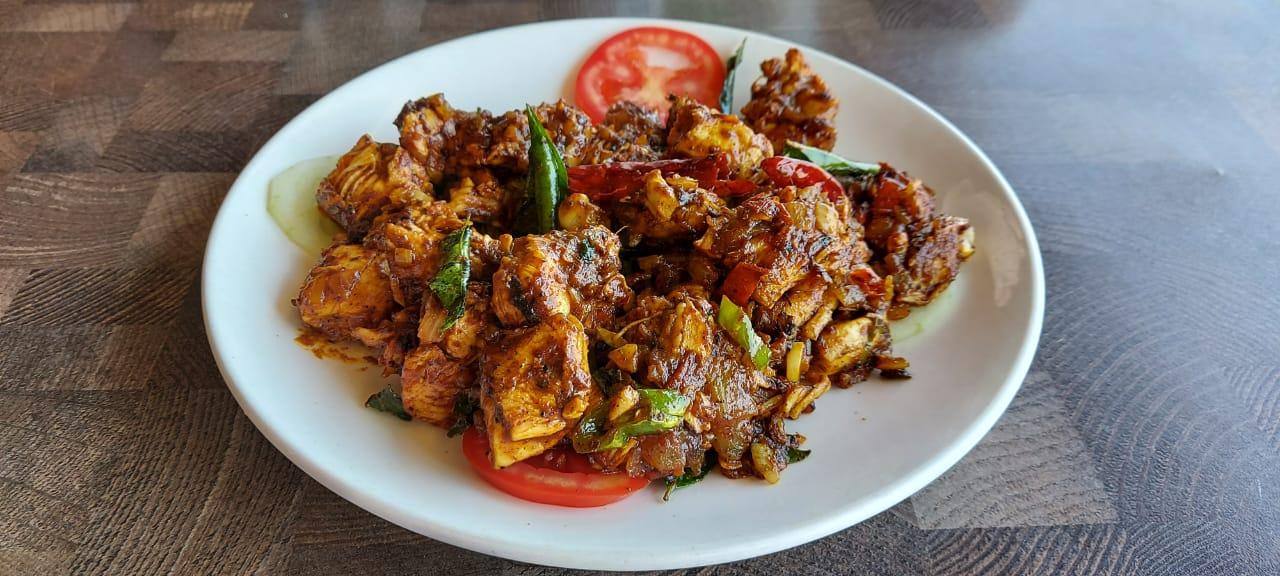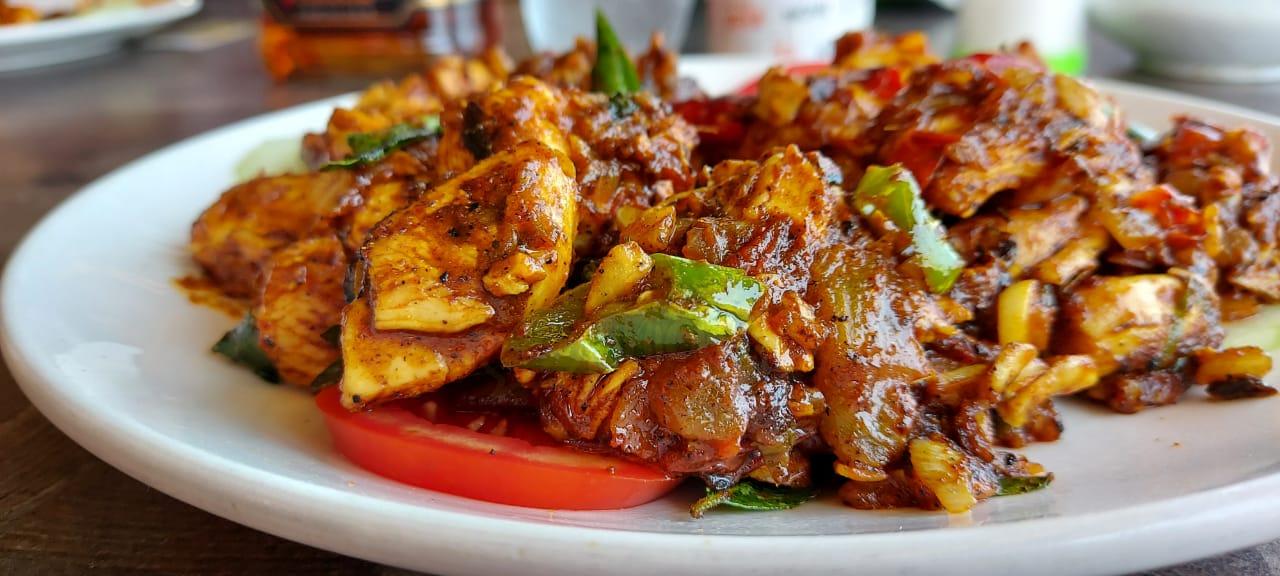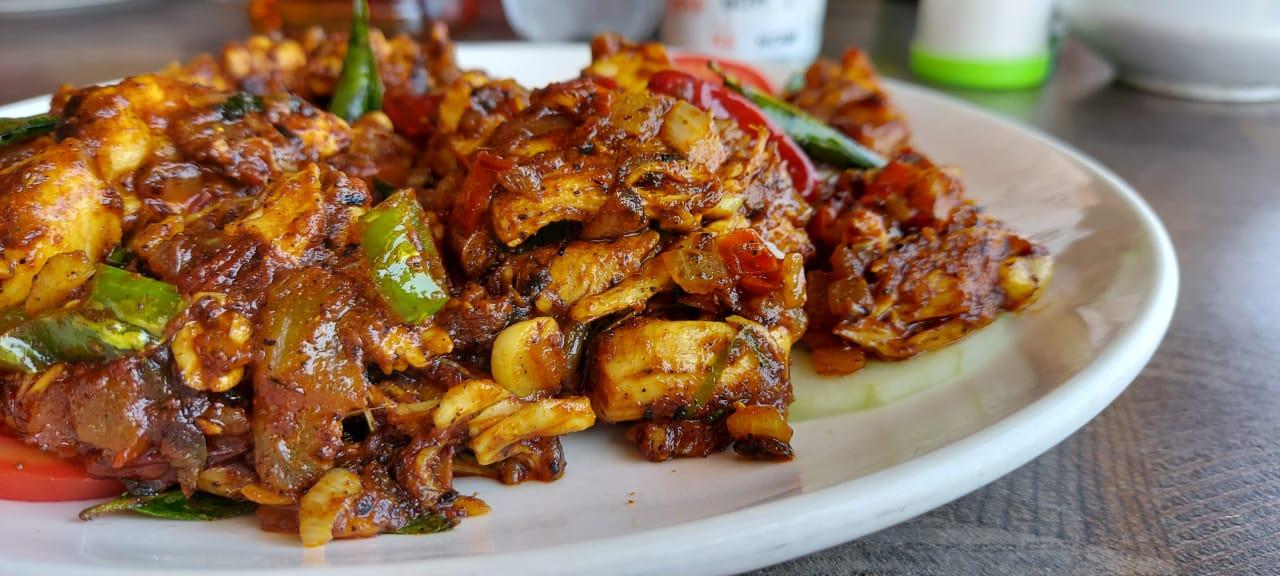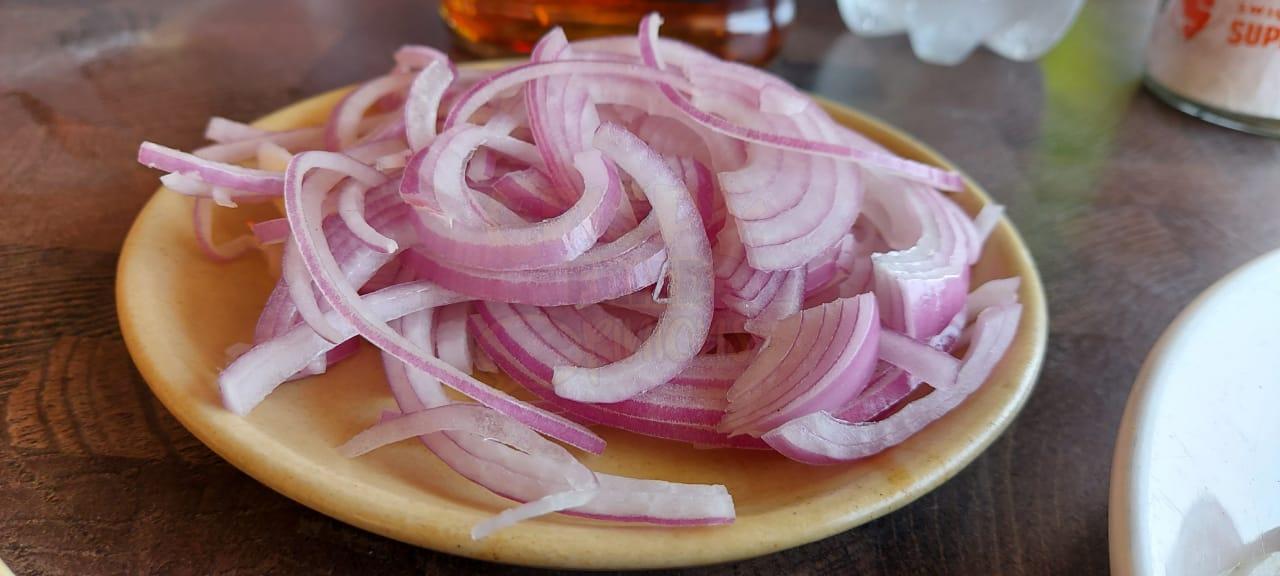 Wonderful conversations, catching up with old times, now and then sipping on the drink, and a gentle breeze from the sea, helped keep us cool amidst the hot burning afternoon sun.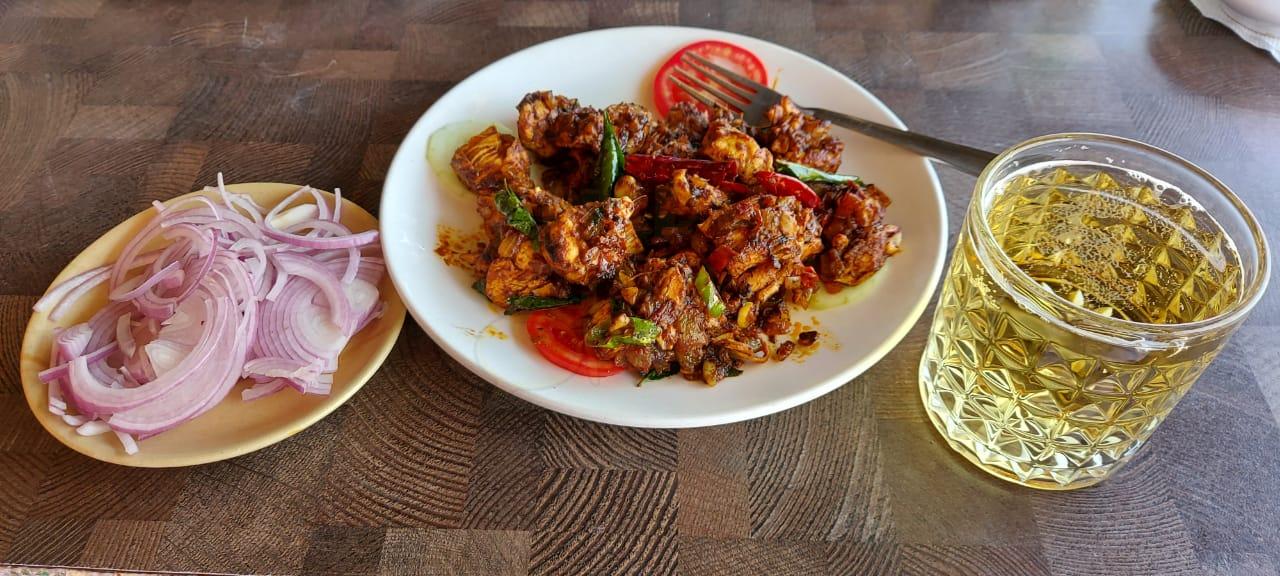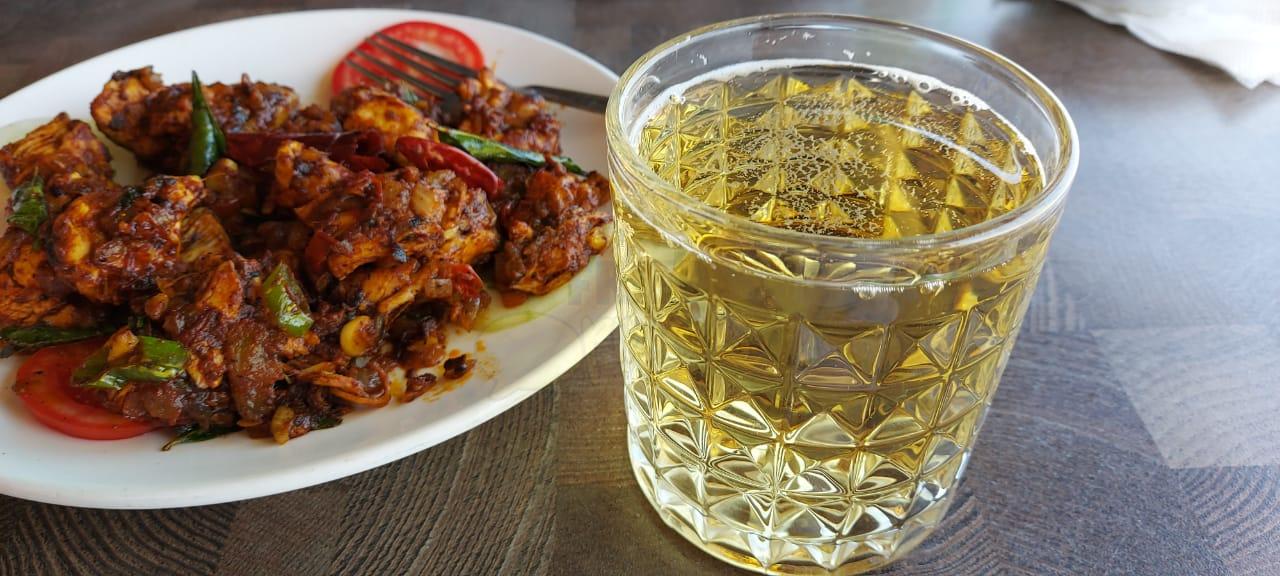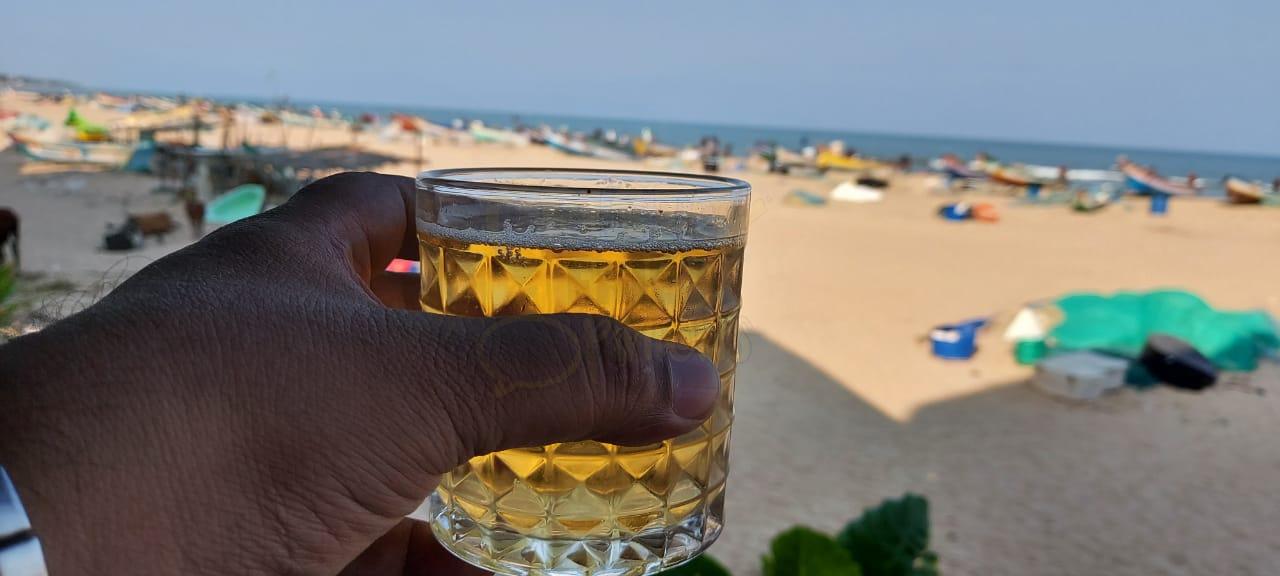 Friends repeated the prawns and fish fry, this time specifically asked to be made with pepper instead of chilli powder. Fish was another special of the day, red snapper I think. They loved both of them. I decided to get something vegetarian for myself. The owner Muthukumaran suggested a half and half of Mushroom and Paneer 65. Frankly I wasn't expecting the paneer to be great. I've had mediocre paneer in many restaurants in the city, and I was pleasantly surprised with this paneer. One of the softest I've had. Absolutely brilliant Paneer 65.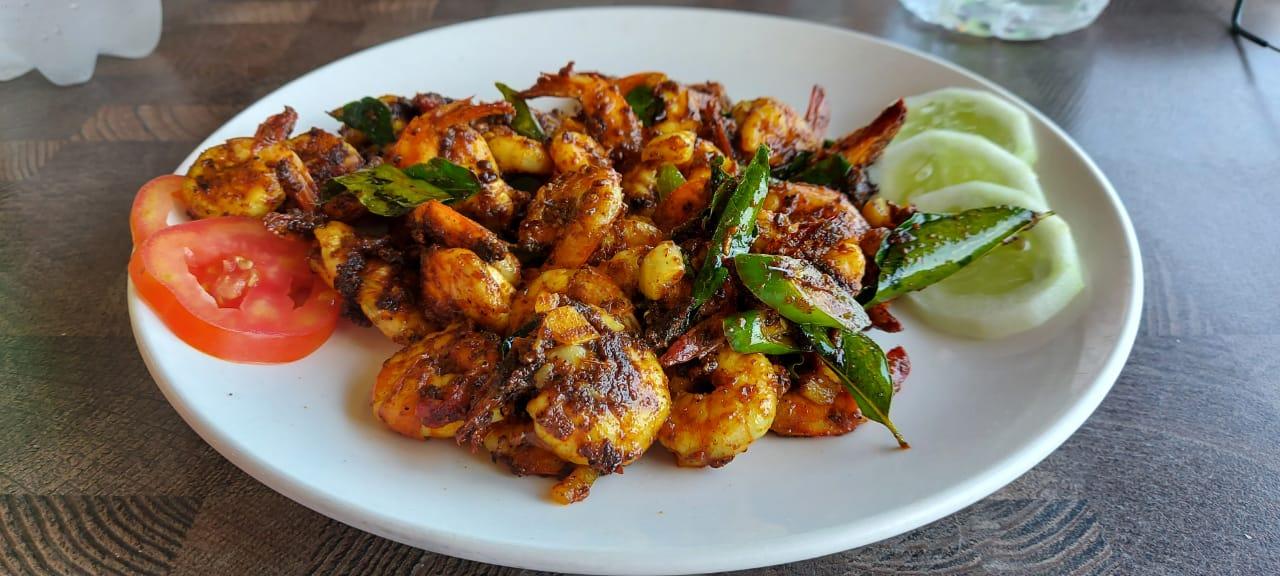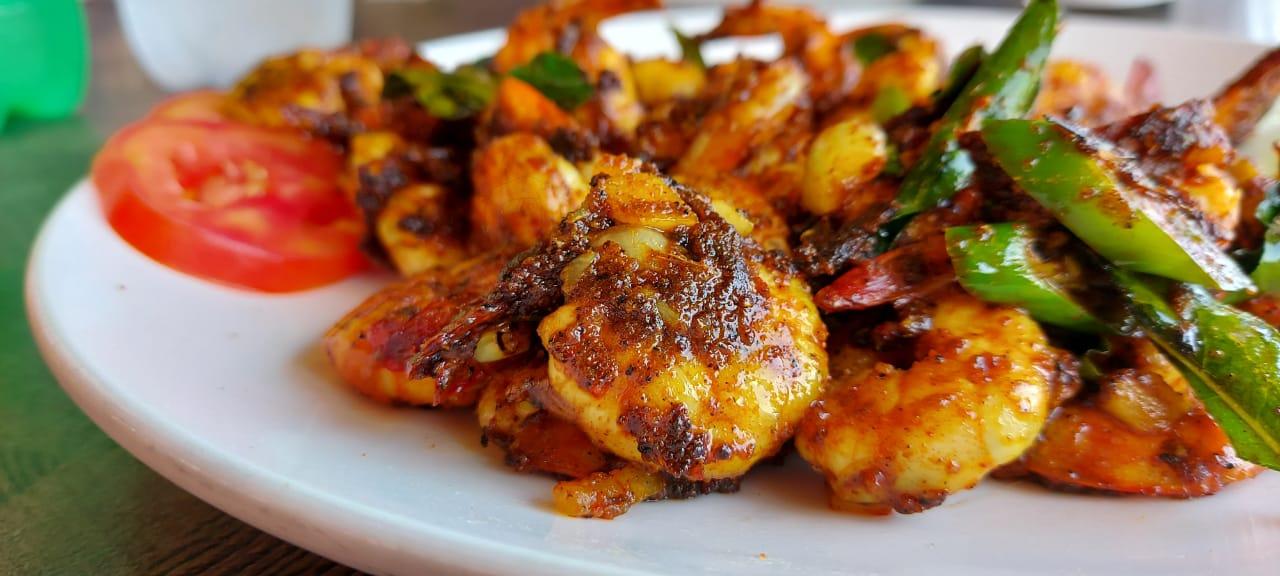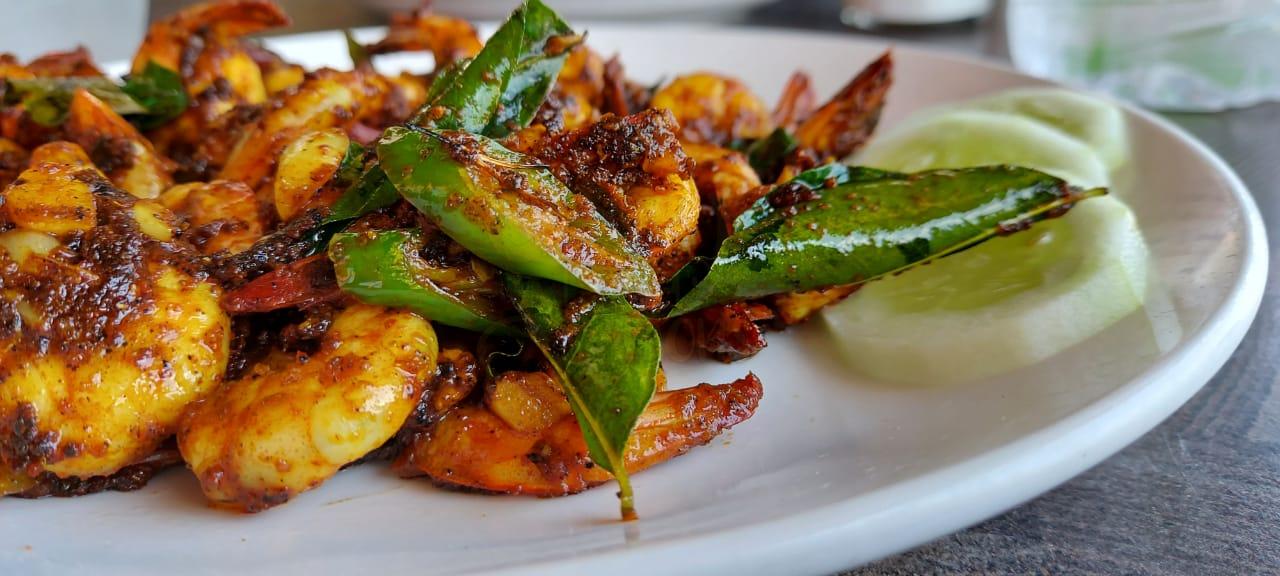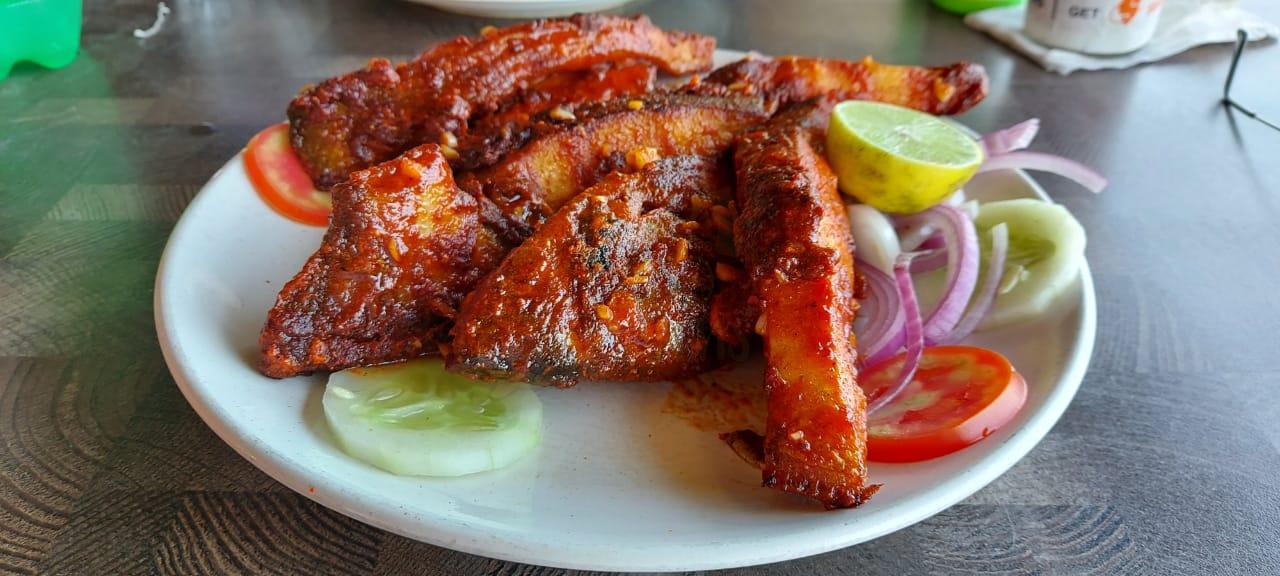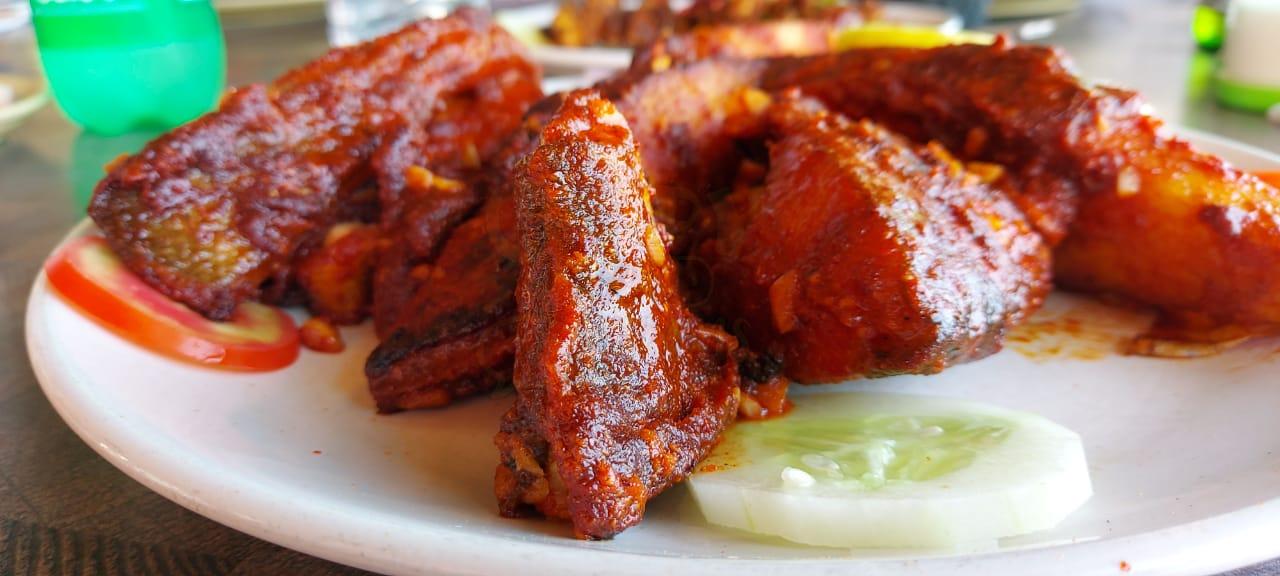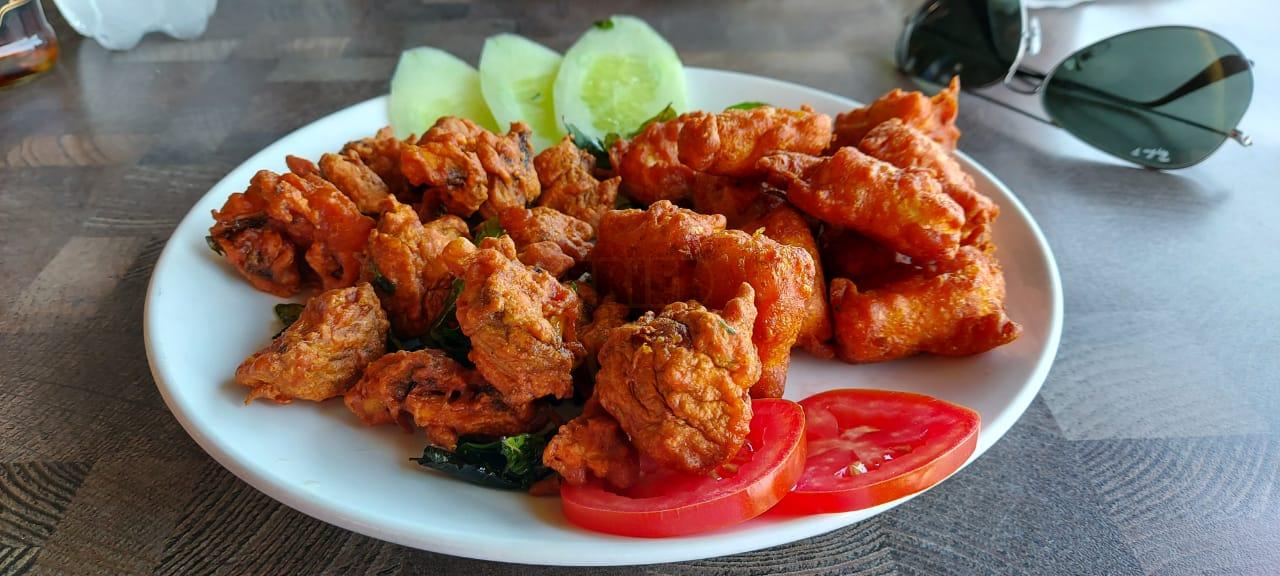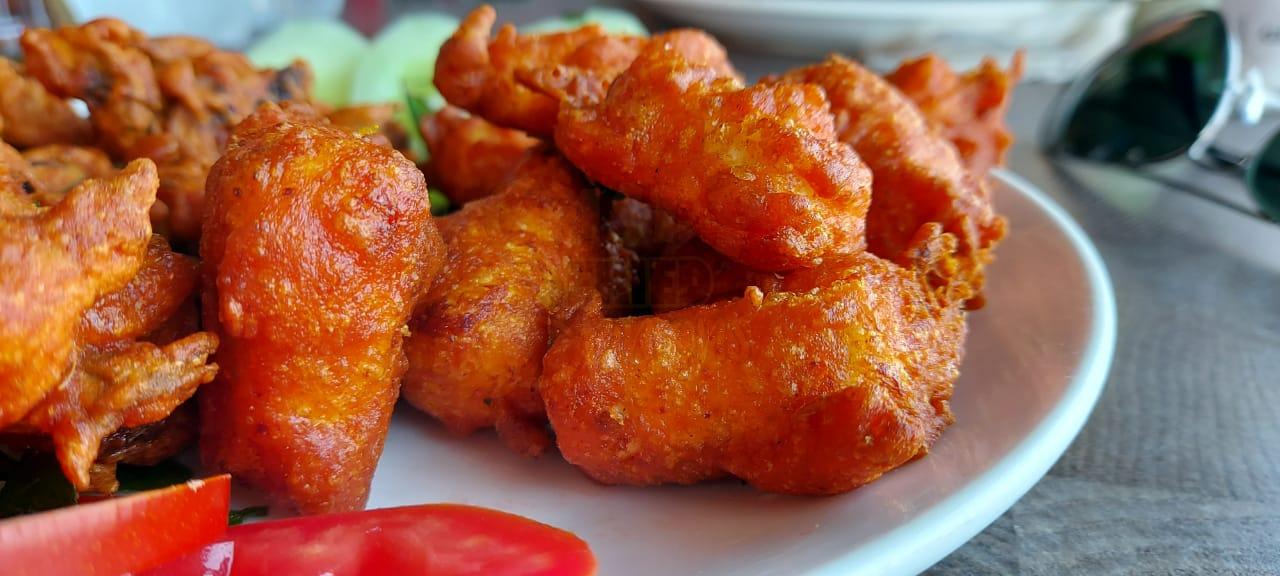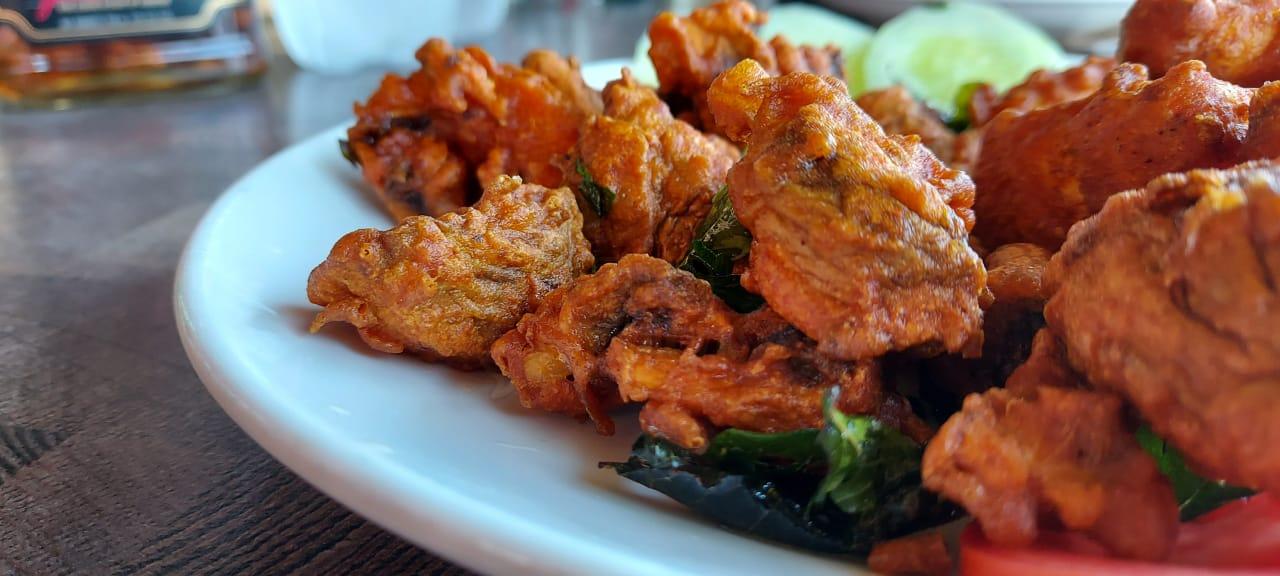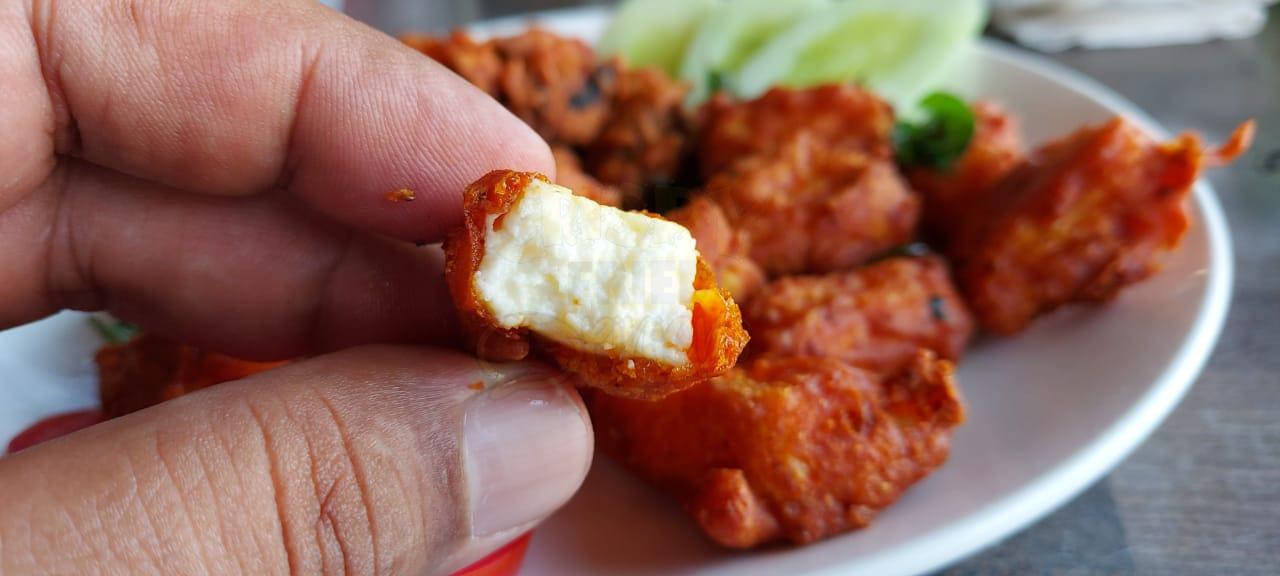 We decided to order one more of it, and totally loved it.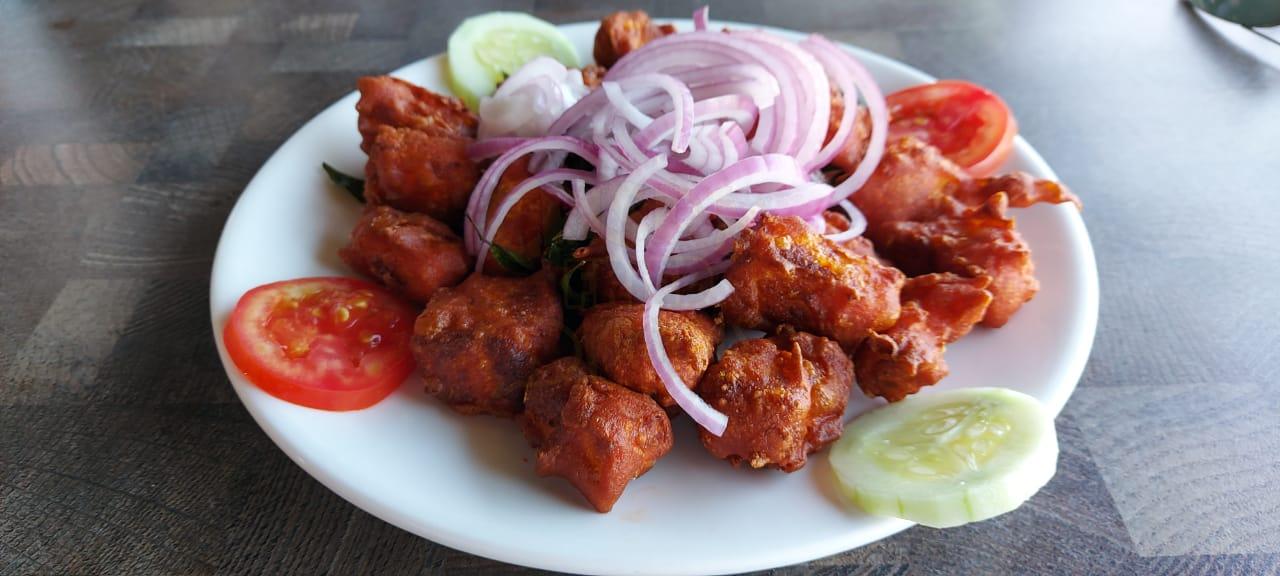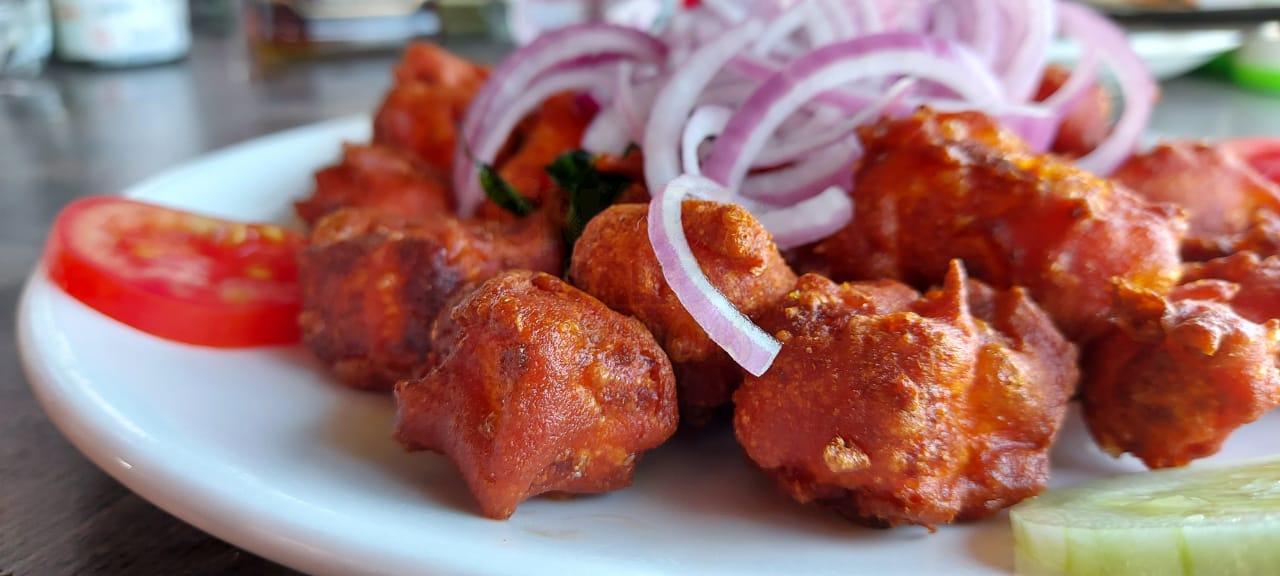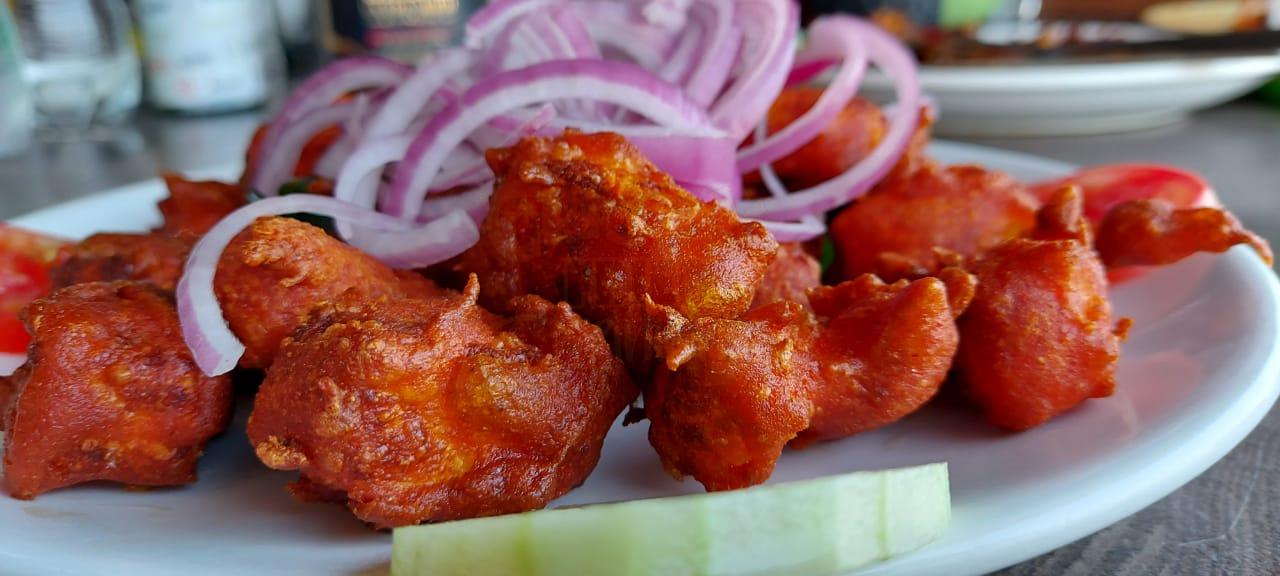 By then it was quite some starters eaten, we ordered Rice and rasam for lunch. Very flavorsome comfort food. I just had very little of it, and it was tasty!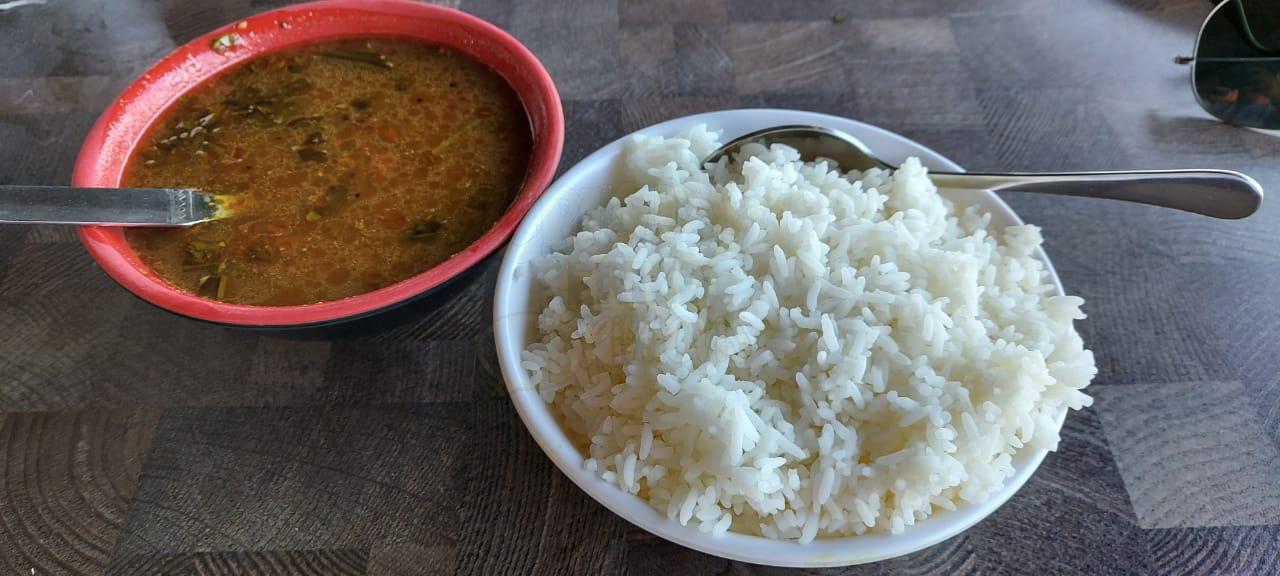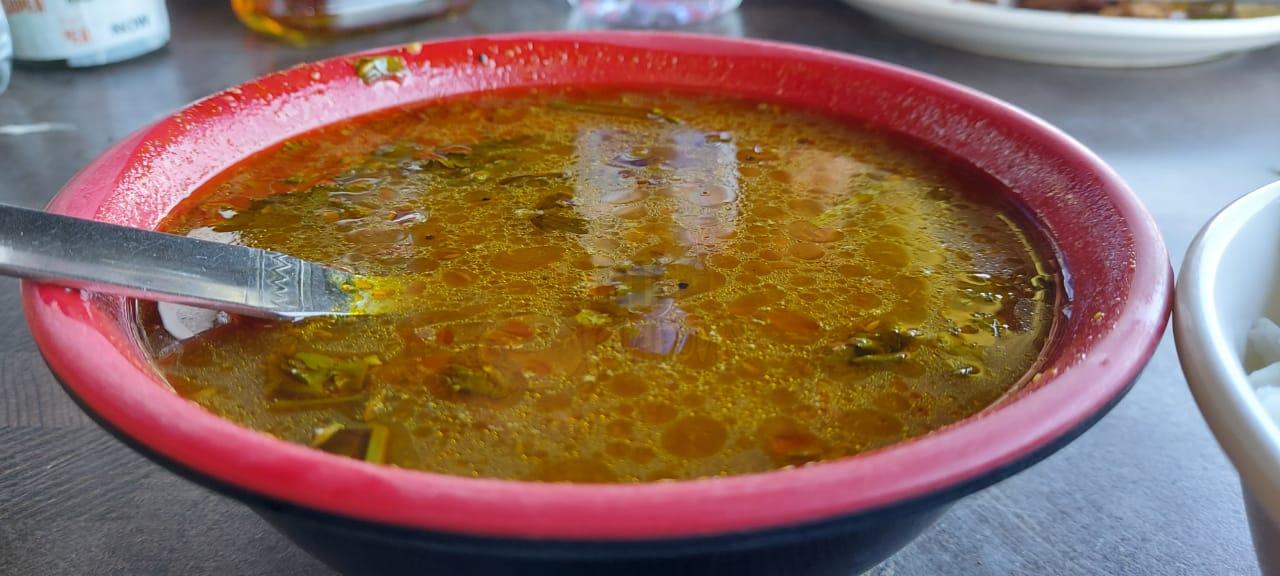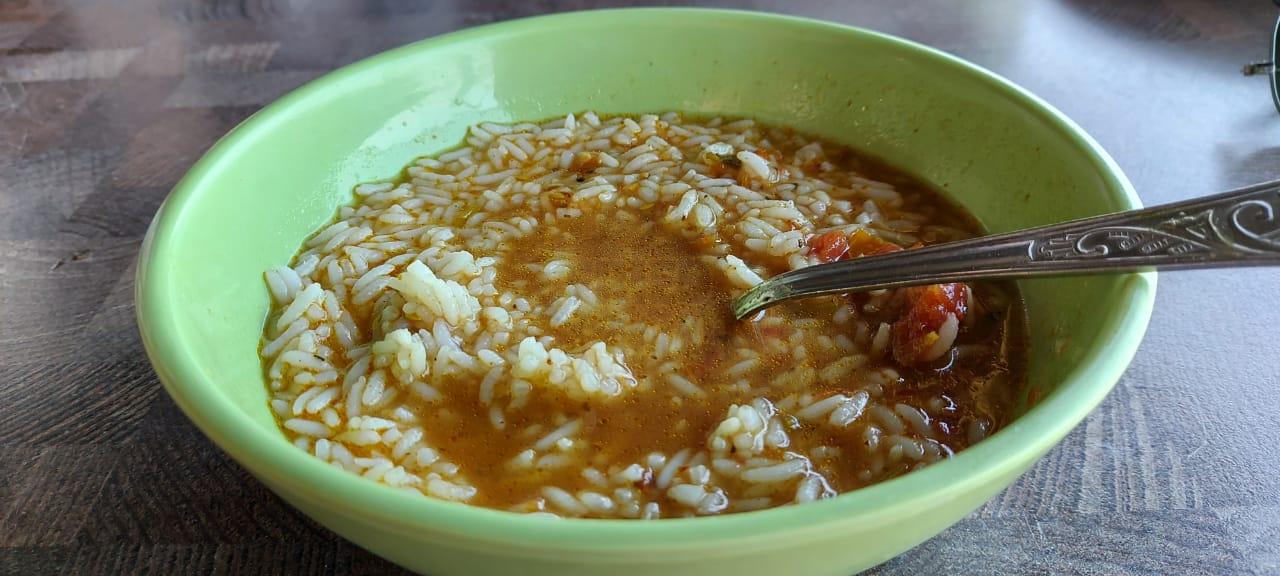 The time was almost 5PM when we were done and dusted! It was an absolutely brilliant 'drinks-and-lunch' session at Mahabalipuram, after a long time. Couldn't help but click this picture which tickled a funny bone, a symbolic representation, I thought! Nah! Not so bad. 🙂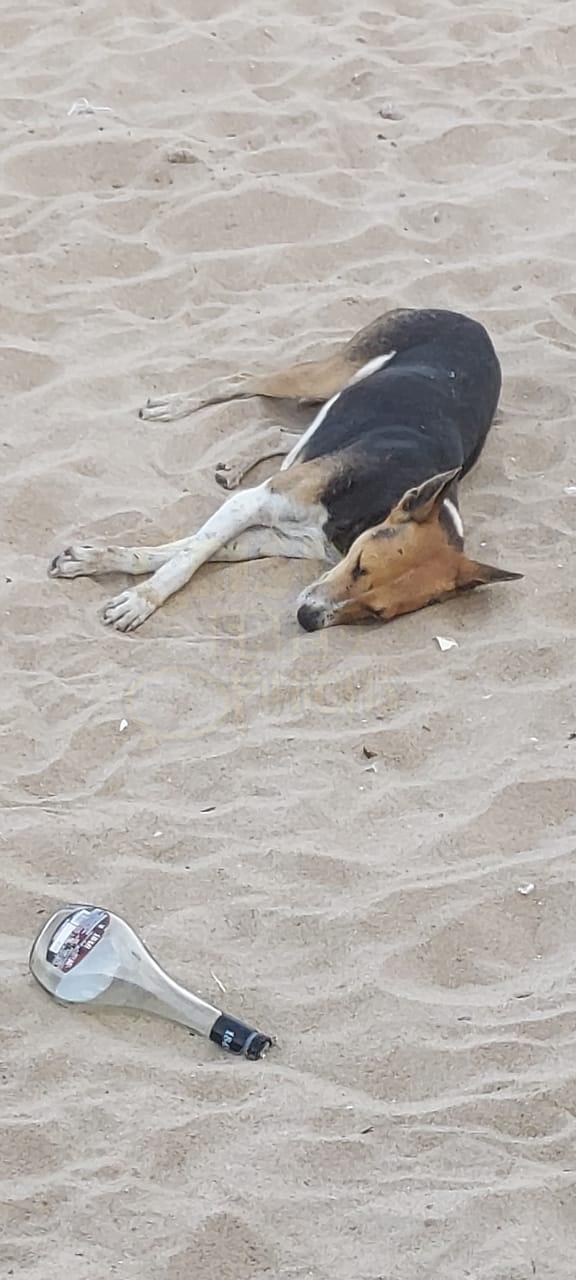 All the while, the service was wonderful. Most of the times, the owner Muthu was around to help and suggest what we should order. One thing you can't miss is his smile. I was very pleased with his attitude. One couldn't have been any more hospitable to their customers. A couple of young boys were also waiting on the tables with the same enthusiasm. That was a very special thing I noticed here.
We decided to check out some live Lobsters in the tank and click some pictures with it, Muthu readily agreed! For the first time ever, I held a Lobster in my hand, and I should say, I was really tense, though I managed to put up a brave smile.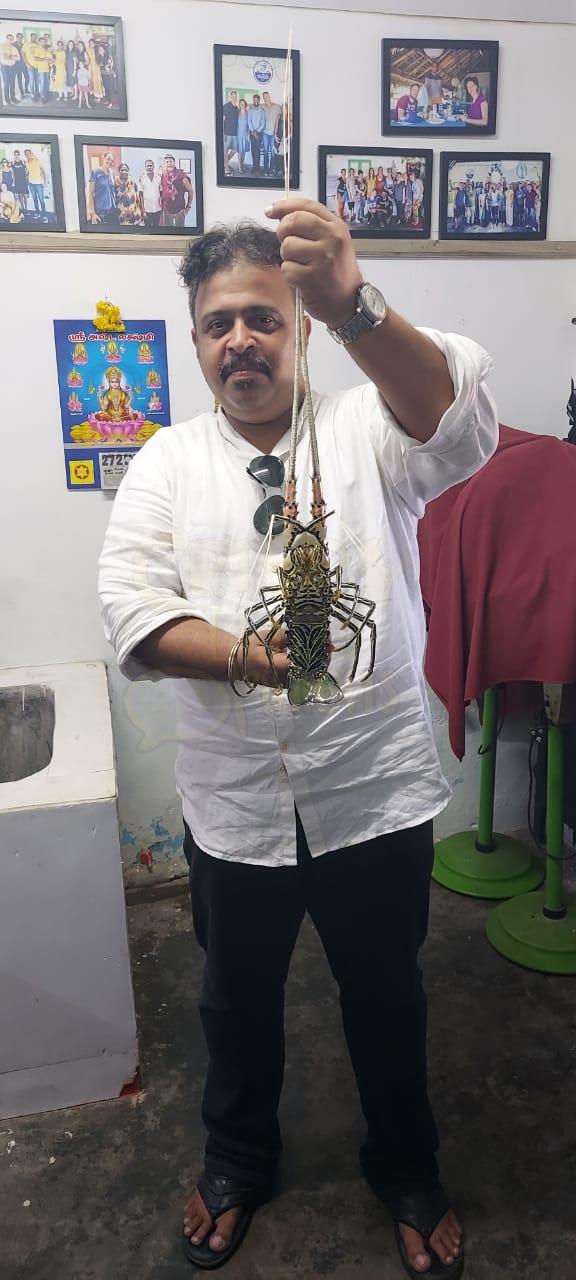 Clicked one picture with Mr. Muthukumaran, owner of the place.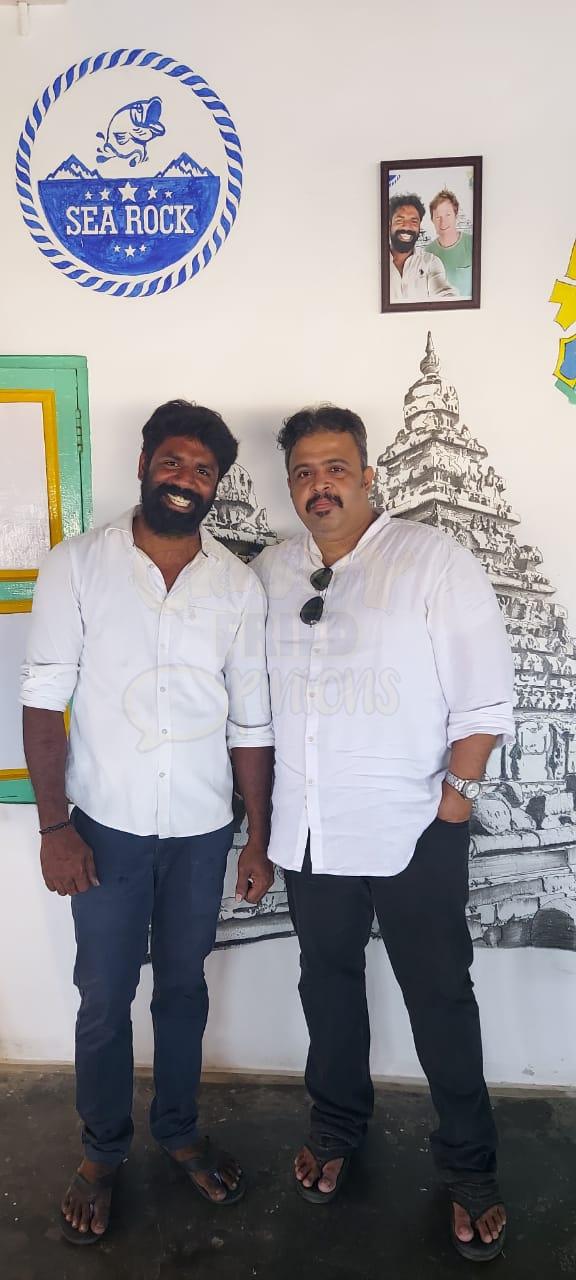 I will definitely go back to Searock the next time I am in Mahabalipuram. We paid about 4.3K in all, and it was a very enjoyable Sunday with friends!
I've been to Santana, Mahabalipuram, just a couple of blocks away, quite a few times over the years, pretty much a very similar setup.
p.s BYOB – Bring your own Booze.