Hamsa, a place that has been on my wish list for quite some time now. I don't get to tick these places off sooner is because I don't choose a vegetarian restaurant unless there is a compelling reason to do so, and that reason, was my friend who had come down from Singapore, for a day. I decided to take him out for lunch, to a vegetarian place. A fine dining vegetarian place, and that's it, decided on Hamsa.
I knew the location quite well as I have been to the Gandhinagar Club quite a few times, and it is a little ahead on the same road – B Ramachandra Adithanar Road. There was a valet parking and that was comfortable because there was some road repair going on right in front of the restaurant, and there was hardly any place to park.
The place looked absolutely stunning! Very lavishly appointed, definitely worthy of being called a fine dine restaurant. One of the places that would impress someone by the first look.
We got a table immediately as were were just two pax, and we entered around 2:30 PM, perhaps not the busiest hours for lunch as they're open from 12PM.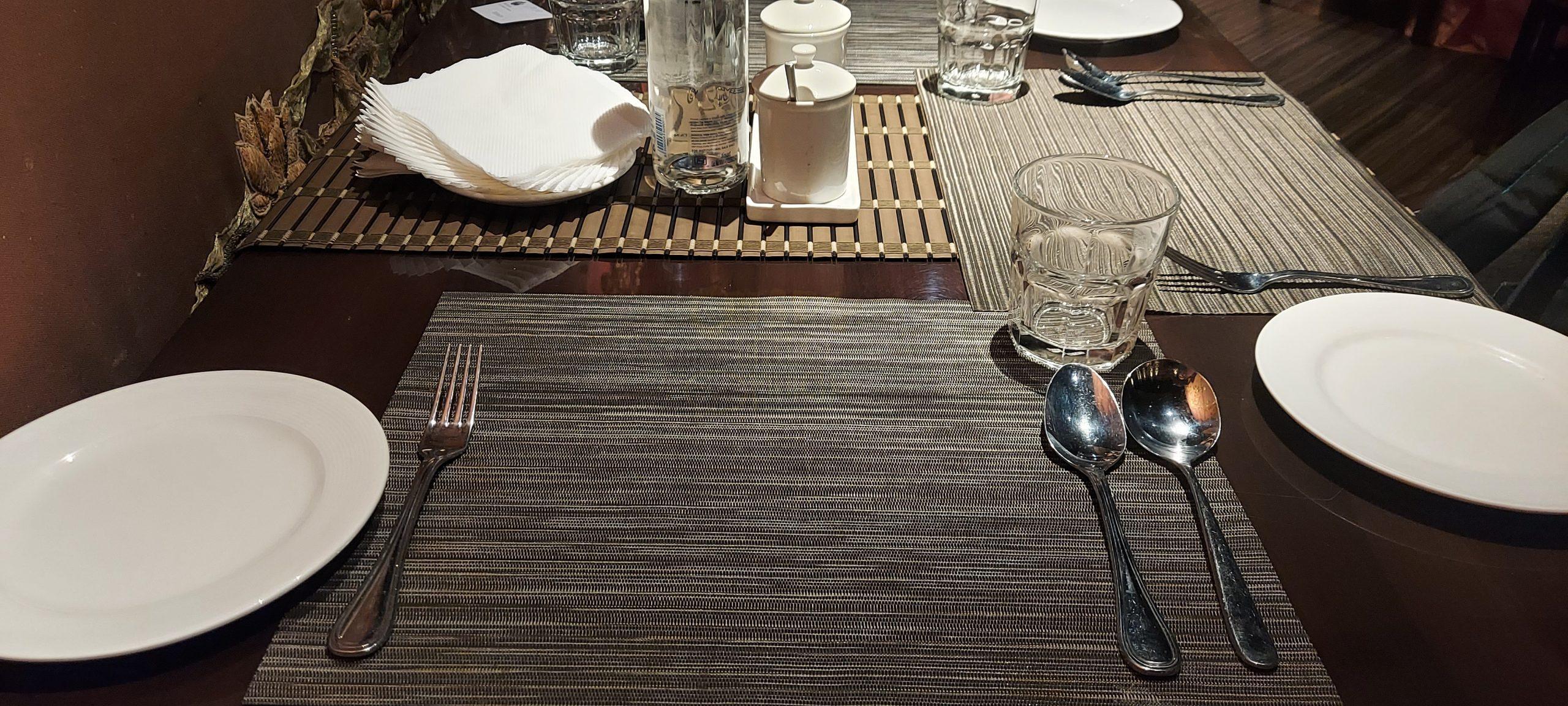 We didn't even scroll through the menu, the picture of the Thali in the menu was so attractive that we chose to order that right away. We were told it included soup, starters, mains, and desserts. We couldn't be happier.
Tomato Shorba and Drumstick soup were the choices for the soup, we preferred the former. Tomato shorba was tasty with subtle flavors. It could have had some more salt, we added it and was perfectly fine.
A small portion of chaat was served in a katori. Looked like papdi chaat, but had freshly made pakoda in place of papdi, was tasty with a twist.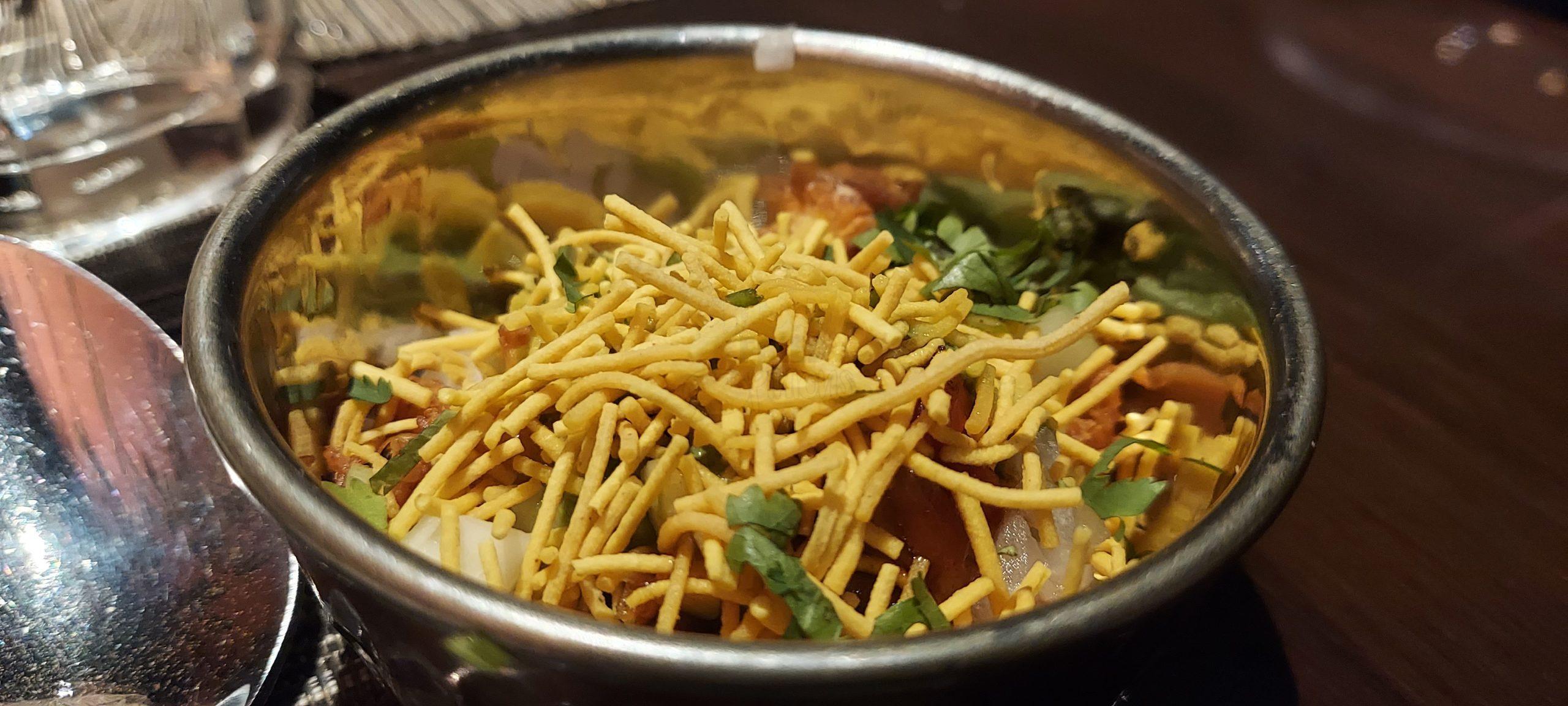 Paneer Tikka and a Veg Roll were the starters served separately. Paneer was soft and the unmistakable smoky flavor was brilliant. The Roll was good, perhaps had potato filling, couldn't quite make out as I dipped it in generous amounts of mint and tamarind chutneys on the table.
Next came the Thali itself. It was a fully-loaded plate with Veg Biryani, Raita, Kachumber Salad, Paneer Makhani, Gobi and Peas Masala, Dry Potato Subzi, Mixed Veg Curry, Yellow Dal, and Curd Rice. Breads were unlimited and had a few choices of Roti, Naan and some Kulchas. Firstly, before writing anything elaborate about the food, have to mention that each and every dish tasted distinctly different and wonderful! It was not a namesake thing like 2-3 subzis being served with the same base gravy kind of a mix. Definitely looked like there was enough effort and care that went into curating a Thali with fresh and tasty food.
Breads were freshly made and good, and if I have to be too picky, the garlic in garlic naan wasn't too loud, and the Butter Kulcha was more like a Naan than a Kulcha itself. Since it all tasted good, didn't quite matter. We asked for one more Butter Naan. We were already quite full and had a few more things to finish in the Thali. Roasted masala papads were served too.
As I mentioned, the dry potato subzi was very tasty. One of the best I have had in recent times. Gobi and Peas Masala was more a familiar flavor, like a touch of South, with coconut oil I think. Paneer Makhani, Yellow Dal and Mixed Veg Curry were all wonderful. The onions, tomato and cucumber in Kachumber salad were crispy and fresh. Veg Biryani was very flavorsome, the typical saffron and kewra water types I think. Raita was good with the biryani. Curd Rice was also very tasty.
This is the point when the service nose-dived. The waiter came with two plates of desserts and literally tried to sneak it in whatever gap was available on the table and when I questioned him, the answer wasn't very satisfactory either, I had to give him and piece of my mind. We were still having the main course and we weren't even finished with that. The plates weren't cleared either, and I didn't understand what the hurry was! Agreed, it was 3:30PM and he was probably looking to end his shift soon, but not at the expense of a compromised dining experience for the guest. He took the desserts back.
We finished the Thali, we got finger bowls, the plates were cleared and then the desserts were brought to the table. That is how it should have been in the first place. The desserts had an ice cream, tender coconut payasam, and a Gulab Jamun. We got a Chocolate ice cream, we weren't asked for a choice. My friend stated he doesn't eat chocolate ice cream and asked them to take that back. Then they enquired if he liked Vanilla instead, to which he readily agreed! My favorite is Vanilla too, and I'd have certainly opted for it if there was a choice. I don't know if it was an obligation that they agreed to serve Vanilla ice cream or if it was something they should have checked with us in advance, but never bothered to do so. The experience wasn't as sweet as the desserts they served. Gulab Jamun and Tender Coconut Payasam were fantastic though!
Overall, wonderful and tasty food. A Thali is priced at 955 plus taxes, comes to 1045 Nett. I paid INR 2090 in all, for the 2 Thalis. Wonderful food, but service could be way better. It didn't feel like lack of training, felt more like bad attitude. At this same price point, or just marginally higher, food and service at Annalakshmi was nothing less than extraordinary! Without a second thought, I'd choose that place over this. Anyway, ignoring that part, kudos to the Chef for dishing out tasty food.
I'd certainly come back with a hope of good service next time!