Honestly I couldn't push myself to a fine dining vegetarian restaurant over the years, and finally this visit happened today! Annalakshmi is a name I have heard many a time in food circles, some in awe and some complaining from the 'value for money' perspective. Here's my take on the whole experience, read on…
We reached without a hassle, knew the location quite well. There was a valet parking which was convenient. The restaurant is located on the first floor, accessible by elevator. The small water fountain at the entrance and an intricately-carved wooden door quite set the context to what was to follow! The ambience was luxurious and very posh! Tables were well quite spaced out . We were led to our table by the maître d'hôtel. I understand there are two slots for lunch, one at 11:30AM and another at 01:30PM, we went for the latter.
I have been waiting to try their Mahalakshmi Preethi Bhojan, their 'signature' thali with a mix of North and South-Indian food. This included a soup, starters, mains, and a dessert. Wife's sister's family joined for lunch, so we were 7 Pax in all, including a child who couldn't eat a complete Thali by himself. Ordered 6 Thalis for us, and a starter for him to munch. Meanwhile the waiter brought the Juices menu and recommended the seasonal Mango Tarang. We ordered 6 of it too. Adding to the luxury was the silverware.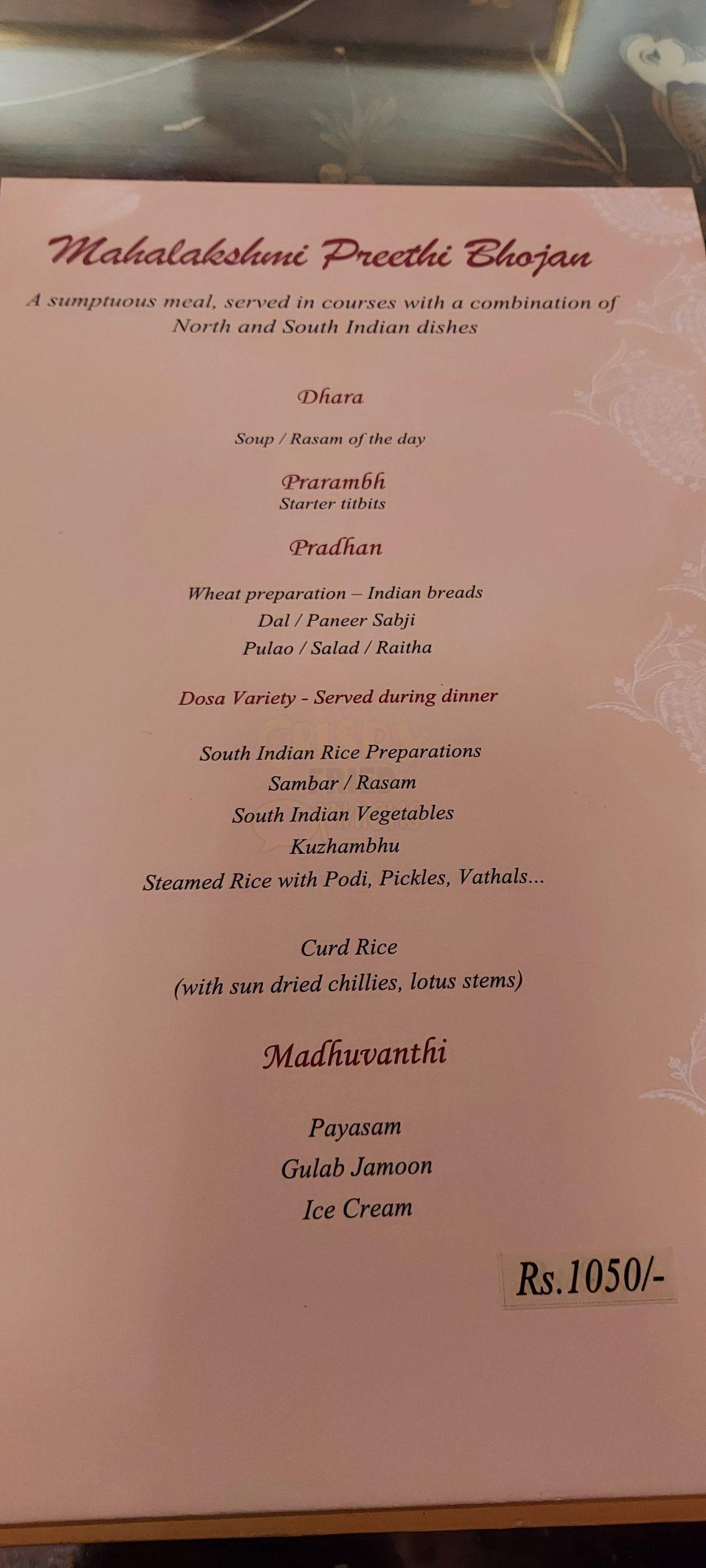 Sago crispies (Vadaam) was the first to make it to the table, disappeared in a jiffy! 🙂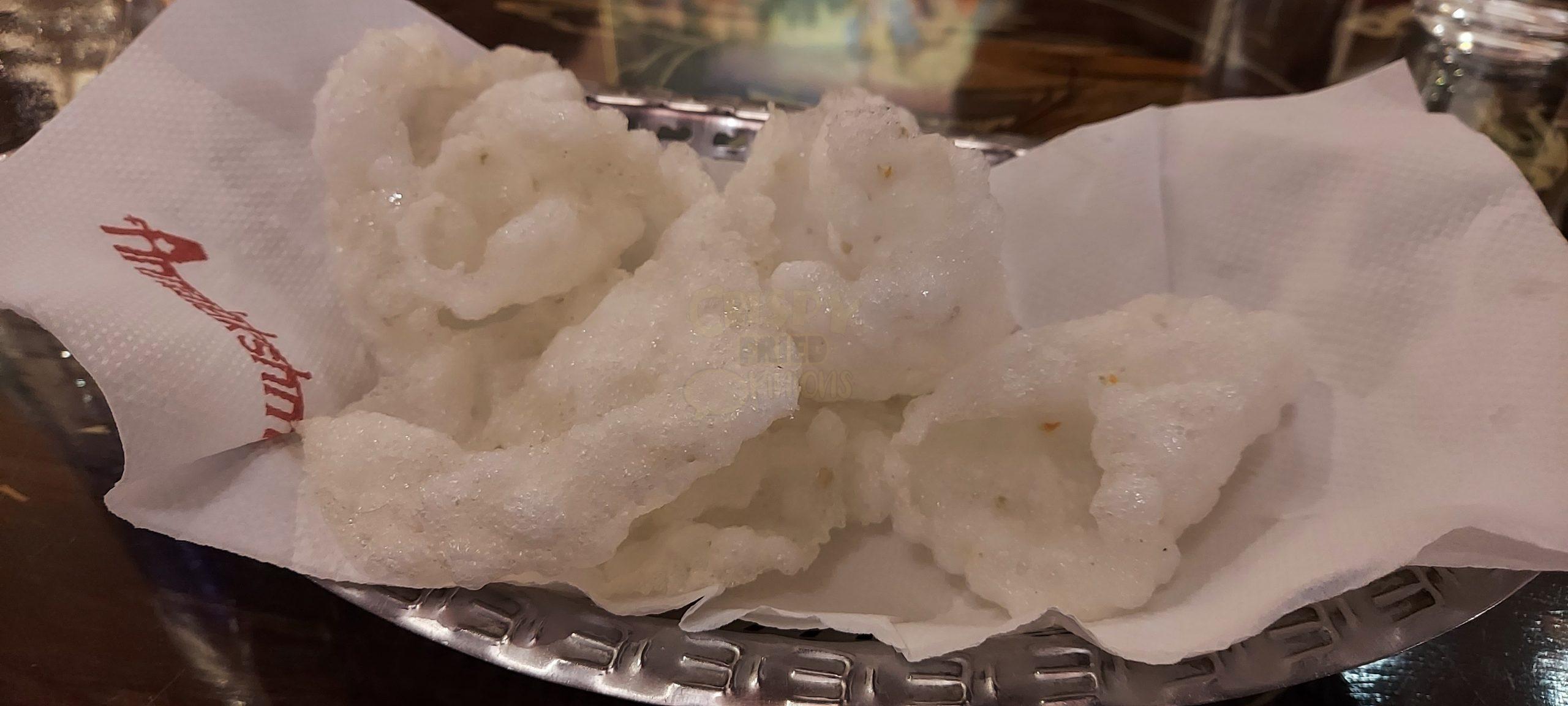 Dry fruits kesari was wonderful, rightly sweet, and portion size was just rite.
A vegetable soup followed, served at the right temperature so you could actually relish it. Most places serve it too hot or lukewarm.
Kid got his Baby corn Fritters, which was a separate order and not a part of the meal. He was happy! 🙂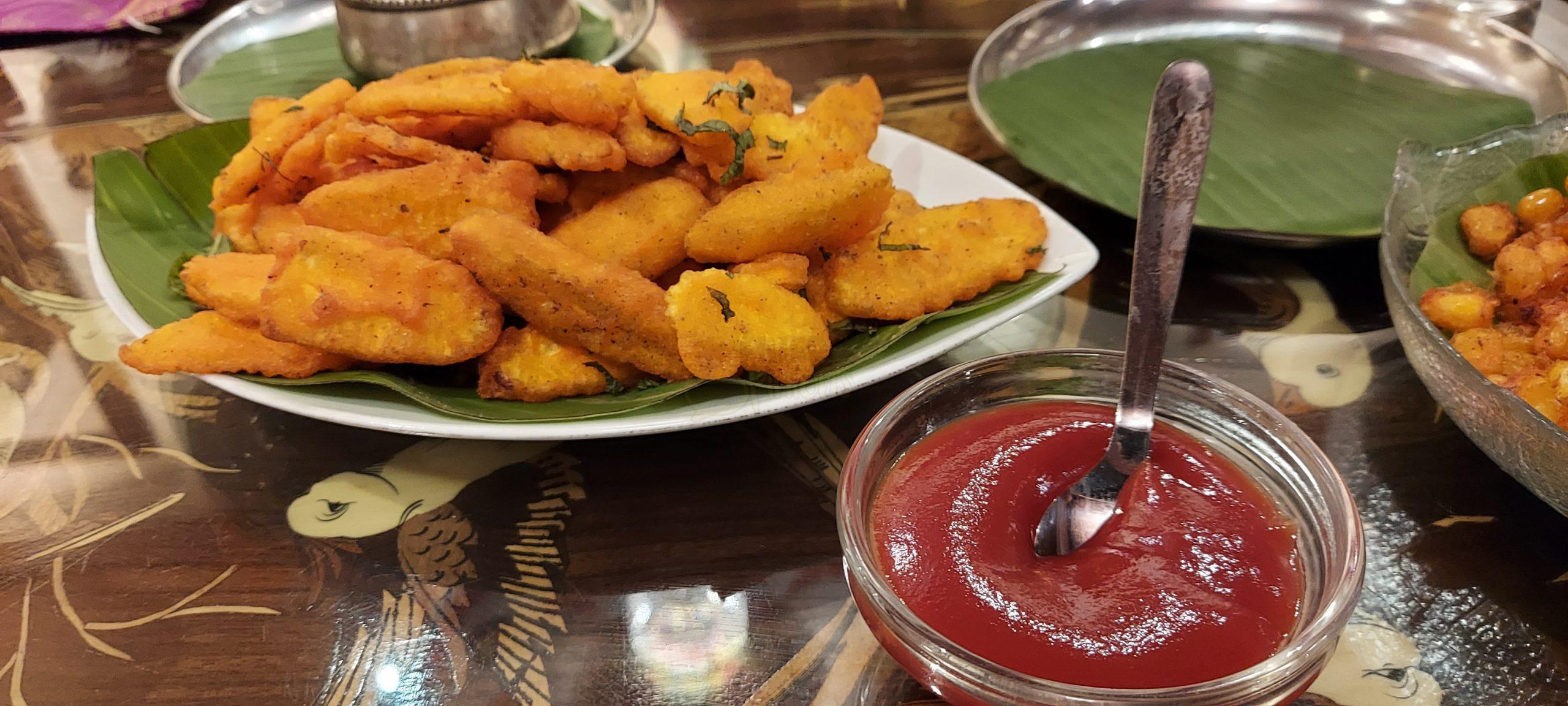 Crispy Fried Corn and Masala Vadai with Coconut chutney were the starters in the meal. With a slight sprinkle of chaat masala, the crispy corn was good. Masala vadai was good too, and the chutney was super fresh!
Mango Tarang was a thick mango pulp with a hint of Ginger. It was good. Realized I hadn't really had too many mangoes, this season.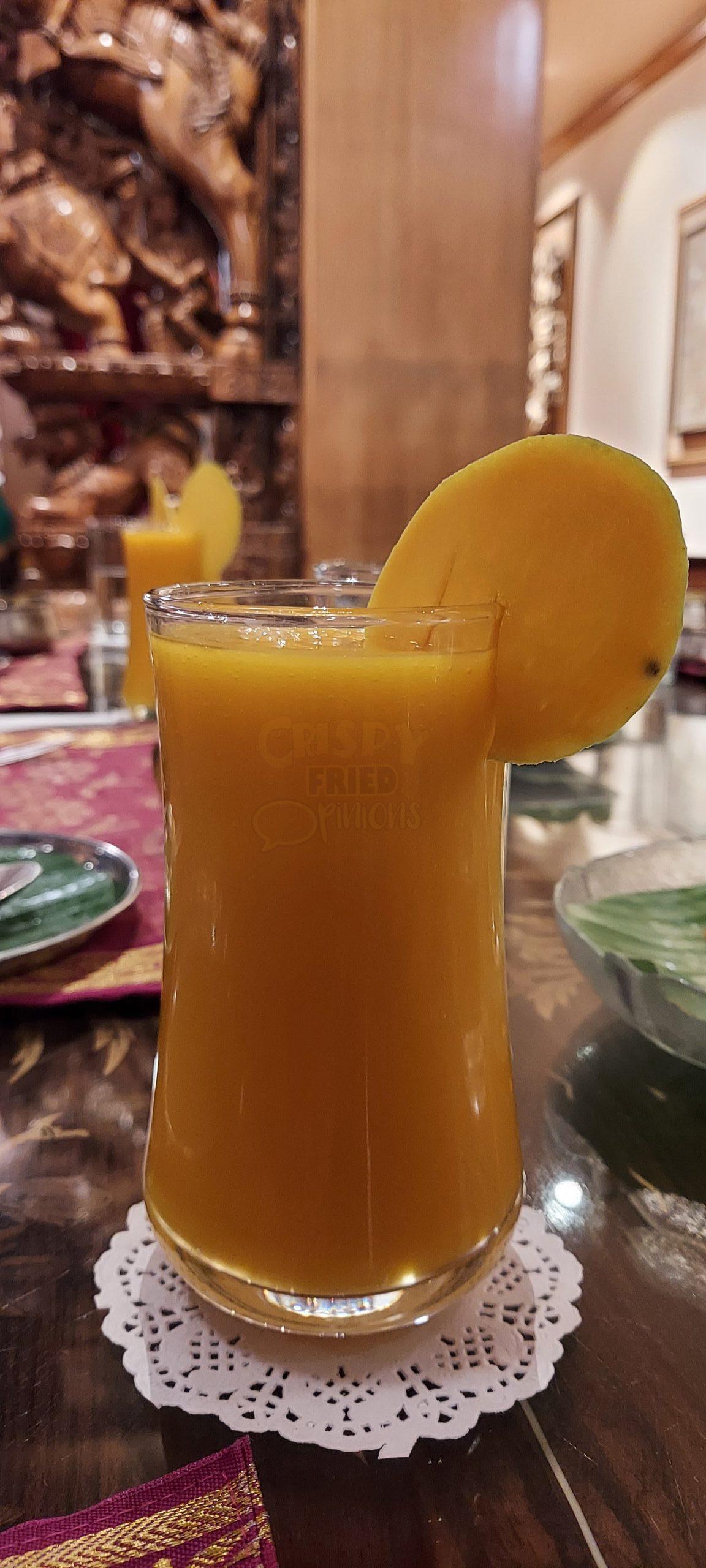 Next to arrive was the Thali – Paneer Gravy with dry fruits and nuts, Dal Bukhara, Kachumber Salad, Vendakka Thayir Pachadi, Beans Paruppu Usili and Seppankizhangu/Arbi Fry along with a Chappathi. Have to mention, after tasting a spoonful of every dish, it was quite evident that every dish was fresh and really well made. I felt the curds in the thayir pachadi was a tad too sour, otherwise, no complaints with any other dish. The Garlic pickle was tasty too!
Poori was served next, just had 1 as we were clearly informed of what was to follow. It was quite a long list of dishes to come! Appalam was served on the table.
Dum Pulao was very flavorsome, and I loved it with the Dal Bukhara.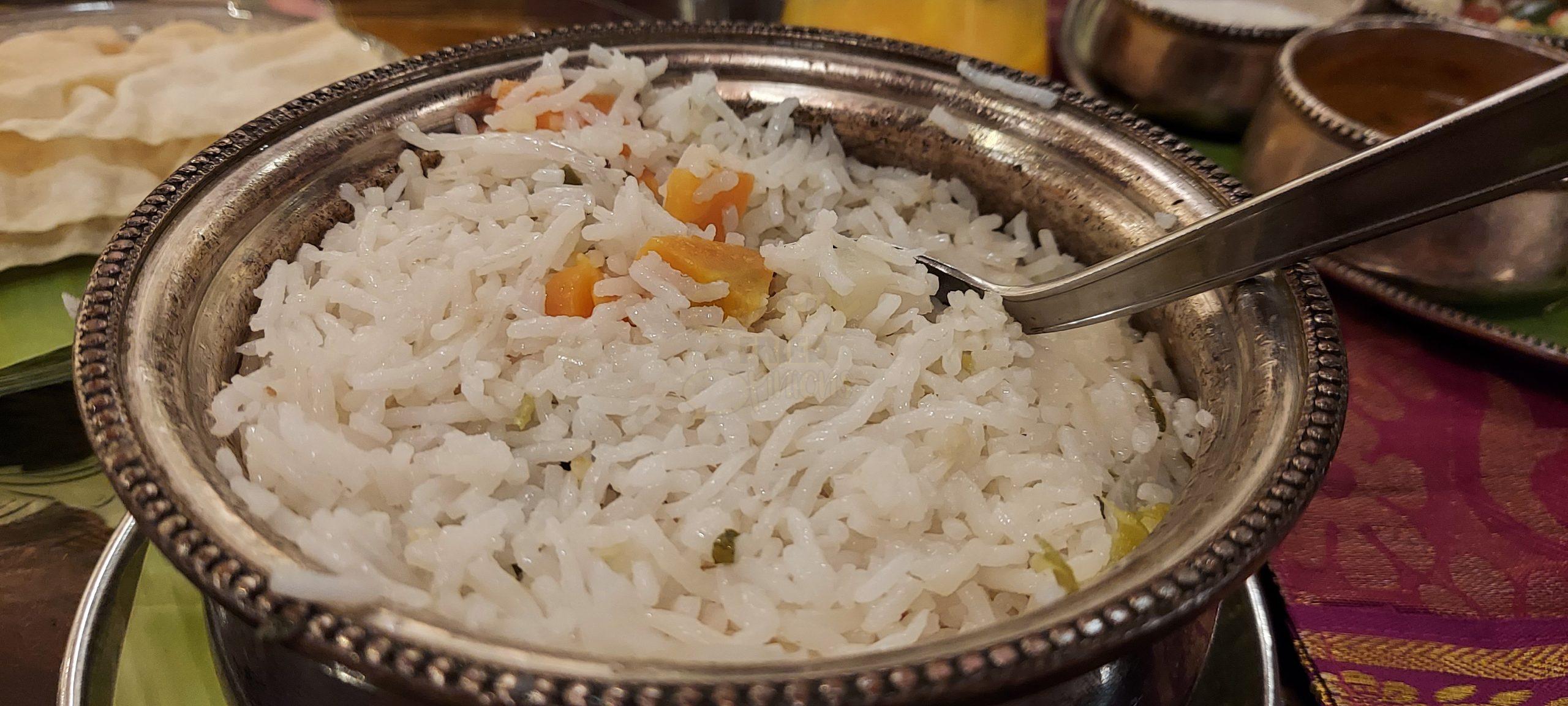 I got a repeat serving of Arbi Fry and Paneer gravy.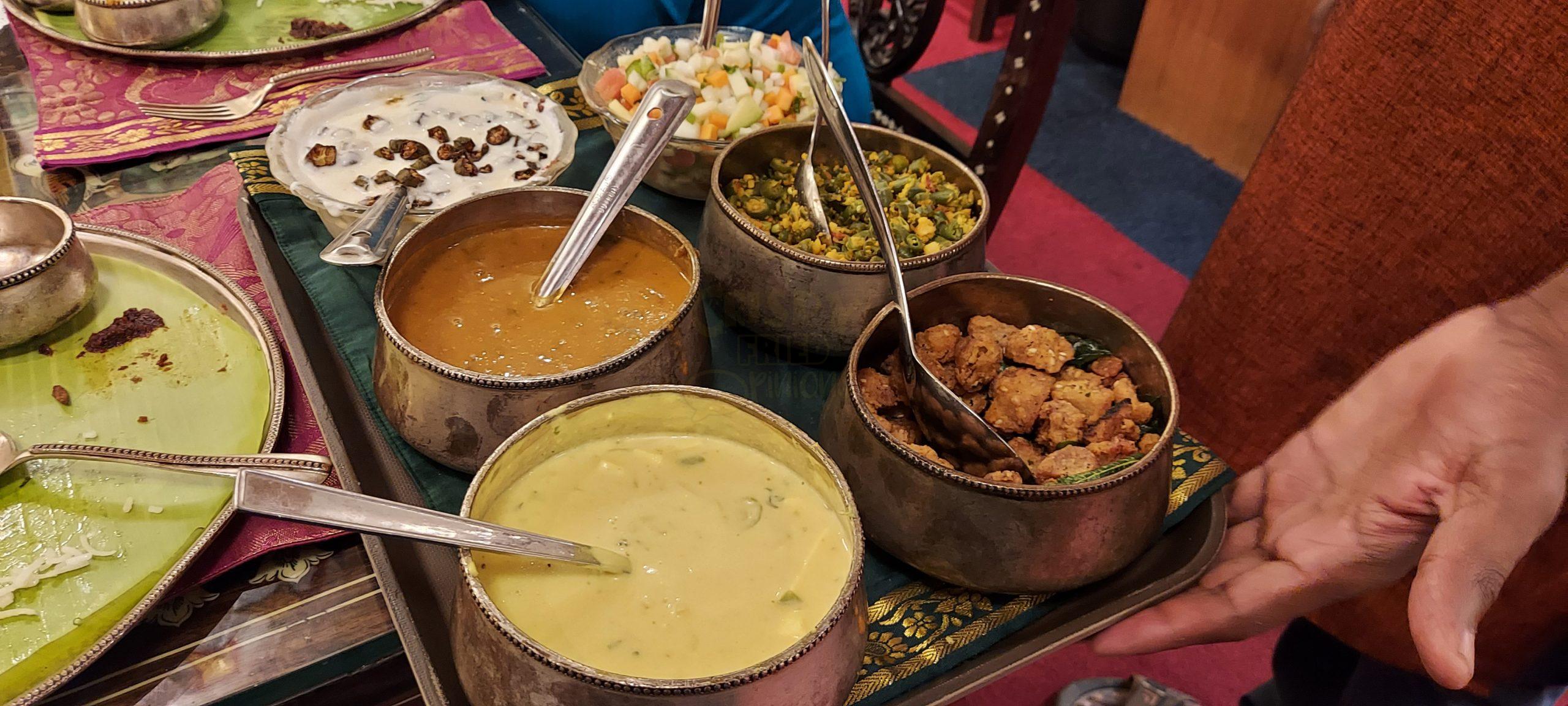 Lemon Sevai was wonderful, Coriander Rice was perhaps the best I've had in recent times. Potato Kaara Curry, a typical Muhurtha Saappaadu dish was good too! So far, there was not a slightest complaint with food except the slightly sour thayir pachadi.
Bisibelabath was perhaps one of the best dishes of the lunch. With a slight aroma of ghee, it was very tasty. Too bad that I could only eat a small portion of it, as more items were to follow.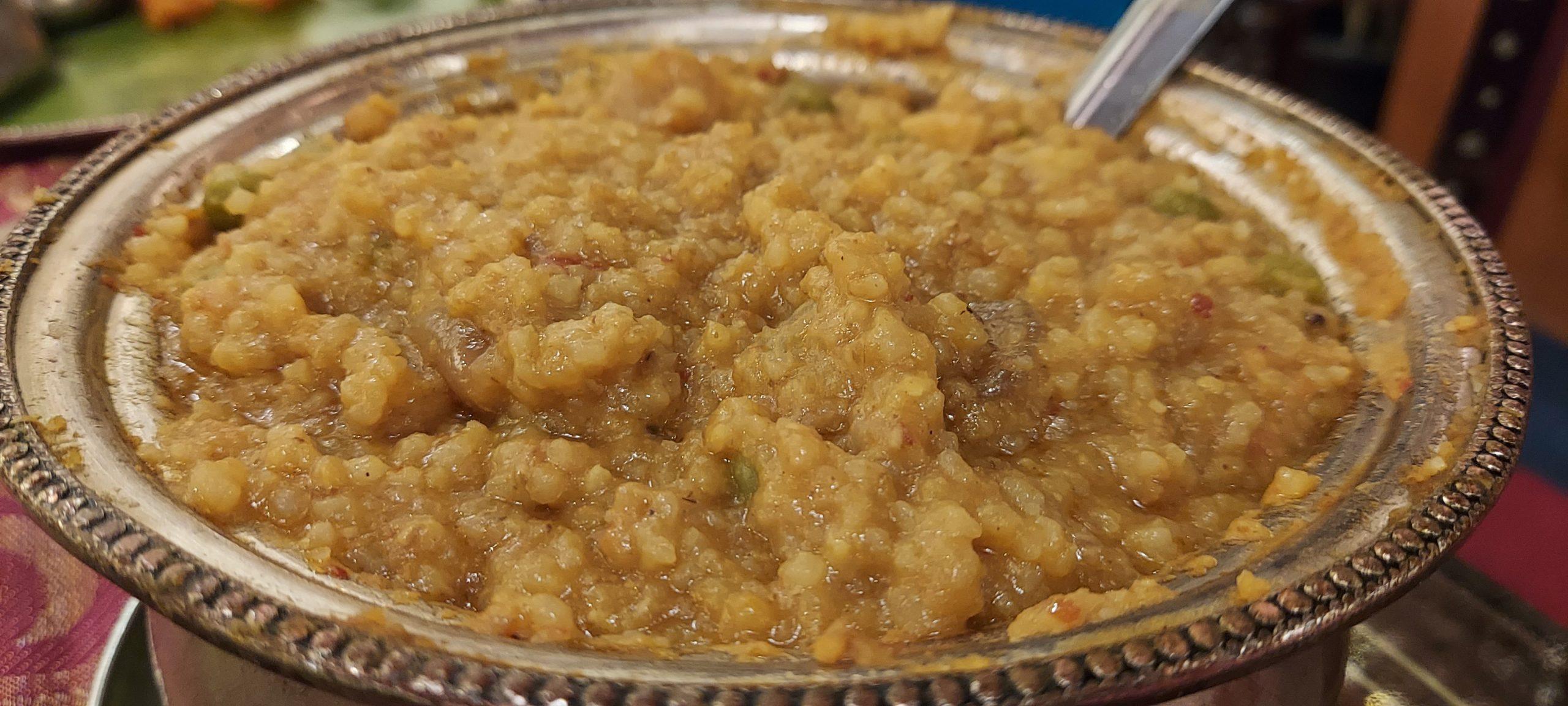 A nice and hot Tomato Rasam was served in a glass, it was a much needed break to the continuous intake of food. We spent sometime sipping it slowly, so we could get ready for more!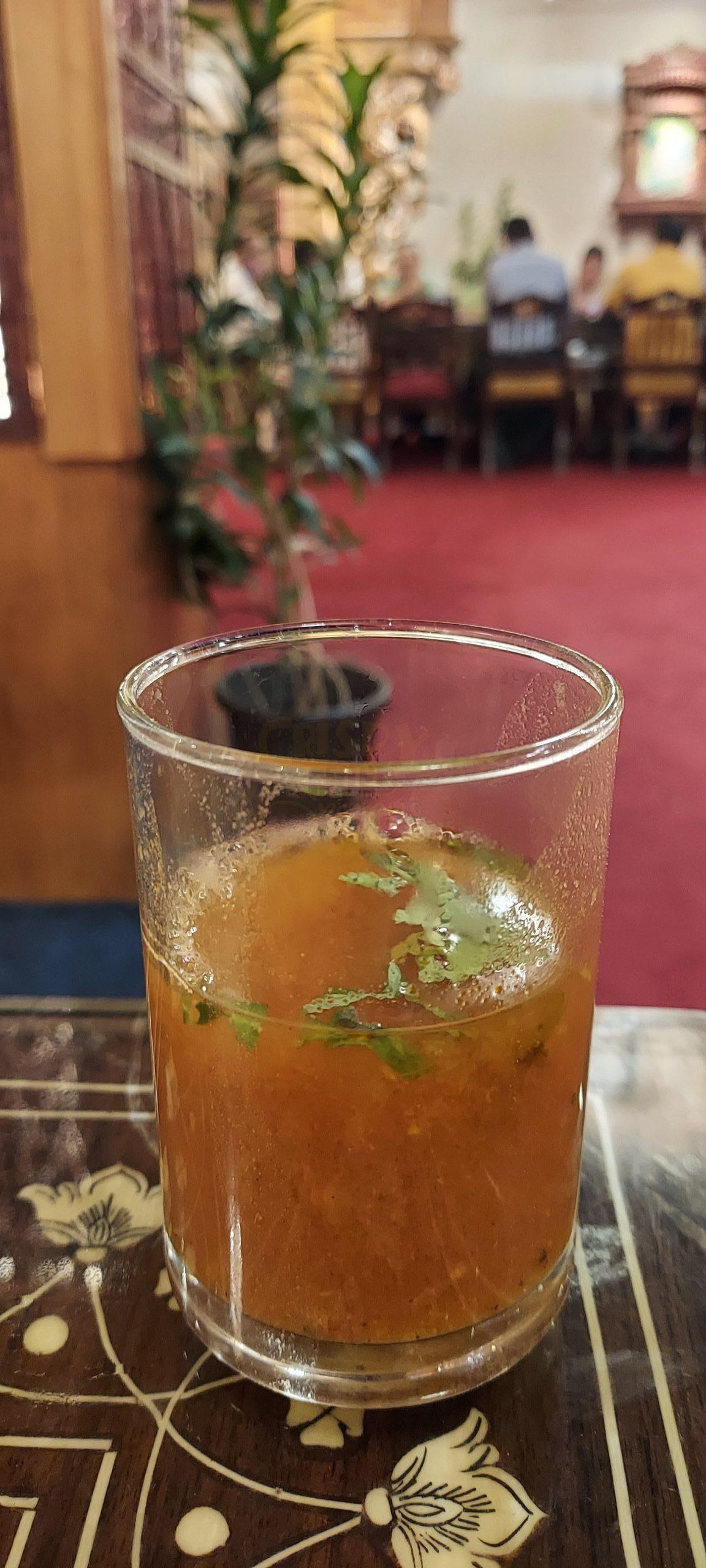 White Rice was served next! Opted for Paruppu podi with Ghee and a little Vaththa Kuzhambu as accompaniment. Paruppu podi with ghee was yummy! Vaththa Kuzambu was subtle and homely. It could have had a little more punch.
Again a spoonful of rice with Vellai Poosani Mor Kuzhambu. Tasty, but again a tad sour. This is only if I were to be a bit too nitpicky. Otherwise, I wouldn't complain!
Curd Rice topped with ripe cut mangoes followed and Lotus stem and Mor Molaga were served as accompaniments to it. A little bit of that too was ingested in no time 🙂
By this time, we were quite stuffed and just hoping that the desserts were not too much! The sight of the Finger bowl was a pleasant treat to the eyes, an assurance that the main course had come to an end.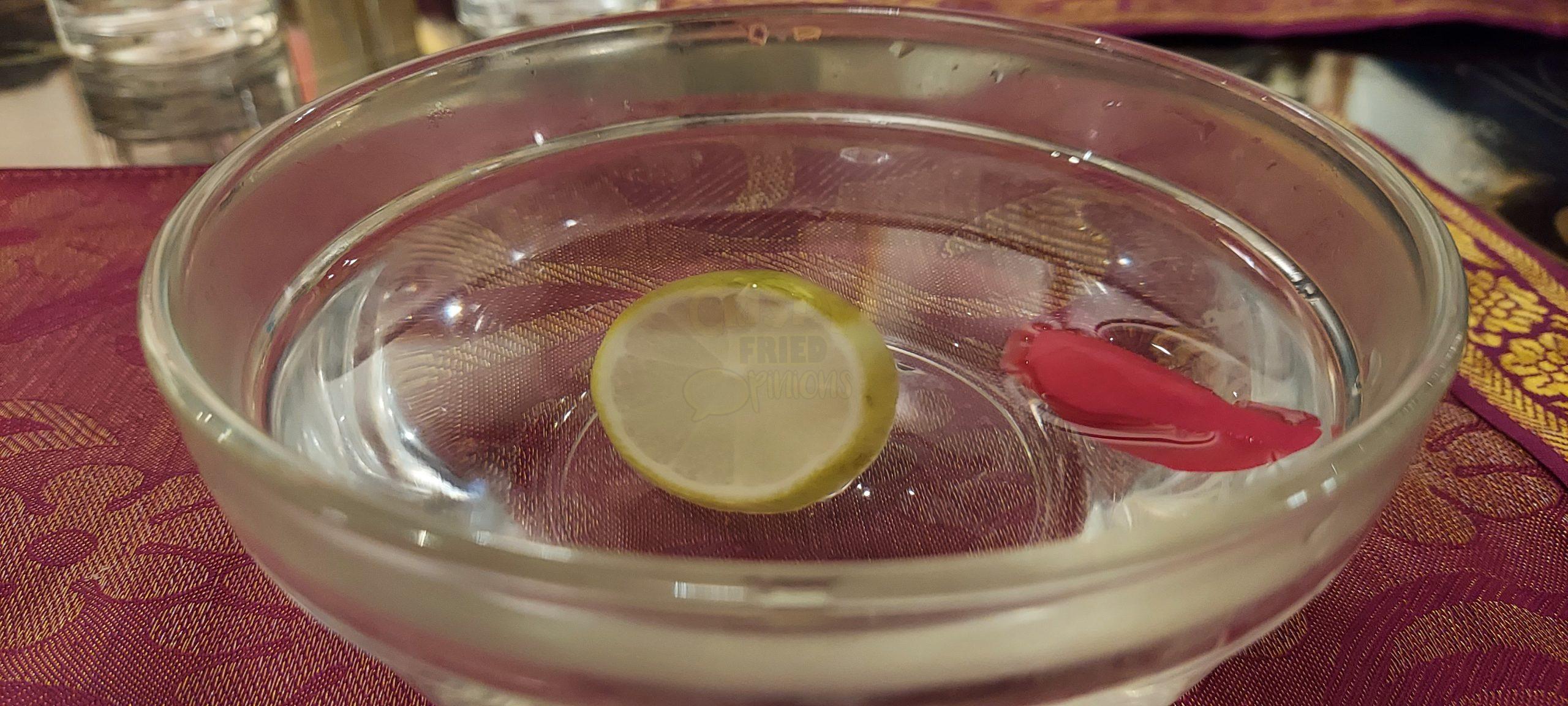 Paalada pradhaman, Gulab Jamun and a scoop of Vanilla ice cream were for desserts! All three were wonderful! Absolutely relished it. The sugar syrup was a tad too sweet in Gulab Jamun, just ate the jamun sans the syrup. Paalada pradhaman was tasty, thinner than what I have had in other places, but just rightly sweet and tasty!
A Sweet Beeda to end the meal. Not the overtly sweet types, just the right Kumbakonam Karuppu veththalae with chunnaambu, and some additions like kalkandu, paakku, etc. Reminded me of my thaatha's veththalapetti. 🙂
It was an elaborate affair, the meal spanning a good two hours, very evenly spaced out. There was not one instance when we felt there was a delay or hurry in serving something. Quite as expected in a fine-dining place, the cutlery was changed after each course, plates and bowls cleared regularly, water refilled proactively, I would say all the checkboxes were checked! The person who waited on our table was Vivian Richards, and the service couldn't have been any more courteous! It enhanced our dining experience big time!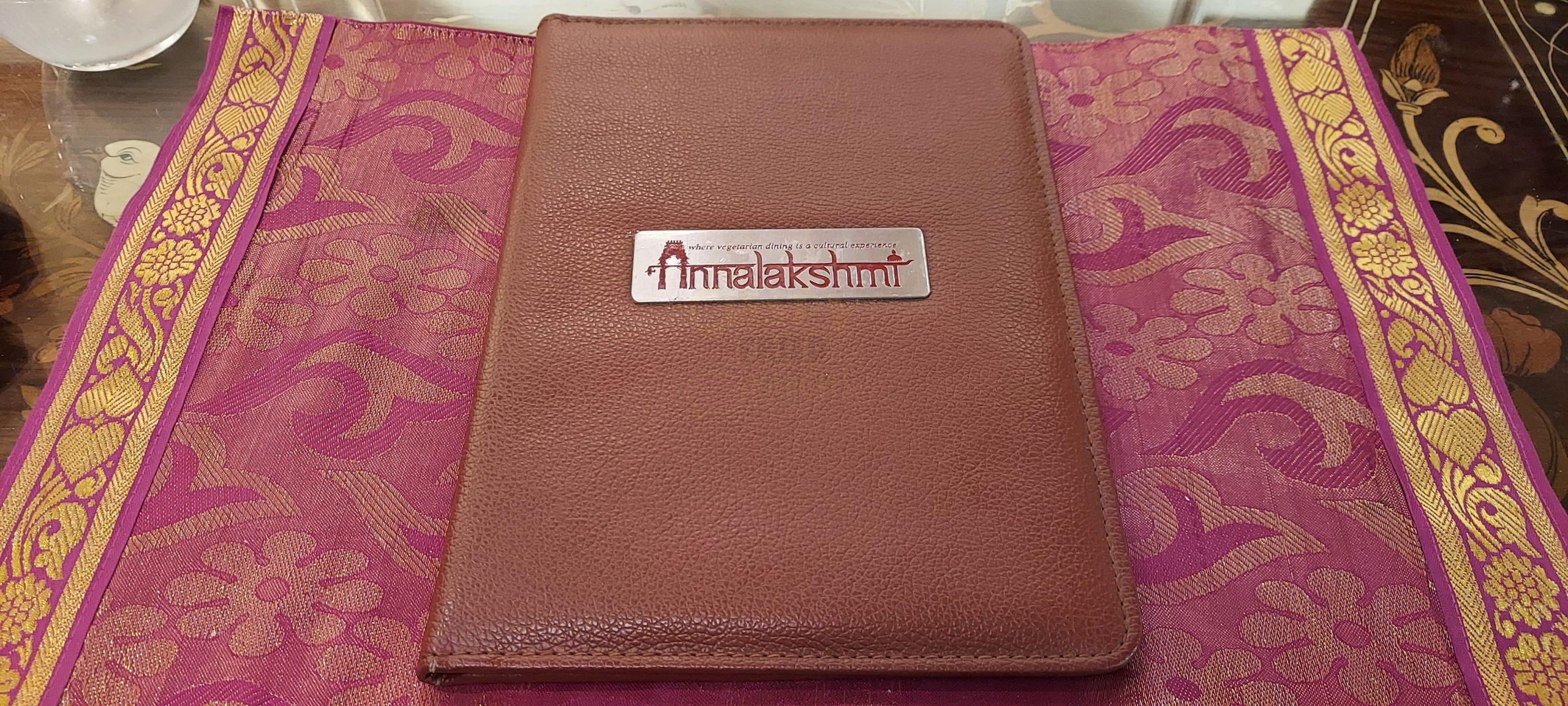 Paid 8.6K in all, I would think it is absolutely worth it for an experience as luxurious as this! Food was very flavorsome without being too bold or loud. Without a doubt, it was one of the very nice dining experiences I've had in recent times. Yes, the price is a bit steep, and I'd reserve this place for special occasions and not just a casual dining. If you'd like to experience a tasty vegetarian meal in a relaxed and luxurious setting, this is the place to go!
If it is weekends or holidays that you're looking to visit, please call up and reserve your table well in advance. In general, for a Saturday, you may have to call the previous Wednesday to manage a reservation.