One of the places that has been on my list for eternity! A Chinese vegetarian restaurant? No wonder I haven't visited this place until a few days ago, my son's Birthday Dinner!
The place is located on one end of the L B Road where we go around the park that houses Aavin Milk booth, to head to Besant Nagar. The building was quite deserted and dark, and seriously we had second thoughts on going ahead with the dinner plan. Thankfully this lasted only till we got to the car parking where quite a few cars were parked and people were waiting to head to the restaurant. We managed to get the lift in the second batch, and the restaurant is located on the Fourth floor of the building.
We entered into a nice restaurant, looked good and settled into one of the four seater tables. There were quite a few circular tables that could seat 6 or more, reserved for a bigger crowd.
The place could be comforting for staunch vegetarian folks who can eat without any inhibition at the back of their mind about mix-up with non-veg. Another thing to note was the assurance in the menu that typical ingredients like fish sauce and shrimp sauce which is very common in Asian cooking is not used, and hence taste may vary. That was a good heads-up !
One thing that definitely put me off was the menu card. They could do better to wipe oil/food from the menu and make it look clean. I did that before clicking the picture.
We unanimously decided that we will go all out on soup, starters and desserts and go easy on main course. That sounded like a plan!
The first to arrive were the colorful sauces – ketchup, peanut, garlic and mustard, I think.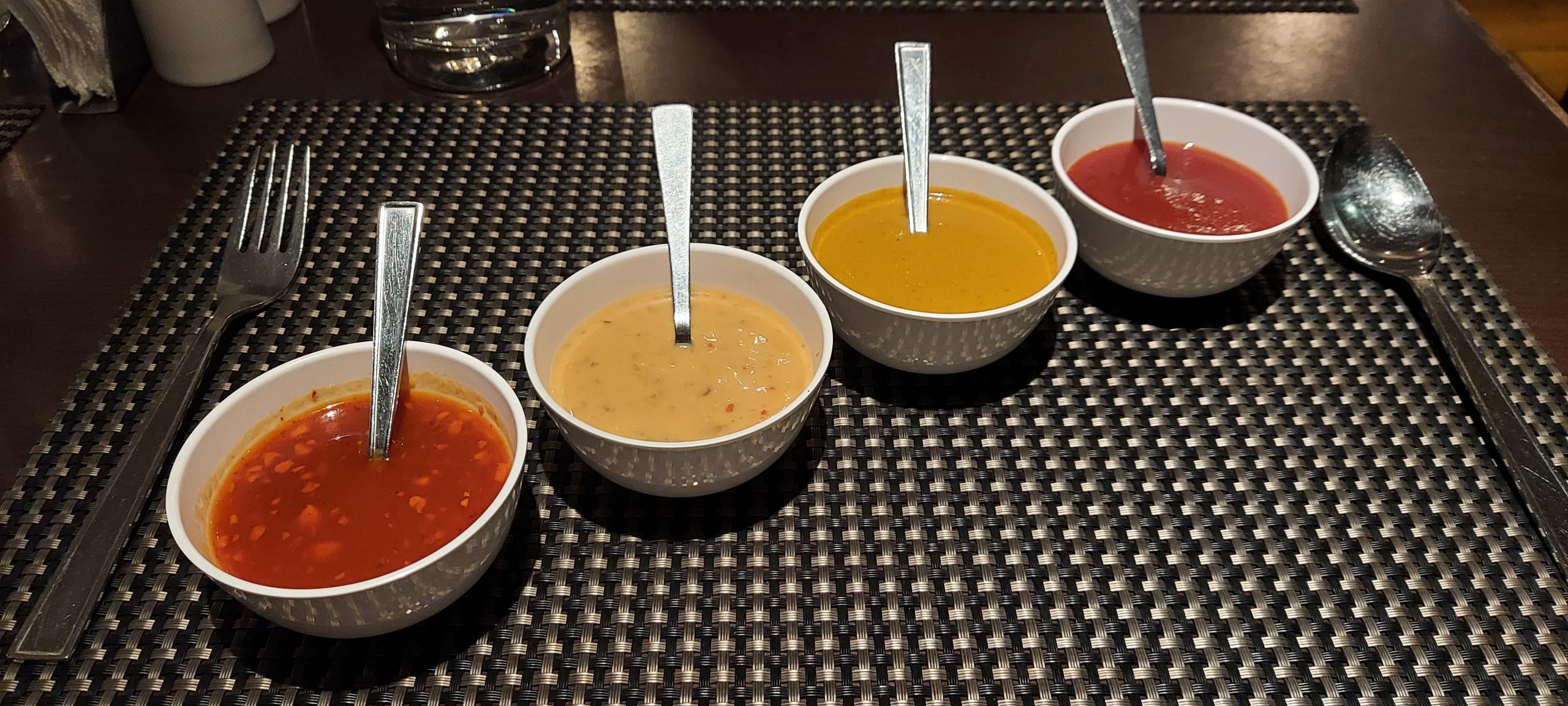 Daughter and I started with our favorite – Manchow Soup, one by two. Wifey and son ordered Cantonese Wonton Soup, one by two. Both were brilliant! Loved the soup, very flavorsome and the crisps were crunchy and wonderful!
For the starters, we ordered Phuket Cottage Cheese, a vegetarian adaptation of Phuket Fish. It was very nicely done. Perhaps felt a bit spicy they first bite, but settled down well! Cottage cheese a bit chewy because it was deep-fried. Not one of the melt-in-the-mouth cottage cheese.
Thai roasted Mushrooms was pretty good, but I didn't really catch any specific Thai flavor in it. It could pass off as Indian too.
Rice paper sheet Roll, which was okay! This is more Thai/Vietnamese I think. I have had amazing ones in a Food Festival at Benjarong! This one was okay, perhaps the rice paper sheet not as thin as I expected. Together with the sauces on the table, it tasted good.
Cheese Corn and Spinach Momos were perhaps the most ordinary of all dishes. Nice work with the outer covering, but the filling hardly made any impression. We managed it with the sauces on the table.
I have to say they were quite generous with the portions, so we were quite stuffed by now. In fact to the extent that we decided to skip main course and proceed to desserts. We were in for a disappointment. The dessert menu hardly had anything Chinese or Pan-Asian. All they had were some healthy smoothies, some Kulfis. It was pretty disappointing!
We decided to go to another place for dinner and that's how a visit to the Ottoman's Baklava and Kunefe, in Kader Nawaz Khan Road, Nungambakkam happened.
We paid a little more than 1.8K in all for soup and starters sans main course and desserts. I wouldn't specifically complain about anything except the momos, but not having desserts in the menu was disappointing. Certainly not one of those places I'll be looking forward to visit at the next possible opportunity.