Mr. Ong, I'm sorry I chose this place for a special occasion. Neither the food nor the service made an impression that would want me to come back again! Al fresco dining?!?! Definitely not at least until December, in Chennai! Certainly not one of the places I'd like to visit again or recommend! In all these years, I have never started a review on this note! If you like to know why this time, read on…
Twentieth Wedding Anniversary dinner had to be something special, I thought! Immediately recollected the names of all the 5-Star hotels not too far away from home. That's when Mr. Ong came to my mind. This restaurant opened a few months ago in Park Hyatt creating a lot of buzz on social media! Flavours of Singapore in Chennai? Decided to check it out!
I'm no stranger to Park Hyatt! Over the years, I've had bad, not-so-bad, good, great and wonderful experiences here! Sort of a mixed bag, you can say. Having chosen this place for a special occasion, I was hoping it would turn out to be great!
I called up the restaurant around 5PM for a reservation, the call went unanswered. Called the hotel and requested them to connect me to someone who can take a reservation for the evening. The person on the other end took the reservation for 4 Pax for 07:15PM. I also mentioned that we wanted some small celebration to make the occasion special. She promised a complimentary 250g cake that we can cut. We were all set!
Reached quite on the dot, at 07:15PM, didn't see a Maître d' at the entrance, walked into the restaurant and then spotted her. She escorted us to the table and we settled down. The place looked good, quite happening, and busy! Clicked a few pics of the place and then returned to my seat.
Frankly in the first five minutes, Al fresco dining didn't look to be the right thing in Chennai's humid weather. I thought it would probably settle down as the evening progressed.
We got a small serving of cold Jasmine Tea and Garlic Rice Crisps. First look at the menu, I was quite surprised that it wasn't very elaborate. In fact, hardly 3 non-veg starters, and their veg counterparts from the charcoal grills. There was just one non-veg soup, and its veg version. It didn't take very long for us to decide what to order.
One Malacca Laksa – the spiced curry noodle soup with chicken, prawn, coconut milk and selected condiments, and one Malacca Laksa Santri, (its veg version sans the chicken and prawn), both to be served one by two. This was wonderful, and very tasty! I tasted the veg version as I don't eat prawns by choice.
Satay Ayam, Satay Lilit and Vegetarian Satay Combo were the starters we ordered from the charcoal grill. While the charcoal grill on the table looked attractive and catchy, the satay itself was wasn't anything great, I would say. The chicken wasn't very soft, felt it had been for a bit too long on the grill. The peanut chutney wasn't great. Sambal was good though! I felt the Chicken Satay at Pelita Nasi Kandar would give this one a run for its money!
The vegetarian Satay Combo was good, my son liked that. I did taste some of the baby corn, potatoes and mushroom, and Tofu, it was definitely okay.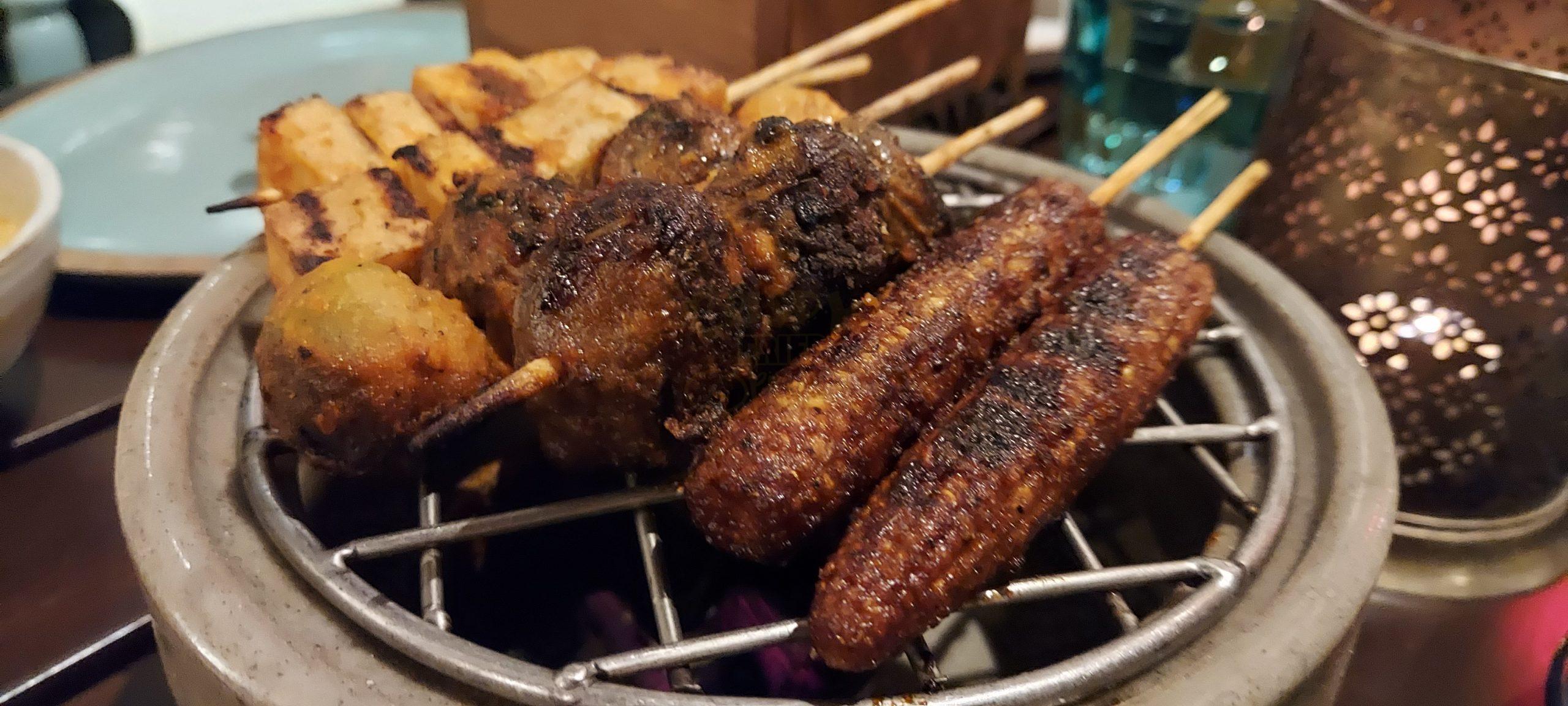 Satay Lilit was basically minced seafood meat on sugarcane skewers – Prawns, Crab Meat and Sea Bass. I didn't eat it, but the feedback was that there was hardly any flavor of seafood, and I wouldn't make out if I tried. This was quite hot, I heard.
The starters from the charcoal grill didn't quite make any significant impression like what Laksa made so far.
None of the Bubble Teas on the menu were available! It was a dampener as kids specifically wanted that. Had to settle with a Litchi Iced Tea and a Mango and Mint Ice Tea. They were decent, not great. The Mango & Mint could have had a little more sugar syrup.
I ordered a Lemongrass Mojito for myself from the cocktail section. The lemongrass apparently wasn't even slightly crushed before adding, I could hardly get any flavor of it. Otherwise, the usual Mojito was good.
Service was very reactive and not proactive! It was courteous and polite when the waiter was there at the table, not denying that, but we struggled to get their attention though they were all over the place. Apparently they were understaffed, I would say. We had to wait a while to order the main course.
Ordered a Nasi Goreng Sayur – the veg version of the very popular fried rice. This was wonderful. we loved this one.
Char Kway Teow – Flat noodles tossed with chicken, prawns, tofu and veggies. We specifically requested it to be made without prawns and they obliged. This was a tad too sour and salty, probably coming from the soy sauce. Had something like a Pad Thai in mind when we ordered this, but this wasn't quite impressive.
Sichuan Tofu and Sichuan Chicken which were served with fried and steamed Mantao. Firstly the Mantaos were so tiny that they disappeared in a jiffy. It was meant to be a main course, and I would think the portion was minuscule. Obviously both the dishes tasted quite similar, and as an afterthought, we felt we should have ordered one of them with the Black Pepper sauce. The waiter told us this was very spicy and checked with us if we wanted it 'medium' spicy. We agreed so as to not burn our tongues. However, what we got was bordering on sweet, which didn't make the dish any great. Should have had it without any alteration is what we were thinking.
I had a couple of Chilled Kingfisher pints, and needless to say, it was good.
Finally, over to the desserts – Ordered a Burbur Chacha, Coconut Pandan and Mango Lemongrass icecream. Again, took a while to place this order. Had to call a gentleman in Black suit, perhaps the manager, and he obliged by taking the order. Ice creams were fantastic though the scoops were too little, loved the different flavor profile in them. Burbur chacha was good, not great. The tapioca pearls in them was the attraction more than the taste itself.
As were were having the starters, I did check with a waiter that we requested for a cake for our Anniversary, and he said he would check and revert, but didn't hear about it until we finished the desserts. Too embarrassed to ask again, I decided to let it go. This was absolutely unprofessional. Firstly, it looked like a communication gap, they were blissfully unaware of such a a request. Secondly, even after mentioning it, no attempt was made at making an occasion special!
We settled the bill and paid a little more than 10K. This was after a struggle of 5 minutes to get a waiter to bring the card swiping machine. At this price point, if this is the satisfaction a guest has at the end of the meal, something is certainly not rite, I would think. A glass of chilled water was the last thing I had requested for, and it took them another 5 minutes to bring!
Neither a 'Thank you' nor a 'Goodbye' as we walked out after close to three hours at their restaurant. So much for all the hype and hoopla about the new place in town! Anyways, another lesson learnt the hard way – for special occasions, do not experiment with new places.