It has been almost two months since I started working from office, once or twice a week. Every time I drive through OMR, I have never missed seeing this place. I've been waiting to try this place for quite sometime now, finally it happened, with three other colleagues.
The place is located bang on OMR, on the left side when you're driving in the direction of Thuraipakkam. We didn't have trouble locating it. There's hardly place to park 2-3 cars and a few two-wheelers. Thankfully they had valet parking, it was helpful.
At 1PM, we entered into an almost packed house, with just 2-3 tables available. It was a clear indication that the IT workforce is slowly resuming work from office. Thankfully got a table right away without having to wait.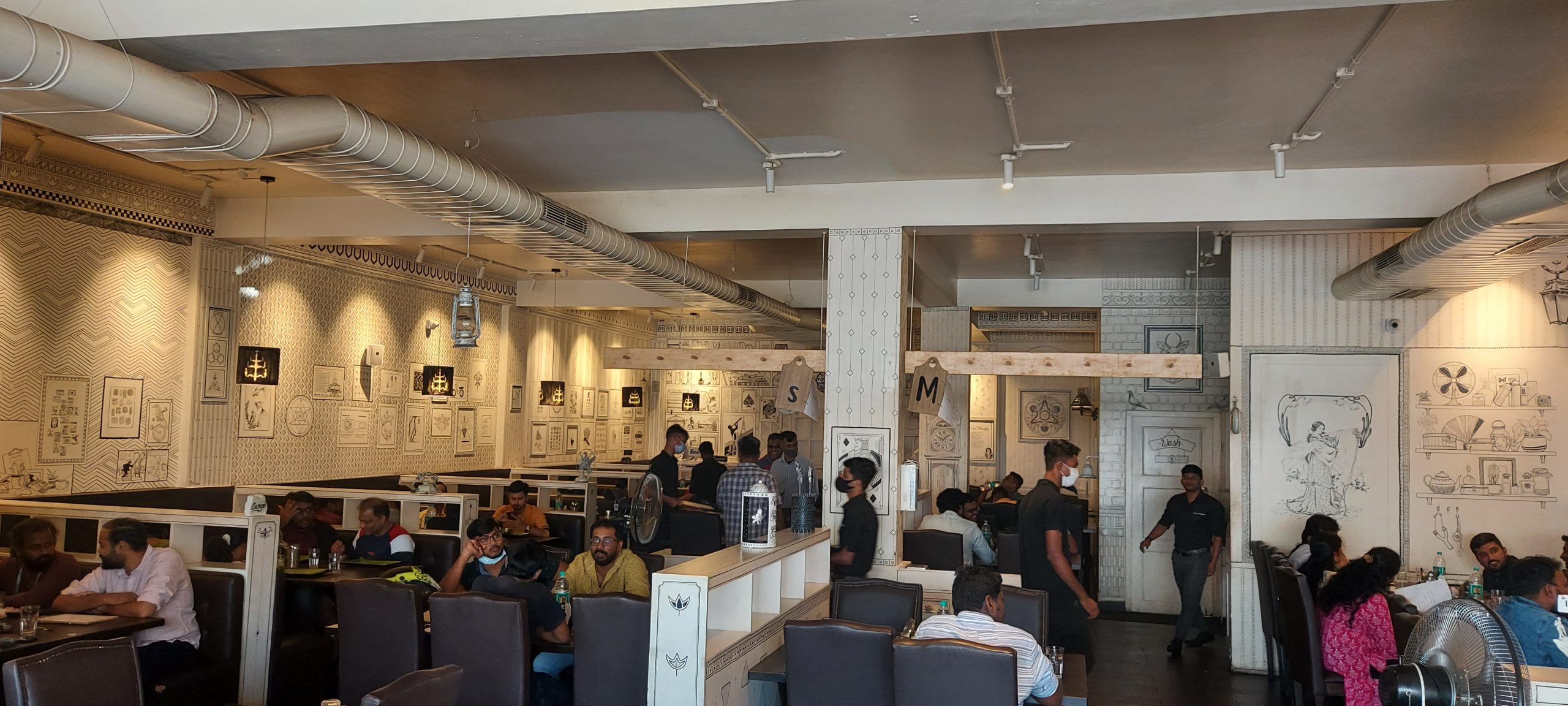 After a quick look at the menu, couldn't help notice the similarity with the menu of Maplai, and then noticed one dish that gave it away! 🙂 Kayir Katti Kola Urundai! Yes, it had the imprint of TheMadChef aka Chef Koushik Shankar!
We ordered Nei Kozhi Varuval, Kayir Katti Kola Urundai, Paal Katti Podi Perattal for starters, one of them was a vegetarian amongst us. For the main course, colleagues ordered Machan's Mutton Biryani, Chicken Biryani, Pallipalayam Veg Biryani, and I was going to order Egg Biryani for myself when I spotted Bun Parotta on the menu. That's it, ordered 4 Bun Parottas and 1 Chicken Chettinadu to go with it. We decided to share it between us.
Meanwhile to keep ourselves busy until then, we ordered Pallipalayam Kozhi Chaaru. It was tasty and flavorsome but very hot! Needed a glass of chilled water after that. Could have had the spice levels toned down.
Kayir Katti Kola Urundai was the first one to come to the table, and along with it came the biryanis. Had to tell the waiter to serve the starters first and then bring the main course. He didn't quite seem to understand until another senior waiter came and asked him to take it back.
Seriously I haven't understood the concept of Kayir Katti Kola. It is only decorative or does it hold any significance in holding the meat from breaking when deep fried? I have seen so many make it without the kayiru. I must say it took a while to get the kayiru off the kola, and still small remnants of it stuck to the sides. Frankly, it was more a nuisance than a value-add. I would have certainly liked it without the kayiru. Coming to the taste, this was certainly overpowering to my palate, and this is definitely not a complaint. In some places, I can have the Mutton Kola comfortably, but here, the flavor of the meat was overpowering. Didn't feel comfortable for me, but may have been good for typical mutton eaters.
Nei Kozhi Varuval, again a disappointment ! The moment you think of a Ghee Chicken Roast, you cannot help but compare it with the Kundapur or the Mangalore Ghee Chicken Roast. This certainly had the flavor of ghee, but wasn't as special. Was more like a onion-tomato chicken Fry with ghee. To add to this, too many chipped bones which made it difficult to eat, and the chicken hardly had any flavor in it.
Paal Katti Podi Perattal was good, I was told. I did not taste it, the rest of them did. They did seem to like it.
Overall, starters didn't make any significant impression. Looked forward to the Biryanis. Again, something that reminded me of Maplai – Chicken Biryani was made with Basmati Rice and Mutton Biryani with Seeragasamba. Veg Biryani was Seeragasamba too, I think.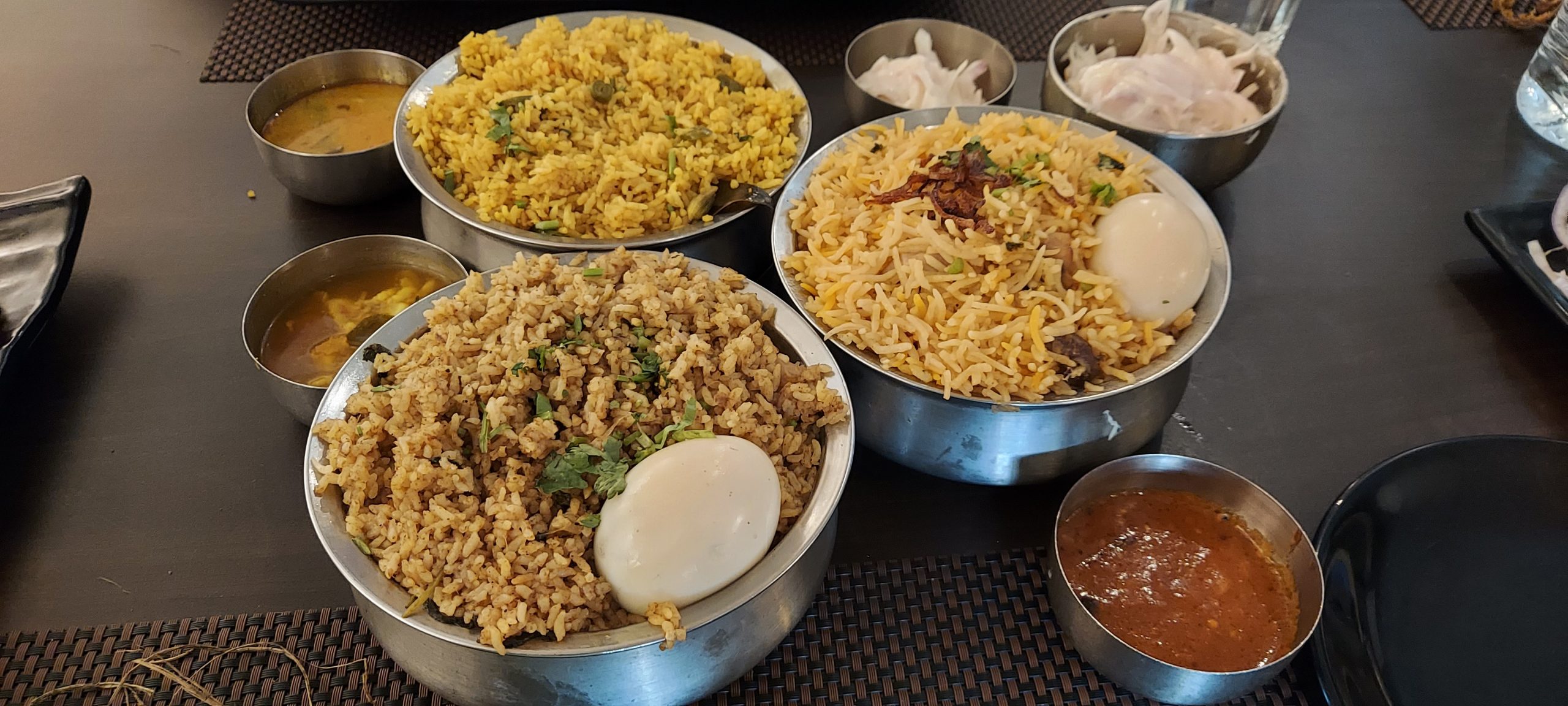 I liked the Chicken Biryani. Had quite a major portion of it. Nice long grains, flavorsome, but the chicken in it wasn't as soft as I expected. Normally I do not eat the chicken in Biryani, so didn't mind it much. Just the Kuska and the boiled egg was more than wonderful!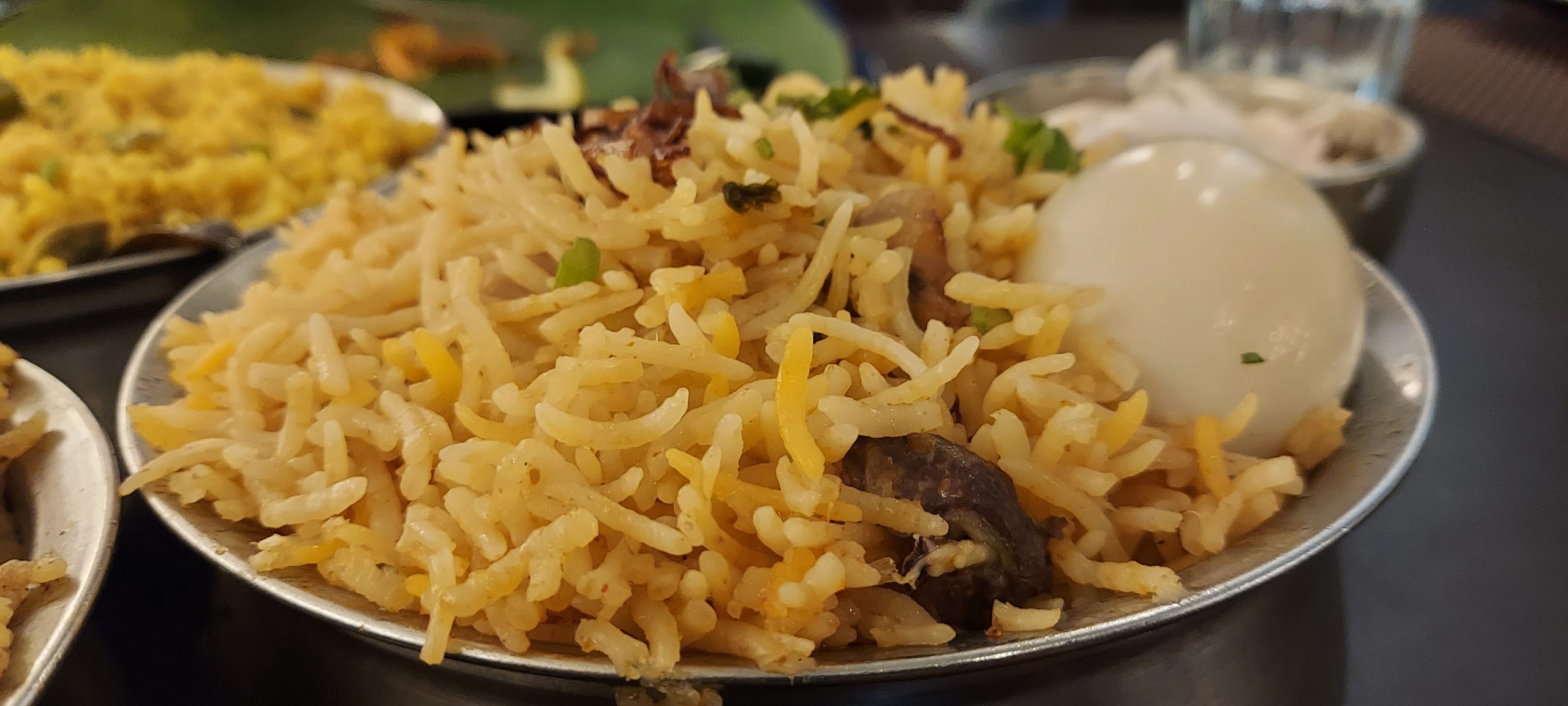 Mutton Biryani was flavorsome, and had generous pieces of Mutton which my colleague had. I tasted a little of the Kuska, it was good.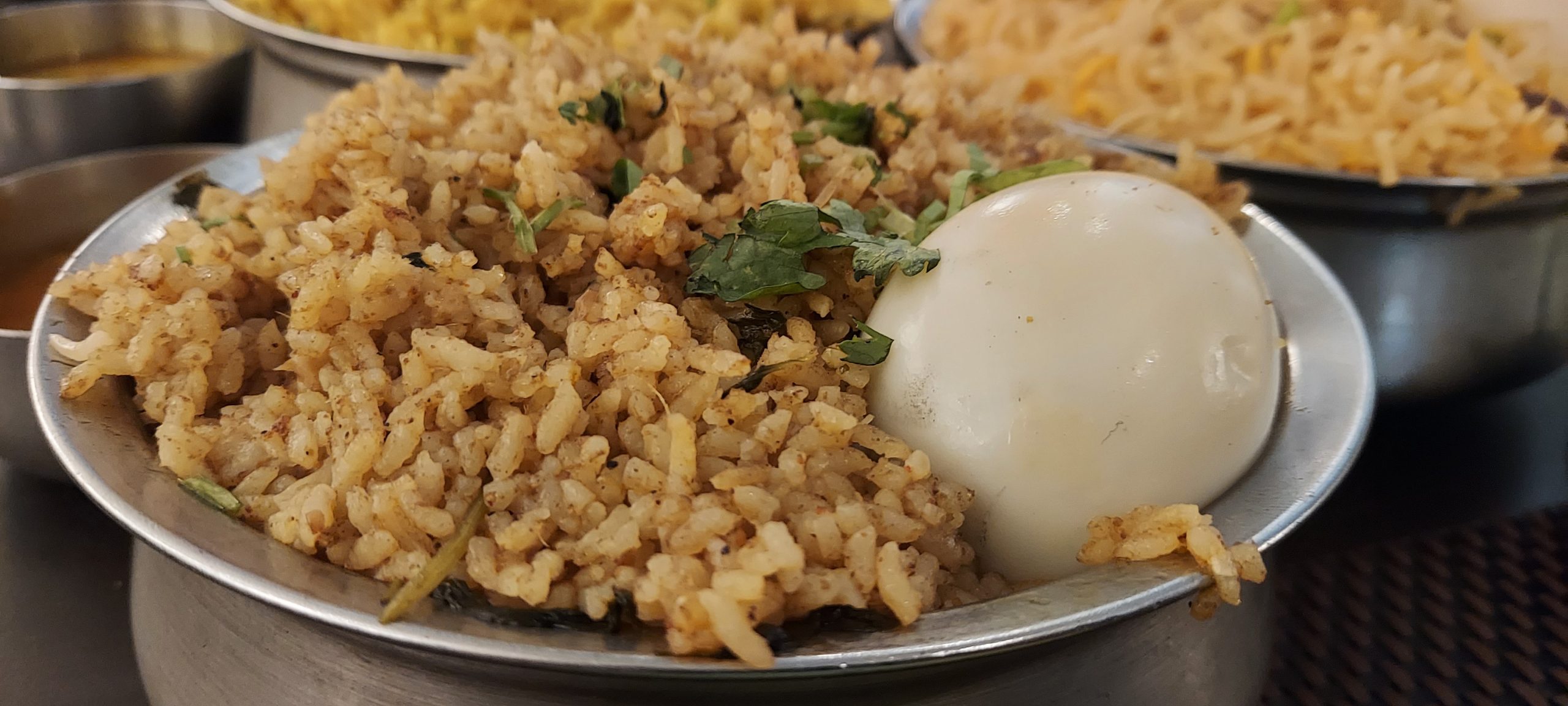 Pallipalayam Veg Biryani was good too, my colleague said. Didn't try that as I was waiting to try Bun Parotta. Biryanis were good and certainly something I would order again.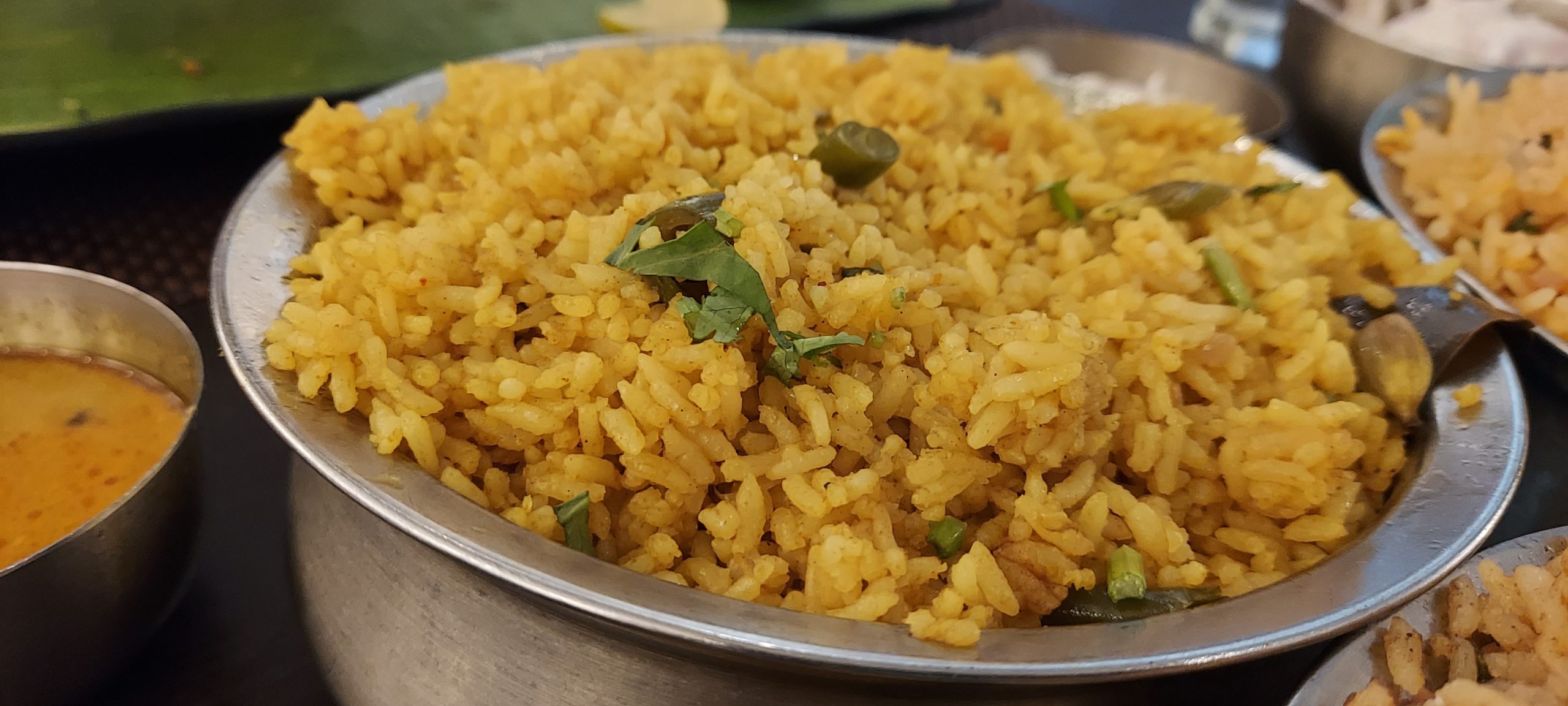 Bun Parotta was very nice! Firstly well-cooked on the inside, which is generally not the case everywhere and a complaint in most places. Another place that doesn't serve a complimentary gravy with Bun Parotta. Had to order a gravy separately – Chettinadu Chicken. It was slightly runny than normal, but was good with the Bun Parotta. The Chicken in it was well cooked and soft. Overall, this combo was a hit!
With that we decided to end the lunch as we were quite full. Skipped the desserts and beverages. We paid 2.6K in all, and went Dutch! It was a good lunch outing with colleagues. A nice place overall to serve the IT crowd on OMR. The place positions itself as an upscale restaurant and hence definitely priced slightly more than its counterparts. For that price point, while the starters failed to make a slightest impression, Biryanis and Bun Parotta saved the lunch! Not one of the places that I would look forward to come back at the next possible opportunity!
We saw about twenty or more people waiting for the table as we left the place! One thing is for sure, these minor things will certainly be overlooked when you're strategically located to cater to a huge crowd.