Normally my posts are about food, and in some cases when I feel something was really wonderful and I'd like to let people know about my experience, I write about my stay too! One such experience was a one-day stay at Marutham Village Resort, Mahabalipuram. 'Loved it', would be an understatement!
I was looking to take my family out for a day, something different, something that we haven't done, and that's when I spotted this place on the internet. Marutham Village Resort is a village-themed resort located in a village called Vadakadambadi, a few kilometers from Mahabalipuram. It was quite easy to locate using Google maps.
'Marutham' in Tamil means 'vayalum vayal saarndha idamum' which means cultivable or agricultural land and its surroundings. Couldn't have been more appropriate, immediately decided to go here. Booking process was seamless, on Booking.com, and we were good to go. Please check the best rates on internet. We paid a little more than 10K for a night for 4 Pax.
Check-in was at 14:00 hrs. and check-out at 12:00 hrs. We were planning to have lunch at their restaurant and hence we reached around 1PM. Decided to have lunch and check-in, or vice-versa, whichever was possible. Glad they gave us a room right away.
We decided to leave the luggage in our room and proceed to their restaurant Amirtham, located quite in the center of their property in a beautiful house, which was probably the most eye-catching house in the property. The colors of the Athangudi tiles, the pillars, the overall décor, everything was beautiful! There was a huge statue of Lord Nataraja on the wall, inside the Muttam of this house, which is basically a open-to-sky area inside the house.
Our room was a single-bedroom with a double bed, and we opted for an extra bed. Room was quite spacious and had everything we needed. Of course, it was an AC room, a sophisticated village stay, you may say! 🙂
First look, couldn't be happier, it was very nicely designed to resemble typical village streets, each room was a village house with a thinnai, and so on. Clicked a few pics of the property and took a stroll exploring the place. There was a downpour for a short time and we had to stay indoors, and right after that, the weather was super pleasant! The pics were all the more beautiful after the downpour.
Swimming pool was designed like a kovil theppakulam, right next to a kalmandapam which was a place for relaxed seating, by the pool. A very nice thing that I noticed here was a 1-hour slot given to each family to use a facility. This meant swimming pool could be all yours for 1 hour that you have opted for. We didn't use it, but it was good privacy for the families who decided to chill out. They weren't too stringent on the swimwear though.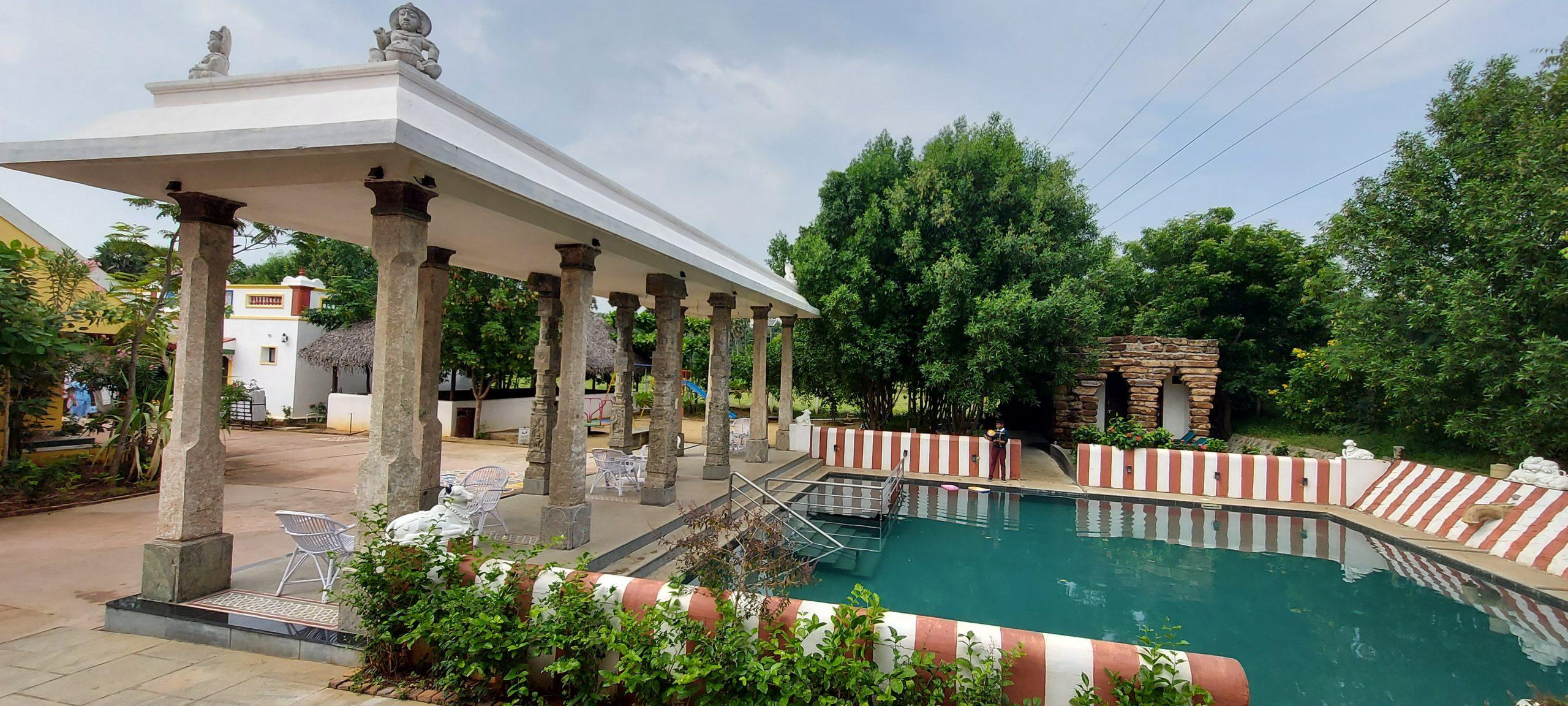 Time for some activity, we entered the activity room and there was pottery-making, toys with palm leaves, we also tried the Poikkaal Kudhirai, which is a traditional folk dance of Tamil Nadu. There was also some games like Pallaankuzhi which a few people were playing.
A quick visit to their farm, where the cowshed had about 50 cows and bulls, and all of them native breeds. One of them was the most photogenic, like straight from the Bahubali movie, clicked a pic of him. There were also goats, naattukozhis, ducks, pigeons, and more.
That's when we had some refreshments before the next set of activities, Archery and Shooting. 🙂 Evening sky overlooking the fields couldn't have been more beautiful! It was captivating! Needless to say the main building that had the restaurant was beautiful with the lights on.
Back to the room to freshen up to get ready for the next show – Village Folk Dance – Thappaattam/Paraiattam, Karagattam, Mayilaattam, Oyilaattam, it was a wonderful evening to witness a fantastic performance of these folk dances, which was very well-organized.
Dinner was again a very nice out-door setup with thalluvandis dishing out choicest veg and non-veg food. Clicked some pics to capture the beauty of the place at night.
Next morning started with a field walk, again, the greenery was just beautiful! We walked over to the lake, and then came back, about 45 minutes in all, was a good start before the breakfast.
Breakfast was served at their restaurant, a predominantly South-Indian vegetarian breakfast, except for the eggs. It was very tasty.
After a couple of hours, a bath at the pumpset in the fields was probably the first time ever for me. Remember swimming multiple times in a huge well in the fields, during college days, but pumpset bath, was a first for us. Again, 1 hour of exclusive time, all for yourself. We had a lovely time here! The weather was absolutely pleasant even at 11AM, that was a blessing!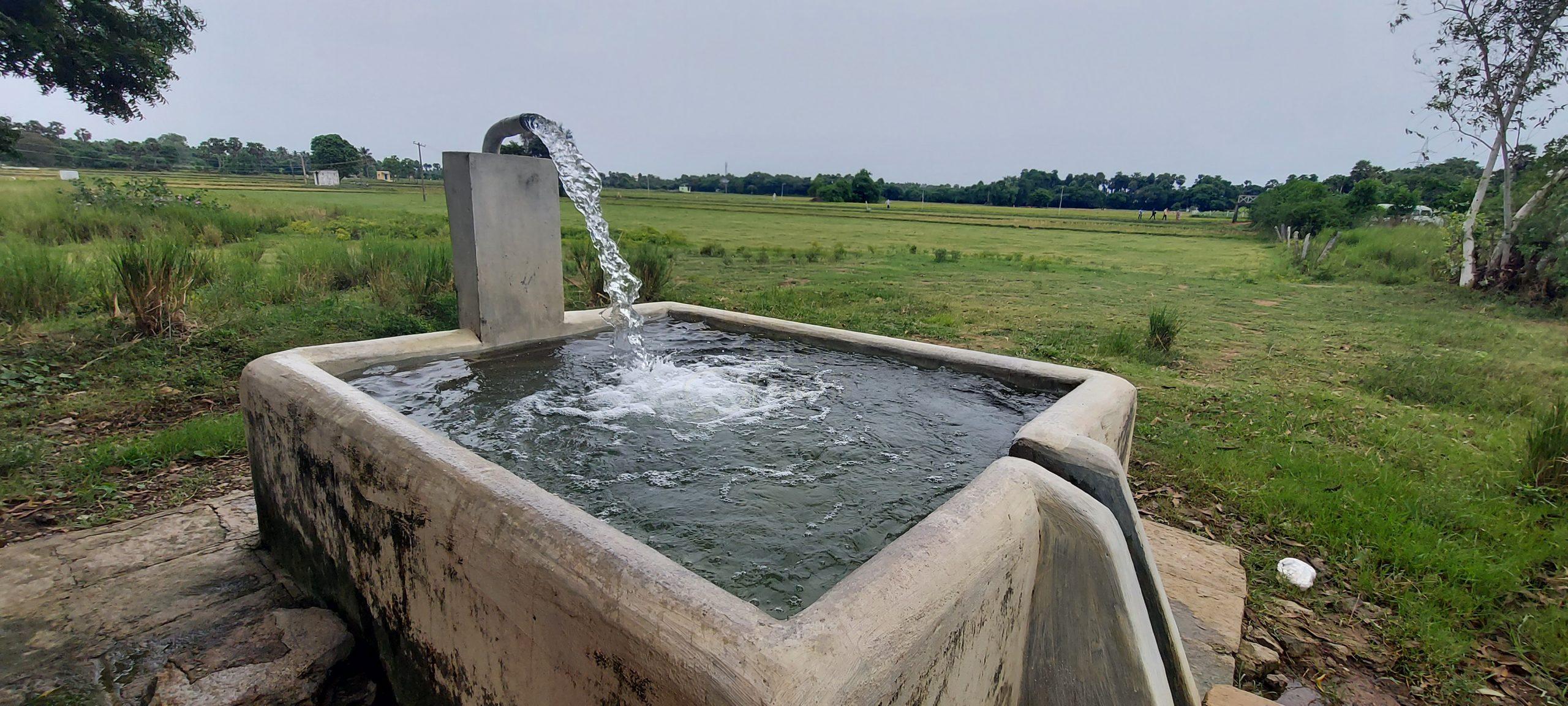 Cotton candy was a hit with kids, they had more than one. 🙂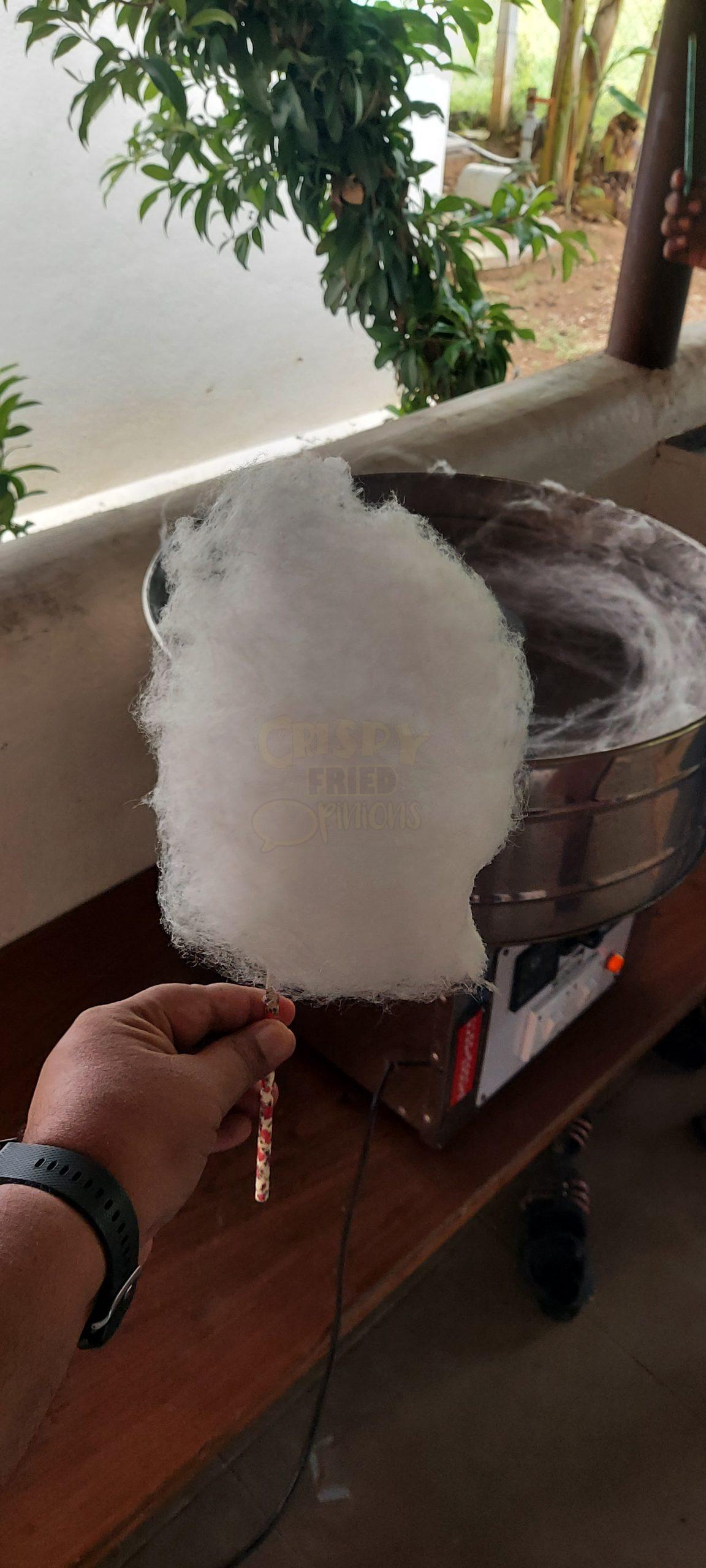 A bullock-cart ride was the final activity that was planned before check-out. This was payable extra while the rest of them were all complimentary. A 30-min ride on a bullock cart through the village was quite enjoyable with a nice conversation about the villages around. This apparently was the only bullock cart in operation in the four villages around.
With that, we checked out around 12:15 PM with absolutely pleasant memories as takeaway. Not many places where you do not have a slightest complaint. The service at the restaurant, coordination of the activities, room service, etc. were absolutely courteous. Every single individual right from the security outside needs to be praised for their commitment. The management deserves a praise for setting such high standards of hospitality. I have written a separate post on Food at Marutham Village Resort where I will be writing about the details of food we had during our stay. That said, the chefs here made sure we were served tasty food every single meal! Kudos to them!
I will certainly recommend this place, and also try to plan an outing with friends and family in the near future. The pleasant memories of this stay will certainly linger on for some time. 🙂