After a recent outing to two nice places in Bengaluru – Street 1522 and Big Pitcher, a couple of friends and I decided to find a nice resto bar in Chennai, something different compared to our usual place. That's how we zeroed in on Sin & Tonic, a name that I have heard from quite a few in F&B circles, that they're one of the nice resto bars in the city! Located on Thirumalai Pillai Road, next to Hotel Benz Park, it was quite deceptive from the outside. Thankfully, a prominent Red name-board helped us find the place without issues.
I had reserved a table for three at 6PM and made it on time, quite early for the evening, I'd say! My two close friends came in just about 10 minutes. Meanwhile I had already checked the place out and clicked a few pics! The place was quite spacious, very nice interiors with a classy ambience, the bar seemed well-stocked and the Red color made it look quite appealing. They also had an outdoor enclosure which served as a smoking zone as well as a Hookah lounge. We got ourselves a nice and cozy seat inside.
The start wasn't as great as we expected, BUT, before I pen down this review, I have to say it was one of the great evenings I have had in recent times!
They only had British Empire Draught in Domestic beers, nothing more. No other domestic beers, not even bottles. I would have loved Kingfisher Draught instead. Since we didn't have a choice, half-heartedly decided to start with a Pitcher of British Empire.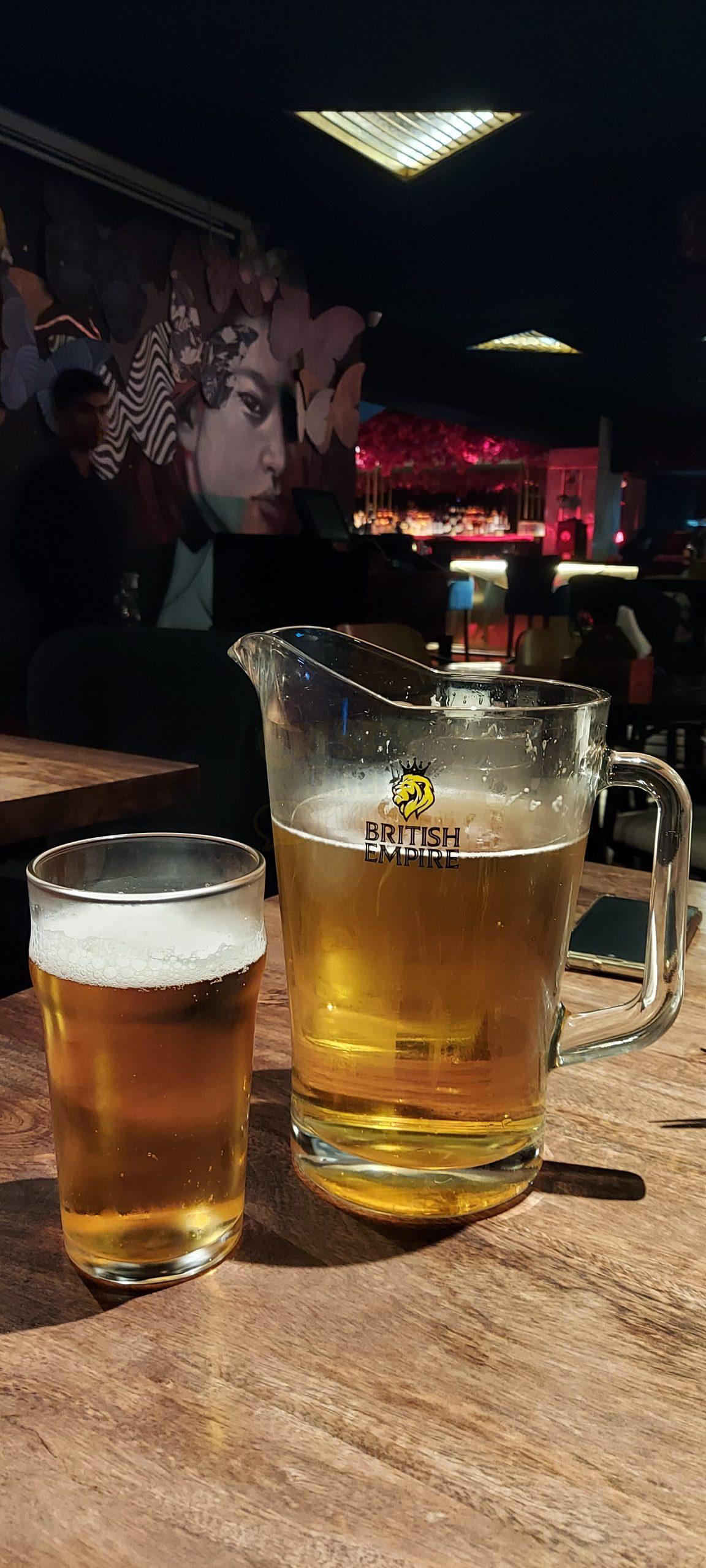 We ordered one non-veg platter and one veg platter along with the beer. I was a vegetarian yesterday, by choice! 🙂 Food was served in reasonable time, and I must say, food tasted as good as it looked. It scored full marks both in presentation and taste!
Veg platter had assorted tandoori paneer, stuffed mushroom, tandoori pineapple and Malai Broccoli. Paneer was super soft. Malai Paneer tikka was superb, and so was the other one with the flavor of mustard. Marinated onion rings and mint chutney were wonderful too!
Friends were quite in praise of the non-veg platter, they seemed to love it too. It had assorted chicken tikka, Gilafi Seekh kebab, Sunheri fish tikka, and tandoori prawns. Marinated onions and mint chutney were served with this platter too. The meats looked wonderful, and I was told they tasted as good!
We were in the mood for experimenting today, and didn't want to settle for anything 'okayish'. One of them decided to shift to Hoegaarden Pint, another friend got himself a drink of Bacardi Black with Soda. I made up my mind that I was going to try cocktails, something I haven't done in recent times. The known devil first – Bloody Mary ! I've never been a total cocktail guy who can spot the minutest ingredient in a cocktail, but vodka and tomato juice in a salt-rimmed glass, with a dash of Tabasco and some black pepper is a drink I have had on more than one occasion. Loved it here, quite like how I like it.
Friends loved the non-veg platter so much that they ordered it again! Again, the looks was super attractive! Friends were so busy attacking it, that I didn't have to ask them how it tasted! 🙂
Next round was Cosmopolitan for myself, Hoegaarden and Bacardi Black for friends. Again, presented in a nice cocktail glass, vodka, triple sec and cranberry juice making the base for this drink. A twisted dried orange zest as a standard garnish. This was smooth, tasty and refreshing!
Grill Cottage Cheese Cigarillos was quite catchy on the menu. Knew what to expect, and it came exactly like that. Mozzarella and cottage cheese cigar rolls.
Friends ordered Fish and Chips. Presented quite nicely, with mayonnaise as accompaniment. Friends liked it!
Next was Whiskey Sour for myself! Checked with the waiter and he mentioned that it was Jim Beam that went into this drink, couldn't be happier! Whiskey, lemon juice, sugar and egg white is what pretty much what is needed to make this drink. Tasted wonderful. The candied orange slice on the outside made it look so classy, I loved it!
Friend on Bacardi shifted to Long Island Tea. I had a sip of his drink, and the punch from the spirits was quite evident. It was wonderful too! Another friend was enjoying his Hoegaarden, pint after pint.
Sangria! Why not!!! 🙂 Pretty much a standard order when I am at places that make it. It was wonderfully made, the wine glass looked very attractive! With Red wine as the base, and a lot of cut fruits, perhaps some liqueur too. Couldn't quite make out if it had some brandy and sparkling water too. Perhaps it did, the fruits had a bit of an aftertaste I think, something I loved. 🙂
We ordered Baked Nachos, and a classic Chicken Tikka. Baked Nachos was very tasty, perfect with the salsa and sour cream, licked it clean. Since I was having only vegetarian, friends let me have my way with it.
Friends were focused on the Chicken Tikka and were raving about how soft and flavorsome the chicken was!
The last drink of the evening was Pina Colada for me, and Long Island Tea for my friend. The beer guy just repeated his pint. Pina Colada, one of my favorites too, primarily because it is a tasty and easy to drink 🙂 Rum, coconut cream and pineapple juice which remind me every time of Malibu, the coconut flavored rum that I had first during college days! 🙂 Was literally bowled over by that taste. It was garnished with a dehydrated pineapple slice I think, it tasted wonderful!
I had to do the honors for friend's Long Island Tea too. Even after 4-5 drinks, a tall drink makes its presence loud and clear! Loved the punch from the hard liquor.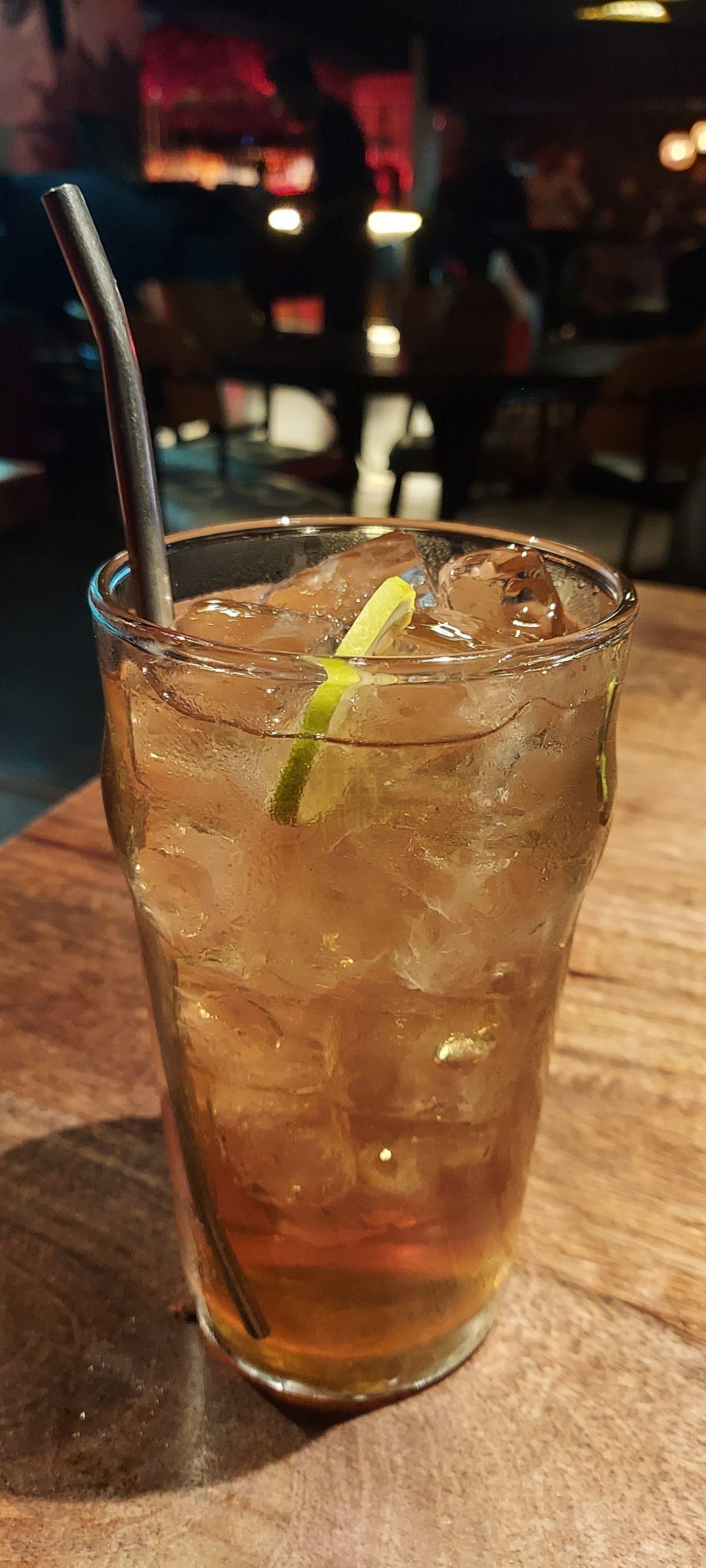 All of the evening, the DJ was mixing the tracks well. It was not loud or deafening, just right so we could have a conversation too. We weren't quite focused on the music, but enjoyed it now and then.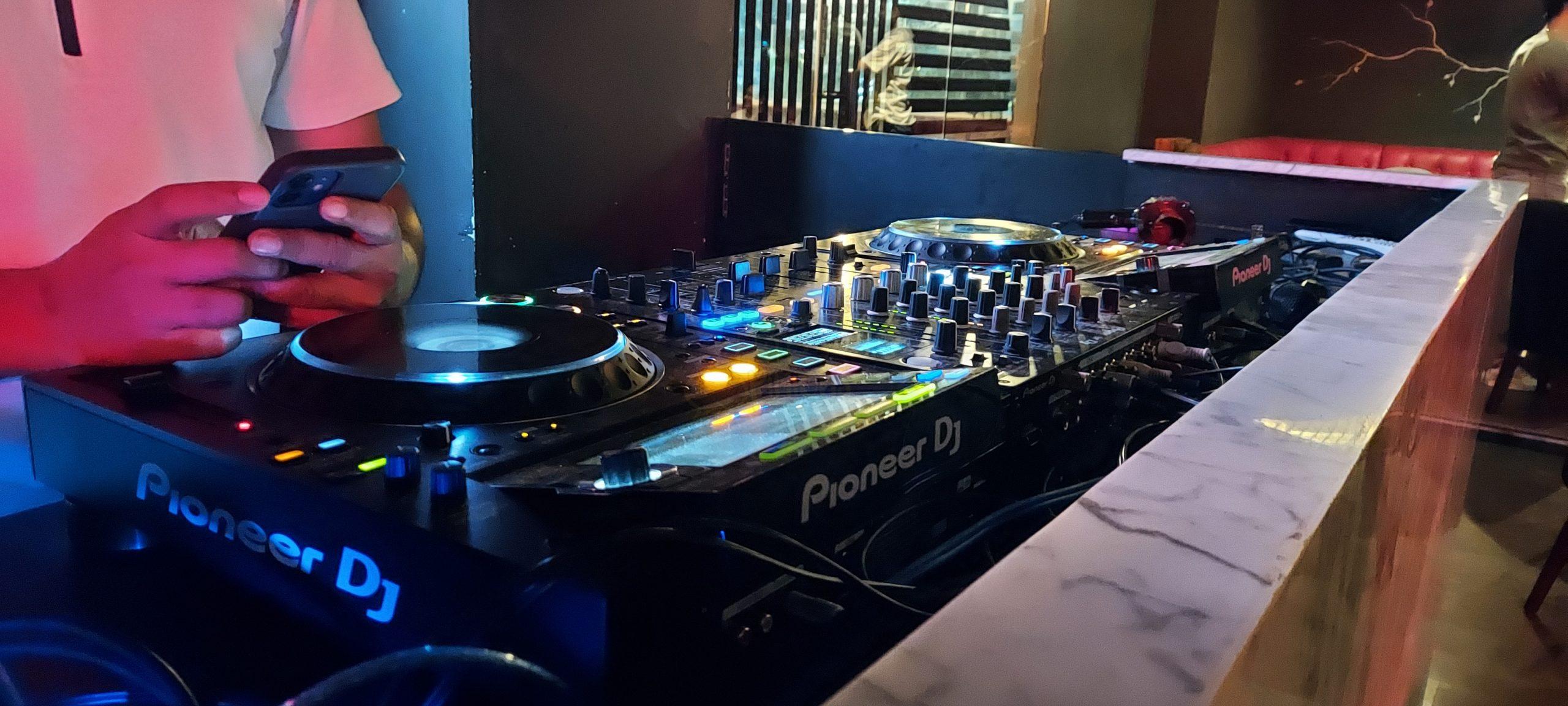 It was almost 10 PM, and four hours of food and drinks. With that, we decided to call it an evening! Food was very tasty, literally nothing to complain about! Service was more than courteous. We got everything we wanted with a smile. Attentive, yet non-intrusive service by Paraag and another person whose name I didn't catch. Special mention to the Bartender Dayan who made some really nice cocktails.
If I had to mention a few things, firstly it would be the non-availability of any domestic beer other than British Empire. Opting for Hoegaarden pints did put a hefty price tag on the bill. It's not a complaint since it was an informed choice we made, only wishful thinking! Since we had no reservations on spending, it was okay. If it was a 'normal' day, we would have decided to leave. In all, we paid a little less than 15K, and almost 4.5K of it was for the 8 Hoegaarden pints.
Secondly, the place we were seated was apparently not the best ventilated place. I had to use my handkerchief quite often as I was sweating now and then. Since it was one of the few well-illuminated tables, I chose to sit there so the food clicks would be better. They need to look at that.
The bill did carry a Service Charge of 5% I think, totaled up to 636 bucks, we let it stay as the service was more than courteous and we didn't have any complaints in the four hours we stayed there.
That said, I'd gladly recommend this place for wonderful food and drinks and I would certainly come back at the next possible opportunity!