Andhra cuisine is something that takes me back to my days of growing up as a kid, in Vijayawada and Hyderabad. Whether it is a Yerra Kaaram Dosa or a MLA Pesarattu for breakfast, or just some snack like punugulu and mirapakaaya bajji, I would never miss an opportunity to have it. In fact, one of our planned trips to Vijayawada with a couple of friends is due for a long time now, hopefully it happens sometime this year.
I've always had this feeling – most of the restaurants that serve Andhra Meals in Chennai have the 'typical' South-Indian Meals plus the podi and Gongura on the table, and call it 'Andhra meals'. Somehow, the smaller messes are way better than these restaurants, I have felt. One such place used to be Kalpana Andhra Mess in Sholinganallur where we used to be regulars, way back in 2007. A few restaurants like Andhra Annam, Mana Andhra were good, but sadly are closed now, I think. New Andhra Meals hotel in Pondy Bazaar was good, but the one in Velachery was very mediocre. My experience at Guntur Gongura in Sholinganallur was so bad that I don't even want to think about it. 🙂 One of my earliest memorable moments of having Andhra food in Chennai and blogging about it was at Malgudi, in Savera, way back in 2012 🙂
That said, when my friend told me about this new Andhra place, immediately decided to go there for lunch.
We reached there almost around 2PM, and the restaurant looked like a renovated bungalow located slightly away from the main road. A narrow pathway lead us to the restaurant. Reminded me of Amdavadi, where the entrance was pretty much like this. Since we went by a two-wheeler, it wasn't an issue.
Three rooms made up the dining space, and while one room was free, I quickly clicked a picture of it. It was quite well-decorated and looked impressive!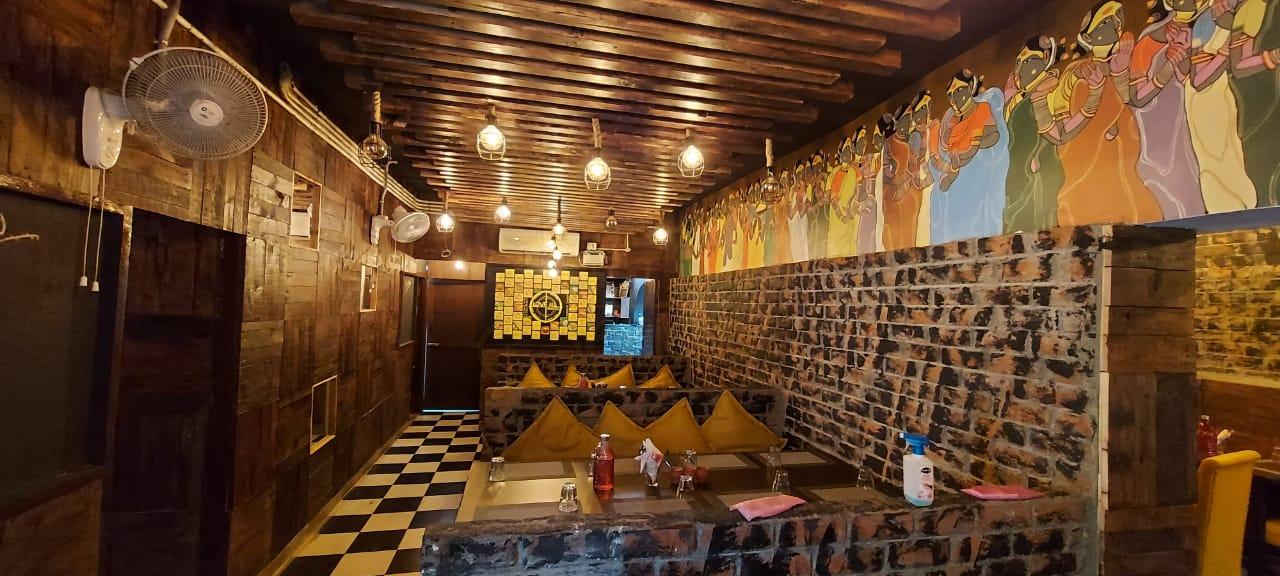 We settled down in a room where a few guests were already dining. After a quick look at the menu, we decided to go with Meals. Andhra cuisine is more than just Hyderabadi Biryani, so wasn't keen to order a Biryani here. The waiter suggested that we order one Pulusu Special Non-Veg Meals, and one Budget Non-Veg Meals. He explained that the Special meals will have Pepper Chicken, Prawns Roast, Pulav, and Ragi Rice in addition to the budget meals, and the gravies in Budget meals will not have any pieces. That sounded quite like a plan, went with his suggestion.
The two Thali meals were served in reasonable time. I should say looks-wise, it was amazing! The special meals looked like quite an elaborate spread.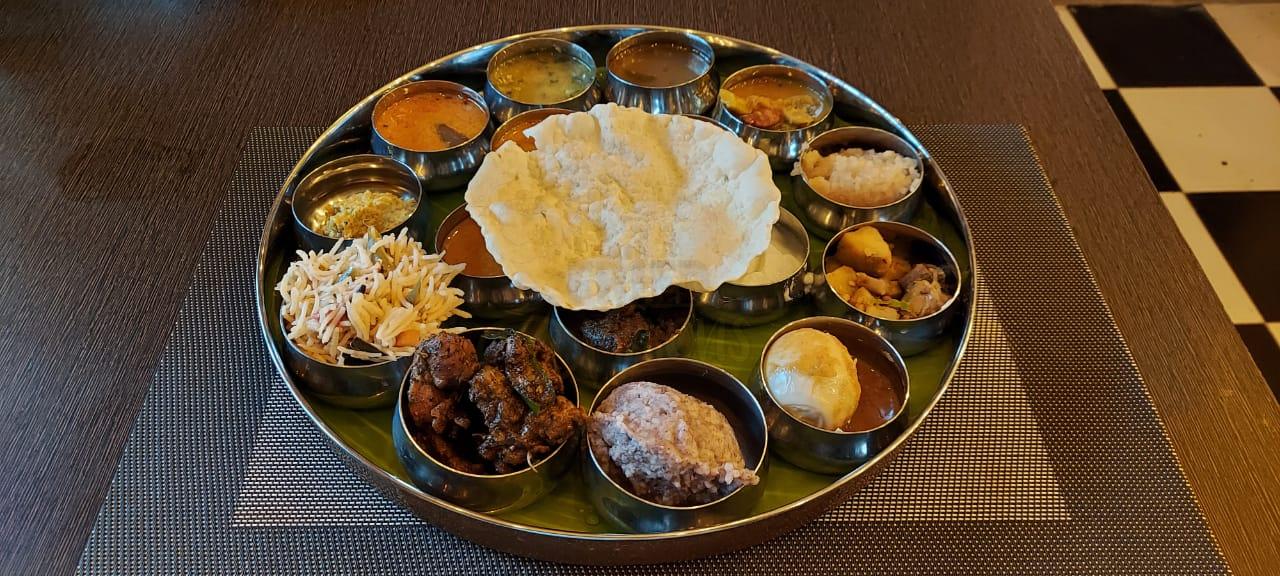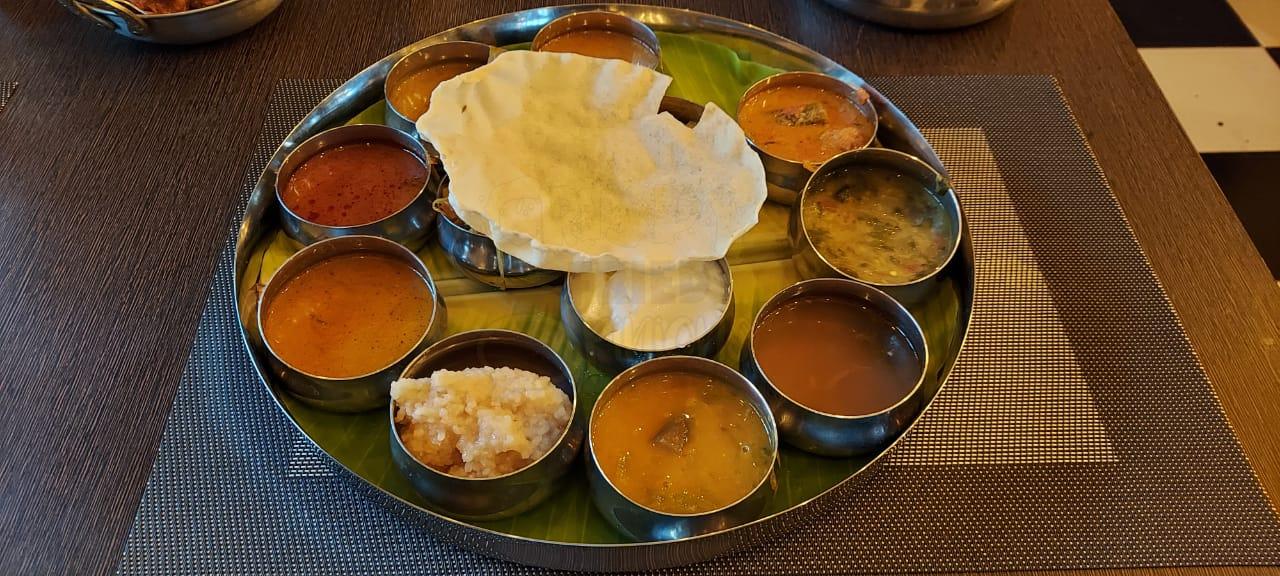 As we started to eat, the waiter quickly brought the standard podies and ooragaaya to the table. I liked the Chintaaku podi, basically made out of tamarind leaves, along with the ghee. Then a regular Kandhi podi, also with the ghee. Ate very little quantity of these, just to taste. They tasted good.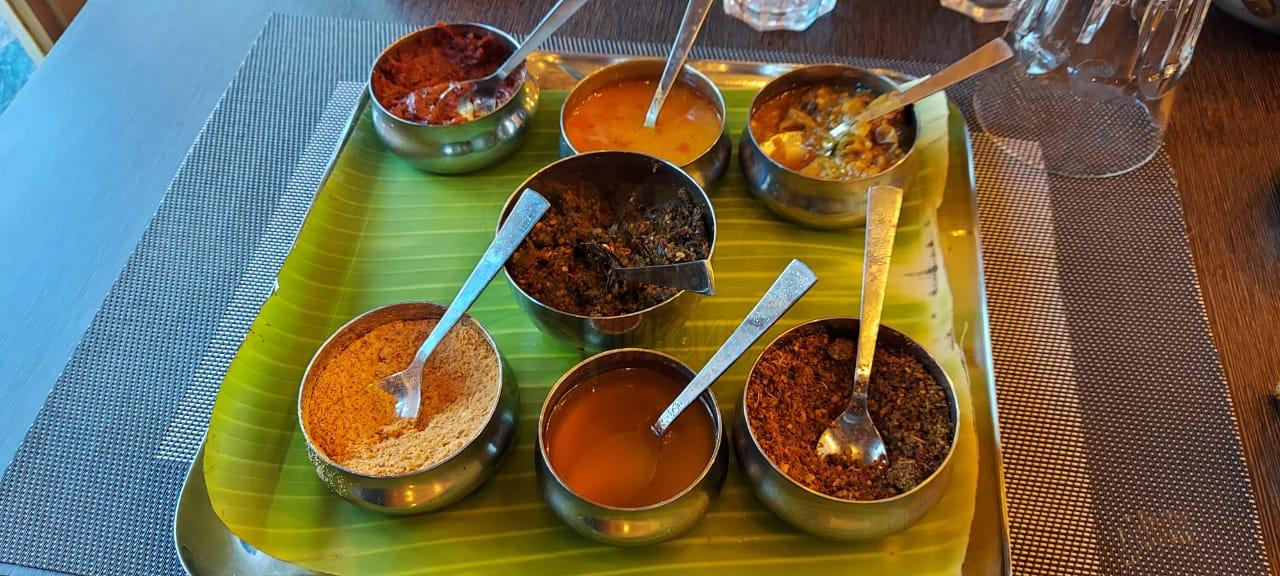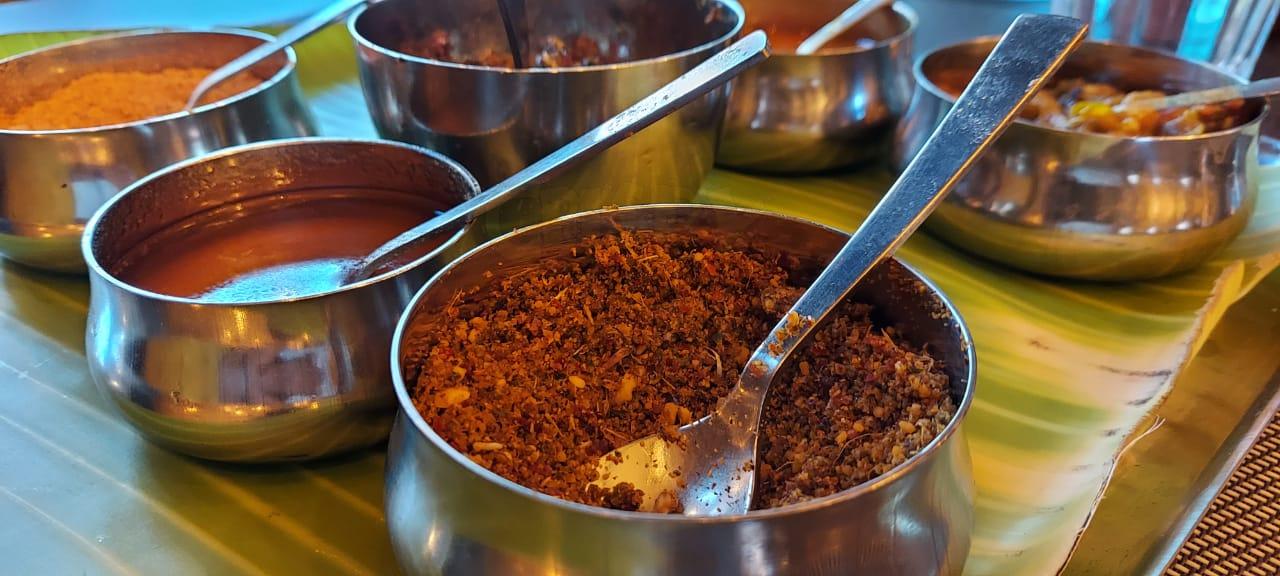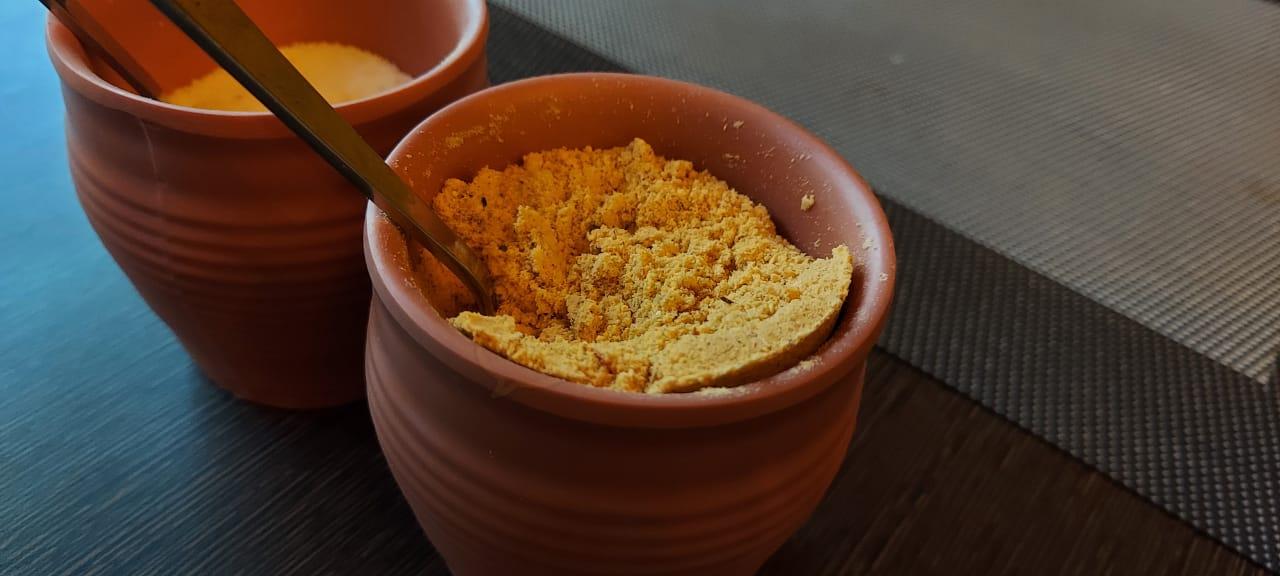 Coming to the meals, I would have liked the waiter explain which of these was Chepala pulusu, which one was Maamsam pulusu, and which one was Kodi pulusu, Basically fish, mutton and chicken gravies. We were left guessing. Fish gravy was distinctly different and red in color. That was enough for me, handed it over to my friend as I do not eat that by choice! The rest I could experiment without a hassle. Heat quotient was quite as expected in Andhra Meals, quite hot, all of them. Friend liked the Chepalu pulusu, I liked Kodi Pulusu better than Maamsam Pulusu. Those who watch their salt intake may feel it slightly high on salt, but I was okay with that though it was a bit on the higher side.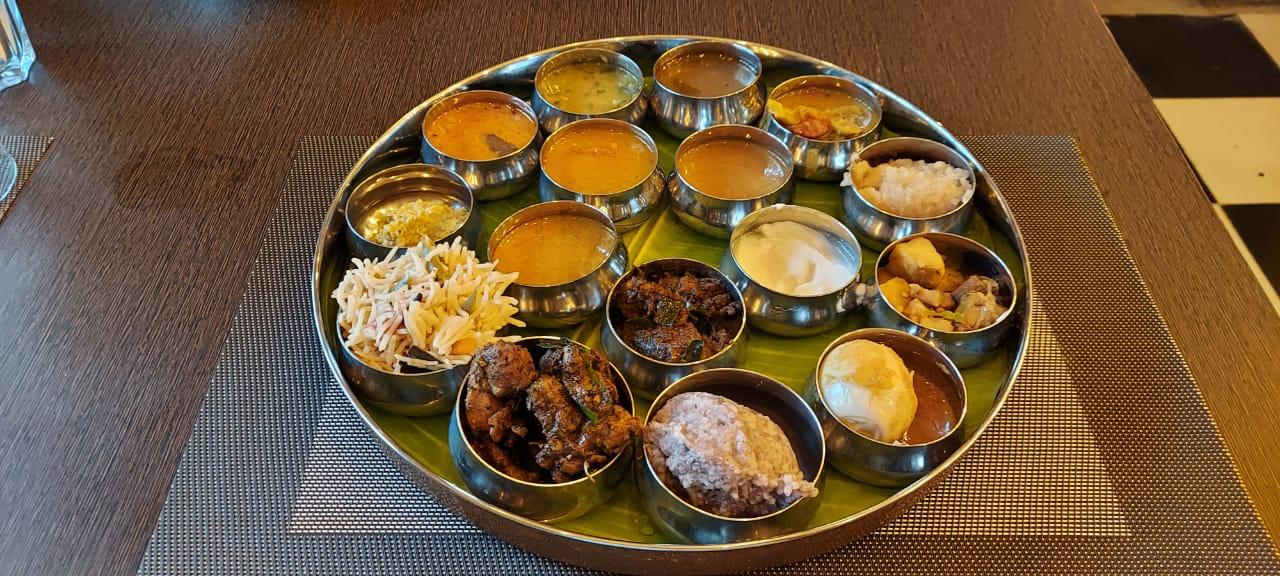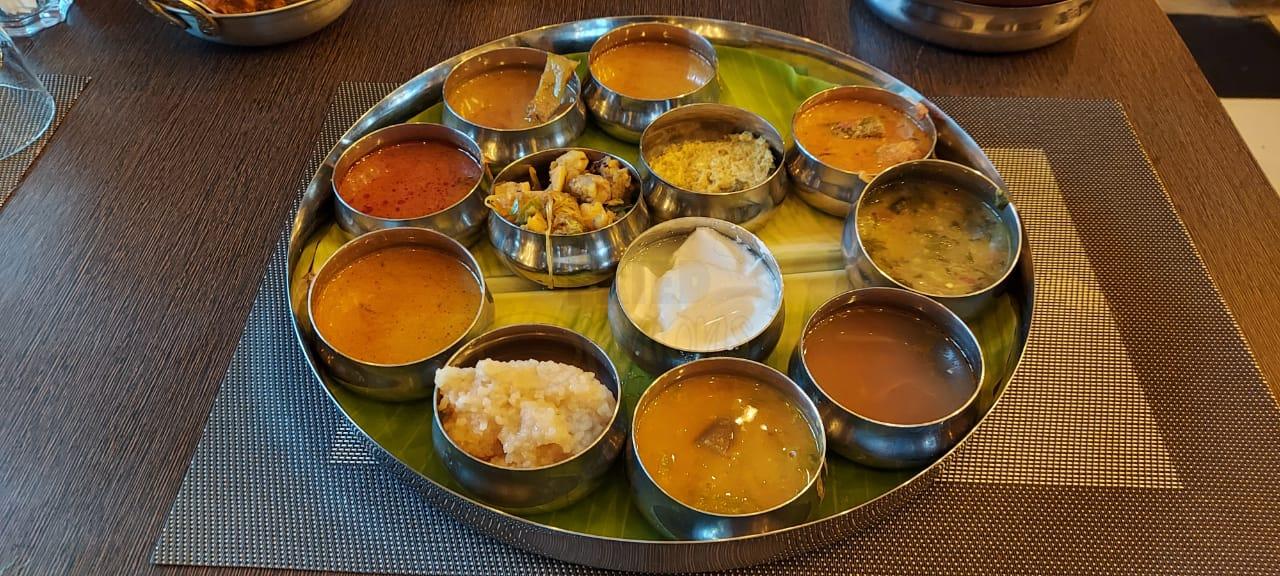 Meanwhile we ordered a chicken dry dish which I thought would be a good addition to the meal. Ordered an Aavakaai Chicken. Sadly this was a total let down. Chicken was not cooked well I think, a struggle to get it off the bone. The pieces which looked cooked well were extremely hard and chewy. To add to the misfortune, a neck piece which was one of the four or five pieces in the dish, hardly any meat in it. I think when people order a dry chicken dish, it is also imperative to choose good pieces that goes into it. In spite of giving a very clear feedback on what was wrong with it, they chose to bill it. I didn't argue, and let it go. That was 250 bucks, wasted!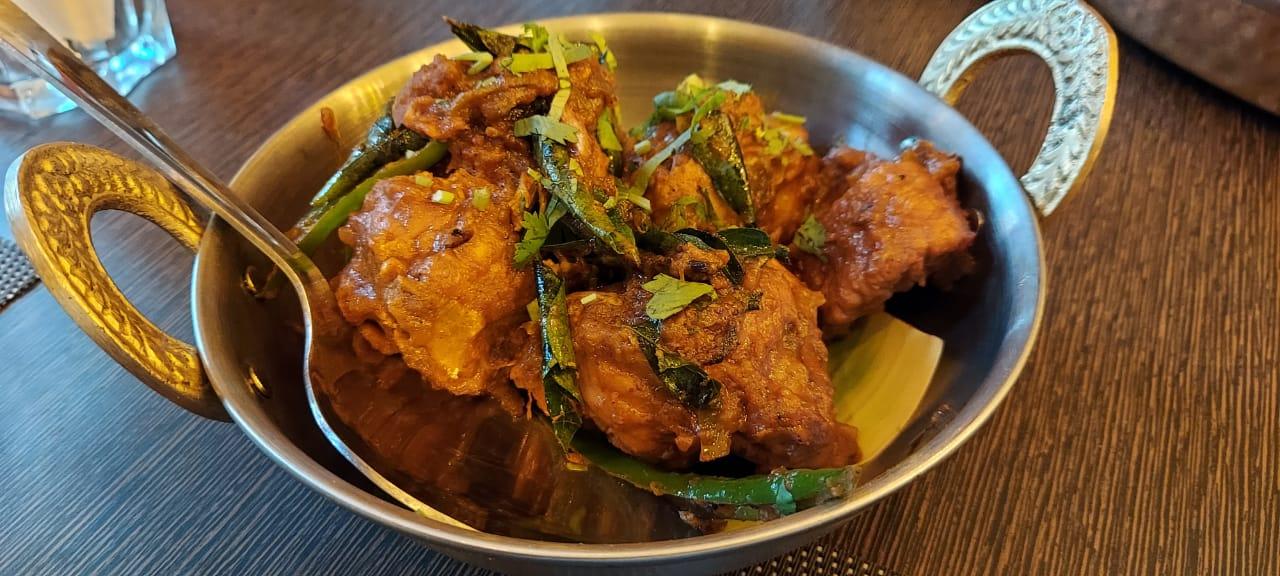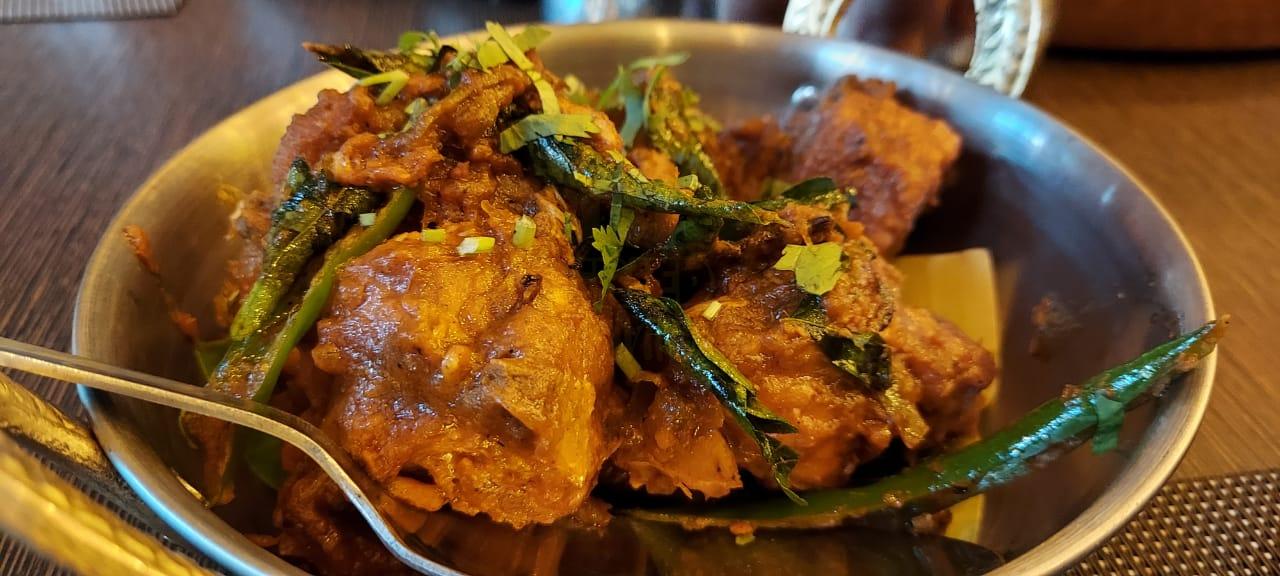 Back to our meals, the pepper chicken had the same issue with pieces. Too chewy, and too many boney pieces. A struggle to get some meat out of it. They need to seriously reconsider the vendor from where they procure chicken. Friend loved the Prawns roast, and mentioned that they were generous with the pieces and they were tasty too. He also liked the Chepala pulusu, and seemed to relish it.
Probably just an observation, none of the gravies were even barely warm. All the dishes were at room temperature, not sure why! Few were even bordering on cold. We asked for a refill of the chicken gravy and that was served hot and tasted way better than what was in our plate, not sure why! There was a boiled egg in a very little gravy, it was too little to even make out how the gravy tasted.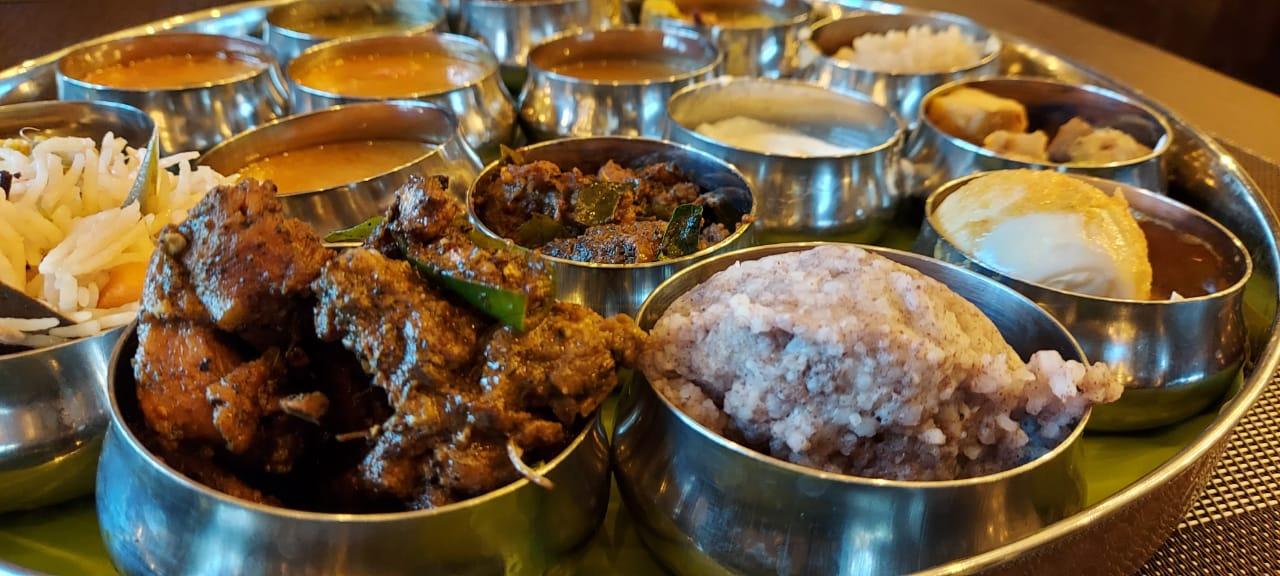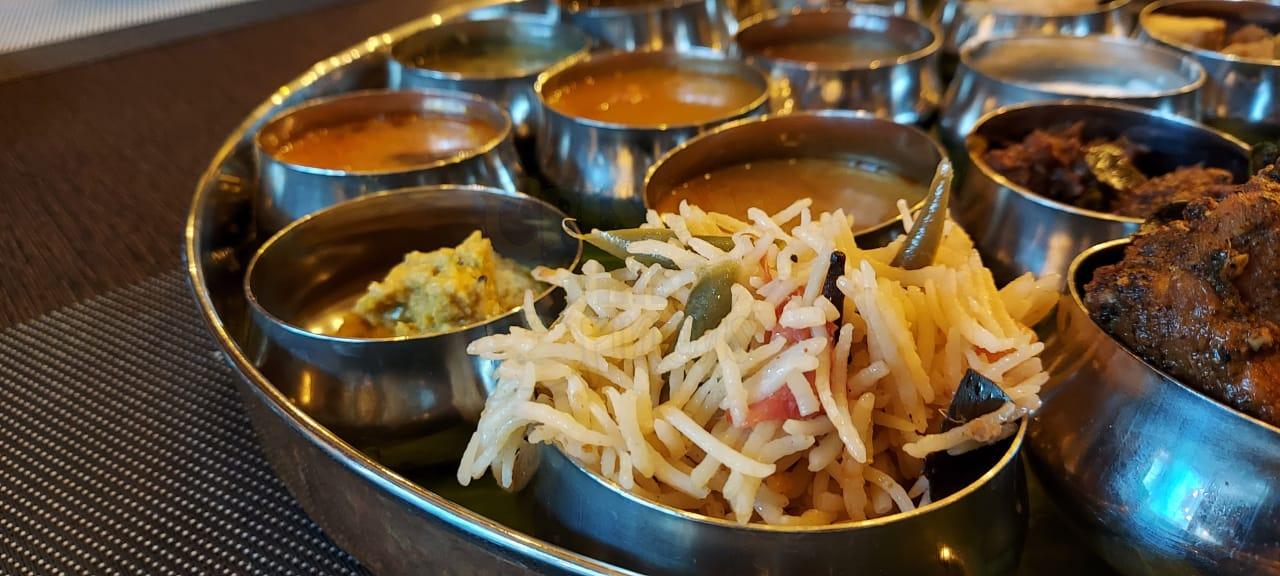 Coming to the vegetarian dishes in the meal – Frankly, nothing stood out. They were all just okay, and that's about it. It was more like standard dishes in a South Indian meal, not specifically Andhra-ish. A good yummy Tomato Pappu, or a majjiga pulusu, or typically runny pappuchaaru or a pachchi pulusu, a good vegetable vepudu, nothing was there! Standard poriyal, kaara kozhambu, rasam, sambhaar and keerai were the vegetarian accompaniments in the meal. As I said, they were decent, not wow! There was also a sweet, a chakkara pongal I think, that was made of sugar and not jaggery.
Service was good, nothing worth complaining. We got a 15% Inaugural discount that is running until the end of this month. We paid a little more than 700 bucks in all, 399 for Special Non-Veg Meals, 190 for Budget Non-Veg Meals, and 250 for the Aavakaai Chicken that we hardly ate.
I would have certainly liked to see more of Andhra in their food, than just in the name. Overall, it was a mixed bag kind of an experience.