Some restaurant names intrigue you and this was one such place. The name Kanji Kadai left me wondering, how could someone conceptualize a restaurant's offering around the very simple Kanji? Immediately decided to check it out, along with a friend of mine. It has not been very long since I heard about this place.
The place is located in OMR Food Street in Kandanchavadi. I've been to this place a few times and I am no stranger to this location. I've tried Andhra Annam, Spices Kerala Restaurant, and a few other eateries here. Kanji Kadai is located on the first floor with prominent name boards.
We walked into quite a busy place around 1PM. A nice little restaurant, with interiors done up well. Earthenware bowls and plates that they served was catchy. We got a table right away!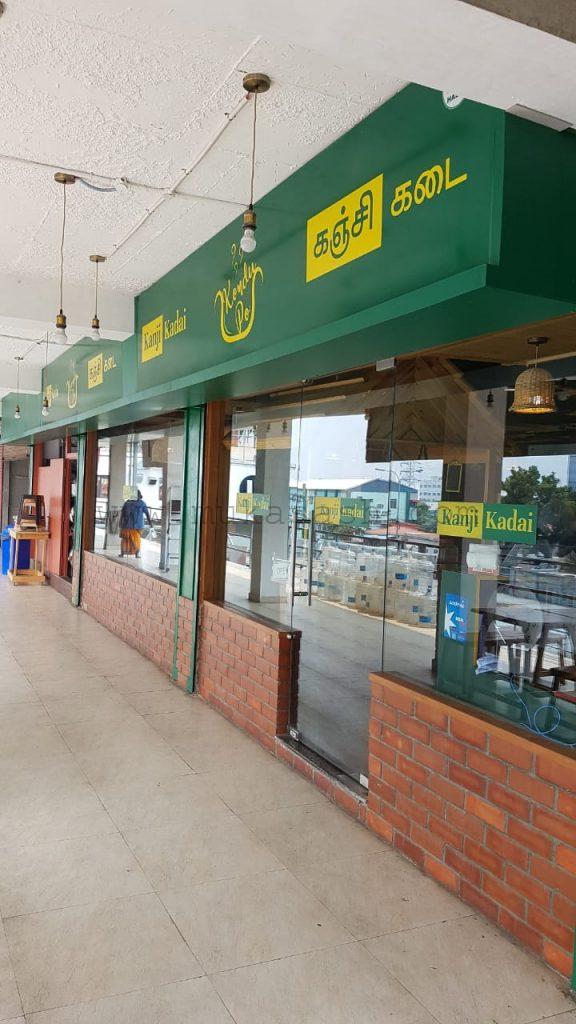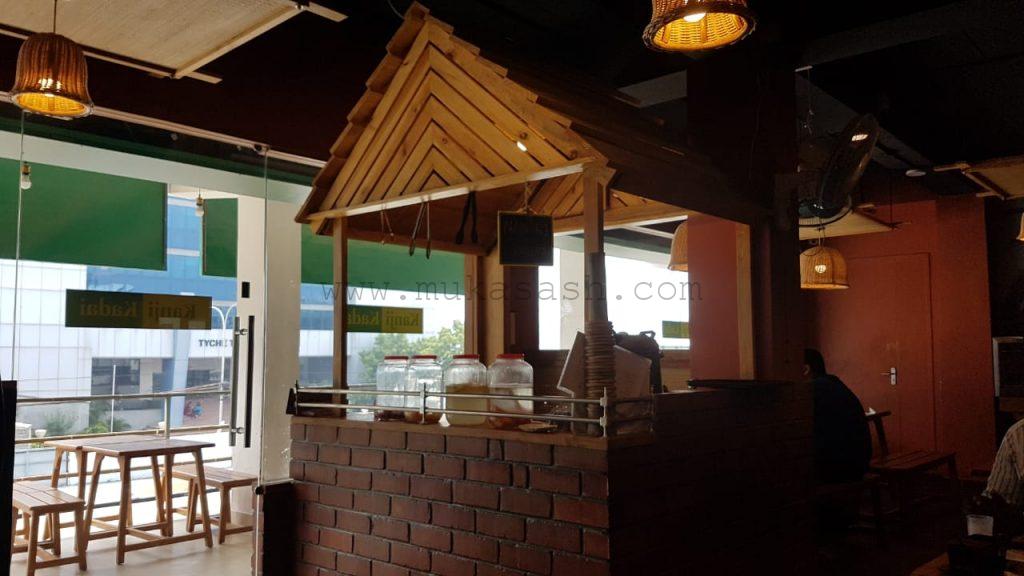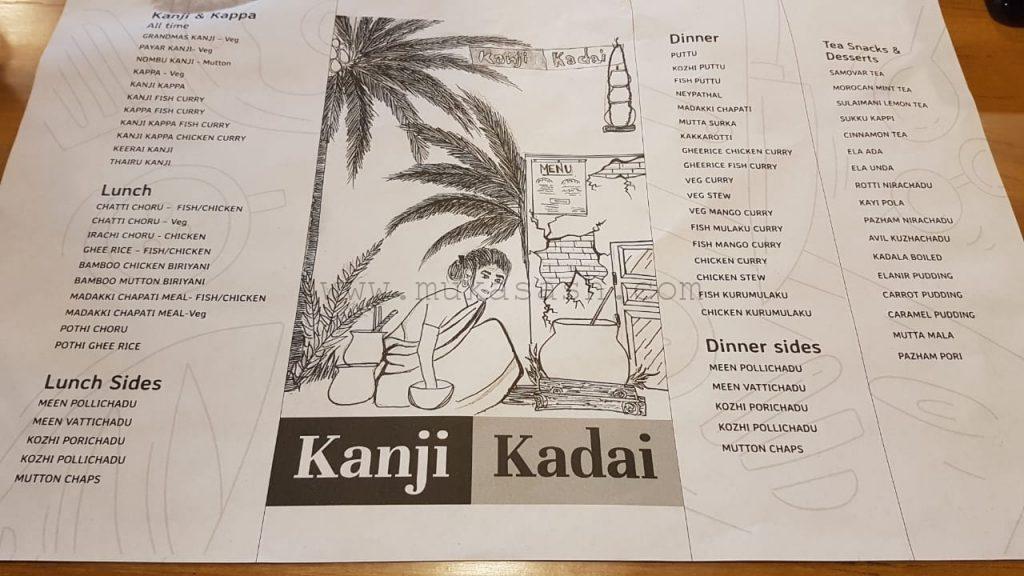 After a quick look at the menu, decided to order what they were primarily famous for – Kanji ! They had quite a few variants of Kanji, both veg and non-veg. Payaru Kanji, Thayiru Kanji, Keerai Kanji, Kanji Kappa, and many more. We decided to order according to our preference. Kanji Kappa Chicken Curry for me and Kanji Kappa Fish Curry for my friend. Our imagination of a serving of Kanji was a small bowl, after which we thought we'll share a Chatti Choru – Chicken. I felt the waiter could have given us a heads up on the quantity, but I don't blame him. He may have thought we'll finish it looking at us 😀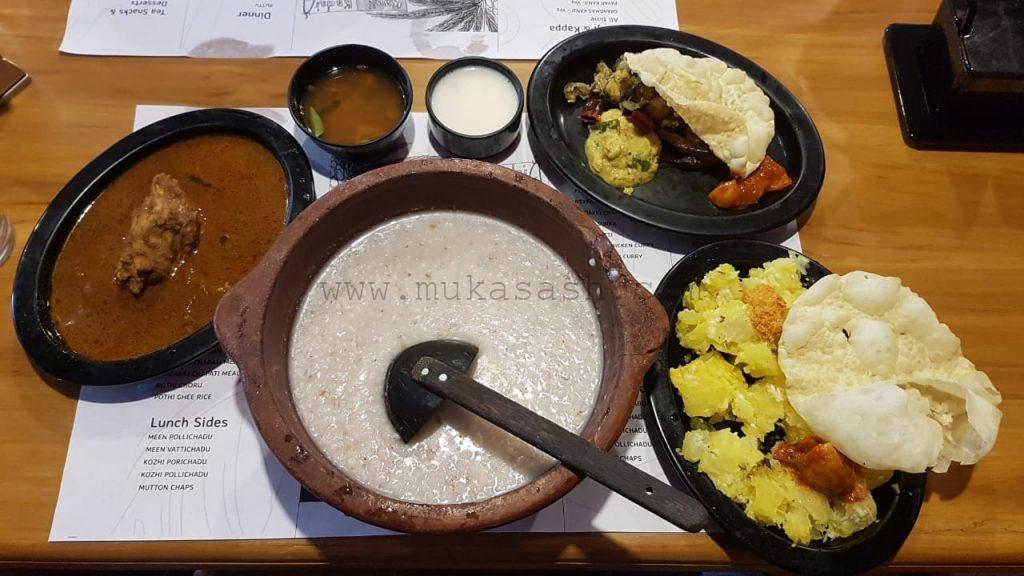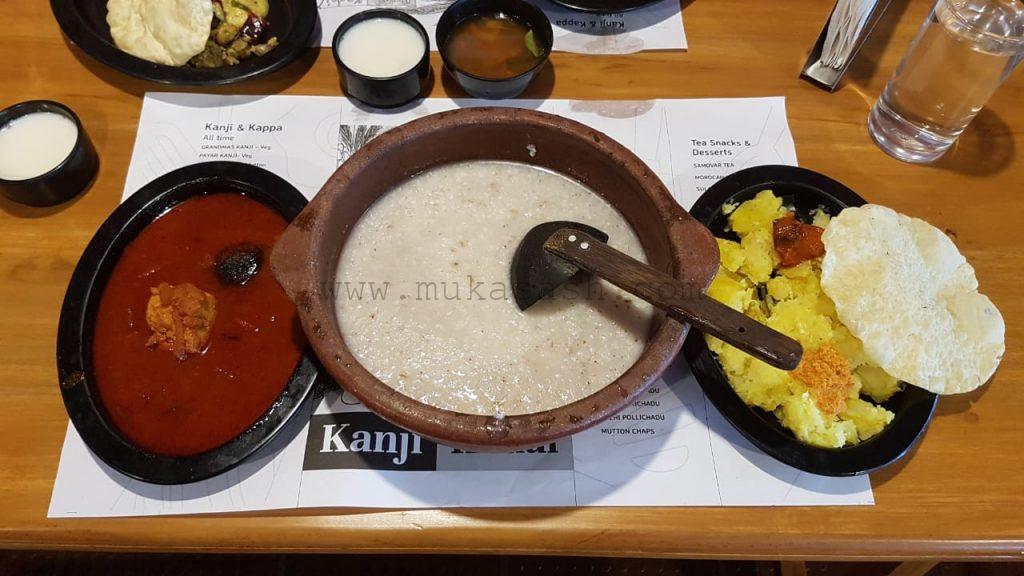 What was served was quite a huge bowl of Kanji with pretty much good quantities of Kappa, Chicken Curry and sides. It was quite impressive looks-wise. Friend got a similar one, with Fish curry instead of chicken and that looked distinctly different, in red color. They also brought along Chatti Choru, we had to ask him to take that back and bring it after we were done with the Kanji.
We started to relish the Kanji. Without a slightest doubt, it was very tasty! The wooden ladle/spoon was nice 🙂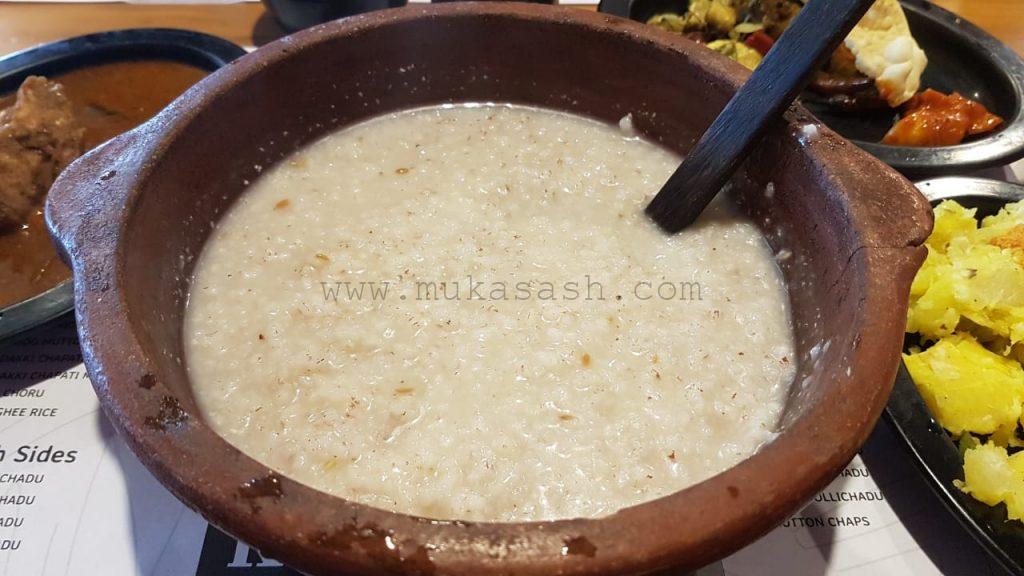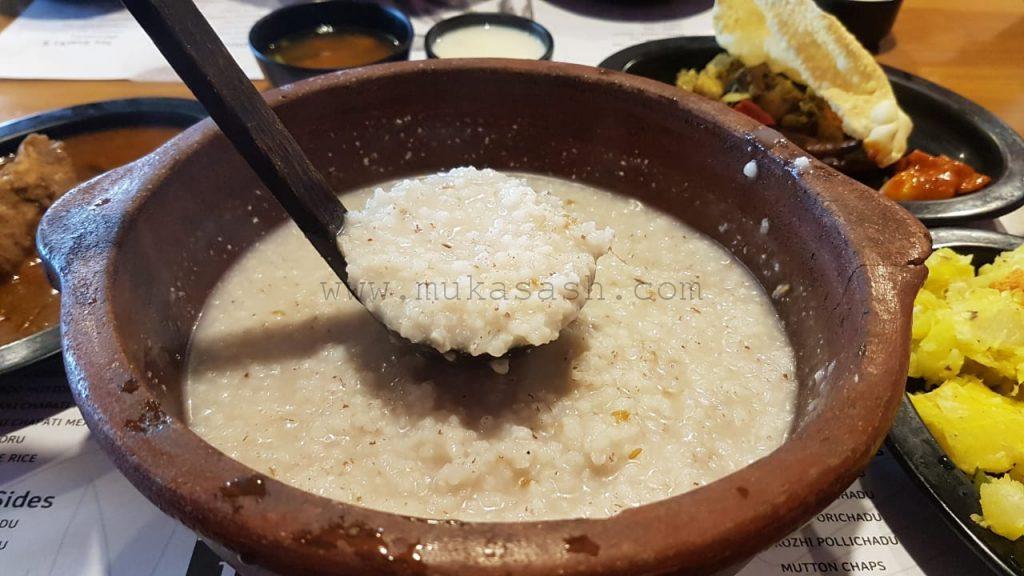 The accompaniments were equally good. Kappa was good, and more importantly the chammanthi was yummy. Pappadom was a nice add-on to the Kanji. Chicken Curry tasted good and the Chicken piece was amazingly soft and well-cooked. It came off the bone just like that, tasted very good. A small plate with other sides were pretty decent too. Friend loved his Kanji with the fish curry.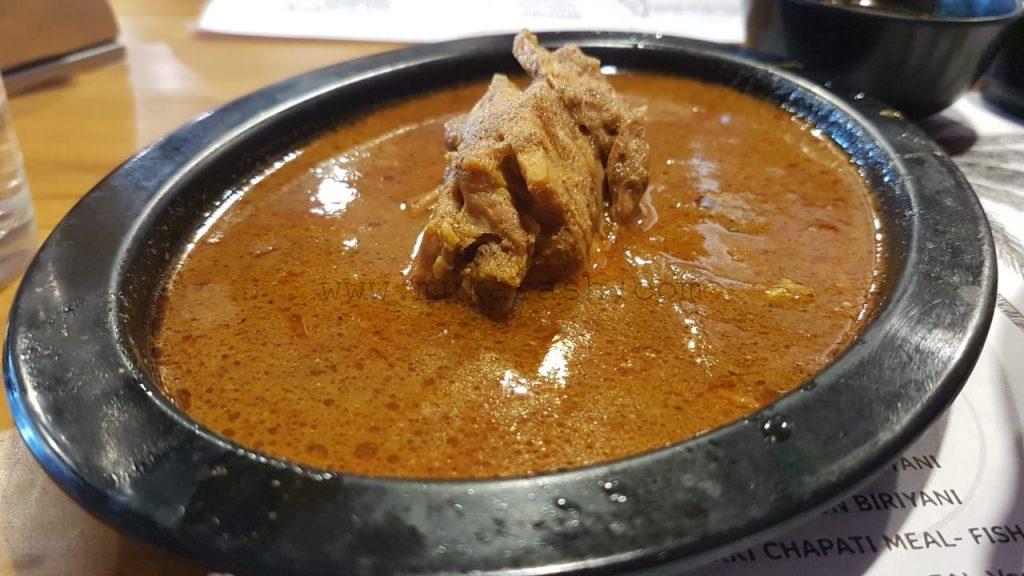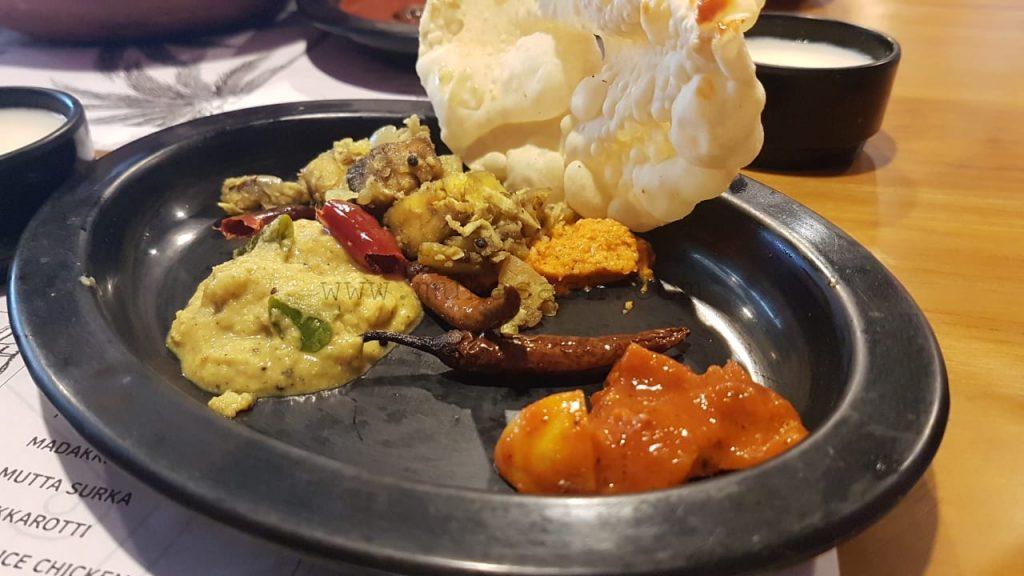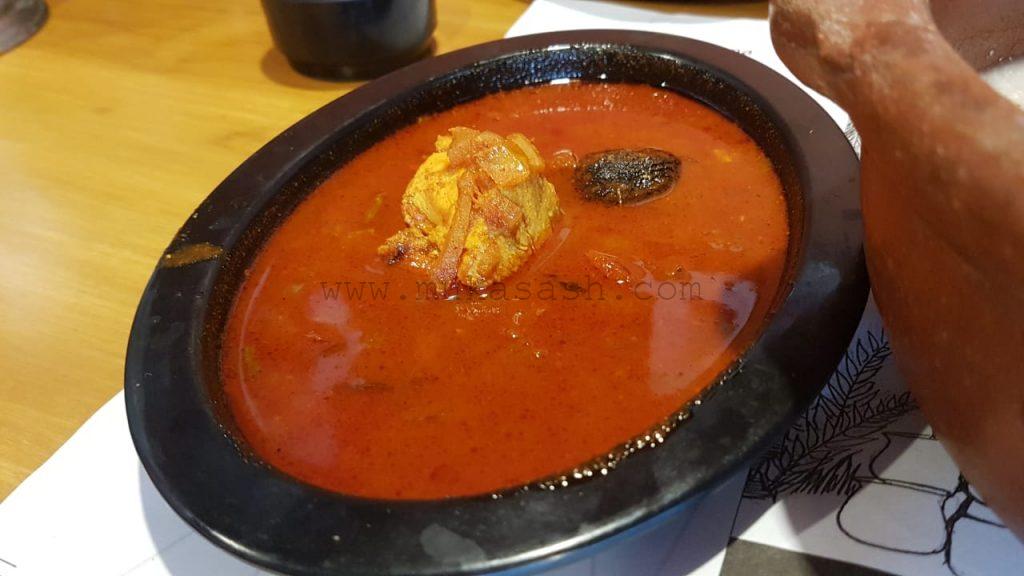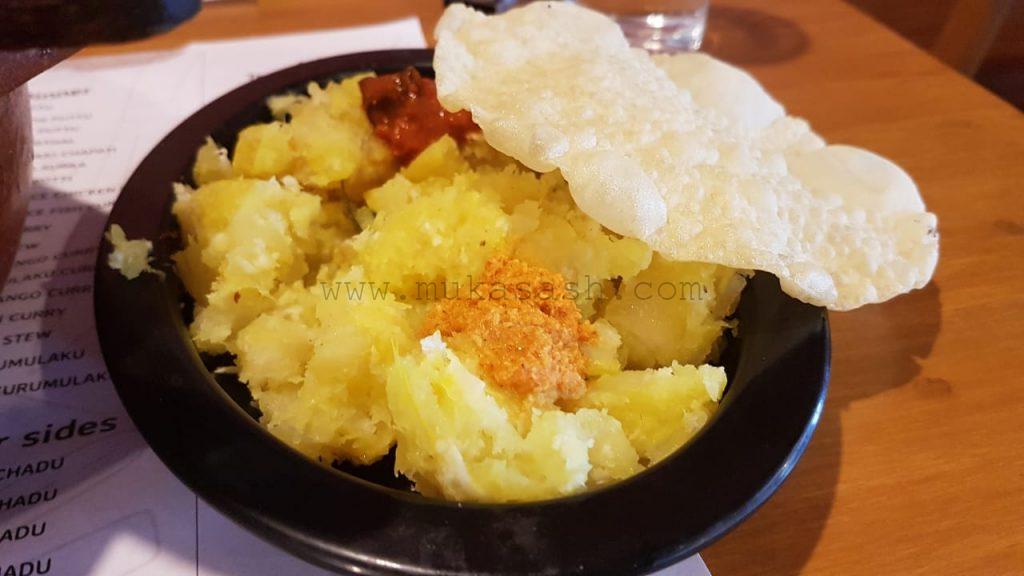 We were actually quite full by now, and Chatti Choru Chicken at this point would mean nothing but gluttony. Sadly, we had ordered that earlier, we went ahead, and decided to eat only as much as we could. Normally I make an honest attempt not to waste food, couldn't keep it up today. We ate half of it and had to leave the rest.
Chatti Choru is basically a complete meal, served in a earthenware bowl with all accompaniments on it. We asked for the Chicken version, so it pretty much had the same gravy we tasted earlier, same accompaniments, and only prominent difference was a piece of chicken fry. I felt it wasn't too appealing compared to the one in the gravy. It was too bland and chewy. We could have finished without this and it would have been far more satisfying!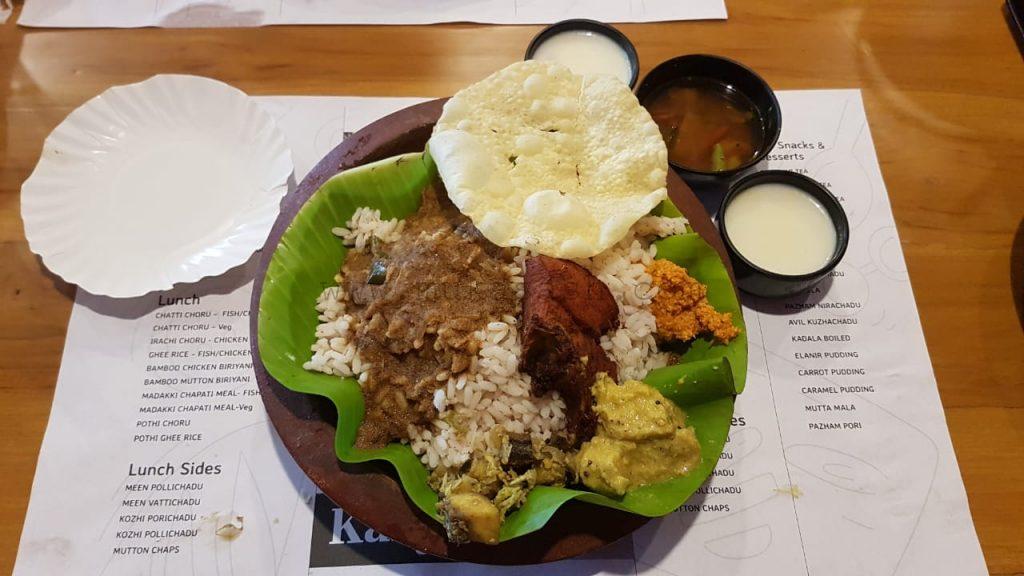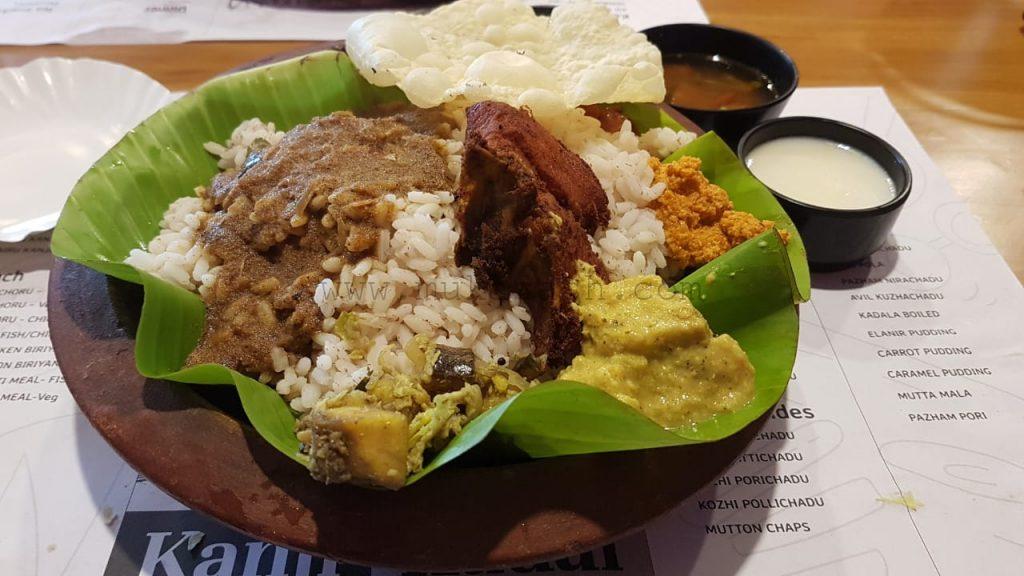 They had Sambharam aka Masala Mor on the table. Fresh and frothy, it tasted wonderful. Poured some into a glass and it was very yummy. We decided against desserts or drinks, you know why! 🙂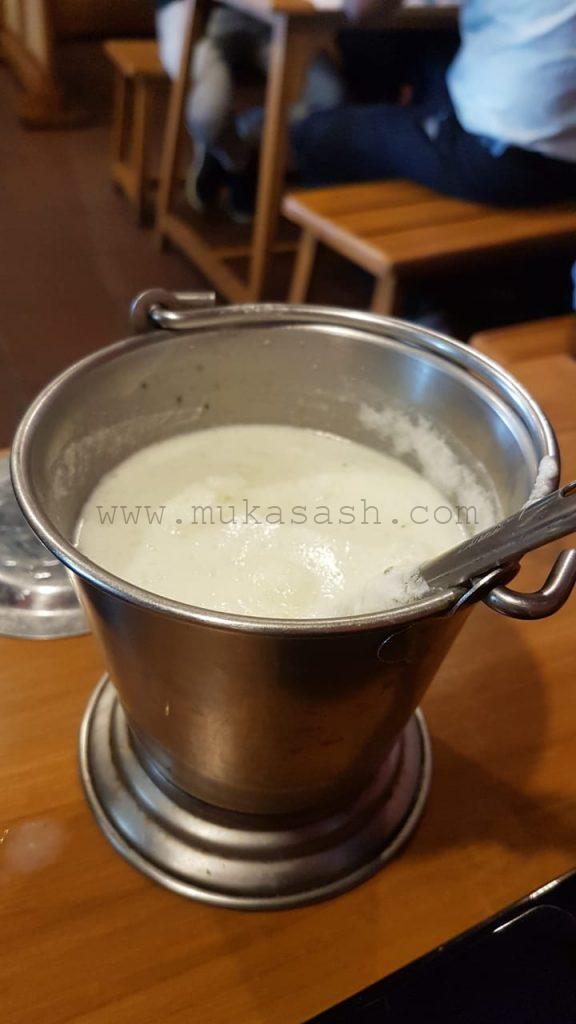 Got to know that Mutta Maala was a dessert in a jar, made with egg, that's for next time.
They did have some power issues that made the AC go on and off, and it got a bit sultry inside, hopefully they fix that soon. The place seemed to be quite popular with the office-goers around that area. In all 45-50 minutes we were there, it was a packed house.
Overall, we paid 452 bucks, and I felt this place served tasty and unique food at quite nominal prices. I would gladly recommend this place!