See, swirl, smell, sip and savor! I've always been fascinated by these terminologies used in wine tasting.
…'aromas of cassis and cherry, perfumed with tropical red-fruit nuances and French oak-inspired hints of vanilla, coffee and spice'…
…'liqueur-like layers of cassis and wild berry, flavors of toasted oak, chocolate and roasted coffee'…
If the above lines sound like Greek and Latin, not to worry, we're on the same page. 🙂
Appreciating and tasting wine is an art by itself, and that definitely is not the intention of this post. I like wine, and needless to say, food too! The moment I heard through foodie friends about a Wine Dinner, I didn't want to miss it.
Fratelli, an Indian wine with Italian tradition hosted an event at Madras Kitchen Company, the newly opened restaurant at The Westin Chennai. It was a four-course dinner paired with their premium reserve called 'Sette'. You can read about their collection here.
This is my first time to this newly opened restaurant, right next to Willows. The restaurant had a nice vibe, and was impressive. They already had some tables reserved for this event. We got seated on one of the high tables.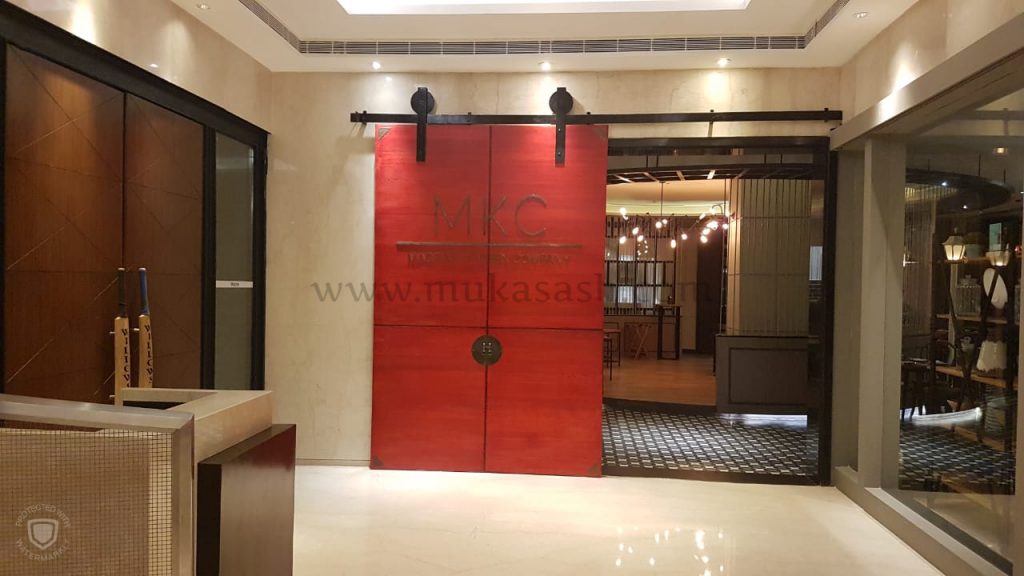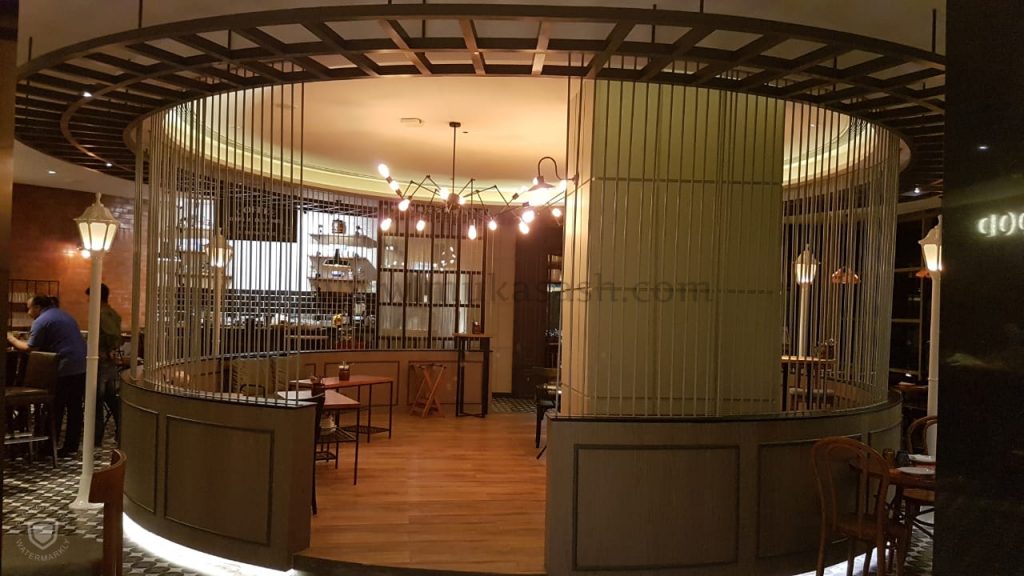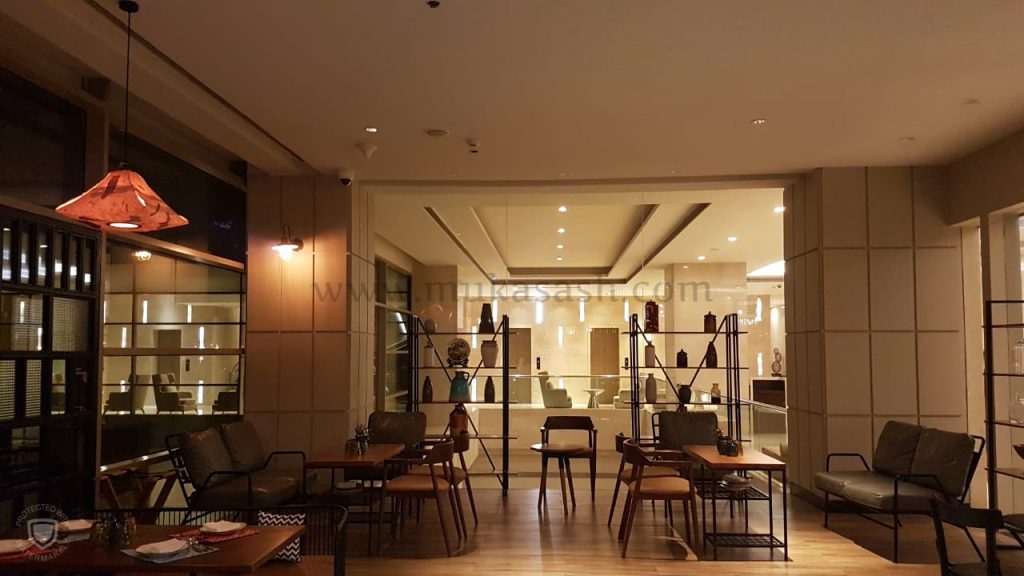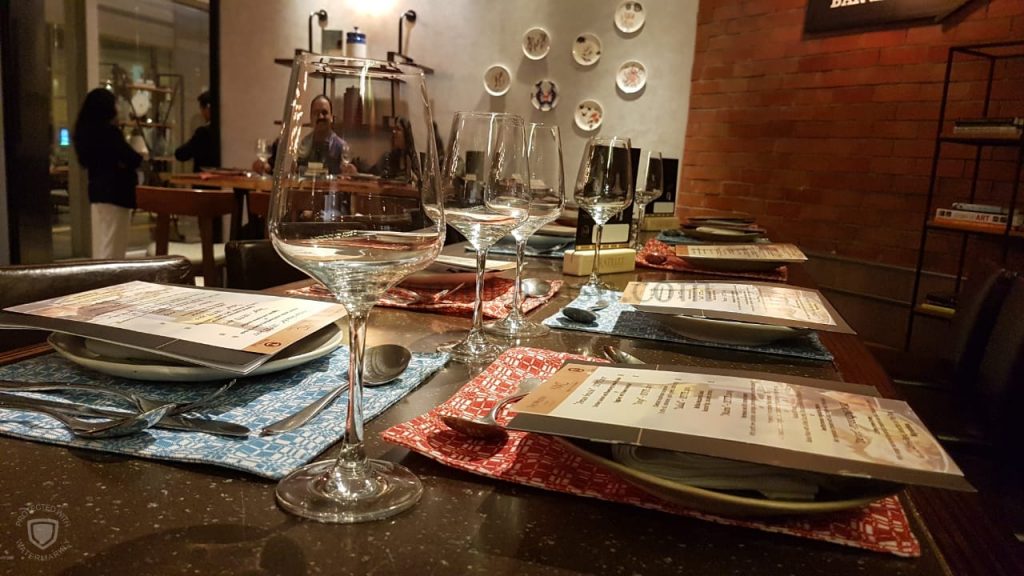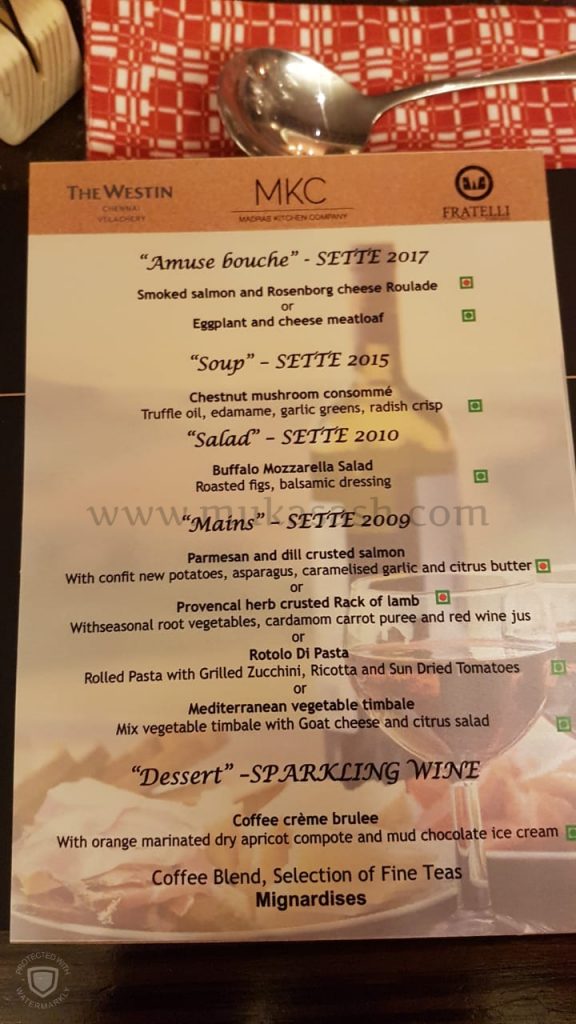 While we were waiting for the formal announcement of the start of the event, we were served their classic Chenin, a nice and refreshing white wine along with a series of bite-sized side-eats.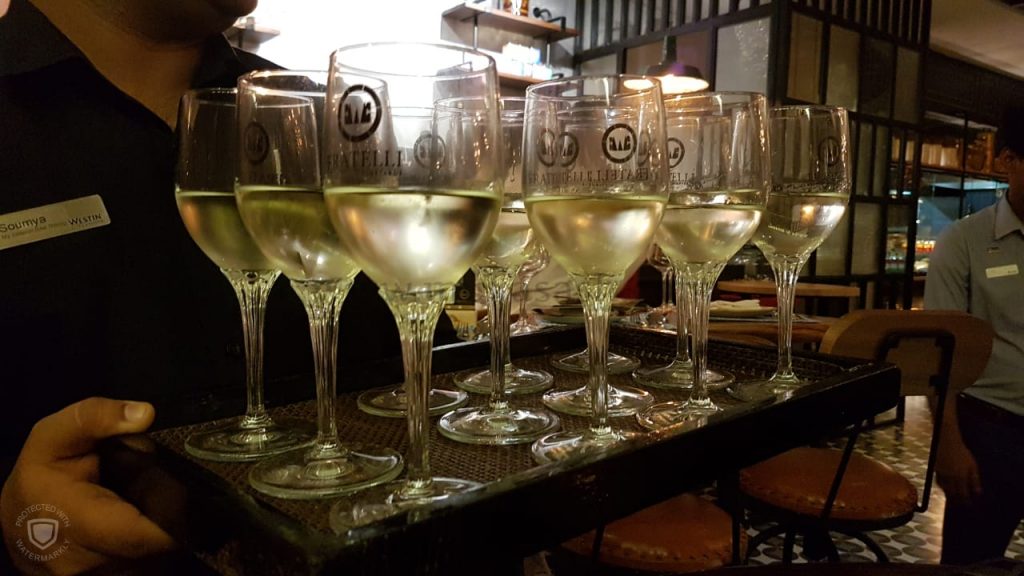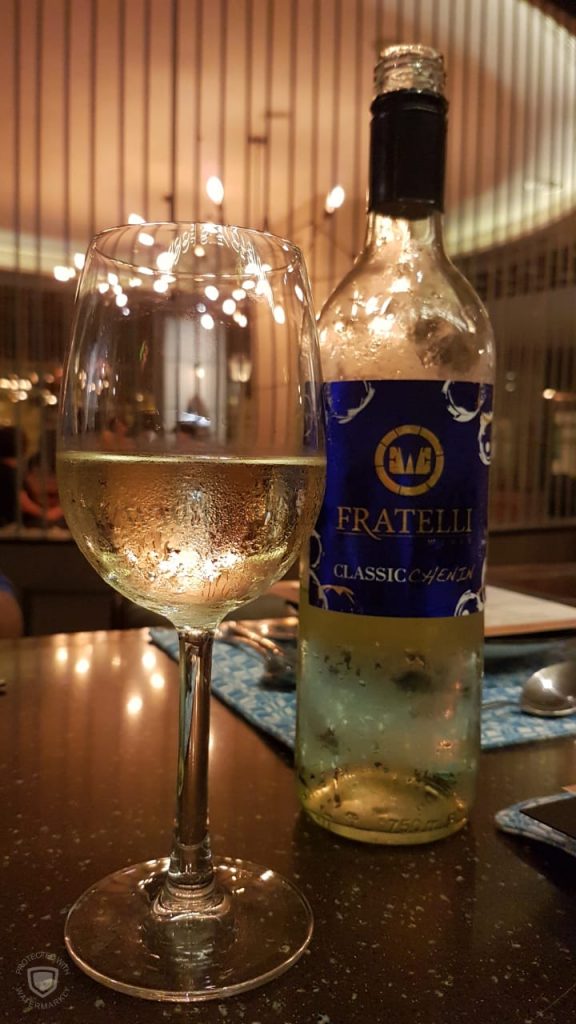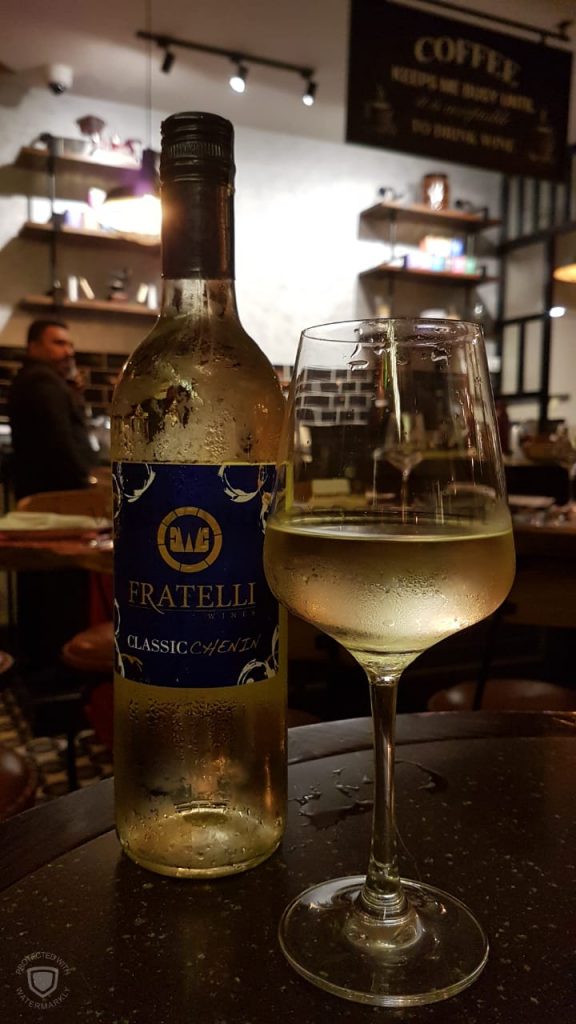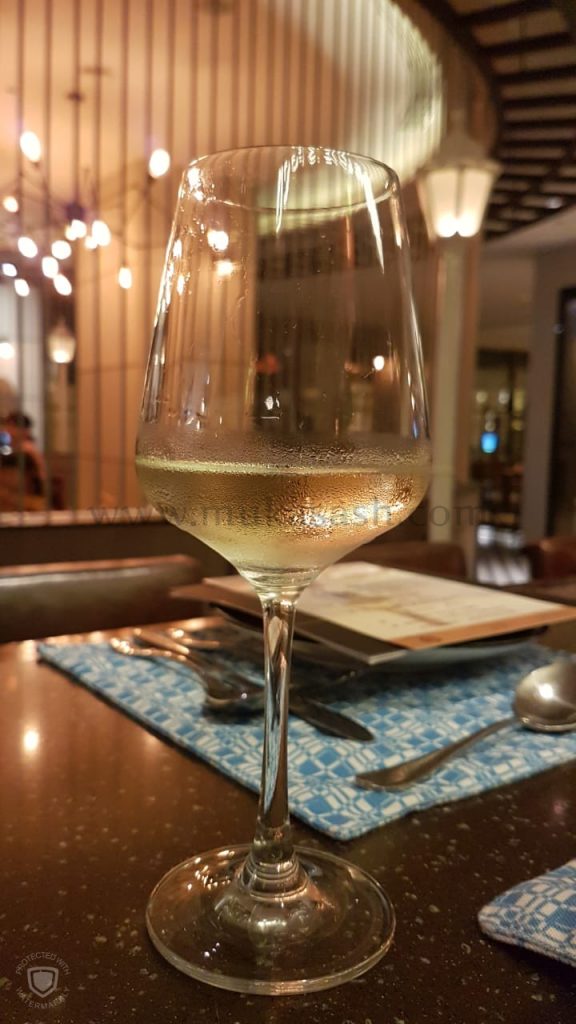 Loved the side-eats that were continuously served along with the white wine. Thai Raw papaya salad with roasted chicken was yummy. Friends liked the Air cured parma ham with parmesan flakes, I didn't try. Chicken popcorn with Tomato Chilli Jam was wonderful. Mini veg quesadilla was good and so was the bruschetta. It was a sort of pass-around, so we could just take one every now and then.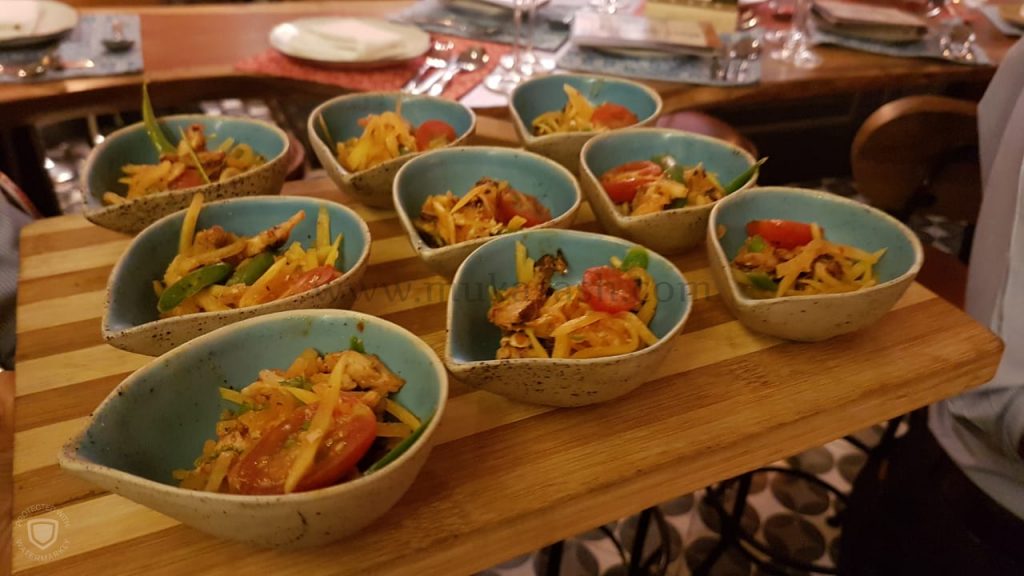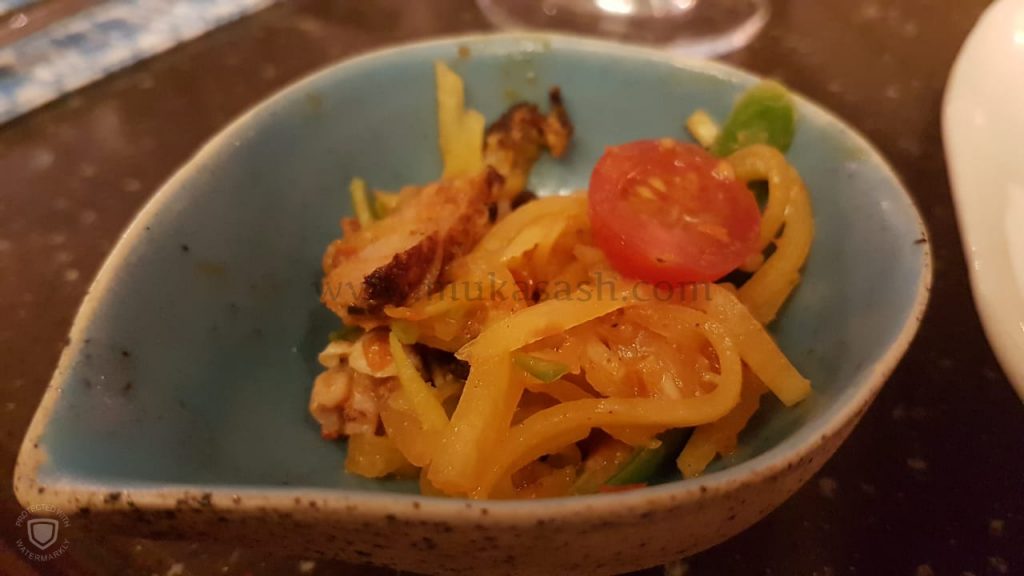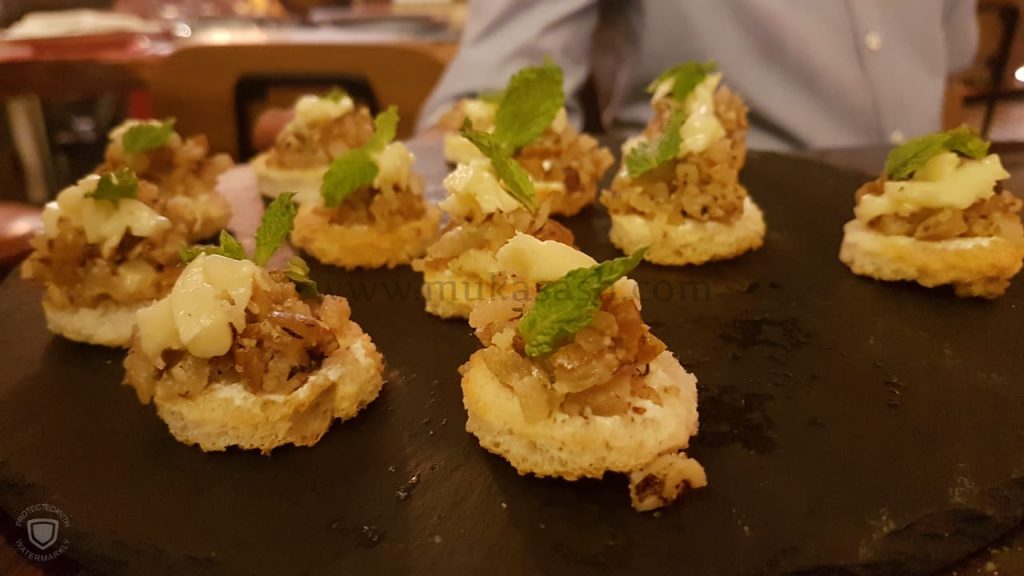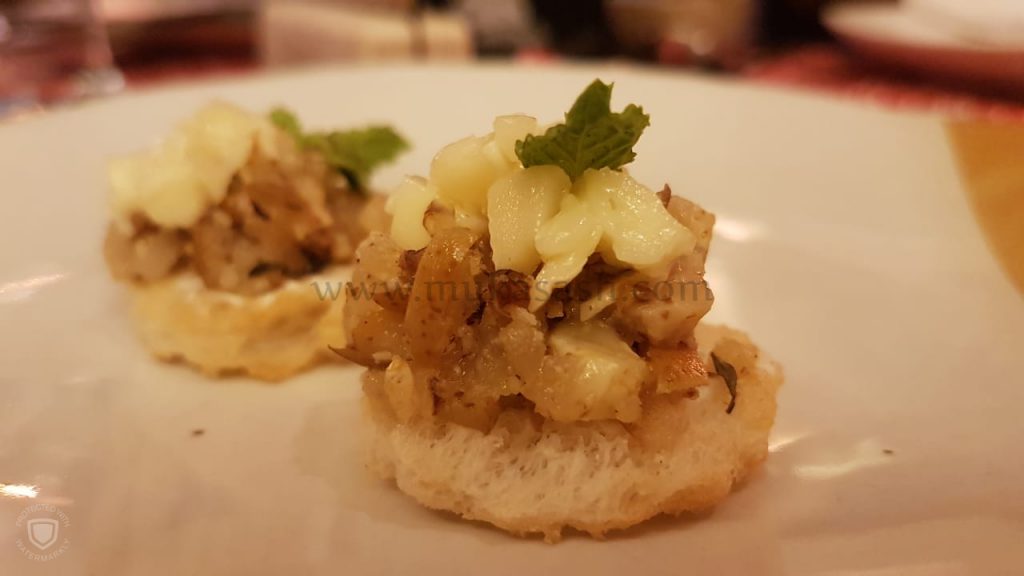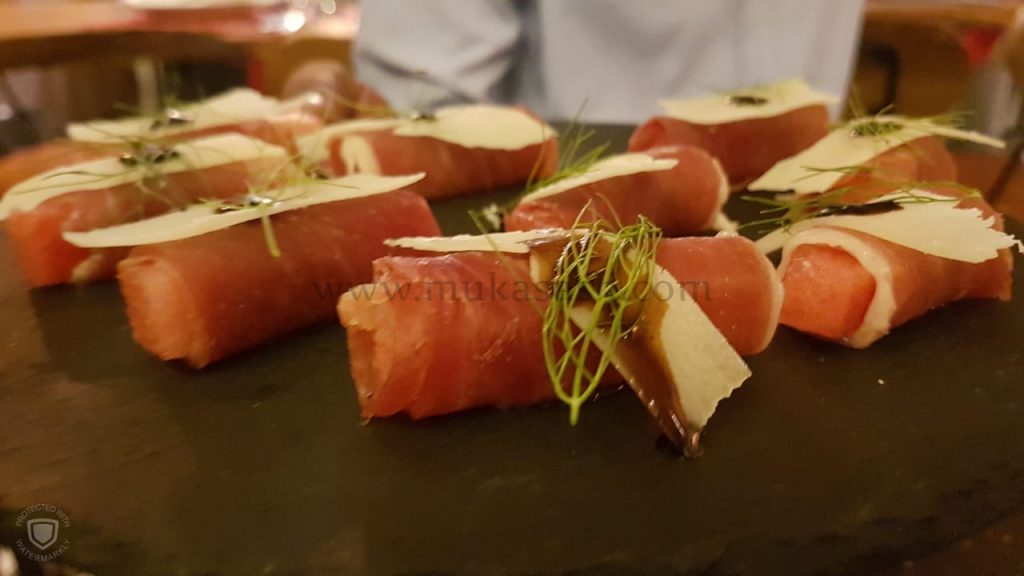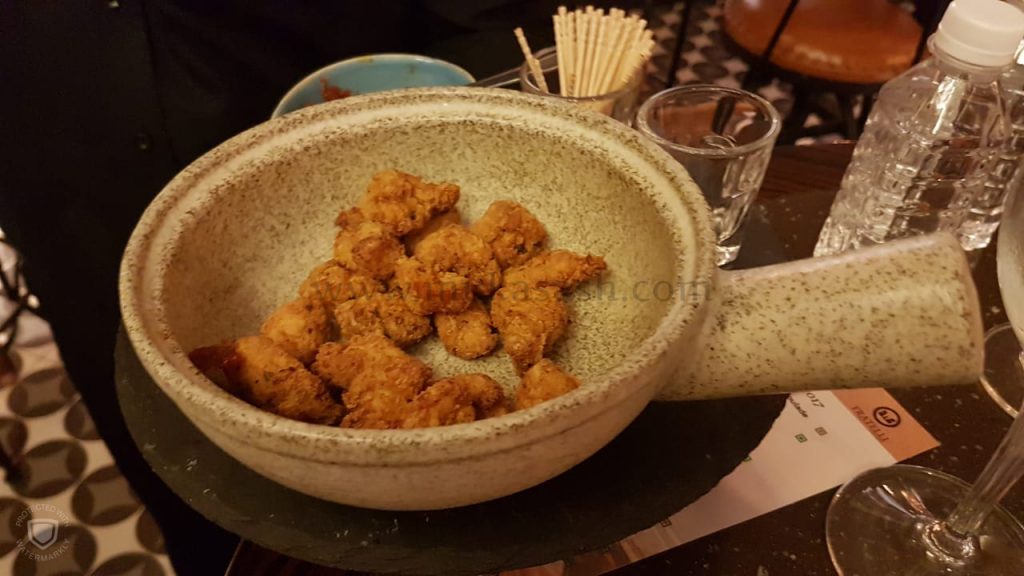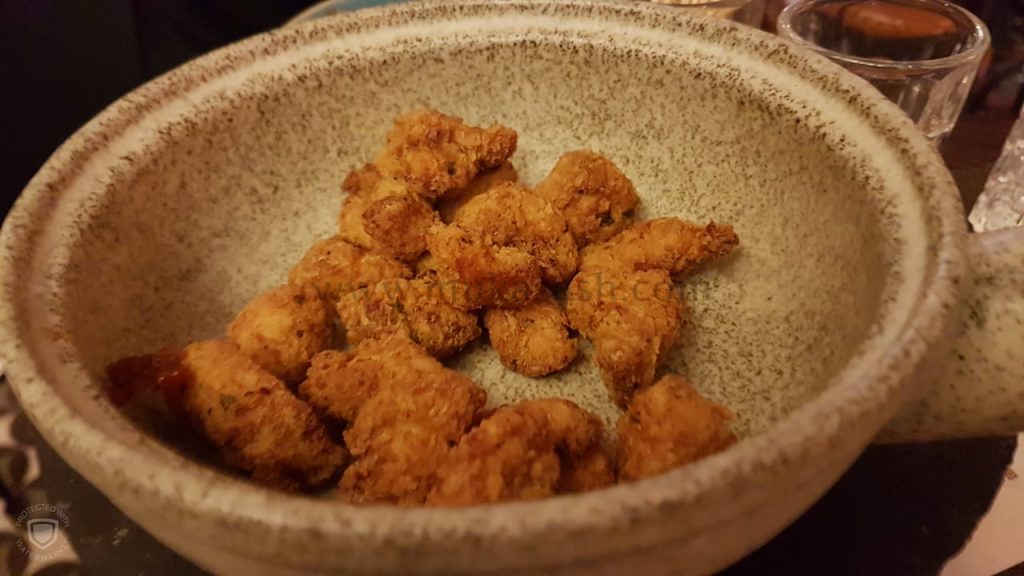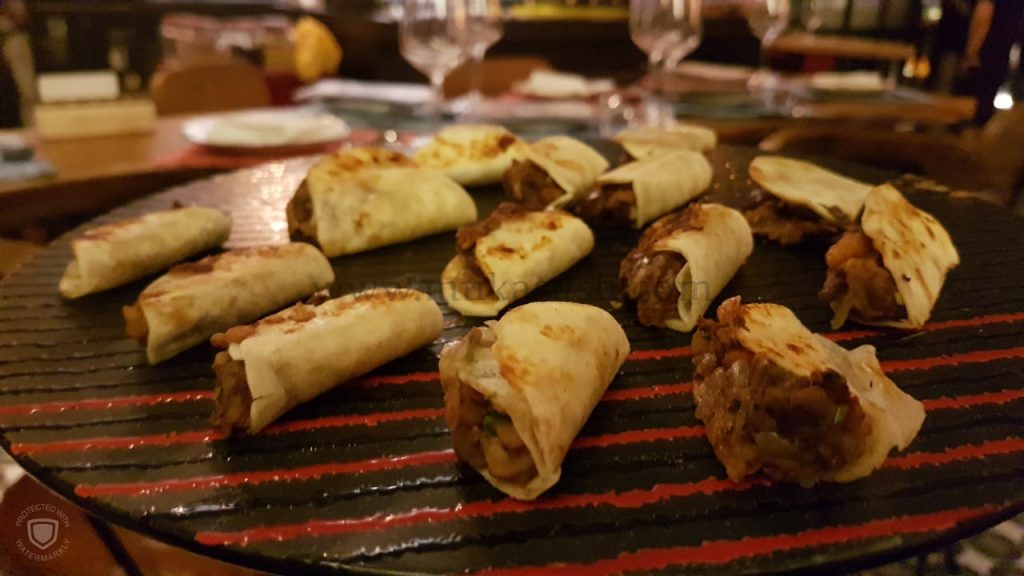 Already having enjoyed a couple of pours of white wine, it was quite exciting to think there were four more wines to be tasted with food. 🙂
Dinner was going to be an elaborate affair – Amuse bouche, soup, salad, Mains and dessert along with their premium reserve Sette 2017, 2015, Vintage 2010 and Vintage 2009. Couldn't wait ! 🙂
We had a choice between Smoked Salmon and Rosenborg Cheese Roulade and Eggplant and Cheese Meatloaf. I chose the latter due to my restriction with seafood. It was plated beautifully and tasted as good! It was paired with Sette 2017.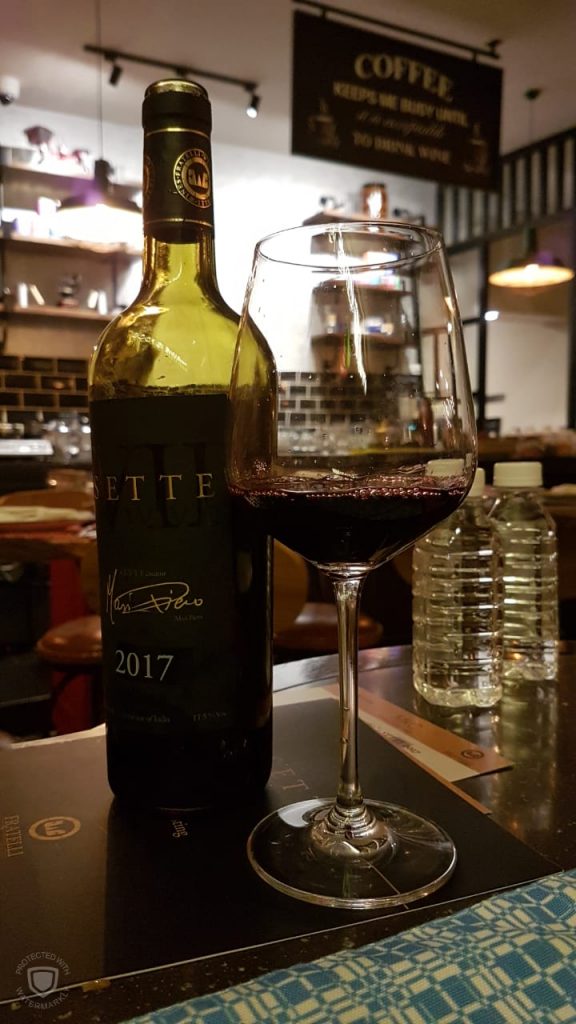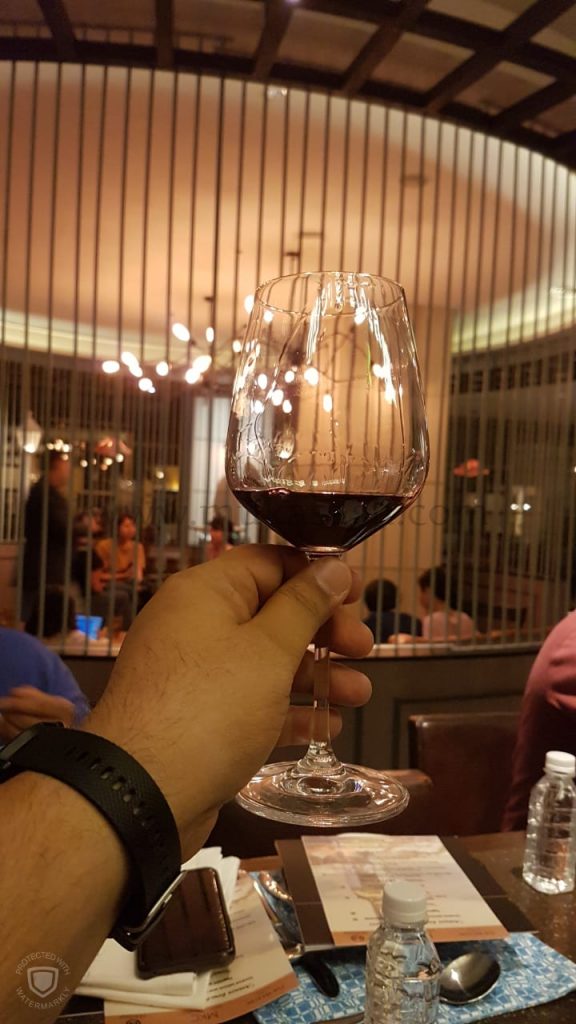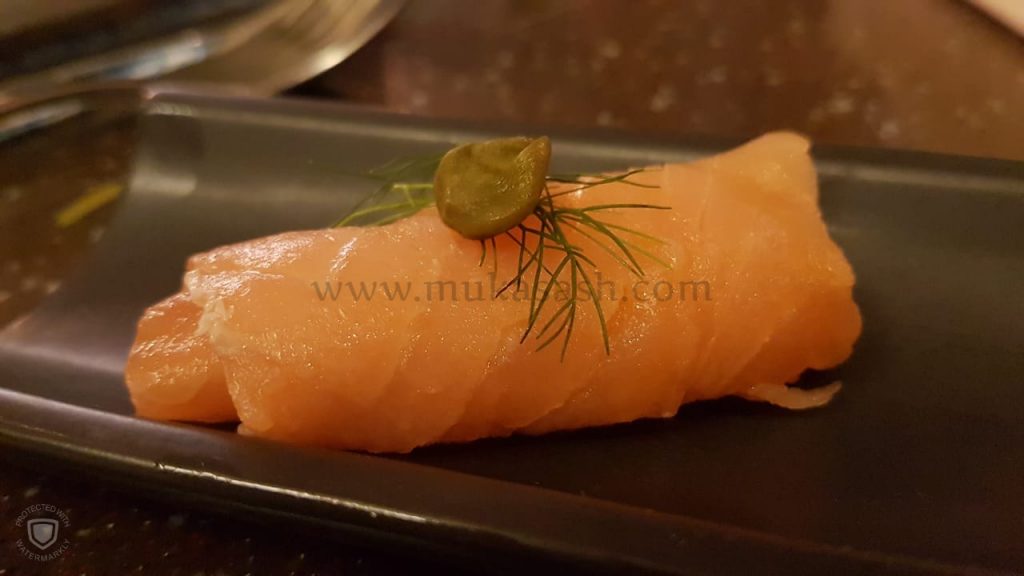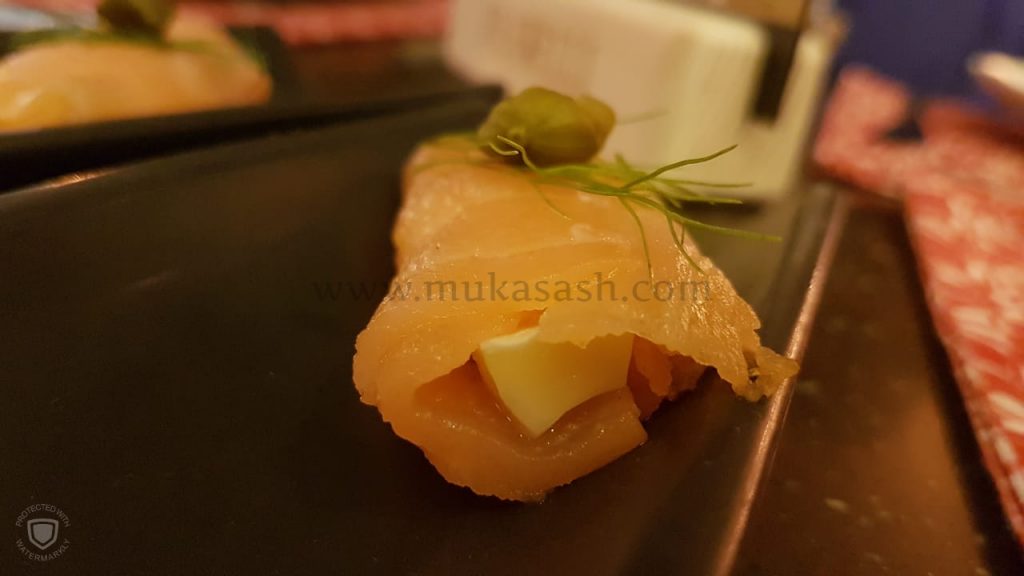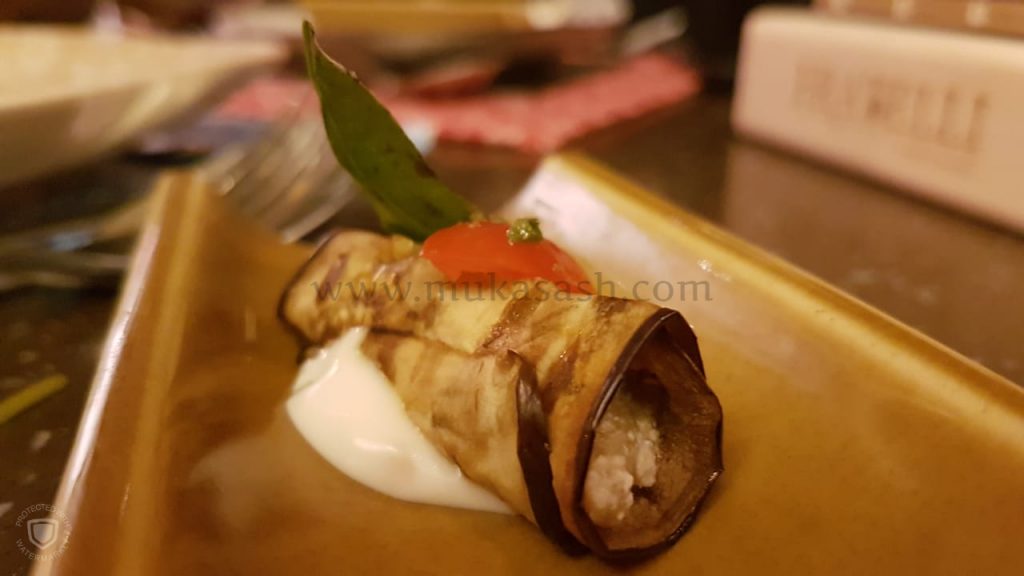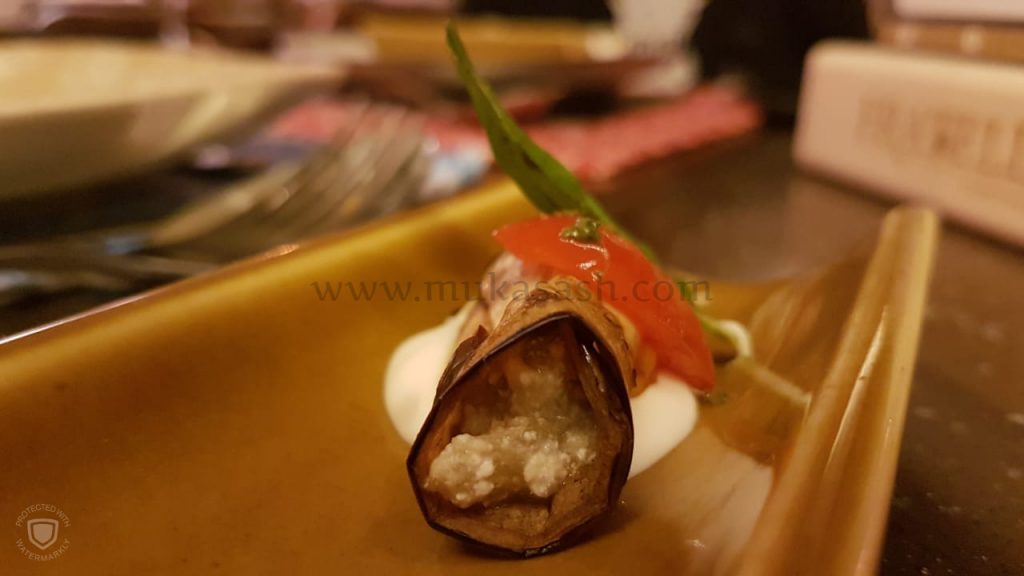 In parallel, we did have a few types of bruschetta being passed around, and we tasted that too. They were generous with the pour, so it wasn't necessarily just one 🙂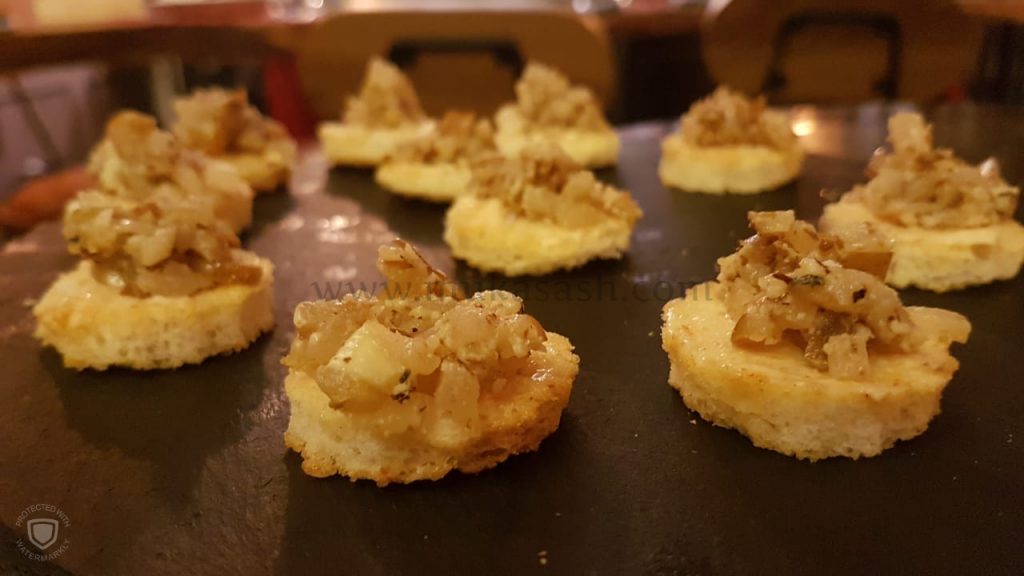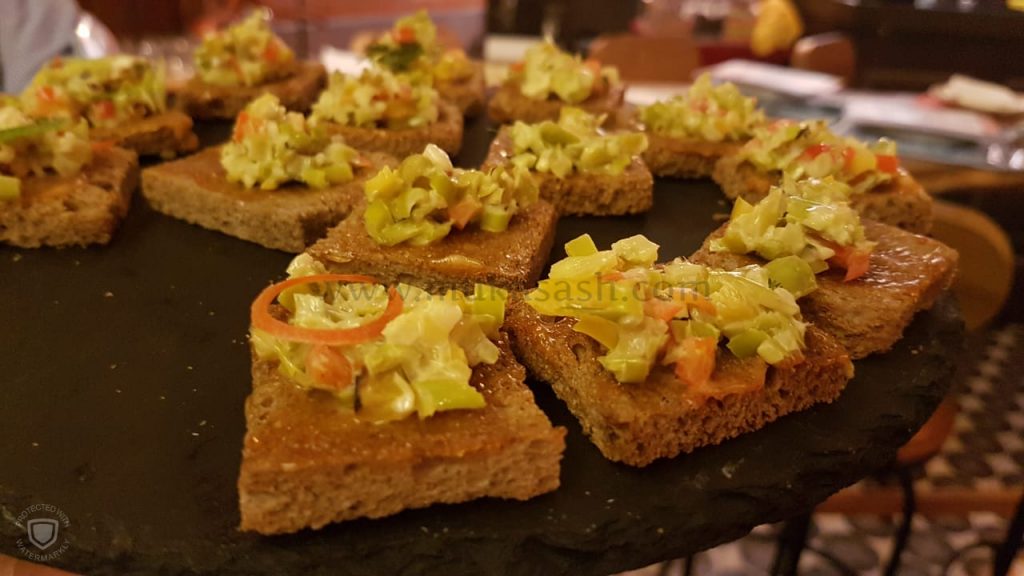 For the soup, we had a Chestnut Mushroom Consomme, a clear soup with truffle oil, edmame, garlic greens and radish crisp. The flavor of the broth was mind-blowing, a very tasty soup. Sette 2015 was good too and we loved this course too.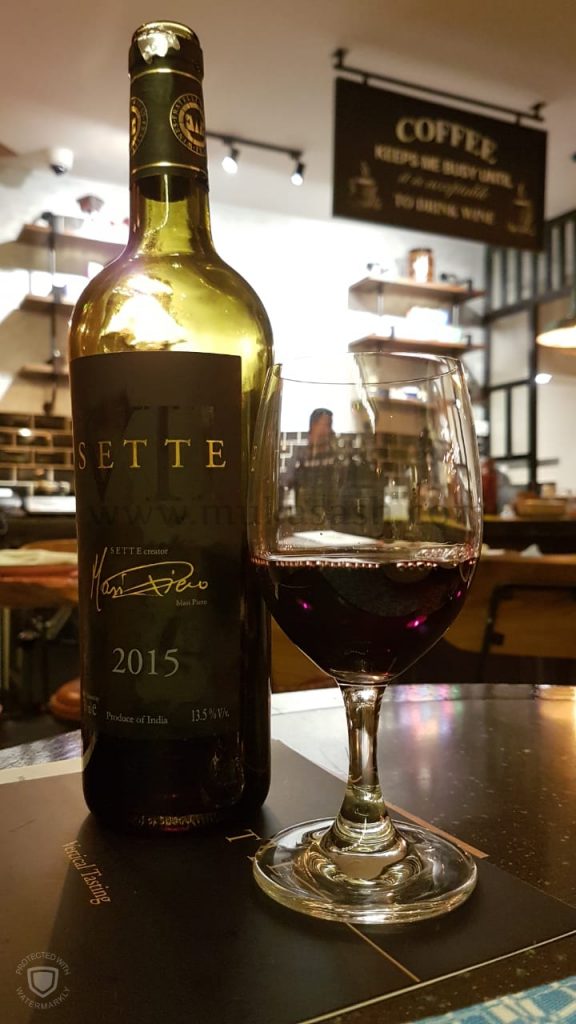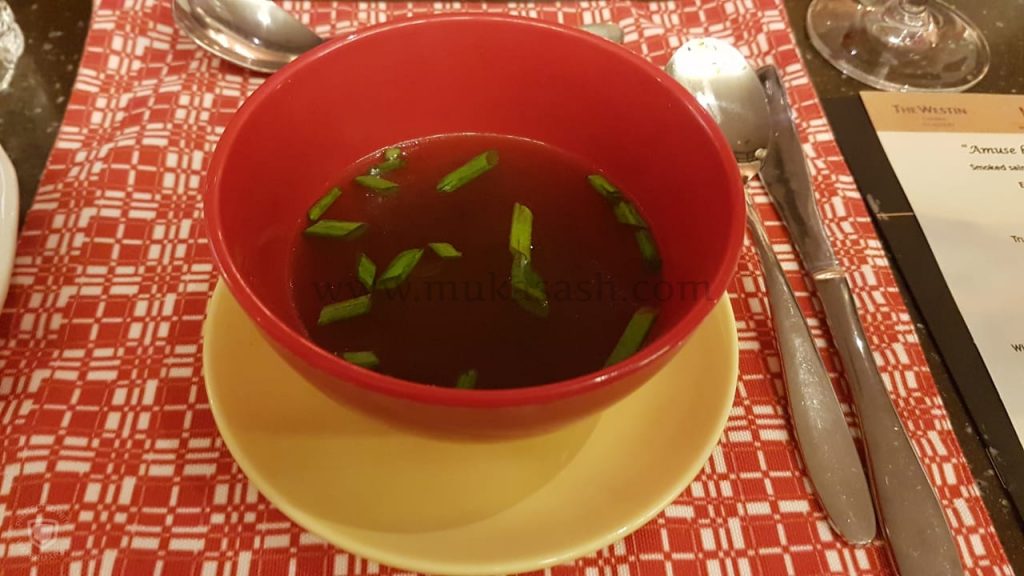 Buffalo Mozzarella Salad with roasted figs and balsamic dressing was the next to be served along with their premium reserve Sette Vintage 2010. From a layman's perspective, as the wine got older, it was heavier. It was definitely different from 2017 and 2015, in a nice way, of course.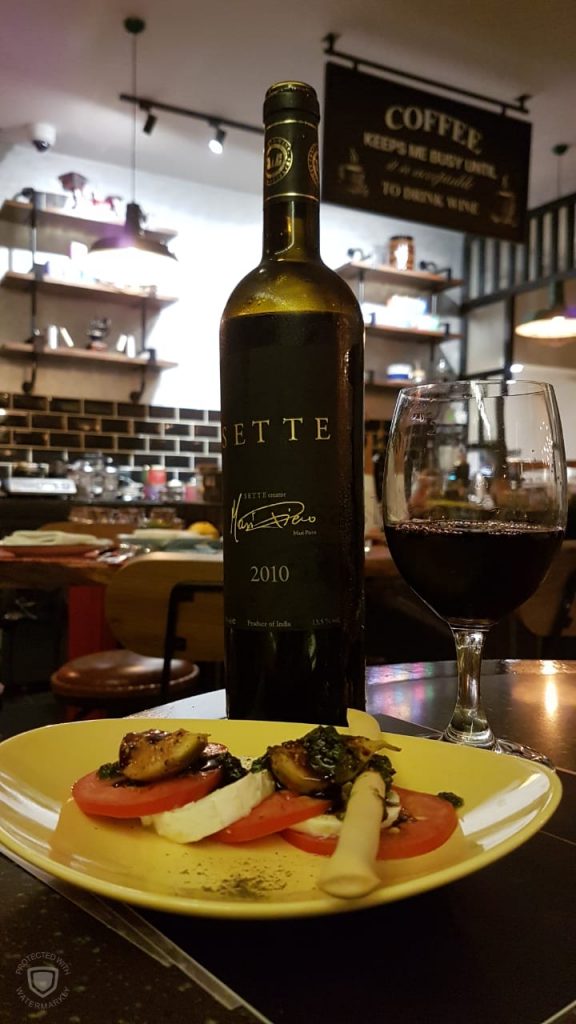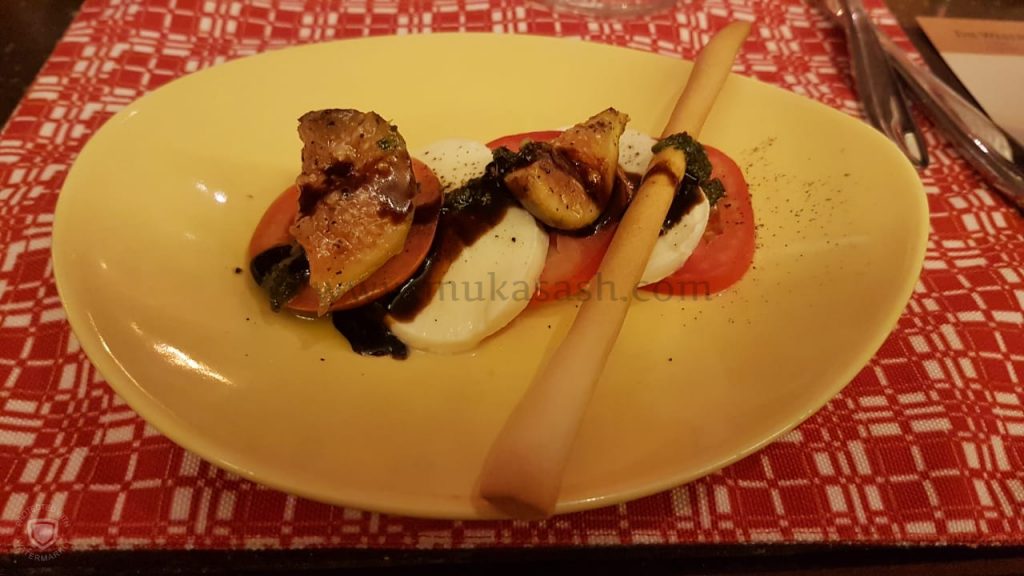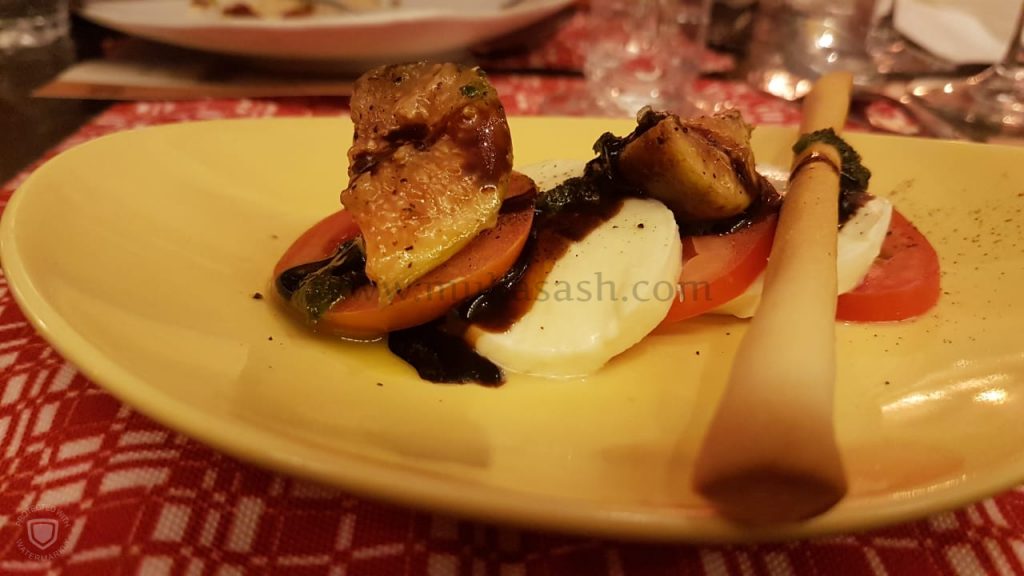 That was quite a wonderful evening so far, and I should admit, quite a lot of wine too. Proceeded to the mains along with their Vintage 2009, perhaps the most premium reserve from Fratelli.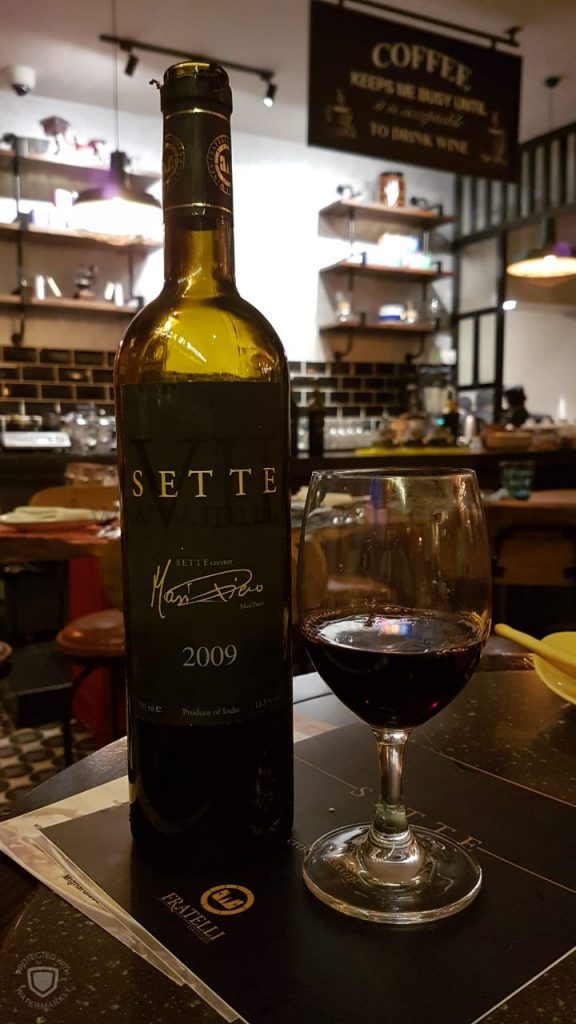 We basically had four options to choose from. We chose three variants between the four of us, so couldn't click the fourth one.
Parmesan and dill crusted Salmon with confit new potatoes, asparagus, caramelized garlic and citrus butter. Friends loved this, and this dish looked beautiful and I loved the way it was plated. Ate one potato from it 🙂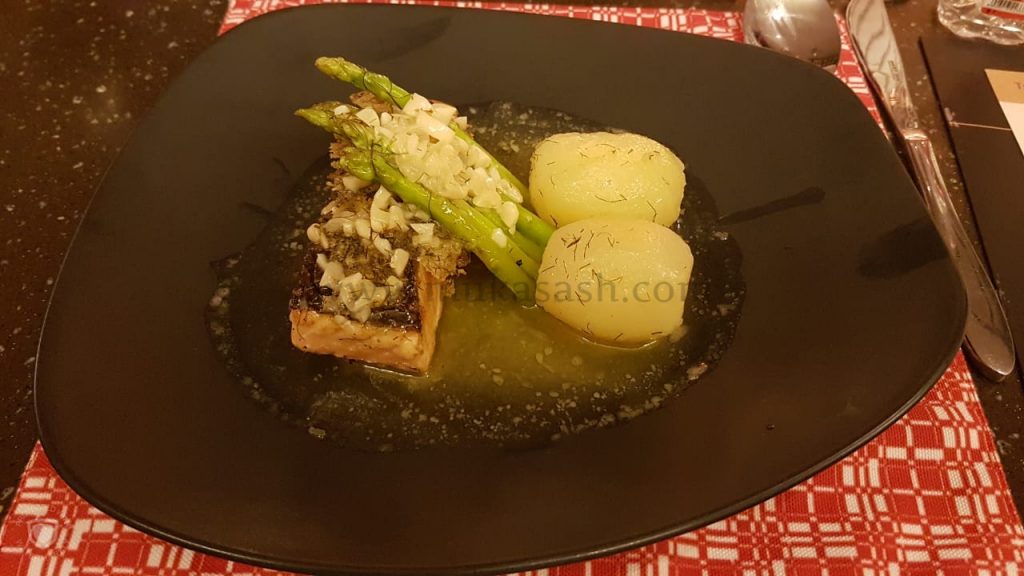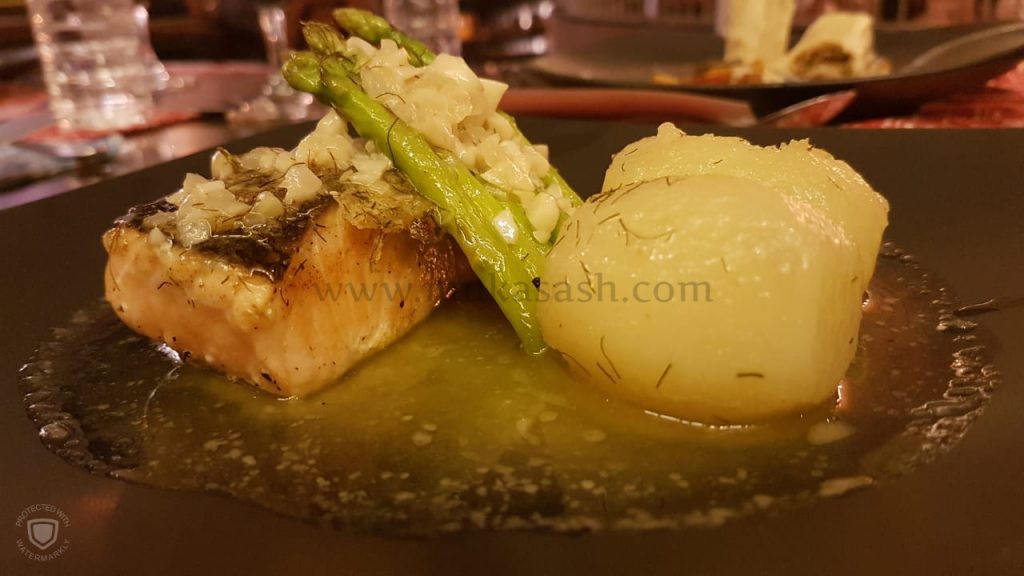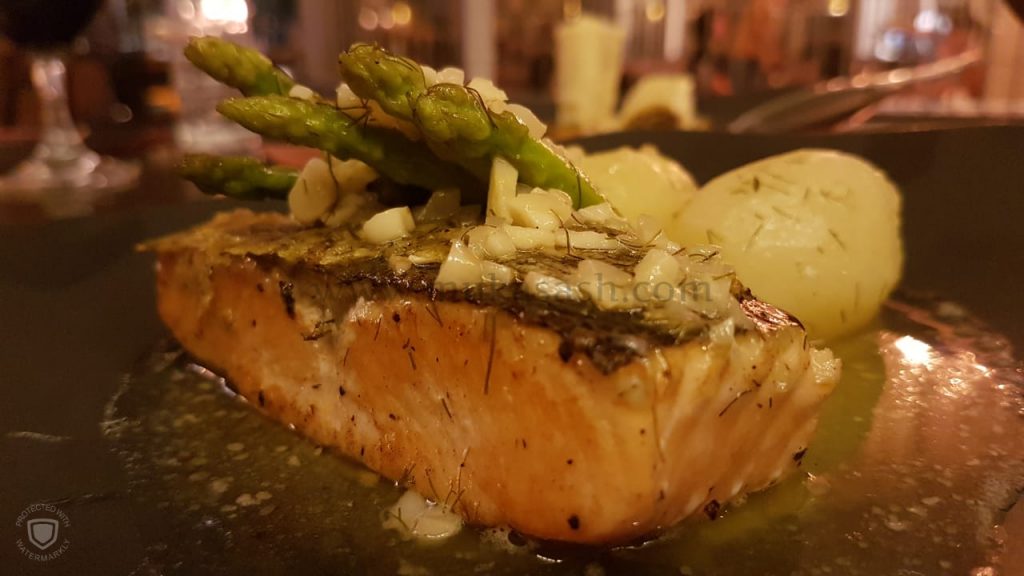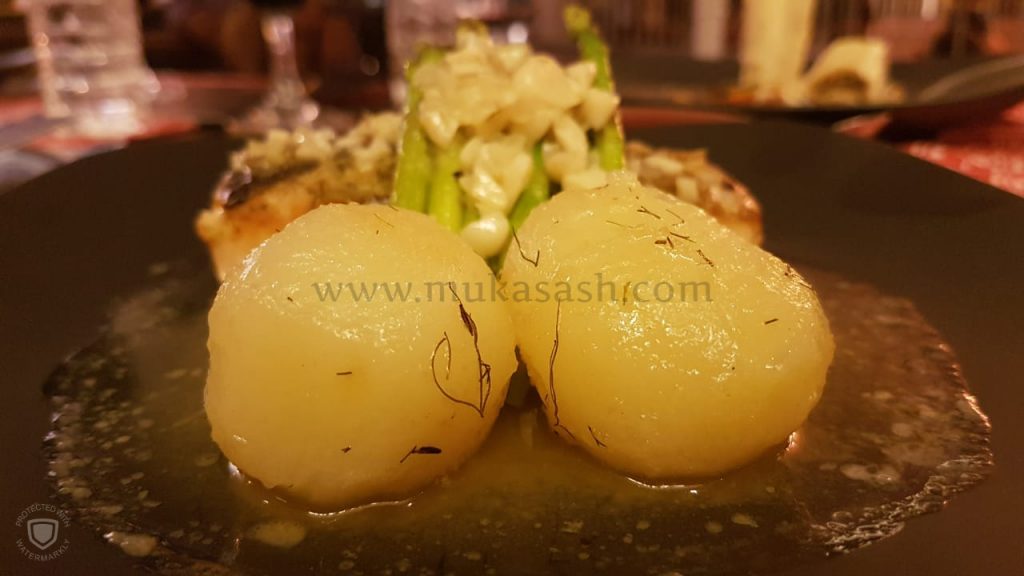 I chose the vegetarian option Rotolo di Pasta, basically a rolled pasta with grilled zucchini, Ricotta and Sun-dried Tomatoes. It was tasty and well plated too.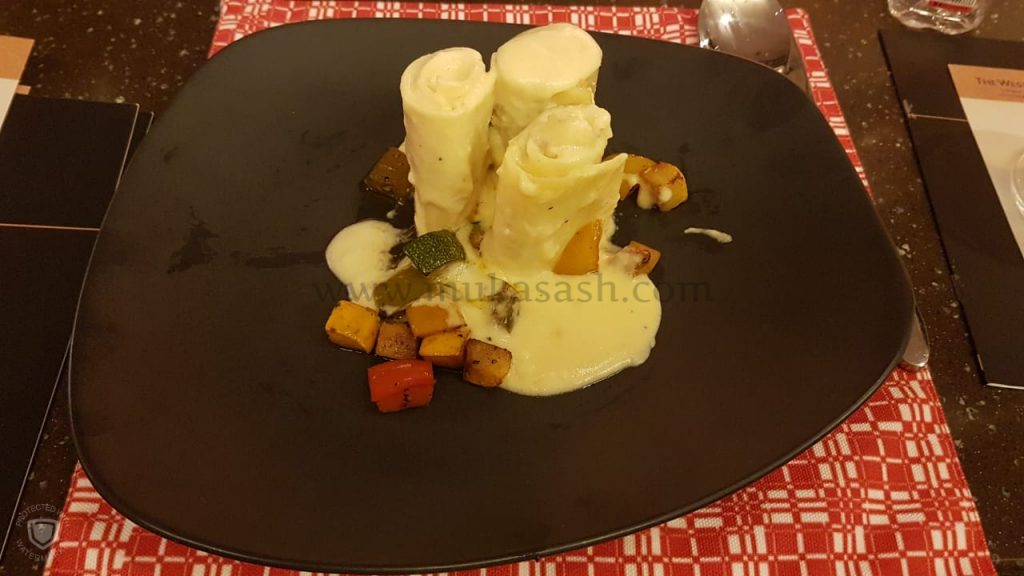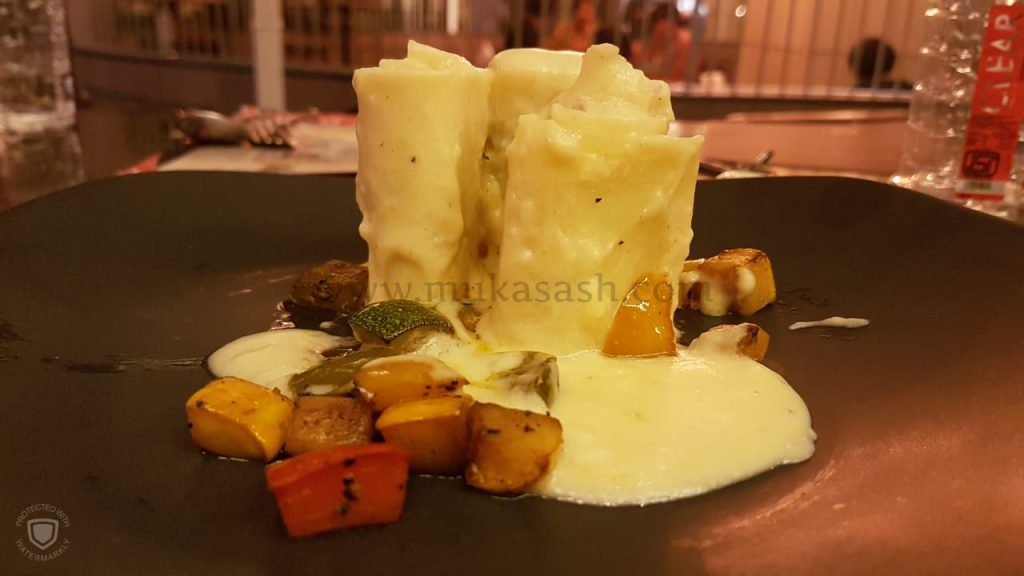 Another friend had Provencal herb crusted Rack of Lamb with seasonal root vegetables, cardamom carrot puree and red wine jus. They loved it, and the meat was well-cooked, soft and yummy it seems.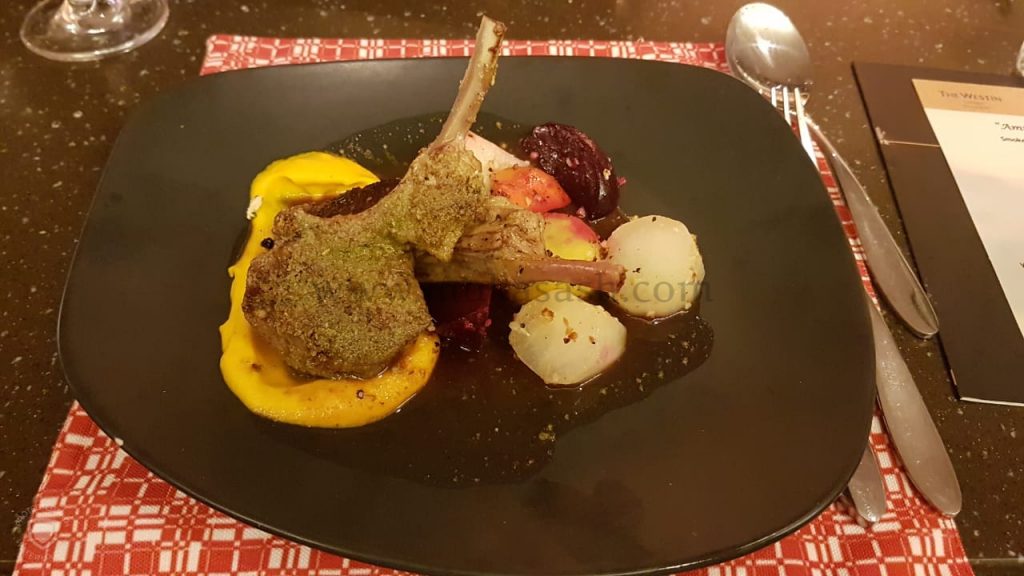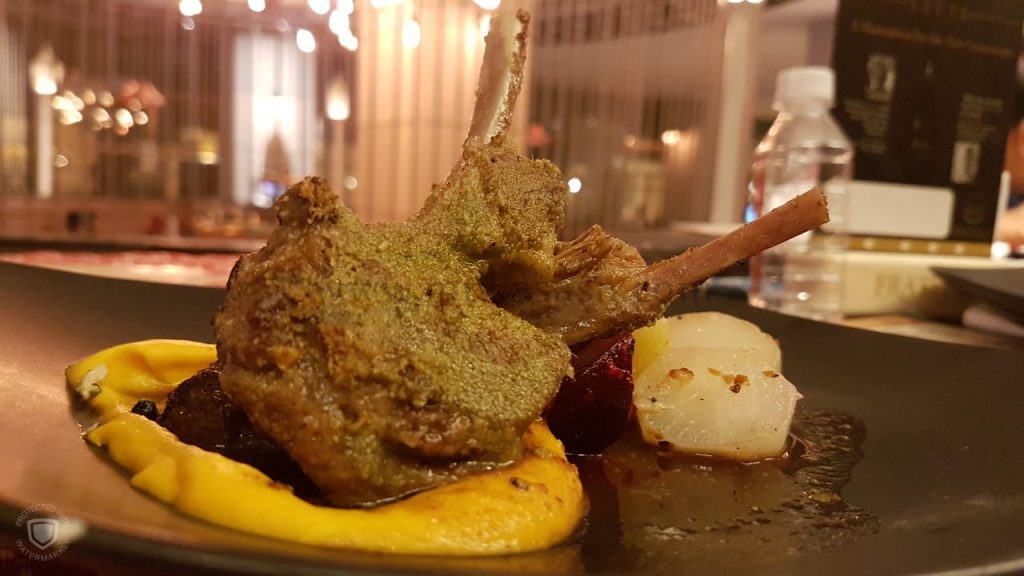 Finally, to the dessert! Coffee Creme Brulee with orange marinated dry apricot compote and mud chocolate ice cream. This was paired with their Sparkling Wine 'noi'. The wine was wonderful, but I felt the dessert was not a stunner like the rest of the dishes, primarily because the excess chocolate ice cream overshadowed everything else in the bowl. Coffee Creme brulee, orange marinated dry apricot compote was hardly felt. It was just okay in my opinion.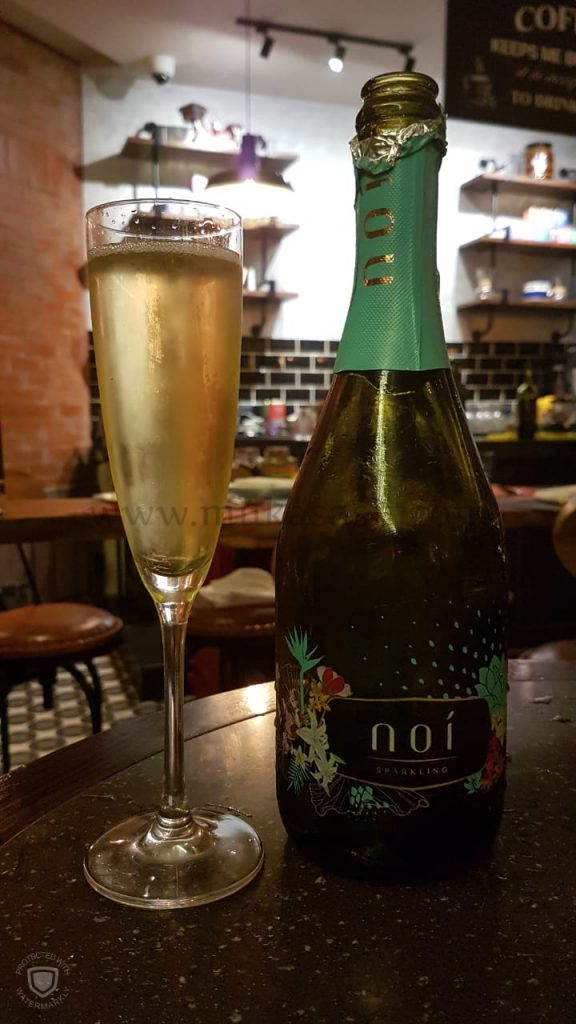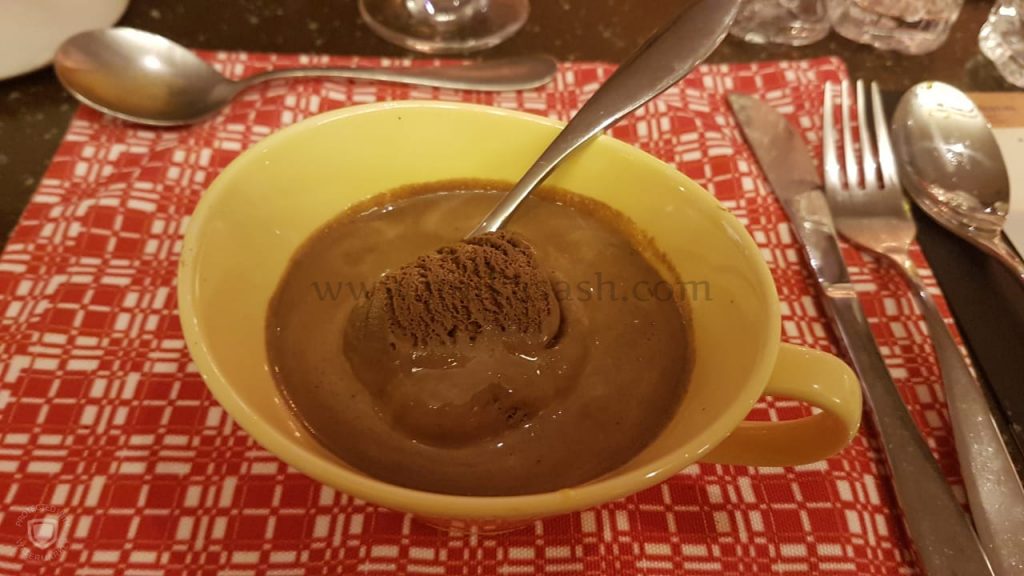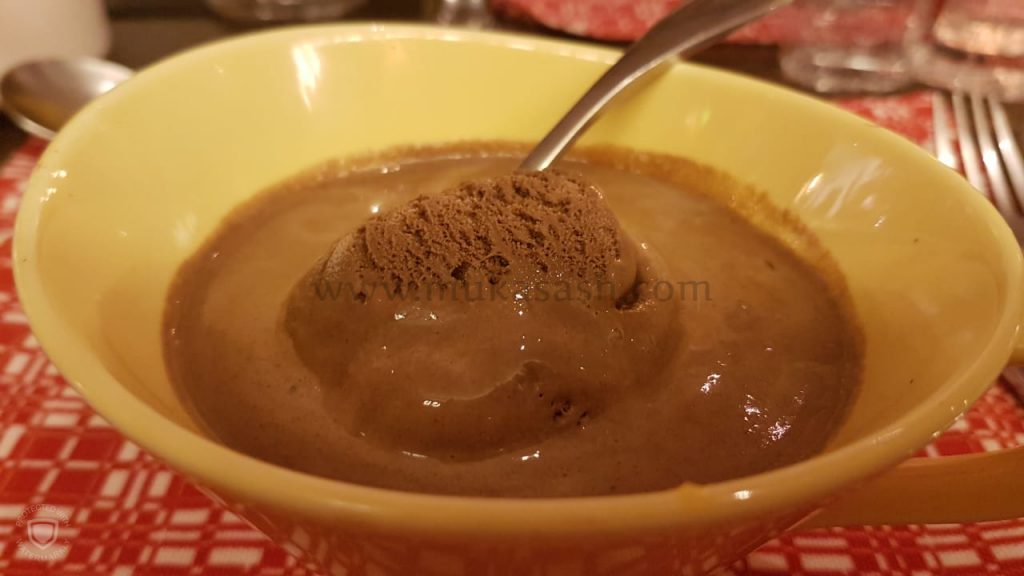 That's pretty much how our evening spanned out.
Service was very courteous, and when you're with prominent personalities in the food industry, it is bound to be so. 🙂 Guddu Anand, fondly Gudduji for us, was the one who informed us about this event through a Facebook food group called Chennai Food & Beverage Club, and got us a discount too. We ended up paying 1700 bucks per person as against 2100 for public, which is a steal, without a doubt. The Executive Chef of The Westin Chennai, Ganesh Teli came to say a Hello, and we thanked him for a wonderful culinary treat.
Overall, an absolutely wonderful evening with tasty food, good wine, and even better company.