When two individuals extremely passionate about their creations come together for a collaborative venture, the outcome is bound to be pure magic! Chennai's first Cheesecake-centric dessert studio 'Crema' was launched by Chef Nishant Vijayakumar of Brownie Heaven fame along with Apoorv who founded The culinary affair – The Cheesecake experience. The moment I heard about the launch of 'Crema', I couldn't wait to try!
Wifey and I, along with a common friend, decided to check out some of their creations!
The place is located bang on St. Peters Road, opposite to New College, just above Brownie Heaven, which is a landmark by itself. It is a very nicely done small place that can seat about 12 Pax at a time. We settled down in one of the four-seater tables.
After looking at the menu, immediately ordered two of their signature creations – Caramel Chocolate Duet and Strawberries and Cream. One nice thing I liked was you have an option of choosing a New York style baked cheesecake or an eggless Set cheesecake for every item on the menu. We decided to try both the variants during our order.
The final product was just amazing! The plating was wonderful, it was a delight to click a pic, I loved it. New York style cheesecake with Belgian Chocolate ganache and Salted caramel sauce topped with butterscotch kernels and Vanilla Namelaka. The crispy biscuit and the dark chocolate added to the visual appeal. Every mouthful was absolutely delightful!
We chose an eggless set cheesecake for the Strawberry and Cream, unlike the New York styed previous one. This was distinctly different in consistency and it came with Strawberry puree, whipped cream, vanilla namelaka and graham cracker crisp. You actually had to crack the crisp to get to the puree and the cheesecake. it was a different, but nice experience too.
Meanwhile, we were of the opinion that we probably liked the baked cheesecake better between the two. Decided to try another of of their signature creations – Mixed Berry Web! It looked nothing less than a Spiderman movie on a 3D screen 🙂 Strawberry, Raspberry and Blueberry puree with lemon namelaka. This was wonderful too!
Mid-way, I wanted something to neutralize the taste buds, ordered an Expresso. Without sugar, it definitely helped!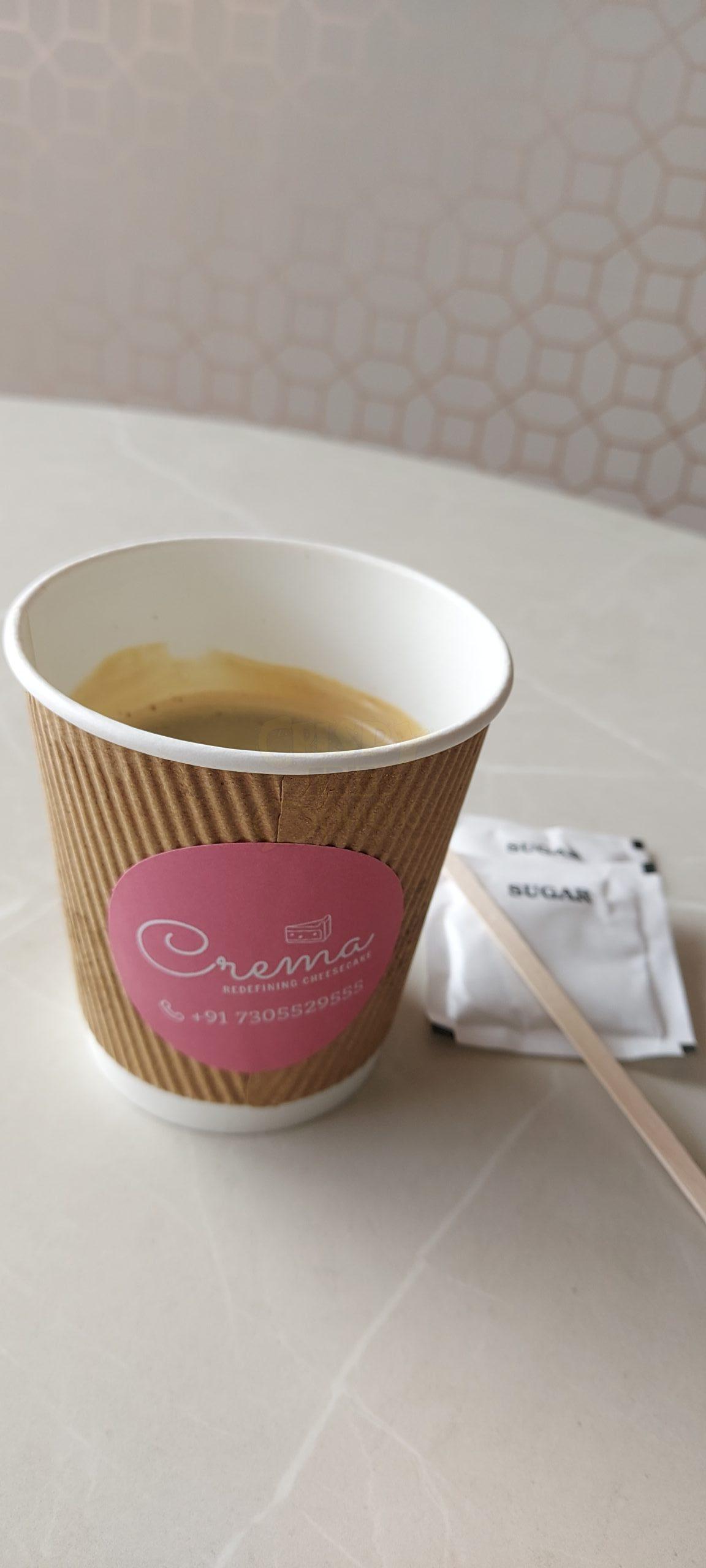 Friend ordered a Chocolate Cheeseshake (not a cake, a shake 🙂 ), It tasted as good as it looked.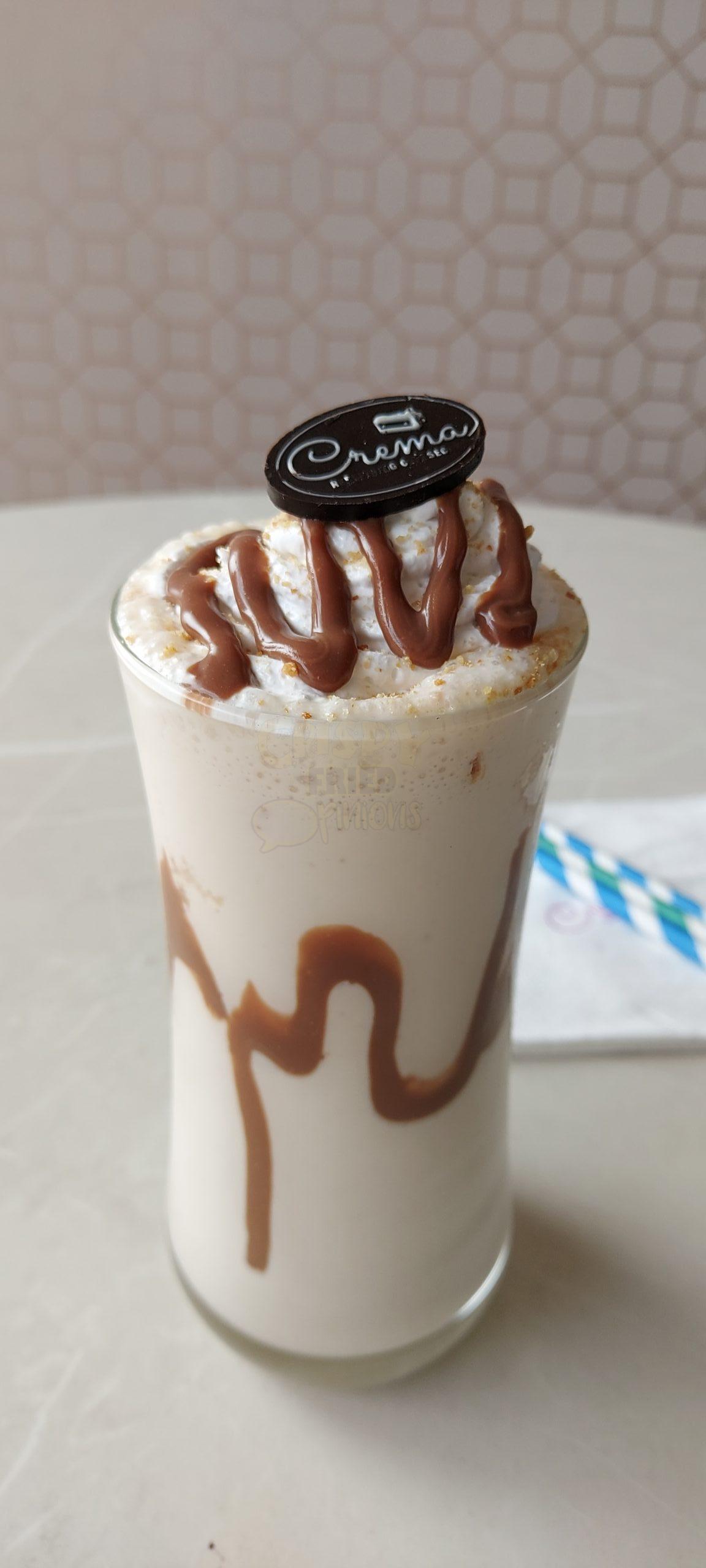 While we were having these, we also placed an order for takeaway of 6 slices of cheesecakes. They were packed in cute little boxes, and a nice paper bad to hold them all.
Pic courtesy: My son 🙂
Kids loved these two! I've promised them to take them back for more!
I'd like to give you a pointer – please allow some time for the cheesecake to be plated. It should take about 5-10 minutes for the regular slices and probably 10-15 mins for their signature ones. While we were there, a couple of tables were occupied, a Swiggy delivery person was waiting for his delivery, one of our orders took a little longer than we expected. Since we were engrossed in conversation, we didn't mind it a bit!
A classic cheesecake is priced around 200 bucks, signature dishes around 275 bucks. Overall, a fantastic place for trying Cheesecakes! We paid 1.7K in all, for 3 signature cheesecakes, takeaway of 6 standard cheesecakes, a cheeseshake and an Expresso. I'd certainly recommend this place and come back for more! With Valentine's day round the corner, I'm sure this place is gonna be busy 😉