One of those dinners where food was so yummy that we gorged on the starters, got so stuffed that we had to give the main course a miss, and head to desserts! Been thinking for quite some time to visit this place and finally, it happened as we had our extended family visit us from Bengaluru.
We walked in quite late around 21:30 Hrs, the place was quite packed at that time. Lucky to get a table right away. I knew that there was a Vietnamese Food festival happening there and I was quite excited because I have experienced the flavors of Vietnam at Benjarong twice earlier when Chef Ramkumar had invited me to the food festival. So I couldn't wait to try at least a couple of dishes this time from their a la carte menu!
Majority of the family was vegetarian, so we had to order a mix and match of veg and non-veg dishes. We started with crispy veg and chicken rolls. It was so yummy, we repeated the veg rolls one more time. The rolls literally crackle when you take a bite and the flavors, wonderful. The outer covering is thin sheet, very intricately made. I loved the chicken roll and sweet chilli sauce with it.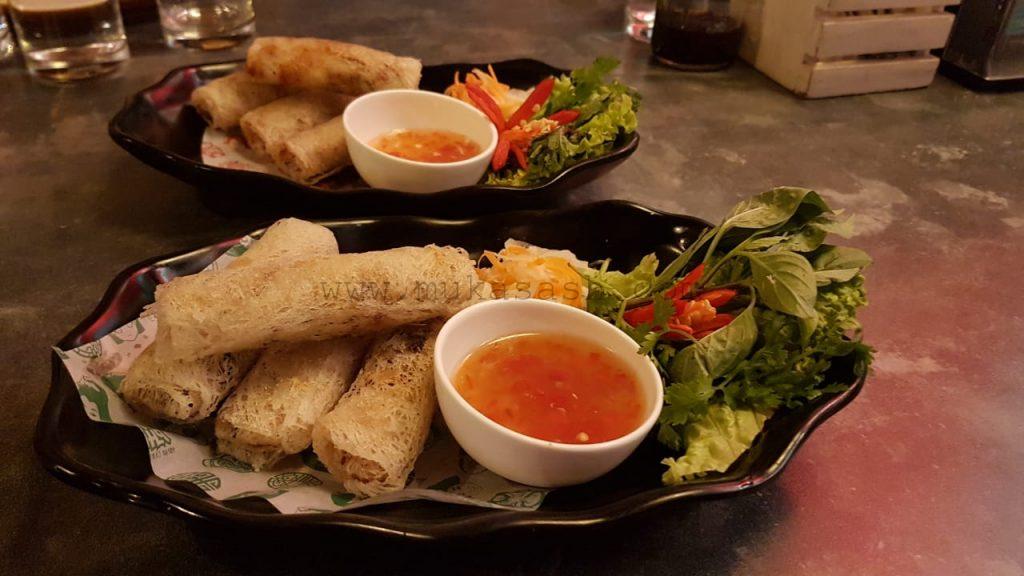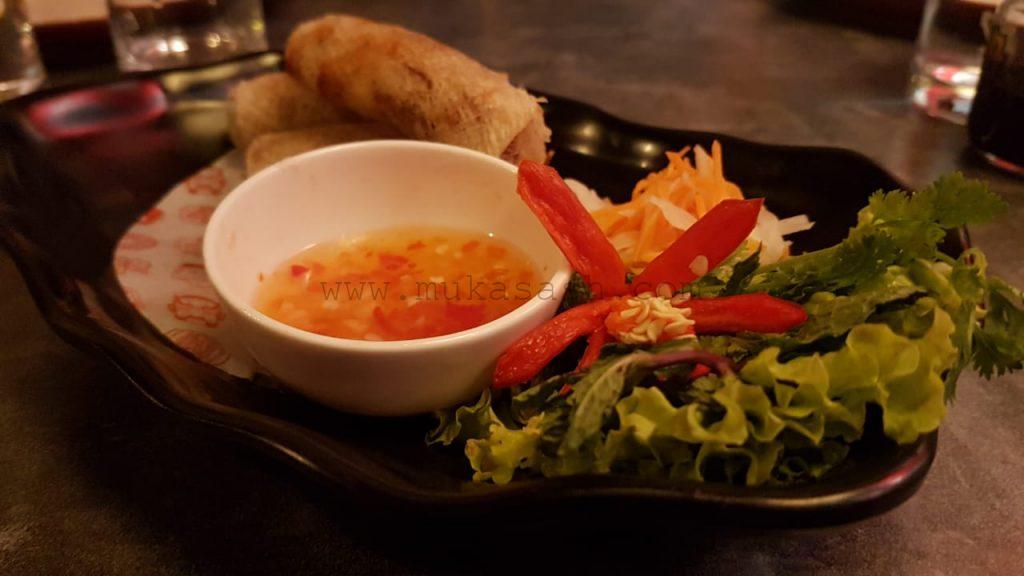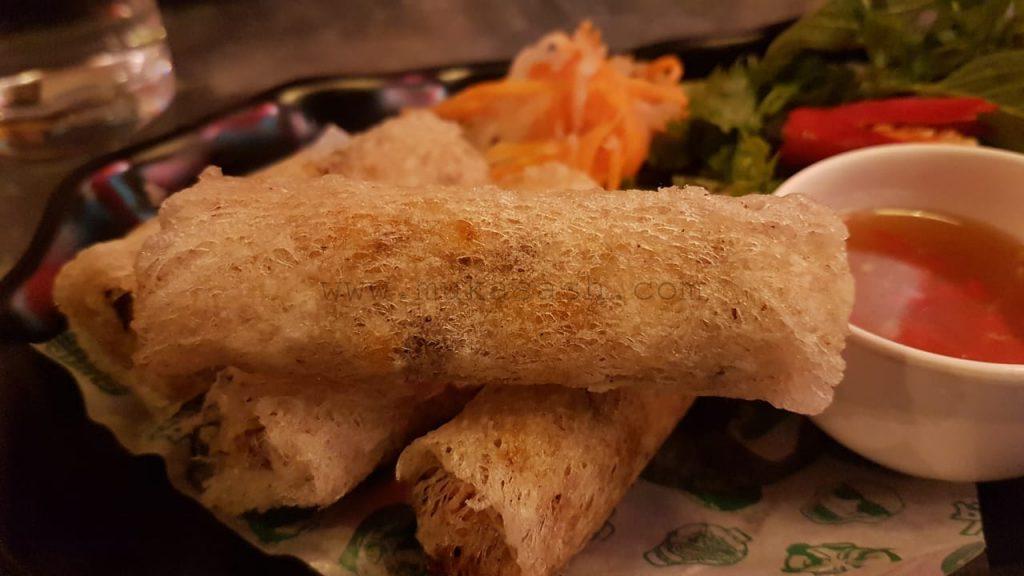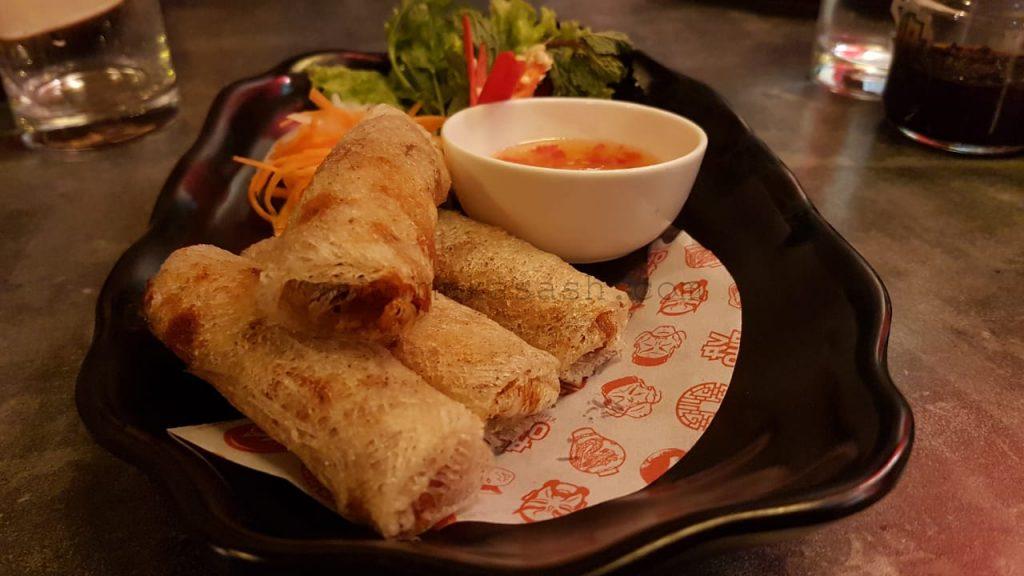 Next was the Kam Heong Broccoli, basically a Malay style crispy broccoli tossed with curry leaves and curry masala. This had very familiar favors and tasted good.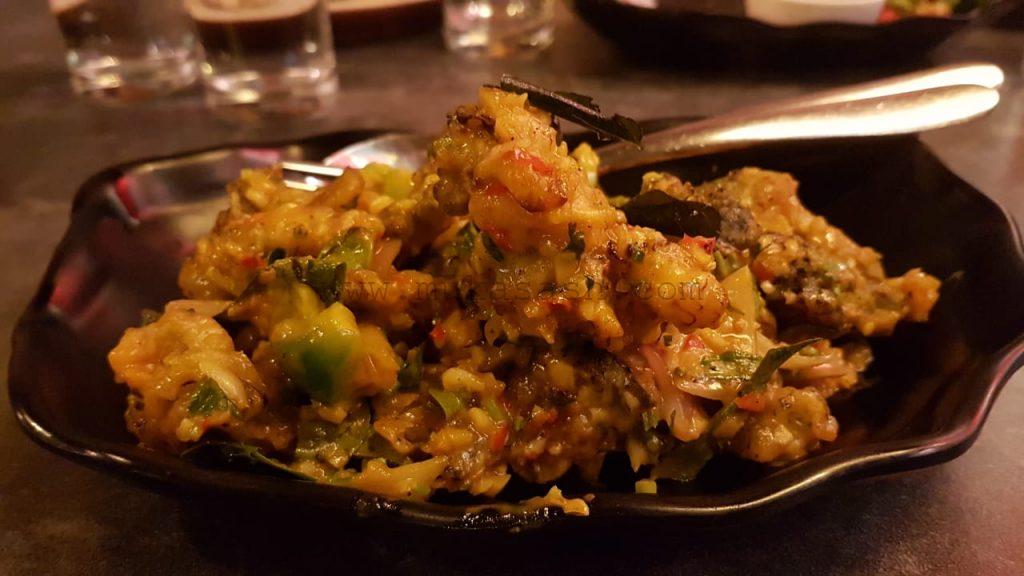 Tongarashi Prawns was Japanese-style crispy prawns and kids loved it. The salad that was served as an accompaniment with it was good.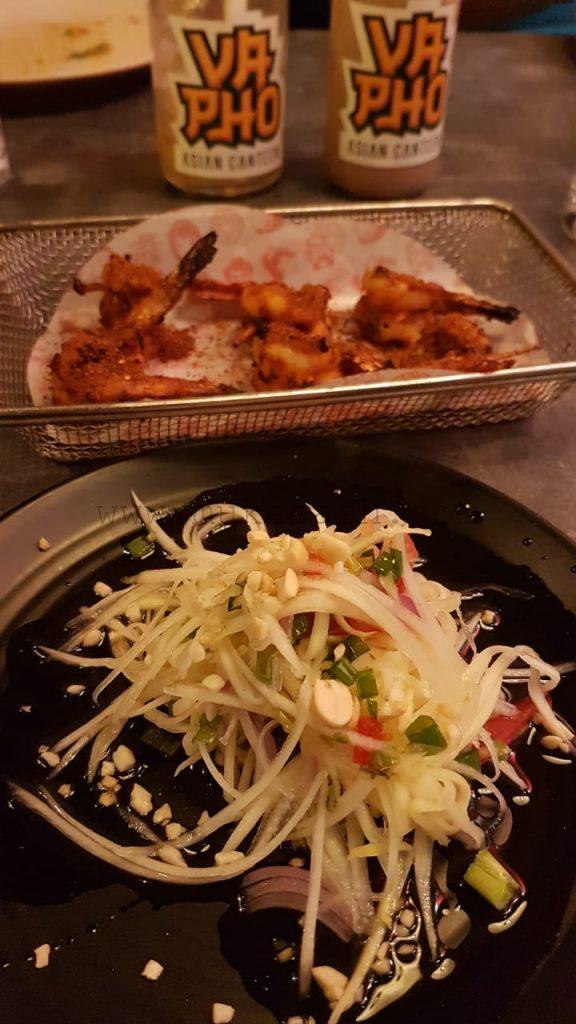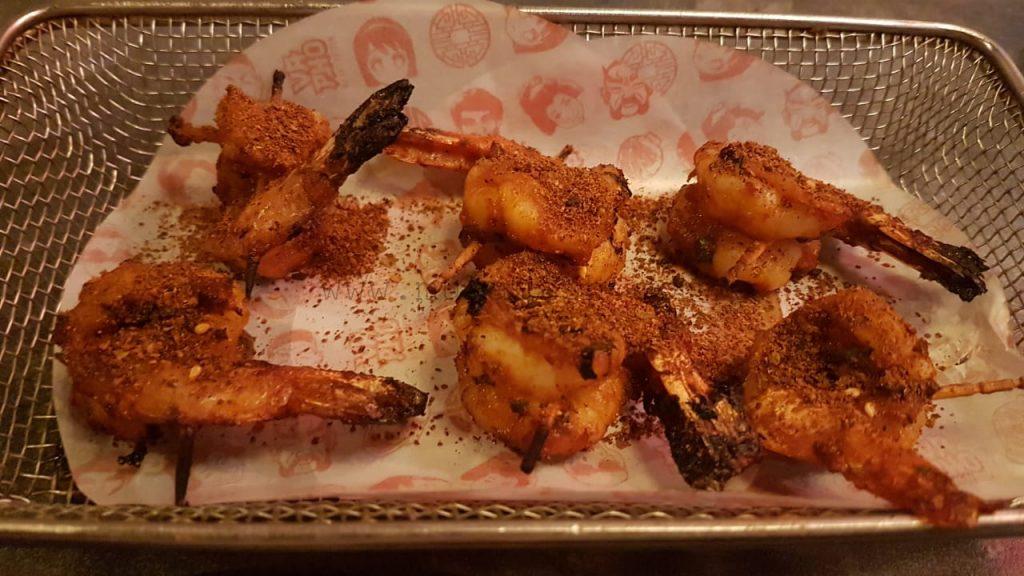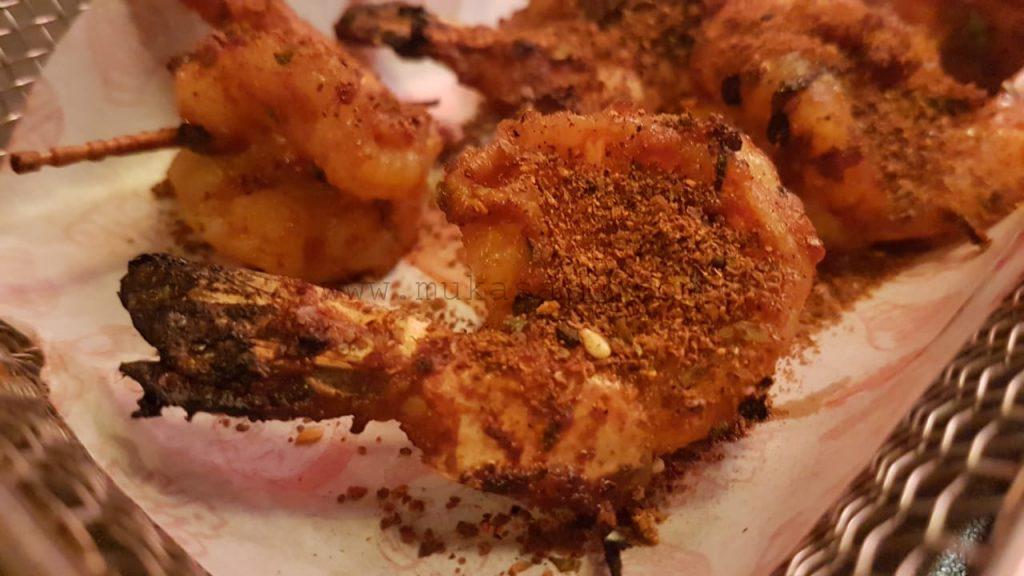 Vietnamese Ice Coffee was basically a coffee decoction made in a French style Coffee Filter, mixed with condensed milk and poured over crushed ice. Absolutely wonderful!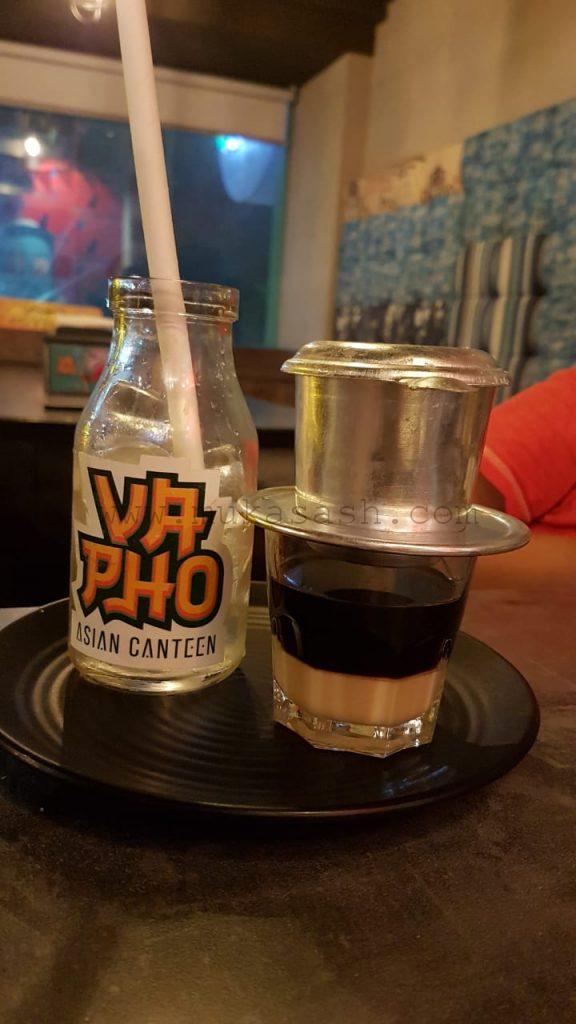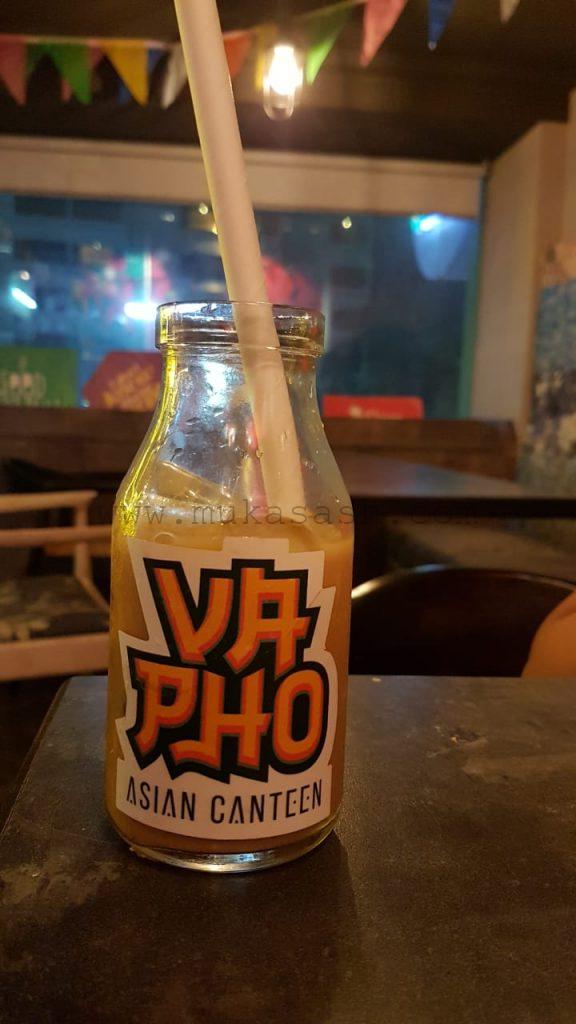 For the rest of them who didn't want coffee, they got Milo.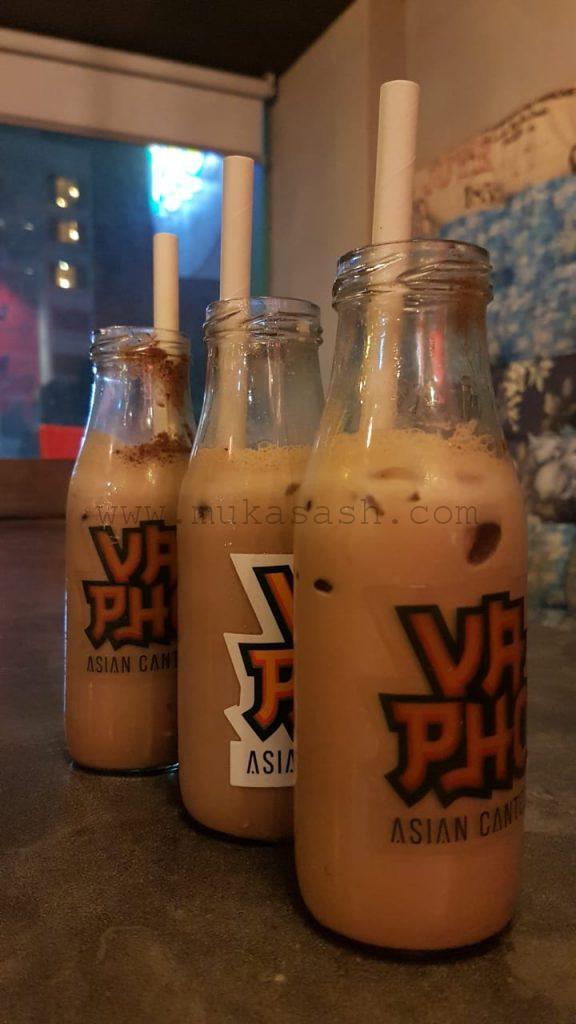 Next we ordered something that I have been waiting to get my hands on – Bao! Knew what it was, knew how it looked like, but never had a chance to taste it. Ordered a couple of chicken and veg Baos. Barbecue chicken was super soft and succulent and I haven't had a softer bun 🙂 really very soft! I loved it. Crispy Veg with fried green chilli was wonderful too. This got us really stuffed.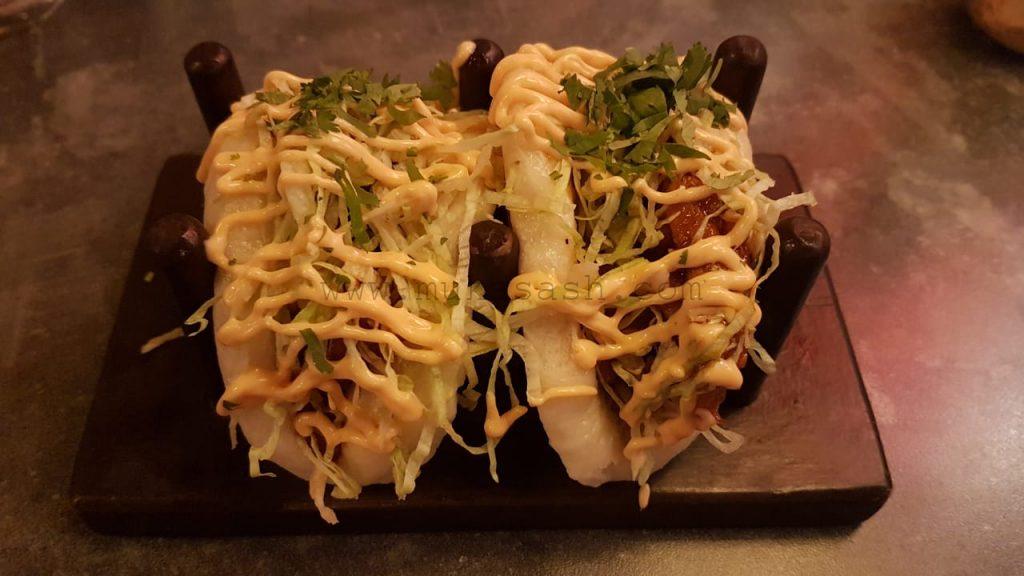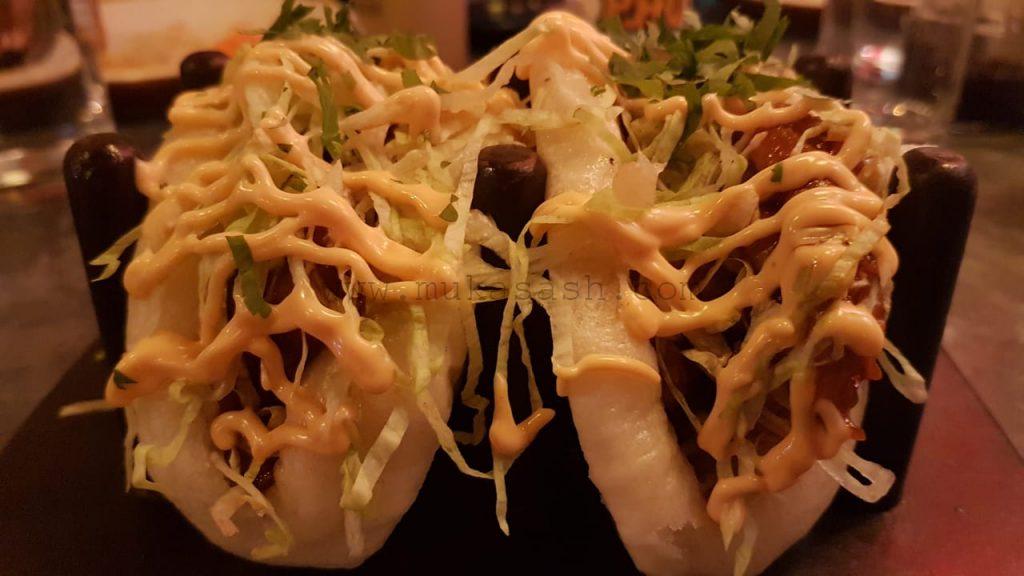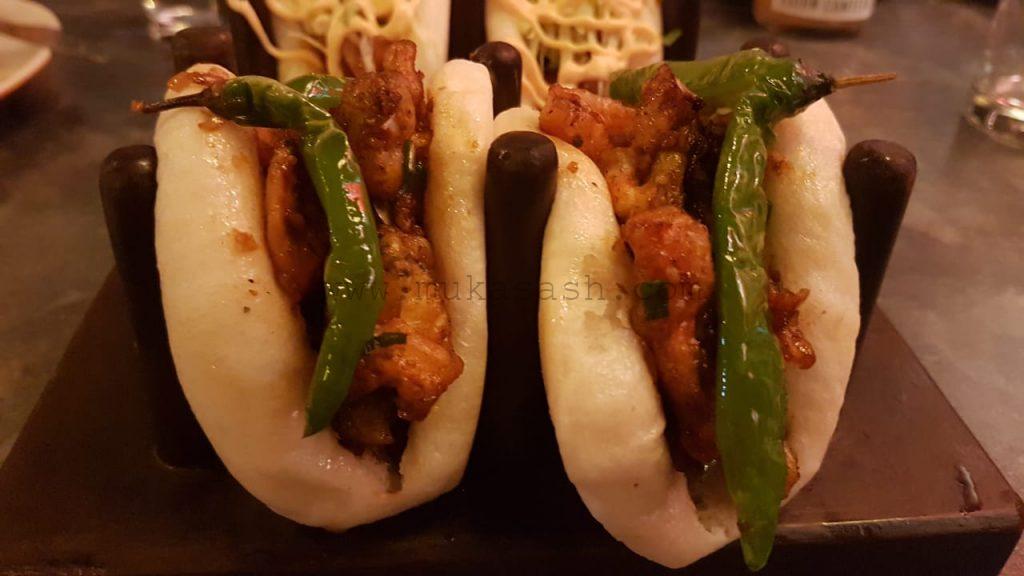 At this point, we decided that we will give main course a miss, and just sample a couple of desserts.
Tender coconut Ice in a rose-flavored Sago pudding was good.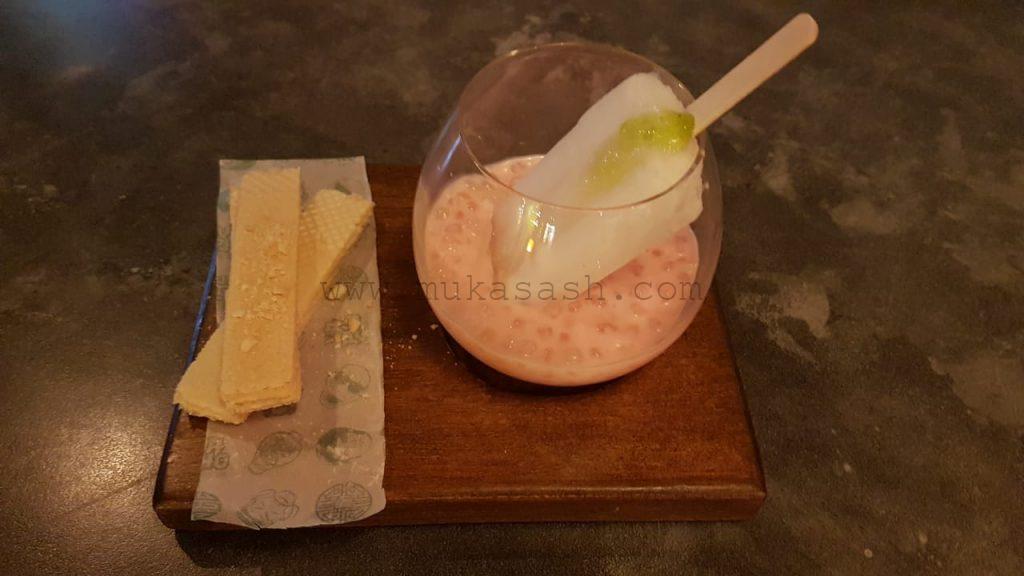 A couple of them were excited seeing Fried Ice Cream on the menu, immediately ordered one. It was wonderful.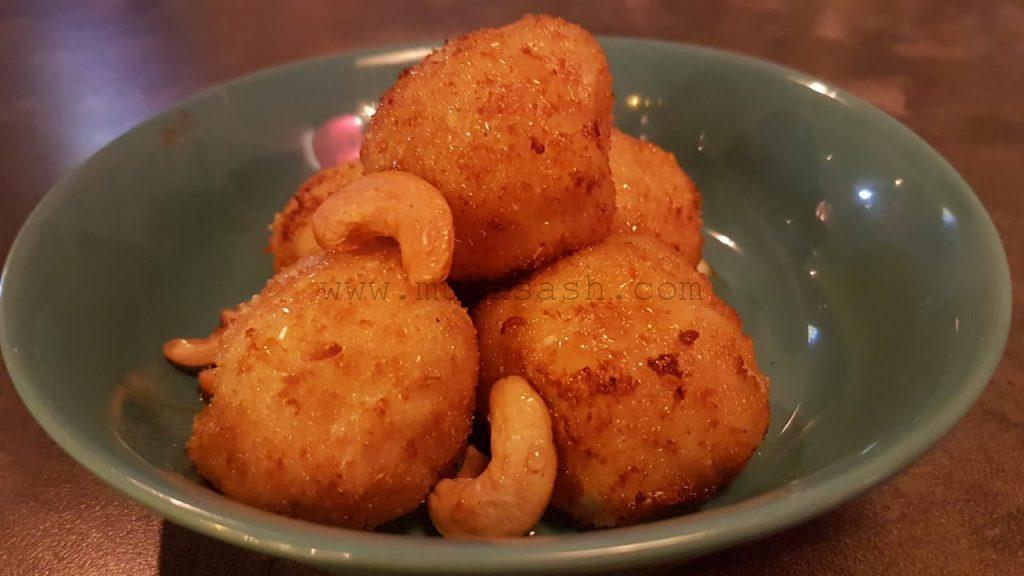 Decided to try a couple of Vietnamese desserts based on Chef's recommendation, both were yummy!
First one was the cassava cake served with cut fruits and ice cream. The cake was yummy!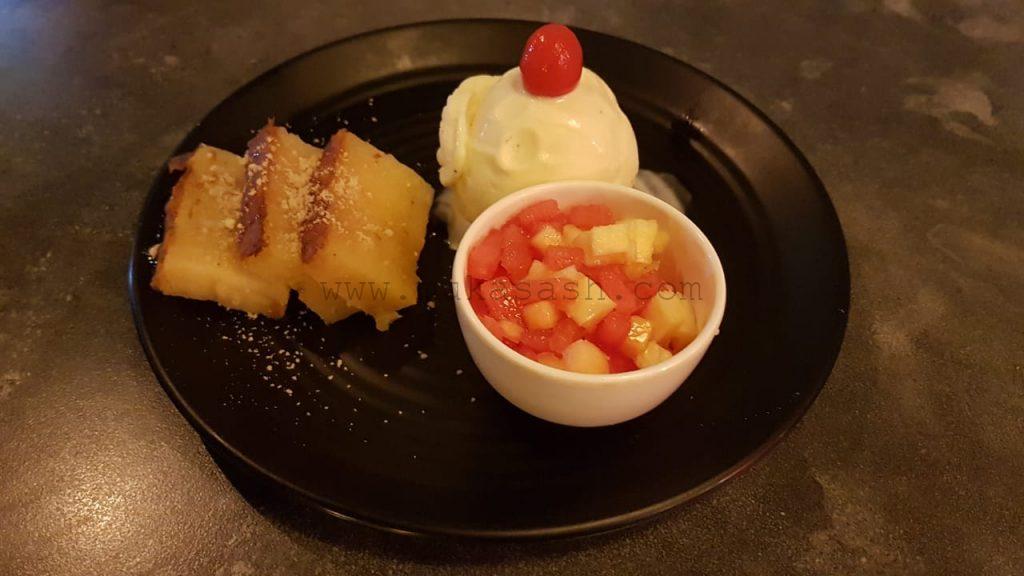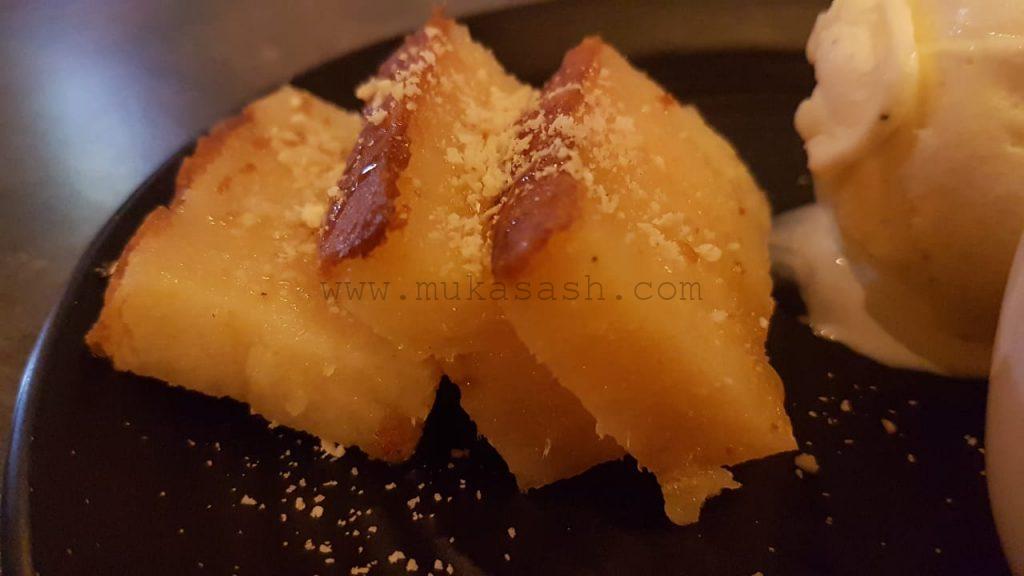 The next one was a warm dessert, served in the consistency of a payasam. It had a very different and nice flavor. We were told that it was slow cooked with tender coconut water and finally coconut milk and a couple of drops of vanilla essence was added in the end. In addition to many other things, we were told it had mushroom in it. Mushroom in a dessert was surprising! 🙂 It tasted very good!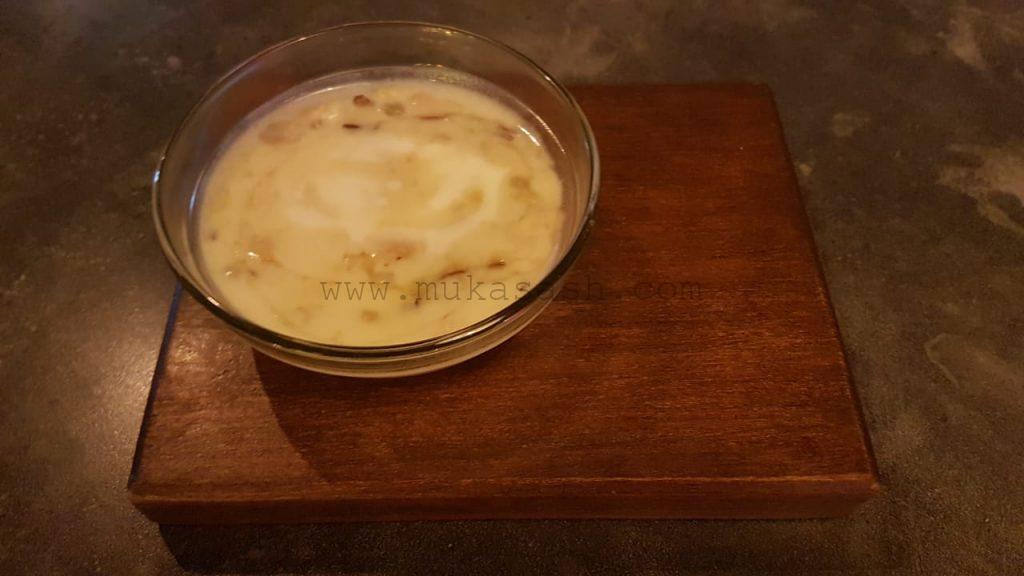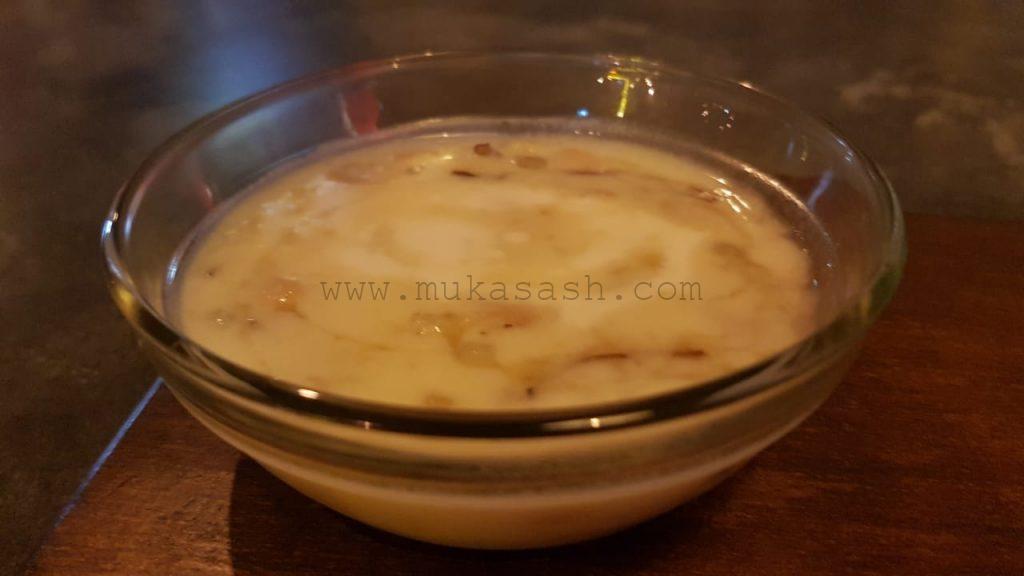 The hospitality couldn't be any better when the chef personally ensures you get all that you need! A big thank you to Chef Ramkumar for absolutely tasty food. I would have liked to taste the entire breadth of what was available in the Vietnamese Food Festival. Sadly, we only could try a couple of them as family had preferences for other dishes. 🙂 The chef was kind to take a couple of desserts, coffee and Milo on the house, we weren't charged for those.
We paid 3.3K in all for 7 people, an absolutely satisfying dining experience and yummy food! I would gladly recommend this place if you're thinking Pan-Asian food.