Catamaran Brewing Company recently opened in Pondicherry and has been generating a lot of interest in various food groups on social media. I was quite excited about a new microbrewery, now even closer to Chennai compared to Bengaluru. I couldn't wait to try!
Have always been a big fan of microbreweries! The love for freshly crafted beer dates back to 2003-2004, where I've had the pleasure of visiting Kronenhof Brauhus in Bad Homburg, Germany umpteen times. Till date that is one of the fondest memories I have, of sipping on freshly crafted beer in a 1L mug with pommes frites to nibble, on the side!

My trips to Bengaluru is never complete without a customary visit to at least one of the microbreweries! Over the years, I have visited quite a few – Arbor Brewing Company, The Biere Club, Toit Brewpub, Communiti, Vapor Pub & Brewery, Bangalore Brew Works, and more! The list just keeps getting bigger and bigger.
Made up a weekend plan to Pondicherry with close buddies, and needless to say, Catamaran was right on the top of the to-do list. We reached Pondicherry around 10:30AM and noticed that the place opened only at 11AM. We decided to relax for sometime at Le Cafe, and then head to Catamaran.
It was not difficult to locate the place, it was on quite a busy road right above Westside. That said, parking was a nightmare! It took my friend twenty minutes to find a parking place quite far away from there, and come back in an auto. I was told they have a valet, but since it was a very long Friday night, they would be available slightly late on Saturday.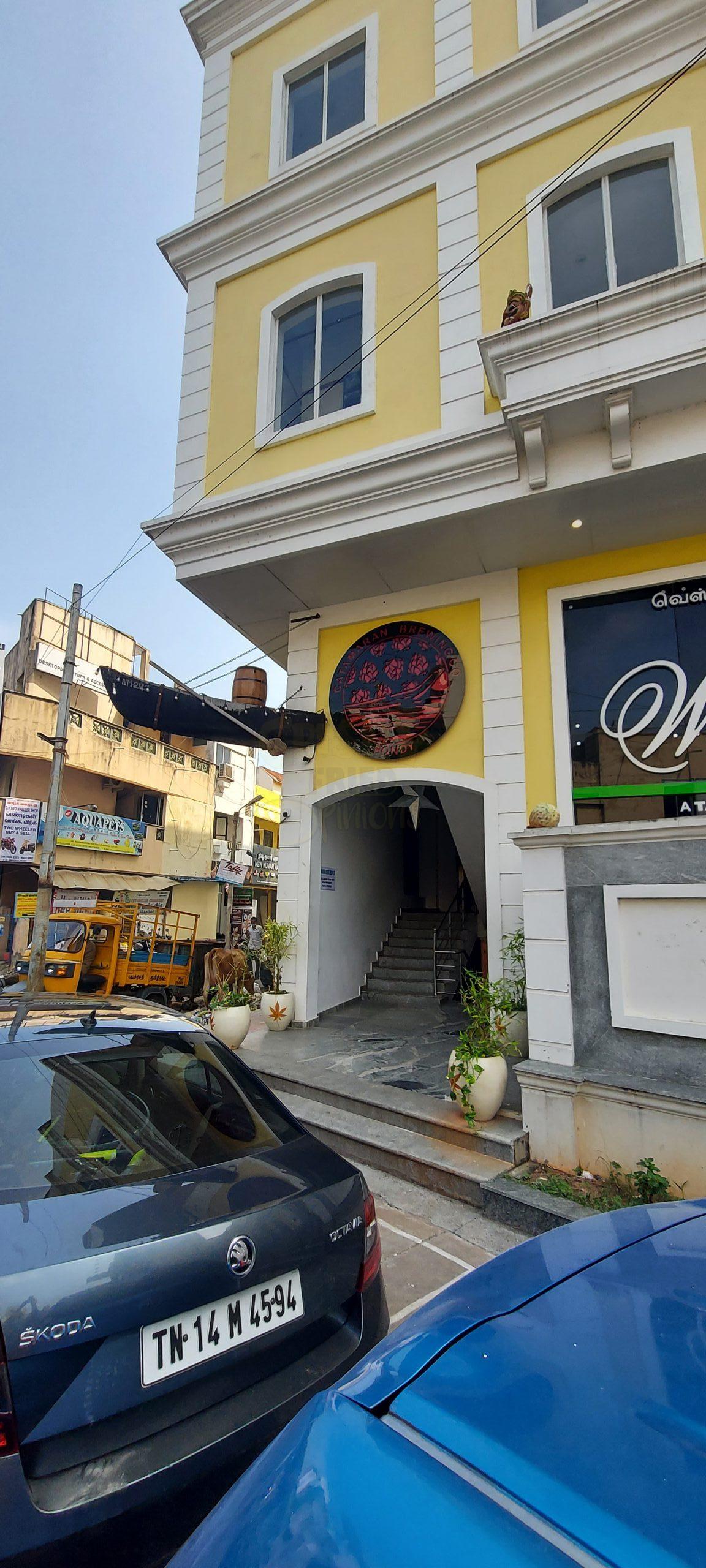 Meanwhile clicked some pictures of the place, the counter, the taps and so on. The seating arrangement was quite comfy with circular sofas. This definitely gave more privacy to guests and it was easy to catch a conversation.
We ordered a Beer Taster Tray to see what the choices were! We were told one of the 5 beers – Pondy Pils, a pilsner wasn't available. We noticed a Belgian Witbier on the menu – Indian Summer. Sadly, that wasn't available too.
Hopsunami – an Indian Pale Ale, Vox Populi – a dark lager, Yuri G's drink – an oatmeal stout, and Chingari Cider – an apple cider were the available ones.
The first pic doesn't have the samplers placed in the right placeholders. The second pic is correct.
We ordered quite a few of these, and I was repeating the IPA and the dark lager.
We entered the place around 11:30 AM and we were told the starters could be ordered only by 12:45PM. We managed with rice crisps until their kitchen dished out starters. The 5 dips were good. I personally liked the one which was like a mayo with a lemon pickle flavor.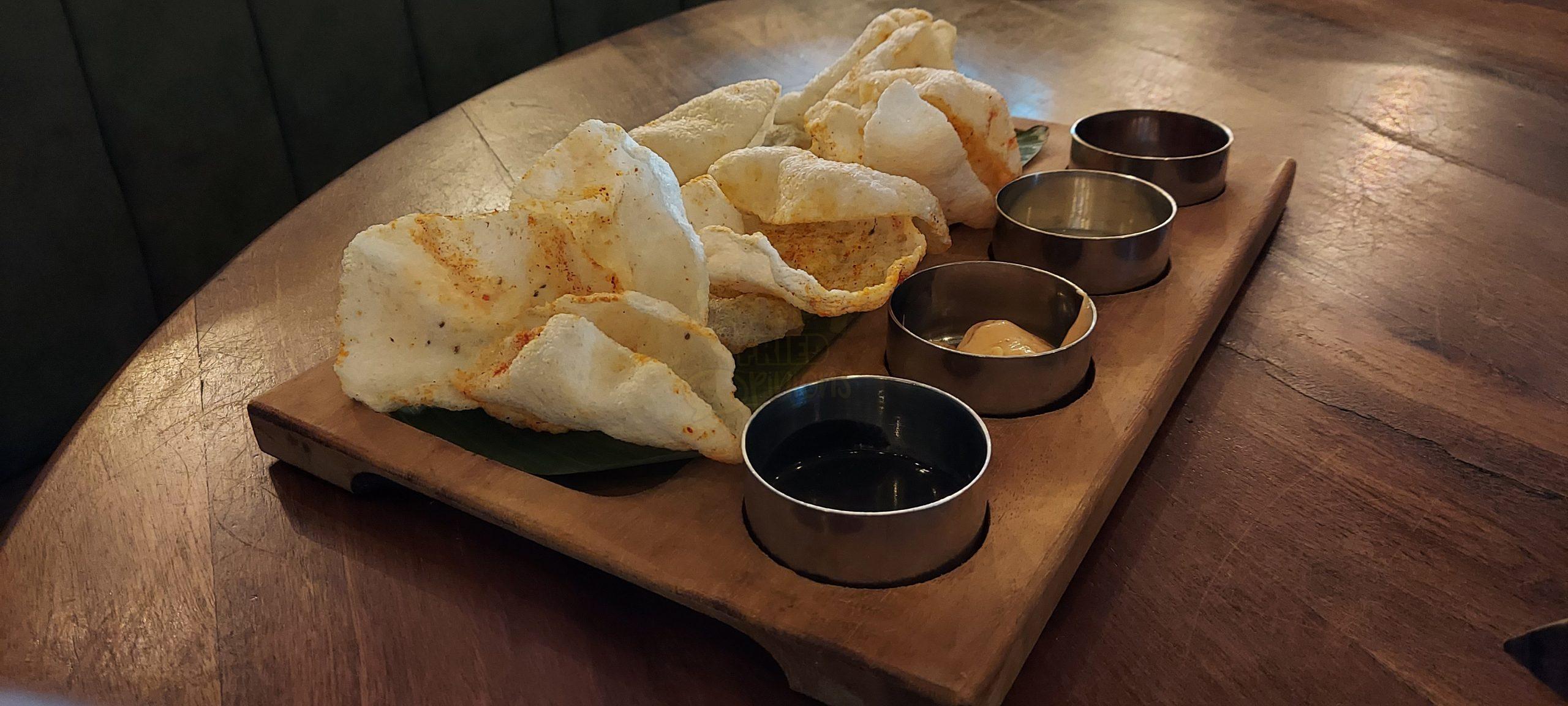 Vaazhakkaai Nachos with Mango Salsa was one of the first dishes they managed to get ready. It was wonderful. Crispy and tasty!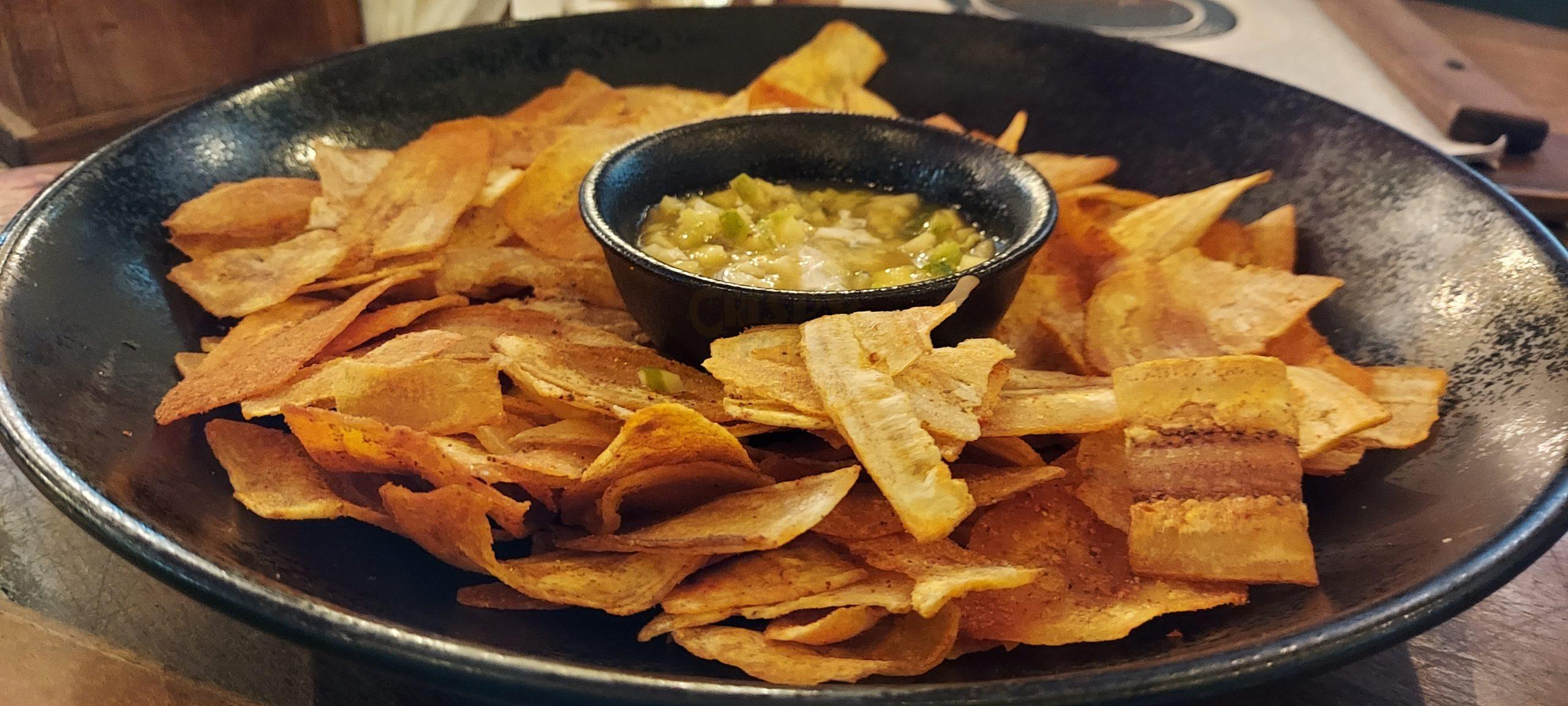 Roasted Chilli Beef came next, and friends liked it. The portion size seemed minuscule. It tasted good and friends were happy.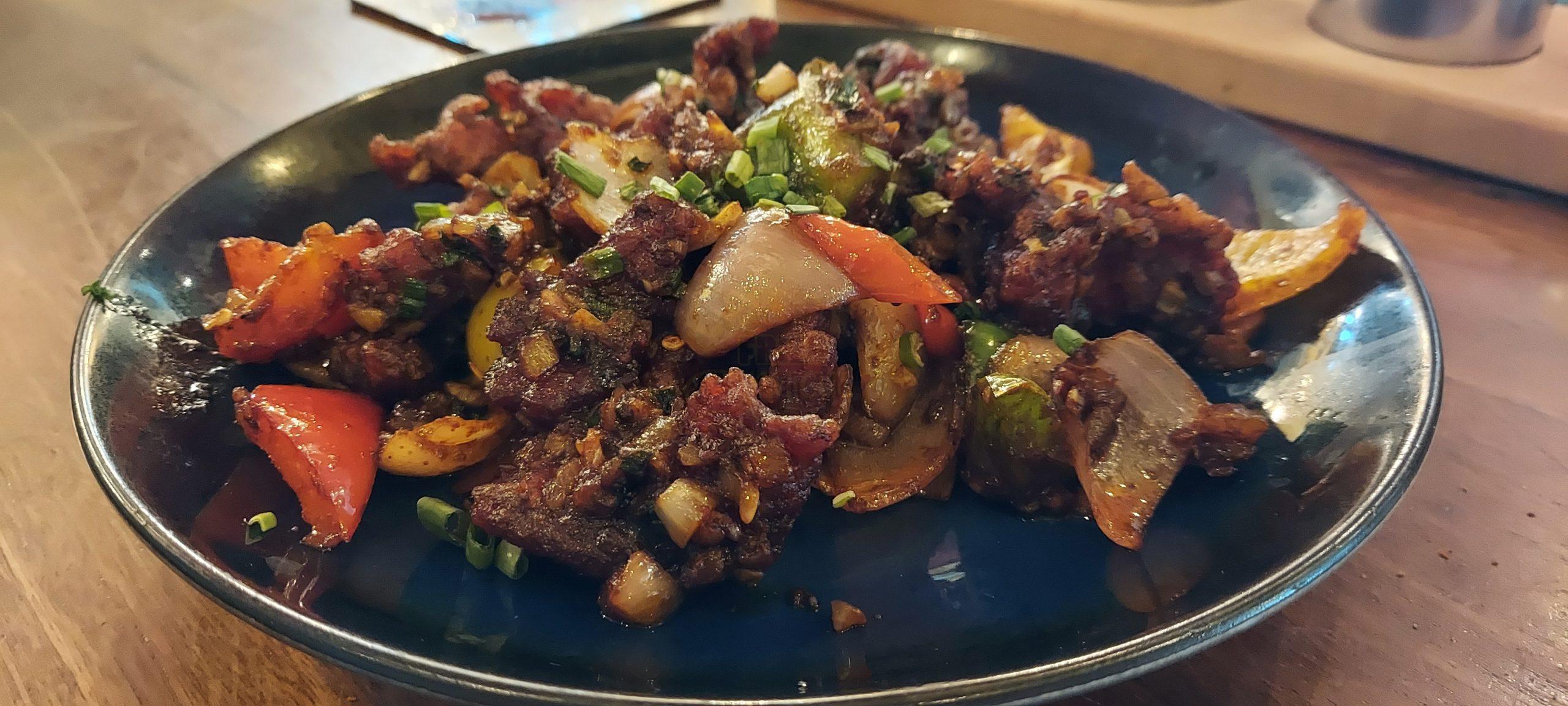 Kozhi Polichathu was decent, but there was something lacking, probably salt and a little more masala. It didn't quite make an impression on the palate that would make me order it again.
Prawn Podi – 65 and Kozi Podi – 65 were the dishes we ordered next. We knew it was going to be almost same with just different meat. We did so because of my restriction to eating seafood. The portion sizes was good. Tasted good, though the chicken wasn't as soft as I'd expected it to be. The podi needed more punch.
Muttai Tempura Bonda was a clear winner! Awesome! This, I would order again without a second thought. None of the dishes so far made a strong impression like this, except Vaazhakkaai Nachos.
Friends ordered Beef Bolognaise Lasagna, they loved it. Noone had any complaints with this dish. In fact, one of them specifically mentioned it was very tasty.
Meanwhile we got a complimentary shot each, of another beer which was called 'Smoky Santa'. We were told it would have an aroma of bacon. It was good, though I couldn't quite clearly catch the aroma after downing a few glasses. 🙂 we continued with IPA.
Malli Kozhi was the next dish. Again, a mediocre Chicken starter. It was quite underwhelming actually. The taste didn't quite make an impression.
Loaded Beef Fries was good, friends said! I ate just a very few fries untouched by cheese and beef.
Not a complaint, but another place that has only the special water – Blue Pine! Not sure why the regular bottled water isn't available.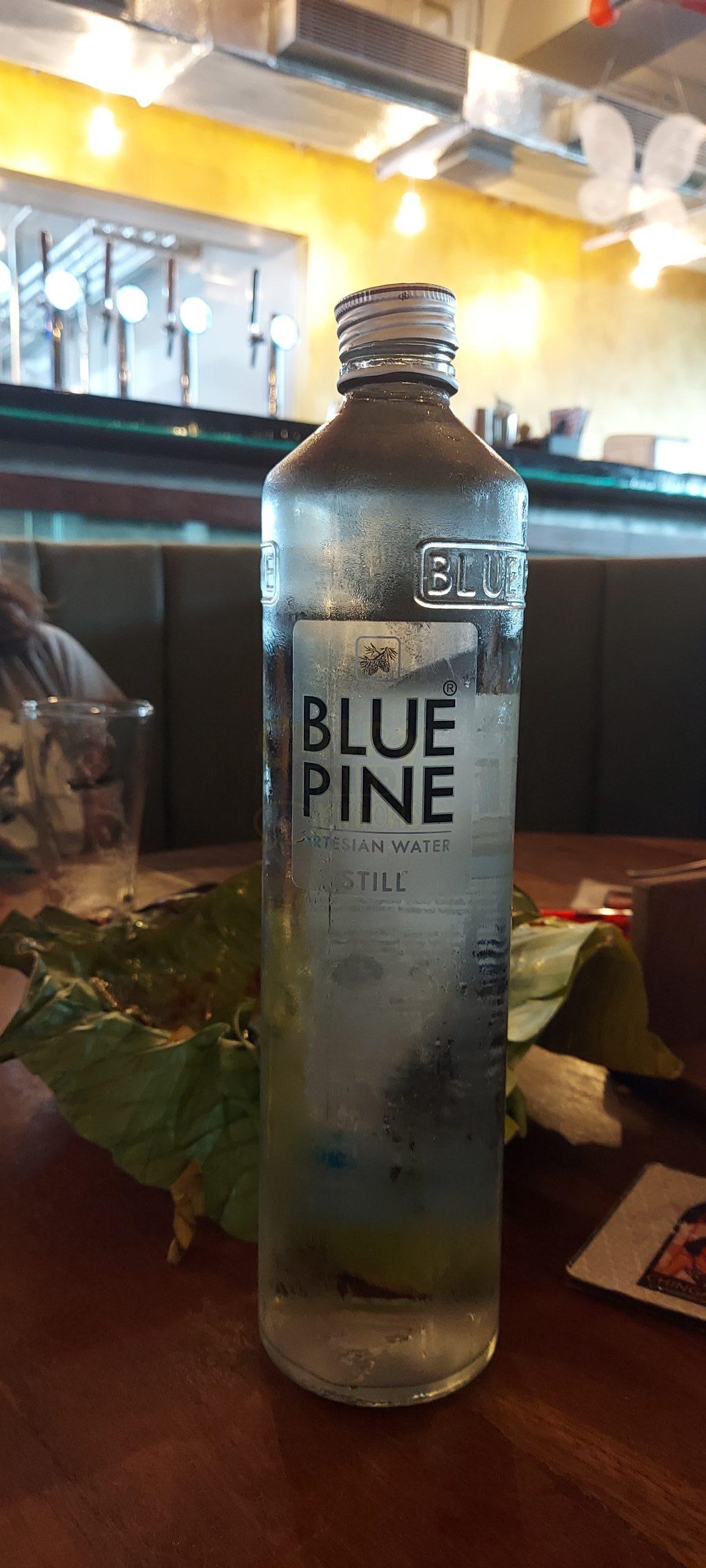 Overall, food was a mixed bag. Only a few dishes were 'wow'! Rest of them 'Okayish'. It wasn't necessarily something that you would complain about, but it just failed to tickle your taste buds.
Also it would have been great if Indian Summer and Pondy Pils were available, sadly we had to stick to the 4 variants only. Mr. Ayyappan waited on our table. Service was courteous, no complaints there!
We were there for a good four hours and had a nice time with close buddies. Overall it was quite an elaborate outing with beer and food and we paid a little less than 9K in all. I would certainly come back to try newer varieties of beer and to see their starters go from 'Okay' to 'Lipsmacking'!