The Cascade, one of the oldest Chinese restaurants in the city needs no introduction! Remember dining at their Nungambakkam restaurant eons ago. However, I have never visited the place after that. While we were looking for a Chinese restaurant in and around Besant Nagar and Adayar, this place popped up as a suggestion. Immediately decided to try!
We didn't have difficulty locating the place as I am quite familiar with the 2nd Avenue that houses quite a few popular restaurants – Eden, Jonah's, Vishranthi and so on. This place is located in 16th Cross, off 2nd Avenue. They hardly have place to park cars, but thankfully one side of 2nd Avenue has marked parking slots, and we got one without a problem. They are located on the Third floor and have a lift, that was good.
We stepped in quite early around 12:45 and were the first customers for lunch. The place had very nice interiors, and certainly made you feel you were dining in an upscale restaurant. Menu was quite elaborate, so we needed some time to decide what to order.
First thing that I wasn't too pleased with was the non-availability of a regular Bottled water. How difficult is it to have that? They had some Himalayan water and the bottle priced at 110 bucks. This is not a rant for people to get started with 'Carry your own water', 'No one forced you to buy that', et all. 🙂 Amidst the recent scare of water contamination, I decided bottled water is better than regular RO water. Had to shell out 220 bucks for 2 bottles of water, which I felt was a bit too much.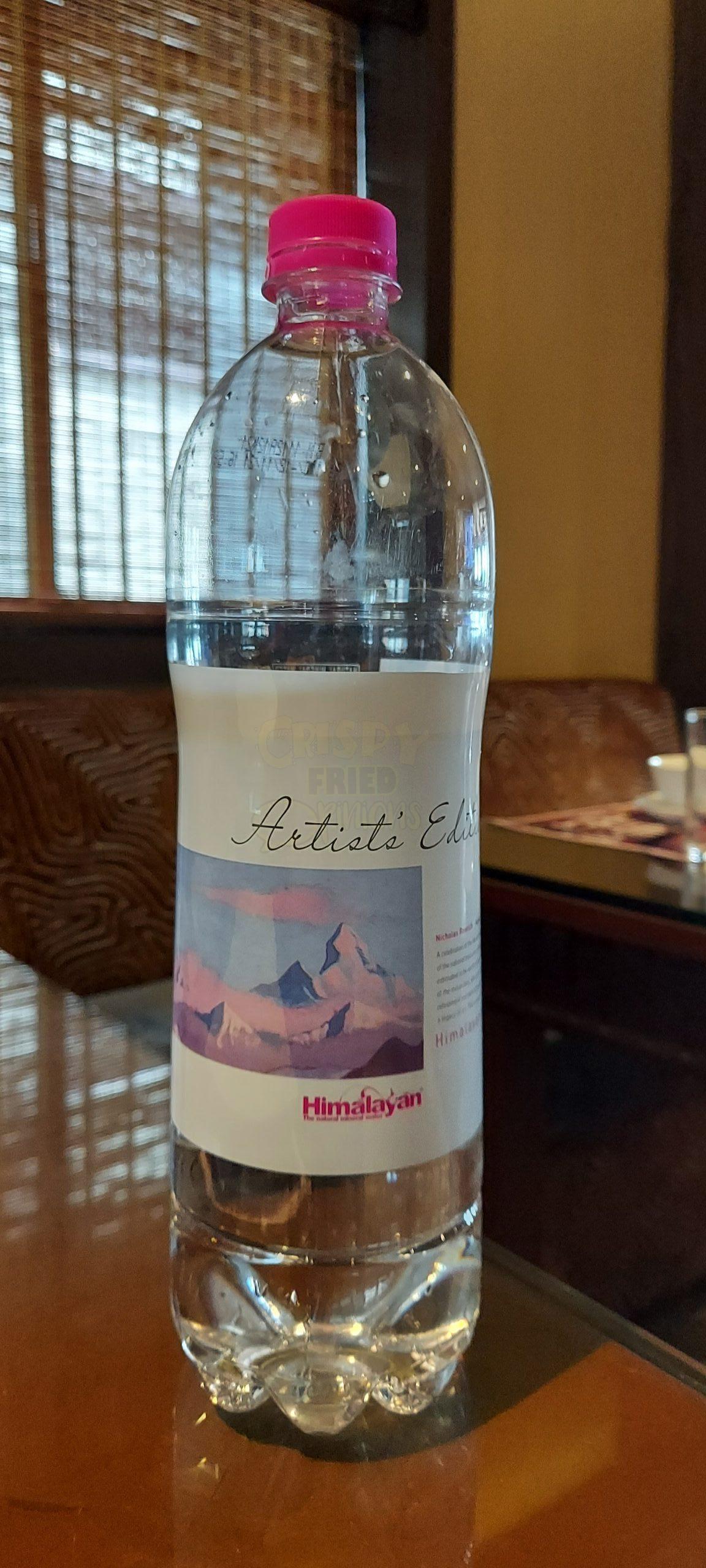 Anways, to the food now. We decided to skip soup, and go full on starters! Ordered Lollypop Chicken, Fish Phuket, Steamed Chicken Momos, Thai Grilled Chicken, Open Bao with Roasted Chicken and Pepper, and finally one vegetarian starter – Baby Corn & Mushroon Pepper Celery.
Lollypop Chicken was wonderful! Soft well-cooked chicken with sweet and spicy sauce nicely getting into it. It was very tasty.
Fish Phuket was ordered with a lot of expectation, but I didn't see the same reaction from family when they tasted it. They unanimously felt it was okayish, and nowhere close to the one they had at Orange Wok or China Town. Since I do not eat seafood, had to go with their opinion. In fact, they didn't finish all of it and decided to pack it.
Steamed Chicken momos was awesome! The intricate work of the Chef clearly showing with the thin outer covering. I certainly missed the accompaniment that Mainland China provides for momos – One with mustard and another dark one more like infused oil. Love that. Here, the spicy red sauce was decent, other one wasn't.
I enjoy chicken almost in every form except the offals, and I'm, not too choosy either. Thai Grilled Chicken definitely should have been on the grill for longer time. By the time we noticed that it was more chewy than it should have been, we had served it in little portions between four of us. Didn't want to complain or ask it to be redone. It wouldn't cut with a bite, very unlike of how a chicken should be. Wished we had ordered Satay instead.
Open Baos were good, the bun very soft and the filling pretty good. Personally I would have liked the filling a little more spicy to cover for the sweetness in the bun, but that's only a preference. Otherwise it was very good.
Baby Corn & Mushroom Pepper Celery was good. I needed a little more salt, and after sprinkling some of it, it was very tasty.
With that we completed the starters and decided to go for main course. We decided to order 2-3 dishes and share it amongst us. Finally ordered a Pad Thai which they agreed to make though not in the menu, Nasi Goreng and Vegetable Thai Green Curry with Steamed Rice.
Firstly portions were huge! Would have been good if there was a heads up on that while we were ordering! Sadly there wasn't.
Pad Thai again felt undercooked. Definitely needed more chewing that normal. It wasn't particularly great on flavors though there was nothing worth complaining. The shredded chicken, egg and small bits of tofu perhaps were pretty good. The one we had in Soy Soi was amazing with a sprinkle of peanuts and a squeeze of lemon. This wasn't quite there!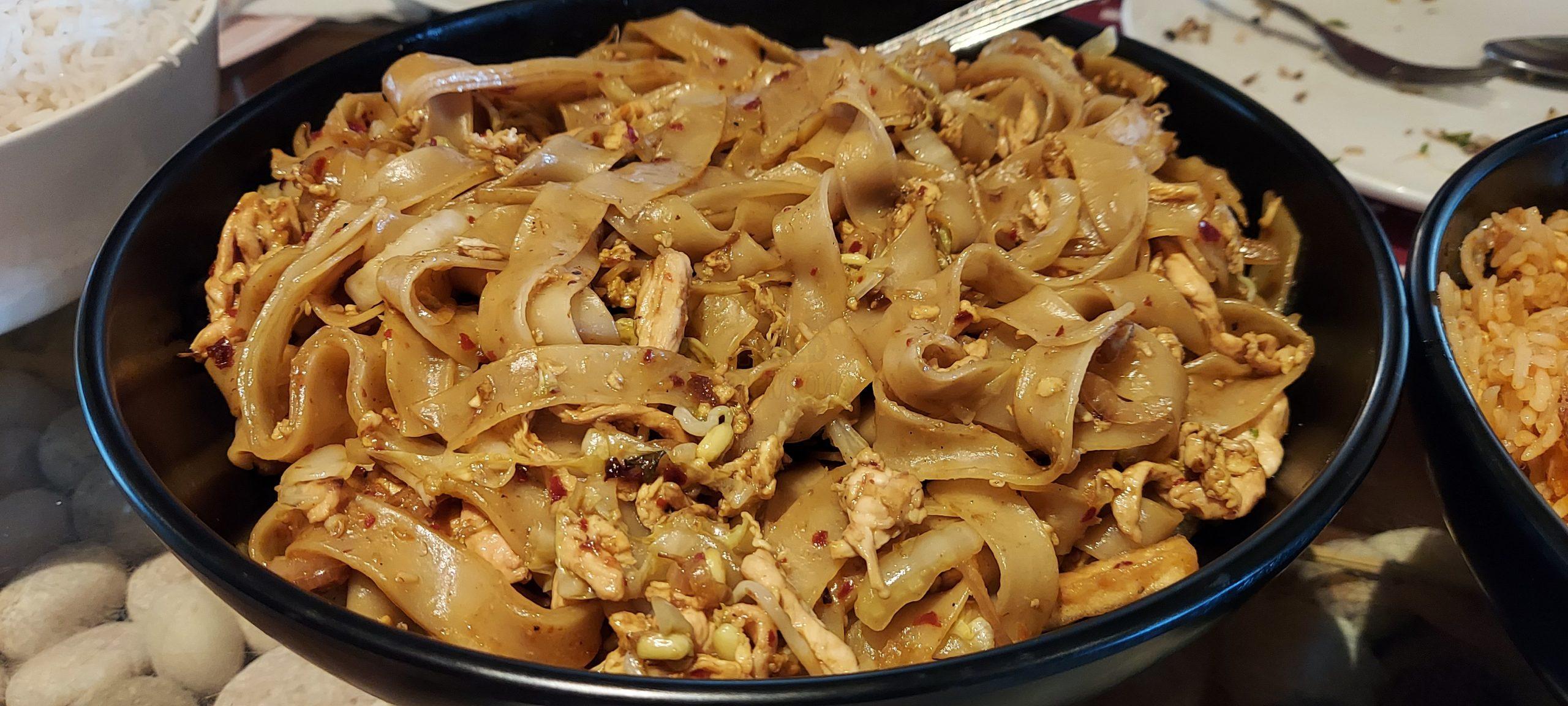 Nasi Goreng – I couldn't handle it! This is NOT a complaint, just a sum up of what I felt about this dish
I understand it is very common to use shrimp paste, or dry fish powder or oyster sauce and the likes in Asian cooking, which give a strong smell of seafood. Since I do not eat that by choice, it made it difficult for me to manage. However some places have it subdued, but here it was very strong that I stopped after first mouthful. What I also felt missing was that the rice in Nasi Goreng is generally slightly sweet, sticky and dark brown because of the sweet soy sauce that is used. Here it was almost like the Schezwan Fried Rice. The Chicken in Skewers was extremely chewy and I thought I'd at least eat that, but couldn't. Fried egg was the only thing I could eat.
Thai Vegetable Green Curry and Steamed Rice. This was pretty good taste-wise, but very runny. The rice seemed to be Basmati, not Thai Sticky rice. Overall, was okay compared to the other two. Since portions were very huge, we had to ask them to pack quite a few of it.
Finally to the desserts!
Absolutely wonderful Blueberry Cheesecake. We loved it, ordered one more to takeaway.
Cascade Mango Pudding was good too. Very tasty, with a slight bitter aftertaste perhaps from the cocoa powder that was dusted in the container before pouring contents in. It was good.
Lemoncurd Kiwi Tart was the next one, I think I got the name rite. Didn't find any hint of lemon curd. What was filled looked like Chocolate ganache on the tart, topped with cut kiwi fruit. Tasted good, we finished it. Definitely far from what I was thinking it would be.
With that we finished our lunch! A roller-coaster ride, a mixed-bag experience, call it whatever, it wasn't the best of lunch outings. We paid a little more than 4K and I would have certainly expected a better satisfaction quotient with food, for a price point like this. Service was pretty good, though a little laid-back, no complaints there.
Certainly not one of those places that I'd be longing to visit at the next possible opportunity.