I've heard a few people rave about this place in food groups, and had actually added it to my bucket list, a couple of months ago. Finally managed to tick this place off my list! Took the kids for a delayed lunch as Sunday started pretty late for us. Needless to say, Sunday afternoon was very busy as there was apparently a Futsal match going on in the arena, right next to this café. Whether it was intentional or not, this looked like a premium AC enclosure for the Futsal arena, such is the setup.
There's space for quite a few cars to be parked, in spite of that, the parking was full and I just got lucky as someone moved out, and I could take his place. There's no valet parking, so you may struggle if there's a match going on.
We entered into an almost packed house, and thanked our stars, there was one table available with high chairs, gladly took it right away! I was actually seated right next to the barista, so had a glimpse of what was going on behind the sophisticated coffee machine on the counter.
Quick look at the menu, and we ordered a Caramel Thickshake for kids, a cold pour of Amrut Whiskey barrel-aged coffee for me, Madras Masala Fries, Chilli Chicken and Panko Crusted Paneer Fingers, to start with. We were told it would take 10-15 minutes for the starters to arrive, and meanwhile I got my coffee.
I should admit I love coffee, and a cold pour of coffee aged in a Whiskey barrel can never go wrong. I couldn't specifically taste the notes of whiskey or port wine, but it was good, and that's all mattered. It isn't Irish Coffee for the Whiskey to hit you hard 🙂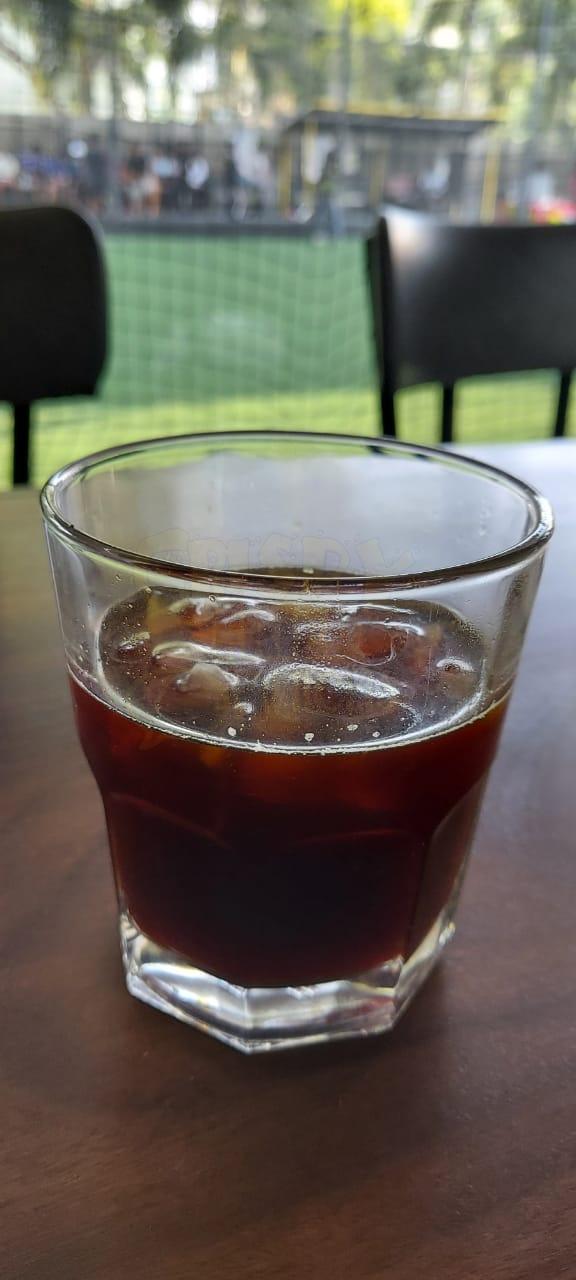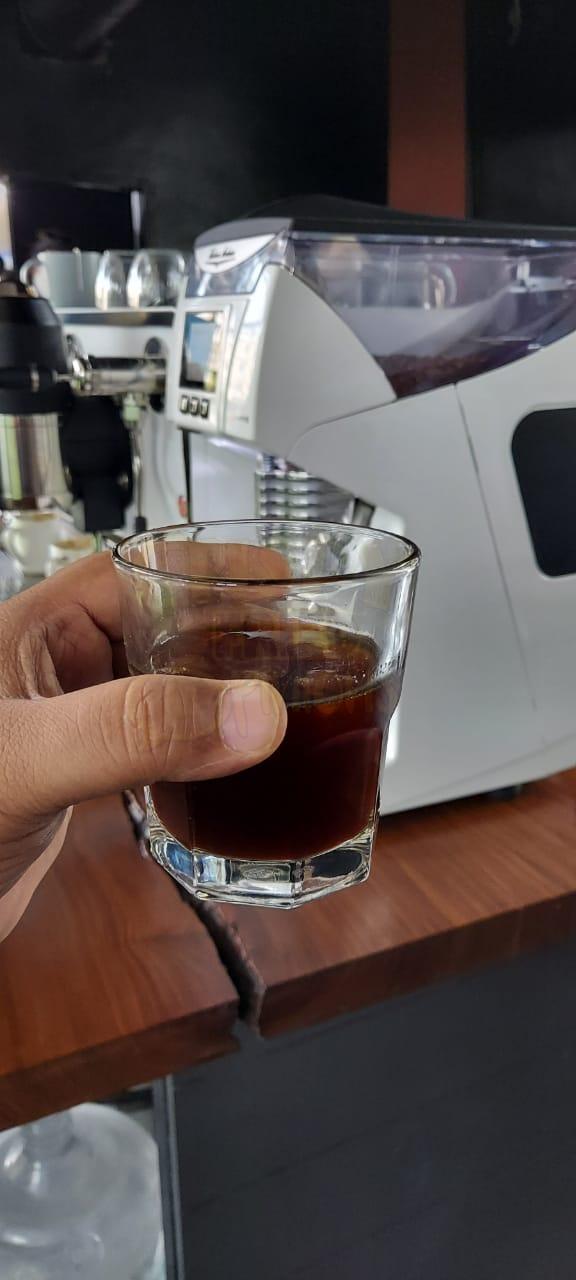 Panko Crusted Paneer Fingers arrived first. Loved it ! The spicy paneer and the crispy crust around it was wonderful, and the mint mayonnaise was super yummy! We didn't take very long to finish this one.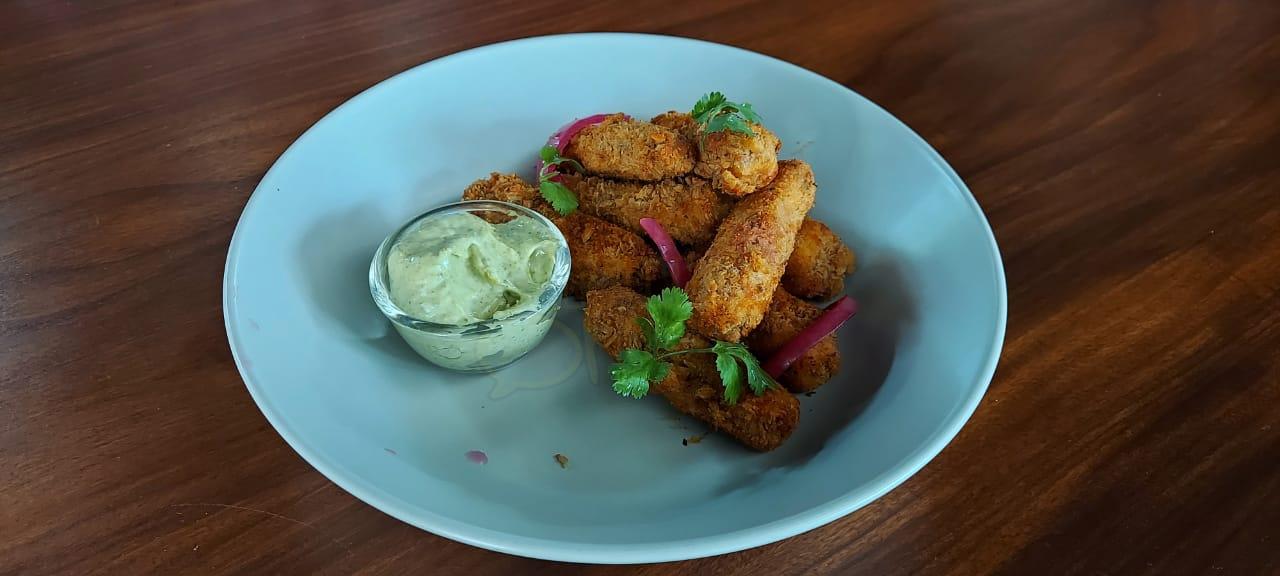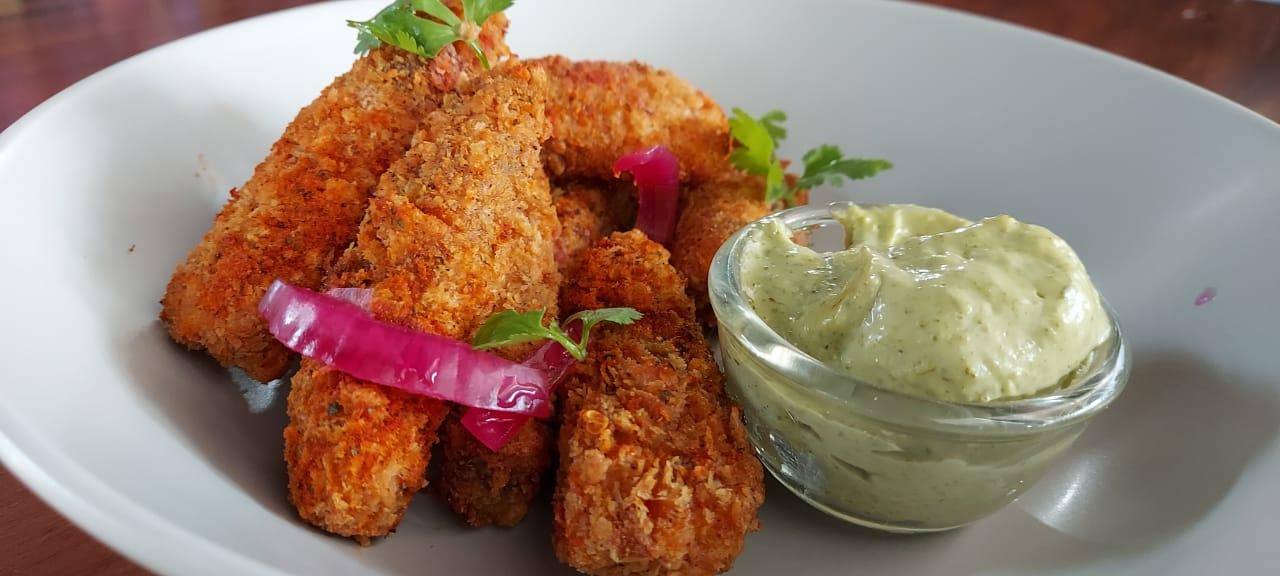 Madras Masala Fries was a bit too 'Madras-ish' for me. It was bordering on a Urulai kizhangu poriyal kinda taste, and personally I would have liked the plain or the peri peri variant of this one. The sauteed onions and veggies were a bit too salty though the potatoes balanced it. I wasn't quite impressed with this one.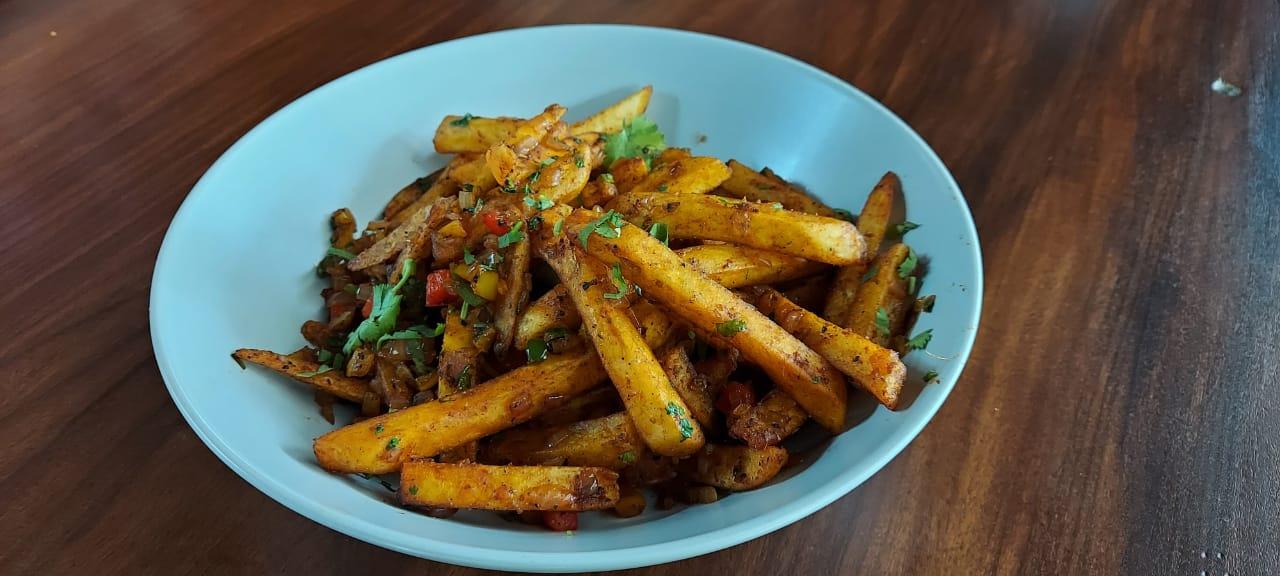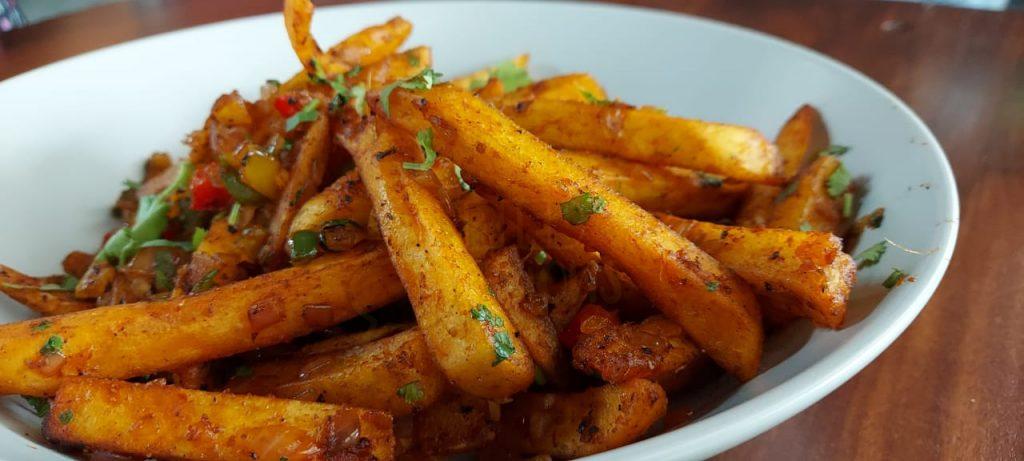 Chilli Chicken was good, but I was confused whether it was coriander seeds or Sichuan peppercorns in it. Probably it was the latter, as I could taste it almost in every mouthful. It was different, in a nice way of course.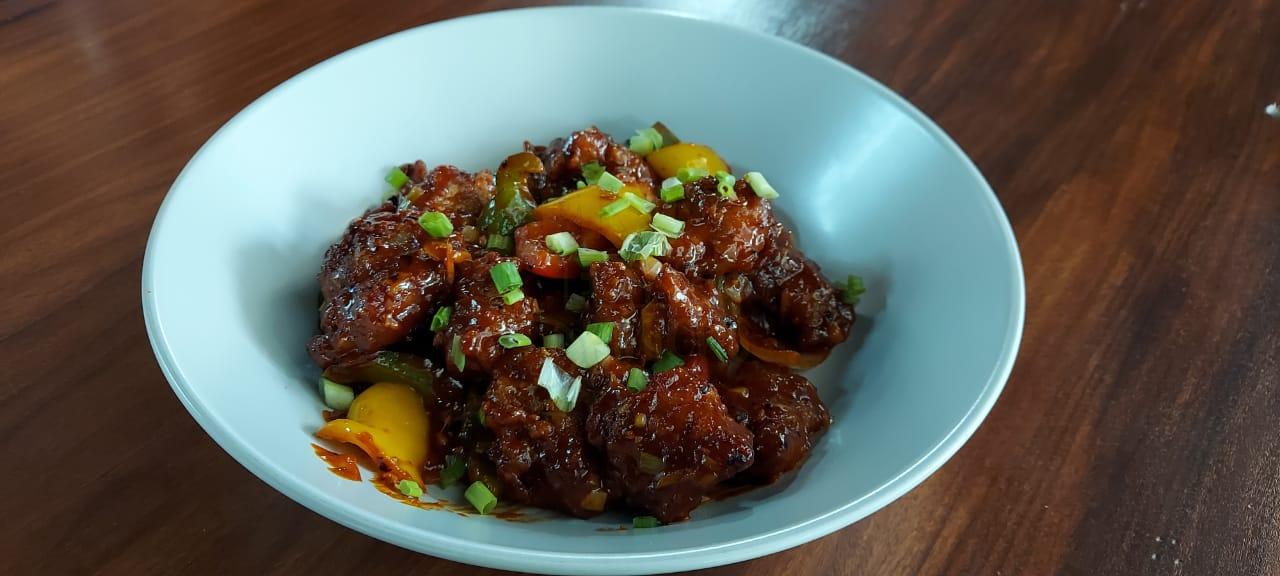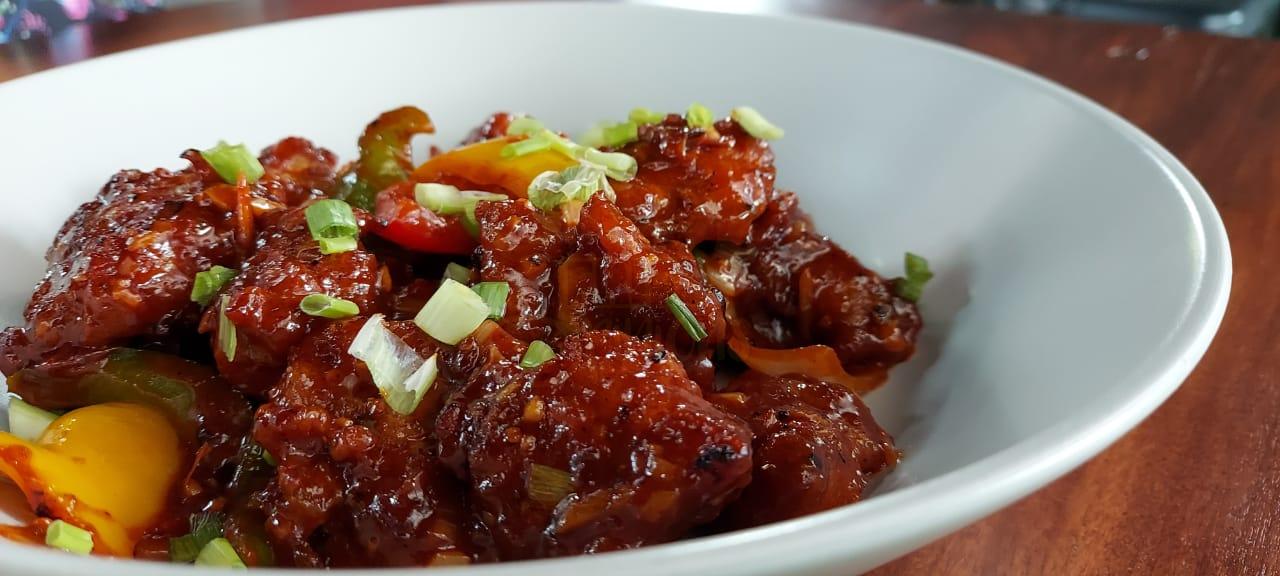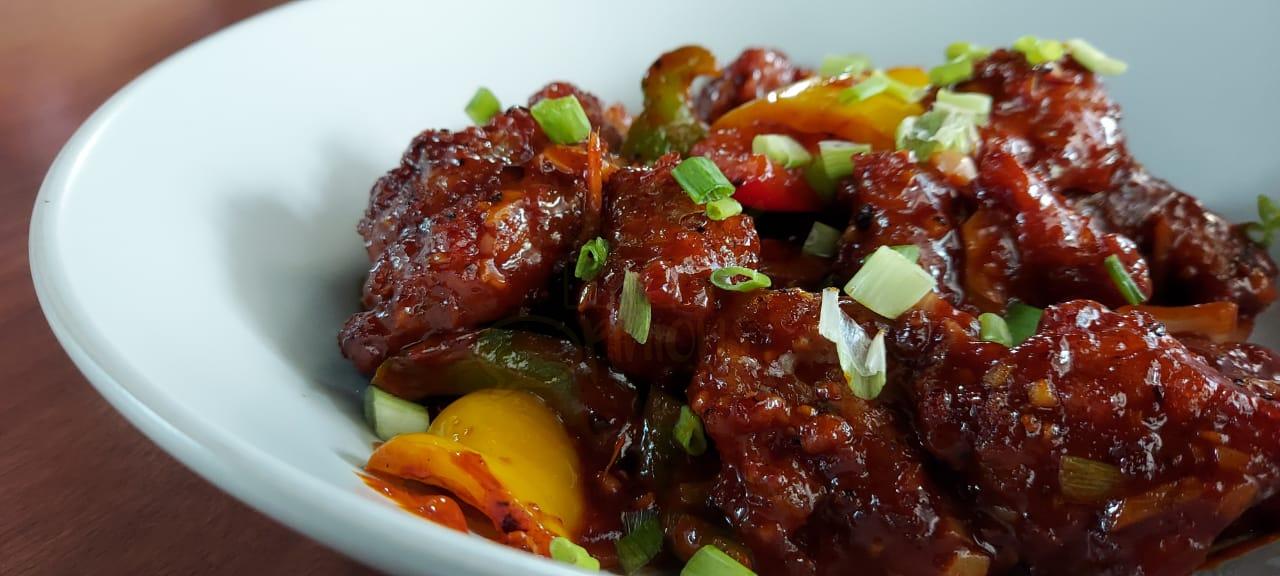 We had to follow up more than once with the waiter for the Caramel Thickshake which hadn't come yet. Finally after a couple of follow-ups, we got it. It was brilliant! Kids loved it.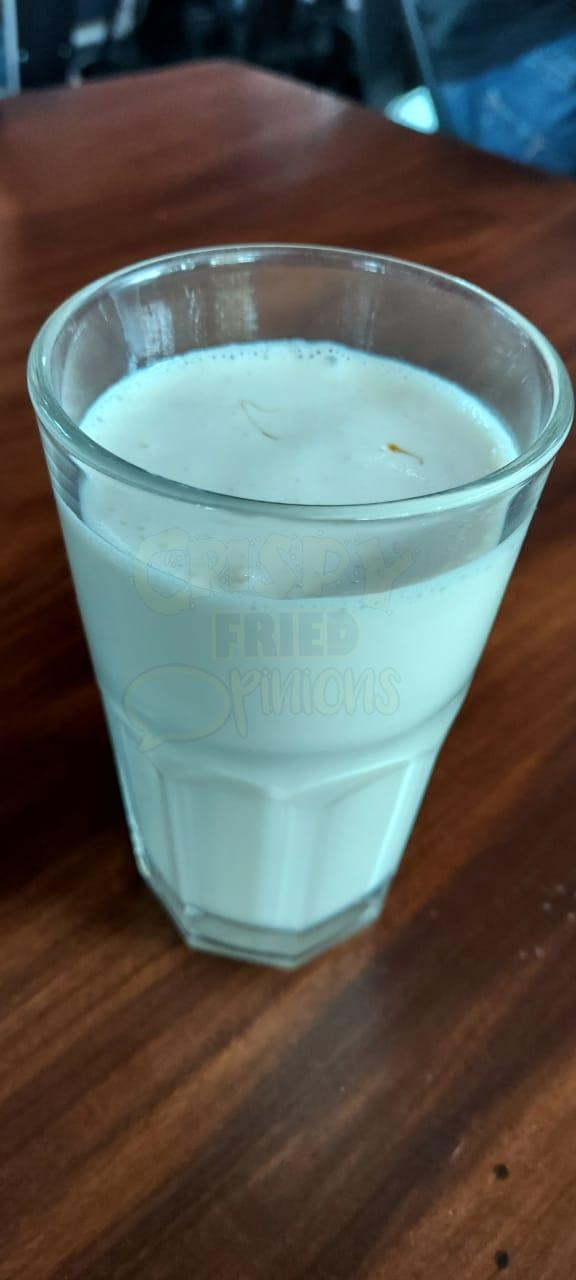 We decided to try a couple of Sandwiches, ordered Toasted Chicken Katsu which was crumb-fried Japanese-style Chicken cutlet with sweet and spicy sauce and white bread. Also ordered a Grilled Chicken Sandwich which was Fresh Basil Pesto, Grilled Chicken and Onions in sourdough bread.
Chicken Katsu sandwich was pretty good, but not wow. The white bread wasn't too appealing with the chicken katsu, and I somehow felt the match wasn't too apt. Could be just a personal taste preference. The fries served along with it was crisp and good.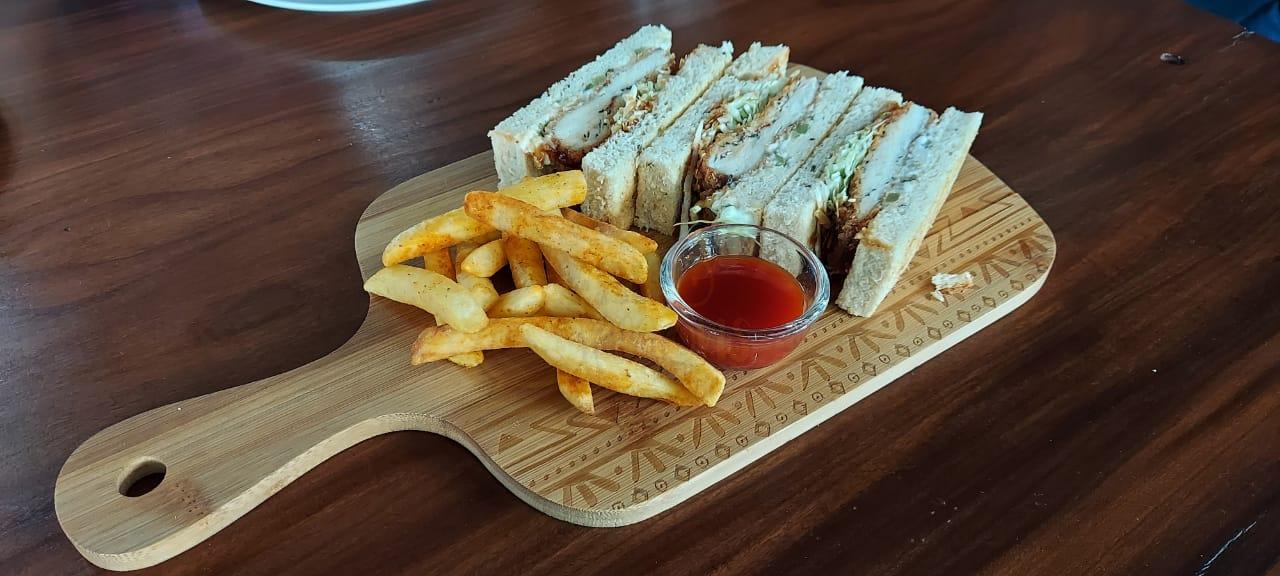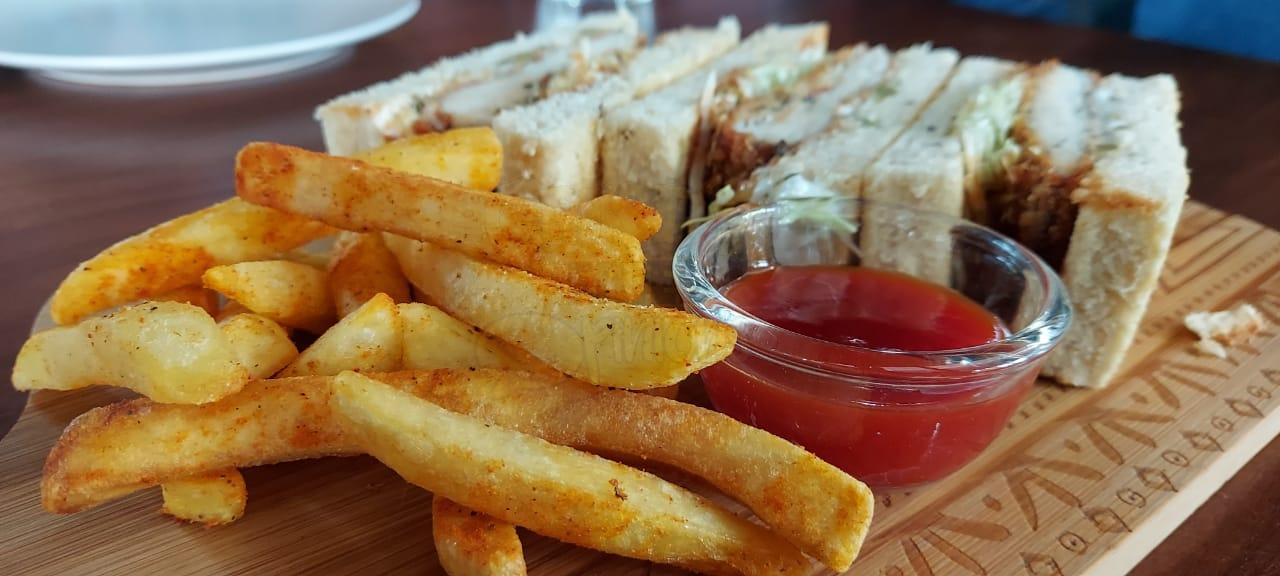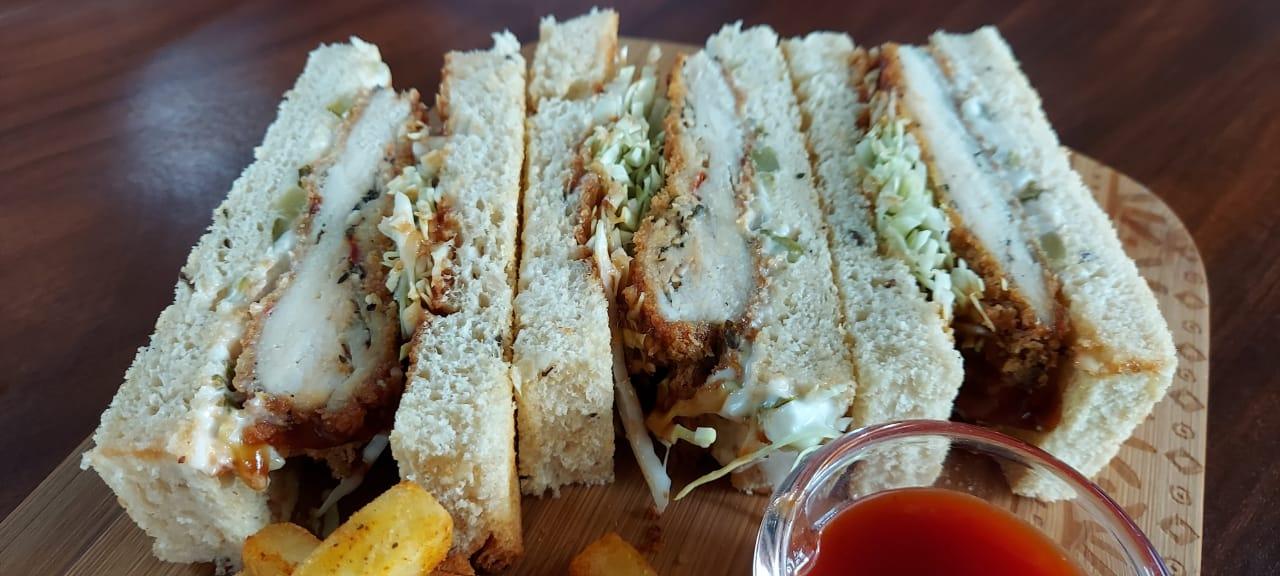 Grilled Chicken Sandwich was super yummy, cheesy and soft chicken along with pesto and onions in a well toasted sourdough bread, loved it. Perhaps the best dish of the evening, or second best after Paneer Fingers, so far.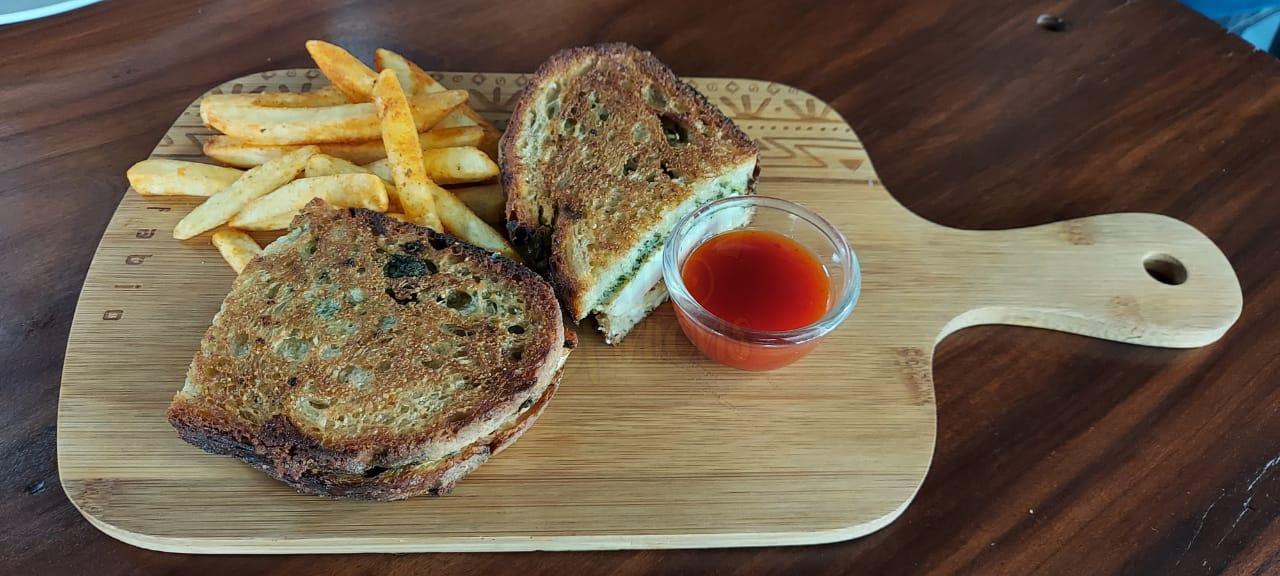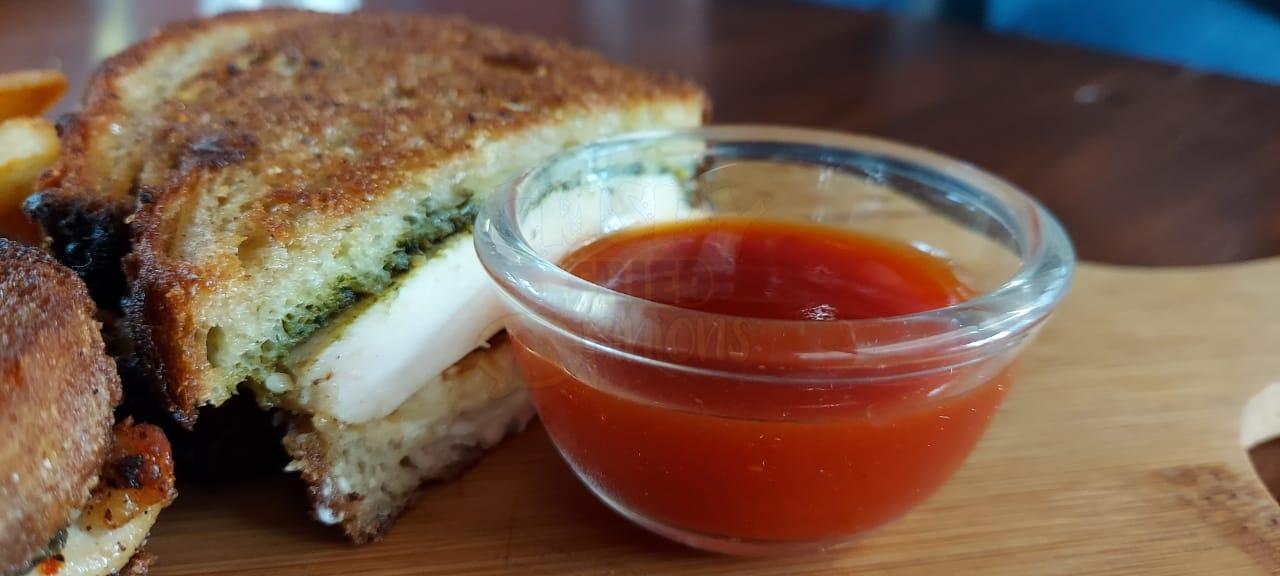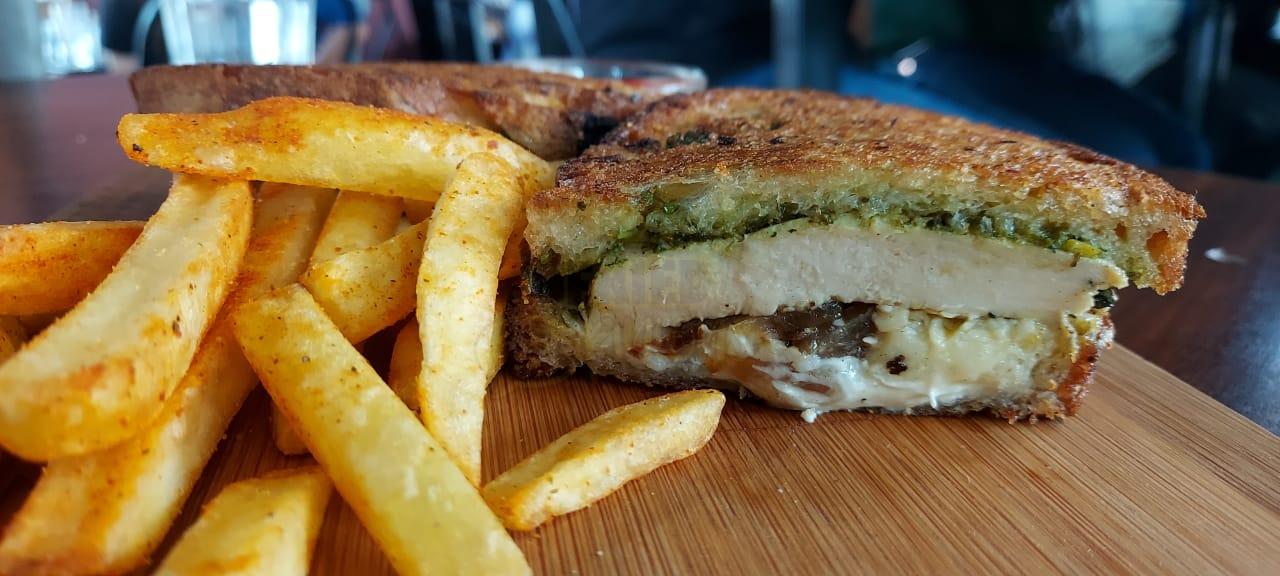 Decided to end with a dessert. Ordered Churros, which was the talk of the town. It certainly lived up to the expectations! Superb, and loved the subtle flavor of cinnamon in a perfectly crispy and soft churros. The salted caramel sauce and Belgian Dark chocolate sauce was brilliant as accompaniments with the churros. This is a must-try and I am marking this as one of the best dishes I've eaten so far in 2021, similar to the list I've compiled for 2019 and 2020.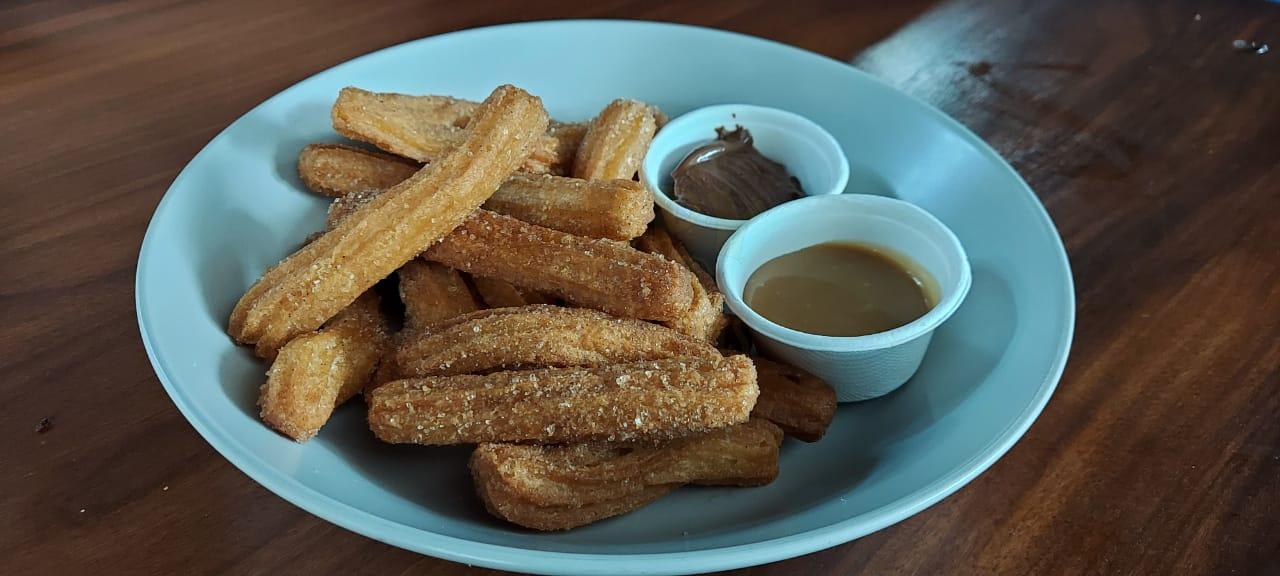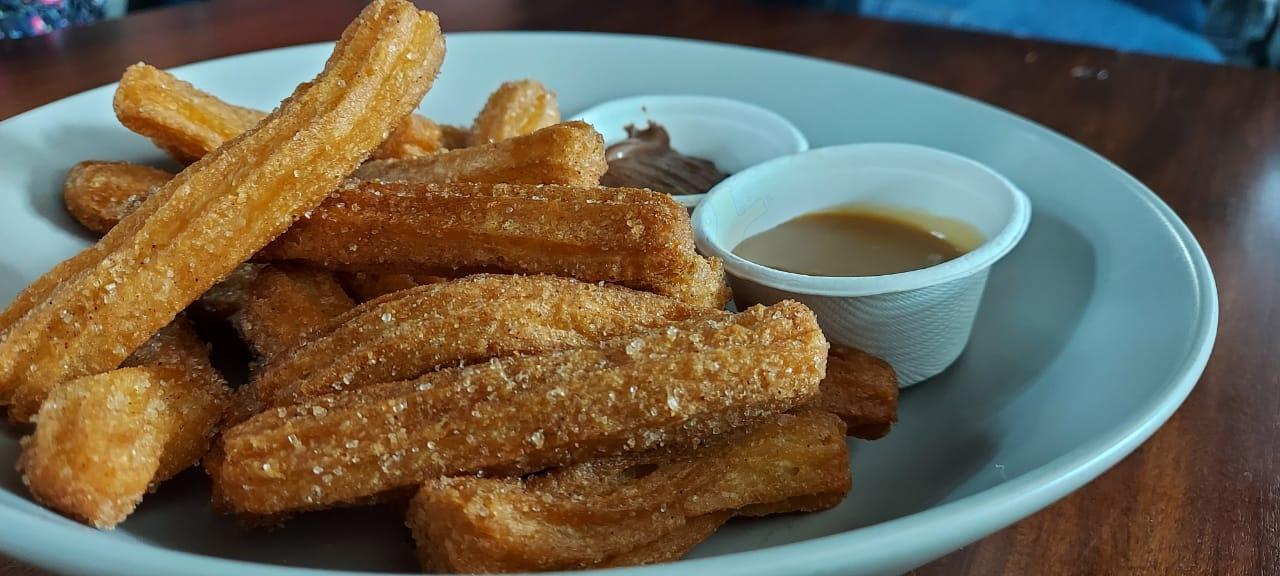 Coming to the service, have to say it wasn't one of the best. Initial delays were okay, quite bearable and understandable. As time progressed, it became increasingly difficult to get an eye contact with the waiter and I had to connect with three different waiters during the course of the meal. Follow-up wasn't easy either, like what we had to do for the Caramel Thickshake. To add to this, the owners decided to take a roll call, or perhaps give all the staff what looked like a public dressing-down for over 10-15 minutes, while at this time, there was hardly one waiter to serve all the customers. At least I struggled to connect with someone to place an order. I think this is something they should have done in private, or at least when the place wasn't super busy, like today!
The place is pricey, and we paid a little less than 2.4K in all, and for this kind of a price point, I'd expect a less-chaotic and a more coordinated and warm service. Food, without a doubt is good, and I'd gladly come back for the Paneer Fingers, Grilled Pesto Chicken Sandwich and Churros! Hopefully, the next time their service is good too!
If you liked what you just read, feel free to share and/or comment on this post. 🙂