Al Souk, one of the recent entrants into the Chennai food scene. The name literally translates to 'The Market' and I was waiting for an opportunity to visit this place, and finally made it.
We entered around 8PM and the place was totally empty! The layout of the restaurant wasn't very impressive. There was one long line of tables next to each other. The interiors were decent, and made to reflect Middle-Eastern theme with a soft Arabian music in the background. We chose one of the brightly lit tables so I could click some decent pictures.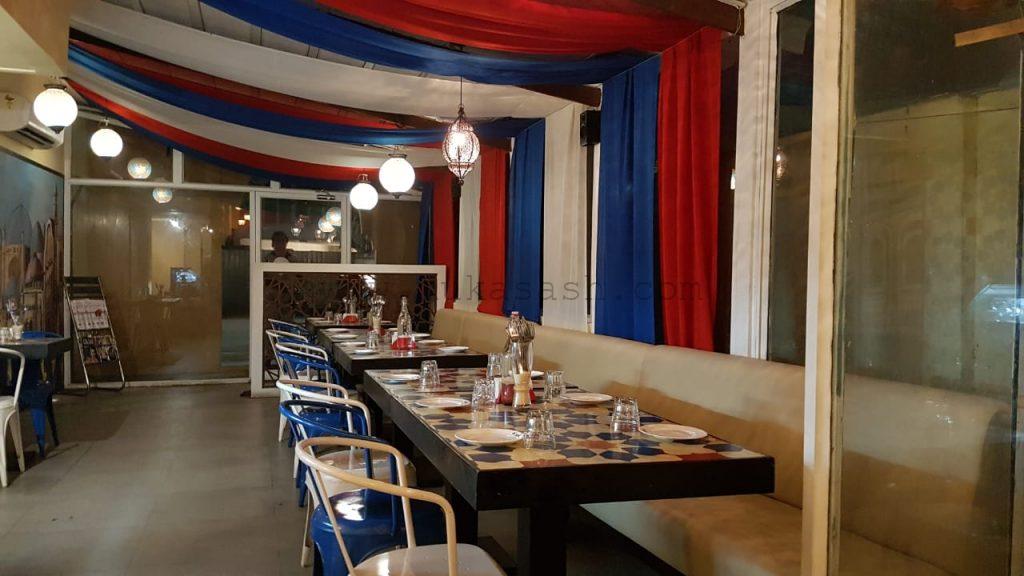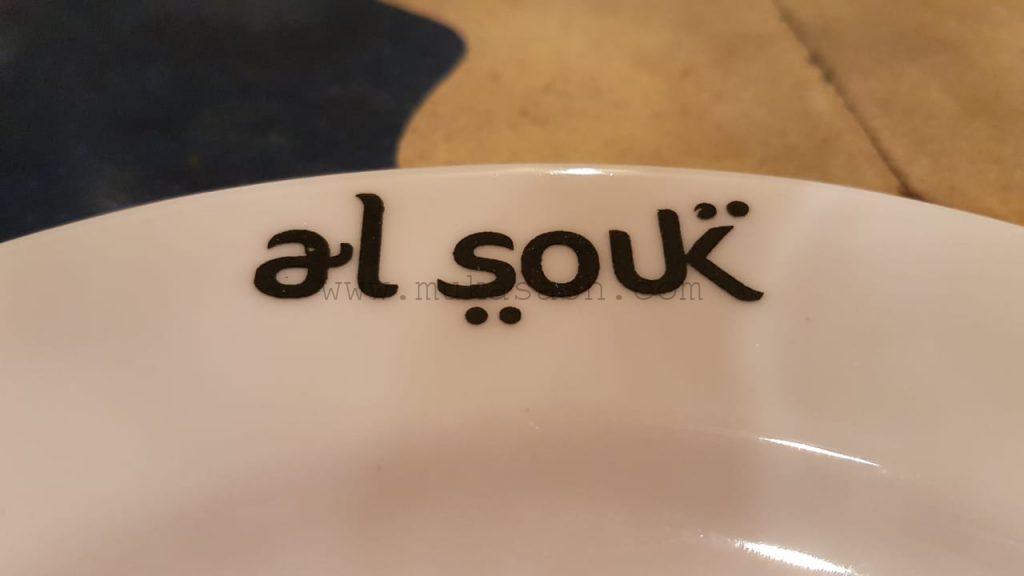 Their menu was quite elaborate and I had already checked their online menu to be sure they had some vegetarian and seafood too. One of us had limitations to eating meat, vegetarian and seafood was okay. For the rest of us, vegetarian and chicken was okay. So we decided to order accordingly.
We started with a Ezogelin Shorbasi, a Lebanese mint flavored tangy lentil soup served one by two, and a Moroccan Chunkey chicken shorba served two by three. The soups were served in nice bowls that looked like earthenware. The veg soup was tasty, but the chicken shorba was just hot water and some onion, veggies and chicken. It just didn't feel like a soup. A dash of lime, little salt and pepper, nothing made it any better. I told the waiter about it and he tried to justify that it is meant to be a thin soup. I understand what thin is and what tasteless is!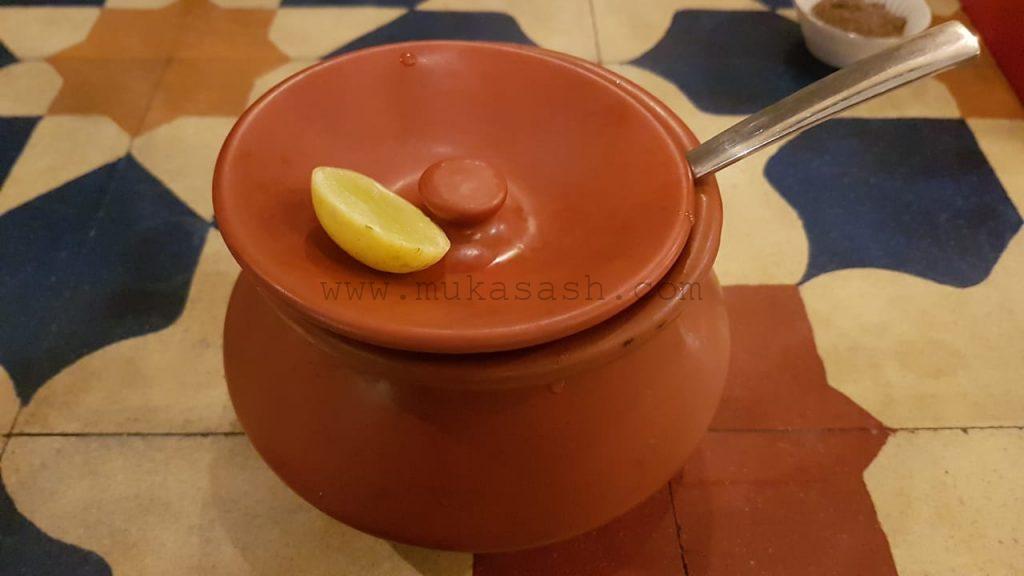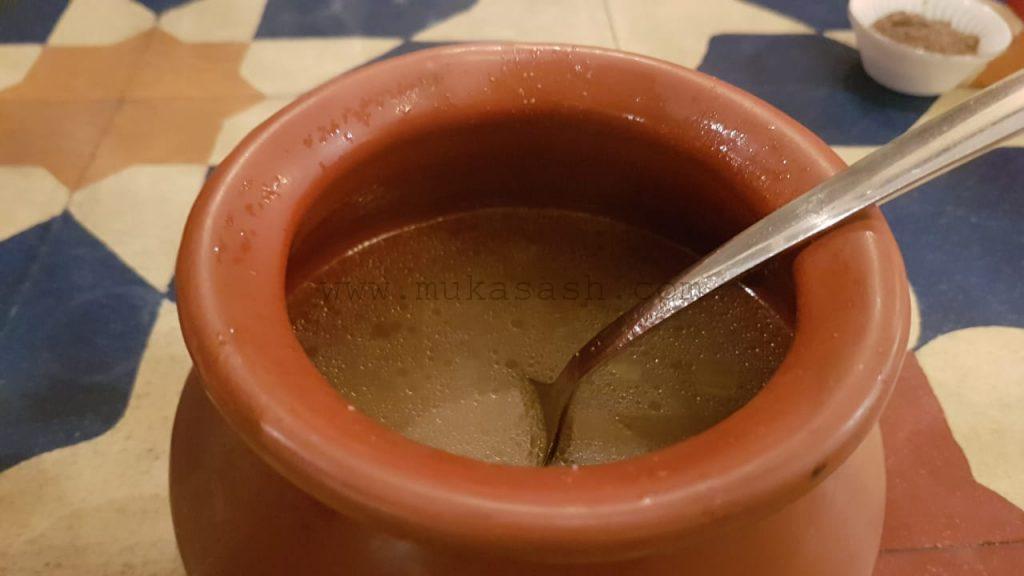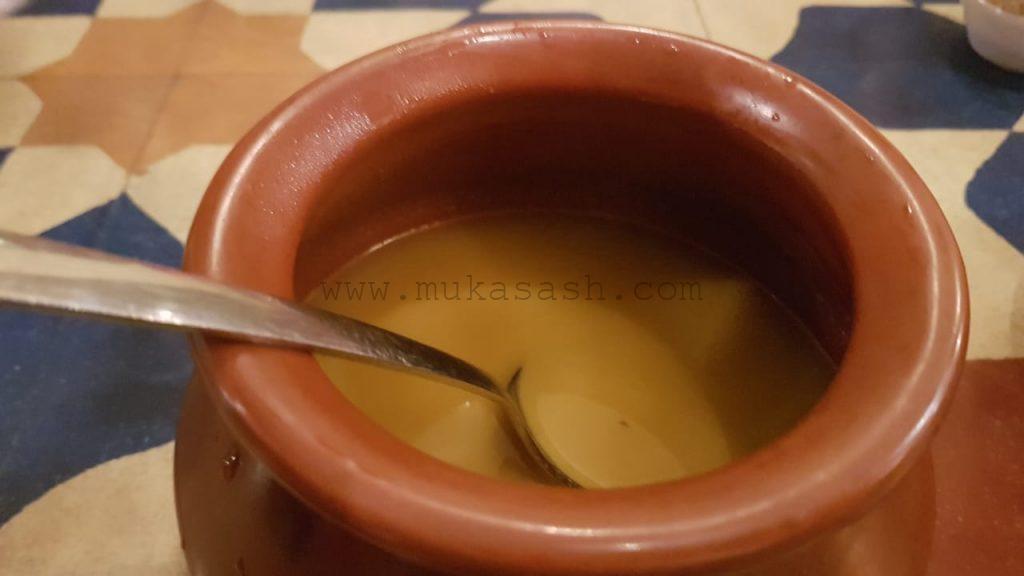 Meanwhile we ordered a Hummus Beiruiti and Muhammara from the cold mezze section. They were two entirely different dips to be eaten with Pita bread, served alongside them. Loved the flavors, hummus was fresh and tasty, and so was Muhammara, made out of roasted bell pepper and nuts.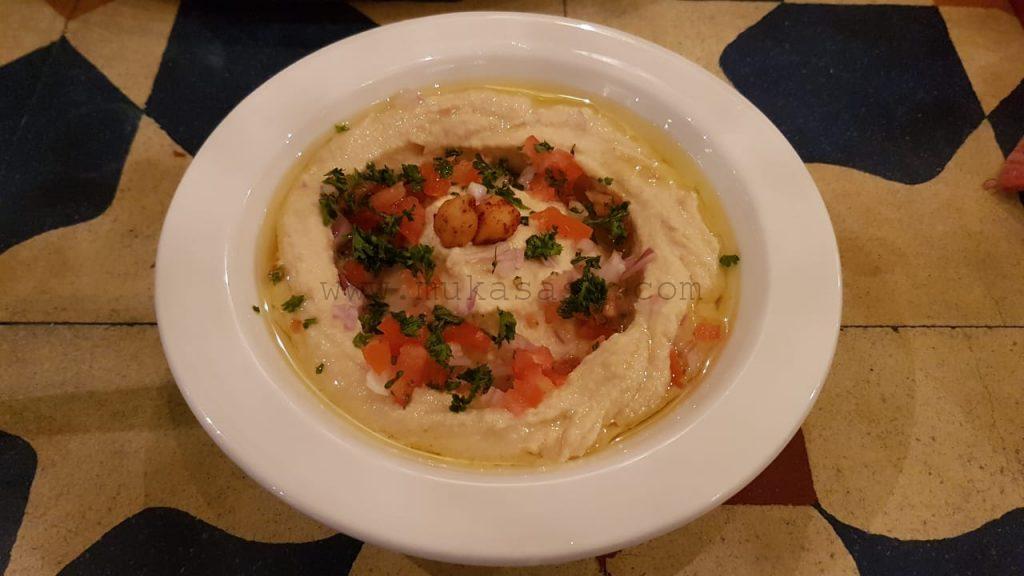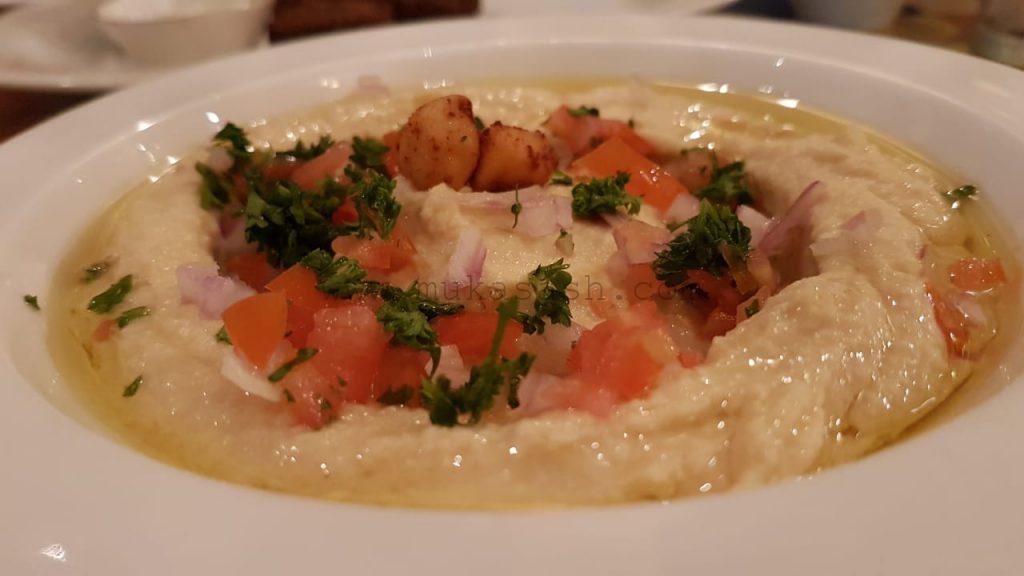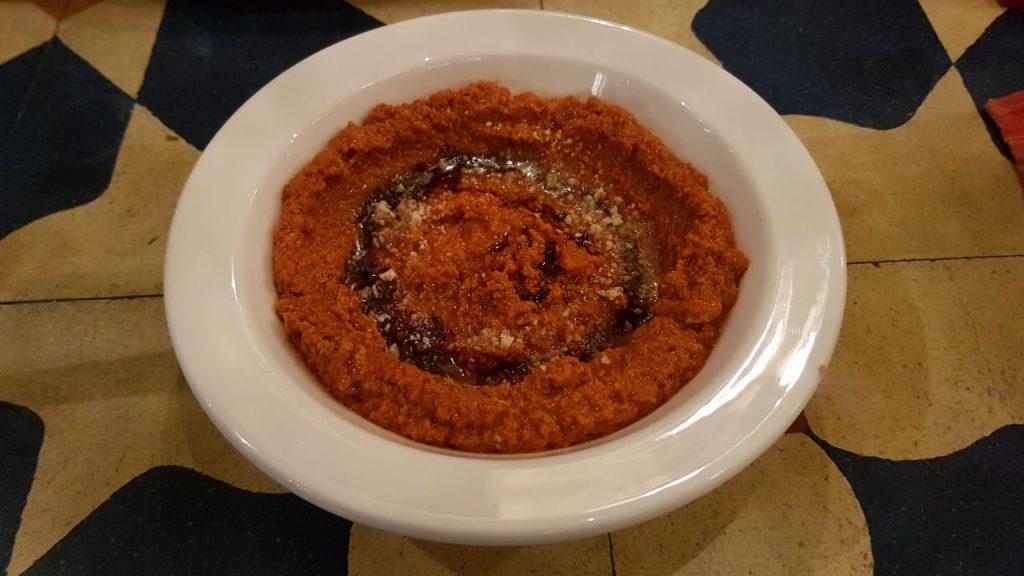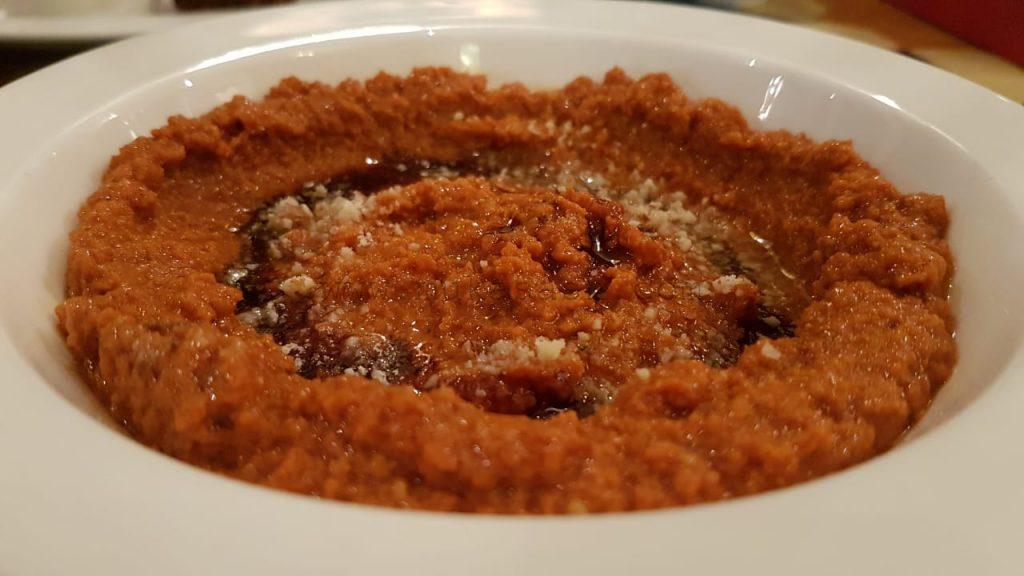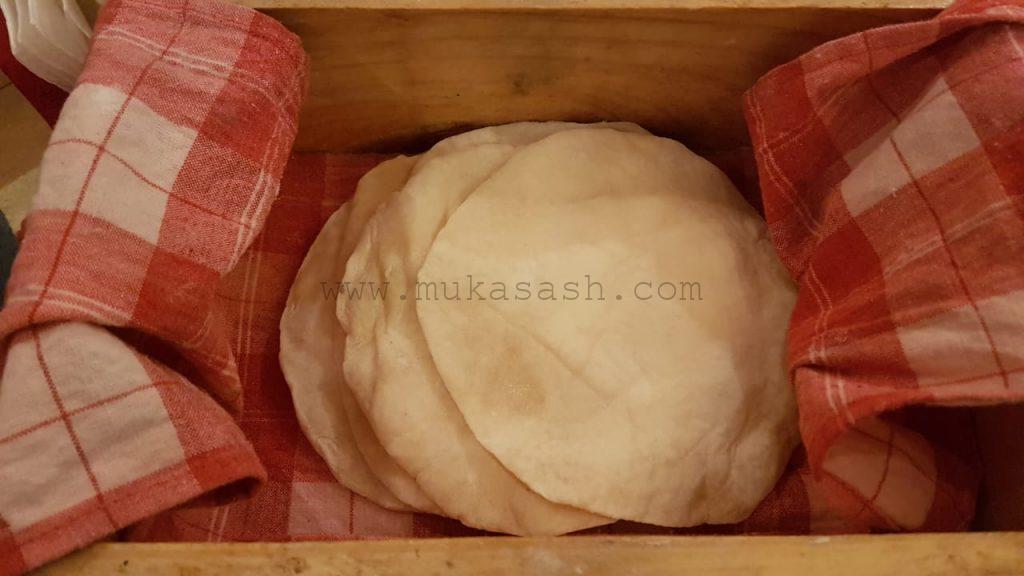 From the Hot Mezze, we ordered Falaffel and Dajaj Sambusak, Spanakos Pita wasn't available. Falaffel was okay, a tad dry I felt. Dajaj Sambusak was a spiced Chicken Pastry, it was good.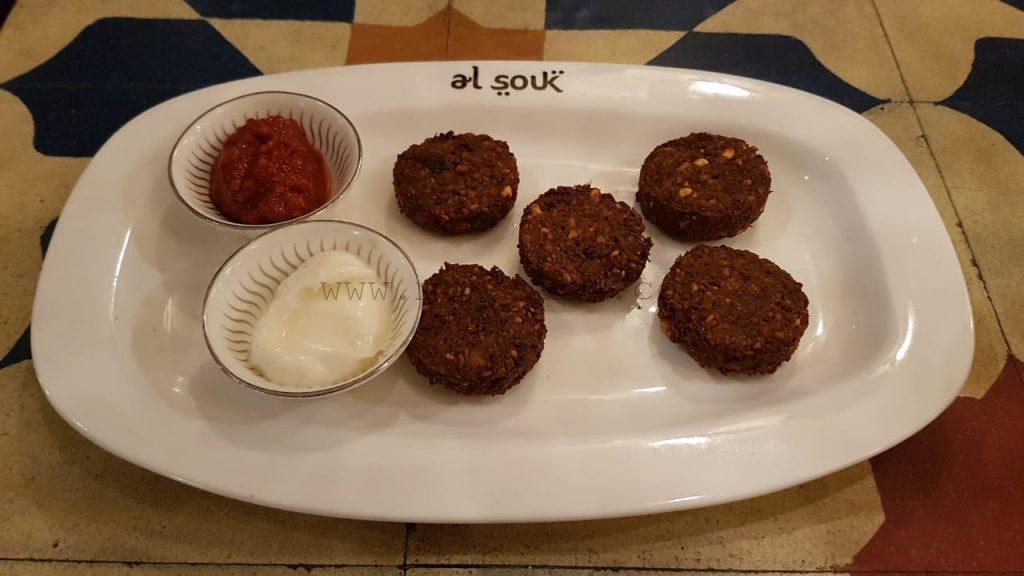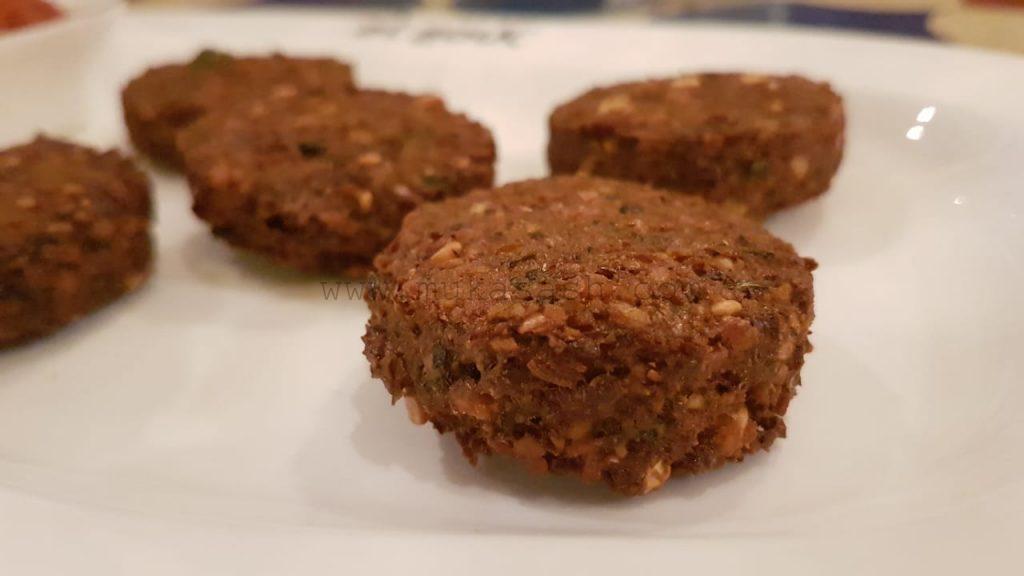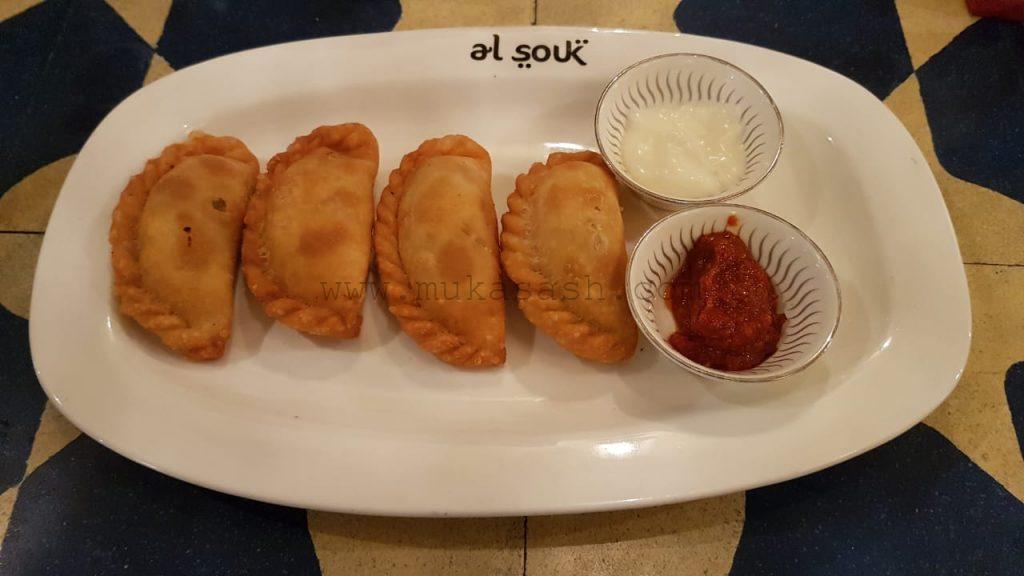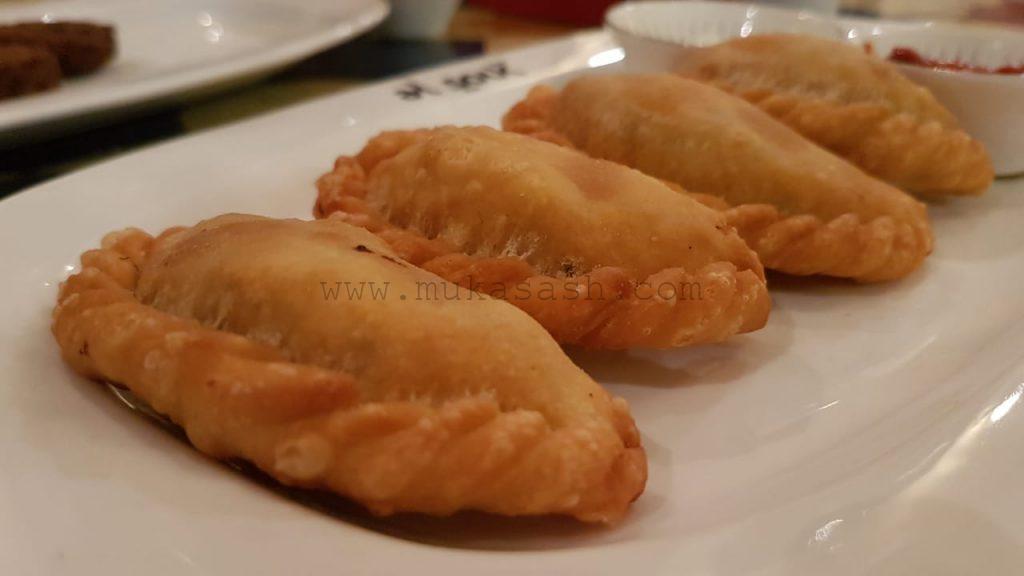 From the breads section, we ordered Manakeesh bi Zaatar and Turkish Pide bread. The flavor of Zaatar was awesome, basically the spice mixture on the bread along with mayonnaise was wonderful! Turkish Pide bread was okay, soft, but chewy. We ordered one more of the Zaatar spiced bread. By this time, it was like an overdose of pita as we pretty much ate everything with it.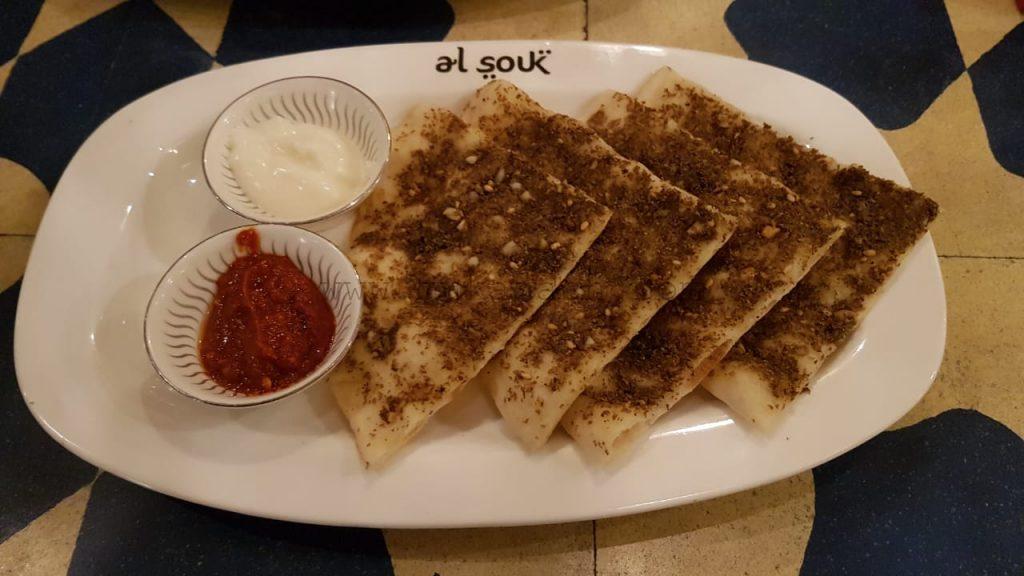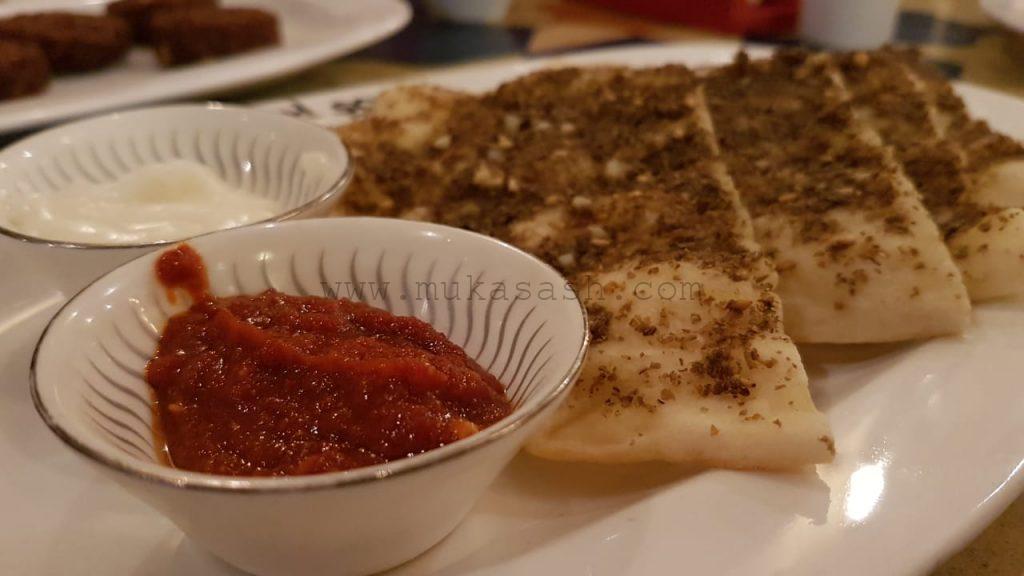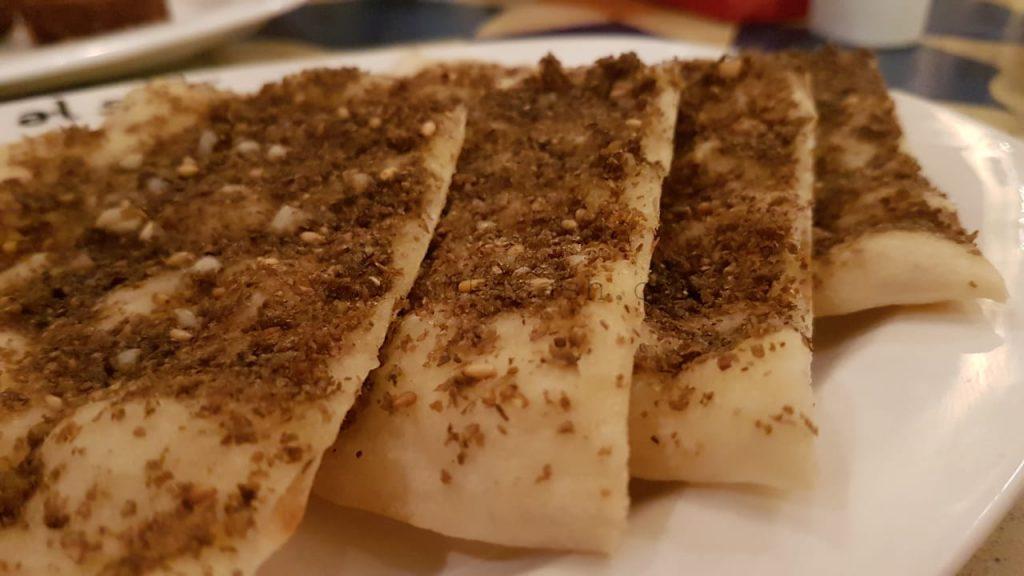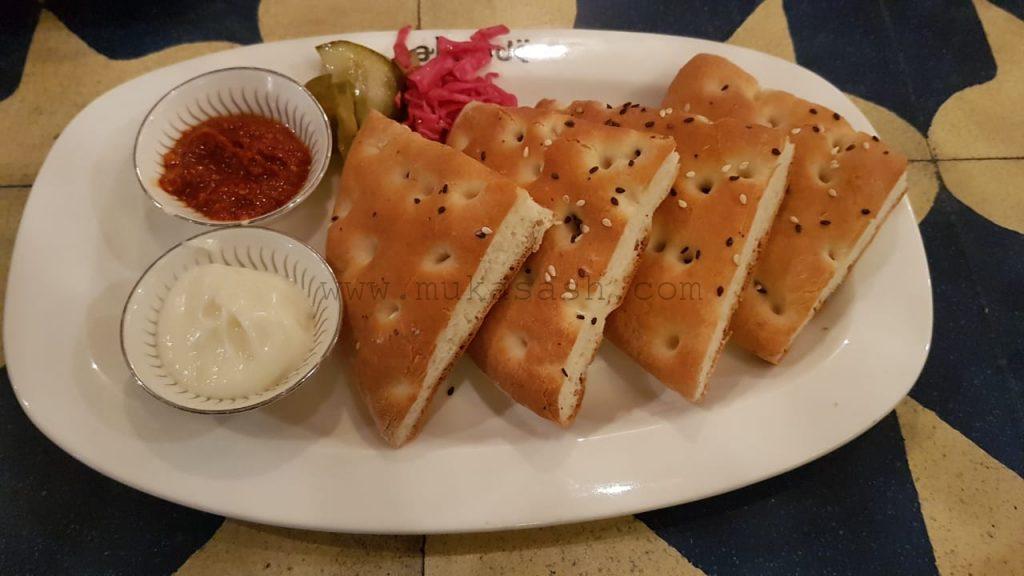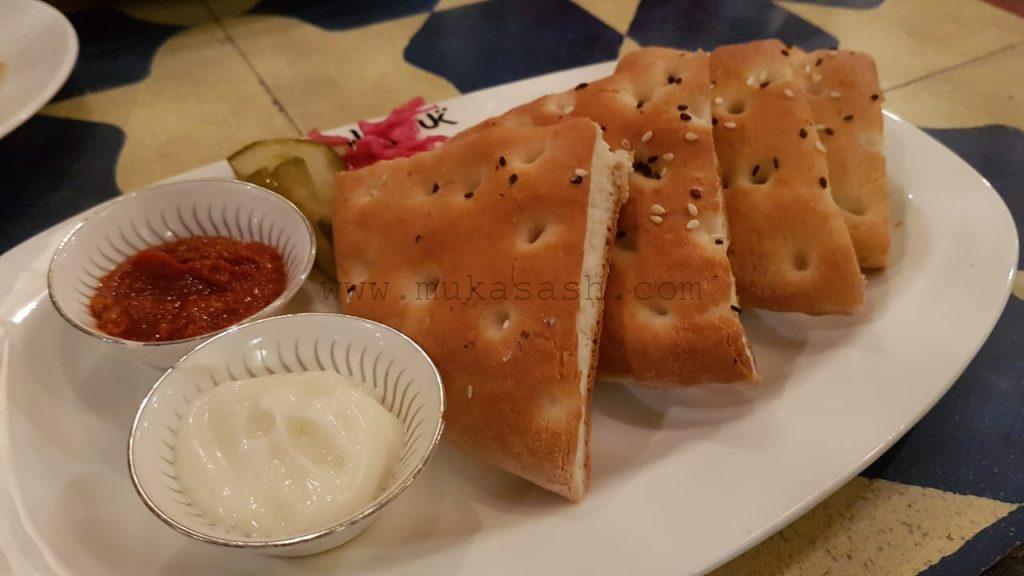 Ordered a Fresh Lime Soda and a Roohafza Lime Soda, both were pretty good.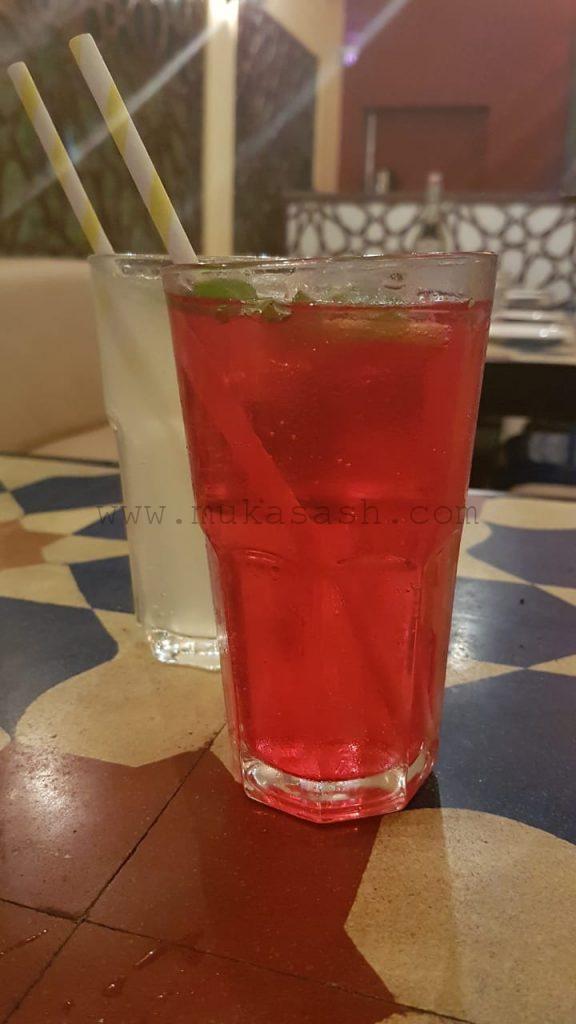 Meanwhile I couldn't hold back, called the waiter and asked them to check what was wrong with the chicken shorba, it was really pathetic. He took it back, and came back with a portion of another soup and said they changed the recipe. This had an overdose of pepper, but there was some taste to it, unlike the last time. By the way, this was only for my portion, kids just sipped on theirs and left quite a bit of it.
From the Shawarma and Doner section, we chose Chicken Doner. It wasn't the best doner I have eaten. The sauce/dip was overpowering and I could hardly get the flavor of the meat in it. Probably shawarma in a plate would have been a better choice.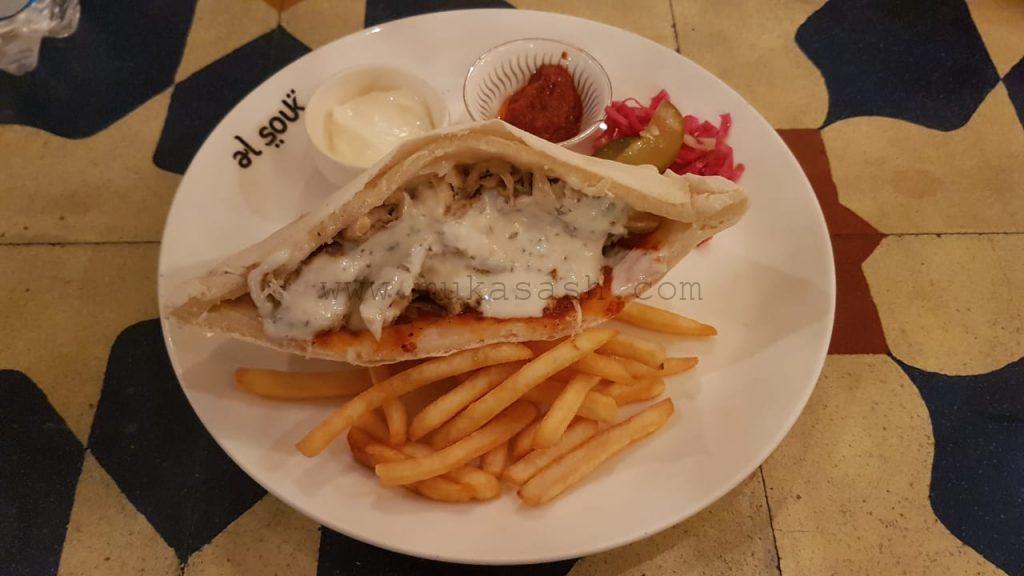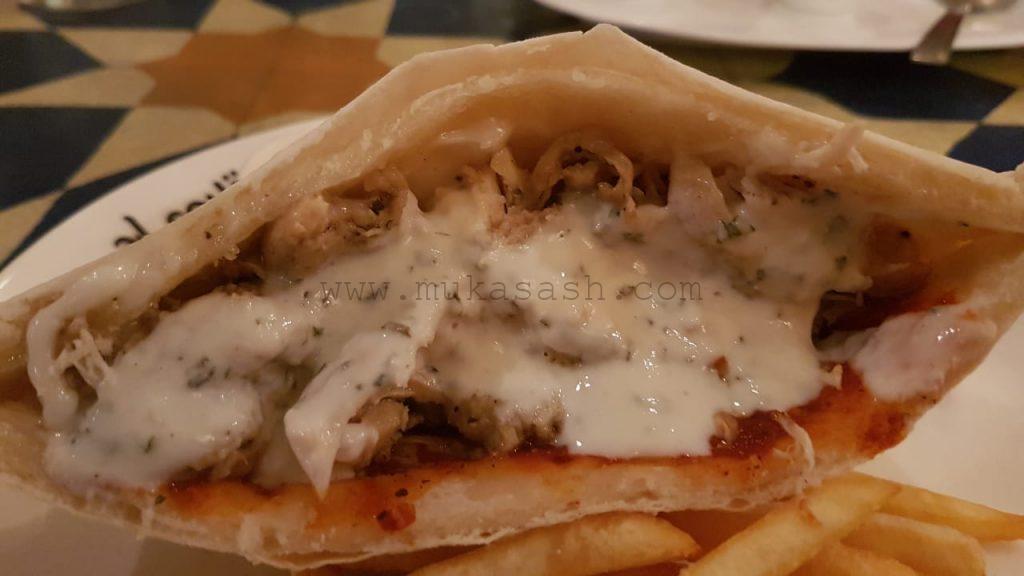 After sieving through the menu for veg options, we decided to order Batata Hara, which was Moroccan Spiced Potato. The other veg options were variants of falaffel which we had already eaten. Again, this was served with Pita. It was okay, nothing very special.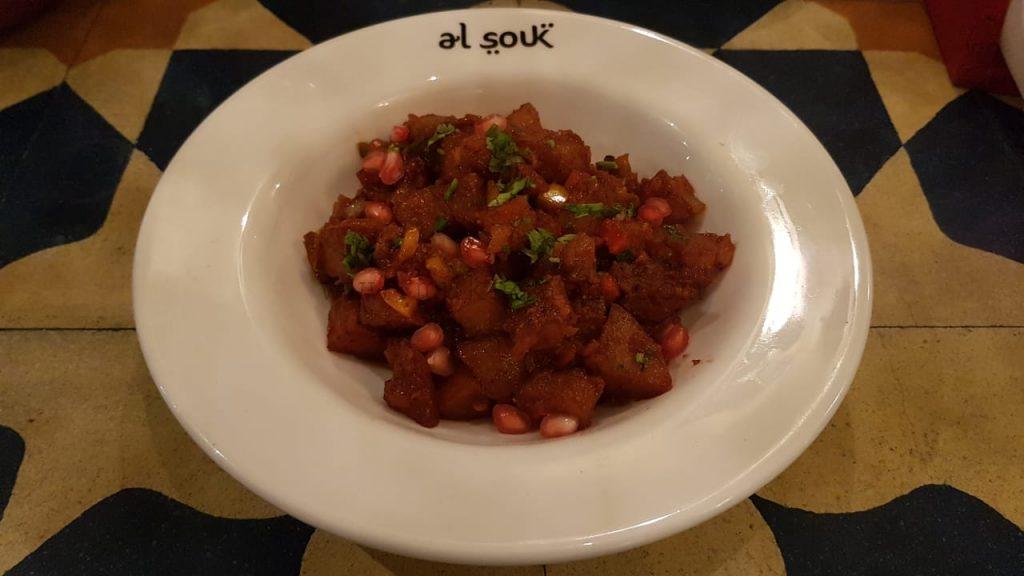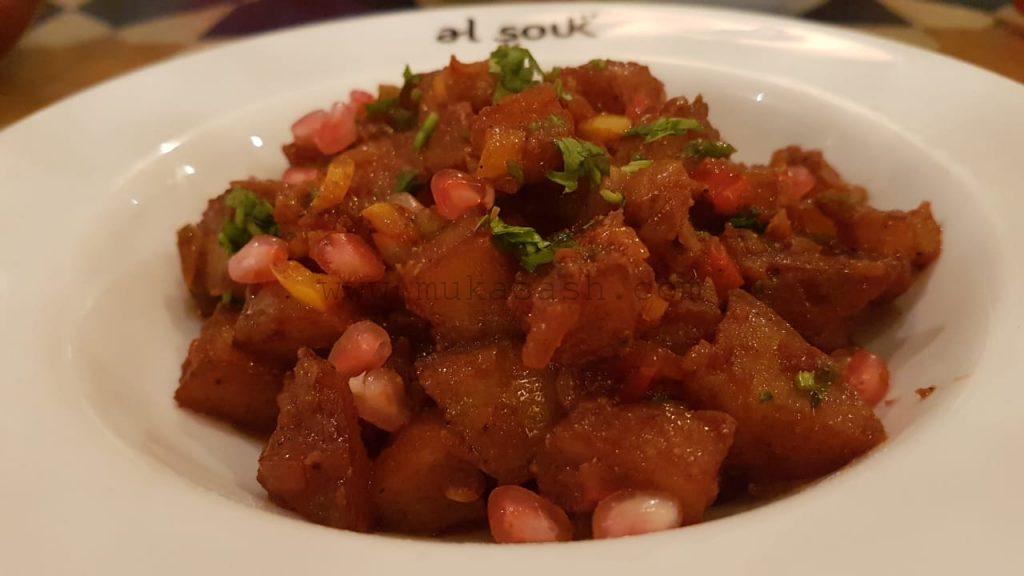 As we were going to order seafood, a disappointment awaited us! Rubiyan wasn't available, Out of the few seafood options, non-availability of some of them was a bigger challenge! Settled for Samak Mashwi, basically a middle-eastern spiced fish kebab. We were told that they had Tuna and the price was 499+taxes and not 300 as mentioned in the menu. The presentation blew us away ! A huge fish, surrounded by fries, veggies, dips and rice. Sadly, have to mention that the smell of fish was overpowering! This is purely a personal choice and I am not even complaining about this dish! We decided to pack this.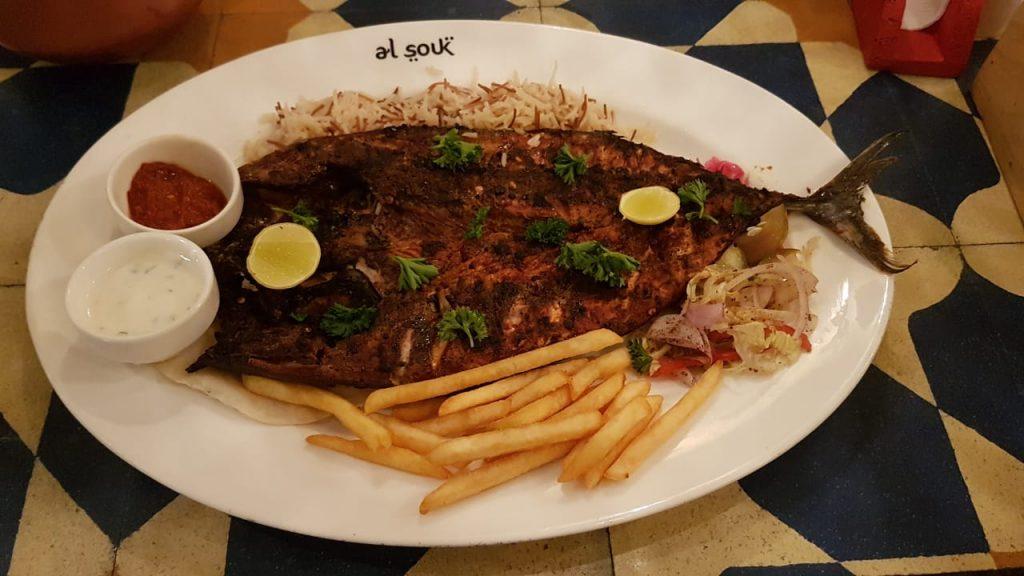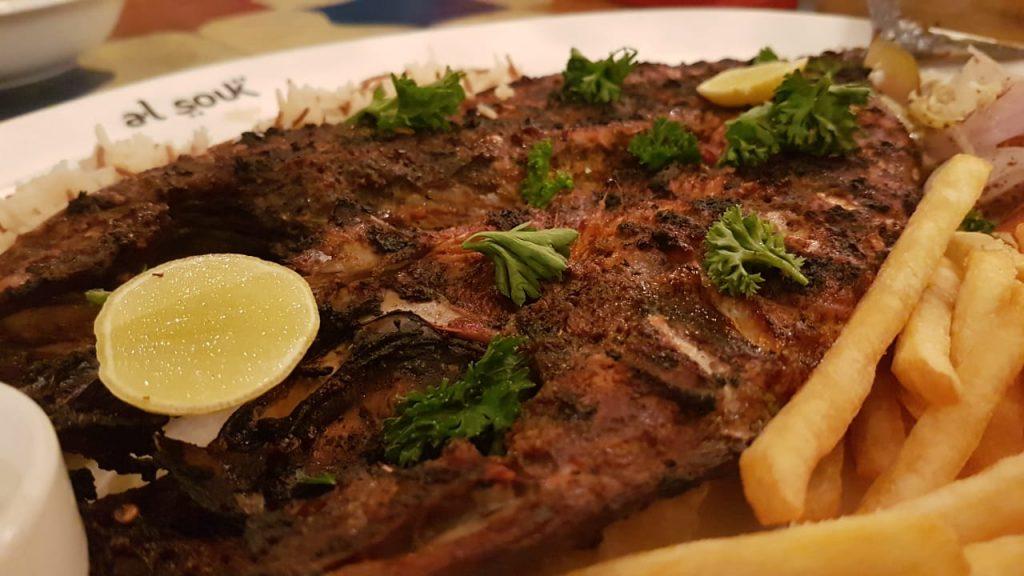 Finally, desserts! Baklava was not available, thankfully Kunafa was! We were told it would take twenty minutes to serve this as it was going to be freshly baked. I was okay with that as I didn't want to miss it, and I should say, the wait was well worth it. Tasted yummy with the sugar syrup.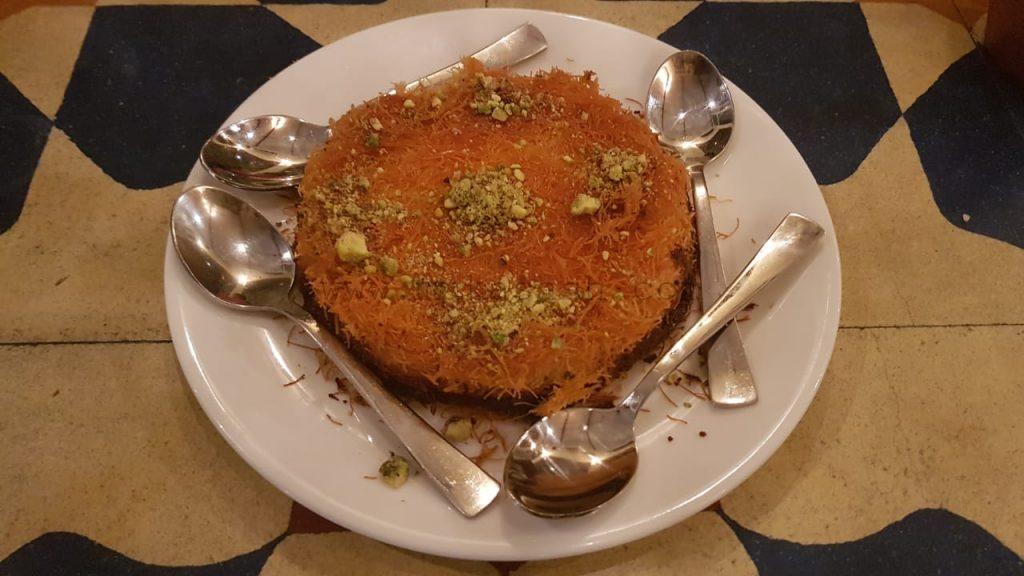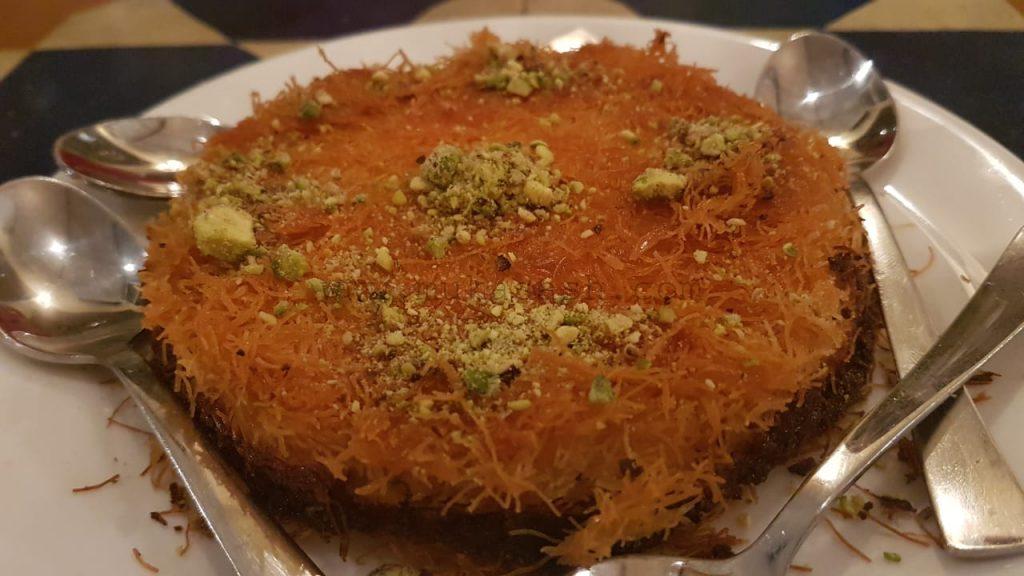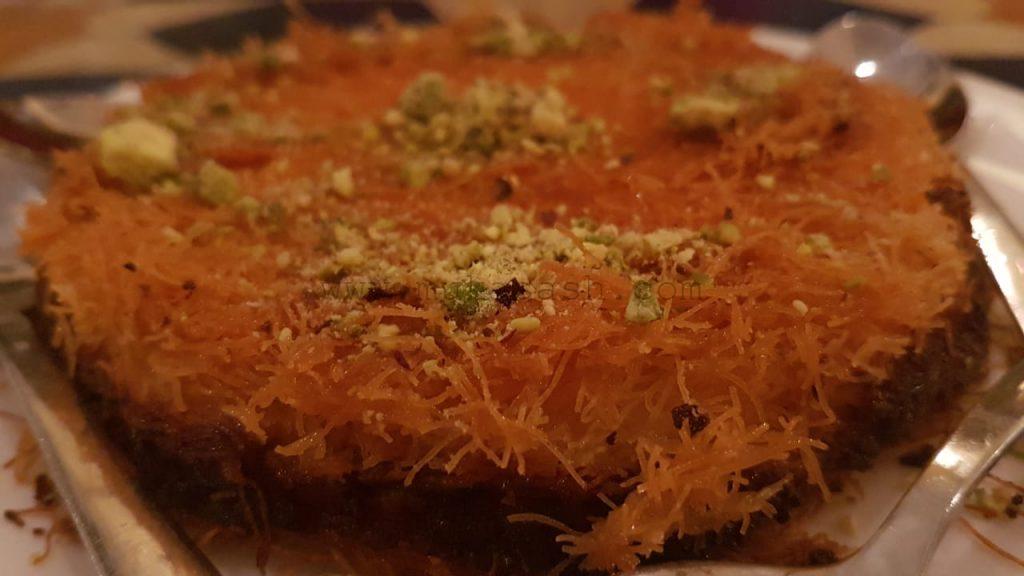 I expected they would have Turkish Coffee, but they didn't. Ordered a Sulaimani Tea and it was served in a cup that got hot real quick. It was a struggle to hold and drink from it. It tasted good though!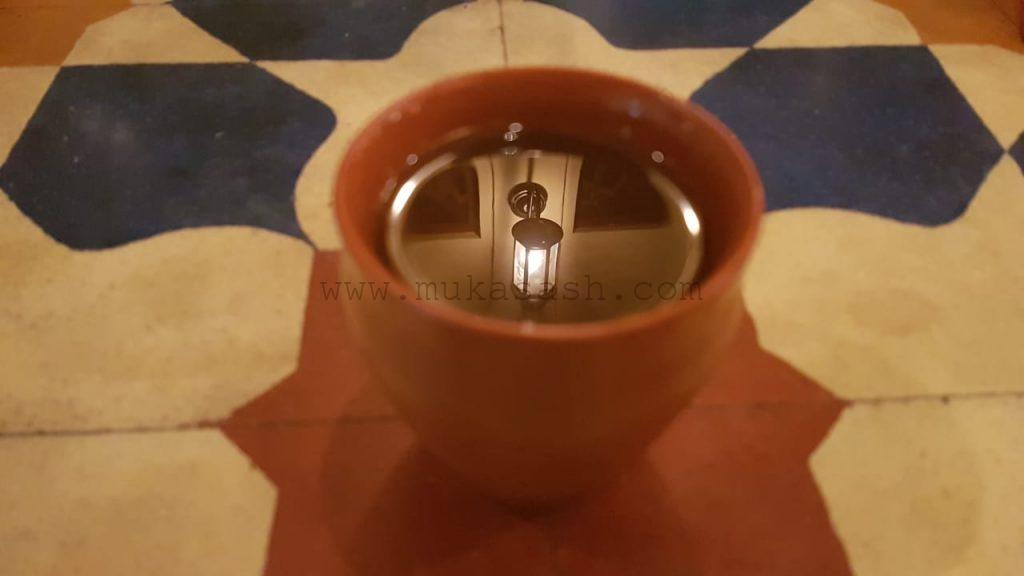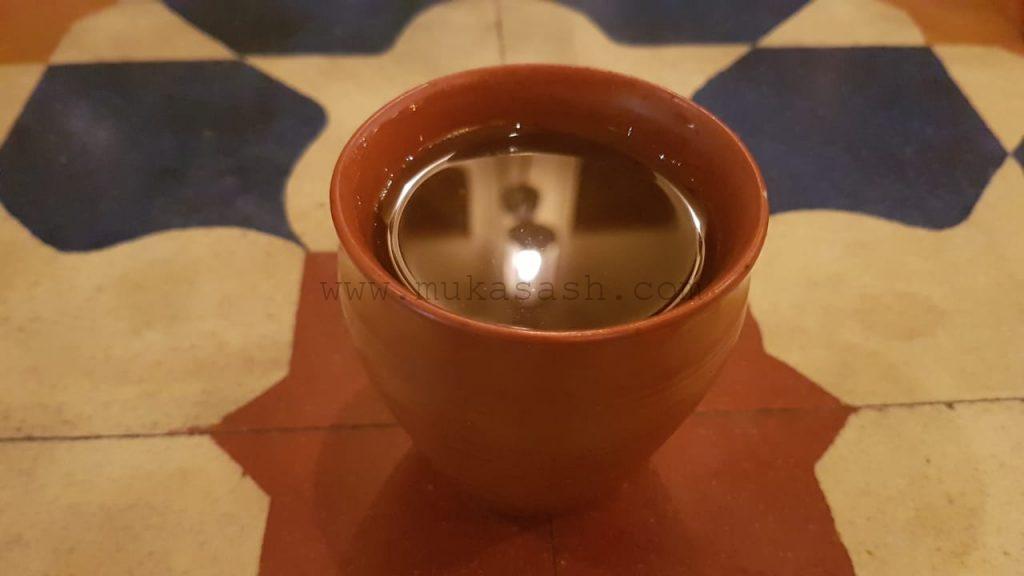 That's pretty much how our dining experience unfolded. Overall, I would say this was just an above-average experience. There were certain dishes which were very good, but many disappointments too. In spite of serving a pathetic soup and after pointing it out, they made no effort to ignore it in the bill. 350 bucks for 2 portions of chicken shorba was a waste.
Service left a lot to be desired. Almost throughout he dinner, the plates weren't cleaned from the table. They did it only after we asked them to. Paid a little more than 3K for the dinner, and for that kind of price point, you expect better and courteous service.
While we were finishing dinner, there was a big family seated next to us and we got to know they were related to the owner of the place. In fact, one lady asked me for feedback and suggestions to improve. Didn't want to embarrass her in front of her family, so didn't tell her anything much. Anyway penning all that she needs to know, here!
The average cost mentioned as '600 for 2' in Zomato is grossly misleading, it should be in the 1000-1200 range.