While I've been to Tuscana Pizzeria in Nungambakkam a few times, little did I know that there's another restaurant by name Toscano, also in the vicinity, that serves Italian cuisine. Toscano is a Bangalore-based restaurant and has expanded its footprint, now to Chennai too. Since I hadn't visited their Bangalore restaurant, understandably I was unaware of it. It was one of those evenings where we hadn't made up our mind on where to dine, we decided to step into Toscano looking at the colorful decorations for Christmas.
The safety protocols seemed to be in place – Temperature checks, face masks, distancing, et all. The interiors were nice and vibrant. It was quite colorful because of the Christmas decorations. We got a nice comfortable table in a corner.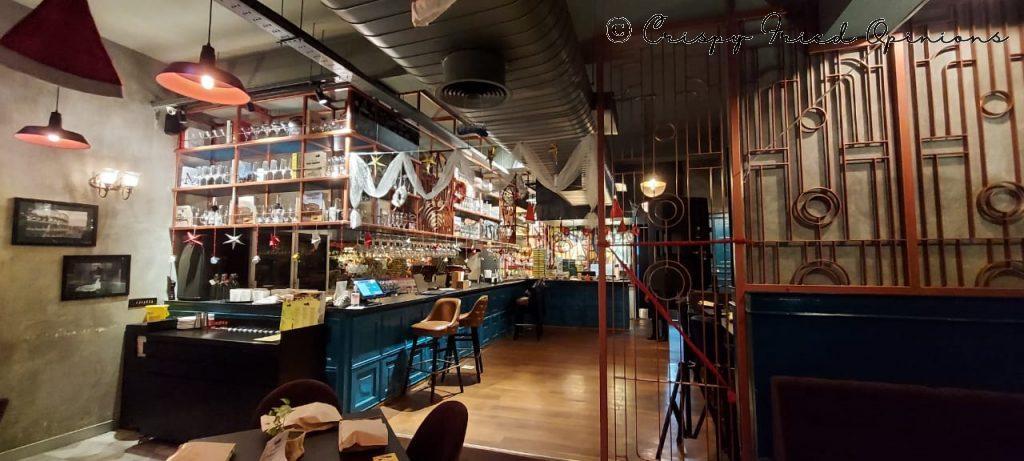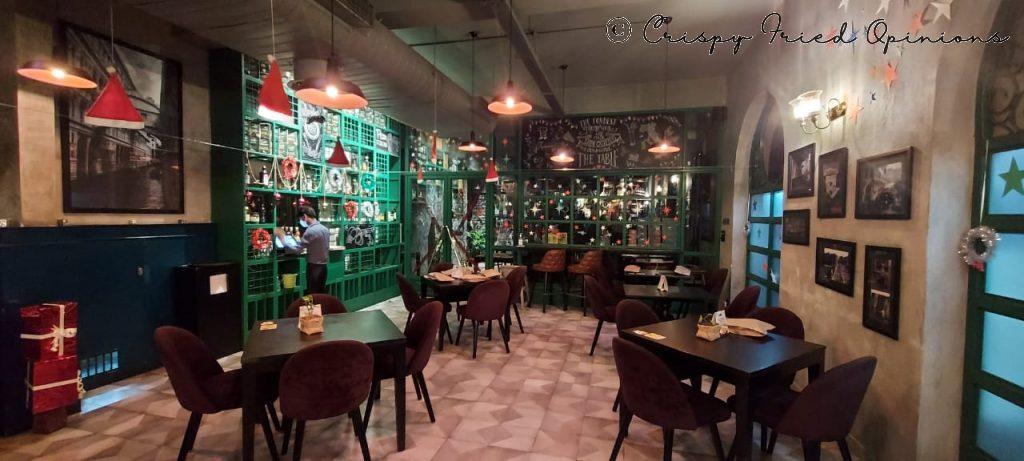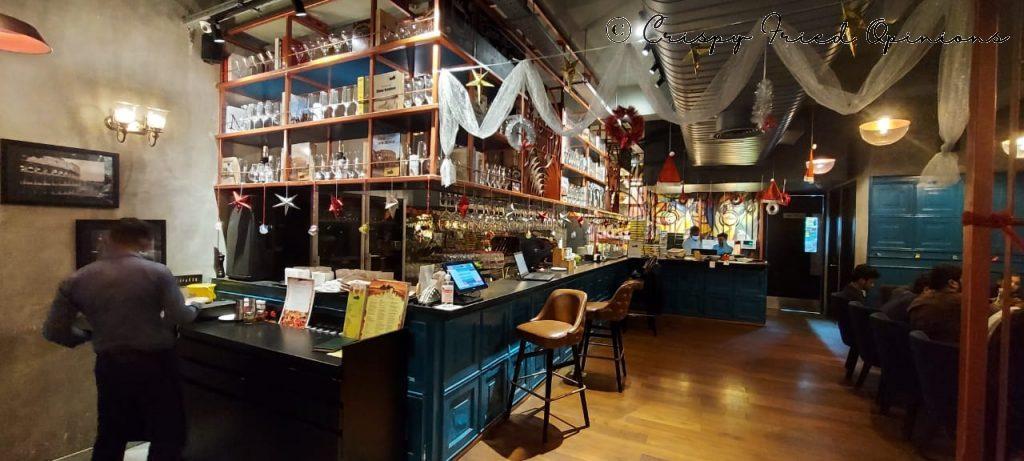 The cutlery for each person was nicely packed and was left on the table. Contact-less setup! Impressive, I thought!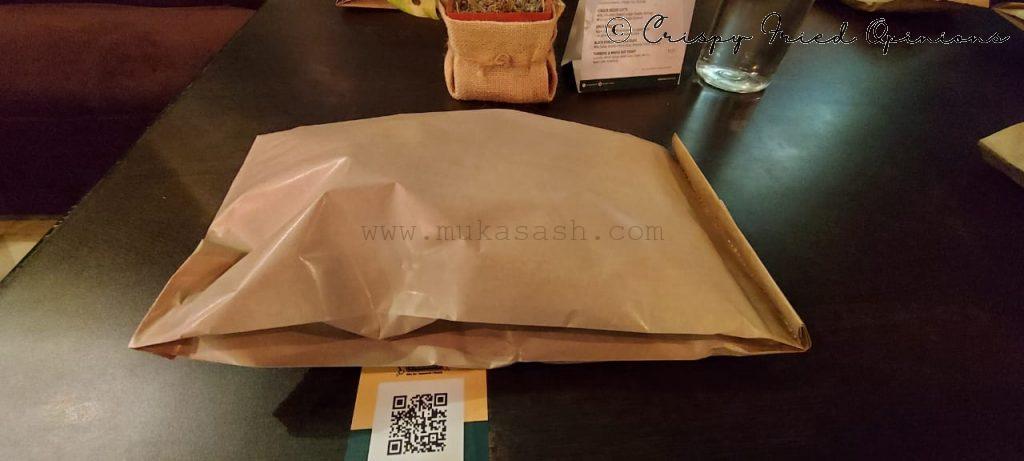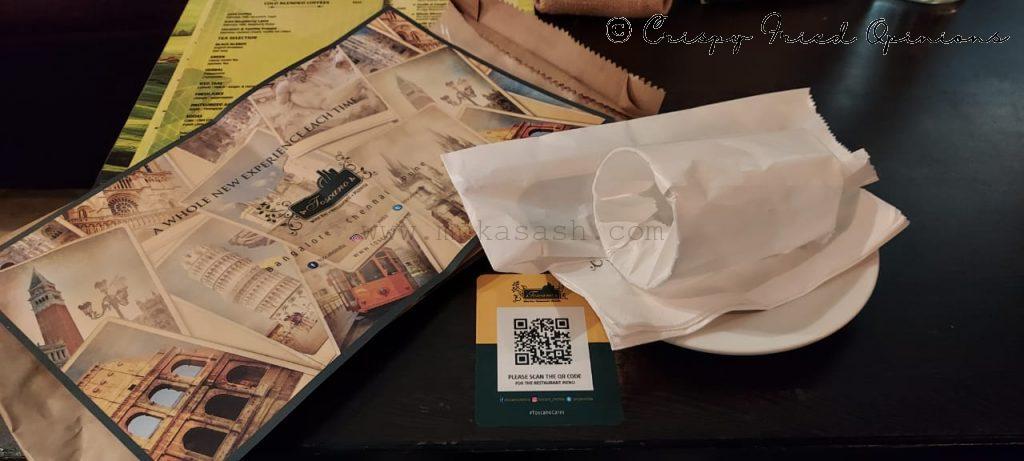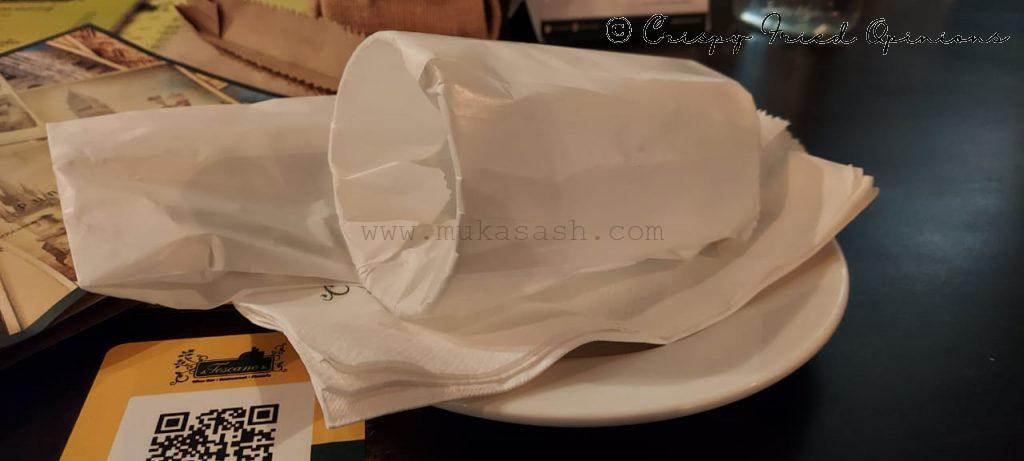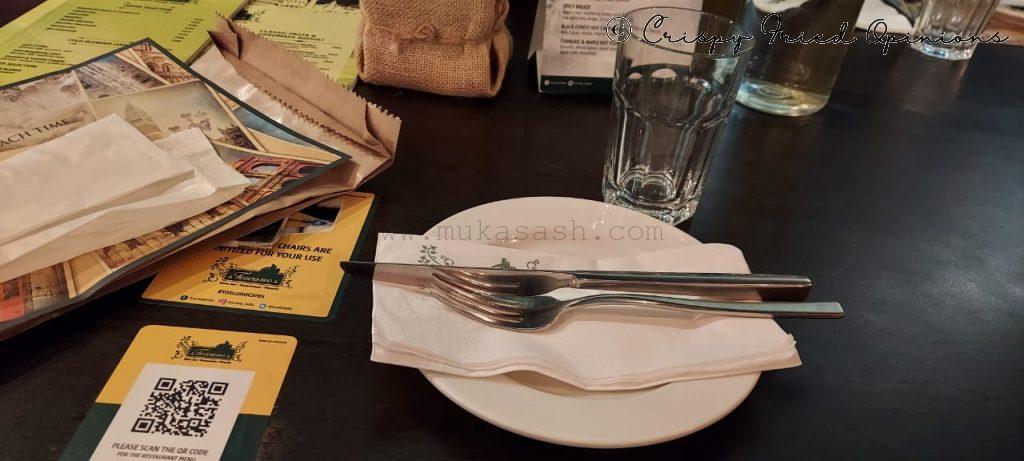 A quick look at the menu, it was pricey indeed! It did take me by surprise, but then, since I hadn't checked it in advance, I had no complaints with that.
Meanwhile we got a complimentary bread basket, absolutely soft, freshly baked and melt in the mouth bread. The dip was wonderful too.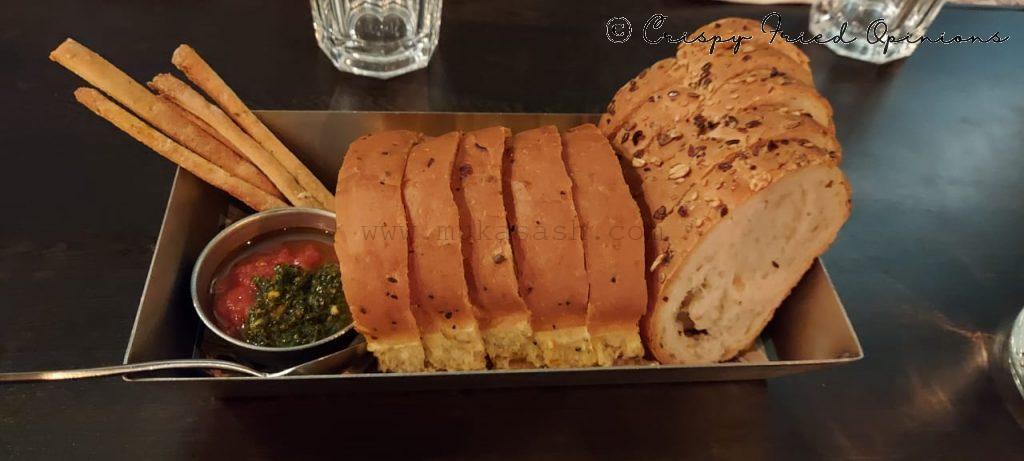 To my pleasant surprise, they had two brands of non-alcoholic beer, which I didn't find even in the best bars in 5 Star hotels – Budweiser and Hoegaarden 0,0. I chose the latter. It was one of my recent grudges that premium bars in Chennai didn't stock up on this one. I wrote about it in one of my previous posts. Well, coming to why they had only non-alcoholic beers in spite of having a bar setup ready, perhaps because they are delayed with procuring license to serve liquor.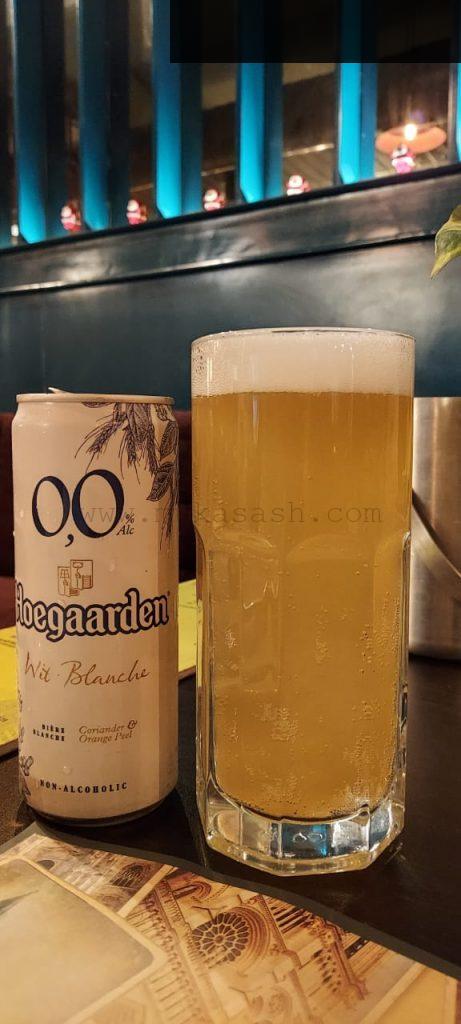 Decided to start with antipasti – we ordered Bruschetta di Pollo, which said flavorful chicken toppings on rustic Italian toast. There were two variants among the six pieces – three of them had peppered crusted chicken, onions, carrots, and chickpea hummus and the other three had Pesto chicken, roasted bell peppers and parmesan.
This was fantastic both visually and taste-wise. We loved the plating as much as the dish itself!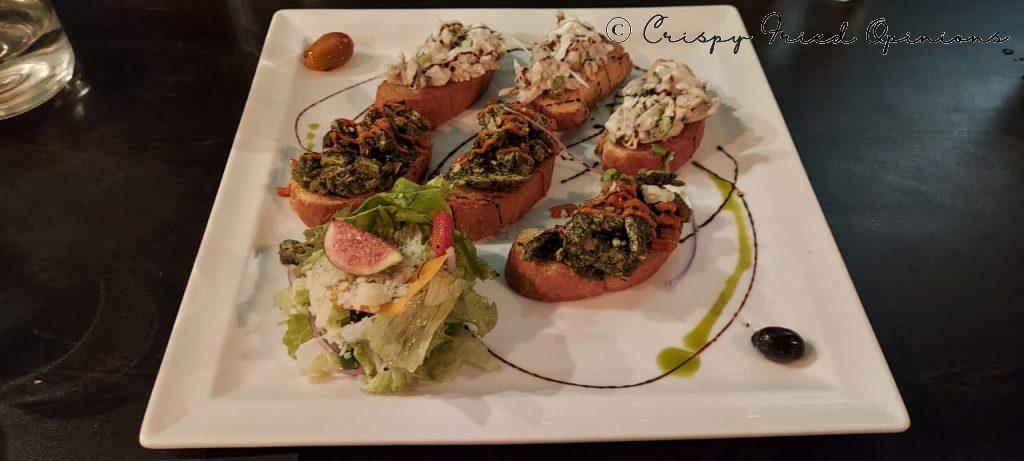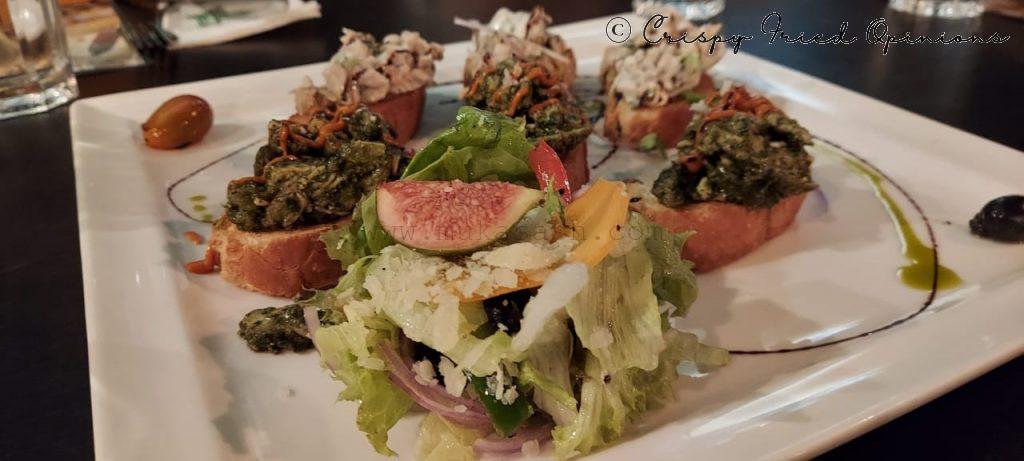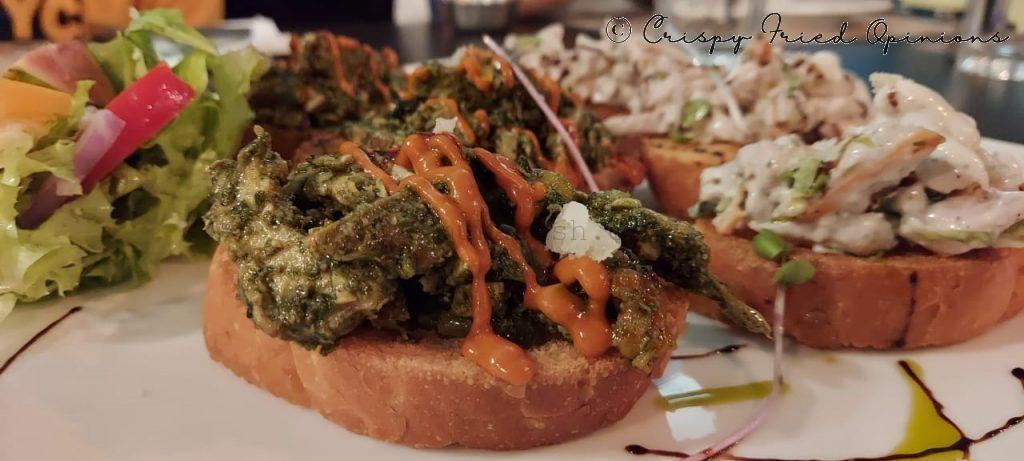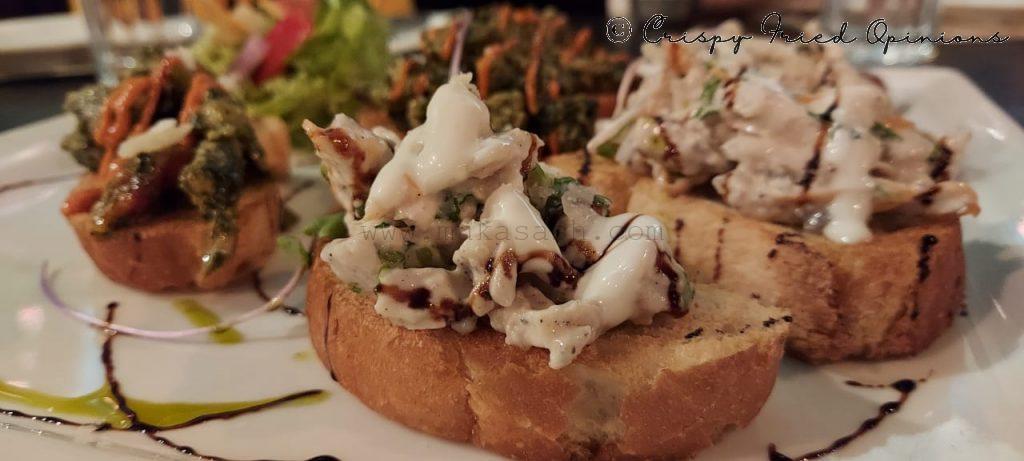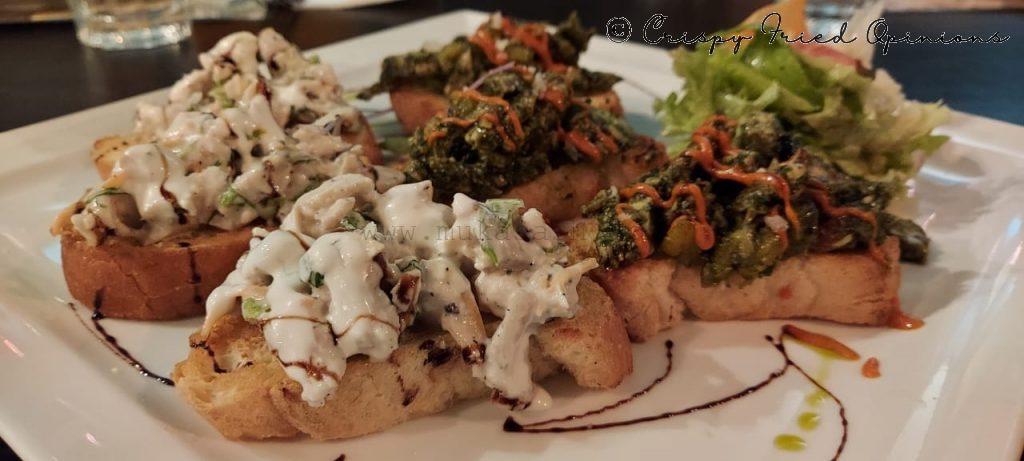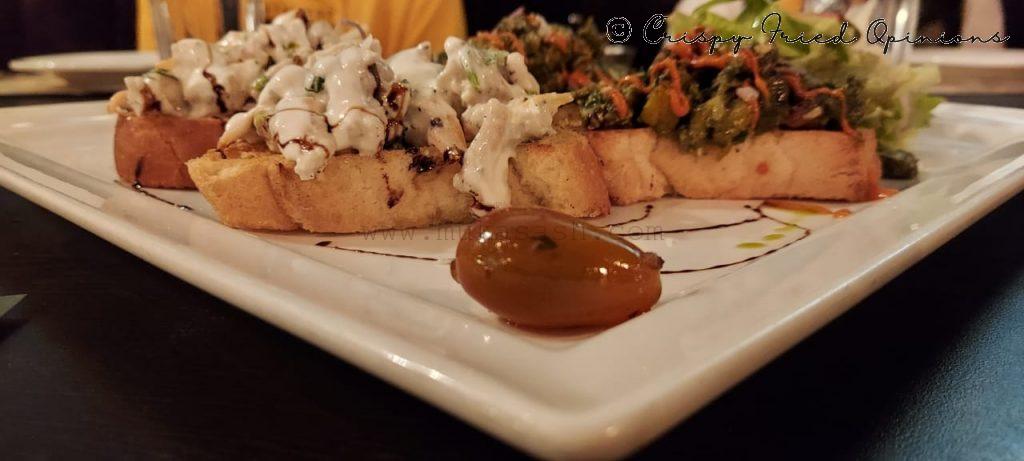 We ordered two variants of their stuffed Garlic bread – One with pesto and sun-dried tomatoes, and another with Chicken. The garlic bread was more like a pizza, topped with generous amounts of black olives, it was tasty and the two variants were distinctly different too.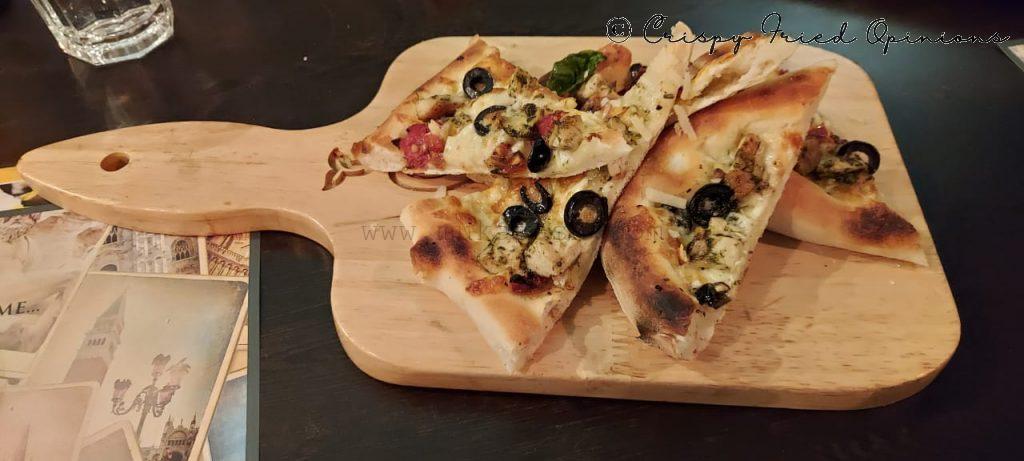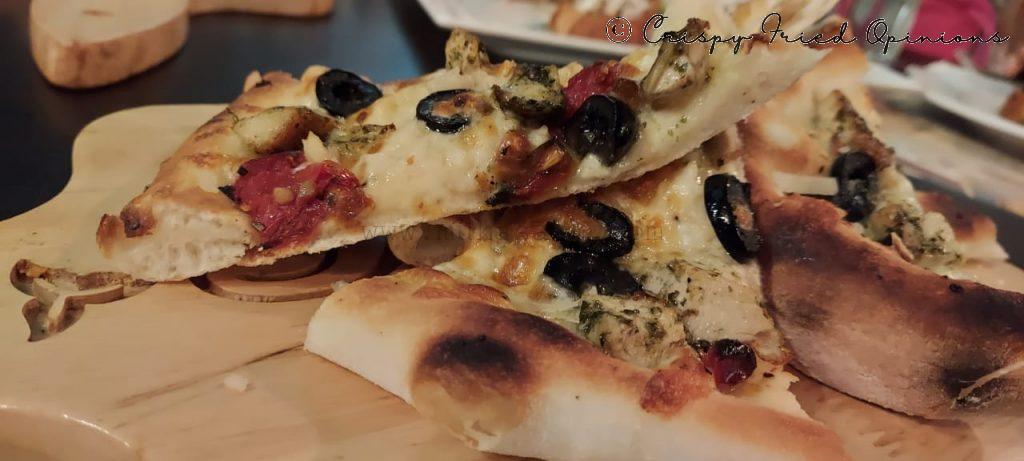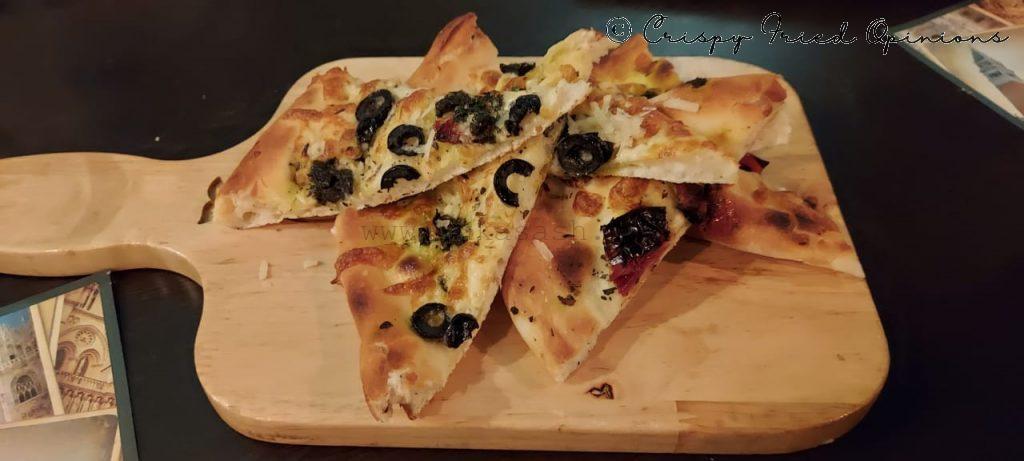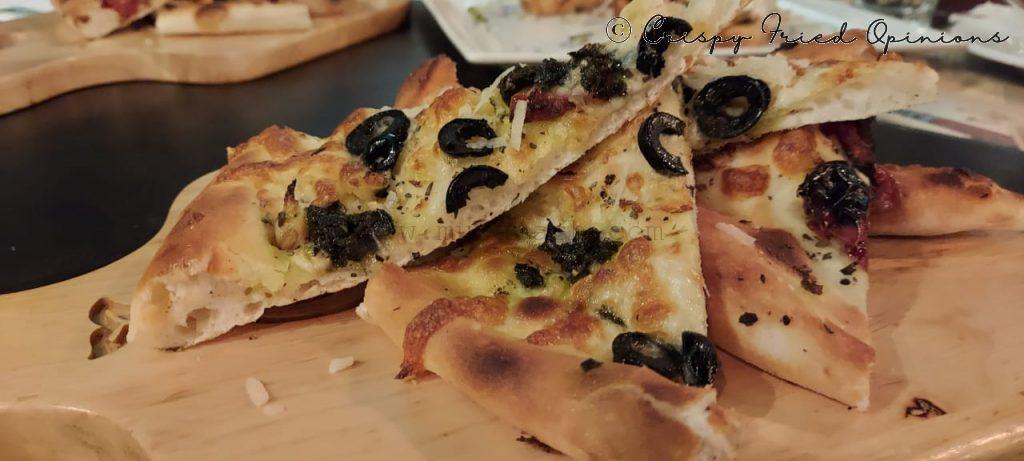 Meanwhile ordered a Coconut Frappe which had Expresso, Coconut cream and vanilla icecream. It tasted wonderful.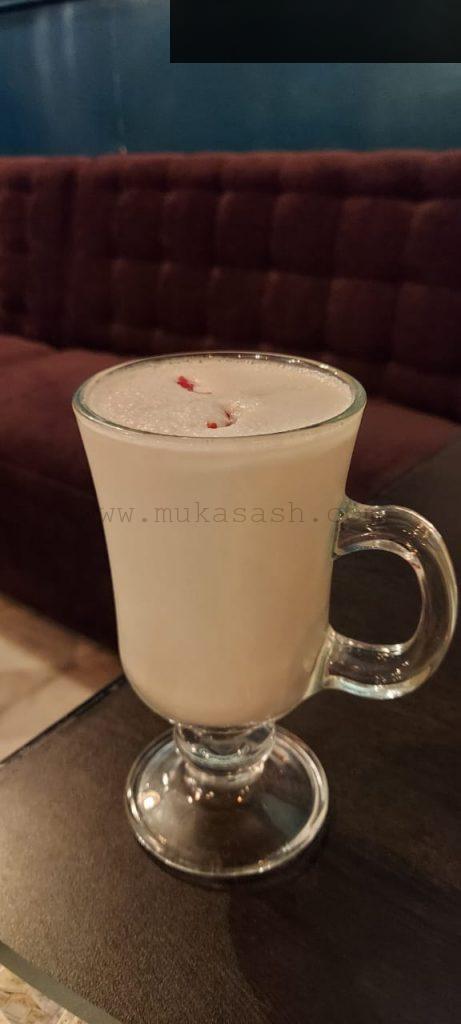 Since it was a bit too much bread by now, we decided to look beyond Pizzas for main course.
We ordered Penne al pesto Genovese – Classic basil pesto, French beans, potatoes, walnuts, pine nuts and parmesan. I have to say this was not one of the hits of the evening! The under-cooked part, I totally understand 'al dente', that was not an issue at all. The dish went overboard with pesto to a point it felt uncomfortable. They should have slightly underplayed it, I felt. It was a tad salty too to my palate, while my family felt it was okay.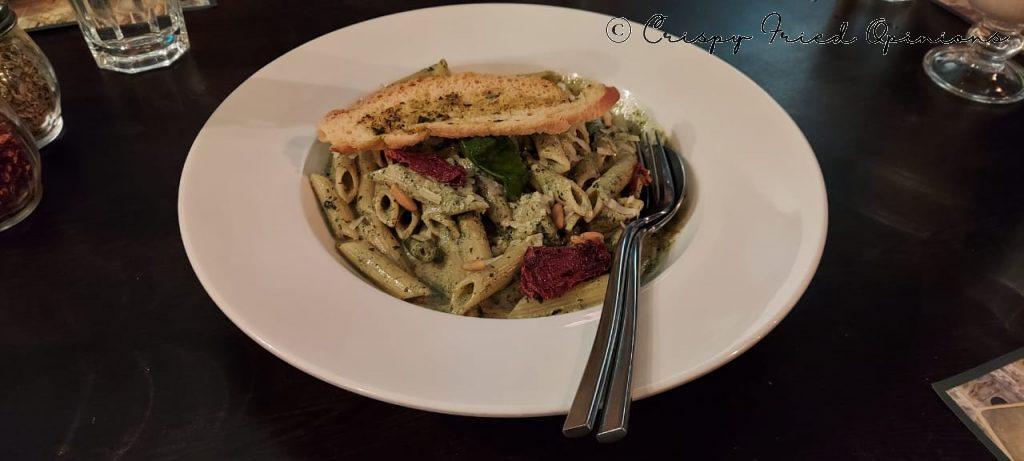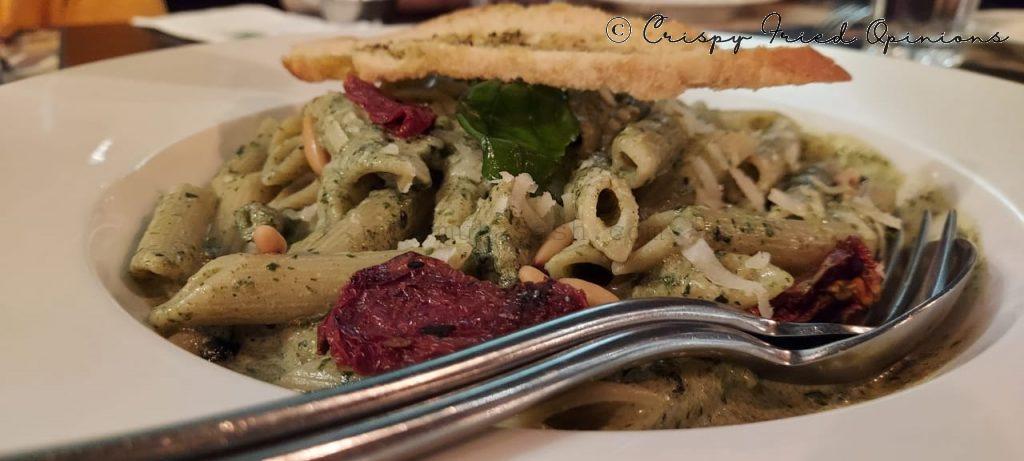 Now coming to the dish of the evening, the showstopper – Pollo Arrosto al Rosmarino (Roast Chicken)!
The description said Old fashioned rosemary butter infused slow roasted chicken served with roasted potatoes, pesto grilled vegetables and its own gravy. Short of words to describe this one, absolutely wonderful! It was like an art on plate. Instantly reminded me of the wonderful dinners I've had in Oslo, Norway. The chicken was well roasted, soft and not dry. The aroma of the butter and the roasted veggies mixed with the jus was too hard to resist. This will be one of the dishes I'll definitely remember for sometime.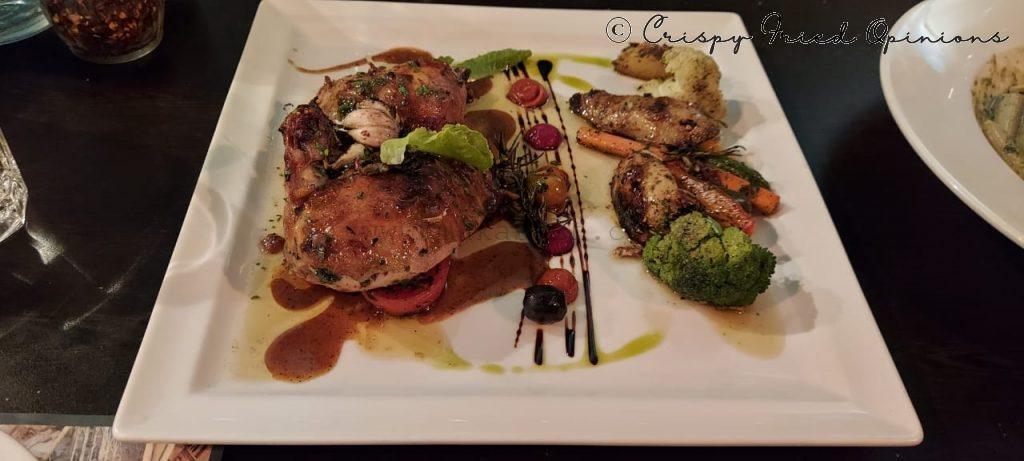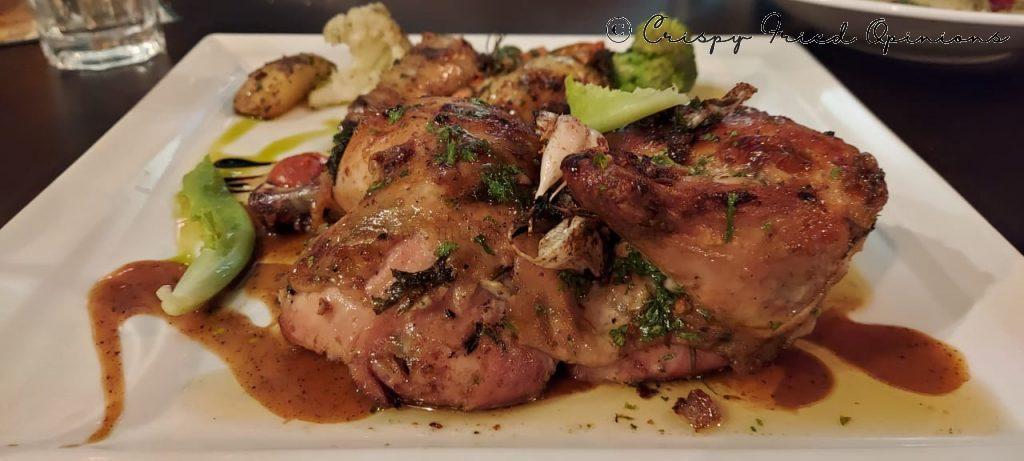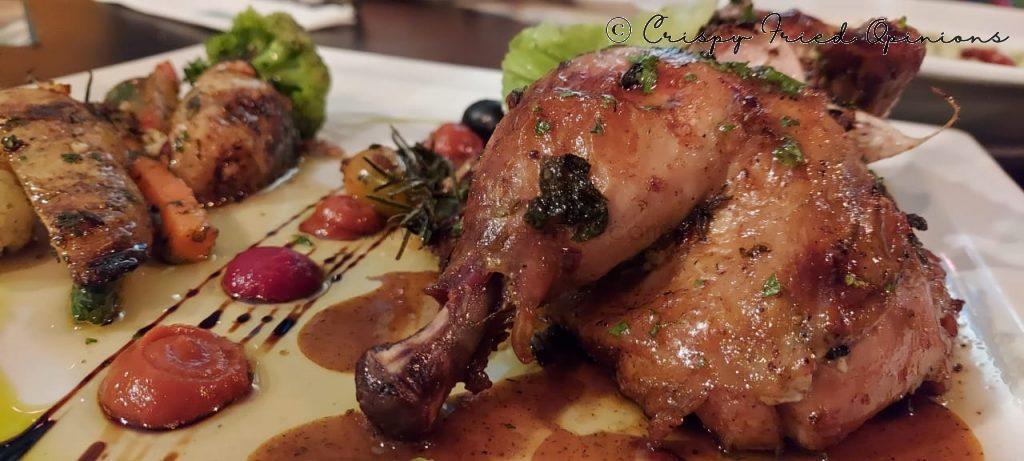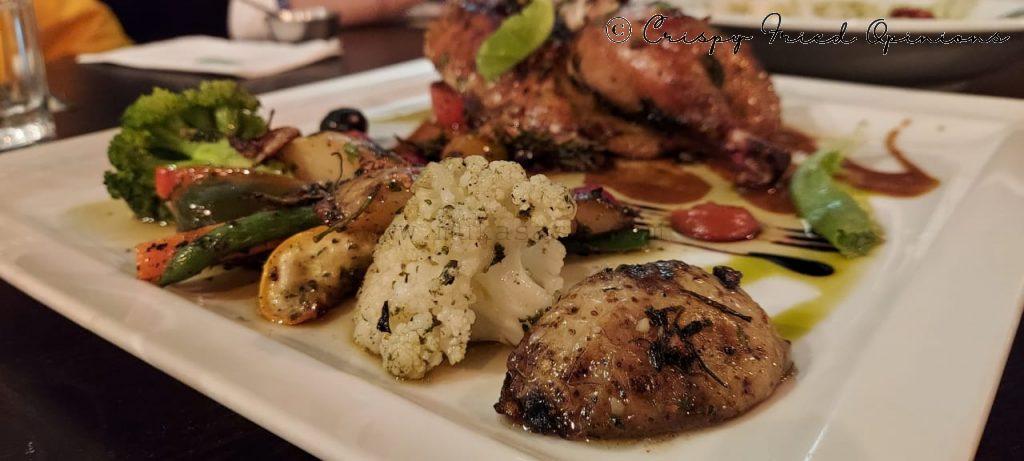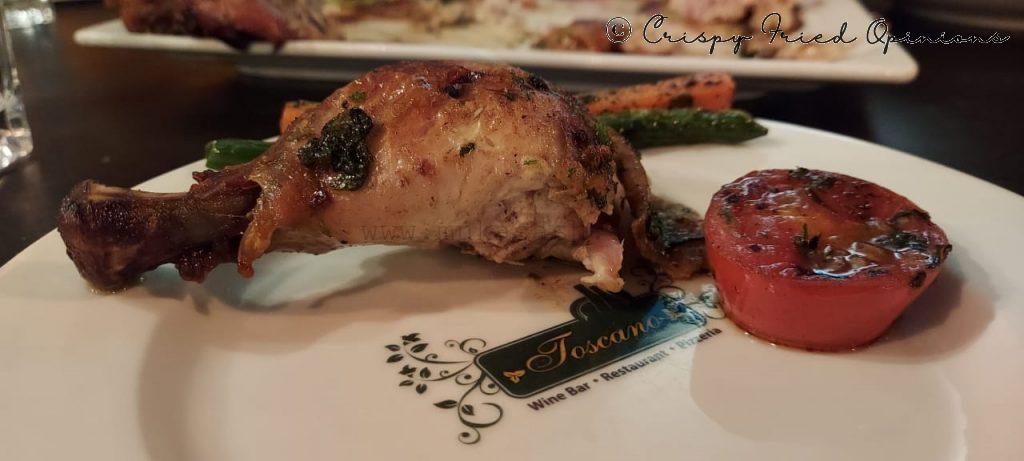 With that, we ended our main course and decided to move to desserts. Again, it wasn't something which impressed us. I have to say didn't taste as great as it looked. I mean it was okay, not wow!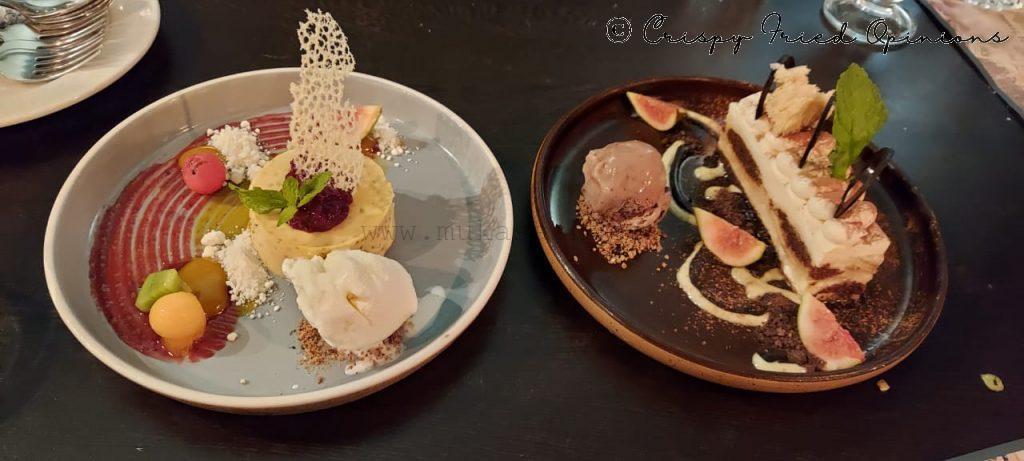 We ordered Traditional Italian Creamy Tiramisu. Not sure why, it wasn't as creamy as it mentioned. The sponge felt hard and chewy probably because it was refrigerated. The chocolate ice cream served with it had crystals of ice in it. I still remember the Tiramisu I had in Tuscana, Little Italy and Jonah's many years ago. This definitely wasn't even close.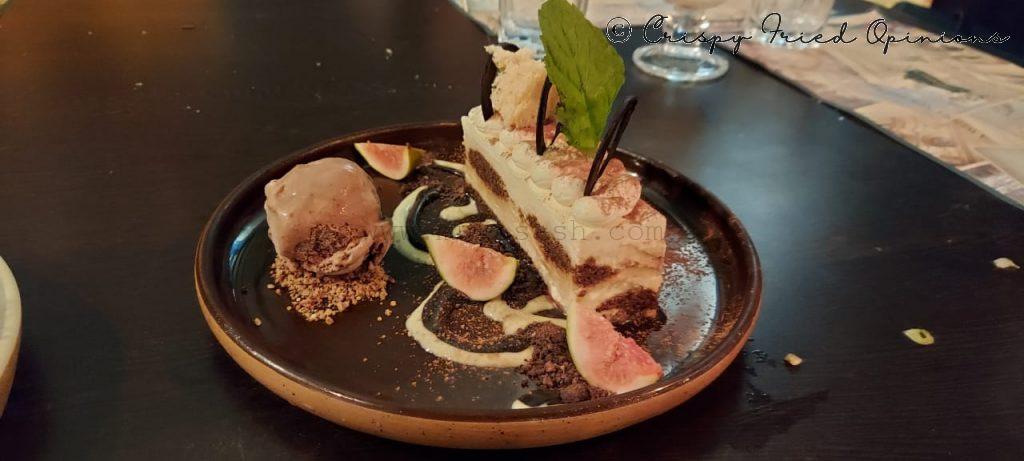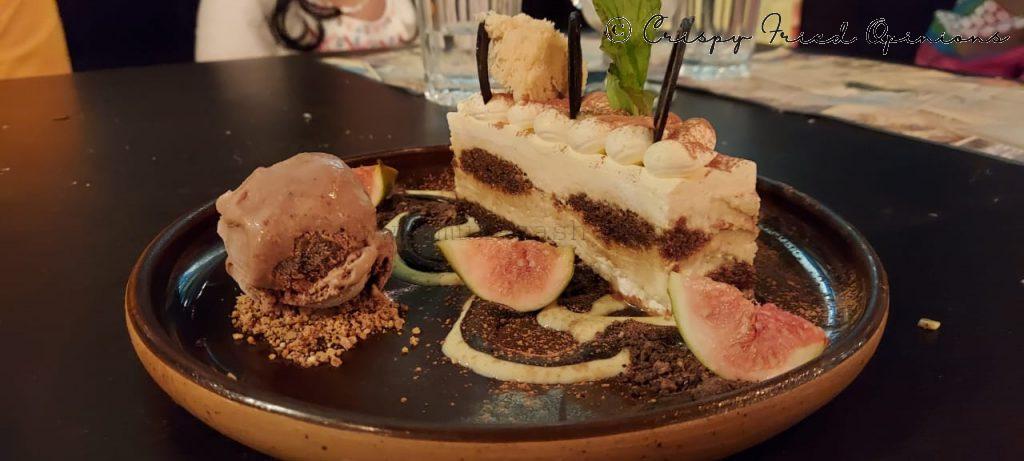 Mango Chia Seed Creamy Panna Cotta with passion fruit mango compote and vanilla ice cream. Firstly, the texture was firm and nothing like the wobbly panna cotta I have had in many places. Probably because it is eggless, or it is just made like that. Flavor of mango was something I really couldn't catch. The red colored compote on the top, perhaps the passion fruit compote, was a bit too sour and dominating. The ice cream helped to nullify it a bit though.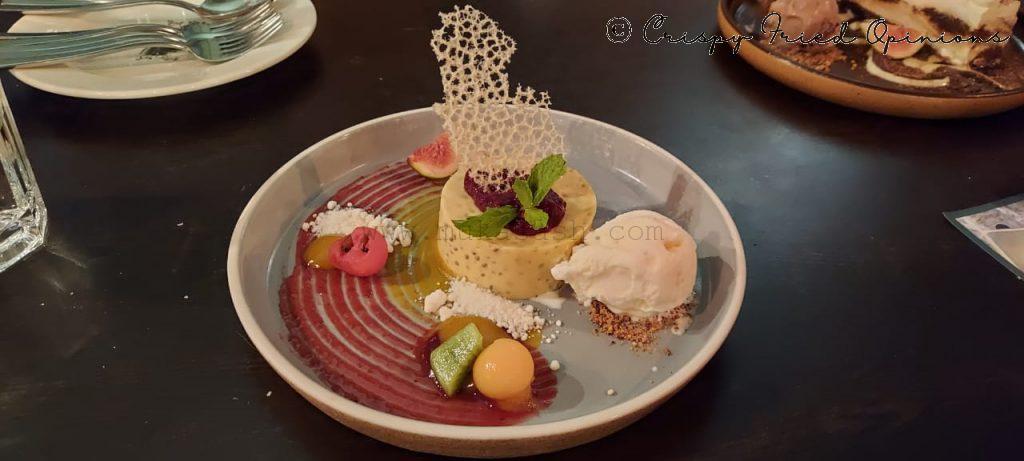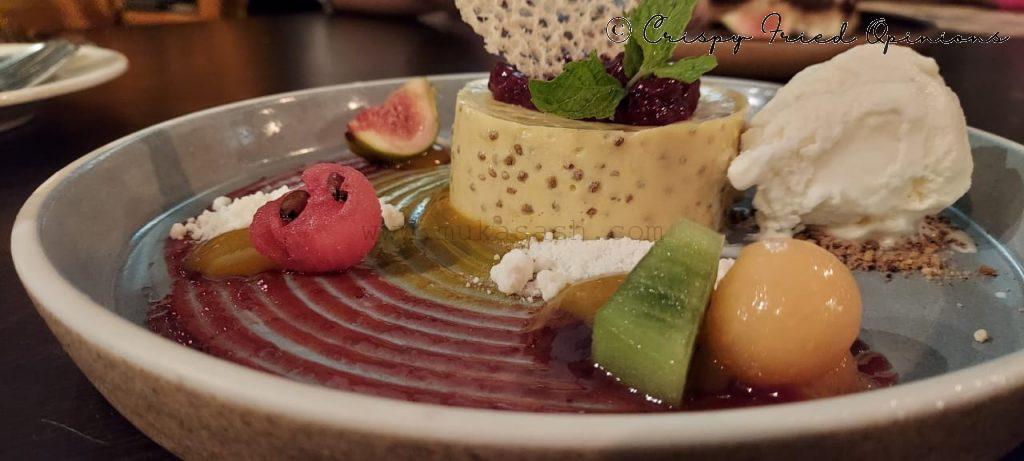 That's pretty much how our dinner ended yesterday! I would call it a 'mixed bag'. Yes, there were hits and misses. During the meal, the waiter actually brought Coconut Frappe to the table again, not knowing it was already served. Since kids wanted it, asked it to be served. This was not even close to what was served initially, it was bordering on cold coffee, with a faint hint of coconut cream. Repeated the Hoegaarden non-alcoholic beer and that was good.
Service was courteous, and absolutely no complaints with it, so I didn't have any issues with the 10% service charge on the bill though it was quite steep at 373 bucks.
As I've already mentioned, the place is pricey indeed! Now knowing it, I would reserve this only for some occasions and not just for a casual dinner. The dinner set us back by 4.3K in all, and at that price point, it is normal to expect to be wowed with every dish that you order, which unfortunately wasn't the case last night.