This was totally my friend's idea, to check out some of the Bars in Star hotels, in Chennai. This got me curious, as to how the Star hotels in Chennai were doing, during this pandemic. Decided to check it out right away!
One of those rare occasions where I stayed sober sipping on Mocktails, while my friend had a go at beers! This is how our experience unfolded.
We had made up our mind to visit a few places and headed straight to Radisson Blu Hotel, in Pazhavanthangal, only to be told they are closed for renovation. Gallop Bar used to be one of our favorites a few years ago.
Decided to check out Trident, just about a few hundred metres from this place. We were told the bar wasn't open, but they can serve in the lounge. We weren't too keen with that set up.
After a quick thought, decided to head to Hilton, which seemed to be the closest next option from here. Thankfully, Vintage Bar was open. There was some repair work going on in one corner, one barman was managing the counter, and he did little to acknowledge our presence there! 🙂 I had to check with him if they were open for service, and he replied in the affirmative. Cold service even after months of closure? Never mind, they probably lost touch I thought! We settled down in a corner, my friend opted for 500 ml Kingfisher draught beer, and I asked for a mocktail called Thirst Aid, after a quick look at the menu. The complimentary sides were decent – boiled peanuts slightly sauteed in oil with salt and chilli powder, and classic cheeslings.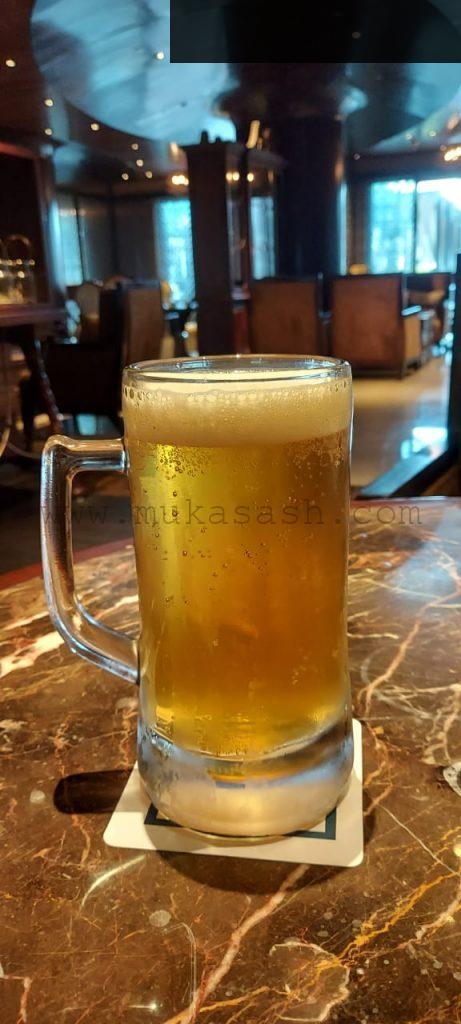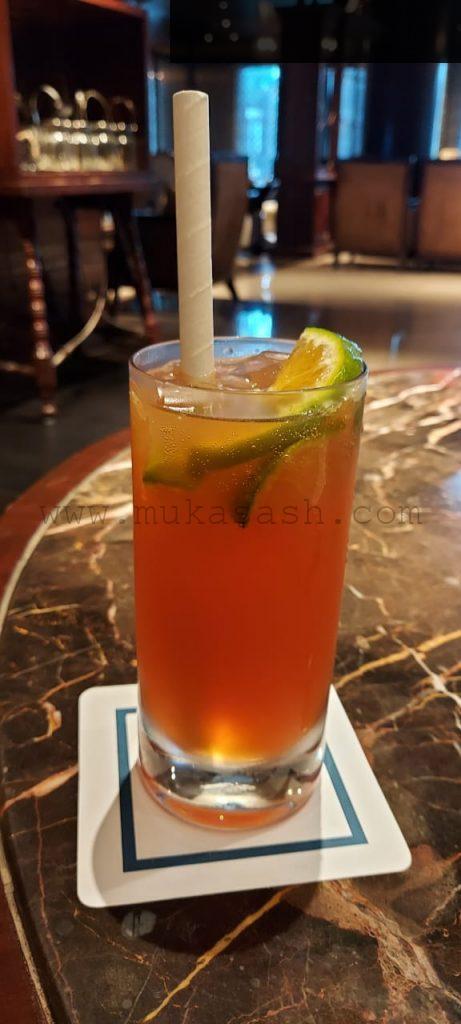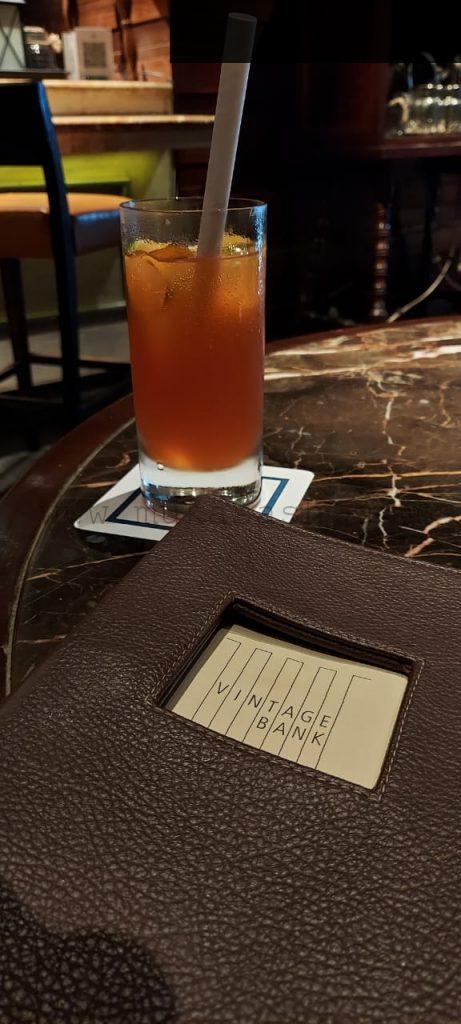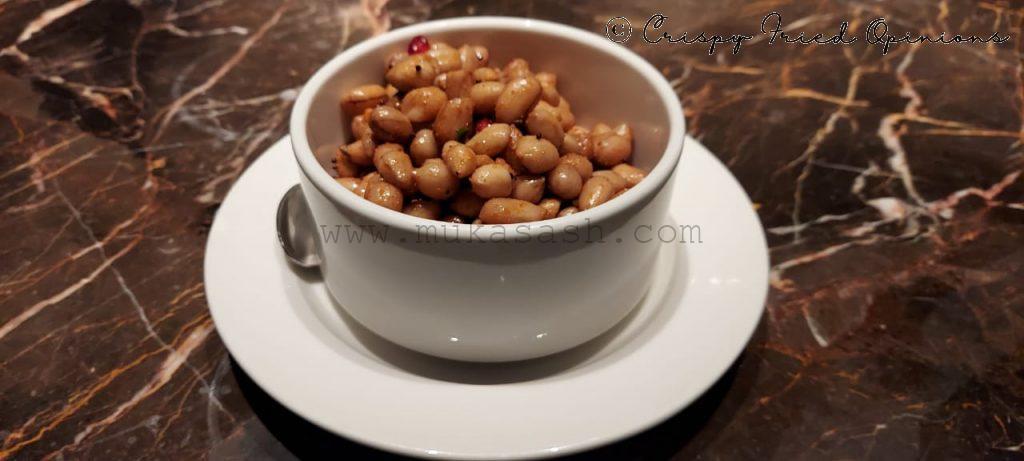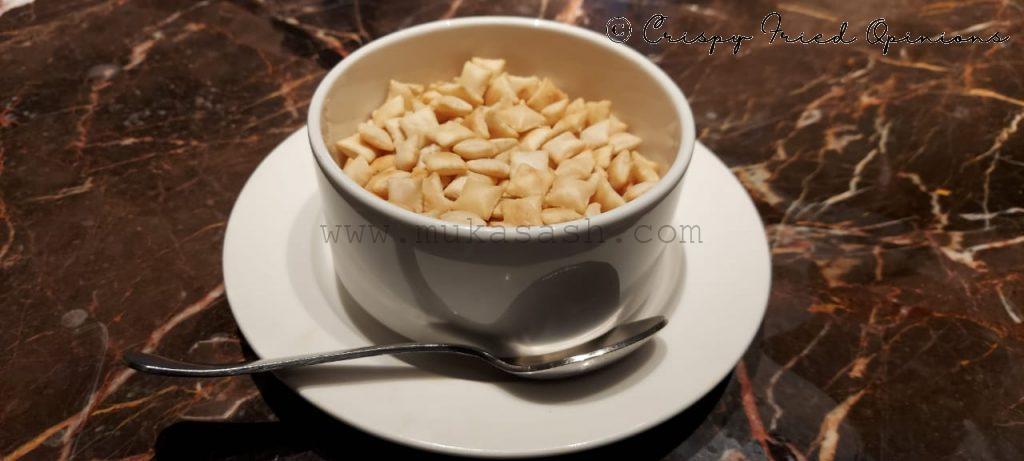 Friend repeated his beer twice, and while on his first beer, we ordered Angara Murgh Tikka. We didn't get the Tikka until he was almost at the end of his third glass, and we had to follow up too. Finally it arrived. Tasted fantastic! Soft and succulent chicken, rightly grilled, it was bursting with flavors! The chutney along with it was hot, but good. It was definitely worth the wait, without a doubt!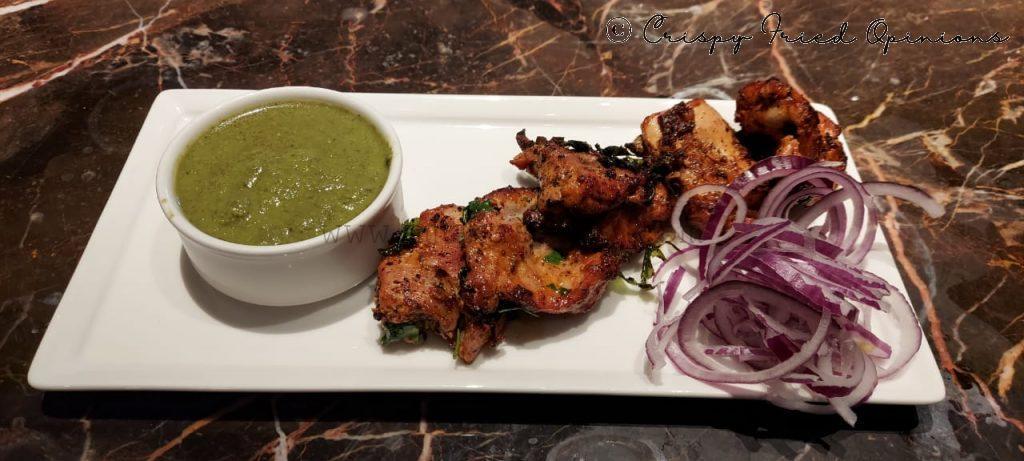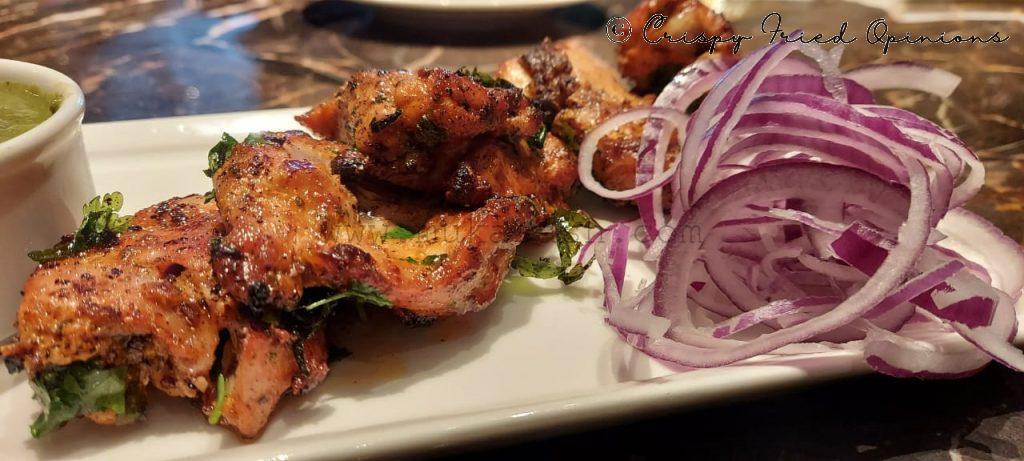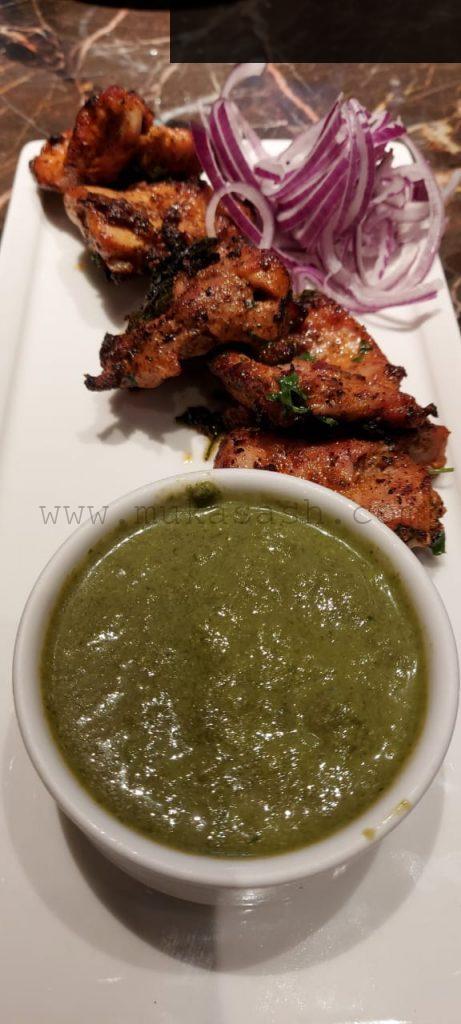 Paid close to 3K, and decided to leave. Service left a lot to be desired. In fact, had to ask for the copy of the bill. It was disappointing, to say the least!
While we were finishing up, called up Park Hyatt to check if The Flying Elephant was open, sadly it wasnt! That used to be one of our favorite hangouts for midnight outings. Tranquebar in ITC Grand Chola wasn't open, only The Cheroot Malt & Cigar lounge was. We decided to give this a miss!
Checked with Hyatt Regency if 365 A.S was open, they said "Yes"! Decided to head there. Battling the heavy downpour, drove all the way to Hyatt Regency only to be told 365 A.S would open only at 5 PM. One person was profoundly apologetic for the miscommunication. They could have definitely been more careful with that. Again, they offered to serve in the lounge or in Stix, we decided to leave! The pungent odor , not sure from where, perhaps the restroom or faulty drainage system, was quite uncomfortable to say the least. Quite relieved after getting out.
We decided to check out Crowne Plaza, erstwhile The Park Sheraton aka Adayar Gate Hotel! It was a long time since I've been here. A couple of lunches at Dakshin is what I remember, from long ago. The Westminister was buzzing with activity. I liked the warmth in service. The manager and the waiter were very courteous. There was a 1+1 offer on beer. Friend opted for a glass of KF draught again, this time it was 330 ml. I asked for a mocktail and wanted something refreshing! I got a virgin Mojito with Cranberry juice which was refreshing indeed! The complimentary sides were basic, potato wafers and peanuts. However the wafers were yummy and crunchy.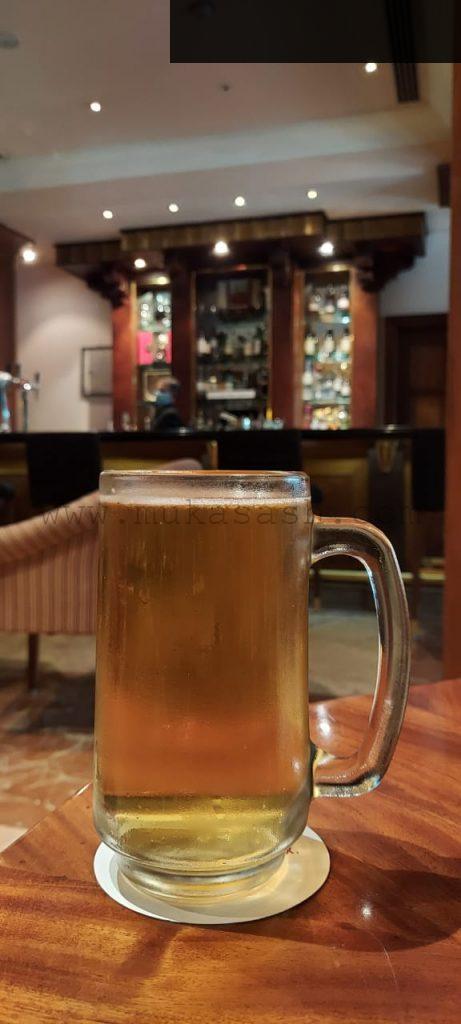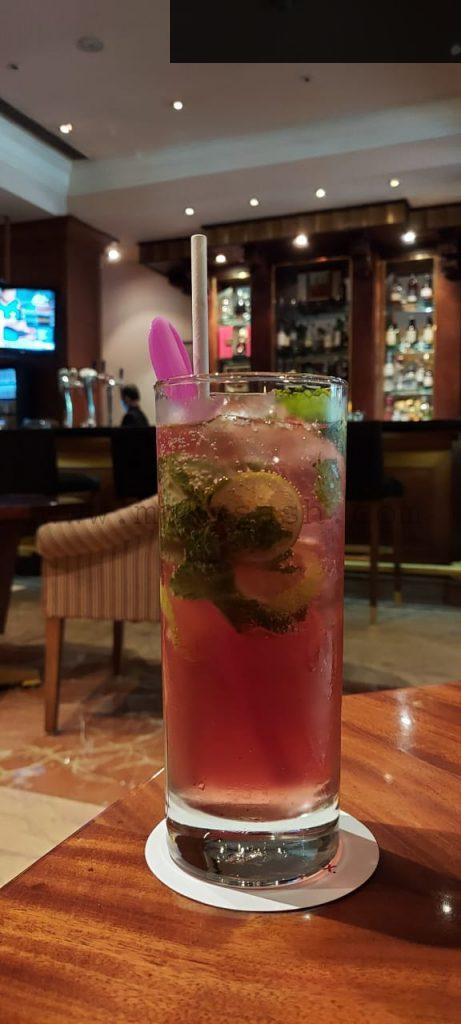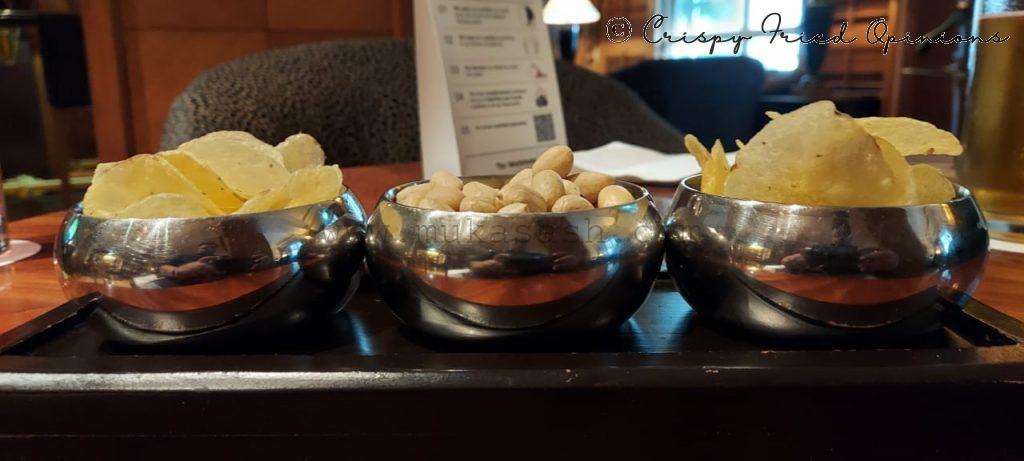 Friend repeated his beer, and we decided to order Kozhi Varuval, which from the description looked like a something more done with Chicken 65. 🙂 It was a pretty decent portion, and tasty too! Seemed to be well marinated, it was soft and flavorsome. We loved it!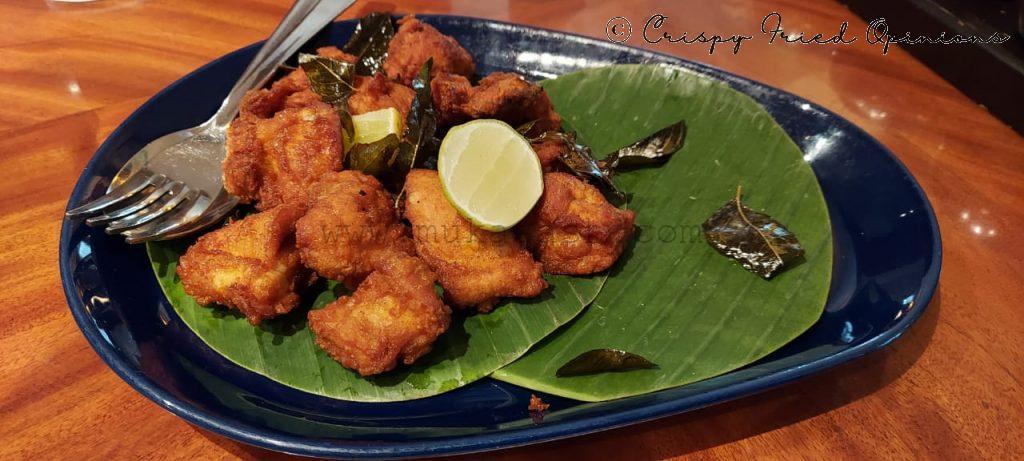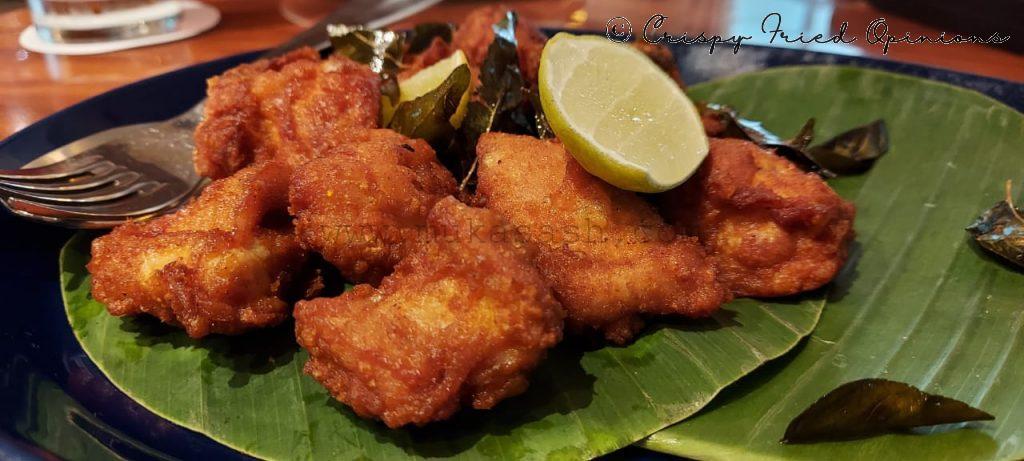 The bill was quite reasonable for what we had. We paid close to 2K and left very satisfied. I'd love to come back again at the next possible opportunity, this time definitely to drink.

Next stop after a quick consideration was The Leela Palace, in MRC Nagar. We were told Library Blu was open for service, and we decided to head there! The hotel surprisingly didn't have valet parking for its standards. That was okay considering these times, I thought. As we entered, the hotel looked wonderful as always, but this opinion didn't hold on for very long. Library Blu was deserted, hardly any AC in there, the odor from lack of ventilation or closure for a long time, was hard to bear. We managed to sit in a place where the throw from AC was decent to not sweat. On inquiring, they didn't have any draft beers, in fact the only beer available was British Empire, in a bottle and a 1+1 offer on that. Very sad for a place like that! We ordered a beer and a Virgin Mojito again, this time without any customization.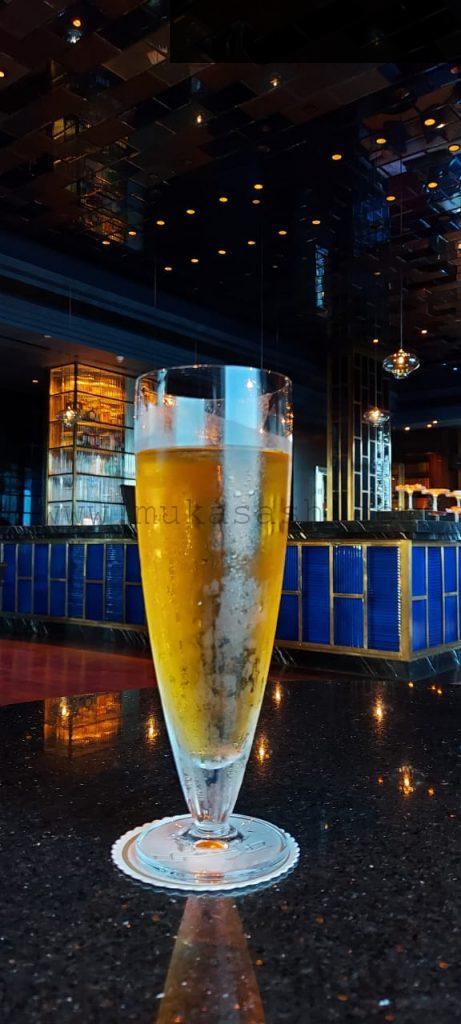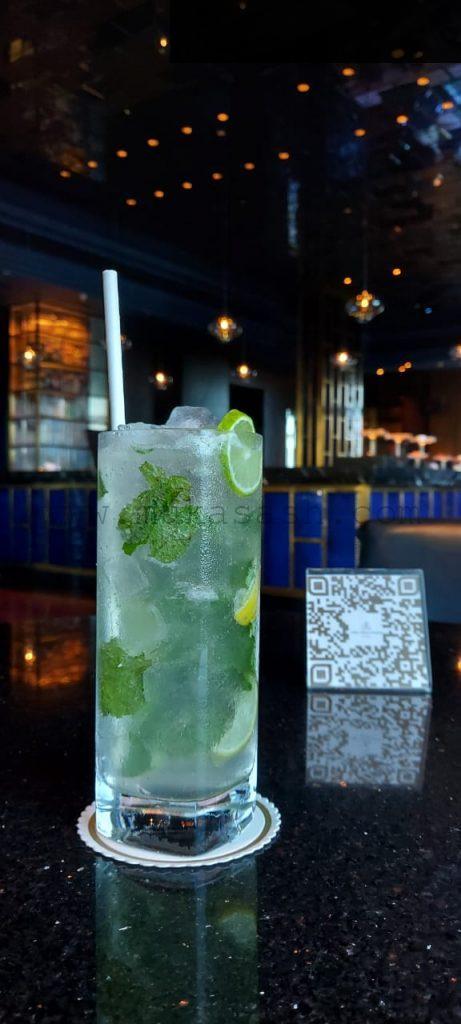 The complimentary sides were Potato wafers and roasted cashews, both of them didn't feel very fresh! As it wasn't really very appealing to stay on, we decided to finish that 'free' beer and leave. We were in no mood to order any starters here. We paid a little more than a thousand bucks and left quite disappointed, rather sad actually ! Even the best of the places had to bear the brunt of the pandemic.
The fourth and final place was a very familiar territory – The Moon and Sixpence, at Hablis, Guindy. The first time I visited this place was in 2014. Since then have visited it quite a few times. Lately, they have been out of most of the imported beers, stouts, etc. so I just lost interest. The main bar was closed, but the lounge was open. It was more like an extension of the bar, so wasn't an issue really!
My friend started with a Hoegaarden pint, and I checked with the Barman if there was some non-alcoholic beverage which wasn't too sweet. I was tired of mocktails after downing three of them, since noon. He offered to make me one with a Malt syrup, tasting like beer. I loved both the gesture, and the drink itself. The usual complimentary sides on the table were decent.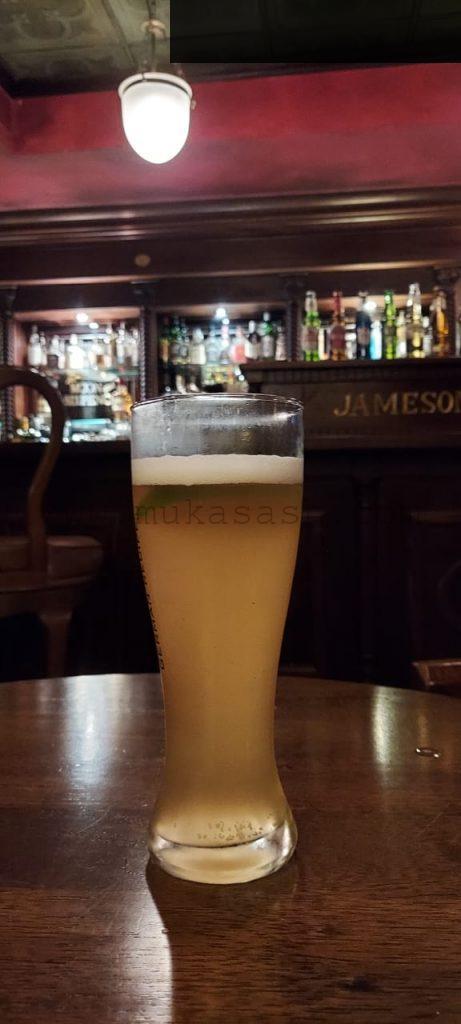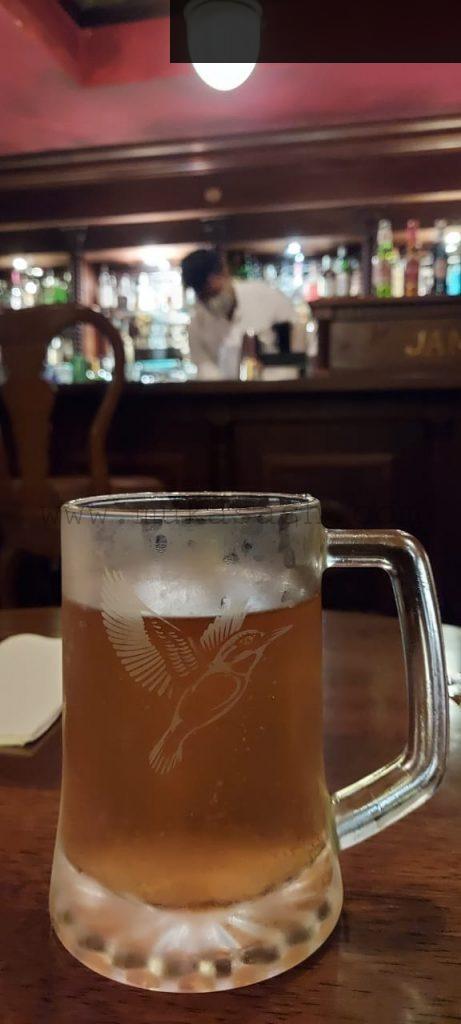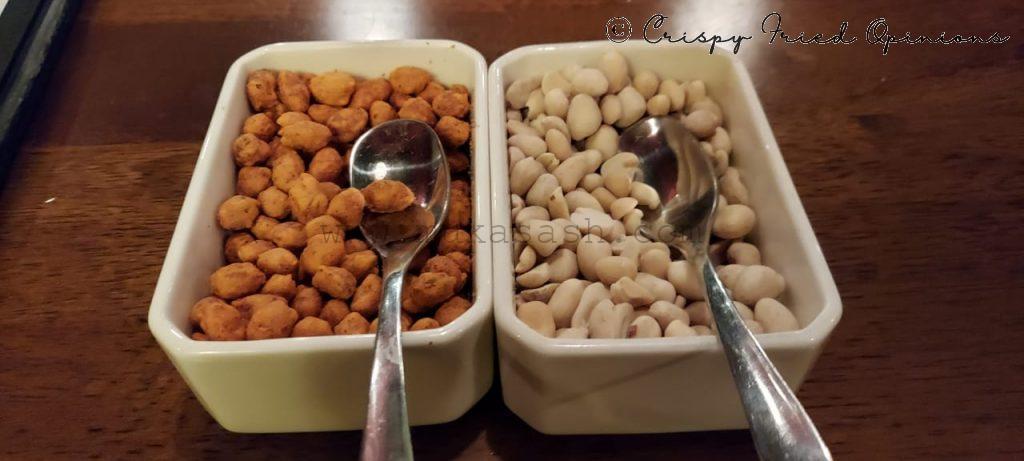 My friend decided to switch to Corona, and I ordered a mocktail again! This time, wanted it colorful, and the barman understood it exactly how I wanted it. He made a layered drink, with Paan, Cranberry, Orange, Blue curacao layers. It was visually appealing and tasted wonderful too !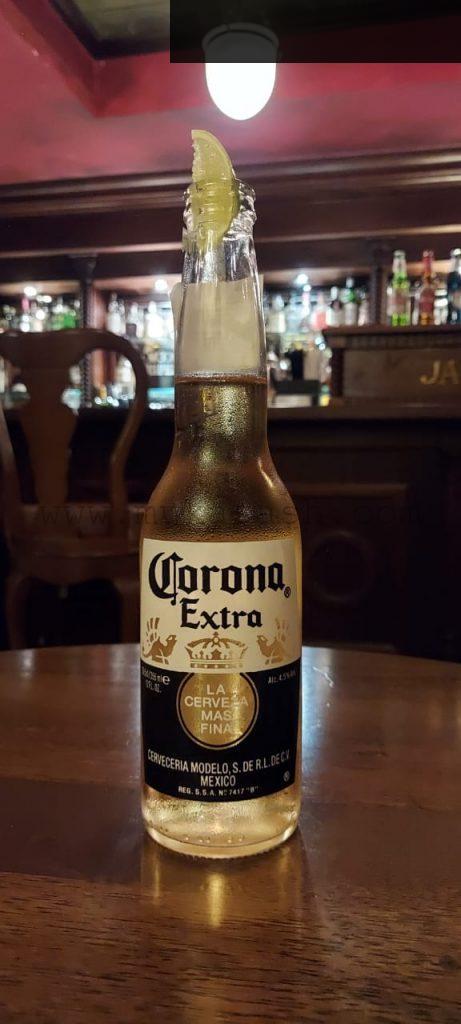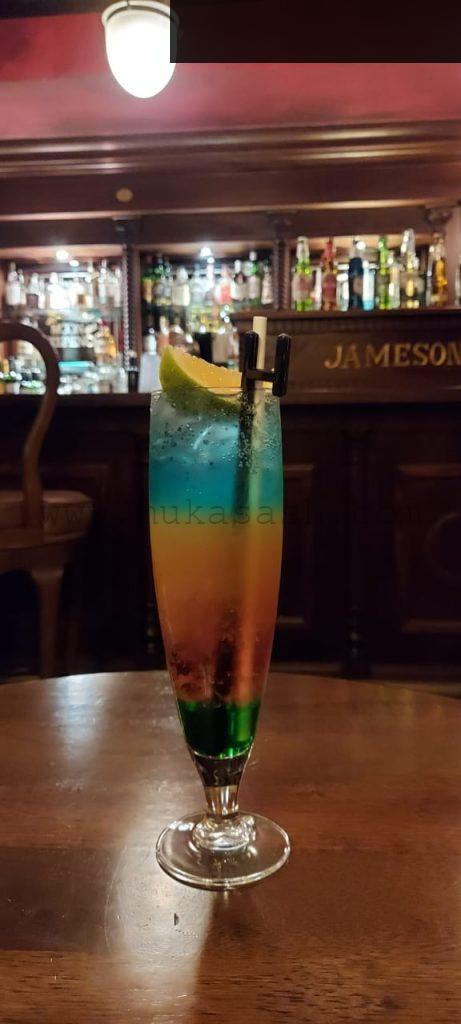 As my friend repeated his Corona beer, we ordered a couple of side-eats. Chicken Paprika, which I remember from one of my previous visits, and fish finger. I loved the chicken with a generous dose of mayonnaise. Friend enjoyed the fish fingers.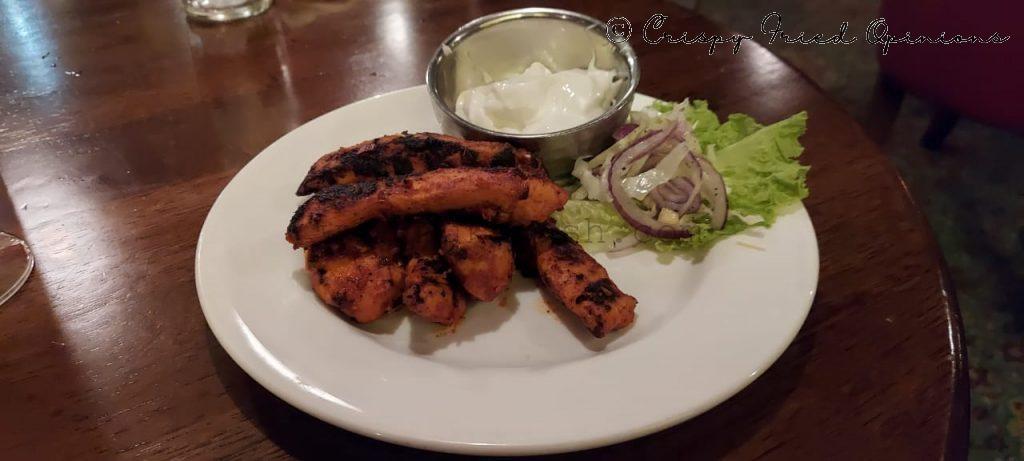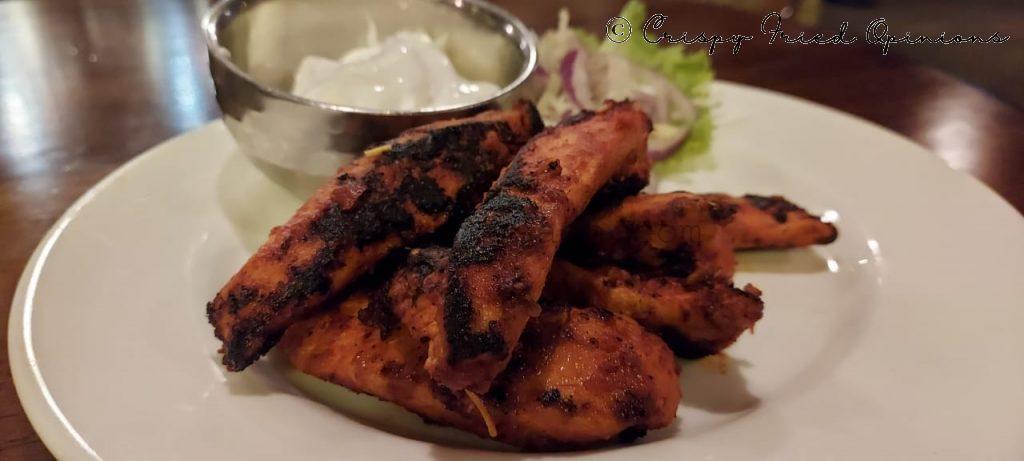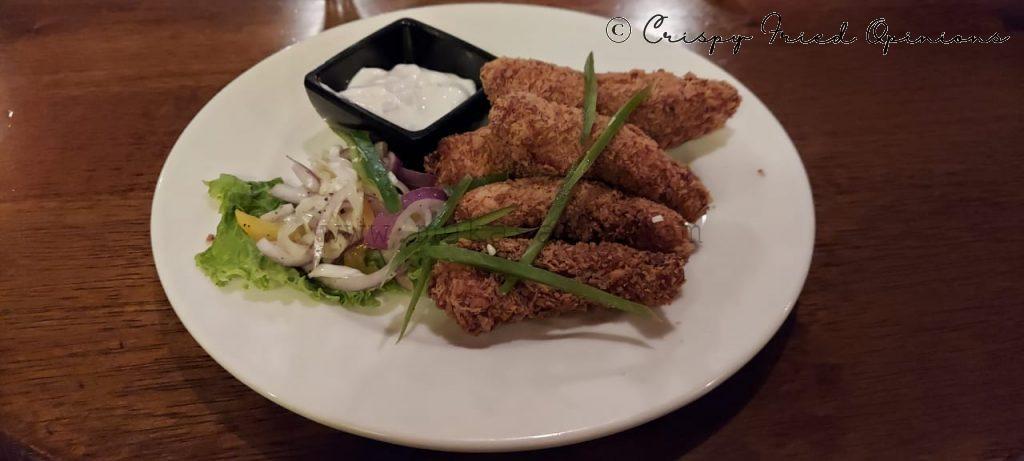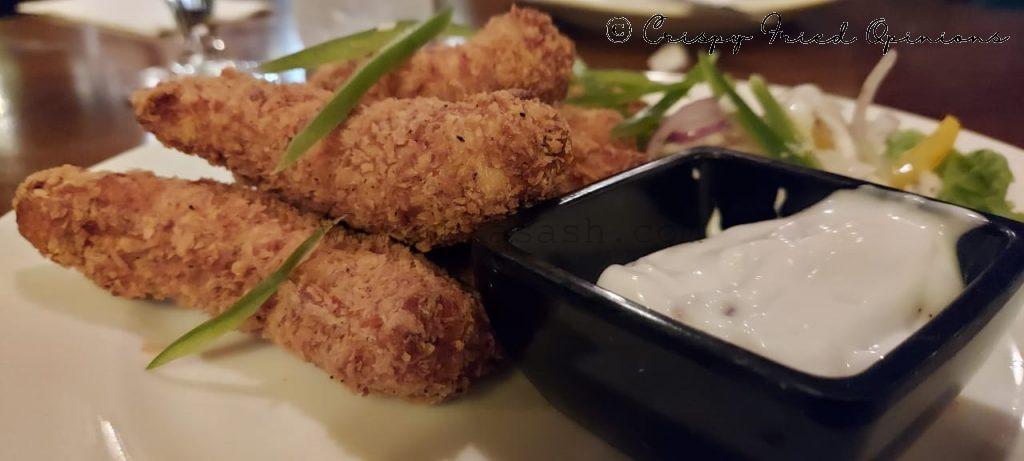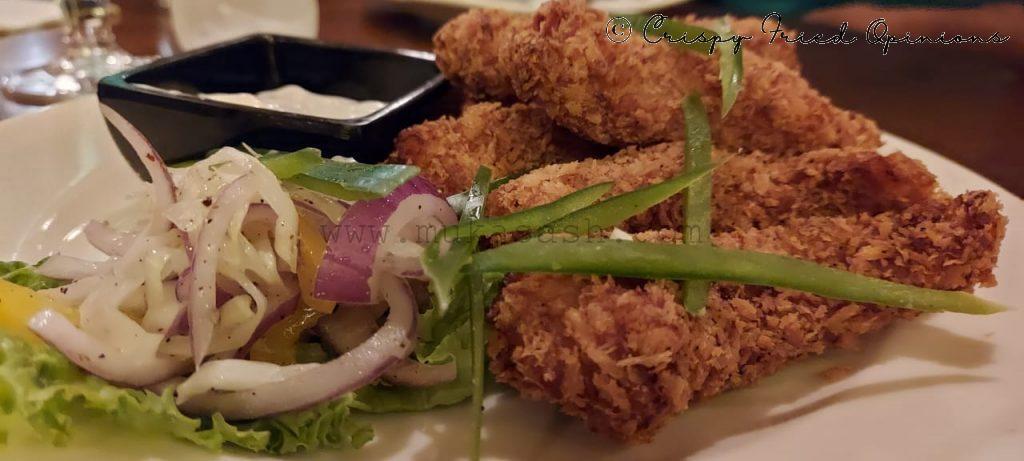 It was a very satisfying experience overall, and we paid a little more than 3K, absolutely worth it!
With that, we ended our bar hopping! Without a doubt, covid has done a huge damage to this sector, and slowly, they're trying to get back up.
I really couldn't believe I remained sober all through the day in spite of visiting the nicest of bars 🙂 One thing I couldn't help but notice – None of the premium bars had a non-alcoholic beer on the menu. Not sure if it has been like this always, or is it a procurement issue because of covid. Never tried asking, earlier! At least from what I remember in Oslo, Norway, you get a couple of non-alcoholic beers – Munkholm and Clausthaler, almost every other place. I think they should seriously consider having it on their menu so the 'have-to-remain-sober' guys have some fun too. 😉
Already made up a plan, to visit the premium properties on ECR. There are quite of few of them there – Sheraton, Intercontinental, Vivanta by Taj, Radisson Blu Temple Bay, and the likes. That's for next time, and more importantly when I am drinking the real stuff, and not just mocktails! 🙂