When it is wifey's Birthday, it should be something more special than normal outings, I thought! Zeroed in on Madras Kitchen Company, The Westin. I've been here once for an event – Fratelli Wine Dinner when they just opened, loved it! In fact, I've been to The Westin a few times, also for another event – Chivas Dinner at Sunset Grill. It is a stone's throw from my place, and should there be a heavy downpour, there wouldn't be a hassle of driving through traffic. Without a second thought, decided this was the place we were going to!
I reserved a table for 7 PM, and reached pretty much on time. The first impression was a bit awkward, no one at the entrance, no valet parking, no security, no guidance on where to park. Thankfully it wasn't raining, I found a place a little ahead to park the car, and we walked back into the hotel. Very unlike a Star hotel, but perhaps the new normal in these pandemic times, I thought!
Thankfully, this impression didn't hang on for too long! We had a nice cozy table reserved for us. Sanitizing wet wipes were given as soon as we settled down! Again, a reminder to be safe in these times.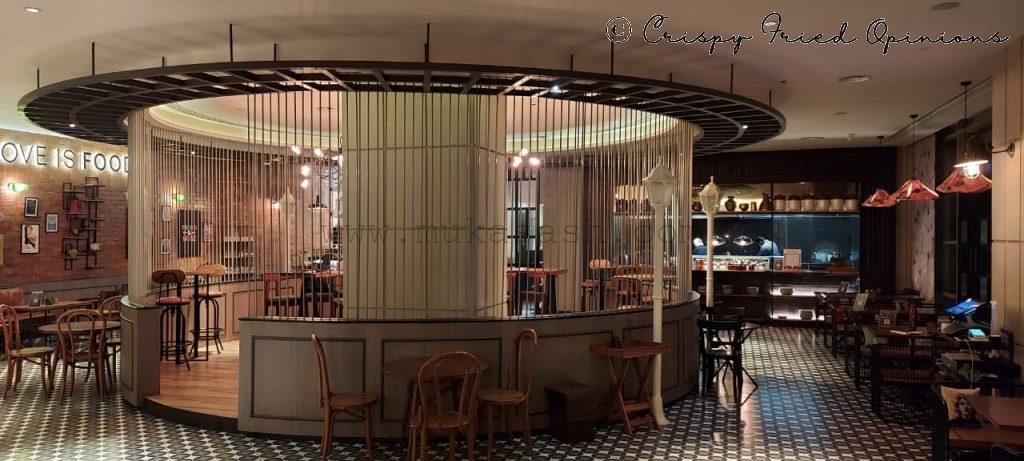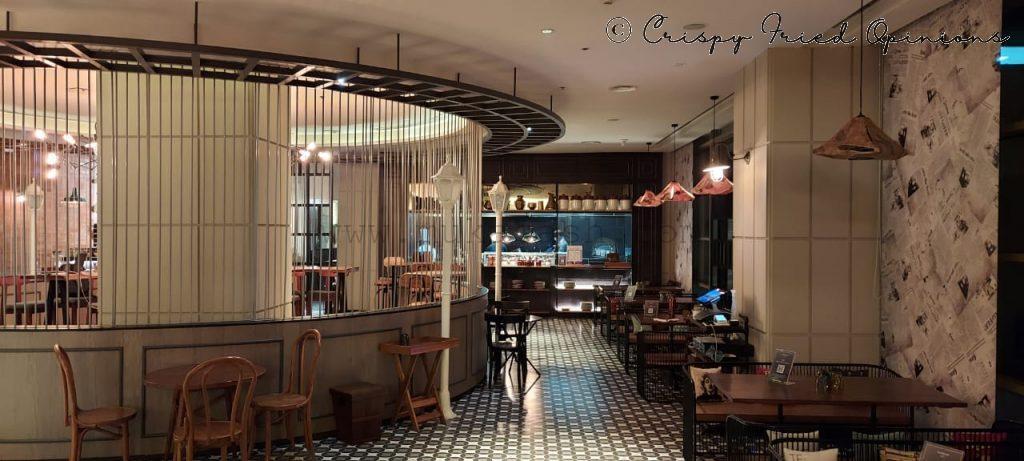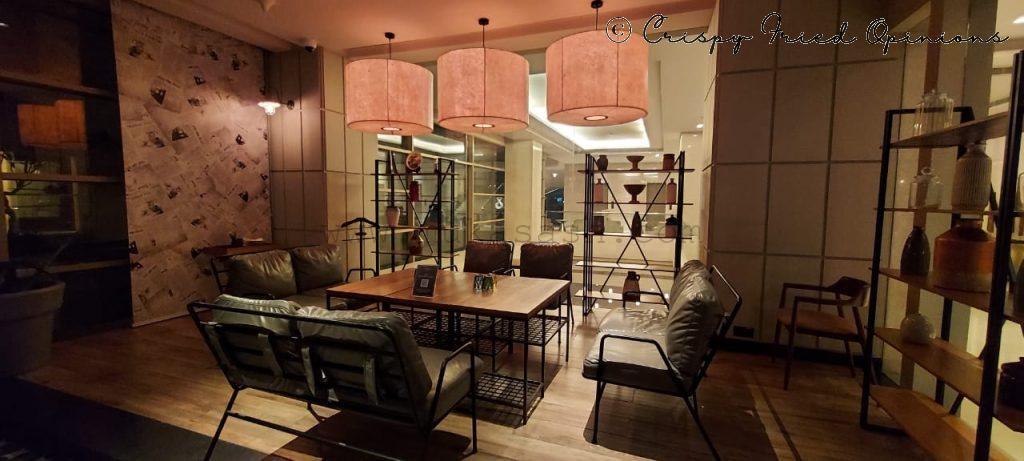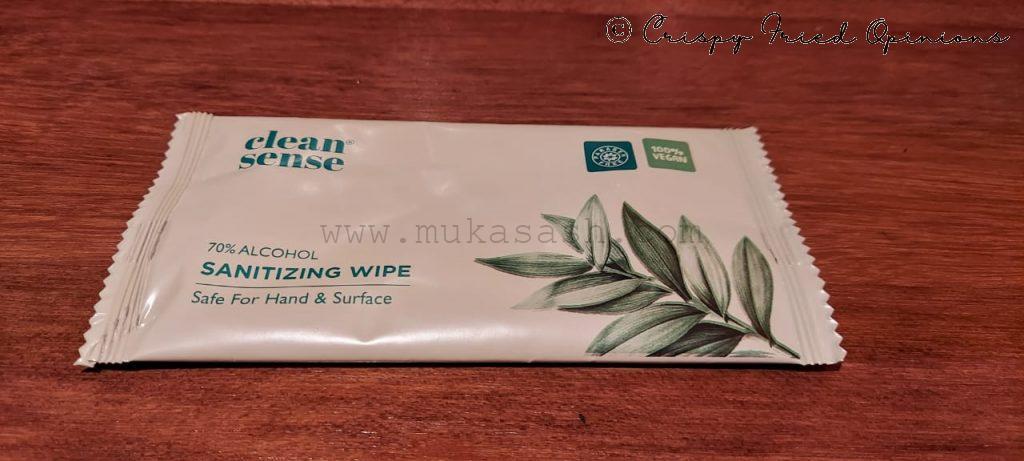 As it was wifey's birthday, I had informed them earlier that we'll have a small cake cutting celebration, to which they gladly obliged. The cake was a super yummy Chocolatey cake, we loved it.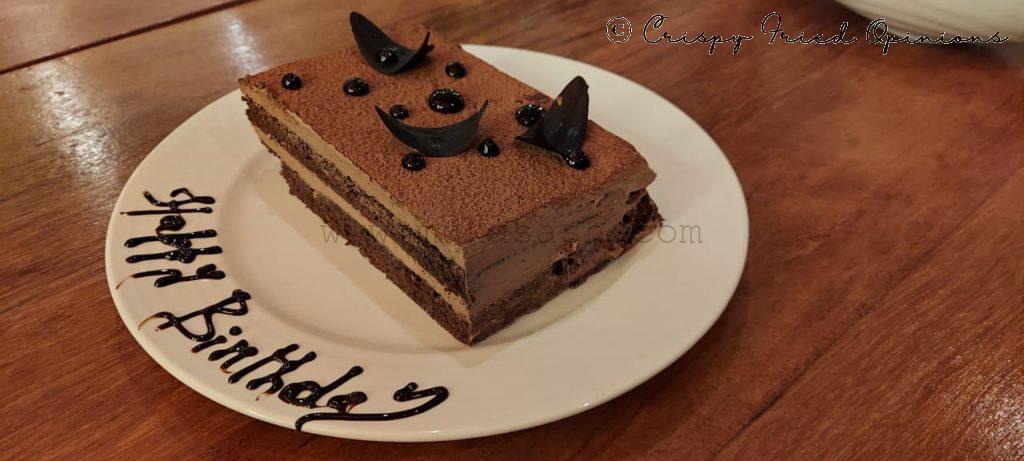 Now to the food! After a quick glance at the menu, decided to binge on starters and go easy on the main course. The good thing about this place is that they have a concept of small and large plates, and I would think they are quite nominally priced, so you can try a few of them and not just restrict to one. The menu was quite clear sans any confusion with the dish names or explanation.
MKC Style vada pav, dry coconut garlic chutney, fried chilli. This was perhaps the only vegetarian dish of the evening 🙂 It was yummy and very nicely done. Soft Pav, tasty vada, the chutney inside and the accompaniments, everything was spot on.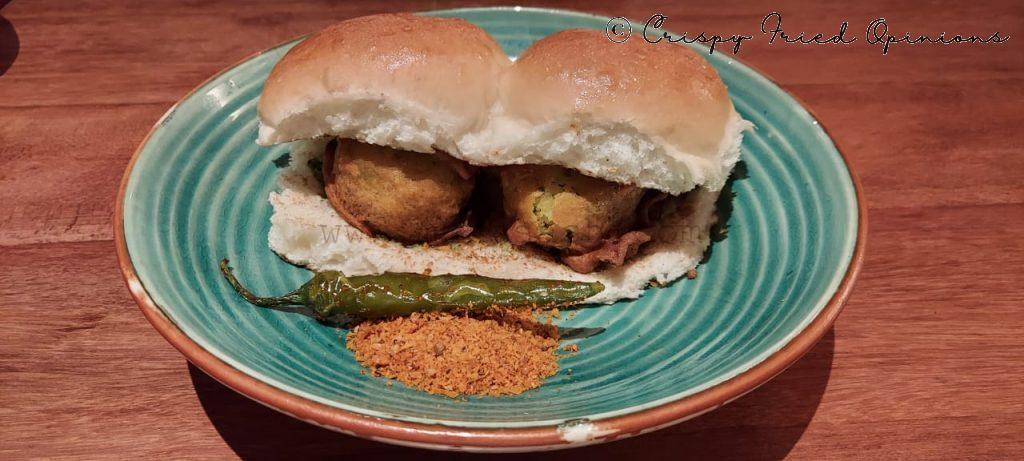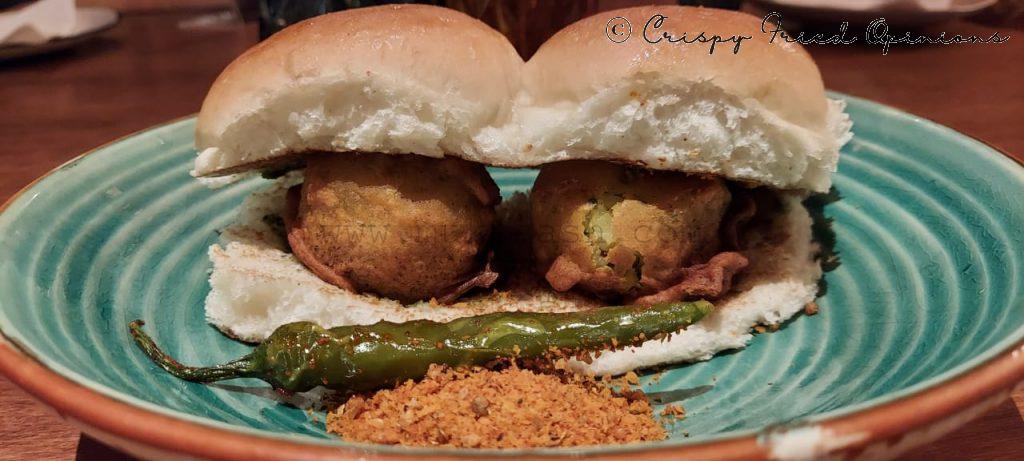 Thai basil chicken wings tasted wonderful. Don't know why I was thinking it was going to be a bit sweet, but after the first bite, it wasn't. 🙂 In fact, I liked it this way! Nice flavor of basil leaves, and the heat from green chilies was quite balanced.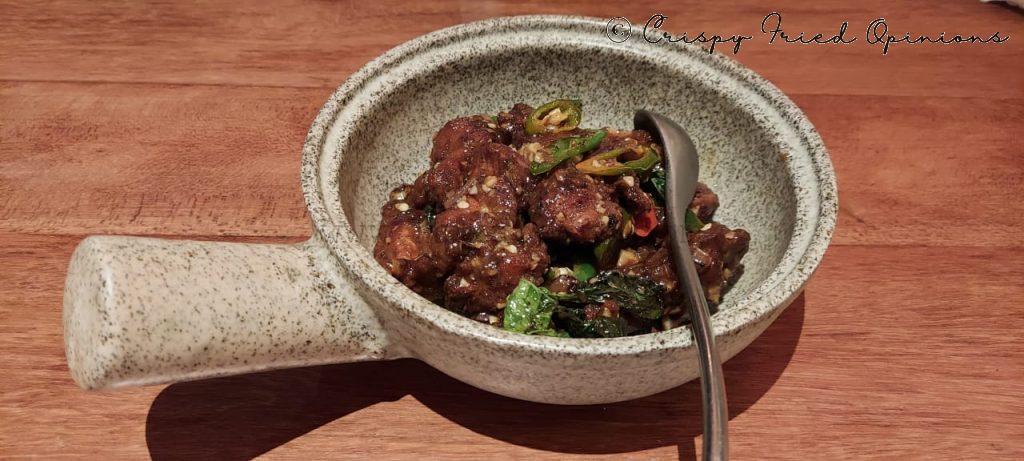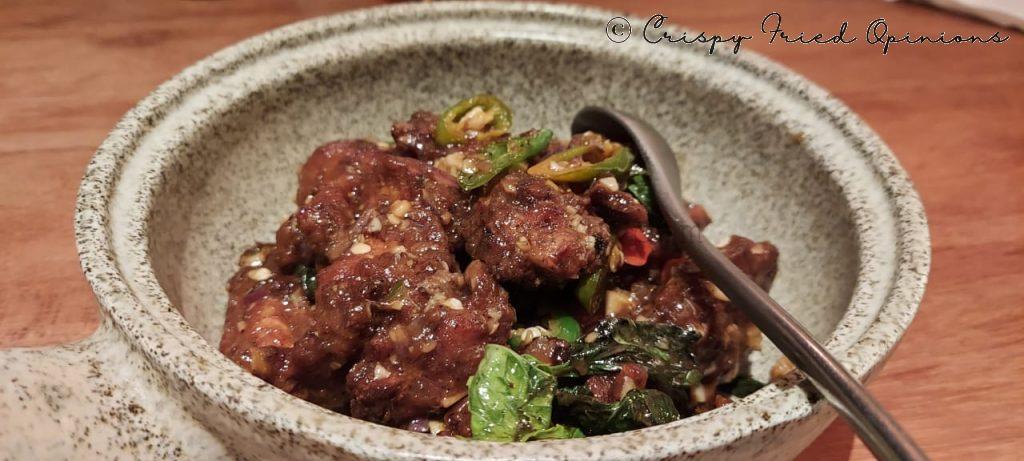 Wok tossed fish, tossed with black bean, assorted chilies, onion and Sichuan peppercorn was the next to come. I do not eat seafood by choice, so family tasted it and felt it was decent, not wow. The fish was a bit hard and quite bland, I was told. Not a stunner!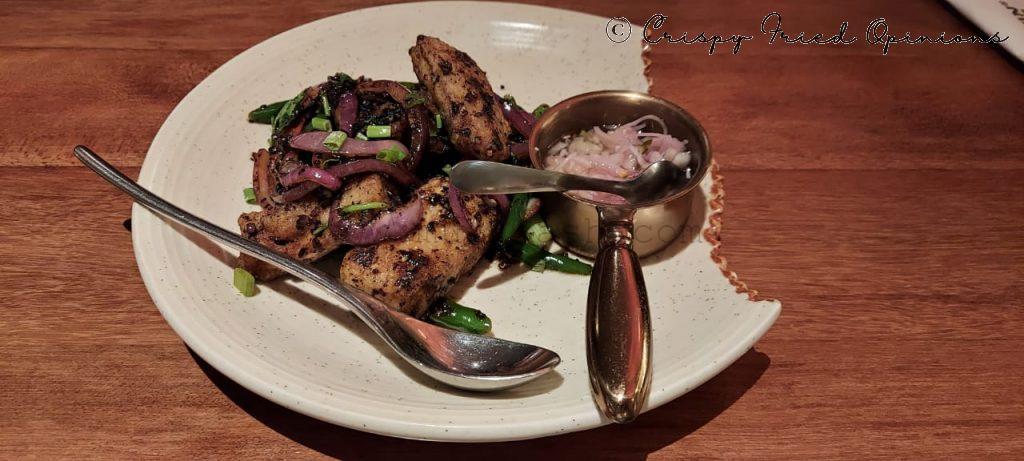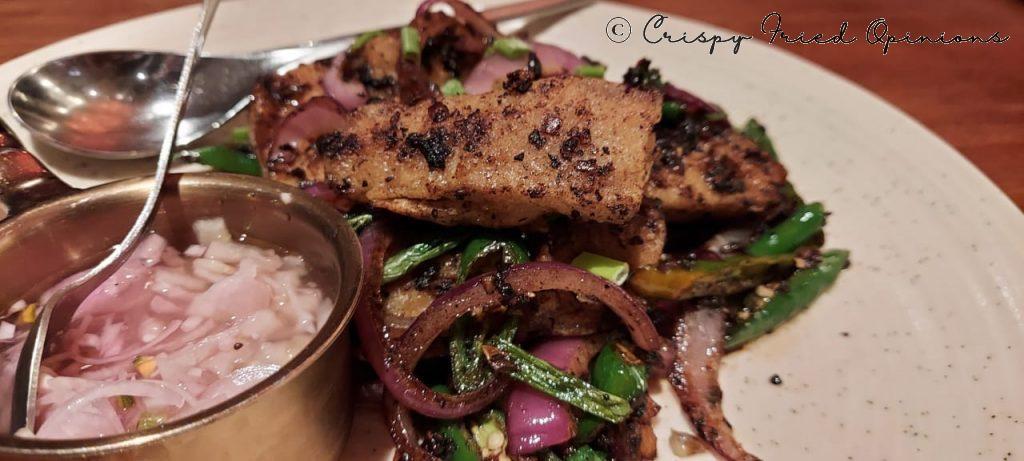 Chicken bullet chili, peanuts was another yummy chicken starter. Small boneless pieces of chicken, soft and tasty, primarily with flavor from red dry chilies. We could say, it was close to Chili Chicken, but still quite different. We loved this one.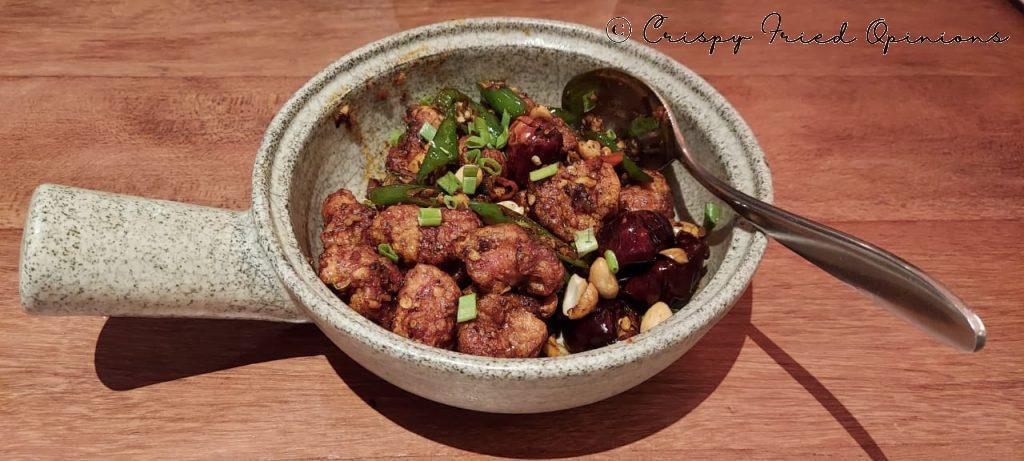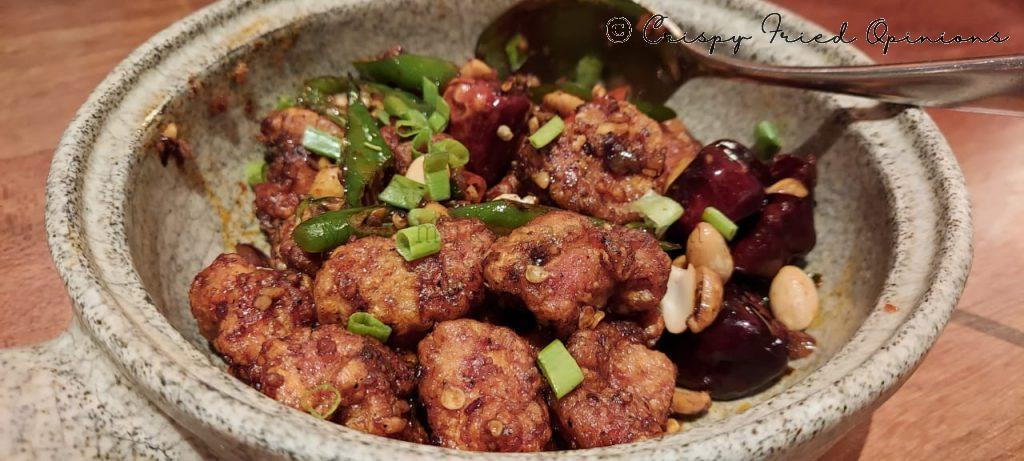 We got an Apple Orange and Mint Melange from the cold pressed juicery, on the house! It was lovely!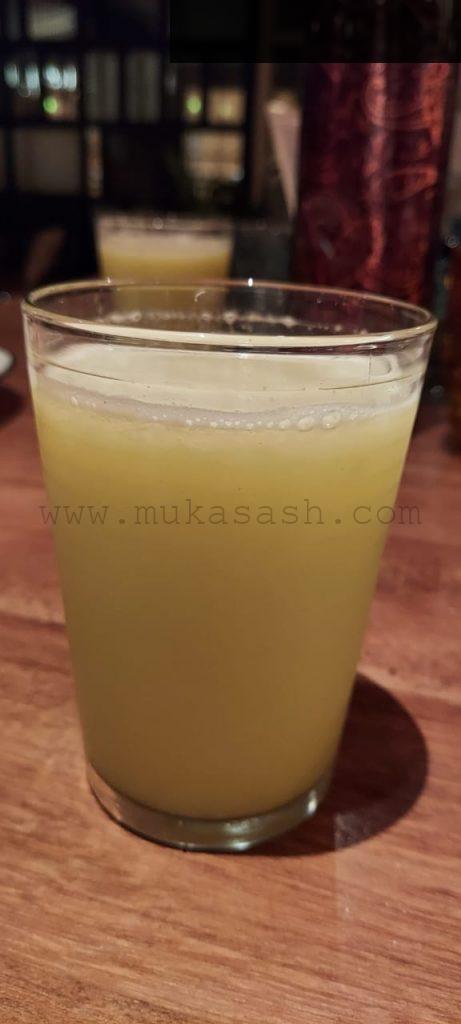 After a refreshing break, we resumed the binge on starters again 🙂
Chicken Dumplings and Bbq Chicken Bao were the next to arrive! Visually stunning, this had a stamp of a 5-Star kitchen! I couldn't help but appreciate how intricately these two were made.
Dumplings were wonderful with a thin outer cover and a tasty chicken filling. Baos had a super soft outer with a nice filling of barbecued chicken. The accompaniment to the baos were super yummy! We loved this totally! The cute colorful decorations on the dishes were super catchy!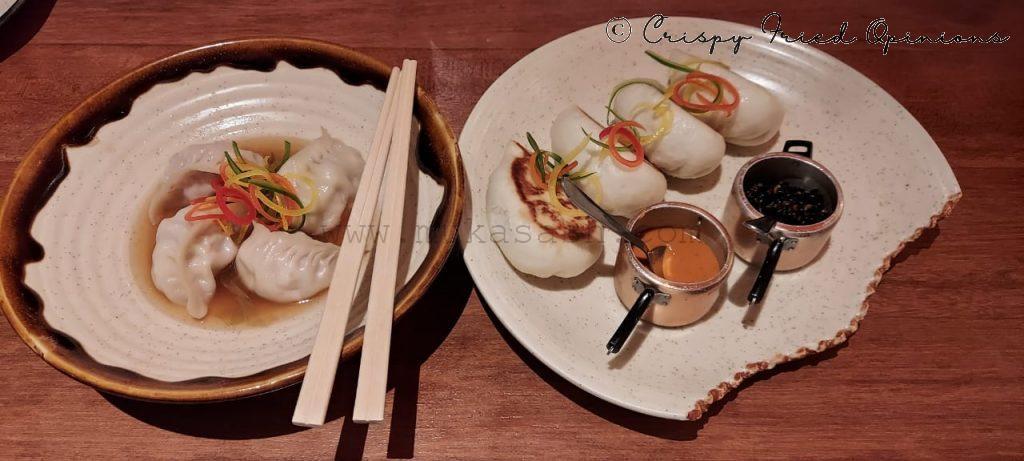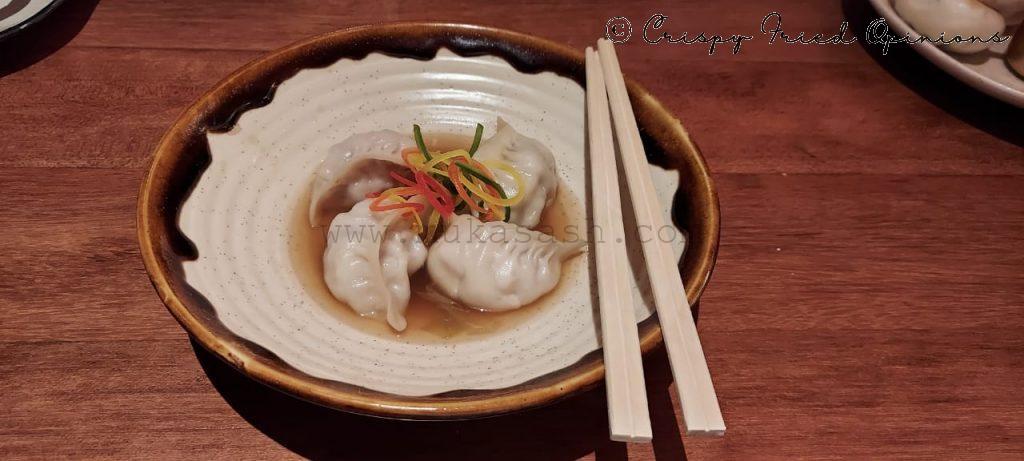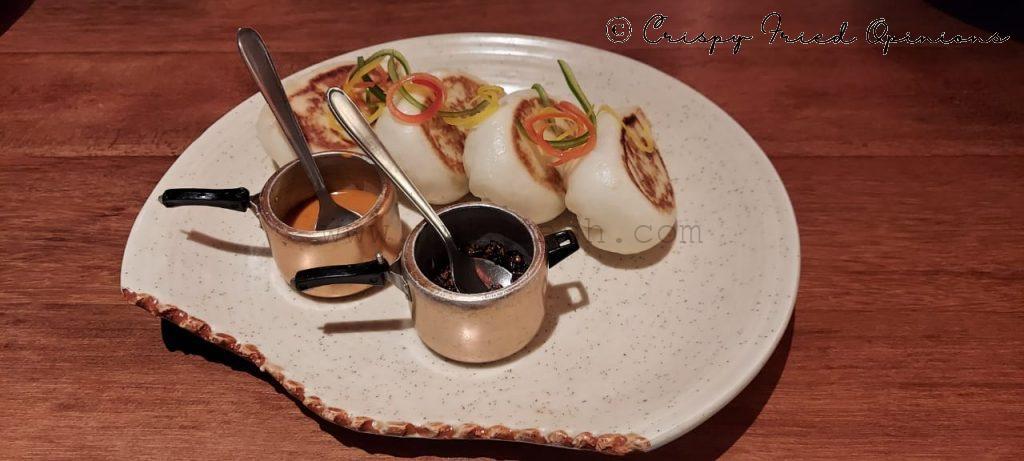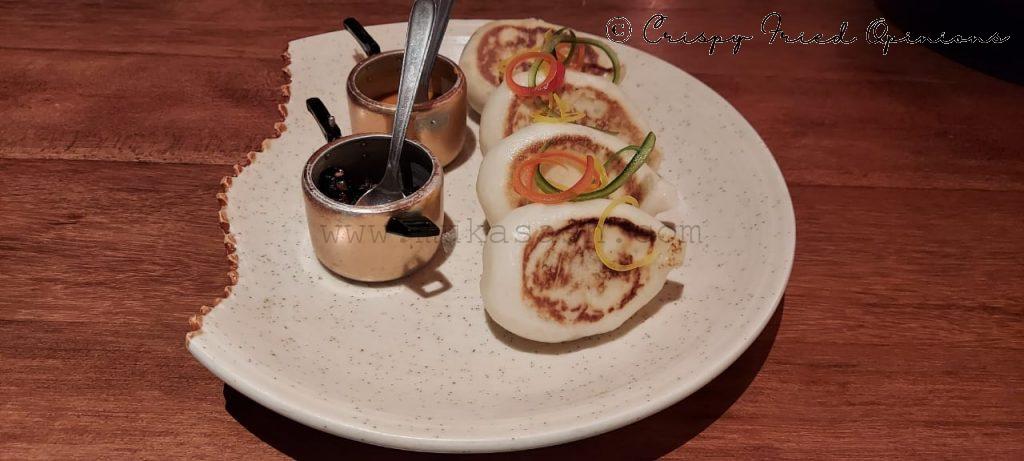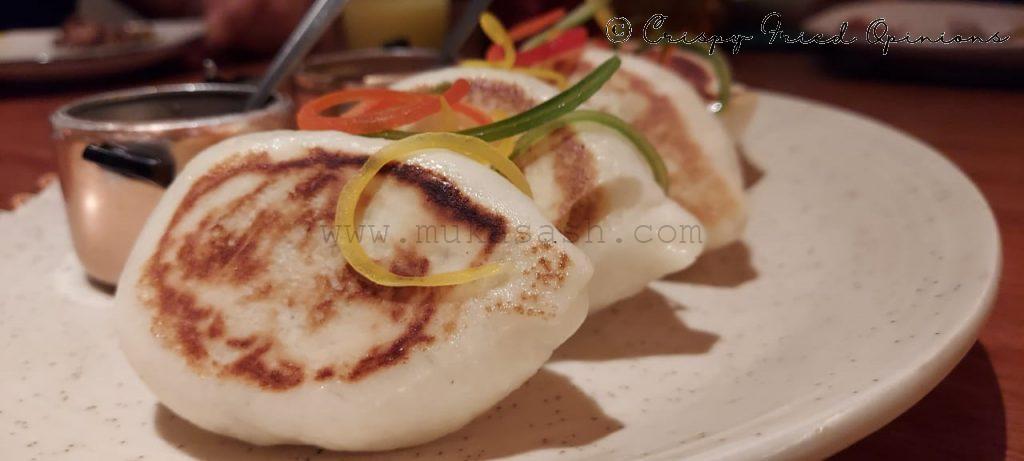 Chicken lemongrass lollipop, kimchi was the final starter of the evening! By now, we had decided we should switch to the main course, or the large plates. This was again, a wonderfully-made dish. More like a seekh, minced chicken skewered on lemongrass stems, and grilled to perfection. It wasn't spicy at all, but the flavor of lemongrass was wonderful in the chicken. Kimchi was pretty good too.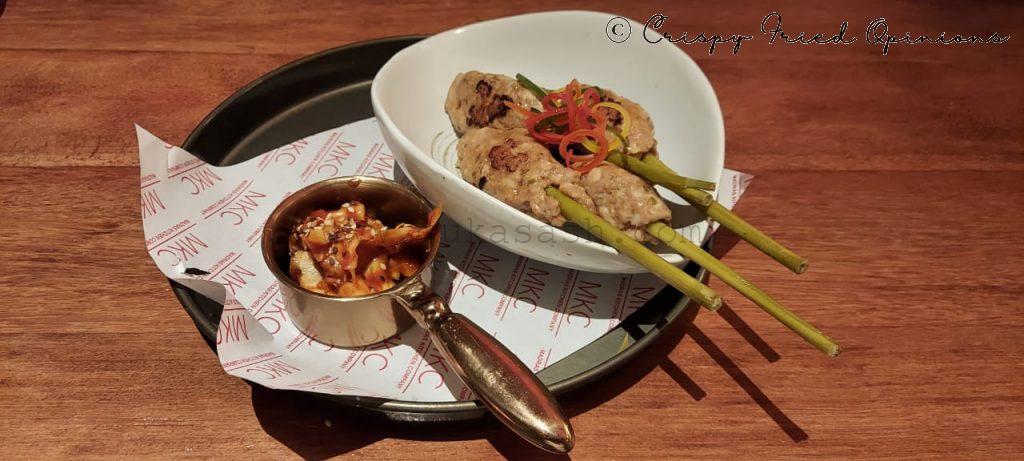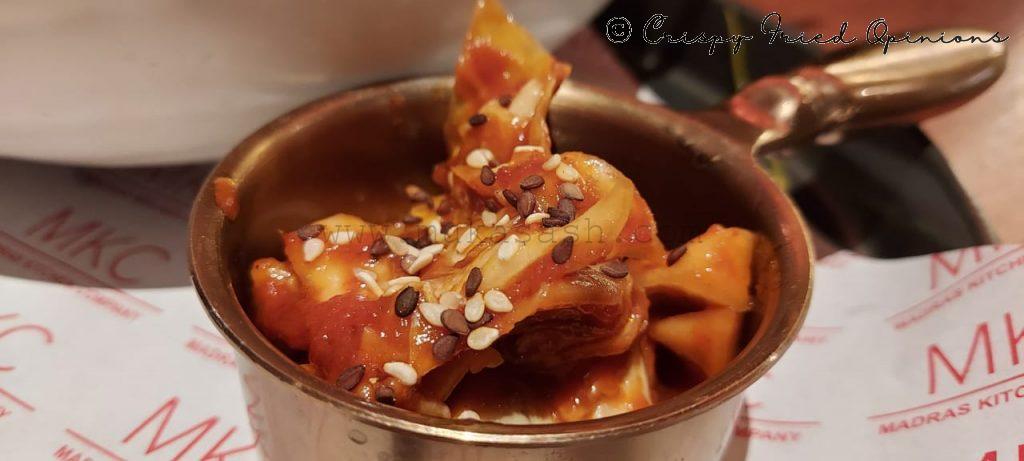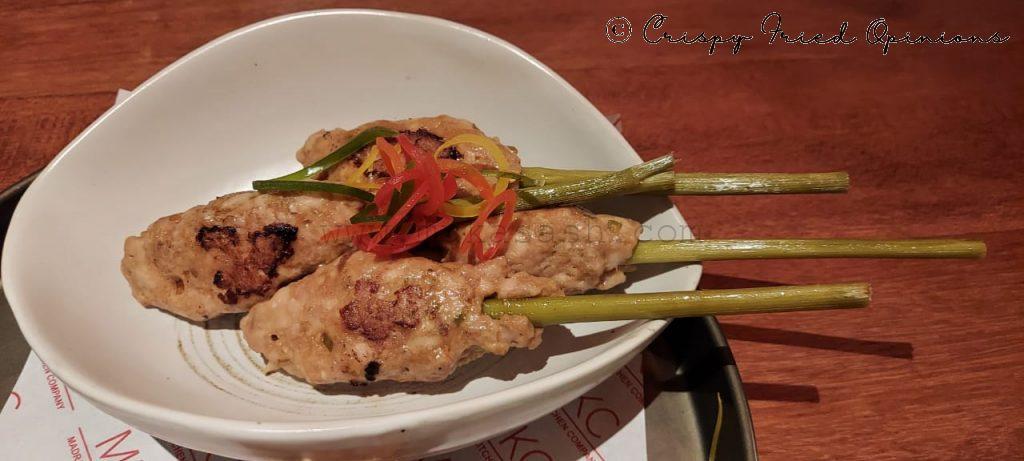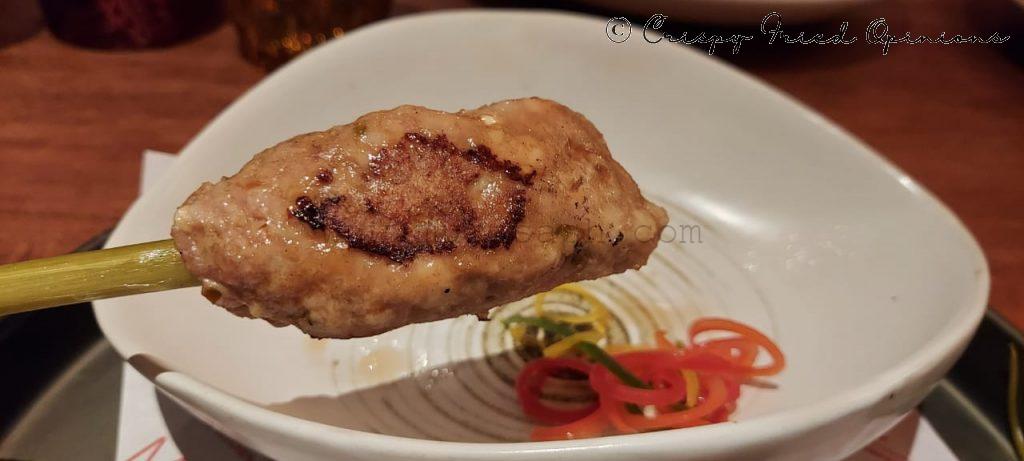 While I was browsing through the menu, I decided to have a glass of red wine and inquired if they have any domestic wines. Sure, they did have a Cabernet Sauvignon by Fratelli. Instantly was transported to the Fratelli Wine Dinner at the same place, a wonderful time we had! Decided to have a glass of that. Served at room temperature, it was pretty good.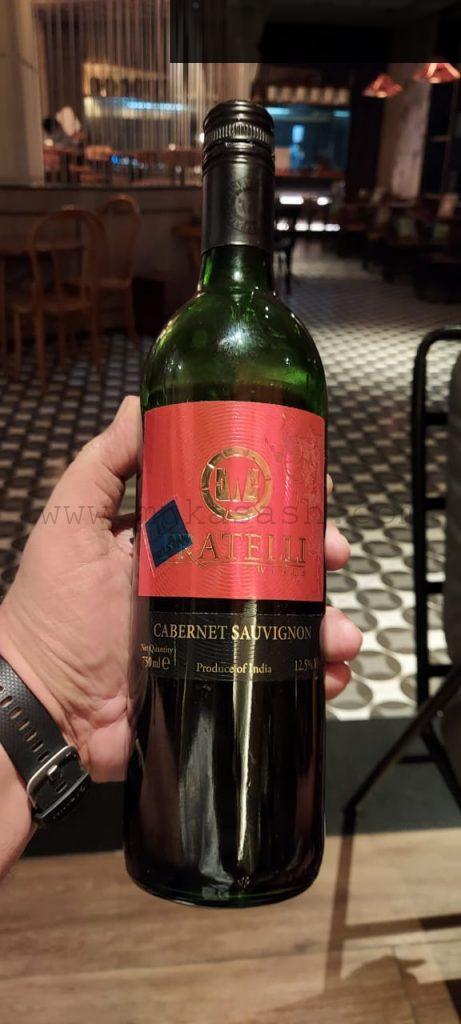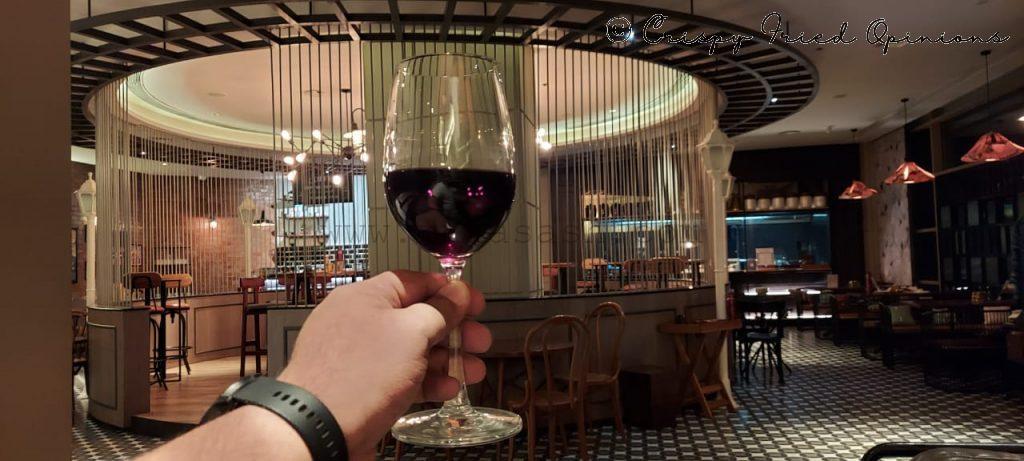 Meanwhile we got a portion of Chili Chicken, complimentary from the Chef! It was very yummy, to say the least.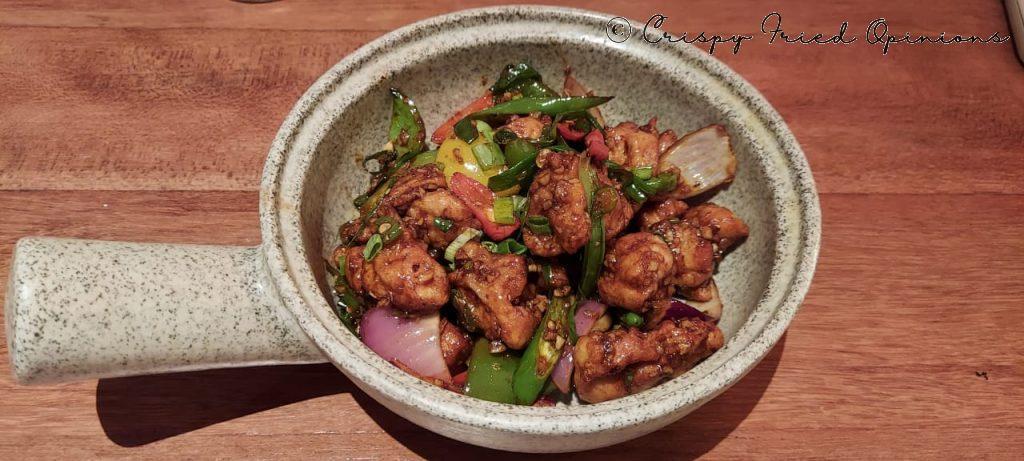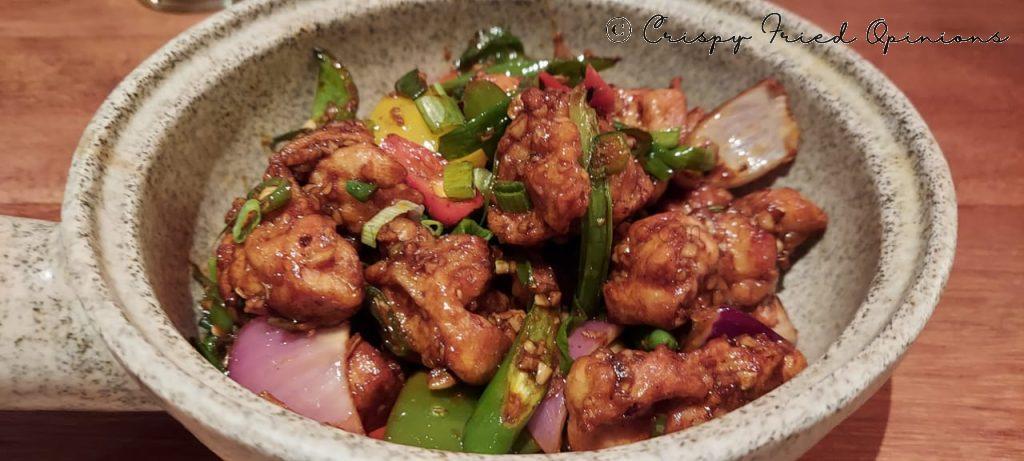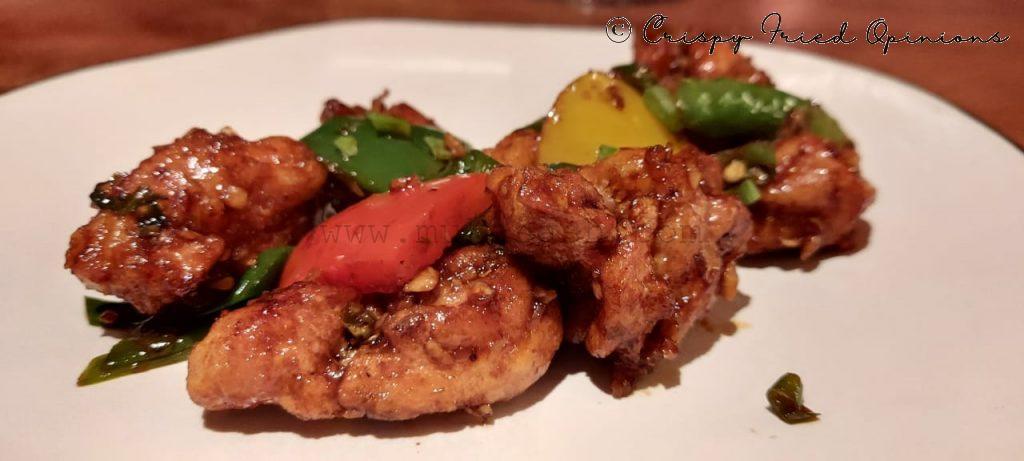 Finally, we ordered just two dishes from the Large plates and decided to share it as we were quite stuffed by now.
Railway station chicken biryani, appalam, onion raita, achaar was quite uniquely named, not sure why! We actually had a mixed opinion on this one. It was definitely not exquisite long-grained basmati rice with a stunning aroma of meat, quite expected from a biryani in such a place. Perhaps, it was not meant to be that way looking at its name. It was slightly wet, and more like masala mixed with rice. Just to emphasize, there was nothing wrong with the taste, just an expectation mismatch. The tender boneless chicken pieces were tasty, and the accompaniments were good too.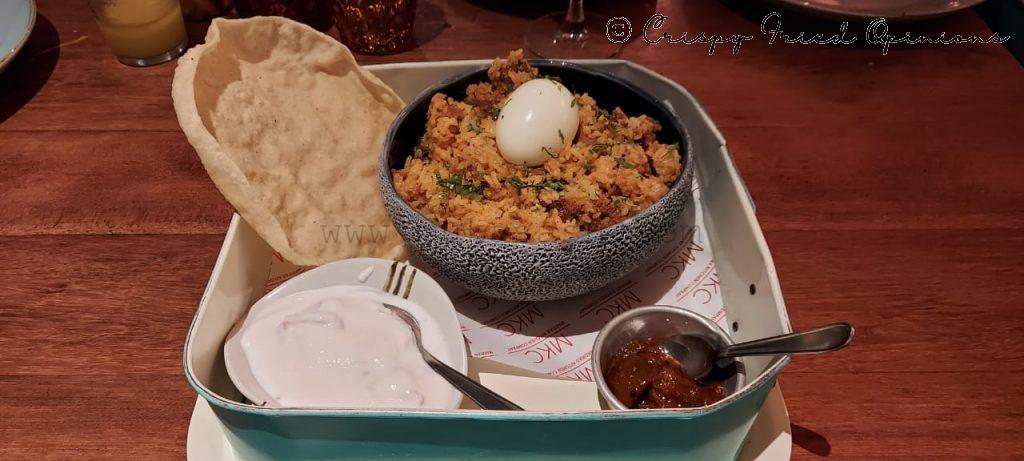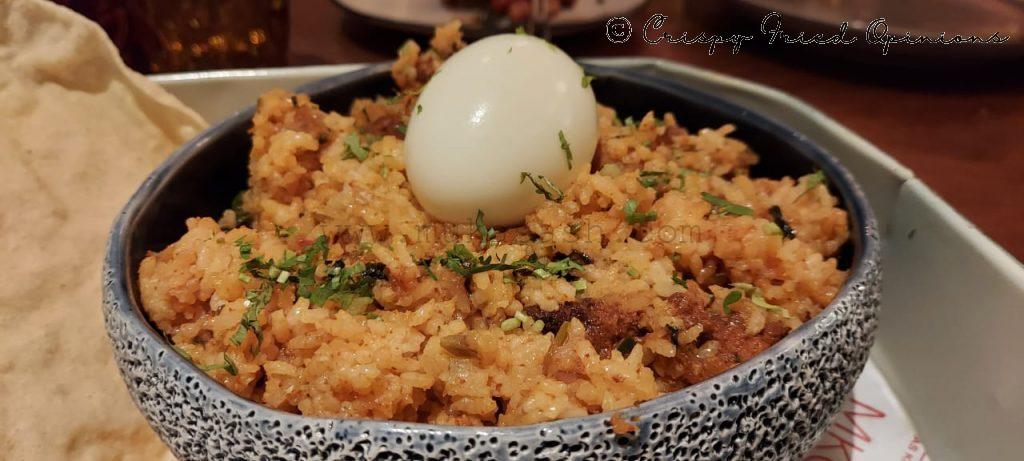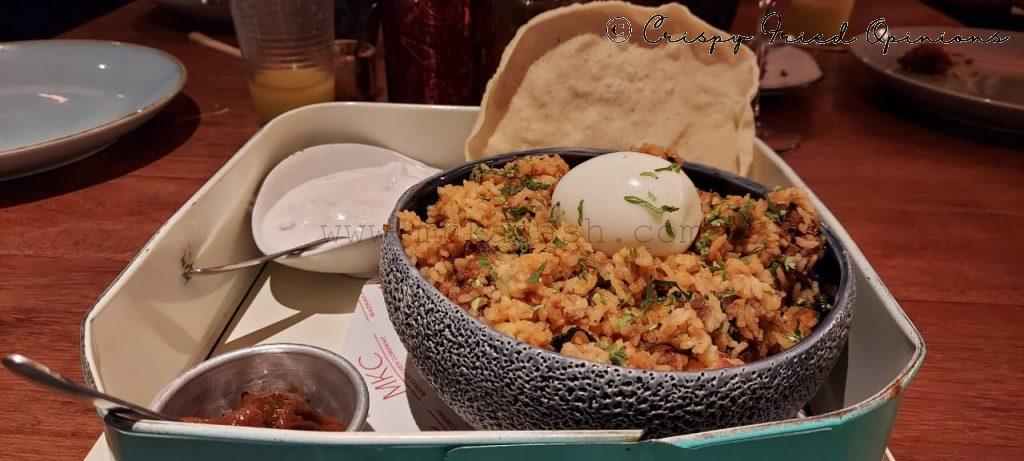 Smoked butter chicken, paratha, pyaz was super tasty! Loved the consistency of the gravy, and the flavor. Again, chicken pieces were soft and yummy. Paratha was tasty too, made of wheat. This was a clear winner.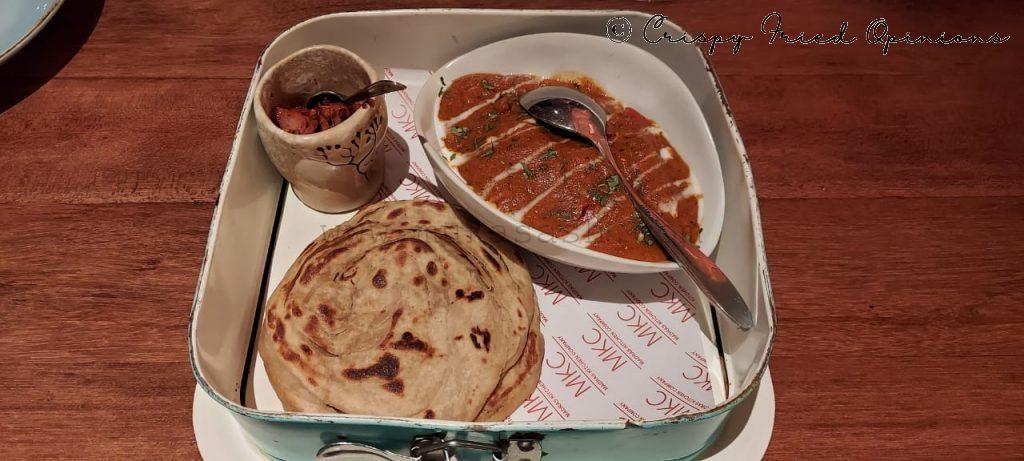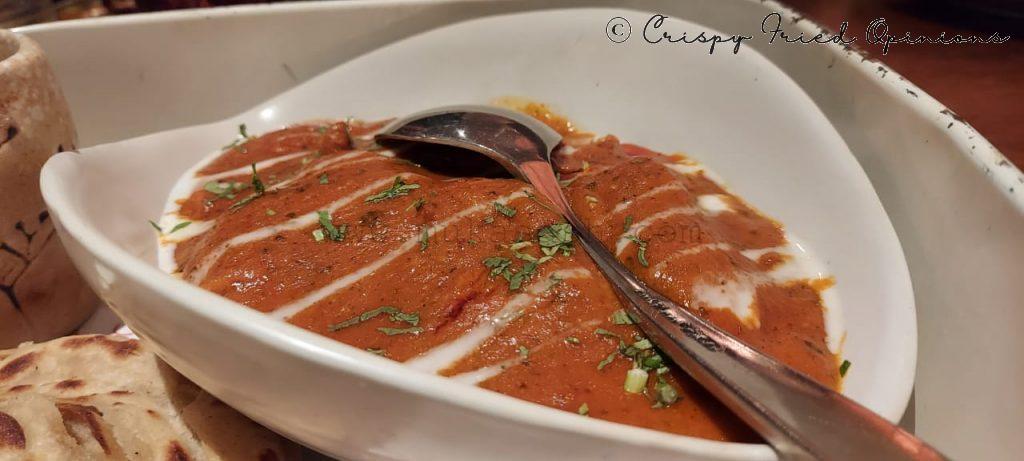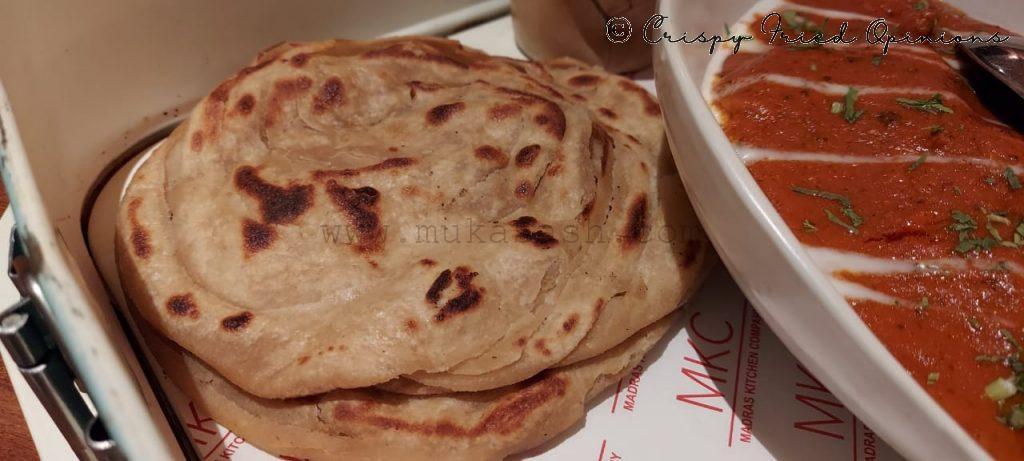 By this time, unanimously we decided that we were going to skip desserts. Would have loved to try a couple of them, the dessert menu was quite catchy, that's for next time.
Finished with a French Press Coffee, I would have liked it stronger, perhaps should have brewed it a little longer 🙂 Anyway, with that we ended our wonderful dinner.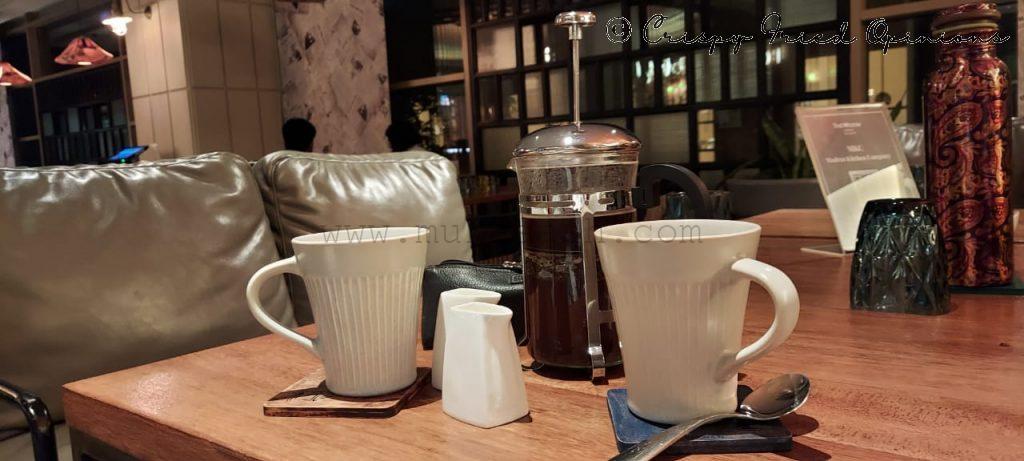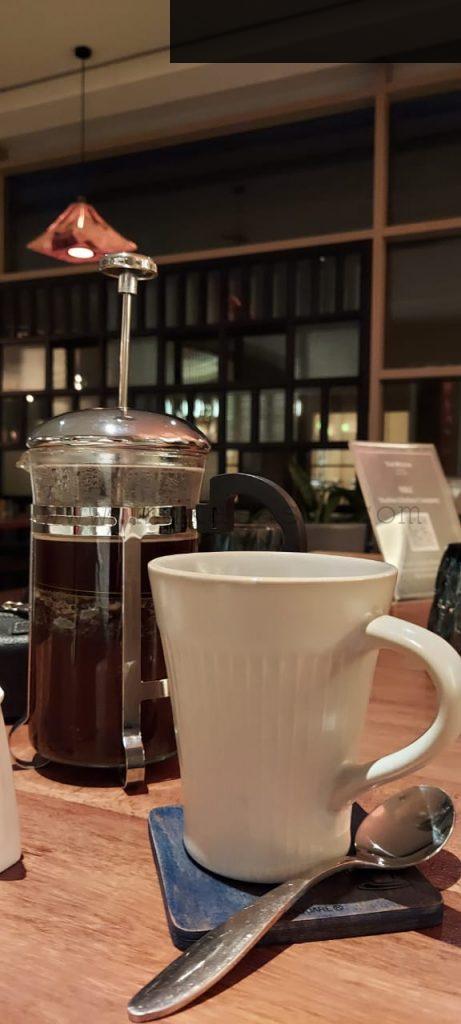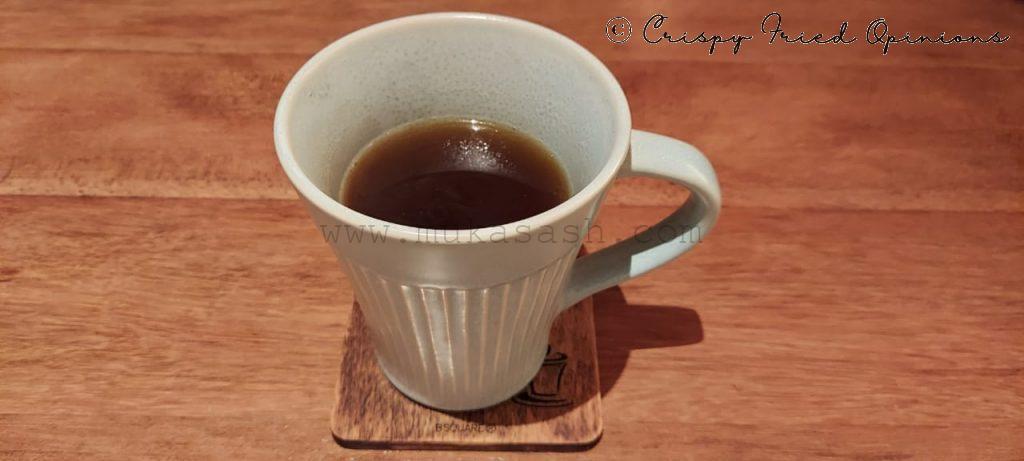 Overall, a fantastic evening! Special thanks to the F&B Director Mr. Srikanth, who also gave us a 15% discount on the bill. We paid just a little less than 4K (including a glass of wine which was about 700+ bucks) for 5 pax, and I would consider that very nominal for the food and service we had in a place like this!
Also a big thanks to Mr. Isac who waited on our table, very polite and courteous, who made our evening so pleasant and special! We were there for close to two and a half hours and left very satisfied.
I would recommend this place without a second thought, and would definitely visit again at the next possible opportunity.