First of all, a quick background on why I visited this place. My cousin and his family had come over to Chennai for vacation and I wanted to take them to a good place for dinner. My aunt and my parents were also accompanying us, and it had to be a vegetarian place. We're not the kinda cousins who have been meeting often, so this meeting was after many years and I wanted to take them to a really nice place. I didn't want to go to Star hotels, but definitely was looking at a fine dining restaurant. Being proper Delhiites, they were looking forward to tasting south-Indian food.
'A South-Indian vegetarian fine-dining restaurant' was what I was looking for, and obviously not too many options for a search criteria like this. Zeroed in on two places, Annalakshmi and Paati Veedu. I decided to opt for the latter. Through known friends in food circles, reserved a table for 10 Pax.
We didn't have too much trouble locating the place. It was one of the streets off Thirumalai Pillai road, and I was quite familiar with that area. It was a palatial bungalow renovated into a restaurant.
We were very well received and escorted to a separate enclosure, a comfortable dining space for at least 15 people.
First look, the ambience was very posh. It looked modern whilst retaining its traditional feel. The place was set up in such a way that is comfortable for large groups also.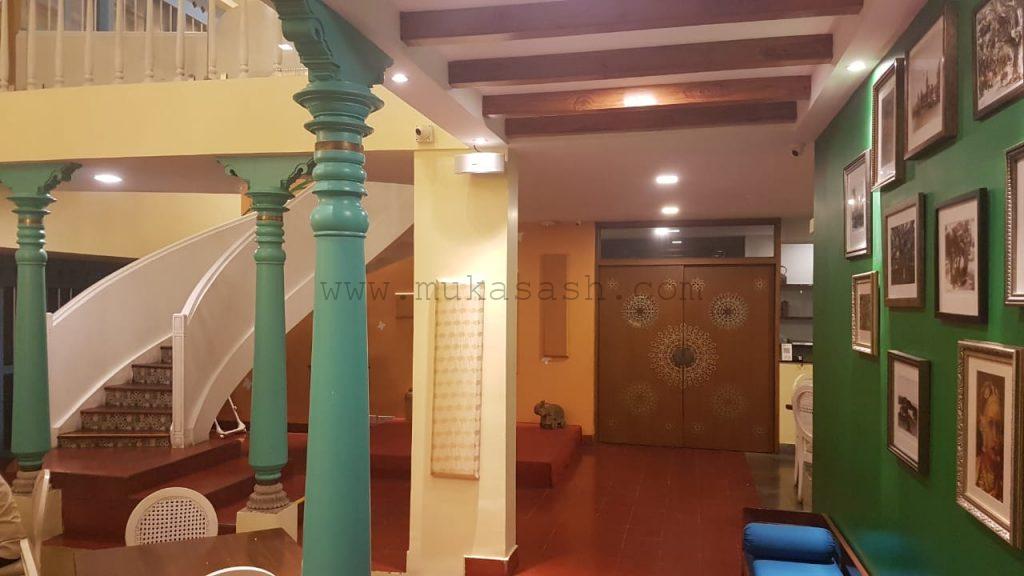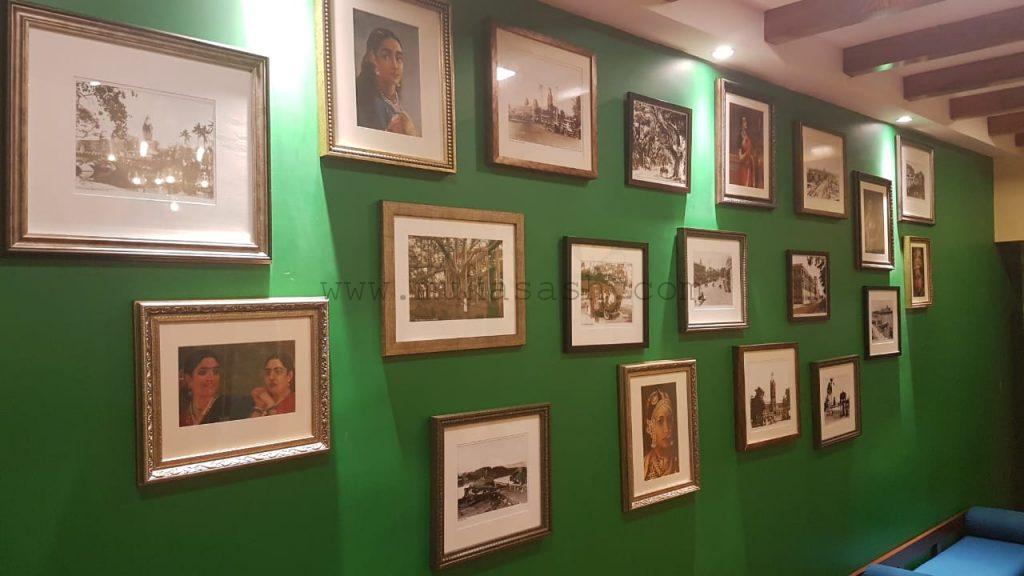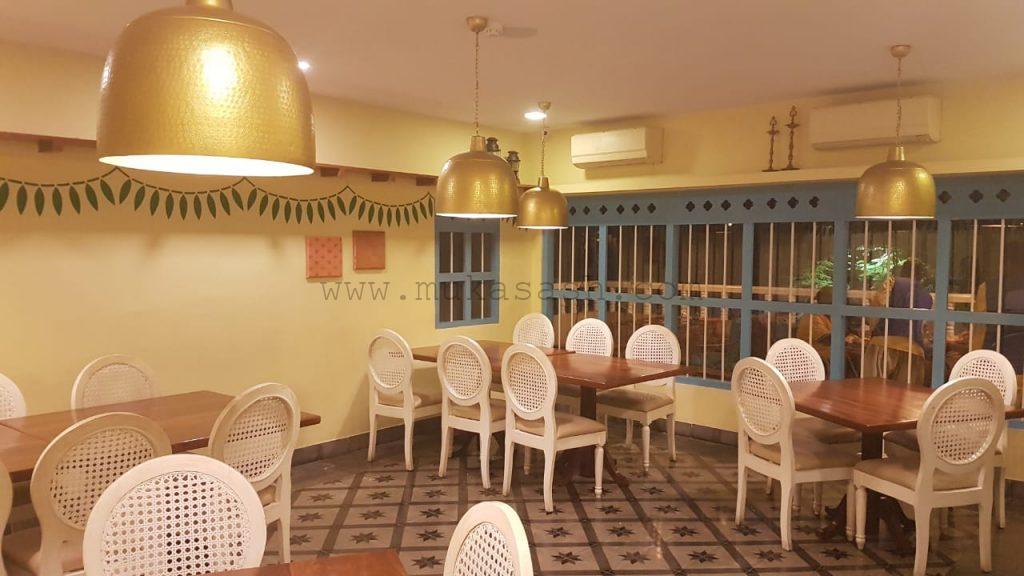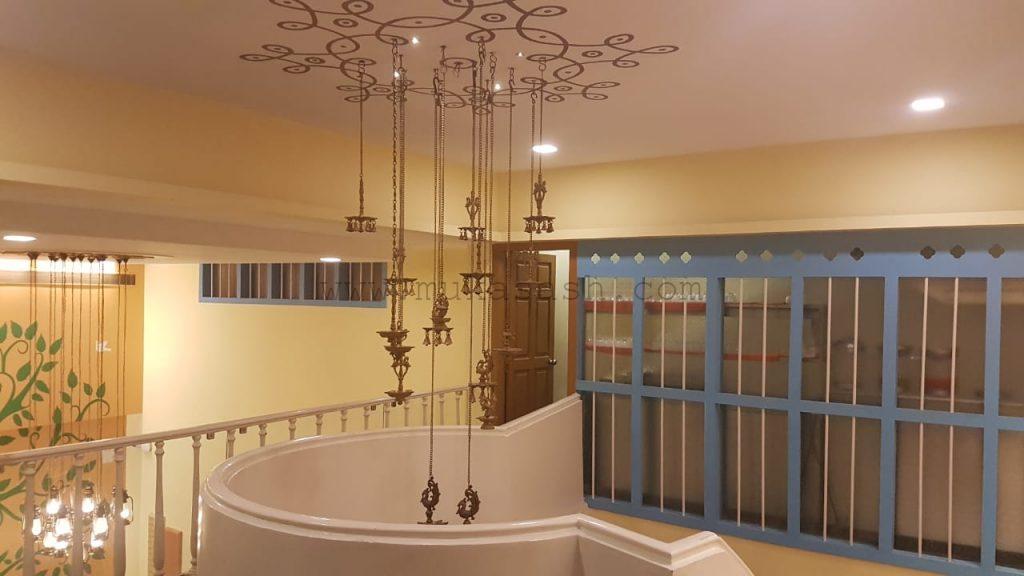 We settled down and got a fancy Lenovo tablet for menu. After browsing through the soup and starters, we ordered Drumstick Rasam to be served three by six, and Tomato Rasam to be served two by four. The mild flavor of drumstick in rasam was good. Tomato Rasam was quite like how it should be, no complaints there. Visually, they weren't very different.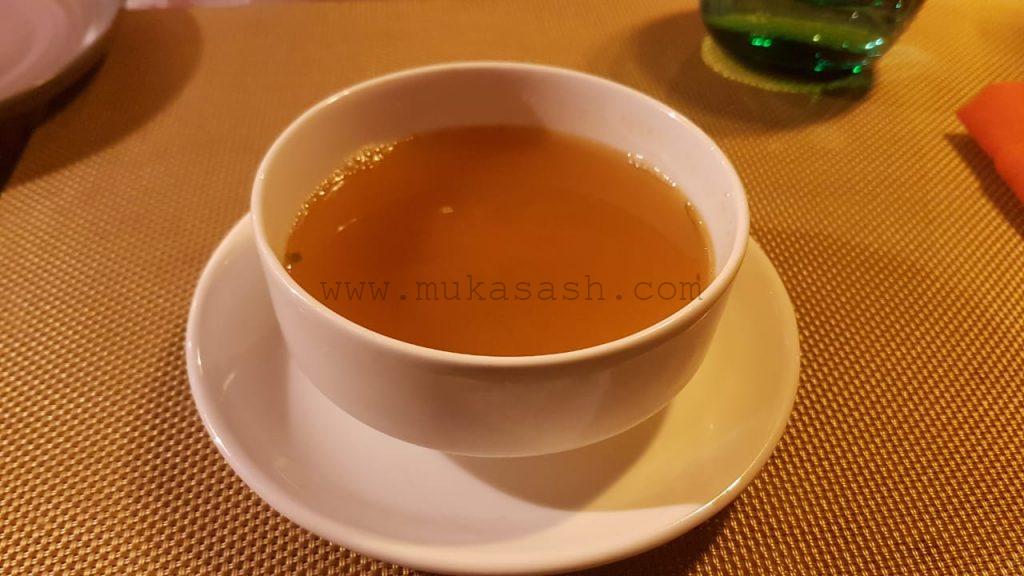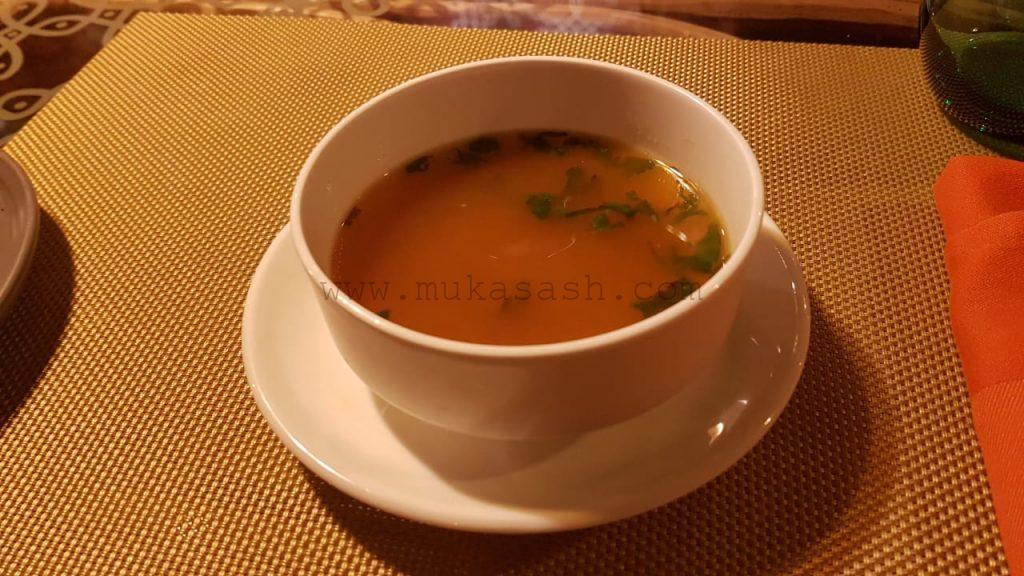 Now thinking retrospectively, 8 out of 13 starters in the menu were either Bajji, or Vadai or Bonda. So its no wonder that we ordered quite a few of these. I felt the starters lacked variety in menu.
Complimentary crispies on the table were devoured in no time 🙂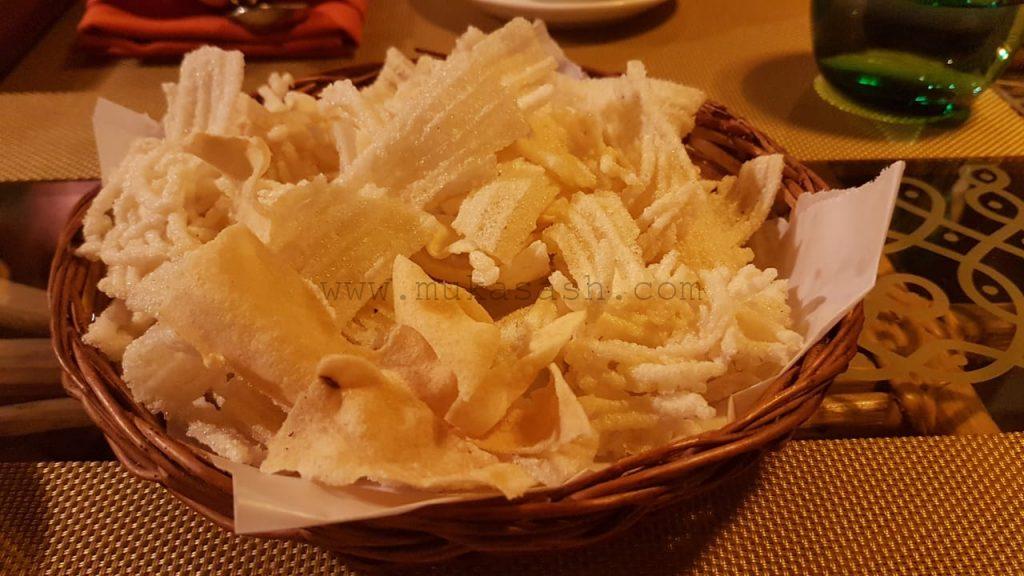 Vaazha Poo Vadai was just very basic, nothing spectacular. Tasted pretty good with the coconut chutney. Since it had only 8 pieces and we were 10 Pax, ordered one more of it.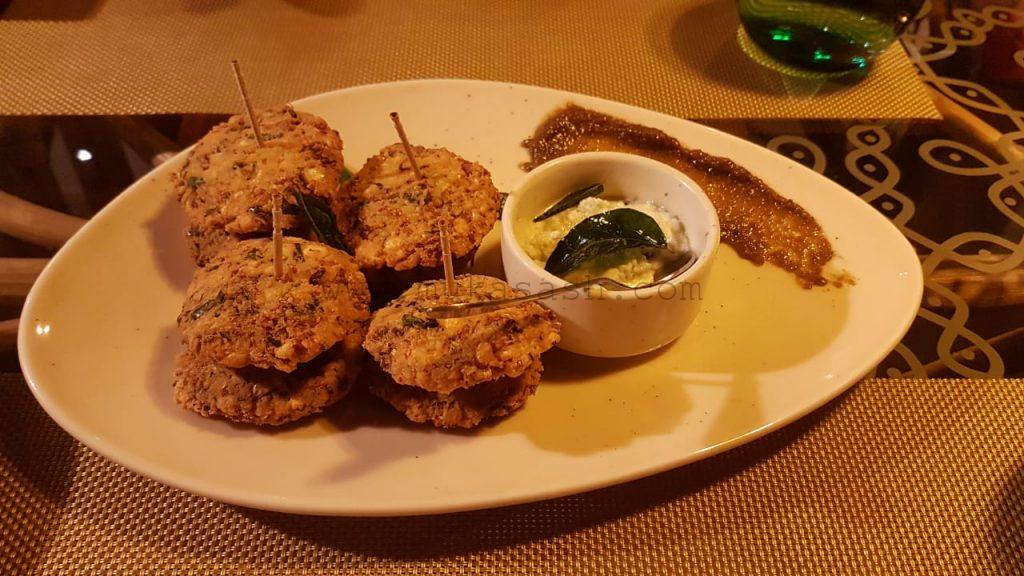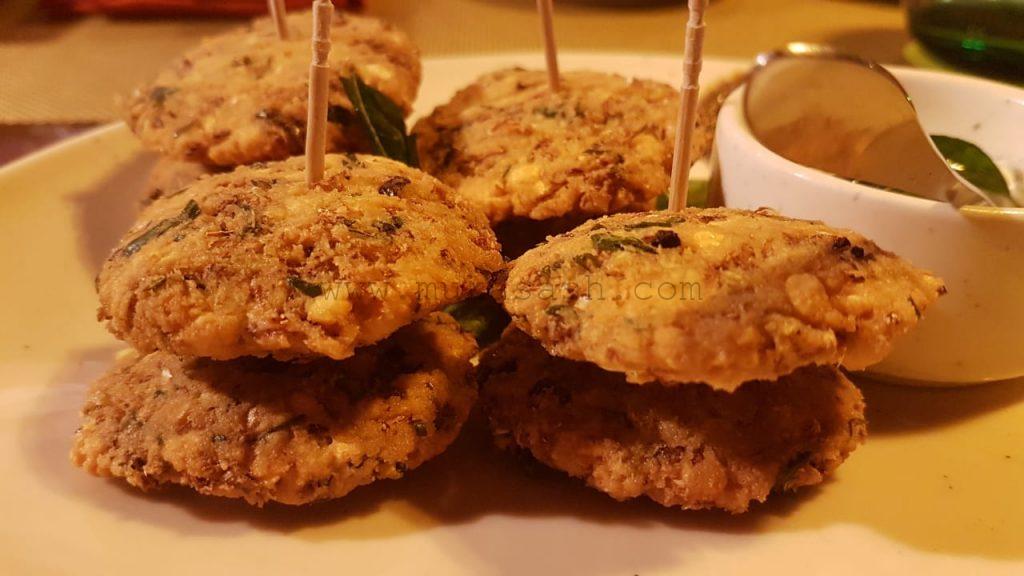 Chilli Bajji was good too, ordered one more plate as it disappeared in no time.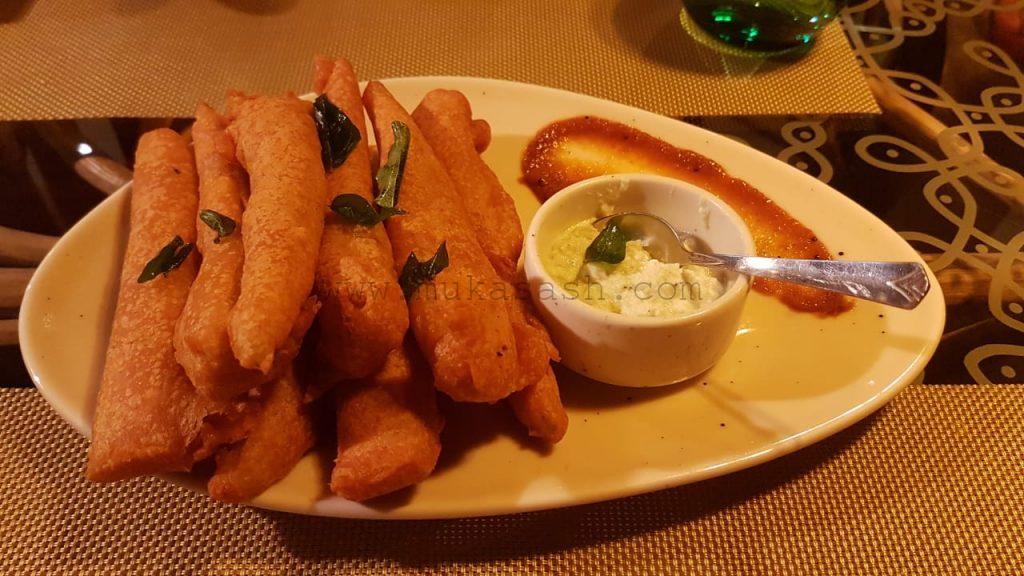 Next to come was Baby Corn Varuval with a fancy Tamil name, tasted good. The sprouts served alongside was decent too.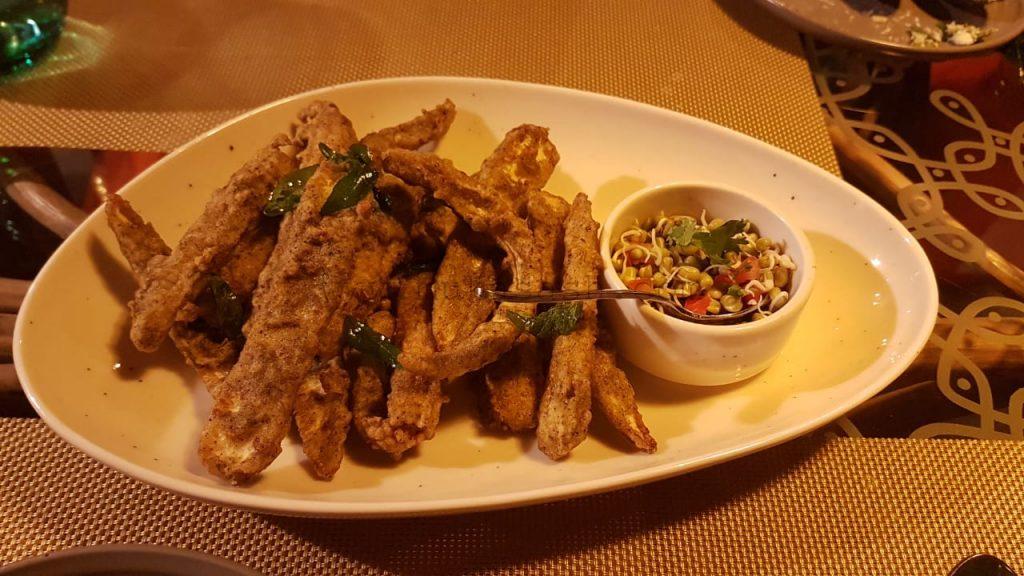 Potato and Raw plantain banana Bajji was the next one to arrive. They agreed to customize this as 4 pcs each, instead of 8 of the same kind, nice of them.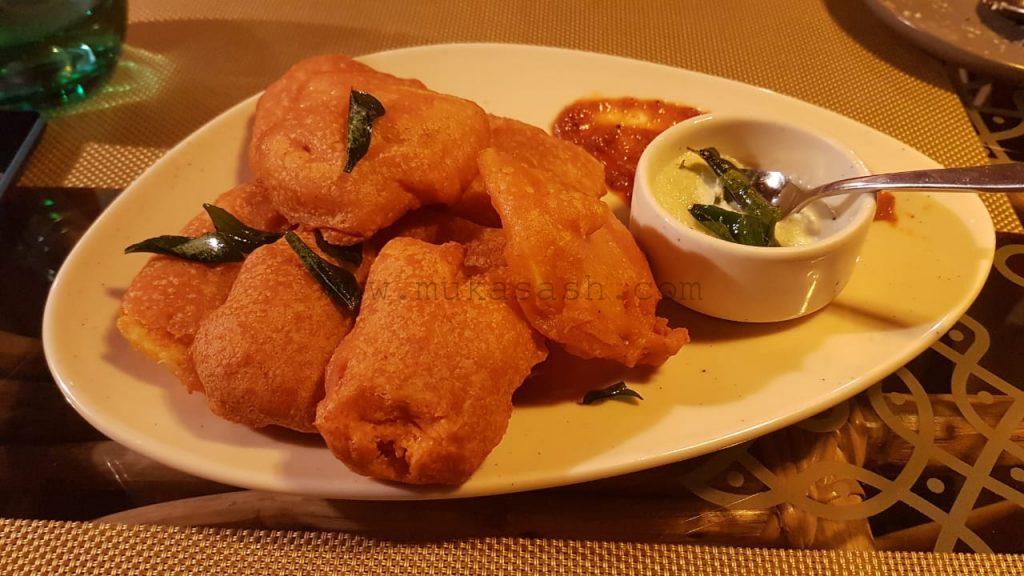 A plate of bajji was priced upwards of 200 bucks. Until now, I would perhaps let it go as a fine dine place, and hence the justification for the price tag. What followed was absolutely a sub-par experience for main course. We decided to keep it light after gorging on the starters.
For the ten of us, we ordered 2 Ghee Dosa, 2 Idiyappam, 2 Aappam, 2 Vadacurry Dosa, 1 Masala Dosa and 1 Ghee Podi Dosa.
First and foremost, I wasn't very pleased with the texture of the dosa. Not sure why, looked 'paper'ish. I like Dosa crispy, but this was different. It looked like it was made on a non-stick tawa or without oil. Ghee dosa didn't have the slightest aroma of ghee. Also it may have something to do with quantity of the batter spread on the tawa. A dosa in Sangeetha would definitely feel 'more' than what was served here.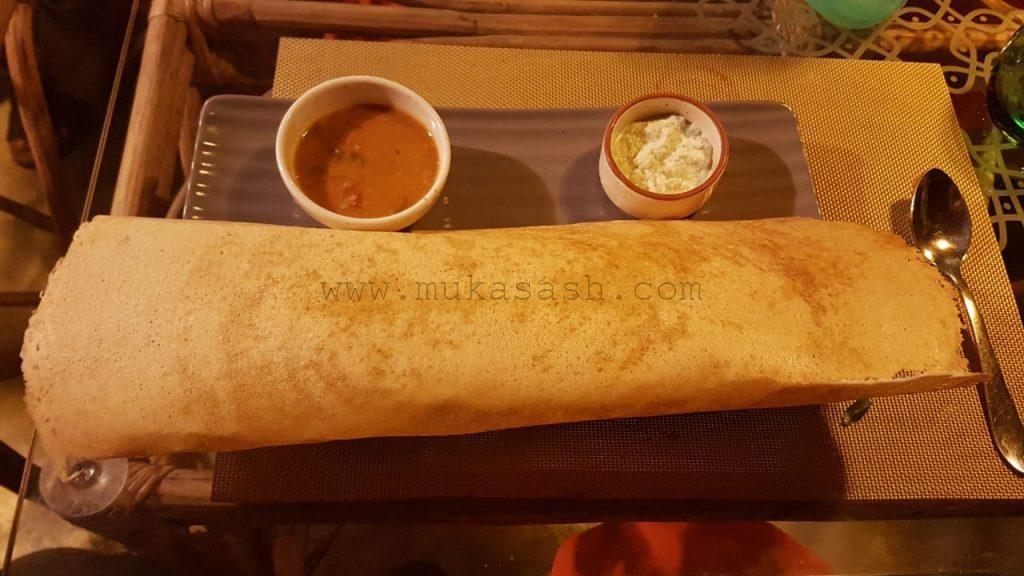 Ghee Podi Dosai again was very ordinary, with a bitter after-taste in the Podi. It wasn't anything worth raving about at all. Just one chutney and sambhar with all variants of Dosais? seriously?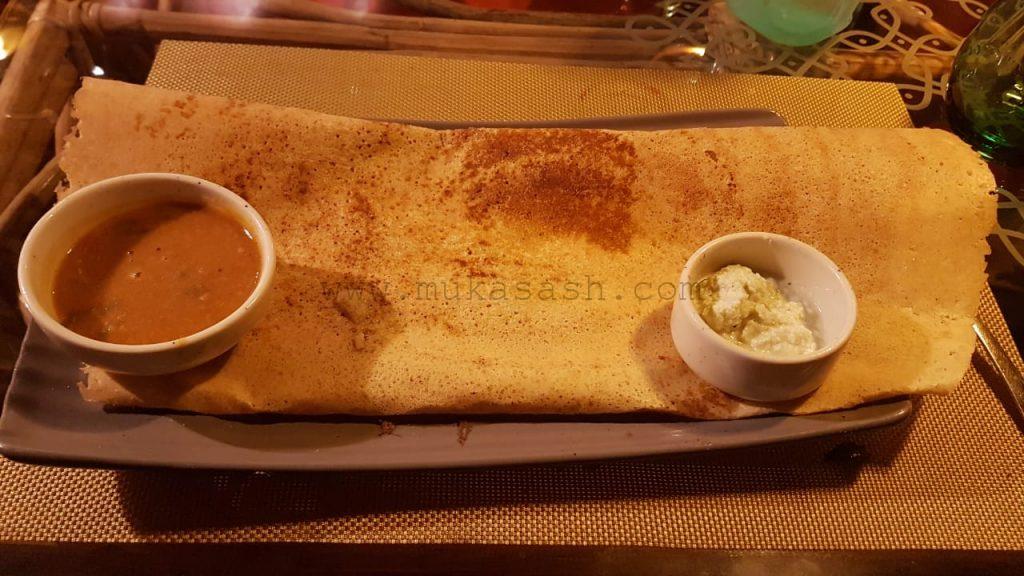 Masala Dosa was served with masala barely warm. It was almost at room temperature. We politely sent it back and this time, it was served hot.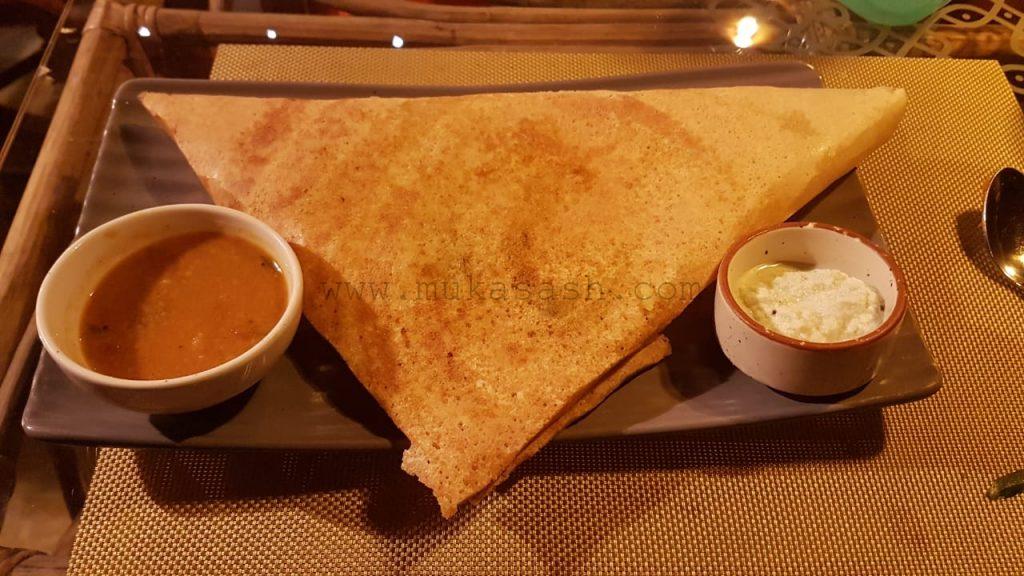 Vadacurry Dosa was the saving grace amongst whatever we tried so far, as the vadacurry was tasty, dosa still the same.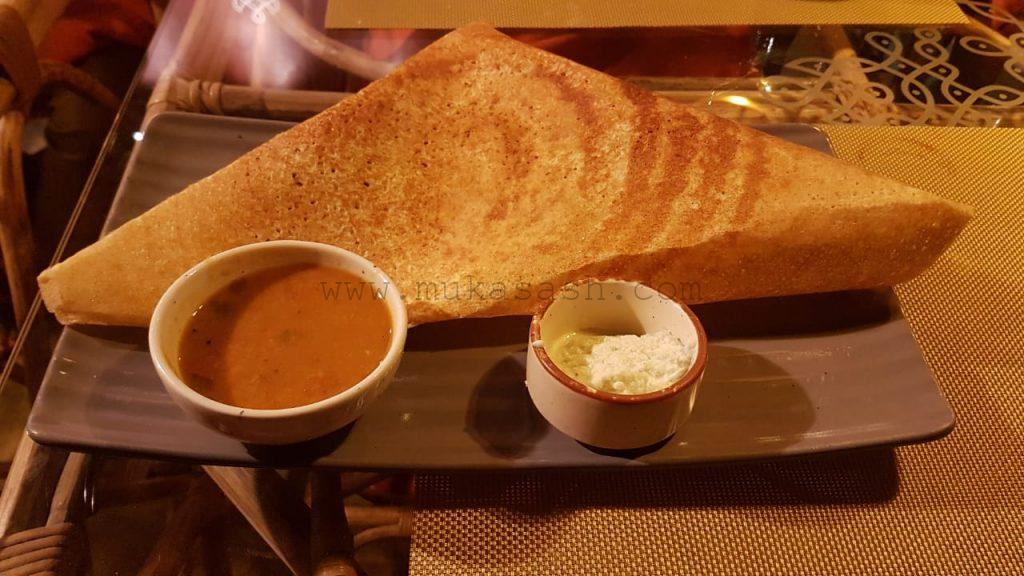 We were told Idiyappam and Aappam was going to be served either with Sweet Coconut Milk or Sodhi or Stew, wasn't quite pleased, we asked for both stew and sweet coconut milk, and they obliged. The portion was miniscule, and sweet coconut milk was a sorry excuse for one – diluted and low on sugar. Stew was equally bad, low on salt and watery, and hardly made any impression. The last cup of extra stew that was served was how it should have been, thicker in consistency and much better in taste than what was served to us. Aappams were not too big either, looked like a kids meal.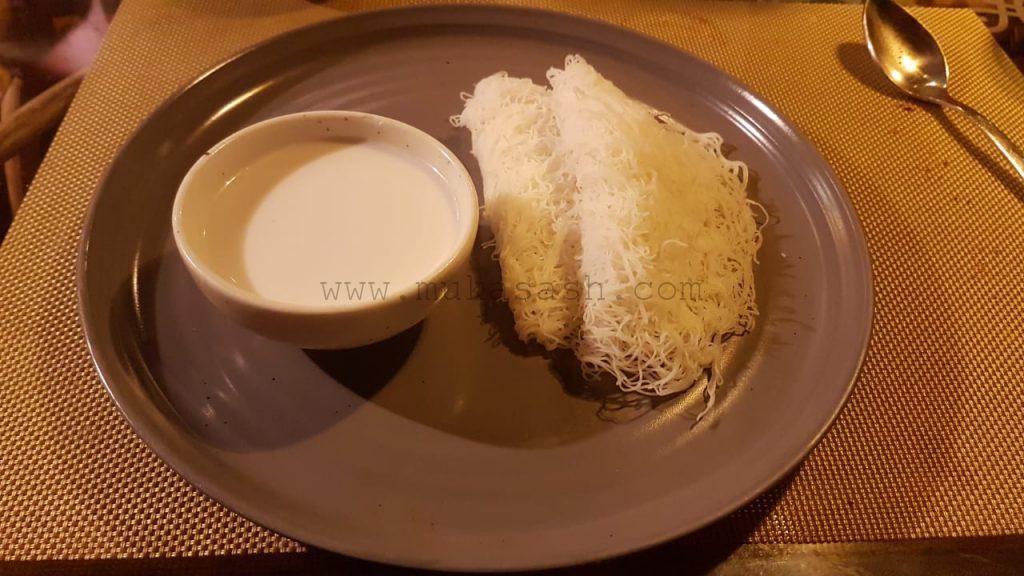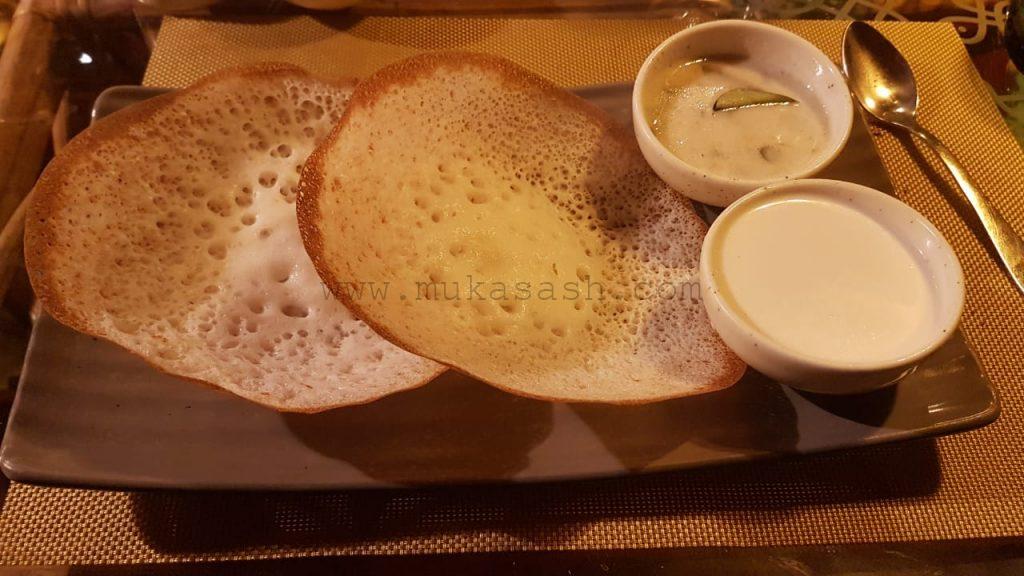 The main course was a below-average experience, absolutely not value for money when Aappam and Idiyappam was priced around 325 bucks each.
Decided to order just a couple of desserts, 1 Filter Coffee mousse, 2 Elaneer Payasam and 1 filter coffee for myself.
Filter Coffee Mousse was the best dish of the evening, loved that!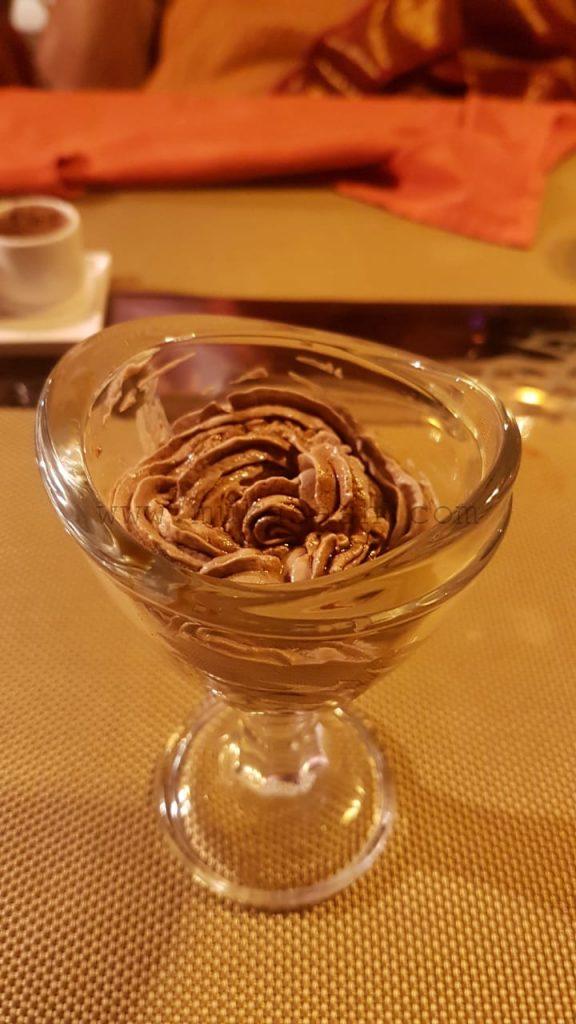 Elaneer Payasam was again low on flavor, seemed diluted, with bits of tender coconut, not very impressive.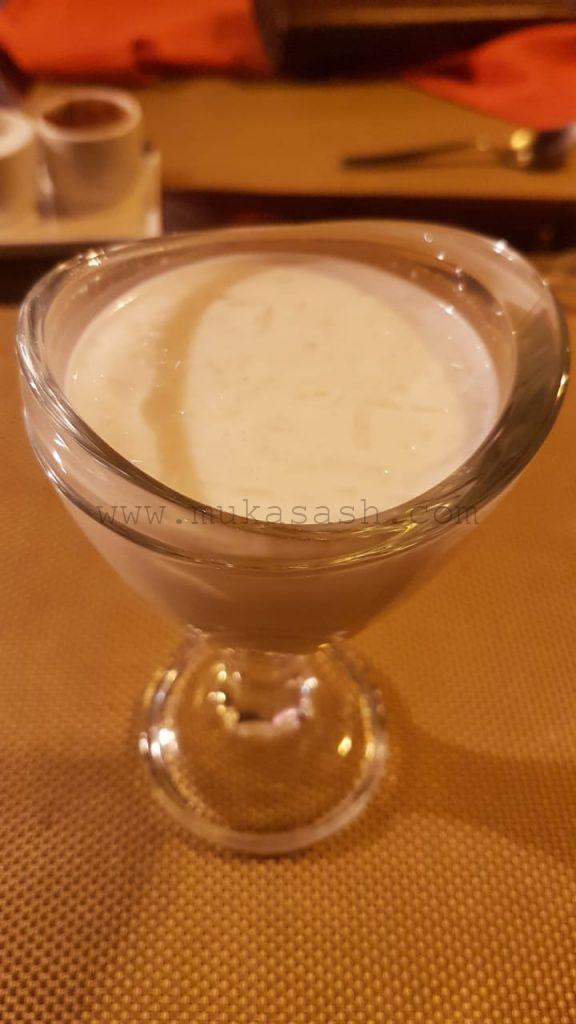 Filter coffee was barely hot, in no mood to send it back and get it replaced, just finished it.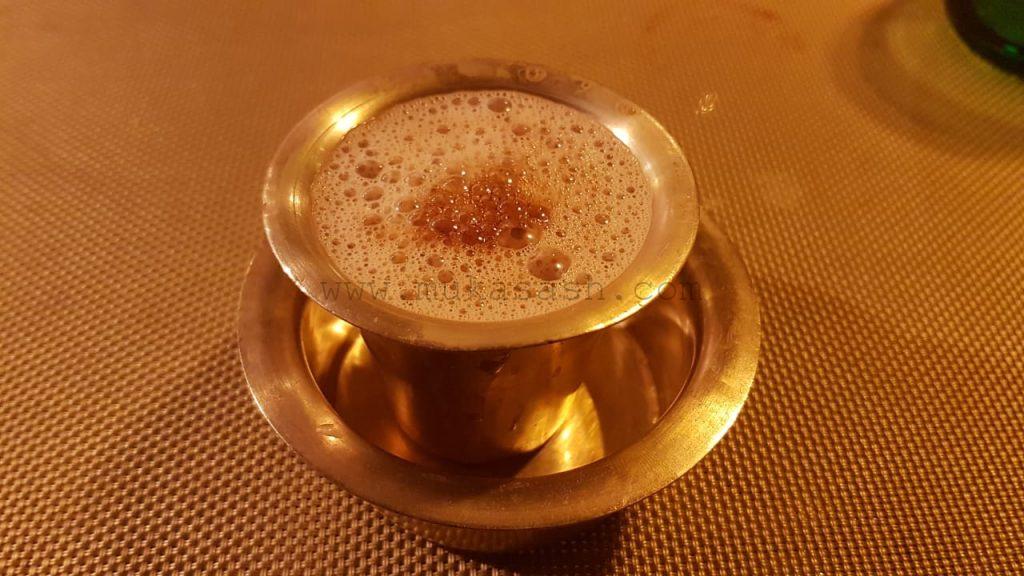 That's how our dinner ended! I have to say it was a very ordinary experience in terms of food that was served. Paid 6.5K in all for the dinner. As I have clearly stated, I have no qualms about paying more, if it was value for money. In this case, I am sorry it didn't feel so.
Service was good, and Mr. Ramachandran who waited on our table did a good job and this experience had nothing to do with lack in service. I would rather attribute it to the kitchen.
I wouldn't be keen in recommending this place if it is anything about food, but for the ambience, sure thing!