Onam, one of the most popular festivals in Kerala, has quite an impact on the Chennai food scene. It is that time of the year when restaurants start their Onam celebrations, typically spanning a week, when most of them serve 'Onam Sadhya', colloquially Onasadhya, the traditional sumptuous vegetarian feast. Quite a few restaurants kick off their food festivals too, during this time.
Last year, I was invited to sample Onam Sadhya at Kappa Chakka Kandhari by Chef Regi Mathew. Since Kerala was battered by heavy rain and floods at that time, quite a few of my Malayalee classmates from college, and their family, were in distress. Under those circumstances, I didn't feel like enjoying Onam Sadhya and writing about it. So I politely turned down the invitation.
Onam Sadhya at Kappa Chakka Kandhari has been on the back of my mind since then, and I wasted no time in trying it, the moment I saw that they had started off Onam festivities this year.
Reservation was a confusion of sorts, though it ended well. I saw the advertisement on their Facebook page and a button 'Get Tickets' beside it. I thought it was meant to be a prepaid reservation, but it took me to a Google Form instead. Registered only to be told they will confirm based on availability. When I didn't hear from them, I called up the restaurant and made a fresh reservation for 3 Pax for 13:15 slot. They have a few slots each day.
We walked in around 13:30 and the festive atmosphere was welcoming! The pookalam was beautiful.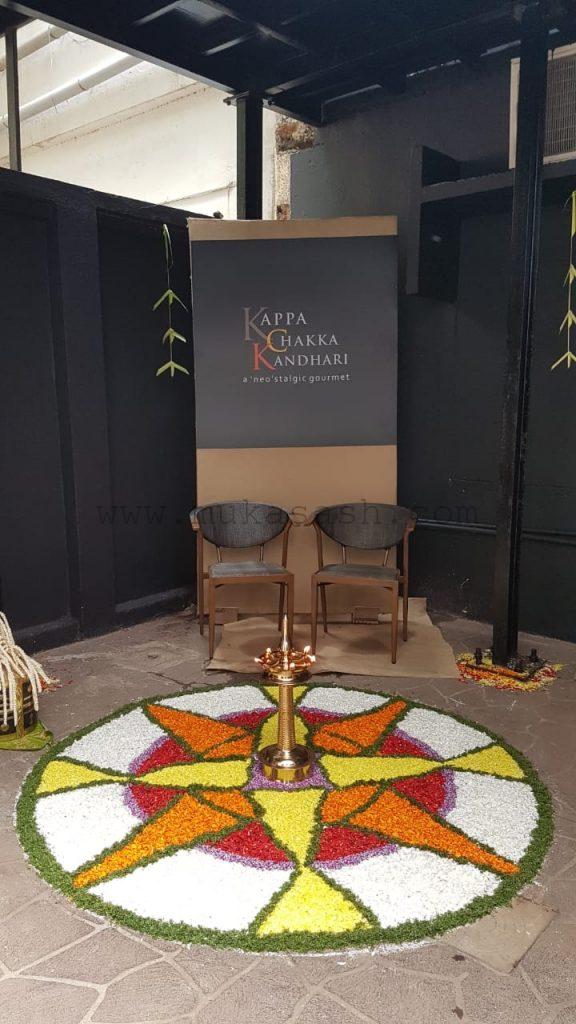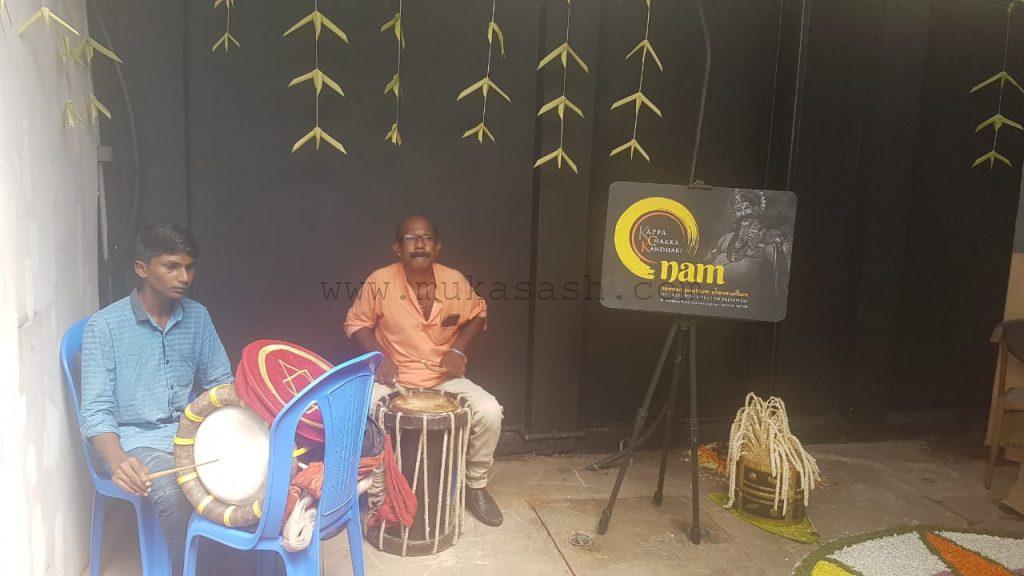 We had to pay in advance and get tokens for Sadhya. It was priced at 736, All Inclusive. We'll come to the pricing later 🙂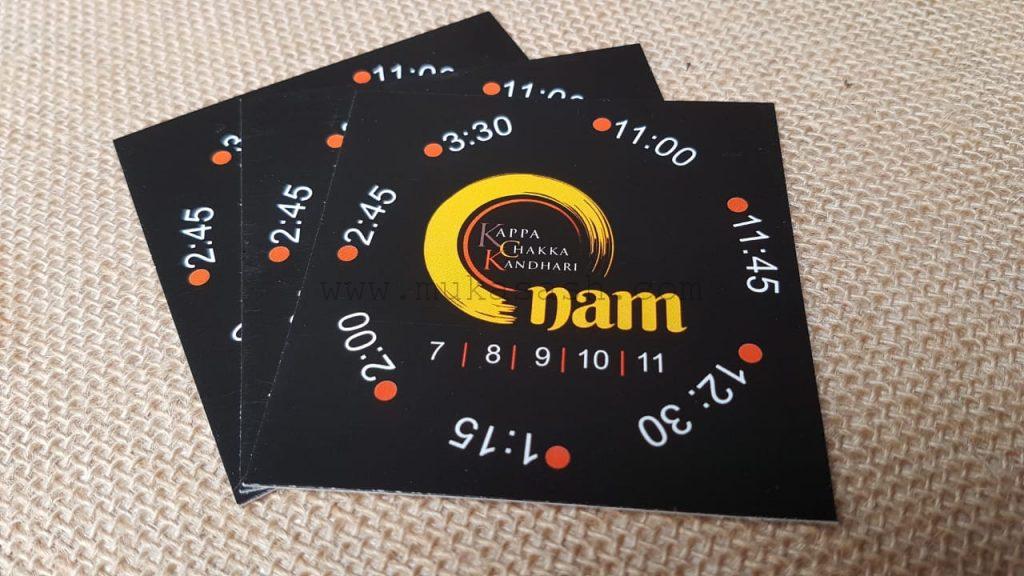 I have been to Kappa Chakka Kandhari a few times, and I was thinking we were going to be served in their restaurant on the ground floor, but we were directed to the second floor instead. The place didn't look completely done, it was more like a makeshift arrangement for Onam, to be able to serve in batches, as they say 'pandhi saappaadu' in Tamil, as in a typical wedding.
Handwash was fancy, like the one in Rajdhani restaurant.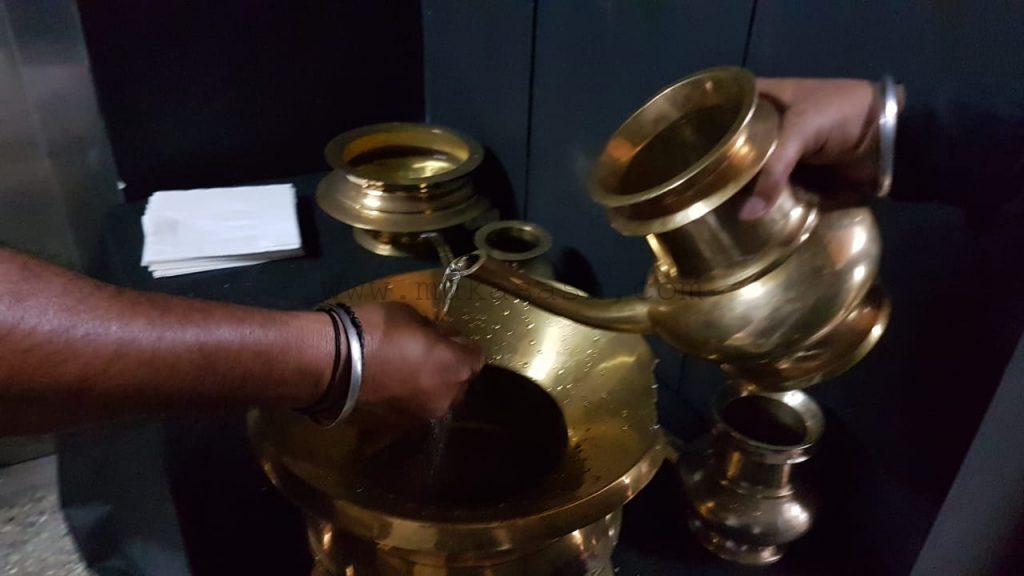 We were escorted to a corner and got three seats right away. Quite a few of them were already relishing their meal amidst animated conversations, perhaps from the previous slot. There were still a lot of seats to be occupied.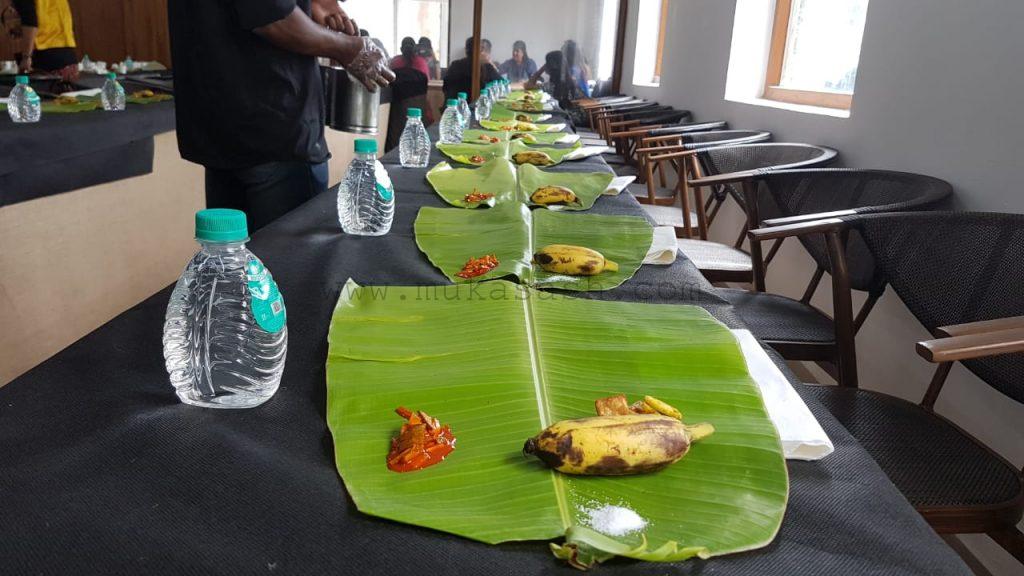 The first look at the leaf, it wasn't very big! It was more like the leaf meant for breakfast/tiffin. You'll know when you see a completely-served leaf. I wish they procured big ones to make it look really special.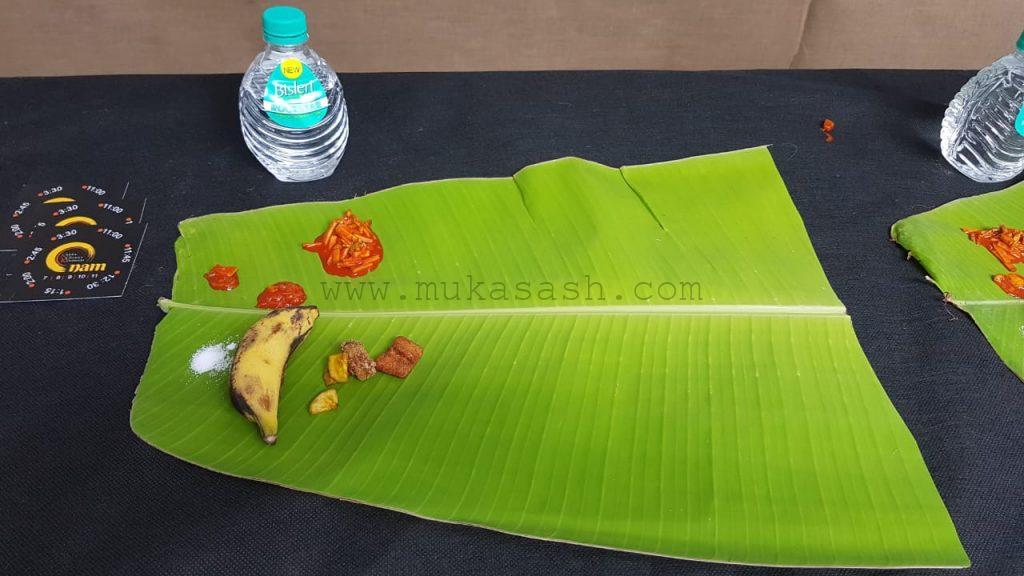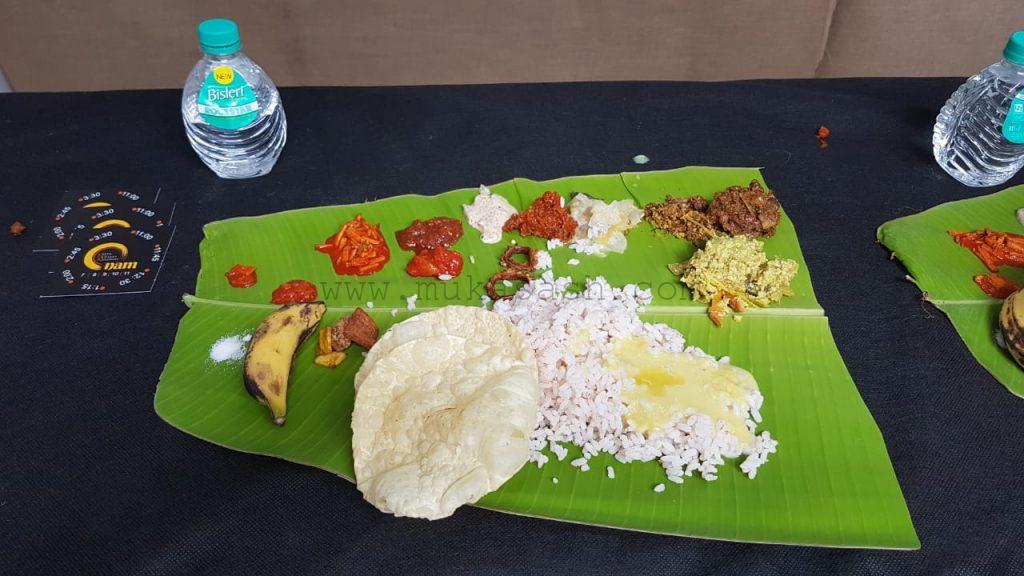 The Sadhya had most of the typical dishes included; pickles on the left top corner – Naranga achar, Mango Pickle, Nellikka Pickle, PuliInji, and another one. Tasted just a couple of them. PuliInji was wonderful. The Pachadi and Kichadi were the highlight of this section, loved them. Had it at least three times. The mustard flavor in Kichadi was mindblowing!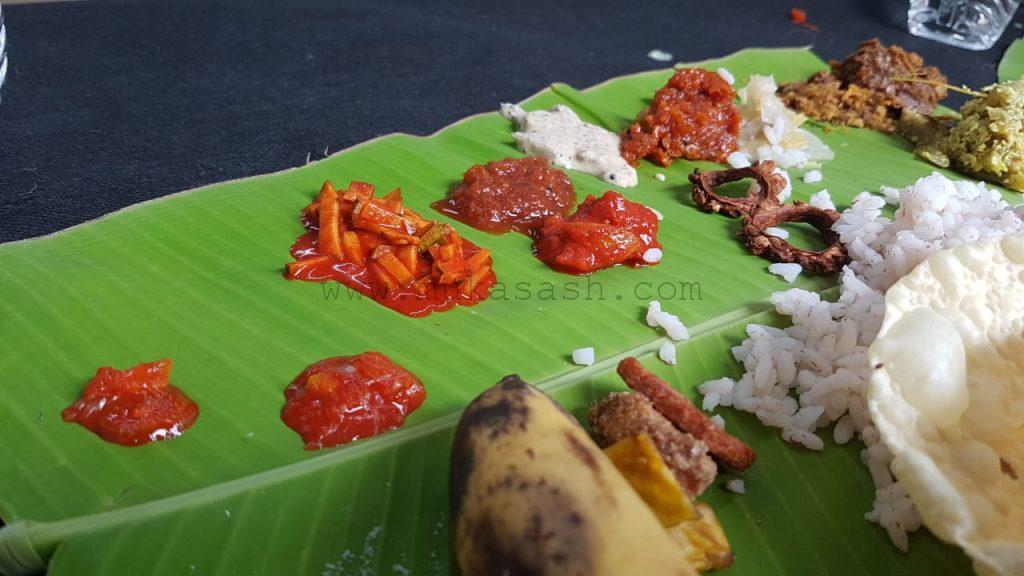 Banana chips, sharkara upperi and banana on the lower left corner, too little to even make an impression, it was ok.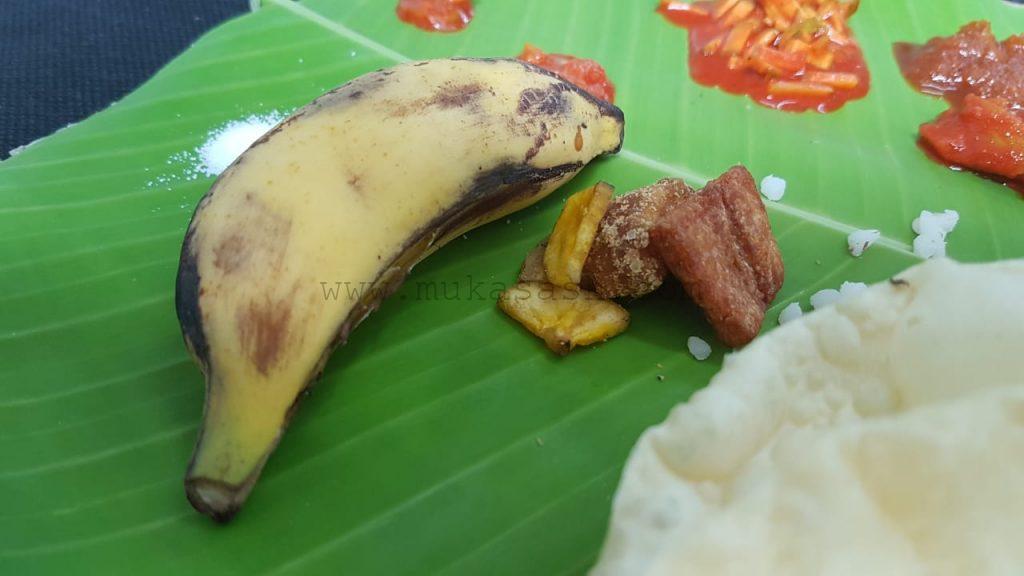 Olan, Aviyal, Paavakka chips, Thoran, and Kootukari were on the upper right side of the leaf. Olan was underwhelming, not the best I have eaten. Thoran was vaazhapoo perhaps, it was a bit dry. Kootokari with kadala and Aviyal were tasty.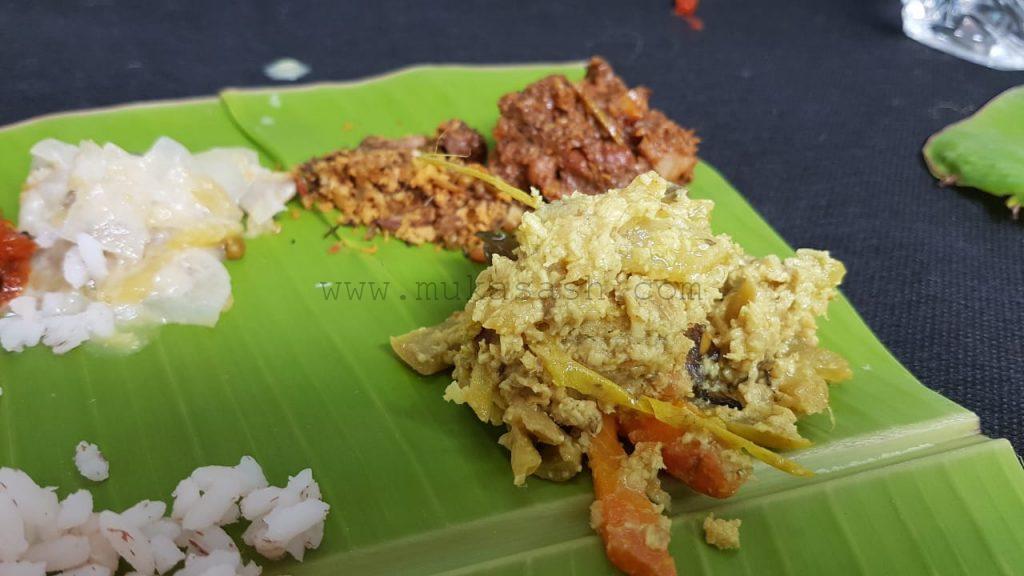 This is pretty much the aerial view of the Onam Sadhya. 🙂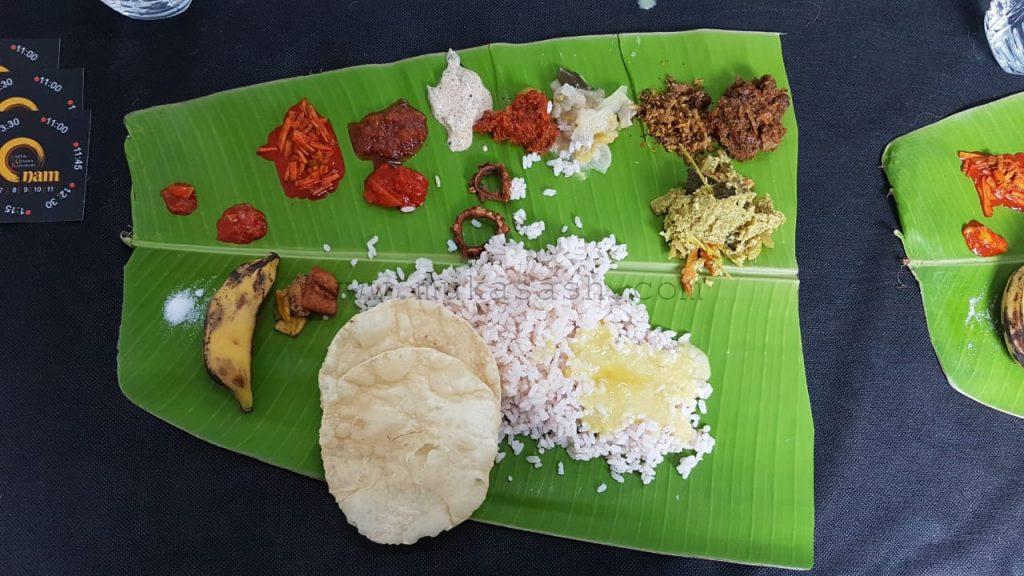 The meal progressed pretty much with the standard fare; Parippu with Ghee, Sambhar, Kalan, and Rasam. All of them were tasty, and unlimited servings of all that we wanted were served without a fuss. Sambhar was yummy. Kalan was very well done, loved it. Erissery was perhaps the only dish that was an obvious miss in the Sadhya.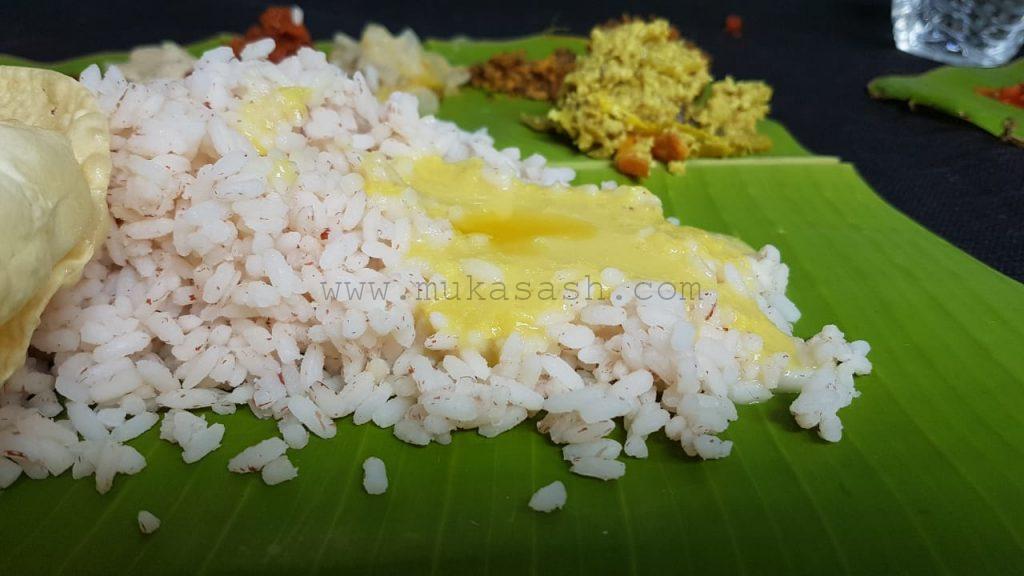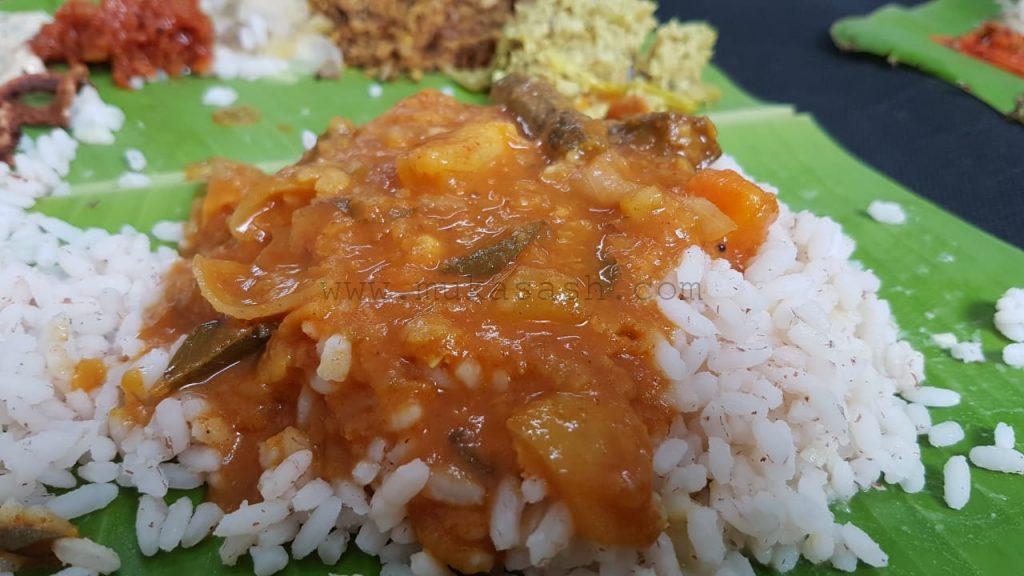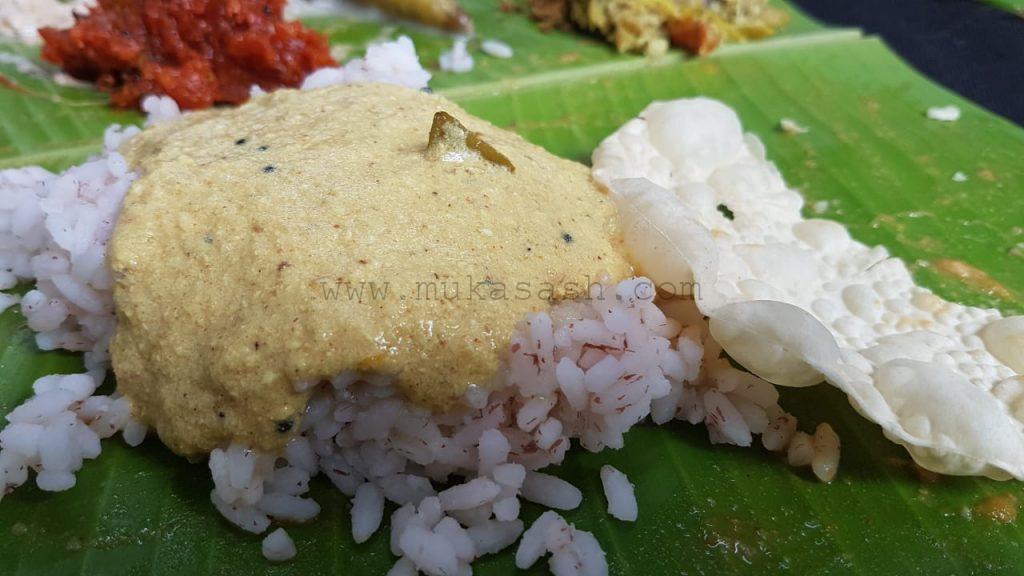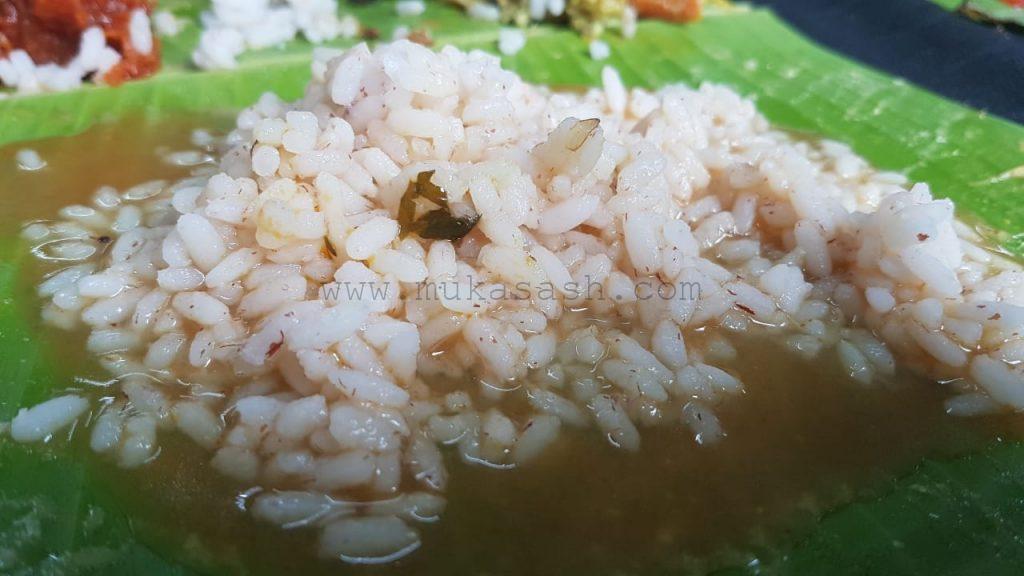 They didn't have any restrictions on the Pappadom and served as many as we wanted 🙂 I love pappadom!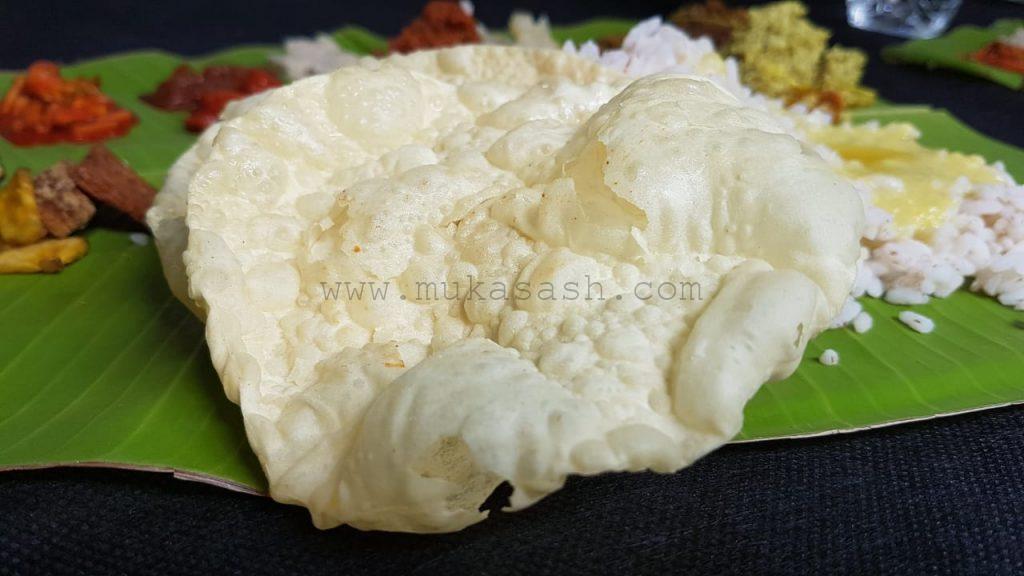 Finally moved on to the desserts! The effort to serve four varieties of payasam is commendable; Paalada pradhaman, Ada Pradhaman, Chakka Pradhaman and Parippu Pradhaman, exactly in the order I liked them. Paalada pradhaman was wonderful and the ada was cut into minute pieces and tasted yummy. Ada Pradhaman was wonderful with a mild aftertaste of chukku in it. Chakka Pradhaman was distinctly different and tasty too. Parippu Pradhaman was a bit too sweet to my liking, perhaps because I had it at the very end. Just had a little of it. Mor was a blessing after the overdose of sweet!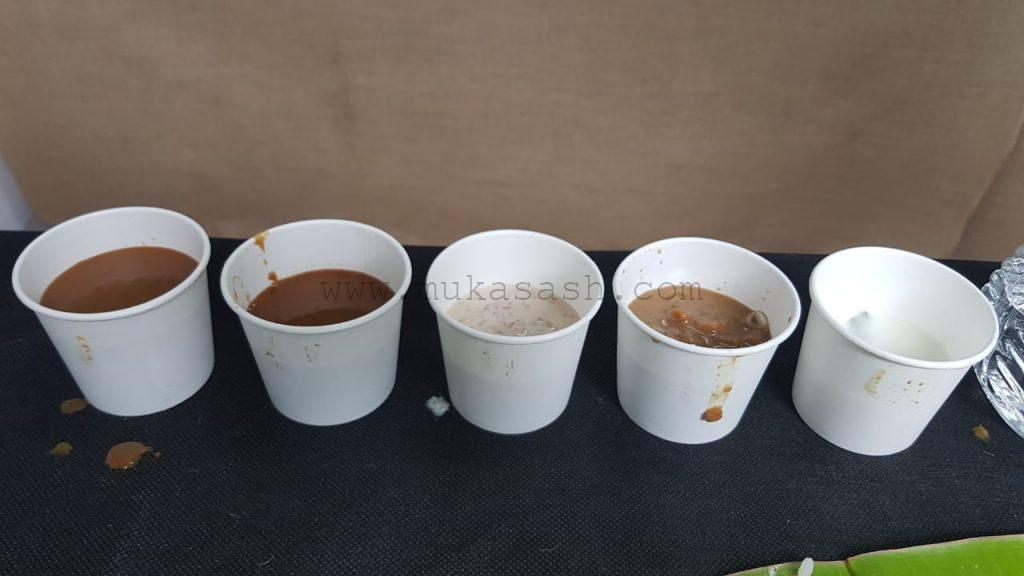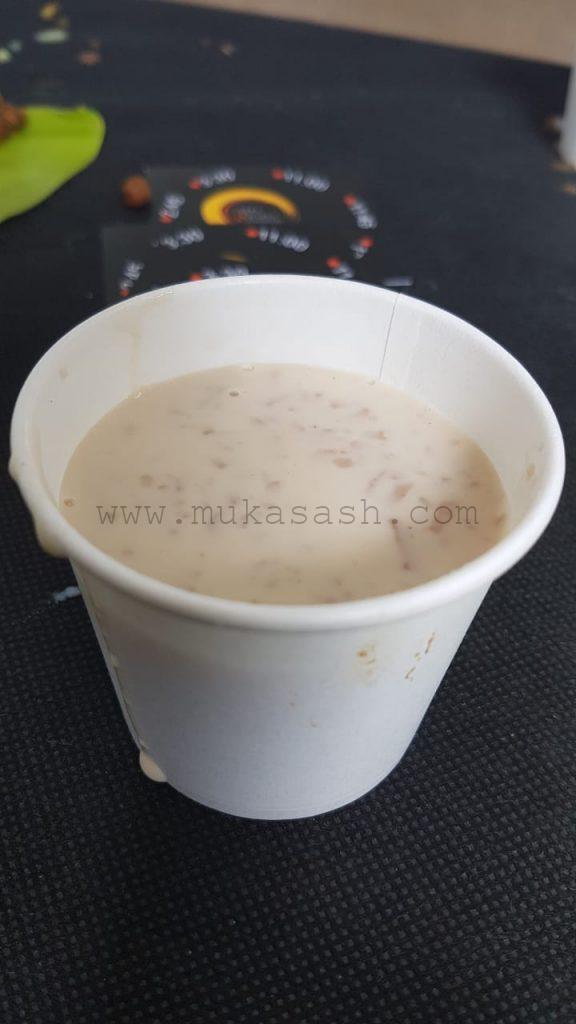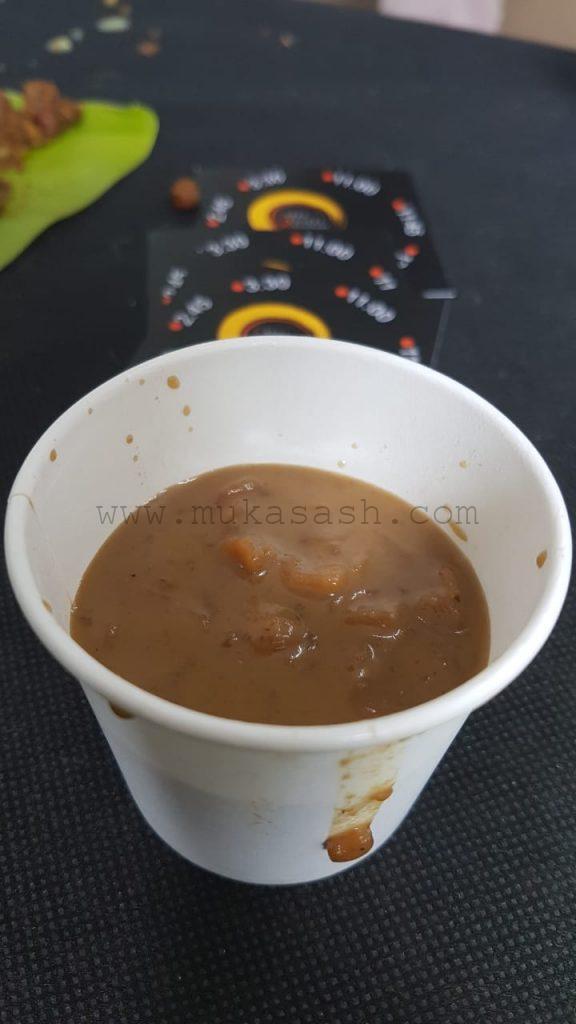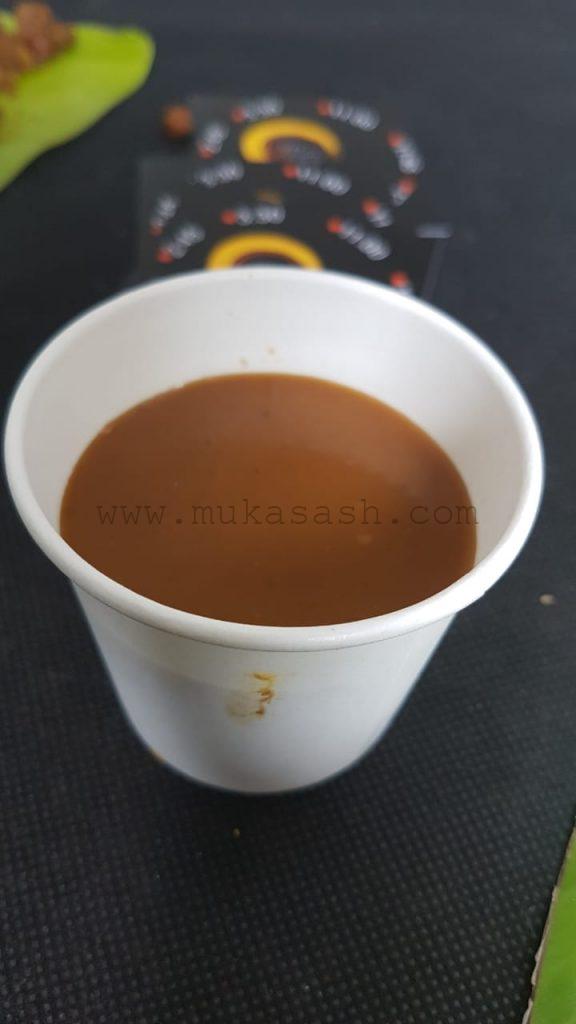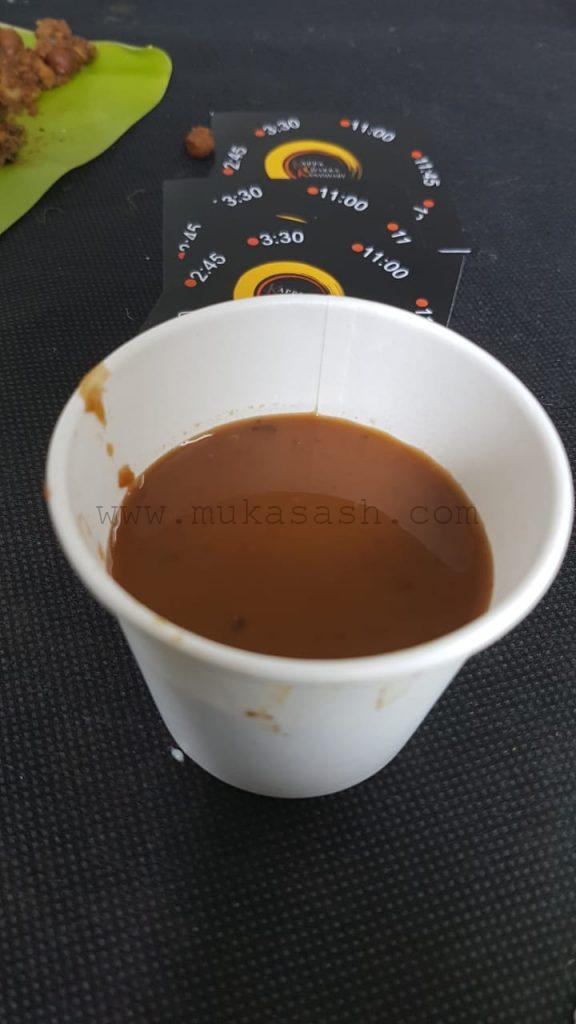 That's pretty much how our Onam Sadhya experience unfolded at Kappa Chakka Kandhari. Service was slightly chaotic when it started, but soon it settled down, and we didn't have any problems in getting what we wanted.
I also read somewhere that Kappa Chakka Kandhari operates an exclusive vegetarian kitchen for these 5 days, and Onasadhya is prepared by Narayanan Namboothiri, son of Pachaka Kulapathi Vamadevan Namboothiri, prominent names in Kerala.
Now coming to the pricing, I did see a poster on the ground floor that said Sadhya was priced at 640 rupees, and inclusive of Service Charge and GST, it was Rupees 736, all inclusive. There may be people who feel this is perfectly fine, but my humble opinion is that it could have been priced cheaper. I wouldn't mind paying a little more for the entire package -Food, Ambience, Cutlery, Tableware, etc. as in a Star hotel. In this case, except for the food, nothing else deserved a special mention. I would have certainly liked the Onasadhya with a smaller hole in my pocket, and a slightly bigger plantain leaf 🙂