A meet up with two friends in Vadapalani which was meant to be a catch up over snacks turned out to be a dinner outing. Located right on the road that leads to Vadapalani Murugan Temple, this small Gujarati sweet stall / restaurant is hard to miss.
The place is very small and can seat about 16-20 people in quite cramped surroundings. That is not a complaint at all, just meant to say it is not a sophisticated fine dine, and we were perfectly okay with that.
They had three varieties of Thalis – Gujarati, Rajasthani, and North-Indian, on the menu. We were thinking we'll try one each for the three of us so we could try them all. They mentioned upfront that only Rajasthani Thali was available. We ordered two of that, and one Combo of Gobi Manchurian with Ghee Phukla and Onions. There are quite a few combos to choose from, though most of them have Gobi Manchurian as the subzi. This meal was basically a roller coaster ride, crests and troughs all along, you'll soon see why!
Dal Baati was the first to come, followed by friend's Gobi Manchurian combo. Dal Baati was yummy! Dal with a generous dose of Ghee on the top, and Baati crushed and dunked in it, was super tasty! Unlike Litti, I think Baati doesn't have any filling, it is just baked hard wheat balls. Basically the Dal Baati set the expectations sky high!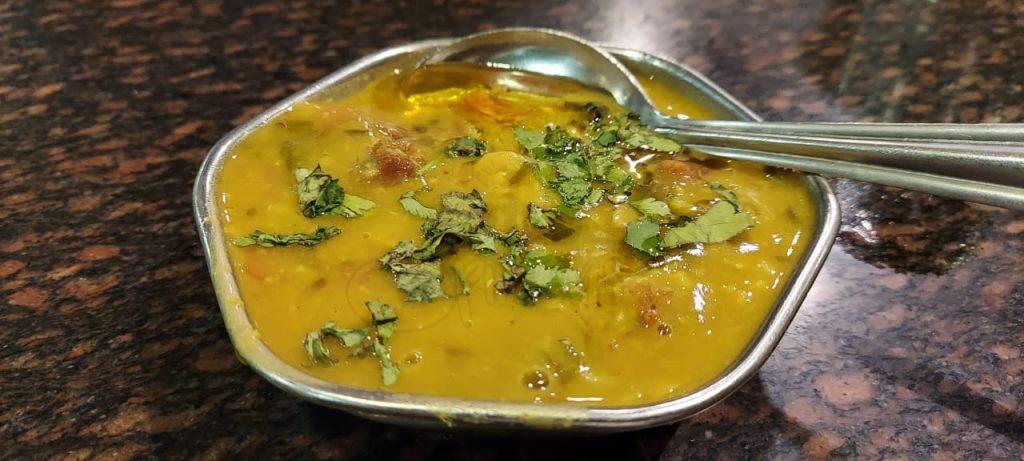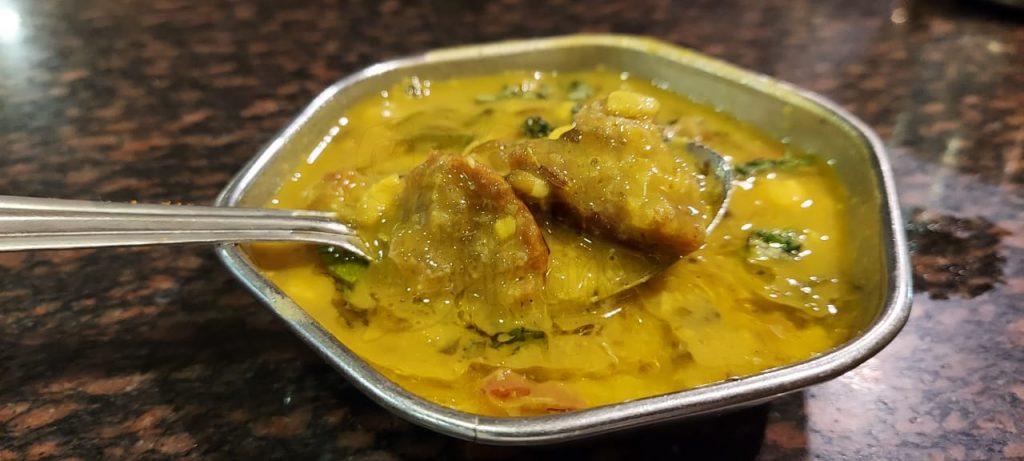 Friend mentioned that the Gobi Manchurian in his Combo was slightly salty, otherwise okay.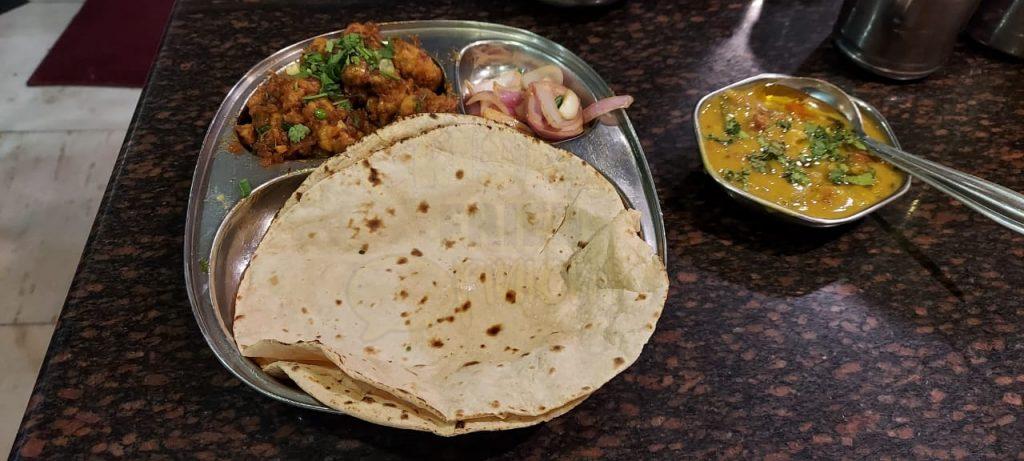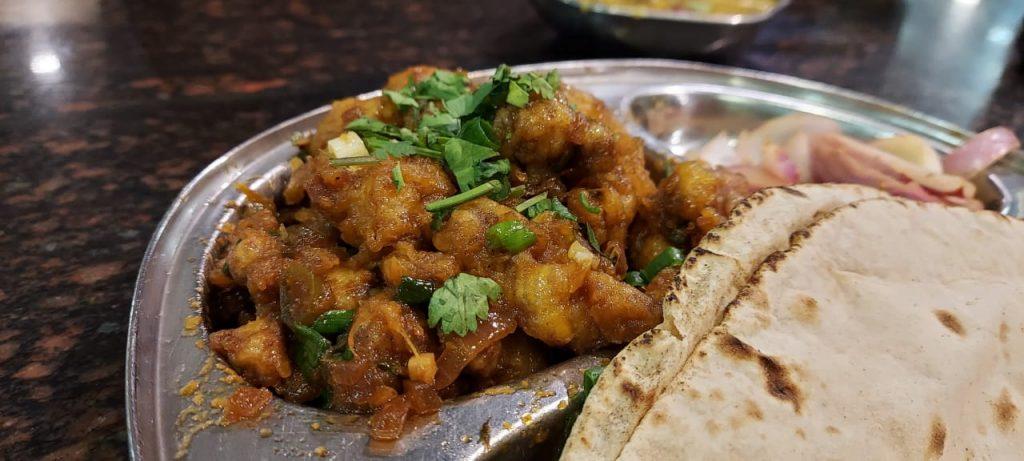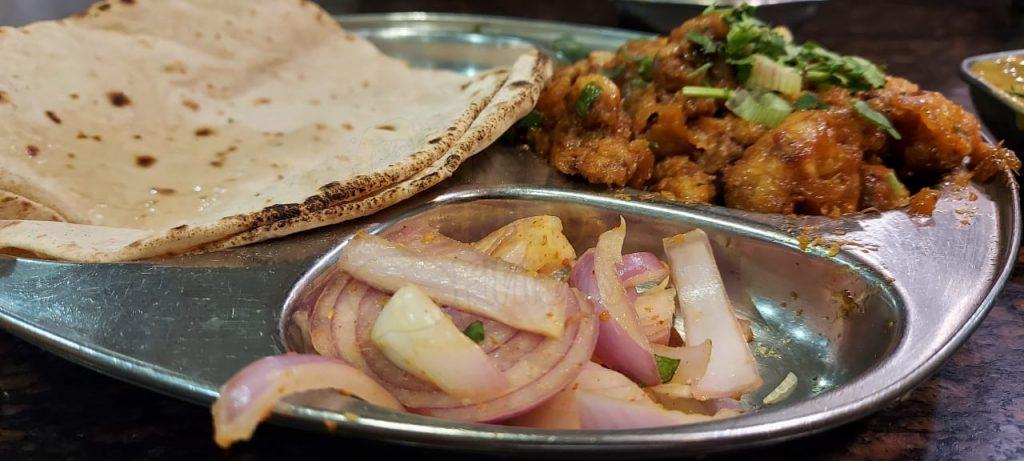 The Rajasthani Thali arrived for the two of us. Looked great! 3 Ghee Phulkas, 1 Cup Rice, 1 Subzi, 1 Aloo Tamaatar gravy, Gatte ki Kadhi, Dal, Curds, Salad, a mini samosa, papad and sweet. It looked too tempting, clicked a couple of pics and started to eat. Before I elaborate any further, I wish to mention that nothing was remotely close to being labelled bad. However, honestly none of the dishes made any significant impression! A lover of North-Indian food that I am, a tasty lip-smacking gravy with Phulka and cut onions would have definitely satisfied me without a doubt. Dal was good, Kadhi was okay, but liked the besan ki gatte in it (at least that's how it tasted to me), Aloo Tamaatar gravy was very basic, and the other subzi was difficult to make out what – ridge gourd and eggplant perhaps, I wasn't sure, was just passable. Curds was fresh, salad was fresh and crunchy and mini samosa was good too. The mini Angur jamun (I think) was tasty. The positive way of looking at it – you could say it tasted like home made sans any excess masala or spices. The Thali definitely fell short of expectations that the Dal Baati set initially!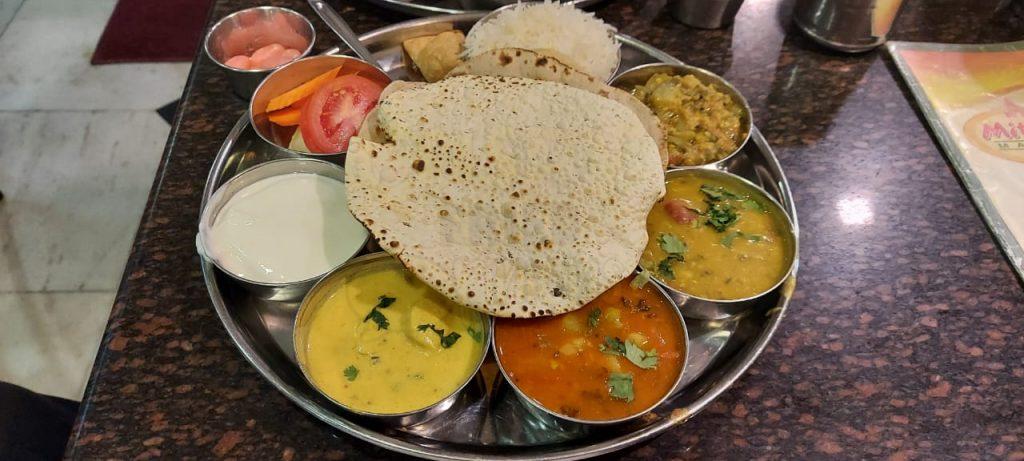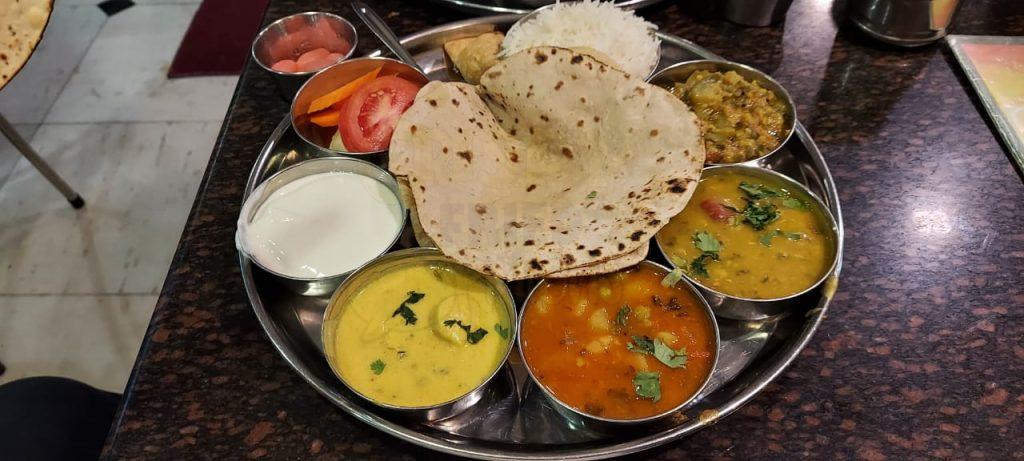 Friend decided to try Paav Bhaji, and this was superb! A very tasty bhaji, buttered pav, and finely chopped onions with a dash of lime. Loved it !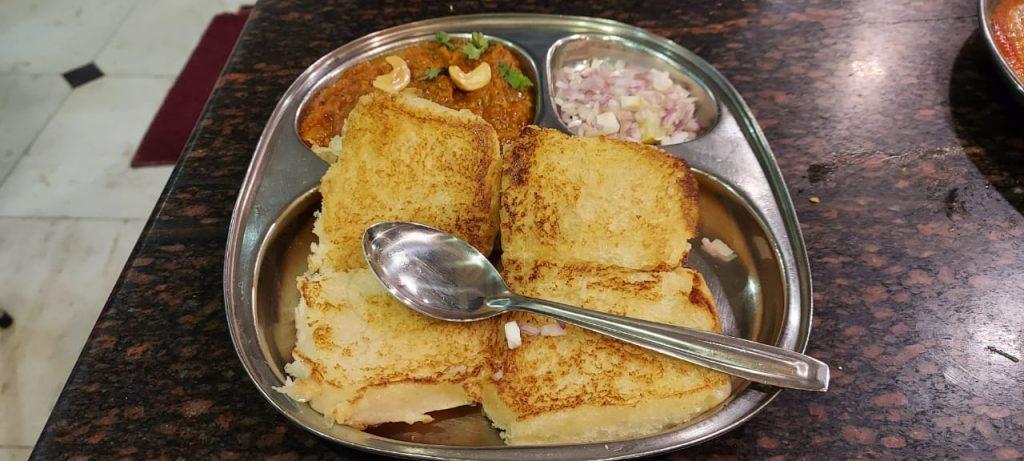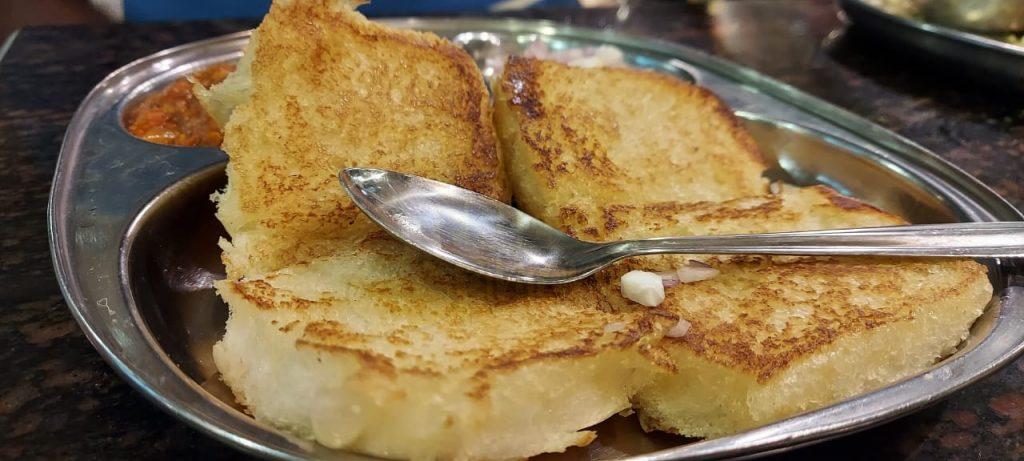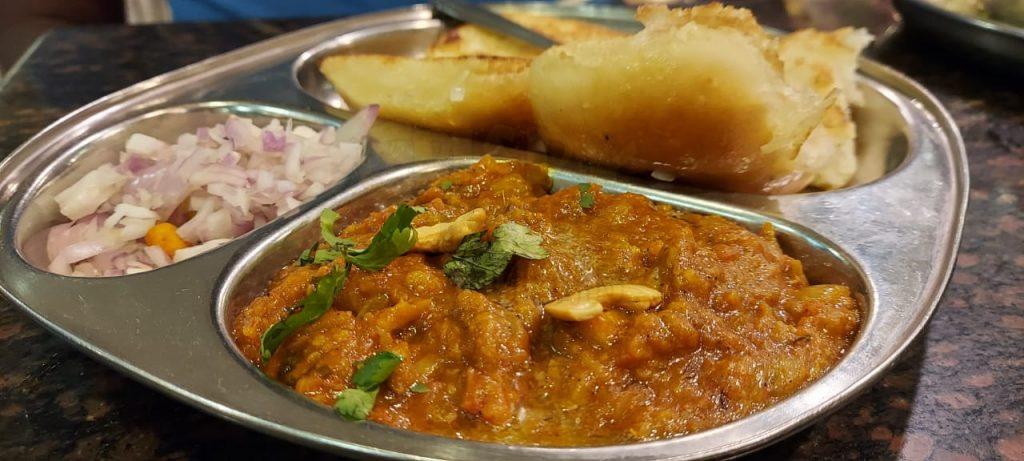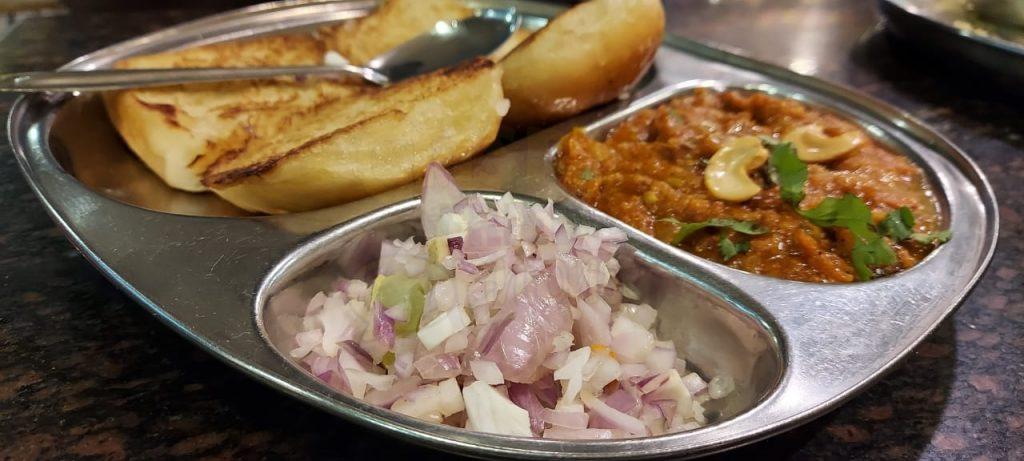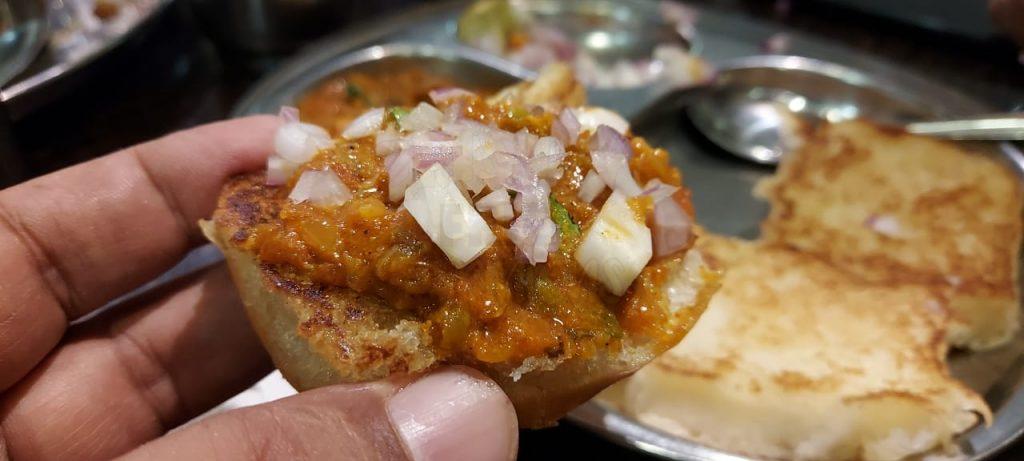 Corn and Cheese Paratha was the next to come. It looked better than how it tasted. The masala was a little raw and dominating, cumin powder I think was the culprit here. Wasn't too cheesy either, it was just okayish.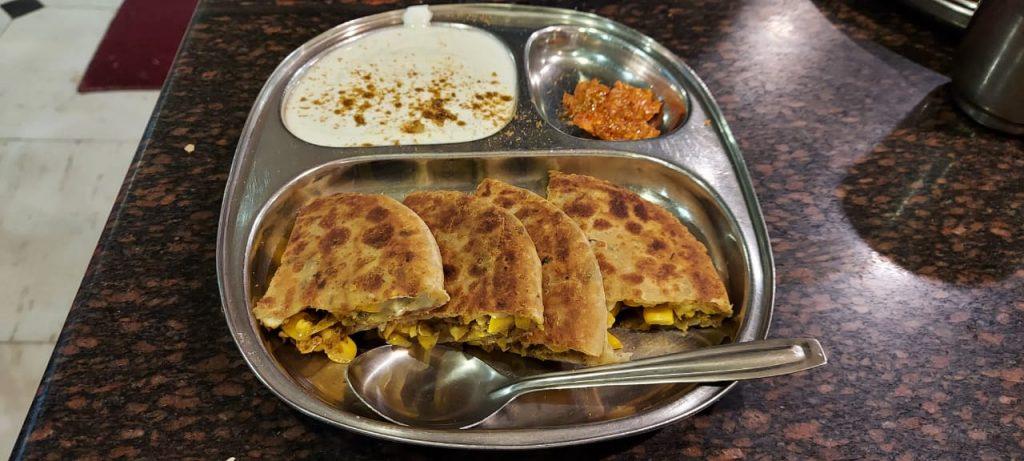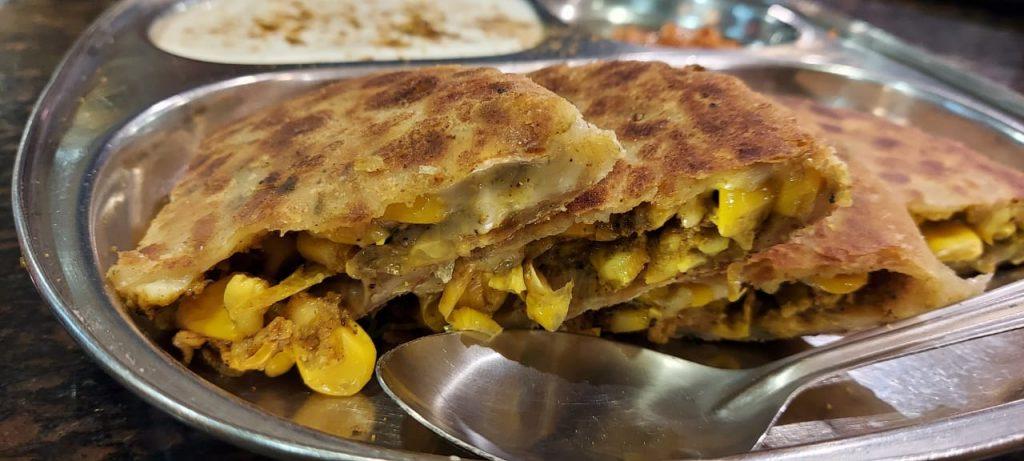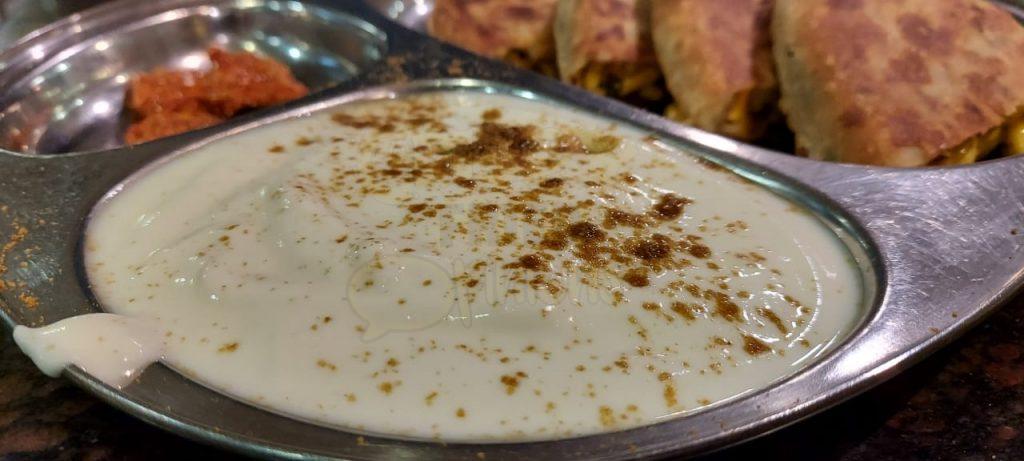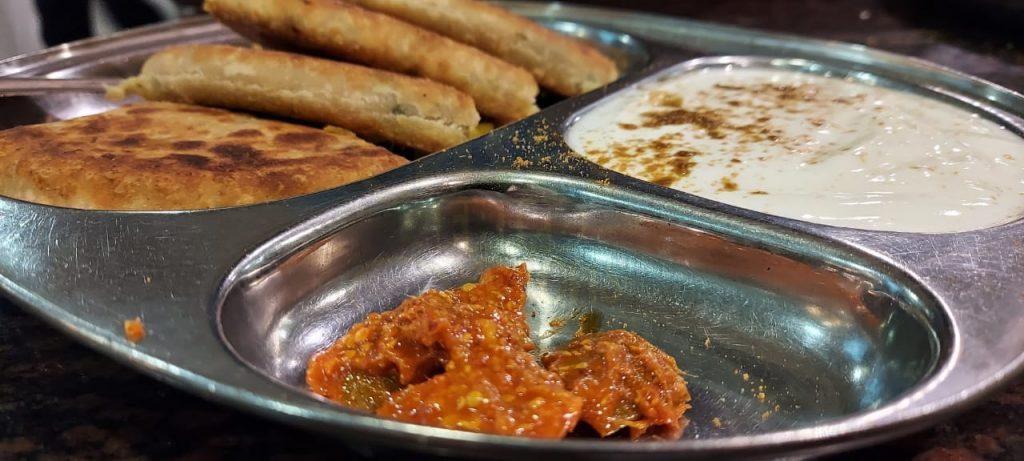 With that we decided to end main course and explore some desserts – we ordered Gulab Jamun, Malpua and Gajar Halwa. Gulab Jamun was super yummy, a tad too sweet, but I wouldn't complain. Hot and absolutely wonderful! Gajar Halwa was wonderful and very tasty too, though not hot/warm. Malpua was very okayish, chewy and hard.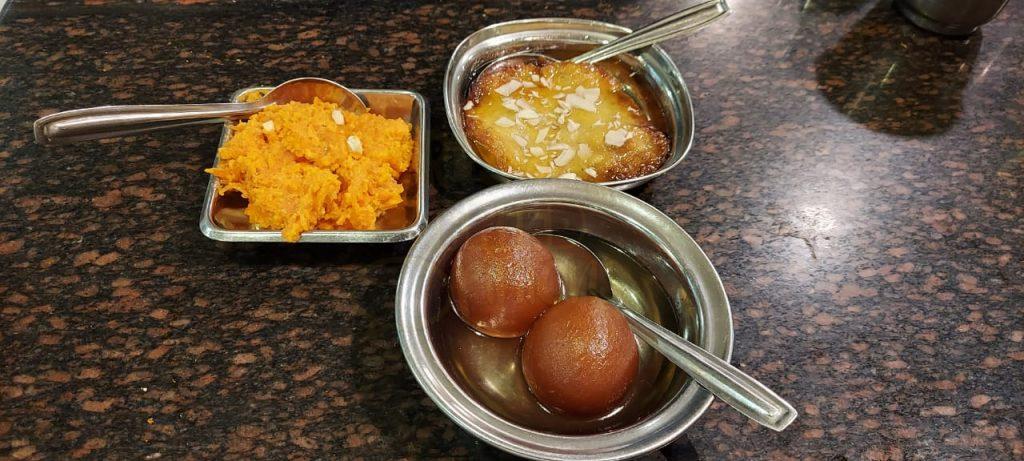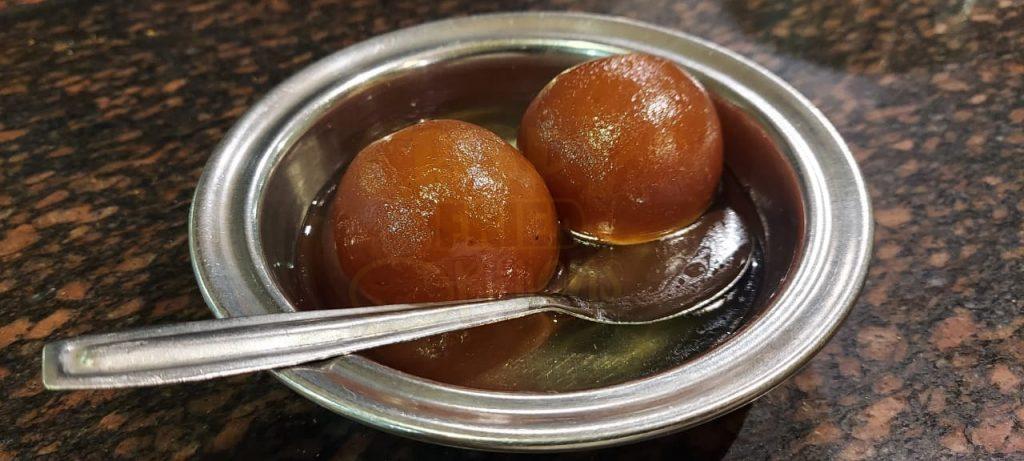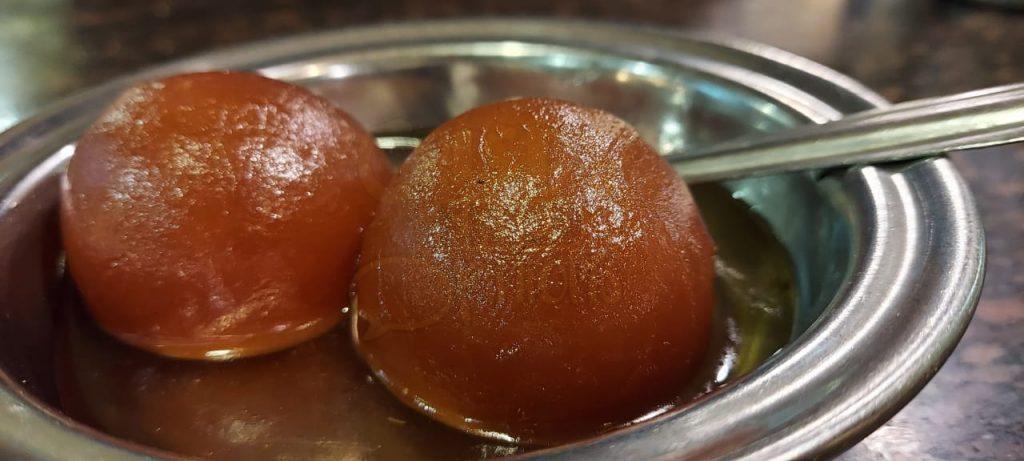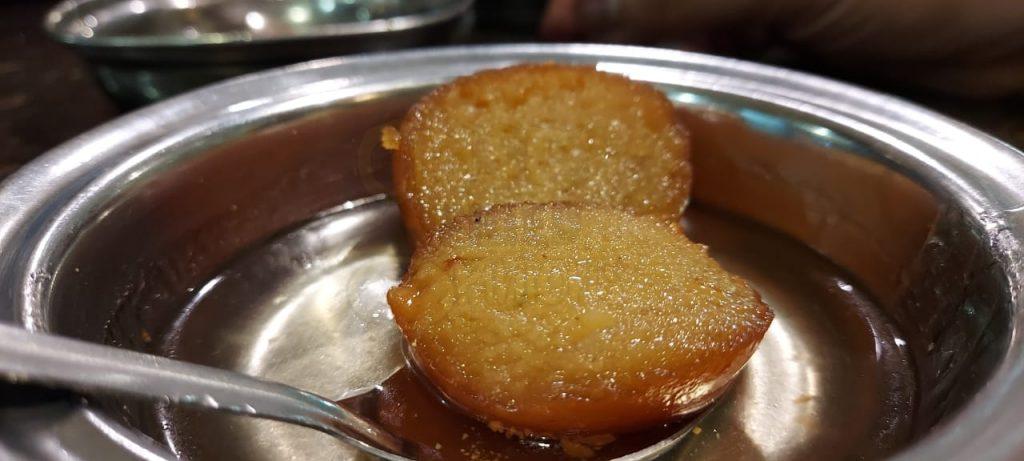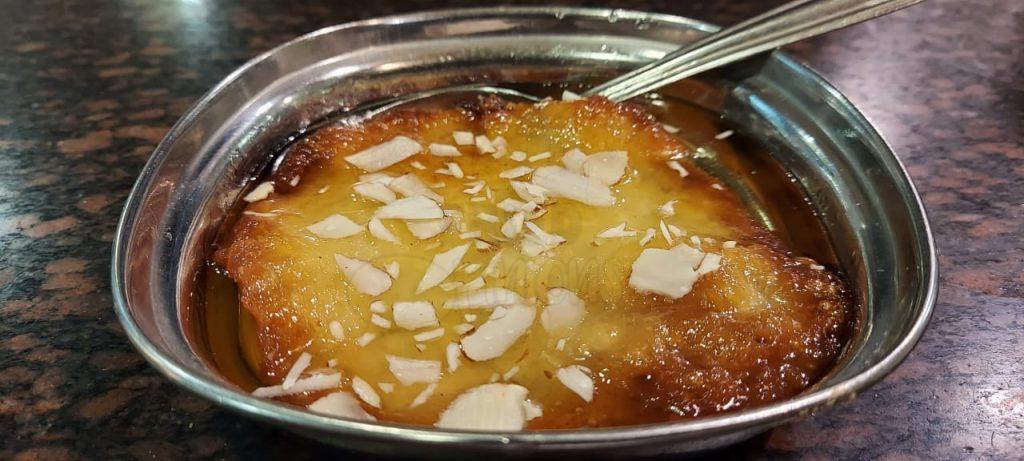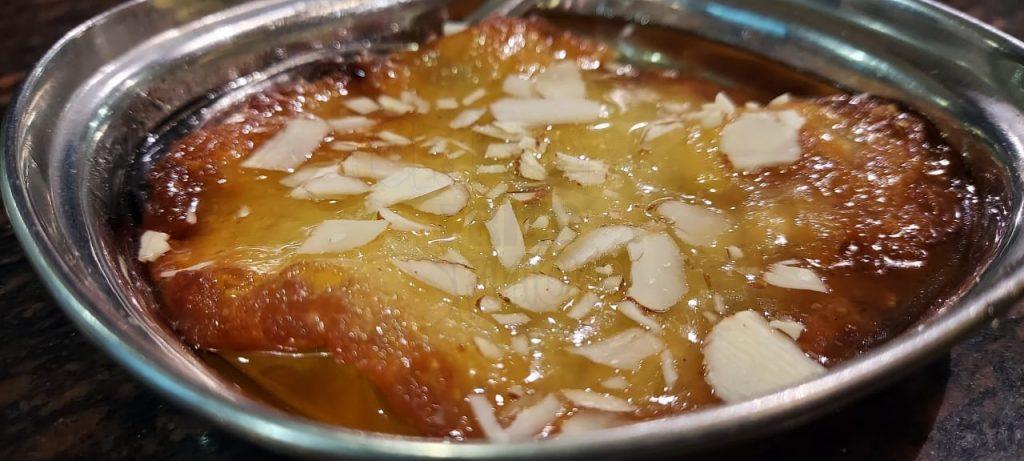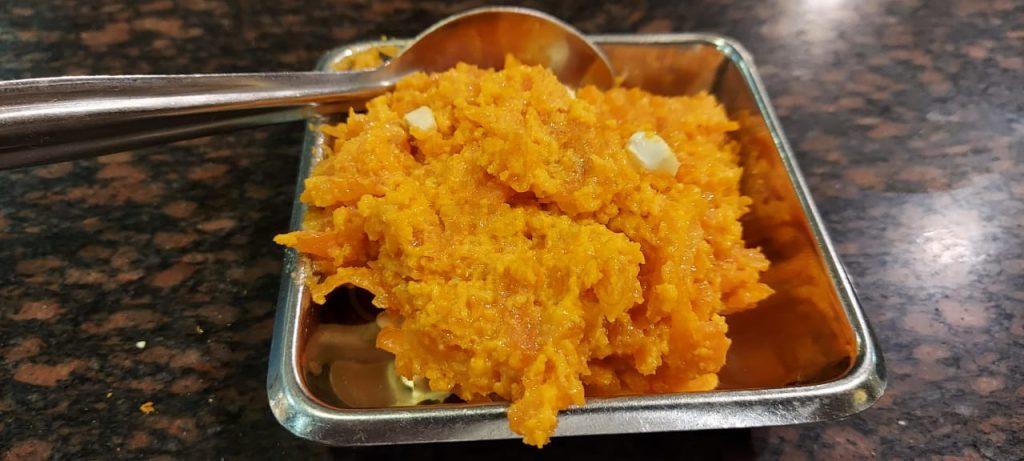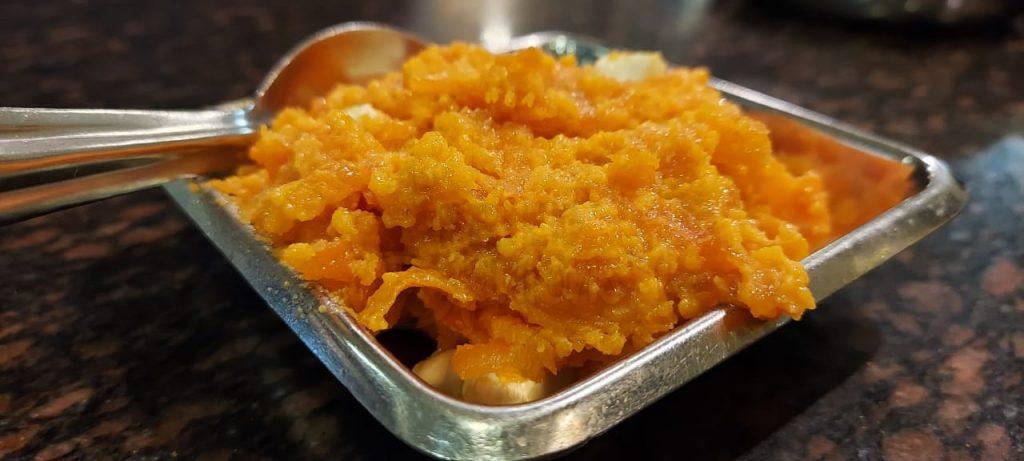 Friend suddenly saw Falooda in the refrigerator and wanted to taste it. 🙂 Since we had to give him company, we ordered a plate of Rasagulla. Retrospectively, we felt this was something we could have definitely avoided. Rasagulla was a pathetic excuse for one. Hard, brittle and perhaps old too. The rasagullas I remember, particularly the ones I've had in Kolkata were so spongy that you pop one in your mouth and literally press them with your tongue all the way to the roof of your mouth, in the process, oozing out all the sugar syrup in your mouth. It is a feeling that has to be experienced! This was just nowhere close! Now to the Pista falooda topped with an ice cream. For once, did not make out any flavor in an ice cream. Wondered if it was because of the sweet rasagulla we had earlier, drank some water, and tried again. Still pretty much the same. That's how the dinner ended, almost forgetting the good things we had earlier.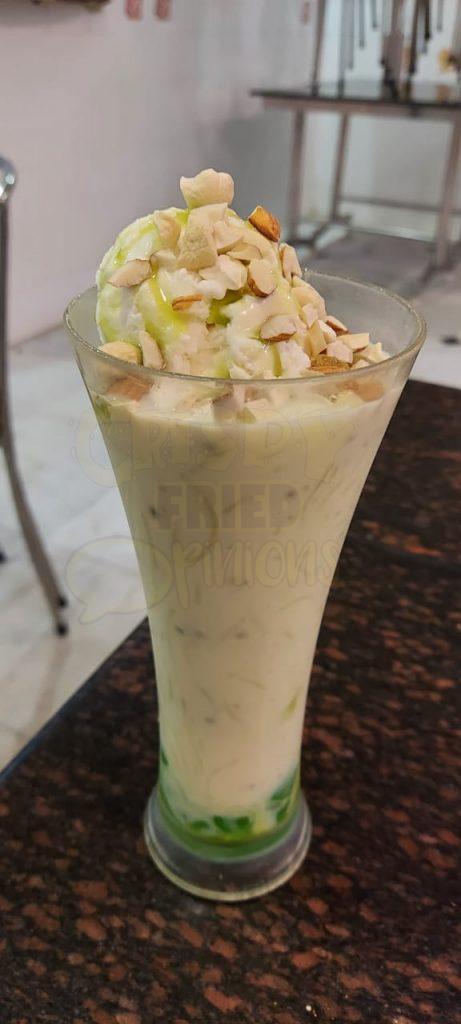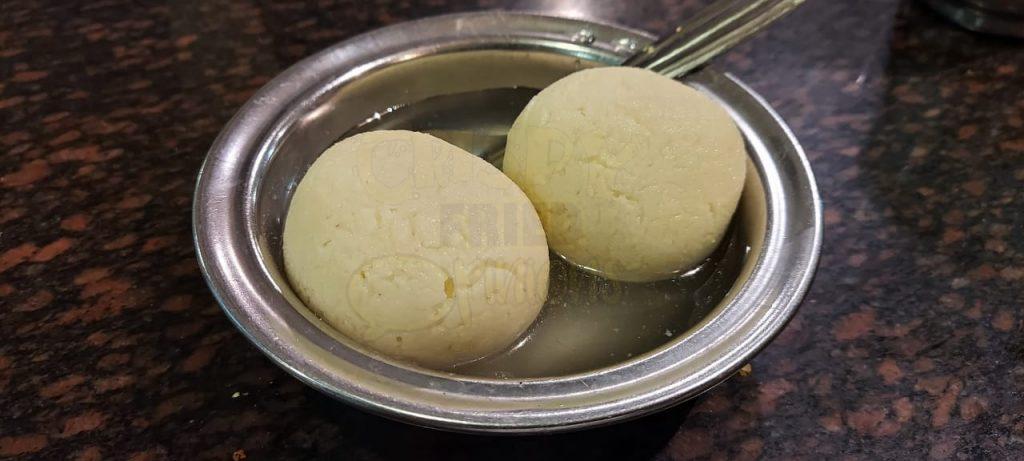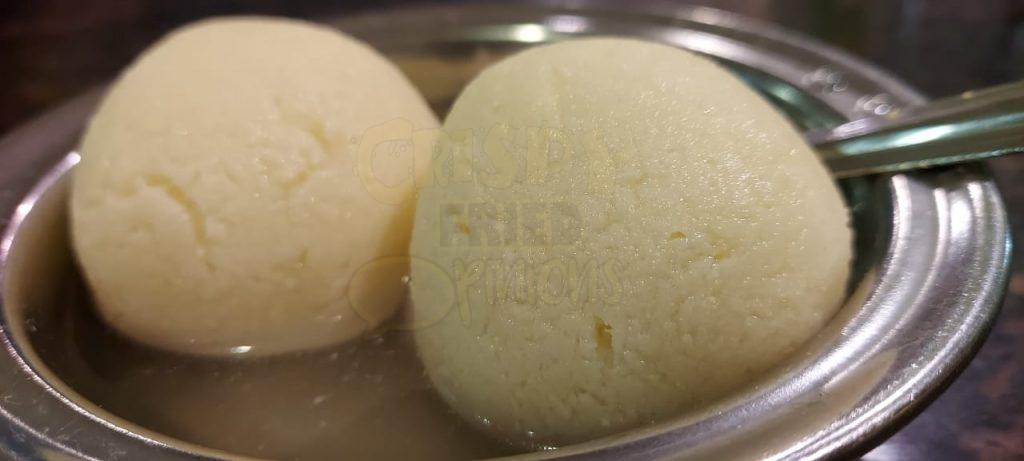 We paid a little over 1K in all. Overall, it was a mixed bag experience, with good things clearly being outweighed by the not so good things. Probably the chaat, and other evening-time snacks like Dhokla, Kachori are all good, but I wouldn't be keen on coming all the way from Velachery just to have their Thalis. A quick comparison with a similar-sized small place – Gujarati Mandal in Broadway would beat this place hands down. I'll probably have to try the Thali in Rajasthani Dhaba in Anna Nagar which is also closer in price range to this place, or perhaps a little cheaper, and I am told is super tasty!