A name that has recently been making a lot of noise in the food circles is Kurtos, a recently-opened outlet in Besant Nagar that serves Hungarian Chimney cakes. A friend and I decided to check it out!
The place is located bang on Elliots Beach, just opposite to Pupil. It is next to the Goli Vada Pav and Pabrai's Naturelle Ice cream outlets, and hard to miss.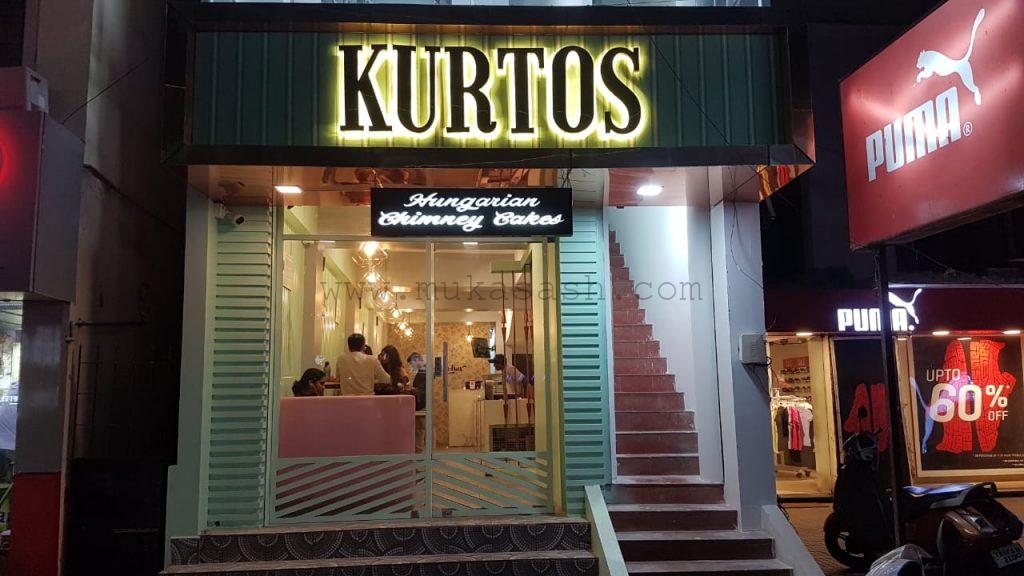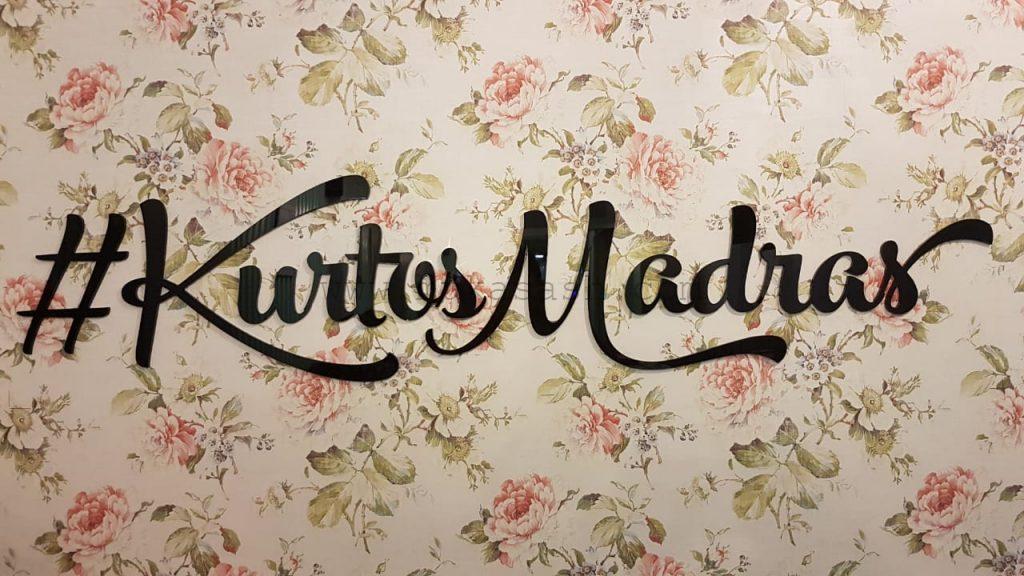 The place was almost packed when we entered, and thankfully, we got the last available table, right next to the cash counter. Quick look at the place, it was brightly lit, but quite small. It could seat about 10 or 12 pax at a time.
Coming to what is special about this place, this is perhaps the only place in Chennai that serves Kurtos, which is short for kürtőskalács, a Hungarian spit cake that is made from yeast dough by wrapping it around a conical or cylindrical wooden spit, rolling it over sugar, and baking it. To get an idea of how it is done, here's a quick look at the process.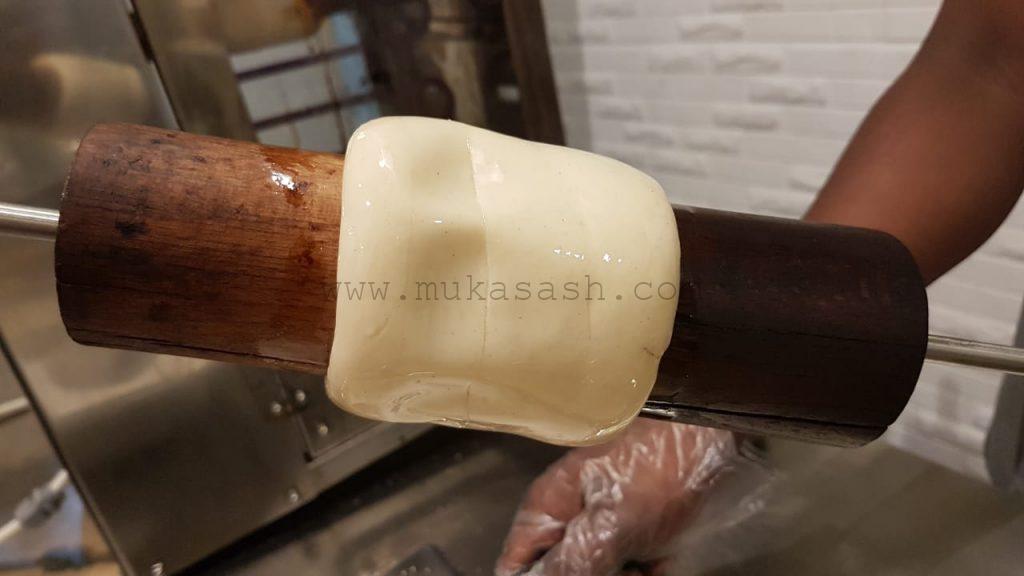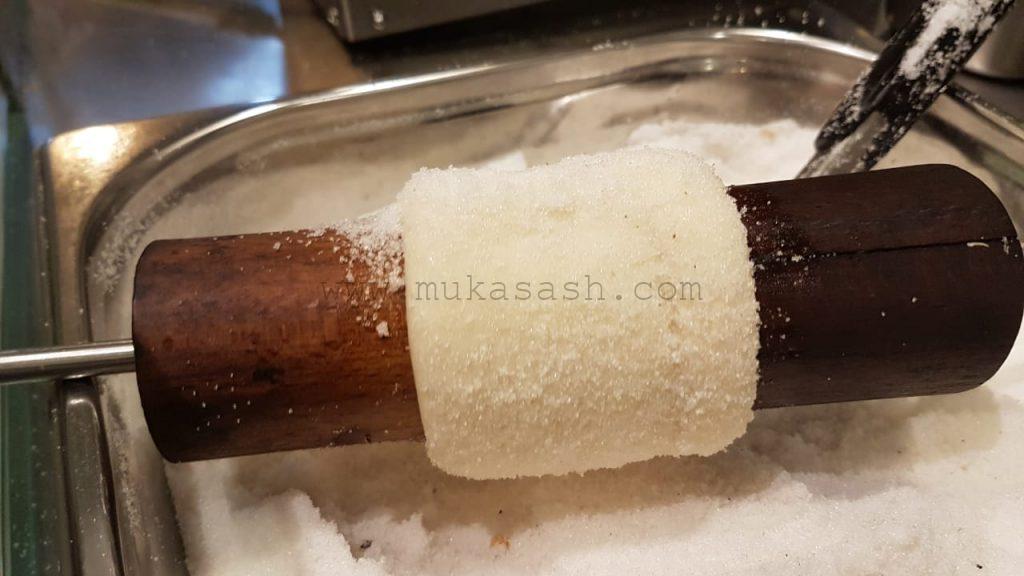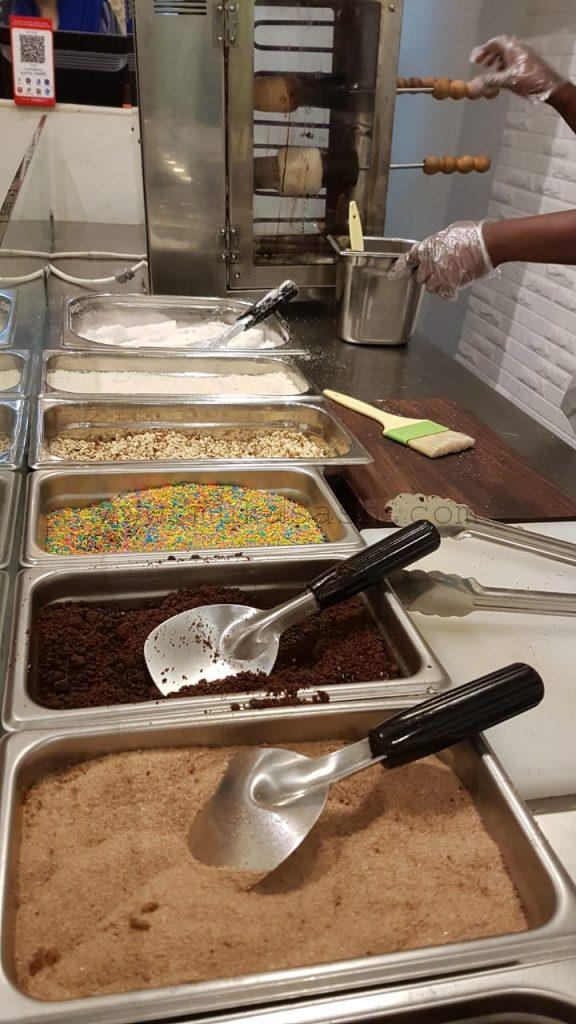 The process looked catchy, and we were told it takes about 9-10 minutes to make one Kurtos. In Hungary, kürtőskalács is primarily a sweet version, and here, they have customized it and they serve a savoury version of it, with many interesting fillings too.
We looked at the menu and decided to order, and the owner who was close by at the cash counter offered to help in making our choices.
Don't remember the exact names from the menu, but broadly they had 5-6 categories of Kurtos in the menu -Sweet, Savory, Cone with Veg and Non-veg fillings, Veg and non-veg Salad filled Kurtos, Softies, and Milkshakes. We decided to try a few of these.

The first to come was the savoury Kurtos. Looked good and tasted good, quite small though. I liked the punch from the dry red chillies on the outside, and with the dip, it tasted good. It was actually over in a jiffy.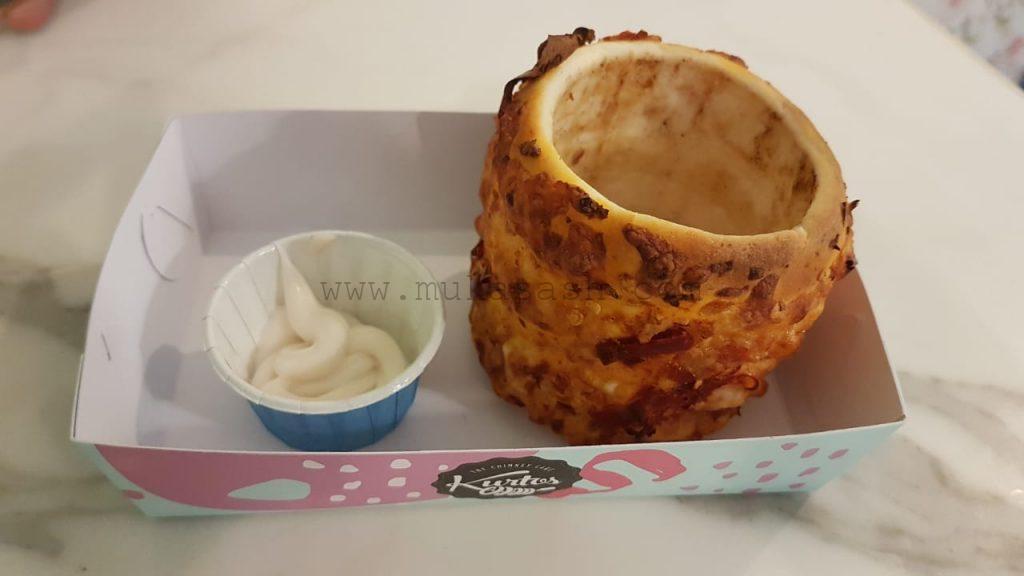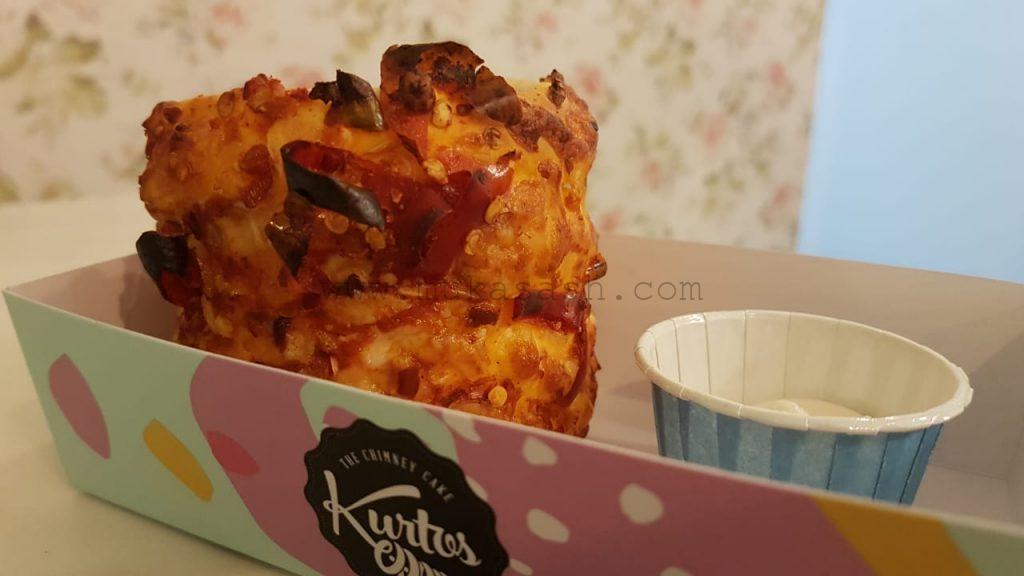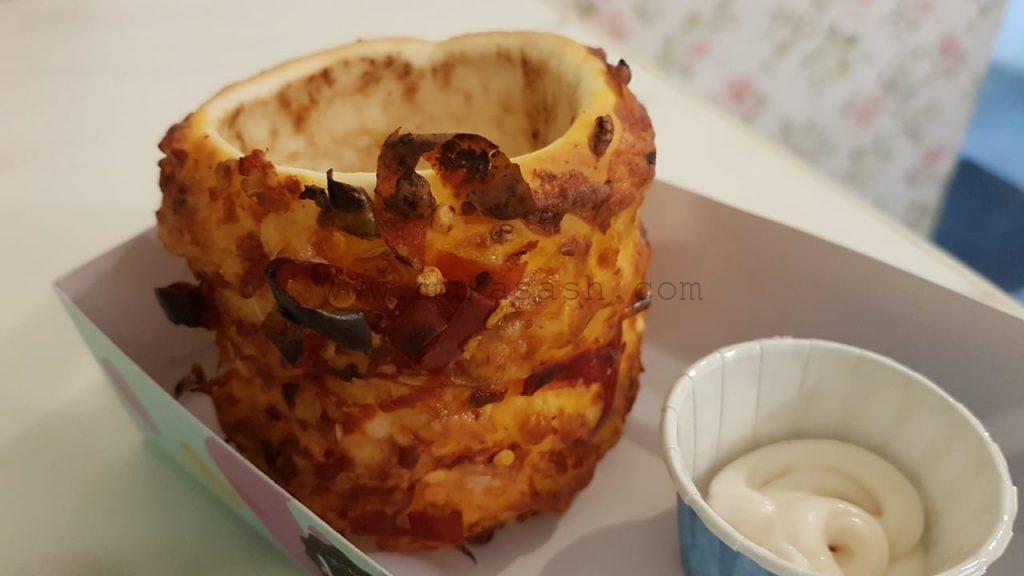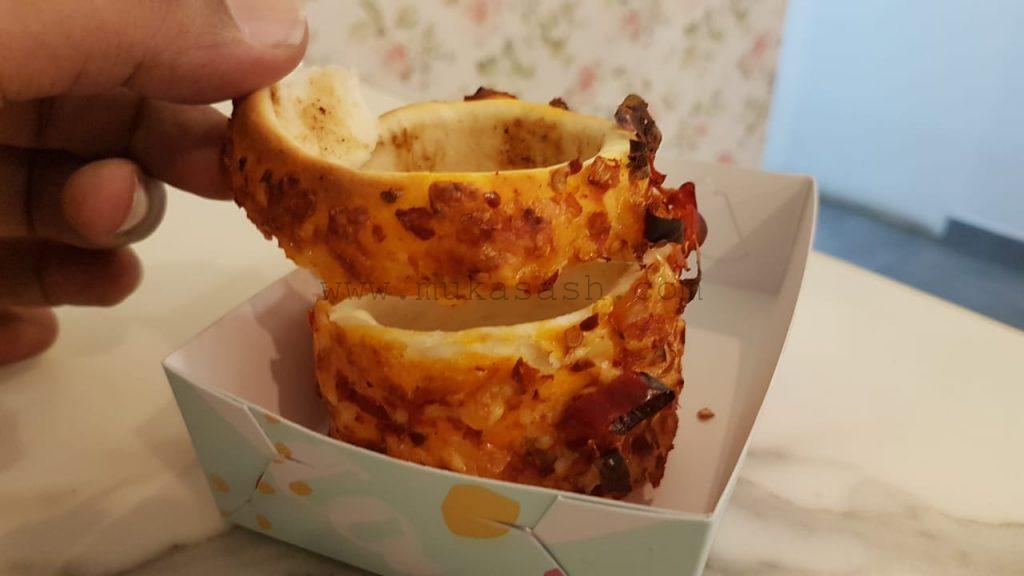 I specifically asked for the 'typical' sweet Kurtos, which was there in most pictures with sugar coated on the outside, and told them we'll have it at the end, as a dessert, after we're done with other stuff. However, we got a sweet one rolled in Chocolate powder/chocolate mud along with a chocolate/nutella dip. It was served right after we ate the savoury one. No mood to go back and tell him that, we started to eat. It tasted good, I am sure I would have liked the basic one much better. It was a slight overdose of chocolate. It was difficult to eat this without spilling the chocolate mud all over,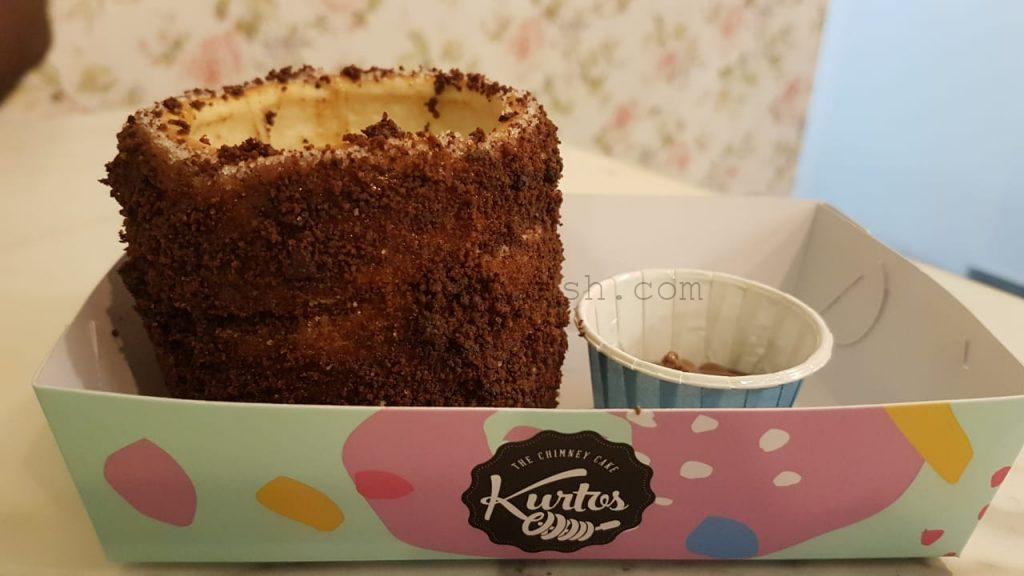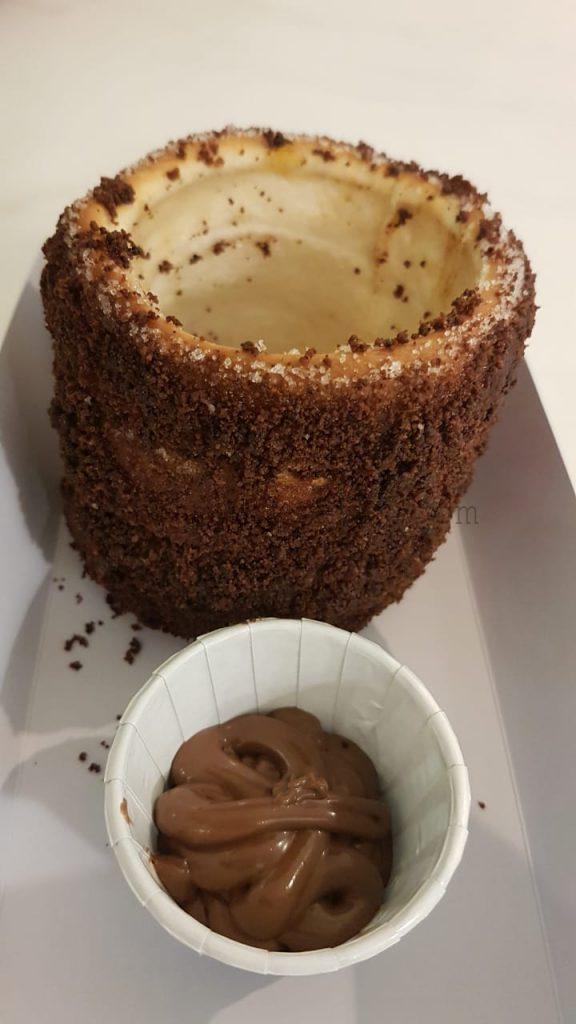 After a while, we got our Kurtos cones – Butter Chicken for me and Butter Paneer for my friend. Of course we were told it was small when we ordered it, and it indeed was! My first feeling – Priced at 200 bucks, this was hardly going to be filling, it looked like a small snack. I had to take a quick phone call, and by then, it was served. I started to eat it about 5 minutes after it was served, so perhaps missed the piping hot bread on the outside. First bite took me by surprise! The Butter Chicken inside was cold! Not the room-temperature cold, but refrigerator cold. I checked with the owner and he assured me that's how it is meant to be. Wasn't quite convinced, because the vegetarian filling wasn't that cold.
It tasted good, and needless to say, we finished it quite soon.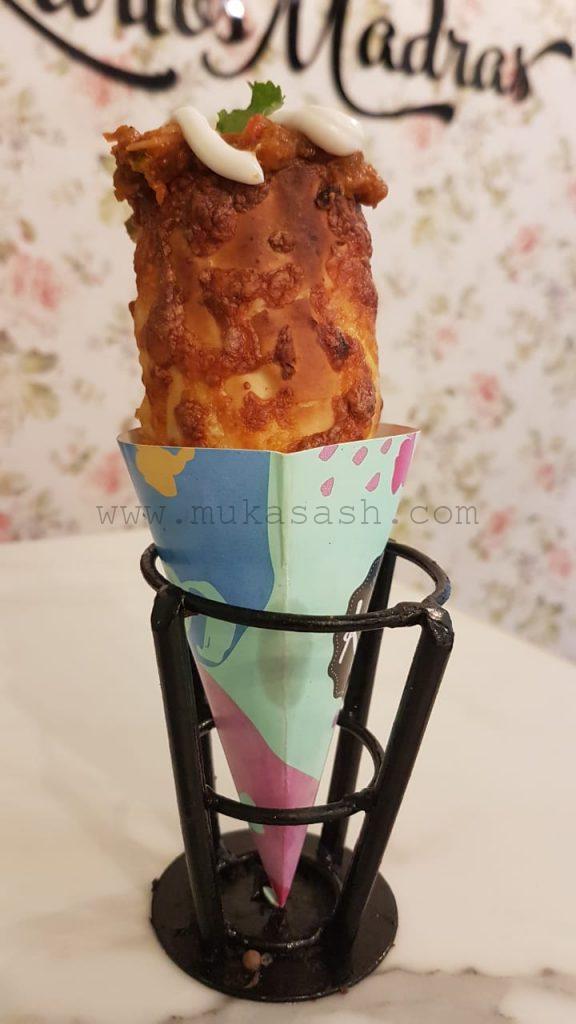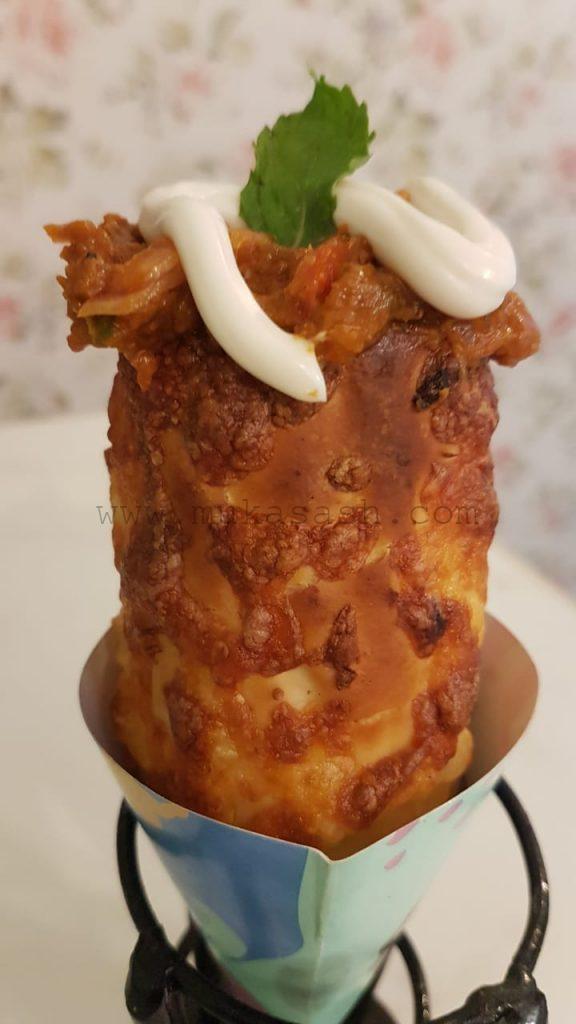 While I was on the phone, friend clicked a pic of his cone and started to eat. 🙂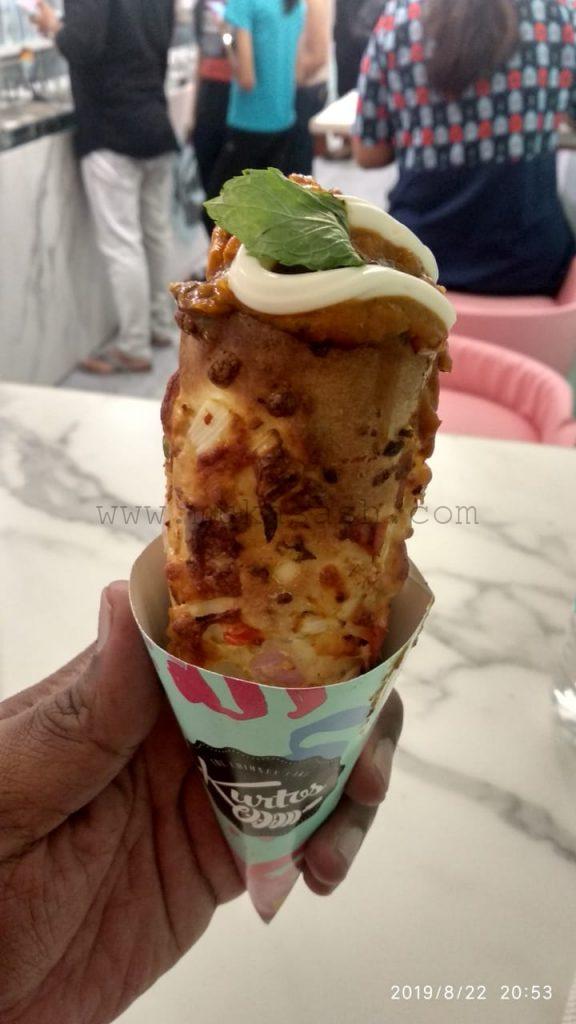 Meanwhile, we realized this wasn't going to be enough, so we ordered one from the salad section too – 'Tandoori Paneer'! The was going to be a Kurtos in cylindrical form filled with Tandoori Paneer salad! Again, it wasn't very comfortable to eat without getting messy. Asked for a couple of spoons and then it was better. We scooped out the salad and ate it with the bread. It tasted good, but not wow.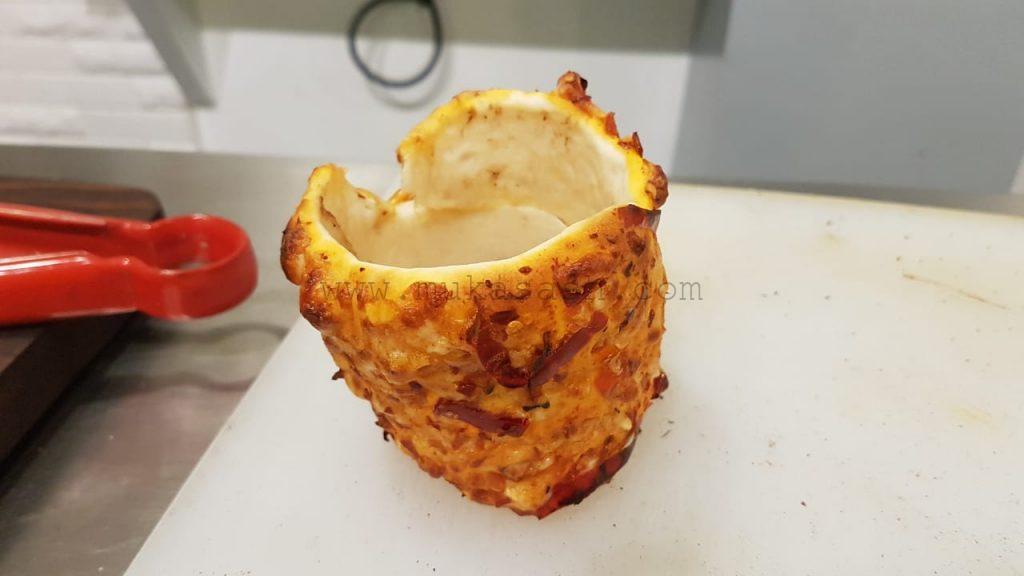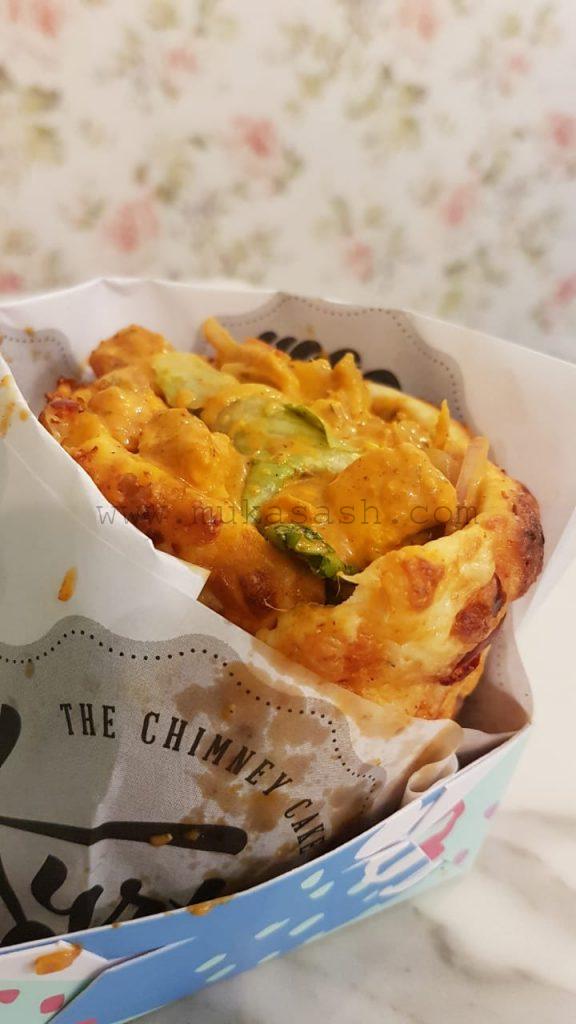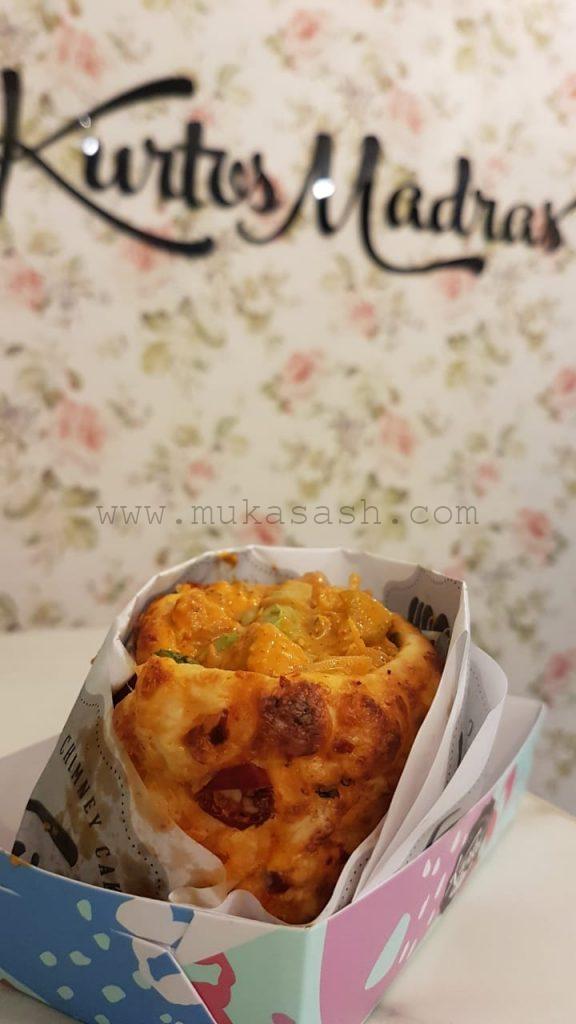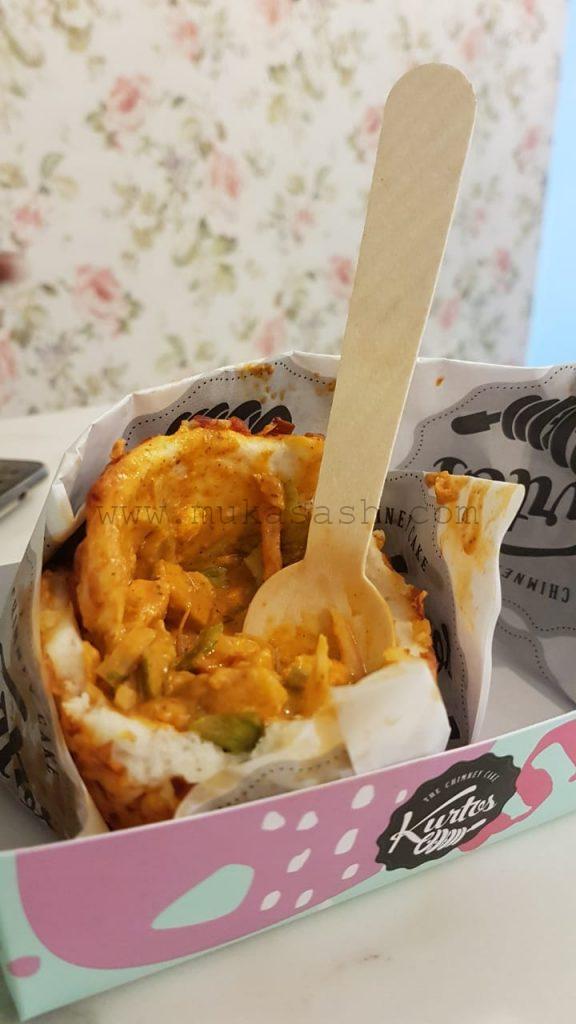 We had to buy two small bottles of water as they didn't serve 'regular' water, I wished they did! We did ask the owner to which he replied that water was quite scarce in Besant Nagar. 🙂
Another thing we felt would be good to have was a small wash basin for those whose hands get messy. I did see another couple washing hands outside from the water bottle they purchased, not the most convenient way to clean your hands after a meal.
We paid 756 bucks in all, it was good to enjoy something new in Chennai, but I am not too sure about positioning something that's primarily a street food/quick bite/sweet snack as a meal by itself. I think the sweet and savoury versions sans the filling, which are relatively cheaper, would be in great demand if they can get another oven to dish out at a faster pace. I would probably bring my kids along to experience some of their sweet variants, since Hungary is a bit too far away 🙂