A fantastic evening with a dear friend who is also an ex-colleague! There's always so much to reminisce about our wonderful days back then, and about the good times we've had in Germany when both of us were onsite. We decided to check out a new place and he suggested that we try Big Bull Lounge, in Nandanam.
Most of the restobars in Chennai have a restriction or specific terms and conditions for stag entry, and this place was no different. The entry to the Second floor had a cover charge of 2K per person, for stags. The good thing was it was totally redeemable! 😅 With an entire evening ahead of us, 2K per person would be over in a jiffy, we thought! There was no need to request friends to get our names on the guest list, that was even better.
The Second Floor seemed like it was designed to be a dance floor than a restobar. We were quite early around 07:30 PM, there was hardly any action when we entered, but it was quite evident that it was going to get crowded looking at the way they were prepping up for the evening. There was a limited seating along the circumference while the place in the center was left free. We got one of the two-seater tables which was quite comfortable.
First floor was a typical bar with a more traditional seating, like if you wanted to catch up on a Cricket match on a large screen. That didn't have a cover charge, but we were not quite keen.
We decided to go with beer all evening while checking out their side-eats too. Almost had a shock when the waiter told us only British Empire draught was available! When I requested for Kingfisher Lager, he agreed to bring that from one floor below.
Kingfisher Draught beer in a pitcher was wonderful, in fact one of the best draught beers I have had in recent times. Tasted fresh, light, and refreshing!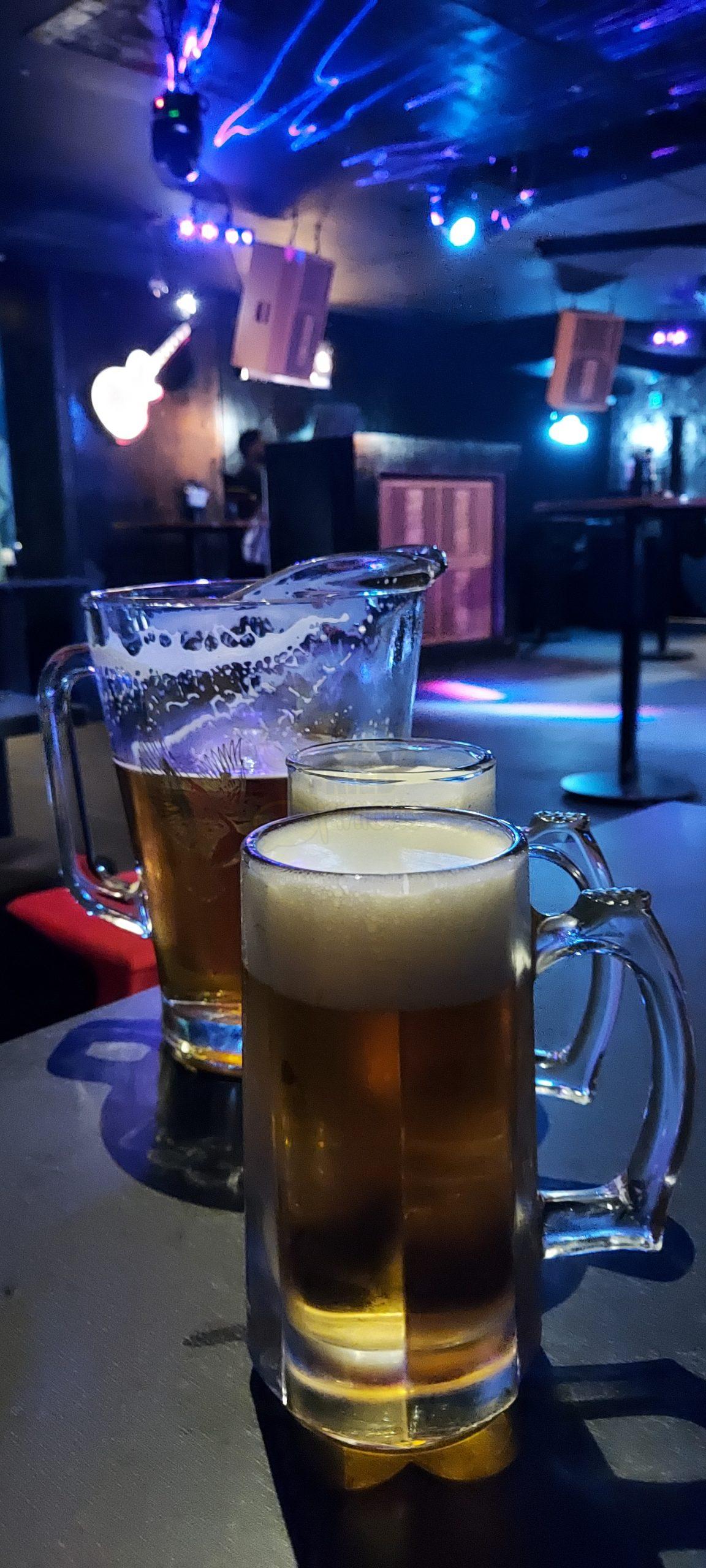 Ordered Kori Ghee Roast and Schezwan Egg aka Chilli Egg to start with.
When I spotted Kori Ghee Roast on the menu, immediately ordered that as I am a big fan of the Mangalorean/Kundapuri Chicken Ghee Roast, boneless chicken pieces and the oozing ghee, just love it! It was served with shredded parotta on the side. On taking a first mouthful, there was not even a mild flavor or aroma of ghee, not even to the extent of calling it subtle. That was quite surprising! Parotta could have stayed a little longer on the tawa, wasn't undercooked, but would have made it more appealing looks-wise too. It wasn't bad, but fell short of my expectation.
Schezwan Egg aka Chilli Egg was good, taste-wise had everything rite, but the portion felt minuscule.
Meanwhile the place was getting ready with flashy light rays and loud thumping music! It was 08:30 PM and still very few had come by then.
Ordered Omelette Pan Pizza on waiter's recommendation. This actually took me by surprise, we had a nice laugh! This was no pizza, it was a one-side plain omelette at best. On digging deep, understood that they had sort of layered the pan with the pizza topping, perhaps the sauce sans the veggies, and poured the egg on it and cooked it like an Aappam. We had to scrape off the Pizza sauce from the pan and the egg too. I felt, the idea wasn't great! Instead toppings on the plain egg omelette would have made it a lot more impressive, I felt!
Kingfisher Draught pitcher was on a repeat mode.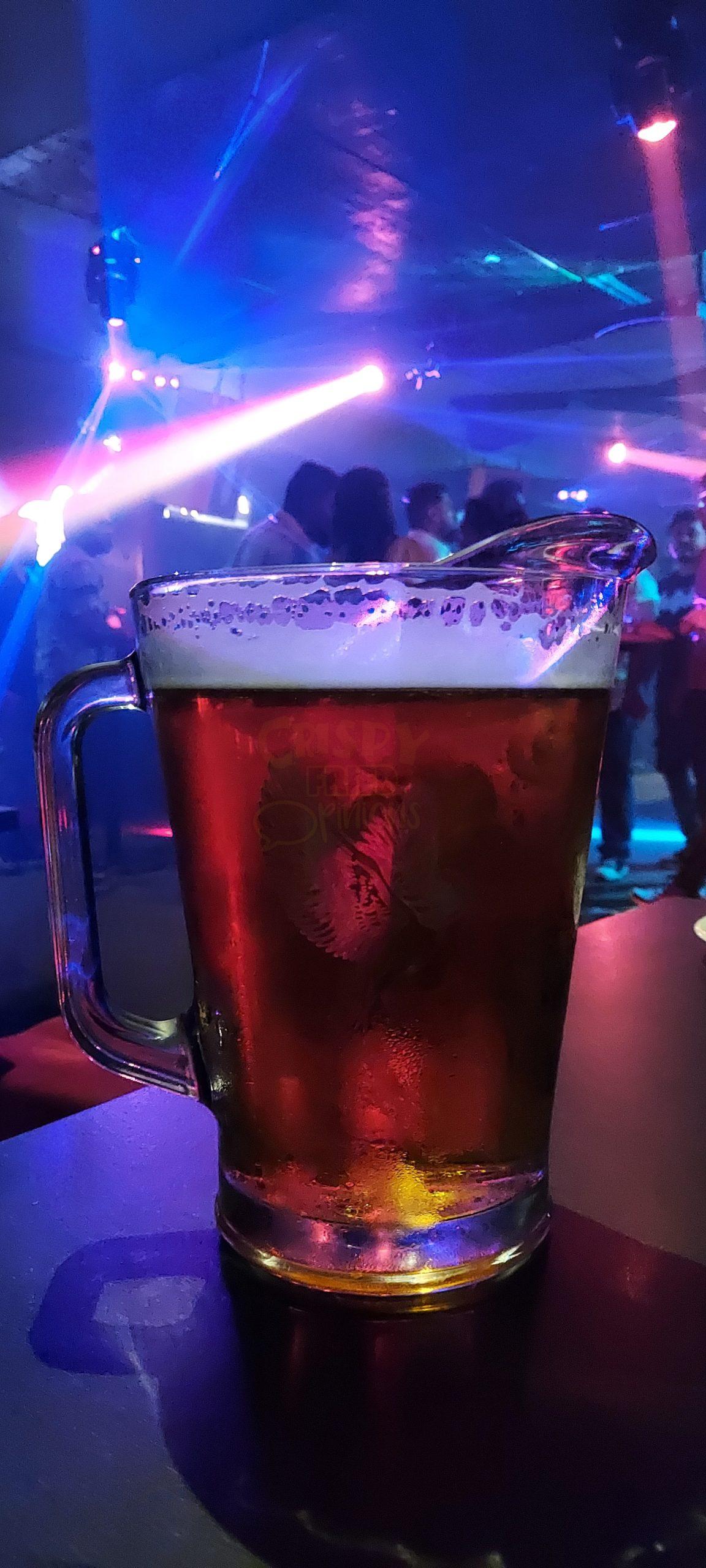 Another hour gone, and at around 09:30 PM the place came to life! It was how you'd expect it to be. People grooving to the beats, and lot of them seemed to be quite aware of the stand-and-drink setup with tall tables.
Kaara Podi Idli was the next to come, and this was the best dish of the evening! Now the flavor of ghee clearly made an impression. Podi was tasty, and at the same time, not super hot. The chutney with a hint of mint was tasty too. Loved this one along with the beer!
More crowd, more dancing, and it was 10:30 PM.
Romana Murgh Tikka was the last dish we ordered while we were on the Fourth pitcher. We had decided to end it with that. This dish tasted better than how it looked. Basically the description said Italian herbs/seasoning etc, but this was more like the Murgh Malai Tikka, slightly sweet, but definitely tasty!
That's when we noticed their poster of Liquor ice creams with different flavors – Dark Rum, Jagermeister, Baileys, et all. We decided to end it with an ice cream each. Dark Rum for my friend, and Bailey's for me. It was good, too creamy for an ice cream not sure why! While the Dark Rum was more prominent, Bailey's was too subtle. Liked it though!
With that we ended our session around 11:30 PM, pretty much when lights were switched on, indicating that it was closing time. One thing I liked was the bouncers (incl. a lady bouncer) were very attentive and ensured that there was no untoward incident all evening. Things can get out of control pretty fast, but they ensured it did not happen.
We paid a total of 8.6K in all, we were there for about four hours, and had a good time. Food was decent I would say, nothing bad, nothing unpalatable, but definitely not wow or outstanding. No complaints with service either. That said, personally I'd prefer Sekhmet or Radio Room over this place, perhaps slightly older crowd that I could relate to 😀 !