Chap Chay, a place that has been on my to-do list for eternity! Somehow a visit didn't happen until today. Located in The Raintree hotel on St. Marys Road in Alwarpet, this is one of the very popular places in the city for pan-Asian food.
Thanks to Swiggy Dineout Great Indian Restaurant Festival 2023 (aka GIRF), managed to get a '25% off on the total bill amount' and it was a decent discount, though 50% would have been even better! 🙂 Reserved the table for 4 Pax at 2PM and reached well in time.
We immediately were led to a reserved table, and absolutely no hassles with the reservation. The place ticked off all checkboxes for a fine dining establishment – The table setting, the décor, the well-dressed waiters, everything was quite as you would expect in a 5-Star hotel. The grand flower vase was very beautiful!
We got the menu handed out and it was a set menu / sit-in buffet that included Soup, Dimsum, Starters, Mains and Dessert. For the mains, you could make your own chapchay at the live Stir Fry counter.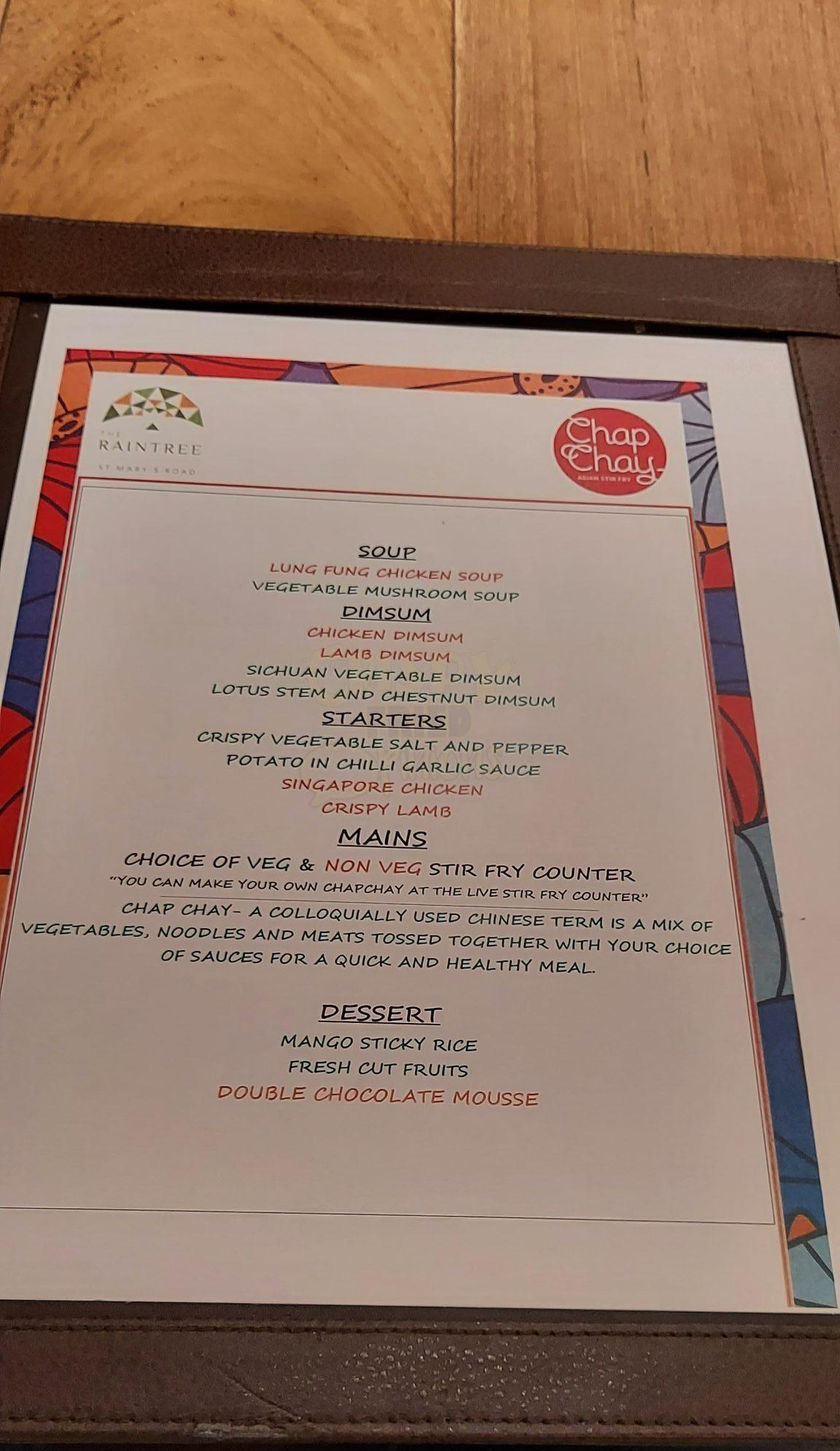 In case you didn't know, Chapchay is a colloquially used Chinese term for a mix of vegetables, noodles and meats, tossed together with your choice of sauces for a quick and healthy meal.
We started with a Lung Fung Chicken soup. It was a bit bland to my liking, but after adding some salt and pepper, it was actually tasty.
Dimsums came next, and I tried everything except the Lamb Dimsums. Very nicely made with a thin outer covering and tasty filling inside. Chicken dimsums were the best, followed by Lotus stem and chestnut dimsum and Sichuan vegetable dimsum. The accompaniments were wonderful with the momos, especially the Chilli infused oil.
Starters followed, and Potato in Chilli Garlic sauce was served first. It was very tasty, we liked it.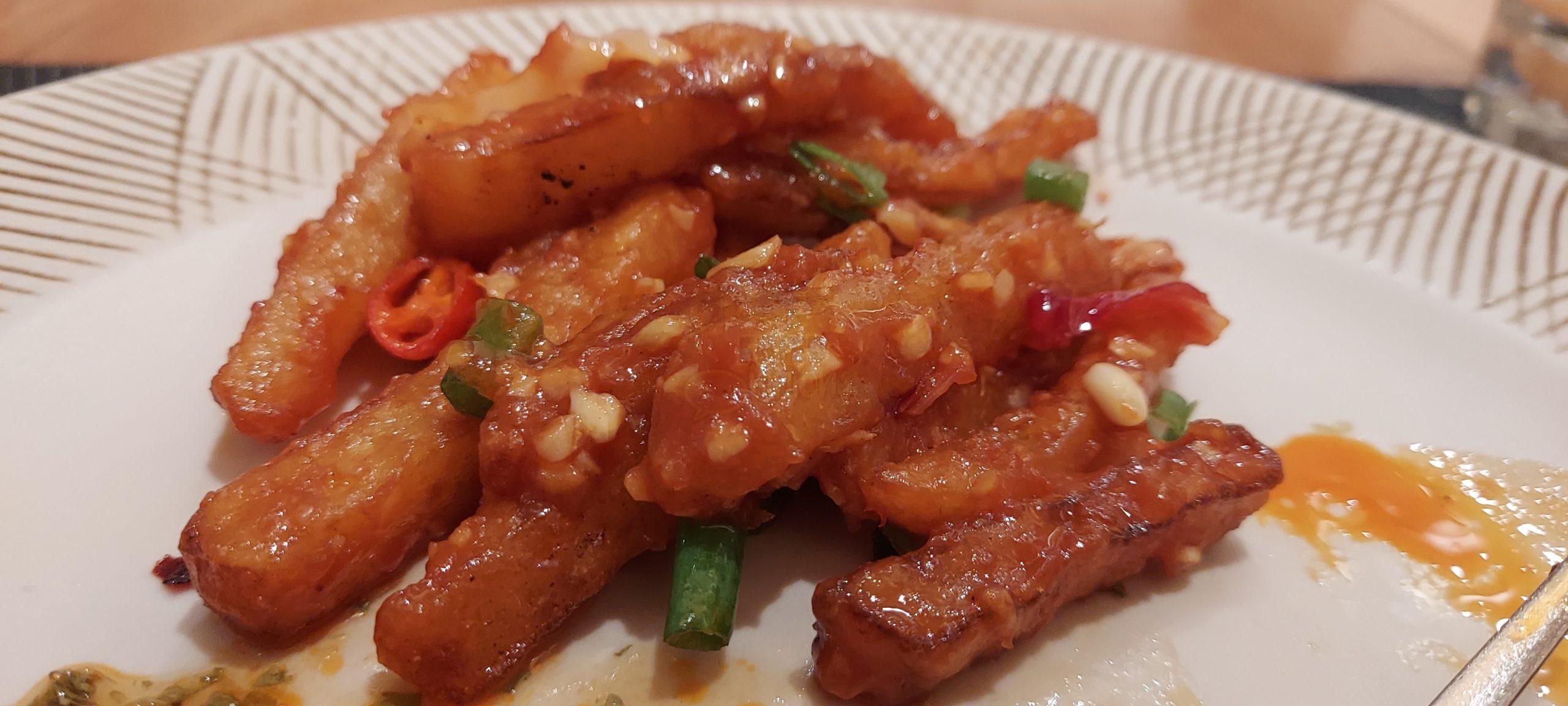 Crispy vegetables Salt and Pepper came next. Loved the minimalistic use of sauces and spices. True to its name, it was crispy, just rightly deep-fried and balanced in taste.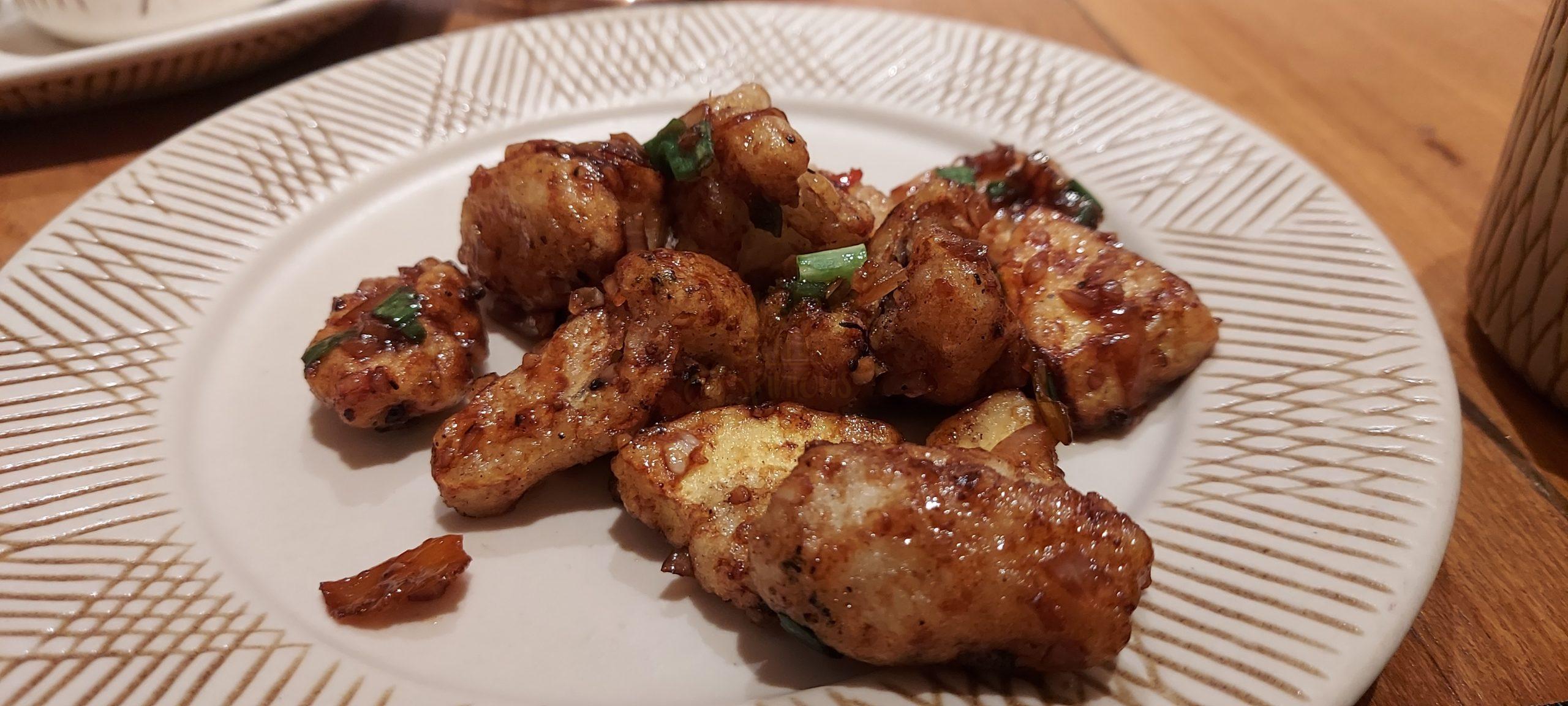 Singapore Chicken had to be the showstopper of the lunch. Fantastic is an understatement. Absolutely soft Chicken, deep-fried and then sauteed in sauces, very flavorsome! Reminded me more of Thai than Singapore cuisine!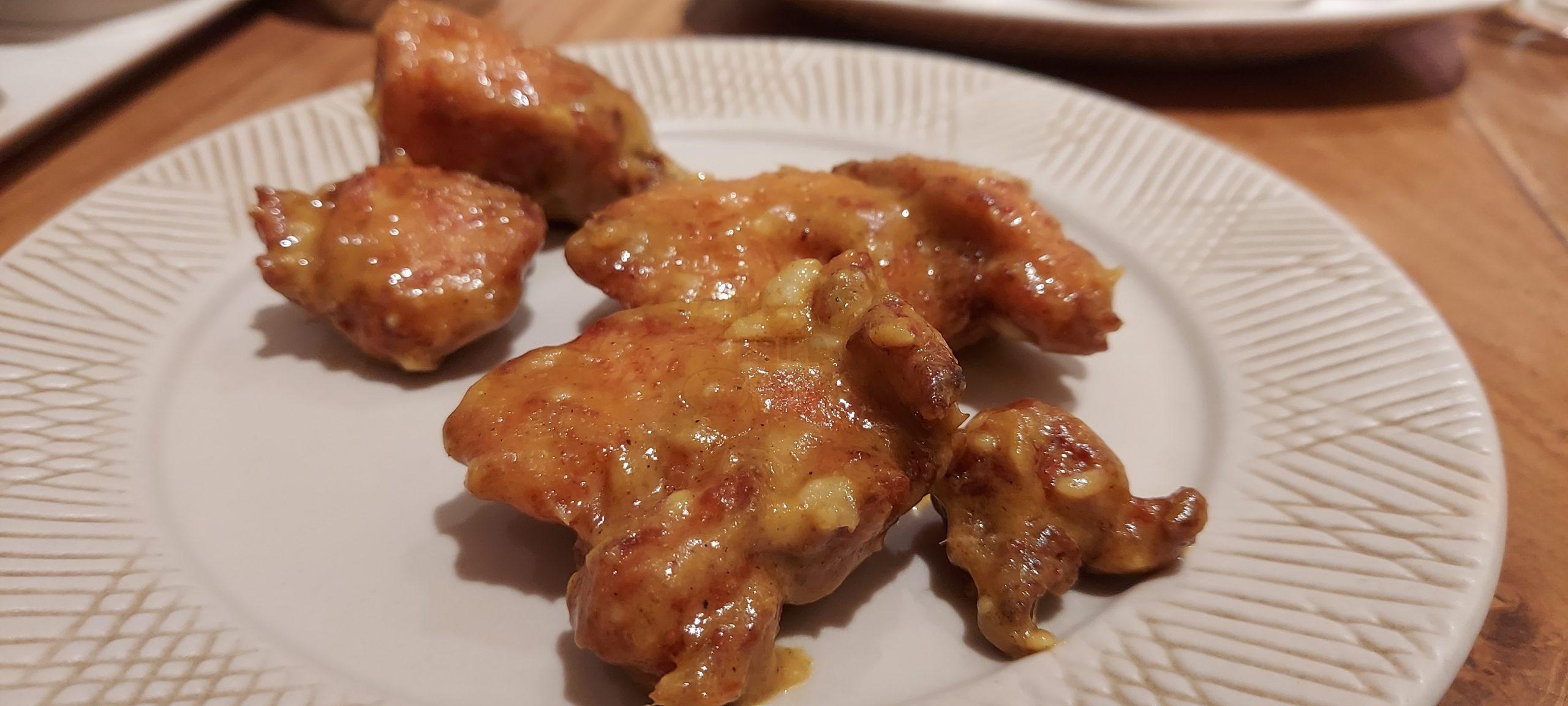 Crispy Lamb was good, tasted a very little of it, just for namesake as I generally do not eat lamb, by choice.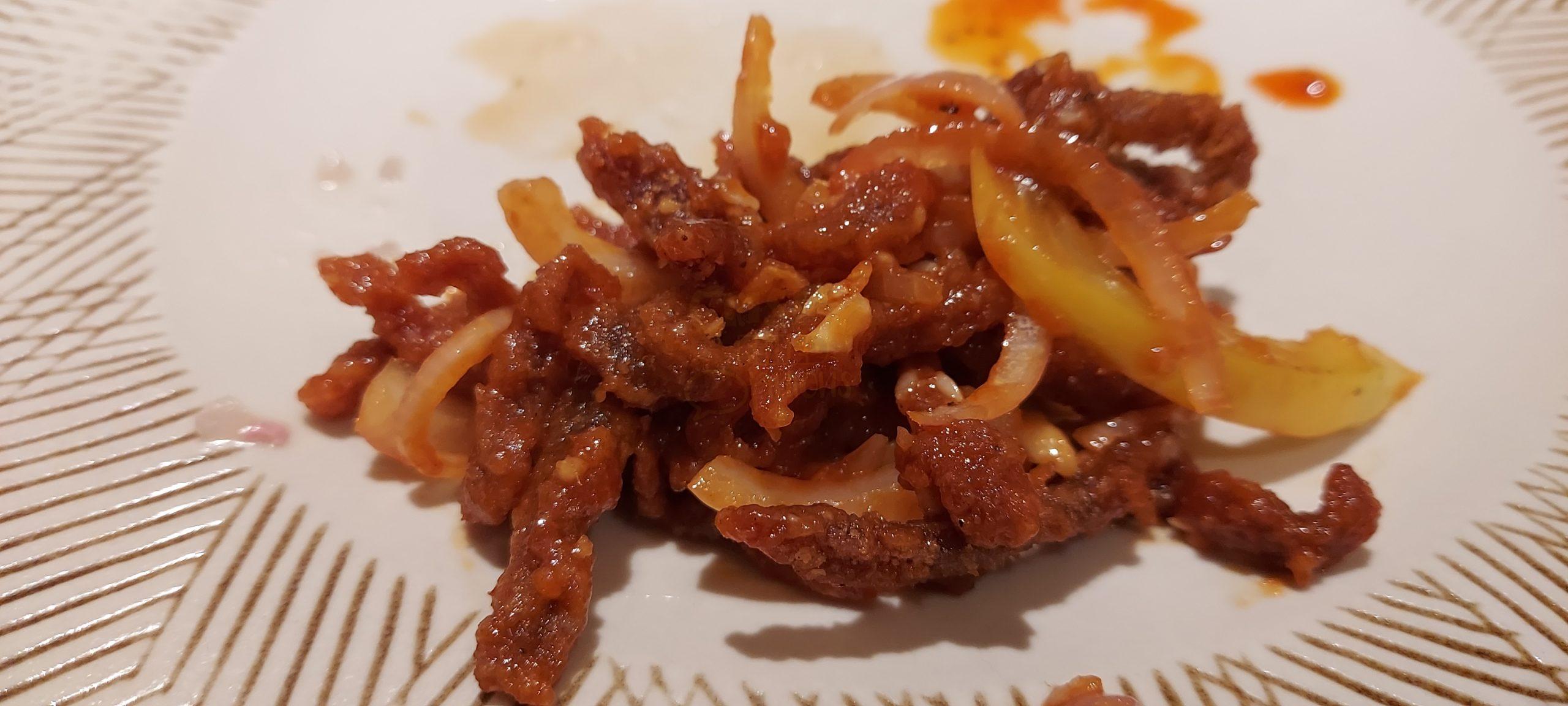 We were served hot Jasmine Tea which was soothing to the throat!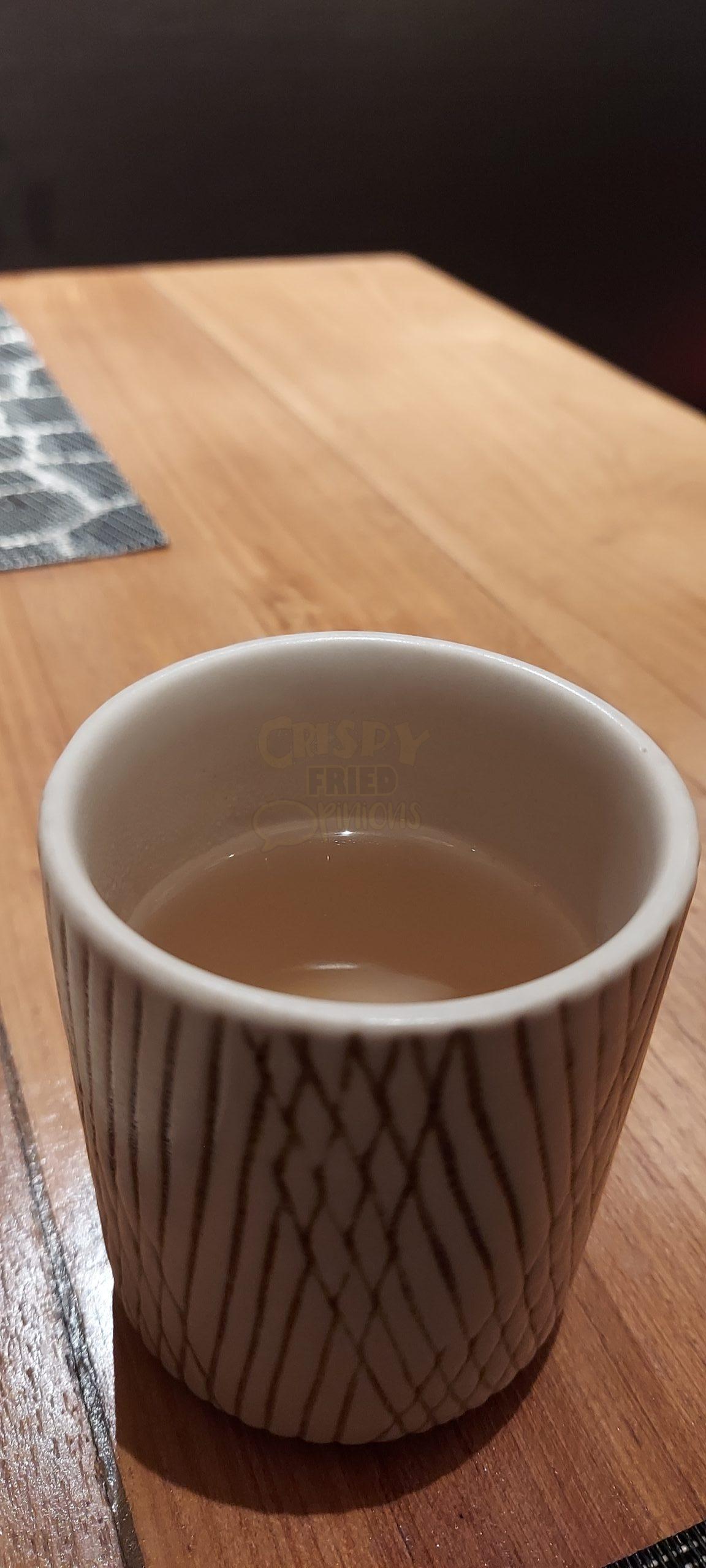 Now to what we were looking forward to – Chapchay! We went around the counters and had a look at the various veggies, meats, and noodles. A stewardess was kind to explain this routine. We had to pick up a bowl, choose the veggies, meat and go over to the sauce menu, select sauces and hand it over to the chef with your name and table # written on it. That's it, it would be served on your table after it is Stir fried!
This is exactly the sequence in which I went about this whole process and the end-result was totally satisfying! Lesson learnt, if you go easy on starters, then you could experiment with chapchay as it is unlimited and you could make your own combinations. Since we were already quite stuffed, we were more than happy with our chapchay bowl. 🙂
This is what wifey's and kids' bowls looked like. They thoroughly enjoyed this DIY experience of putting the chapchay together.
Daughter wanted something to drink, ordered a mocktail Aquaris, a citrus drink with fizz. She liked the blue color, from the curacao syrup perhaps! I tried a little of it, was refreshing!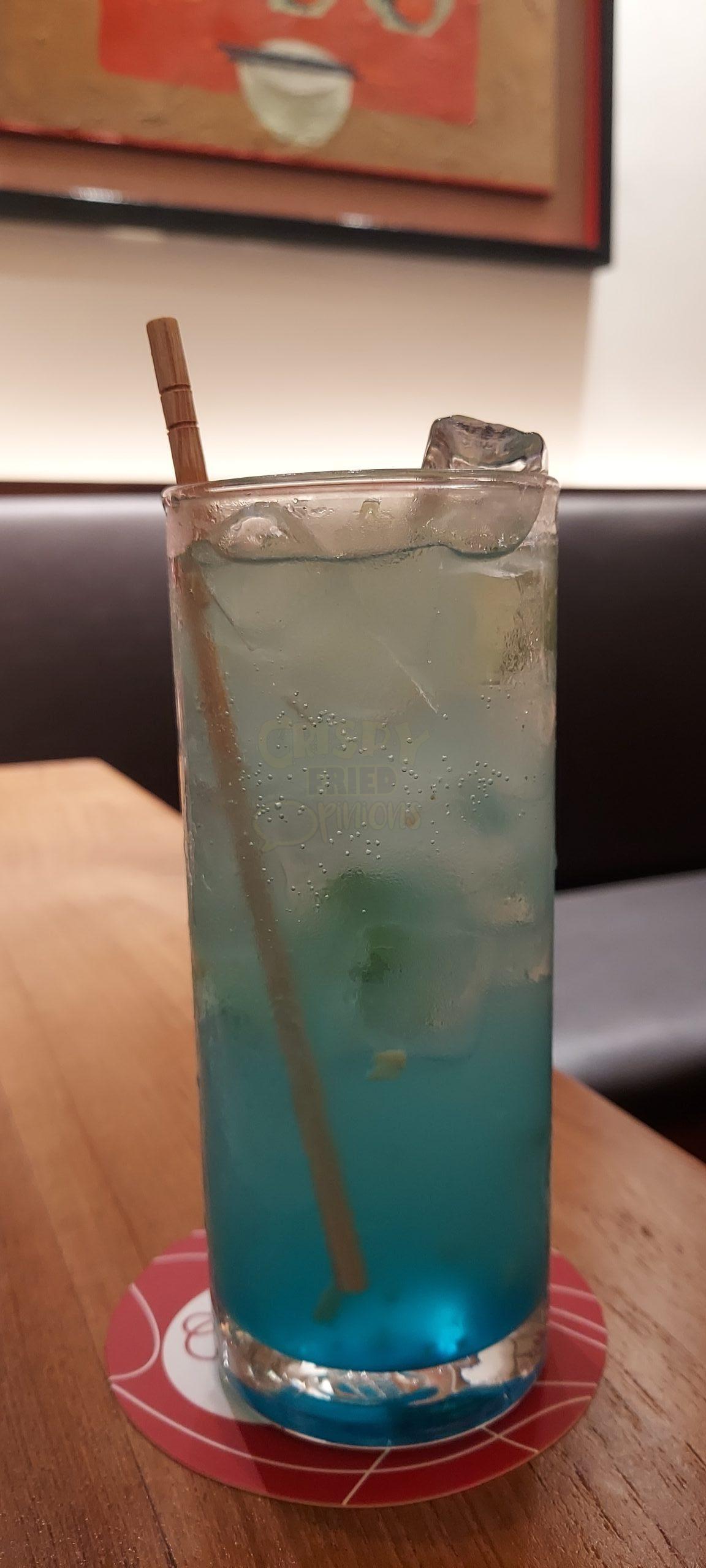 Finally to the desserts! The menu mentioned these three – Mango sticky rice, cut fruits and double chocolate mousse.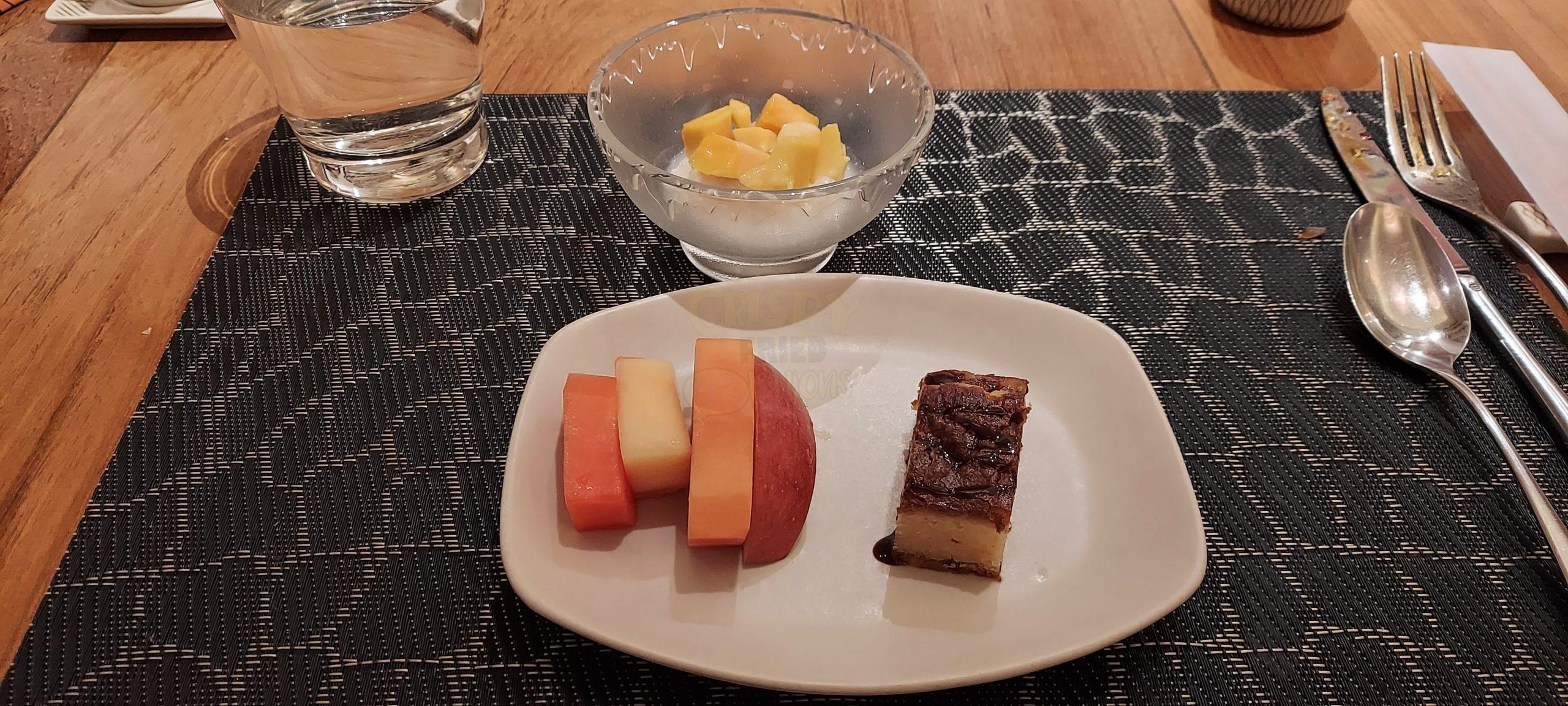 Mango sticky rice is a Thai delicacy known by its name Khao niew ma muang. I have had it in Soy Soi earlier. Loved it! Sticky rice cooked in coconut milk, with coconut cream and cut ripe mangoes. It was wonderful!
Cut fruits were good, nothing so great to rave about them.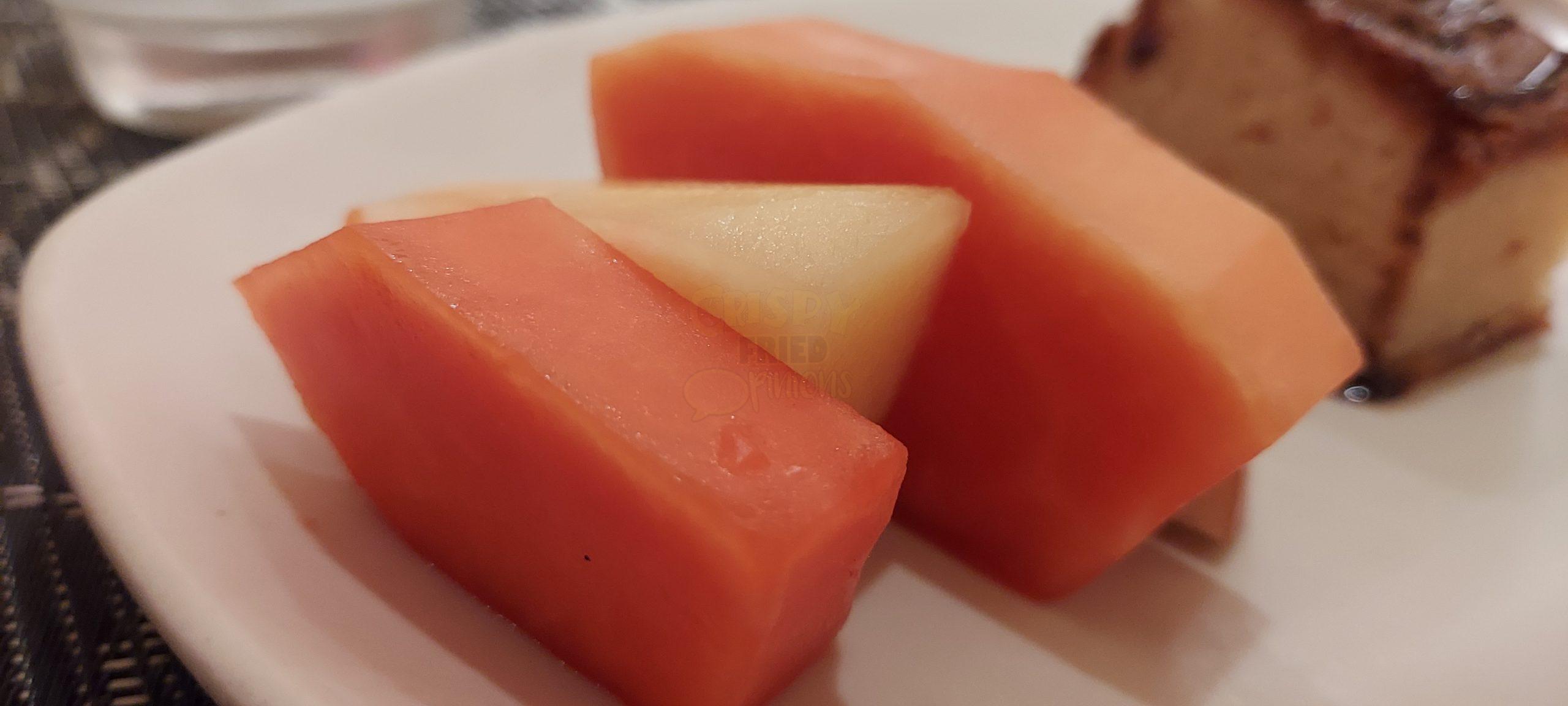 Double chocolate mousse wasn't quite like a mousse. It was a very tasty cake topped with chocolate sauce, but definitely not in the consistency of a mousse. We finished it too soon to even think about enquiring what it was! 🙂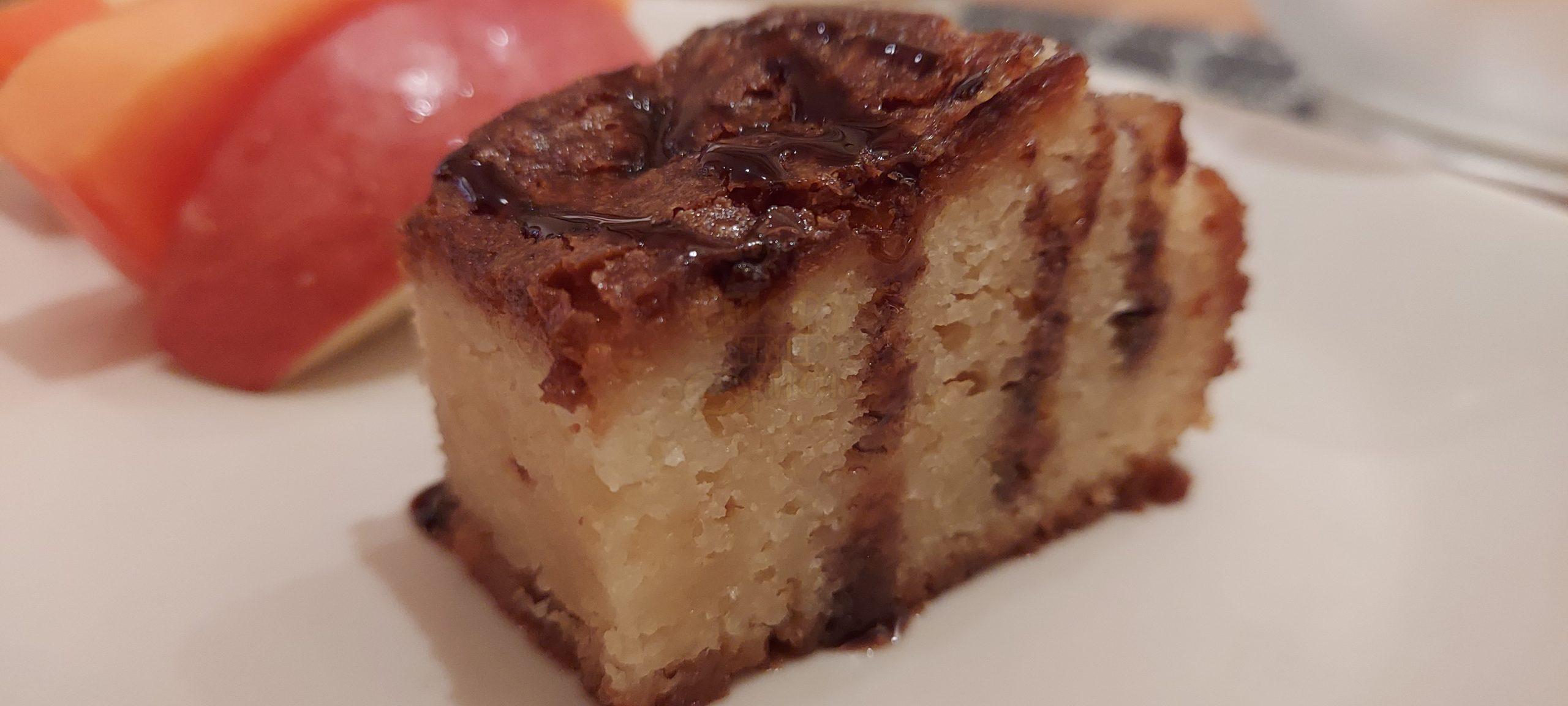 With that, we ended a fantastic lunch! Every single dish we ate was wonderful. Service was impeccable and courteous throughout. Thanks to Mr. Chandra who waited on our table, it certainly made our dining experience very pleasant.
We were in for a sweet surprise too! We got a small cake to takeaway on the occasion of Mother's Day! It was a sweet gesture and all of them got it.
Towards the end of the meal, when feedback forms were handed out, I shared my card and told them I will be writing about my experience in my blog. The Chef came to say a hello! Thanked him for the wonderful food and overall dining experience!
The overall bill was a 9.1K and after a 25% discount, paid 6.8K through the Swiggy Dineout App. It was certainly pricey, and its not everyday I visit a Star hotel for a meal. Just wanted a special meal with family and we couldn't have asked for anything better. Wifey and kids were happy and that's what mattered most. If at all I had to give a feedback, I'd certainly like to point out that the chair I was seated on wasn't the most comfortable seating for a Luxury dining set up. The backrest was too thin and uncomfortable to sit for a long time.
I'd certainly visit again and recommend this place for a pleasant dining experience. Thanks, Team – The Raintree!