Some things are just not meant to be, and we should take it as a sign and leave it there, I suppose! Booked a table for 4 for lunch on 17th May using the 'Swiggy Dineout GIRF 50% off on total bill' offer. Decided to go to a 'good' place on account of my birthday. As luck would have it I was stuck with work and couldn't step out, had to cancel the plan.
In order to not disappoint the family, booked the same deal again on 18th May for dinner, and thinking retrospectively, this could have been avoided. I'll tell you why, as I write this post!
We entered around 08:30PM, and it took a good 15 minutes for them to arrange a 4-seater table, while there were quite a few empty tables that remained empty throughout the evening. Perhaps, reservations who did not turn up, and that was not an issue at all. We got seated in reasonable time before hunger pangs could get the better of us.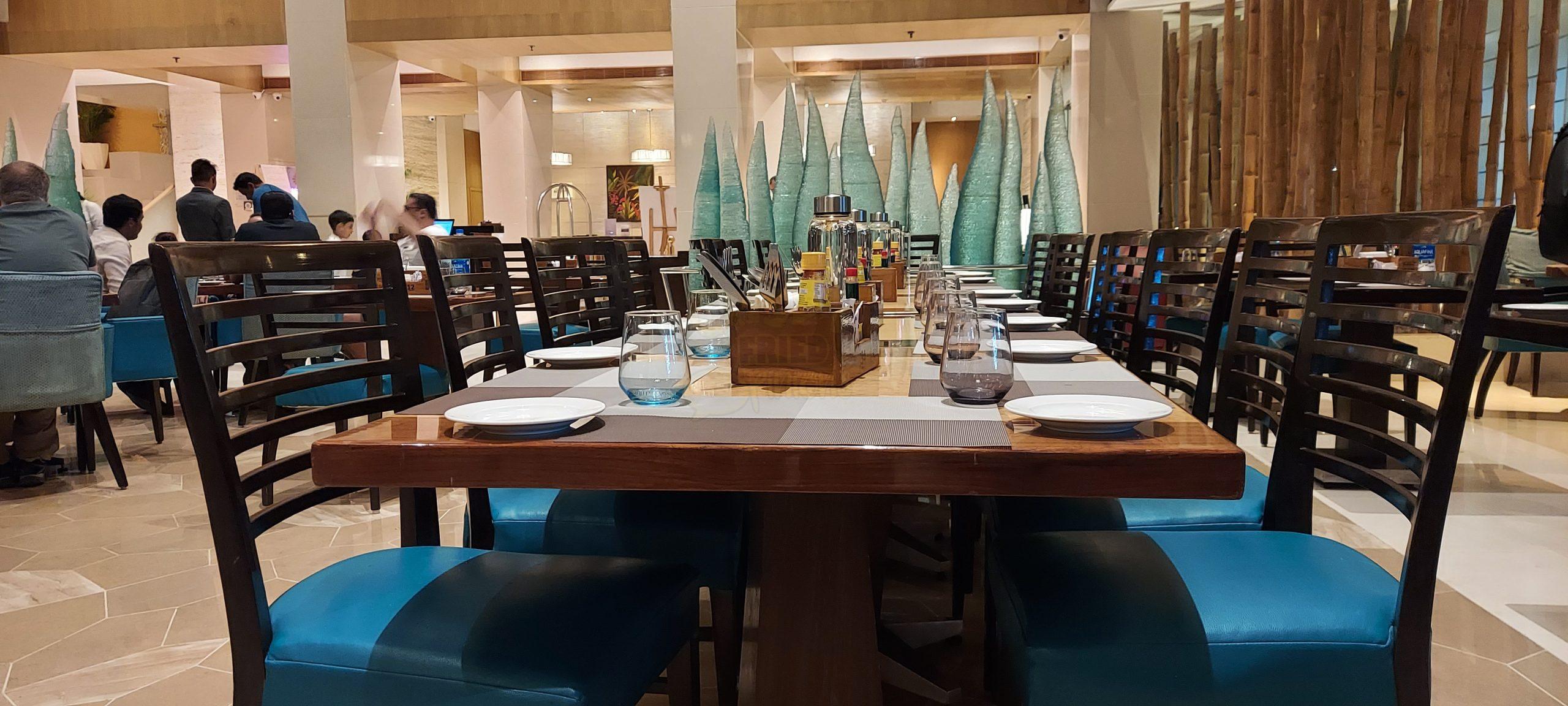 Now after a quick tour of the buffet counters, a couple of things that put me off – Firstly there was an overpowering smell of seafood throughout the buffet area, thankfully a little less in the dining area. Secondly, there were too many fish dishes – Batter Fried Fish, Sarso Fish Curry, Singapore Fish, and Grilled Fish Pesto Sauce. Asked them if there was some seafood festival going on, to which they replied in the negative. Overall, the counters didn't give me an impression of the buffet being lavish, and at this point, I didn't know the price of the dinner buffet, or I would have kept my expectations in check. Dessert counter was perhaps the best of all, and seemed attractive with a mix of Western and Indian delicacies!
Another thing I noticed, the cutlery was very basic and not classy like how you find in most premium places. That is one thing that would certainly differentiate the premium places to normal ones. Forks and spoons on the table were light-weight, with sharp edges, and not something you'd expect in a property like this.
We started with Hot and sour chicken soup, and it was absolutely wonderful. In fact, we actually enjoyed it till the last spoon.
On request, they served us some dahi poori and pani poori from the Chaat counter. Mediocre is an understatement. Broken pooris which wouldn't hold water were served in a place like this. A pani poori vendor would discard these without a second thought. Sour curds in dahi poori, we should have given this a miss.
Tandoori Aloo, a dry paneer dish which didn't have a name tag, and Murgh Tikka were the starters I tried. When I saw them on Induction stove, I shouldn't have expected much. Murg Tikka tasted good with dhaniya making a nice impression now and then. Sadly, most of the pieces I got were chewy and dry as they were probably too long on the stove. Paneer was chewy and hard and not worthy of consideration for a second piece, forget second helping. Tandoori Aloo was okay, no complaints. Son tasted Batter fried fish and didn't like it. Felt smelly like old fish, he said. Overall, starters were a disaster!
Pizza from the live counter was next to come. We ordered a Chicken pizza and they brought two pizzas a Chicken, and a Vegetarian one. We decided to try both. Firstly, there was little or no salt in the pizzas, and we had to sprinkle it over the pizza after which it tasted a bit better, though quite uneven. Later on we realized that by and large, most of the dishes had little or less salt in it, not sure if it was by design.
Overall, decent, nothing worth raving about. We had to leave a few pieces of veg pizza.
Some Chicken Biryani, Baked vegetables, and Pasta in White sauce was what I tried on my next round. Chicken Biryani was typical North Indian types, with saffron/kewra water kind of flavor, it was tasty. Pasta in White sauce and baked vegetables were okay, again had less salt.
Finally, very little white rice with Kozhi varutha Curry which was okay. Vegetable pulao was on the verge of burning in the Buffet container on induction stove, I had to take it from the top avoiding the charred part below, tasted decent. Paneer butter Masala literally on boil, and I pointed it out to a chef who came and reduced the temp on the stove and mixed it well. Again, hard chewy paneer and an okayish gravy. Not about self-promotion, but my attempt of this dish at home would give this a run for its money! Aloo Mutter was perhaps the best of all.
Starters and Main course literally making no impression, we decided to move to the dessert counter which was perhaps the only consolation in the entire meal we had.
A chocolate mousse, blueberry gateaux, a Badam Halwa kinda topped cake, Gajar ka Halwa, some milk sweet Kalkand, all of them tasted wonderful! In fact, this was the best part of the meal so far. Ice cream was a disappointment. Looked good, but was almost melting away, didn't eat that.
Checked if juices or coffee were a part of the buffet, and they replied in the negative. It was okay, didn't want to order it separately, we let it go. With that we ended a rather mediocre meal. Except the soup and the desserts, I frankly wouldn't be keen to try any of the dishes again.
When we received the check, the damage seemed to have a slightly lesser impact! Firstly a buffet was priced at 1550 plus Taxes, unlike bordering on 2K in most Star hotels. After 50% discount, we paid about 3.6K in all, and that was not bad. Whether the 3.6K was worth what we ate is another thing!
In these circumstances, did not even bother to check if they would do anything special for Birthdays! 🙂 In all probability, I am thinking the answer would have been "No", or probably "You can eat one more cake from the dessert counter" 😉 Didn't take a chance!
My last visit to Paprika Cafe was in 2014 for a Bengali Food festival, and that was one of the few Bloggers' invites I have accepted during those days. Reading that felt so much better as compared to yesterday's experience as an normal diner.
Offer or no offer, Paprika Cafe is one of the places I'd gladly skip when thinking of luxury dining in Chennai!