Pharos Hotels, better known as Aruna Hotel, on Sterling Road in Nungambakkam was all over the news when the popular Andhra restaurant Vivaha Bhojanambu opened there. I had a decent dining experience, but definitely not something that would make me go back immediately.
When Mustard Cafe & Bar opened, a similar wave of excitement was all over social media. Typically, 'a popular chain opening in our city' kind of excitement! This place was on my to-do list since then, and finally managed to tick it off along with a dear friend.
We reached around 08:30 PM, and the place had both indoor and outdoor seating. Since the cricket match was on, we decided to take the table by the pool. Quite a nice setup, I'd say. Setting up the air coolers to cover all the outdoor tables was a fantastic idea, made the outdoor seating so much more comfortable.
Took a quick look indoors and clicked a couple of pictures, the bar was well-stocked, the place was quite elegant and classy.
Friend started with a Budweiser, and I ordered a Whiskey Sour for myself. I loved the cocktail. It was a good start to the evening!
First look at the food menu, immediately realized it was going to be a very pricey affair. Ordered Parsley Butter Prawns and Dynamite Chicken to start with.
Friend loved the butter prawns and the buttery sauce around it. He relished it with his beer.
Dynamite chicken was good, but the name being 'generic', I had a different expectation all together from eating the dish with the same name in other places. I was hoping it was going to be pan-sautéed saucy chicken. What we got was crispy fried chicken. Nevertheless, it tasted good with the cocktail, no complaints other than the expectation mismatch. Not sure if the menu flyer had the description for this dish, I may have missed reading that.
Friend somehow wasn't very impressed with Budweiser. Checked if Hoegaarden was available, unfortunately it wasn't. He shifted to domestic beer – British Empire. Sadly, in a place like this, no other domestic beer was available, and no bottles, only cans.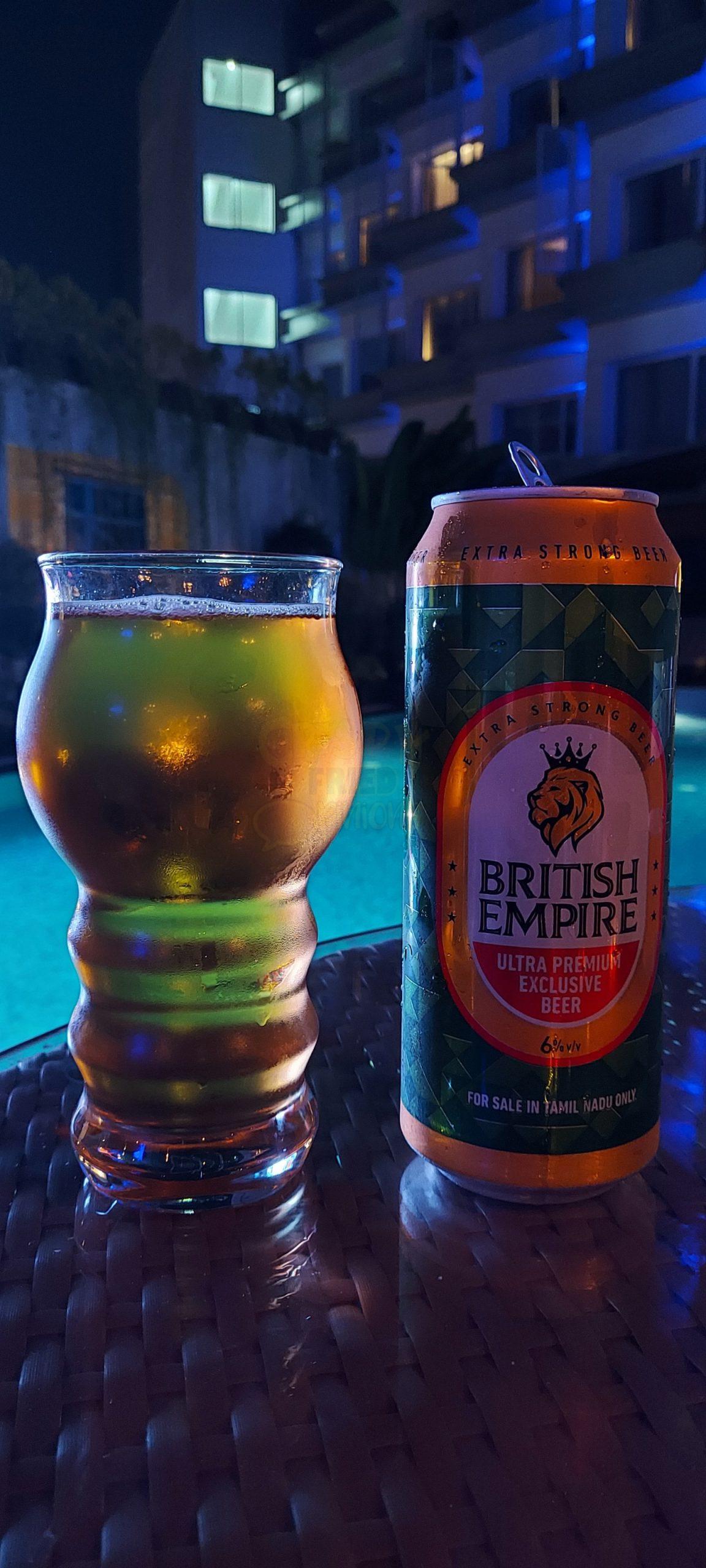 Next, I ordered Old Fashioned, another Bourbon-based Whiskey cocktail. While it was very well-made, It was only half a glass, literally ! Needed more ice! Priced at 650 bucks, it was not quite satisfying. Maybe the glass was too big, or whatever! 🙂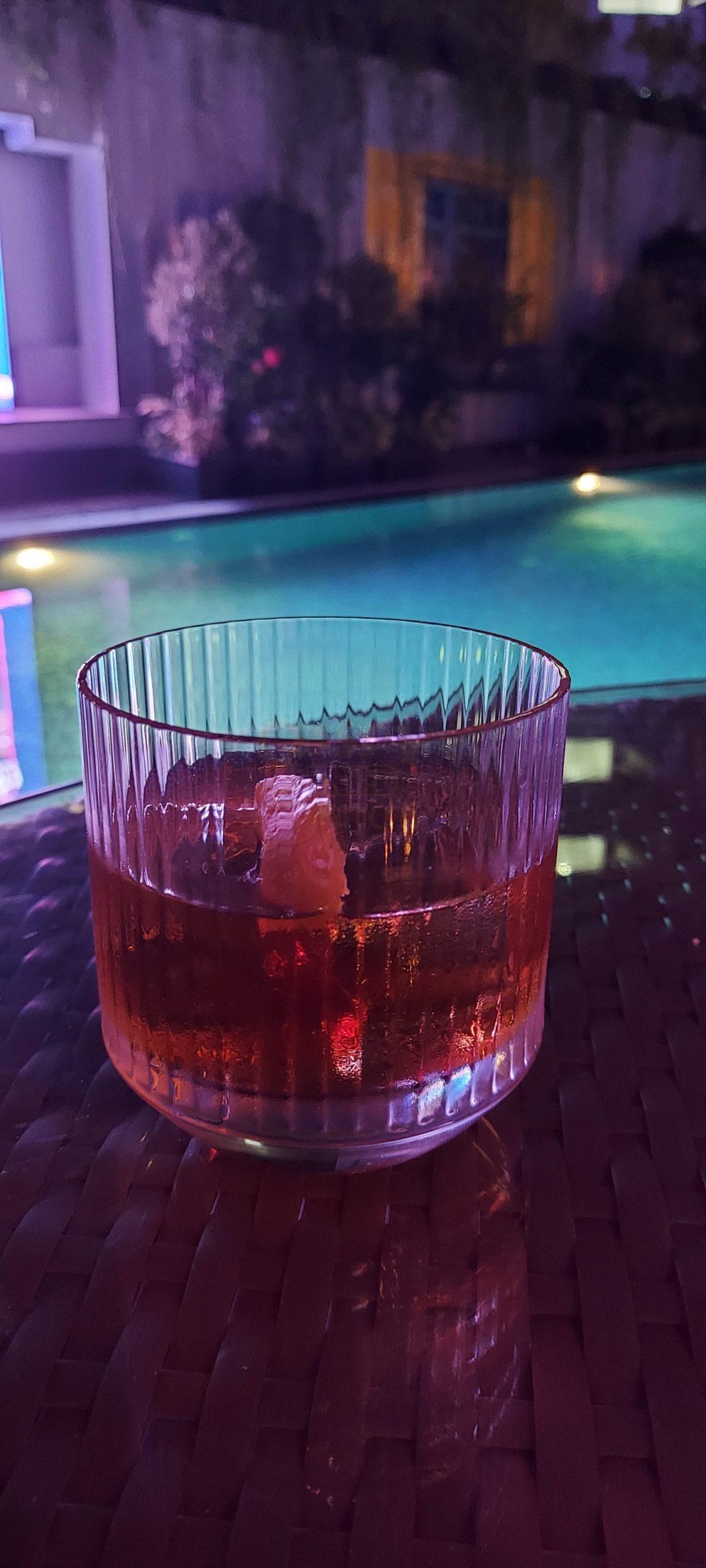 After the match was over, we wanted to move indoors hoping to get some better pics of food. Clicking in dim outdoor lighting was quite challenging ! The jazzy light and colors from the big screen made it even more difficult to get a decent shot! 🙂
Mustard Scrambled eggs was my next order. Tasted very good and absolutely no complaints with the dish.
Bhekti Paturi for my friend. Description said fish cooked in leaves, and immediately could make out it was Paturi. Friend liked it, but the first comment was it wasn't as good as in Petuk. Since I do not eat seafood by choice, I couldn't quite comprehend what exactly it was missing when compared to Petuk.
While friend was on a repeat mode with his beer, I ordered Bloody Mary next! Tasted good, without a doubt, but felt it was a bit too casually made. The glass wasn't rimmed with salt all around, just saw it on one side, wasn't sure if that was intentional. The tomato juice wasn't bright red. Initially thought it was the glass, or the light, but didn't quite seem so.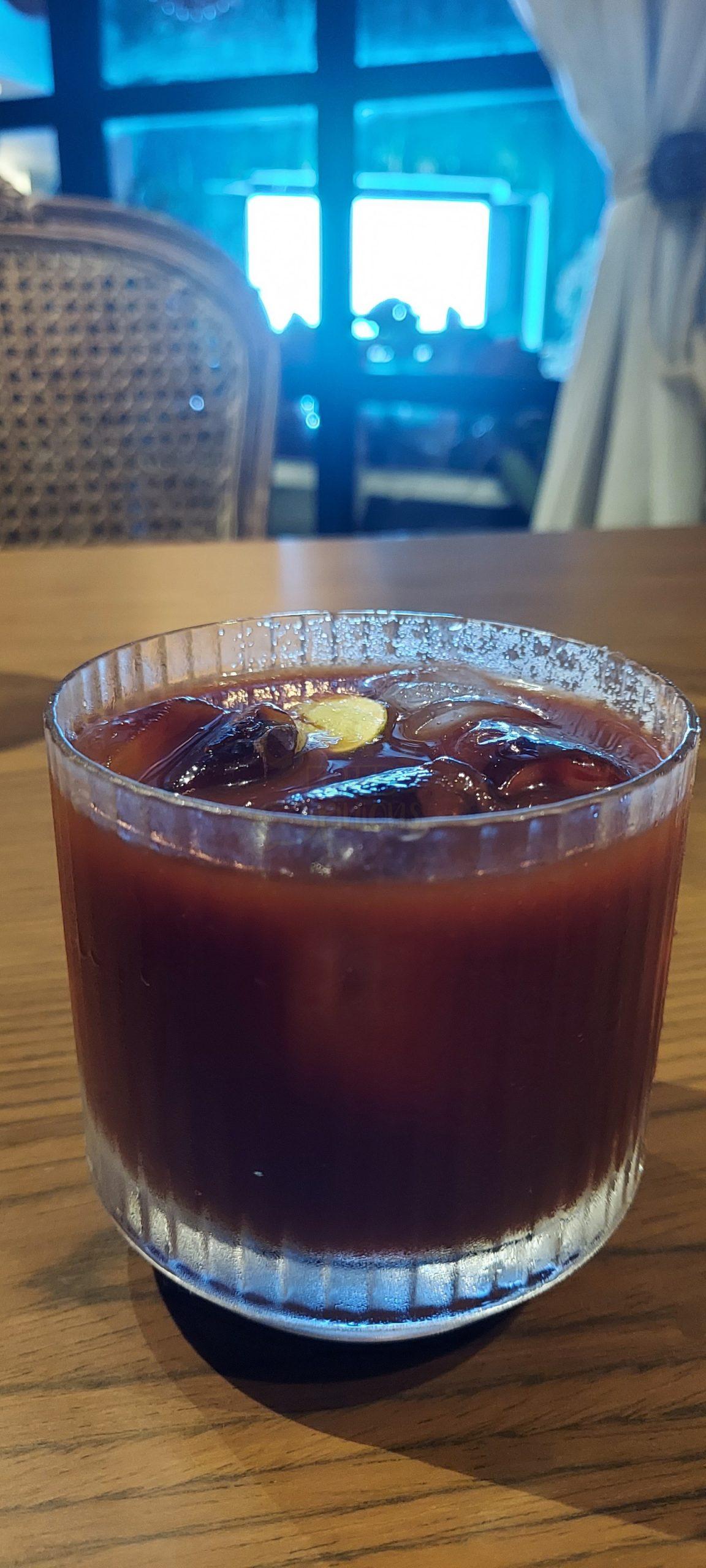 So far, I did not experience the Bengali touch in a Bengali restaurant, so decided to order Heritage Vegetarian Bengali Platter. This was supposed to have Baqarkhani Roti with Paka Kumror Aumbole, Begun Pora, Palong Sager Bhorta, and Til Badamer Jhuri. The description made me feel that this would certainly give a perfect feel of being in a Bengali restaurant. Sadly, in a couple of minutes, the waiter came back to say it wasn't available. Lady luck perhaps went on a holiday, I thought! 🙁
Ordered cocktail Luchi Bites. Frankly nothing so great about Luchi Aloor Dum, just that there was a twist with a tomato based gravy along with it. Luchi was bite-sized and yes, it was okay! If not till Kolkata, it took me past Andhra in that direction. 🙂
Friend had another beer, and I decided to finish with an Expresso Martini. It was a coffee and Vodka based cocktail. I'd say a fitting finish to the drinks session as I am a coffee lover! Though this was quite limited in size, the serving glass clearly indicated that's how it was meant to be.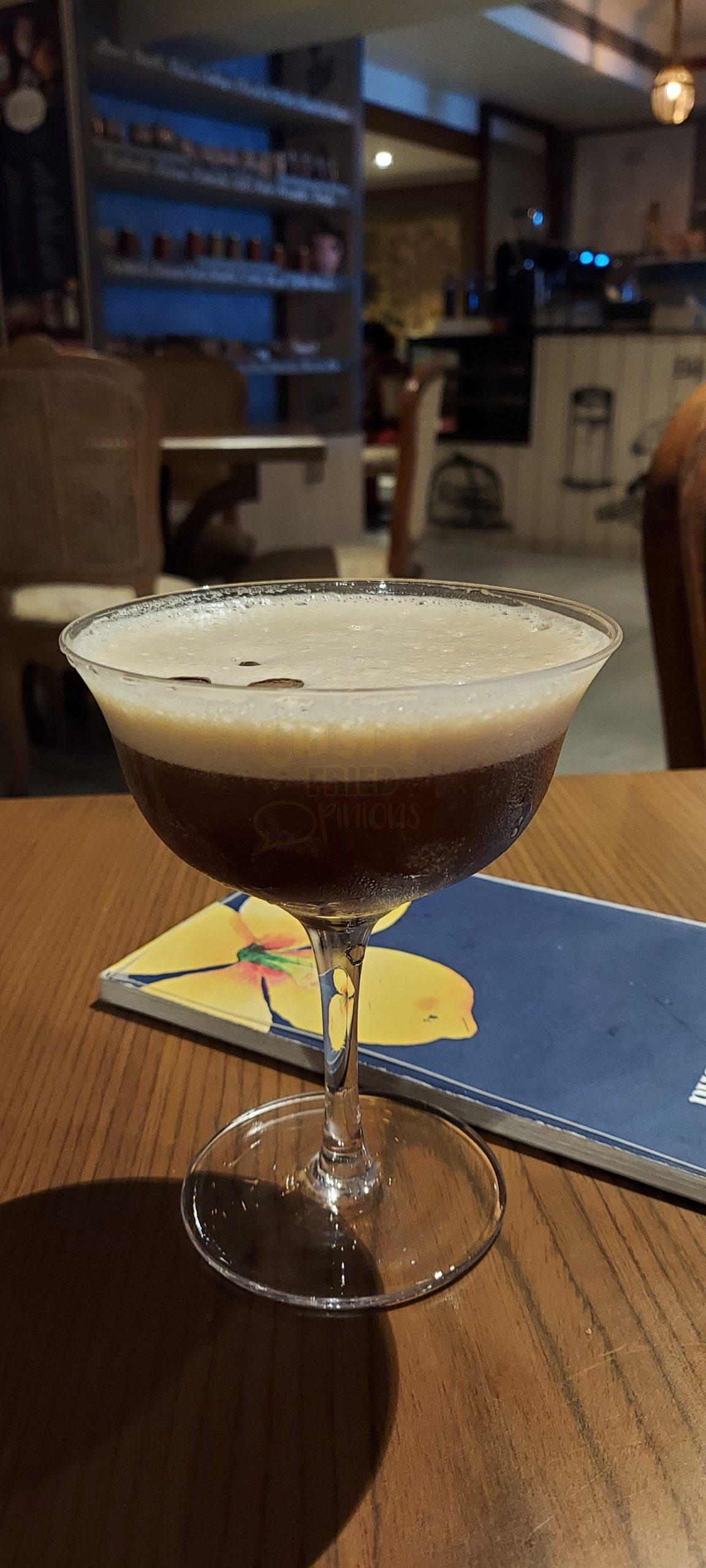 Overall, food wasn't anything outstanding that blew me away! Blame the dishes we ordered, or non-availability of what would have been a great Bengali affair, I personally felt the dishes did not do justice to their price tag. Service was very courteous throughout, and it is certainly one of the places that takes care of their guests very well. At least, that is how our experience was, all evening!
What's a Bengali experience if you do not eat seafood, you may ask! That is a perfectly valid question. Kerala and Bengali cuisine's staple offering is seafood and I'm definitely not passing any judgement without trying their primary offering. That said, this blog post is meant to convey my experience with whatever limitations to food I have.
We paid 9.3K in all, quite a pricey affair as I had already mentioned. I'd have to say that this is certainly not one of the places that I'd be in a hurry to go back to, quite like the other restaurant in the same premises – Vivaha Bhojanambu !