For those who would like to have good South-Indian non-vegetarian food in and around Mahabalipuram, but they're are also particular about the ambience and dining comfort, there's Hotel Guru, bang on ECR! Large car parking, pretty decent restrooms which is quite important in a tourist place, and a place that would also fulfill that odd request from a family member or friend, who wants Chinese noodles and Chicken Lollipop in a South-Indian non-vegetarian restaurant, as it is a multi-cuisine restaurant.
Now to those whose primary focus is food, and ambience is not a great matter of concern, head a little further into Mahabalipuram town. Of course you have to pay the entry fee that has now increased to Rs. 75, after Chinese Premier's visit perhaps. 🙂 A little ahead after crossing Radisson Blu Temple Bay, you will see the board that leads you to Hotel Guru on the left side. This post is about our dining experience at this small place.
This is a narrow lane with a place to park few cars. The place is very basic, please do not expect a upscale or fine-dining ambience. It is a miracle to get a seat on a Sunday afternoon without a wait. We haven't managed that so far. This time, we were quite late for lunch. A pitstop at Radisson Blu Temple Bay took longer than what we anticipated. By the time we reached, it was almost 2:30 PM.
We settled down in about 10 mins and sadly, chicken starters were all sold out. They only had Mutton and seafood.
Mutton Biryani was sold out, only Kuska was available. Ordered 2 Kuskas, one for me, and one for the three of our friends to share, as they were all planning to have a Non-Veg meal each.
Vanjiram Fish Fry, Prawns thokku, and Mutton Sukka for starters, for my friends.
I was happy with Kuska and the complimentary chicken gravy, sans pieces. Finished 3 cups of that gravy with the Kuska. The Kuska was made with flavorsome Seeragasamba rice, very tasty. Egg Omelette was good too. Unlike the usual brinjal gravy in most places, chicken gravy was awesome with Kuska.
After Biryani, the waiter served some white rice on my leaf, perhaps it was a mistake, or perhaps it is customary to have some rasam rice after Biryani, I finished that with chicken gravy instead. 🙂
Tasted rasam and mor which was served in small tumblers. Tasty! Friends relished the non-veg meals with fish, mutton and chicken kuzhambus. They loved it.
When we were almost finished, friend ordered a chicken sukka which was getting ready in the mean time. We could have avoided it. We were quite full by that time and it was just okayish. Should have stayed on the stove for longer, I thought. In fact, we were a bit pushy in requesting the waiter to check if some chicken starter was ready, and so he obliged. I wouldn't really blame him for this. I'm sure it would be lip-smacking otherwise.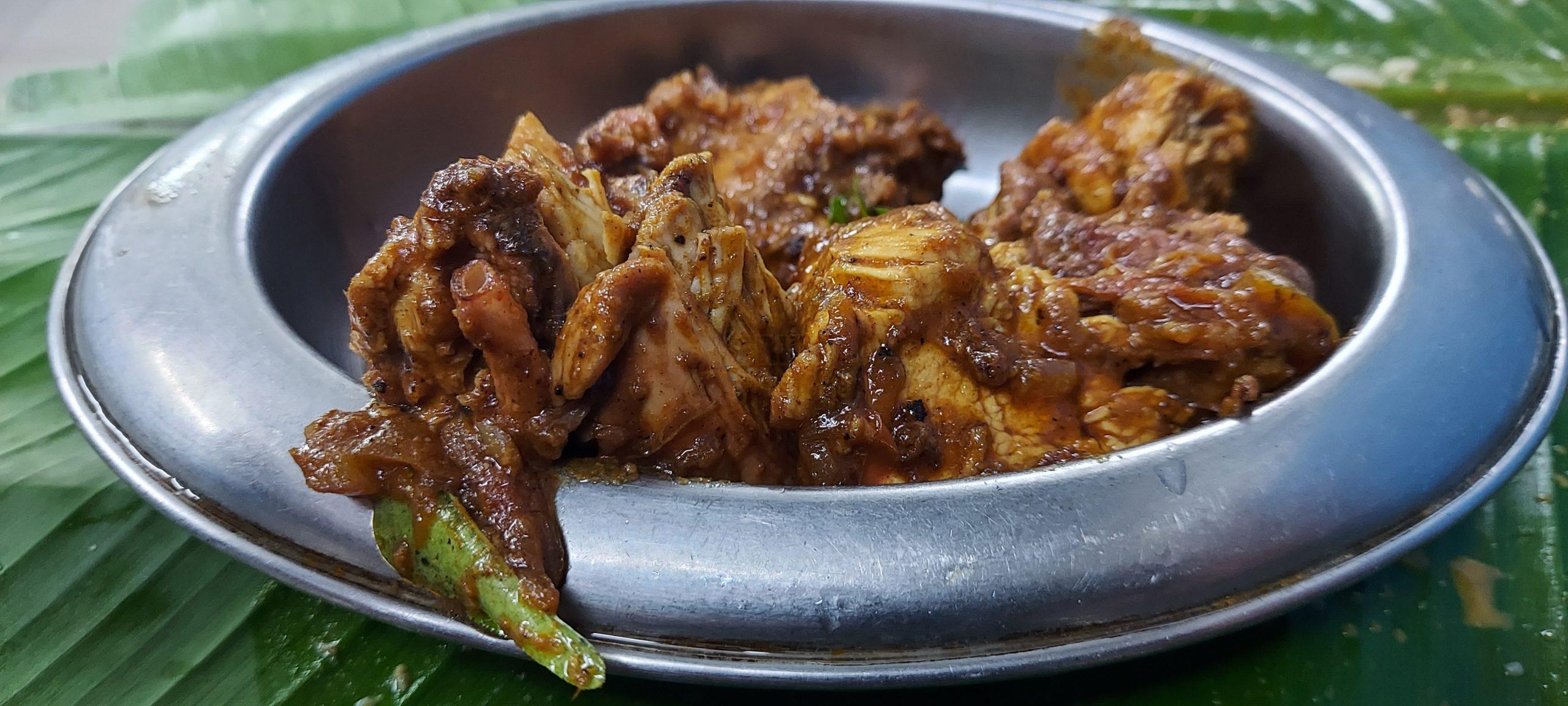 Overall, a fantastic meal. We paid about 1.8K in all, absolutely worth it.
If you'd like to taste good south-Indian non-vegetarian food in Mahabalipuram, this is the place to go. If the ambience or rather the lack of it is a cause for concern, you're better off choosing the outlet on ECR. I'd certainly come back again, without a second thought!