The mere mention of the word 'Oktoberfest' brings back so many memories from the past. Having lived in Germany and having been to the 'actual' Oktoberfest in Munich, the memories associated with this event are very special.
Seven years ago, when I was just about a year into blogging, I accepted an invite from Hyatt Regency for their Oktoberfest event. Those days I used to attend a few 'invited' events too! 🙂
When I saw the brochure from Bike & Barrel – The Residency Towers for Oktoberfest circulating on various groups on WhatsApp, decided to check it out. The menu wasn't elaborate, but then, a friend and I had already decided to go for the Unlimited Domestic Draught Beer offer, and try some special sides from the 'Oktoberfest' menu.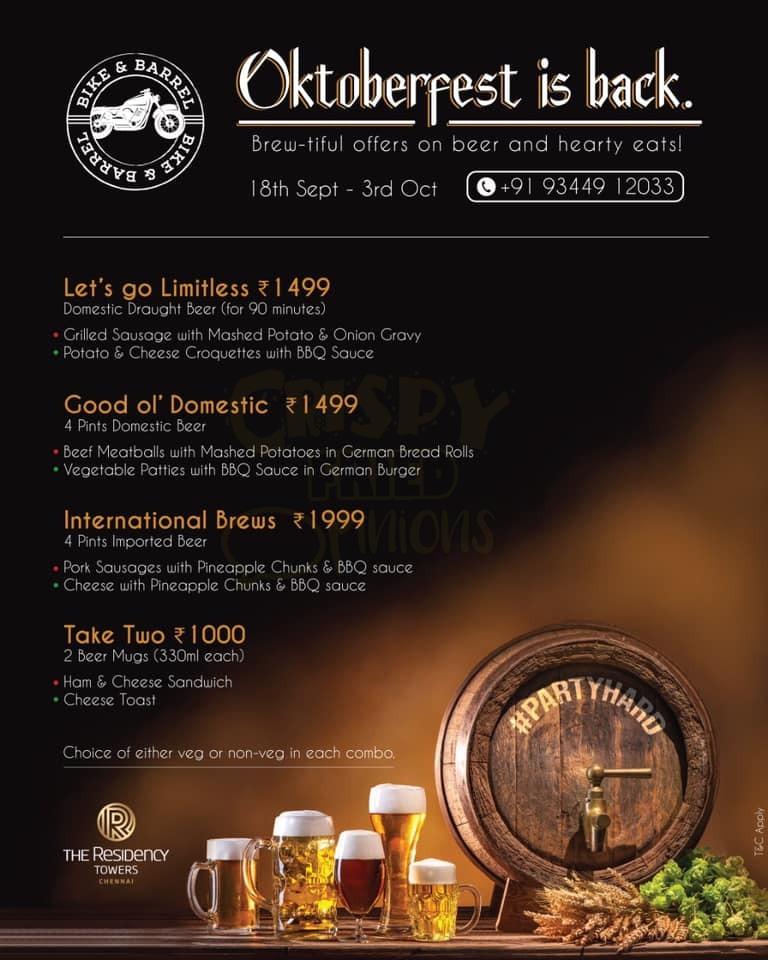 Its been a very long time since I have been to Bike & Barrel. In fact, so long that I can't remember when was the last visit. 🙂
The Unlimited Domestic Draught Beer was priced at 1499 AI and had a table time limitation of 90 minutes. It included a non-veg or a veg dish. Since we were two people, we were eligible for 2 dishes, we decided to go with one veg and one non-veg so we could taste both. The options were Grilled Chicken sausages with mashed potato and onion gravy, and Potato and Cheese Croquettes with BBQ sauce.
We started with Kingfisher Draught Beer and were served potato wafers and peanuts as complimentary sides on the table.
Grilled sausages with Potato Mash and Onion gravy was brilliant! Loved it, totally. The onion gravy was finger-licking good!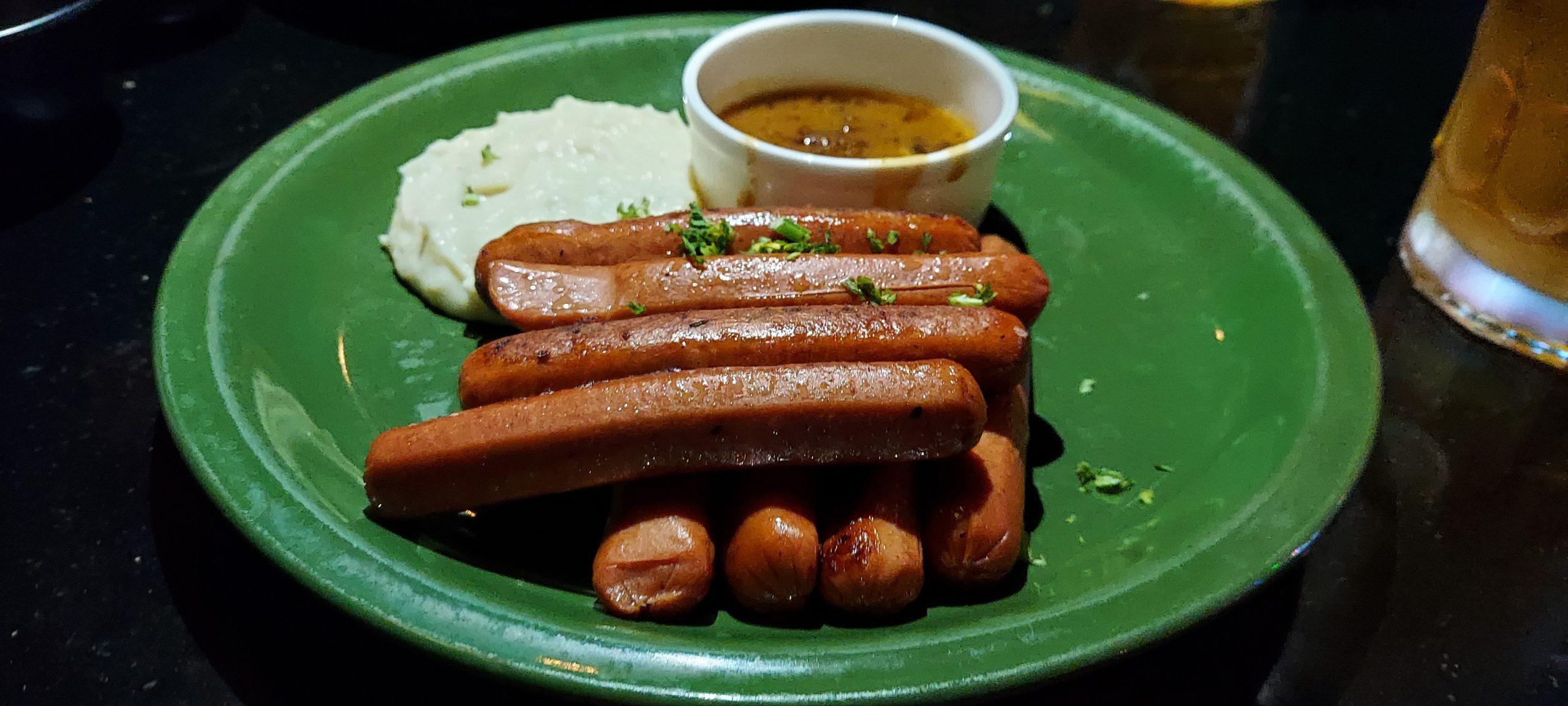 Potato and Cheese Croquettes with BBQ Sauce wasn't available, so we asked them to serve us Cheese with Pineapple Chunks and BBQ sauce. This was good too, but was too little in quantity compared to the sausages. Felt we could have ordered sausages instead.
We also ordered Cheese Fries from the regular menu, at least something connected to Oktoberfest, I thought! 🙂 Pommes Frites and beer, a match made in heaven.
When you go for an unlimited offer, needless to mention, the plan is to drink at a reasonable speed to make the most of the offer, and not relax like you have a whole evening, rite? 🙂 That's precisely what we did in the 90 minutes. Of course, we didn't rush, but we had 5 mugs each (looked like a 500ml mug). There was no delay in serving the beer, and we got it instantly refilled as we completed one. That was good.
The music and beats was loud, so catching a conversation isn't that easy here. Overall, paid almost 3.5K in all, including the extra fries we ordered, which was not in the package.
Would have loved to see typical Oktoberfest dishes on the menu – Pretzels which is a most basic one to have, Schnitzel with Sauerkraut or potato salad, Kartoffelpuffer with sour cream, and more. You could go on and on. German beers are bliss! A sip of Paulaner or HB would have made a huge difference, but stuck to the domestic draft. Didn't check if they had anything specifically 'German'. Some desserts like Apfel Strudel and German kuchens/cakes would have been great to have on the menu.
Anyways, it was a nice evening with beer and good food, and that's all mattered.