An unplanned visit to Hotel Sudha, for lunch. A friend and I finished some work in Egmore and as it was getting late, we decided to have lunch in the vicinity. Abhinandan in Hotel Ashoka and Hotel Sudha were the two places we had in mind. We chose the latter as the owner Mr. Shyam is a good friend and it has been quite some time we caught up. We thought we'd take a chance to see if he's there.
We reached around 1:15 PM, and sure he was there, almost ready to leave! He was quite pleasantly surprised to see us there. When we told him we were there for lunch, he immediately decided to stay for some more time. We made ourselves comfortable and right away ordered one South-Indian Thali and one North-Indian Thali. I think it is called Madras and Bombay Thali, didn't notice that in detail.
South Indian Thali came first, the presentation was quite appealing, clicked a few pics of the Thali and my friend started to eat. He liked everything he ate. The chappathi and kurma, Rasam, Sambhar, poriyal was all very tasty he said. This is an unlimited meal, so he got extra rice served as and when he finished.
We got a Gulab Jamun each, which is a part of both the Thalis, I think. That was very yummy. Of course very sweet, and I've never had such a thick sugar syrup with a Gulab Jamun. I loved it.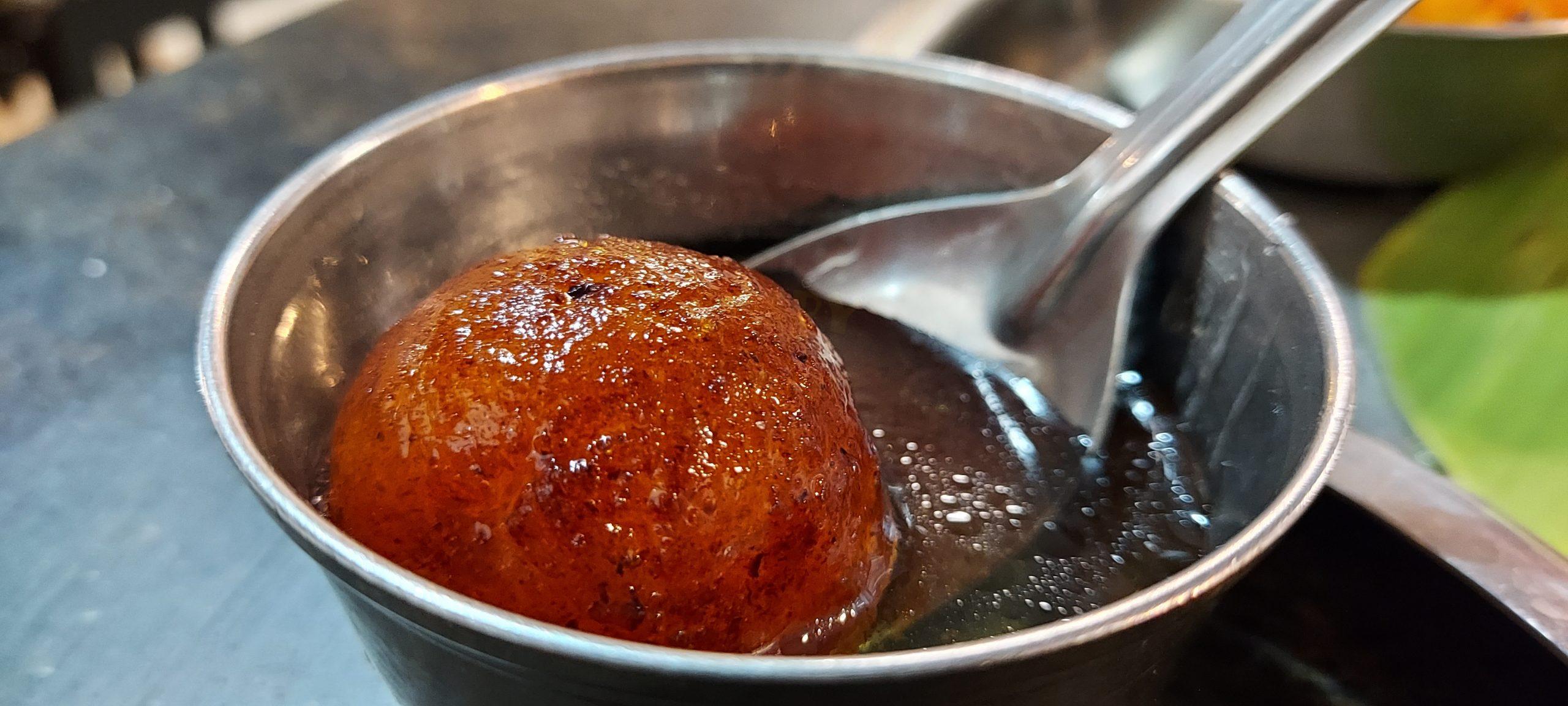 My North-Indian Thali included a Tomato soup and Masala Papad. That came first. I would have liked a little less salt in the soup, but that's just a personal preference. Masala Papad was good.
The North-Indian Thali was quite as elaborate as the South-Indian one. Again, clicked a few pics and started to eat. It had a Phulka and a Tawa Paratha. The Paneer Butter Masala was very yummy. Kadai Vegetable was good, Dal Tadka was a typical basic one, tasted good. Gobi 65 had an awesome flavor of masala. Paneer fingers were good, but too little. Tawa Pulav was very tasty and flavorsome. Instantly reminded me of a similar pulav I had in Shirdi, Maharashtra, loved it. Onion and Tomato salad was fresh and crunchy. This was however a limited meal, but certainly quite filling for a regular eater. Only obvious miss was curds or Chaach, though there was raita in the Thali.
We got an extra Gulab Jamun each! 🙂 Devoured that in no time.
South-Indian Thali is priced at 150 and North-Indian Thali at 180 bucks. I would say, it is priced very nominally for what all we ate. Thankfully we were allowed to pay this time, last time we weren't. We paid 300 in all, with a little discount. I'd gladly recommend this place for lunch if you're in and around Egmore.