I was pleasantly surprised when I received an invite from Trident for the food festival 'The flavors of the Cholas' curated by Guest Chef Shri Bala and Executive Chef Vijay Sahi, but very politely declined it as it has been a while since I went to an invited event to join a Chef's table at a food festival, and it has been even longer since I stepped into Trident Chennai.
However, I was genuinely interested in trying out this food festival as the theme was quite intriguing! The culinary influence the Cholas had on Indian, Sri Lankan, Burmese, Cambodian, Thai, and Vietnamese cuisines and the nuances of flavor in their food was something I definitely wanted to experience.
Along with a friend, who is quite a prominent person in Chennai food circles, made a plan to go here for dinner.
We arrived at around 8PM, and were escorted to Samudra, their specialty restaurant serving Indian coastal cuisine and local Chennai delicacies. It looked like we were probably the first guests for the evening, a few tables were taken later, as time progressed. Needless to mention, the ambience, soothing music, et all was pretty much what you would expect in a 5-Star property. On first look, the restaurant appeared quite small though. We were given cold towels to refresh ourselves, and we had a look at their menu.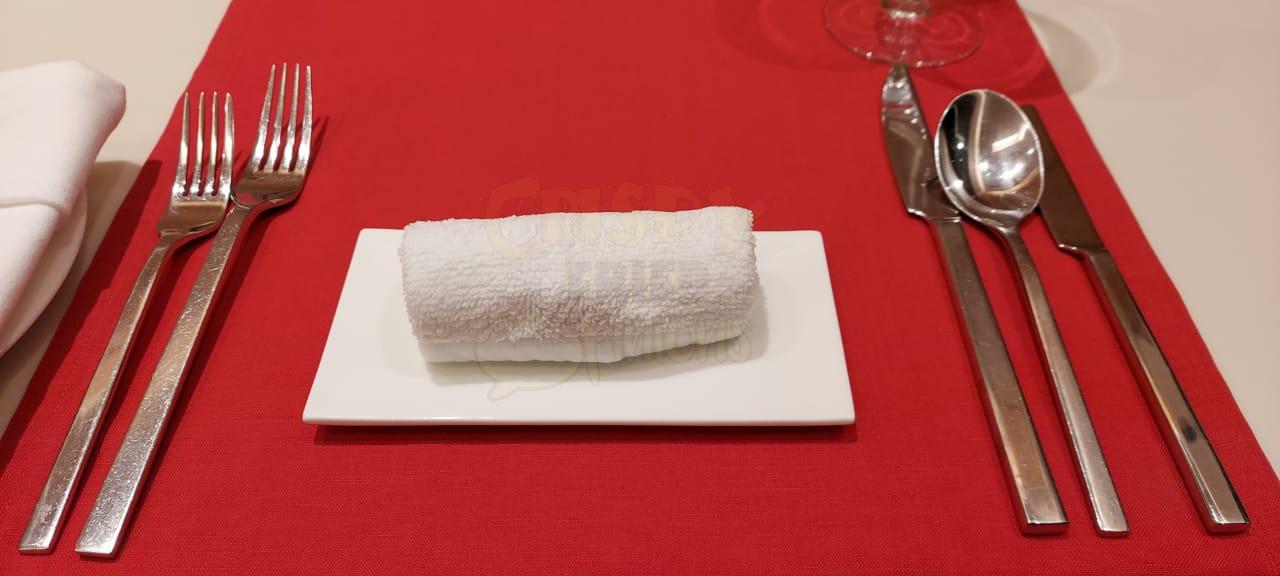 It was a 6-course set menu, with three variants – Vegetarian, Poultry and Meat, and Seafood. While my friend chose poultry and meat, I requested for a customization as I don't eat meat by choice – 'To Replace the meat in 'poultry and meat' with its vegetarian equivalent', they readily agreed to do so! Chef Shri Bala came to say a hello, and after a brief introduction, we were good to start! My friend knew her well, and she was actually informed in advance about our arrival.
Soon the tray of condiments/chutneys arrived. The Sri Lankan Sambol, the nearest to our own Kerala Chammanthi was wonderful. The chilli infused oil was good, the dates chutney was yumm, another one with mango was good too. Each one tasted distinctly different.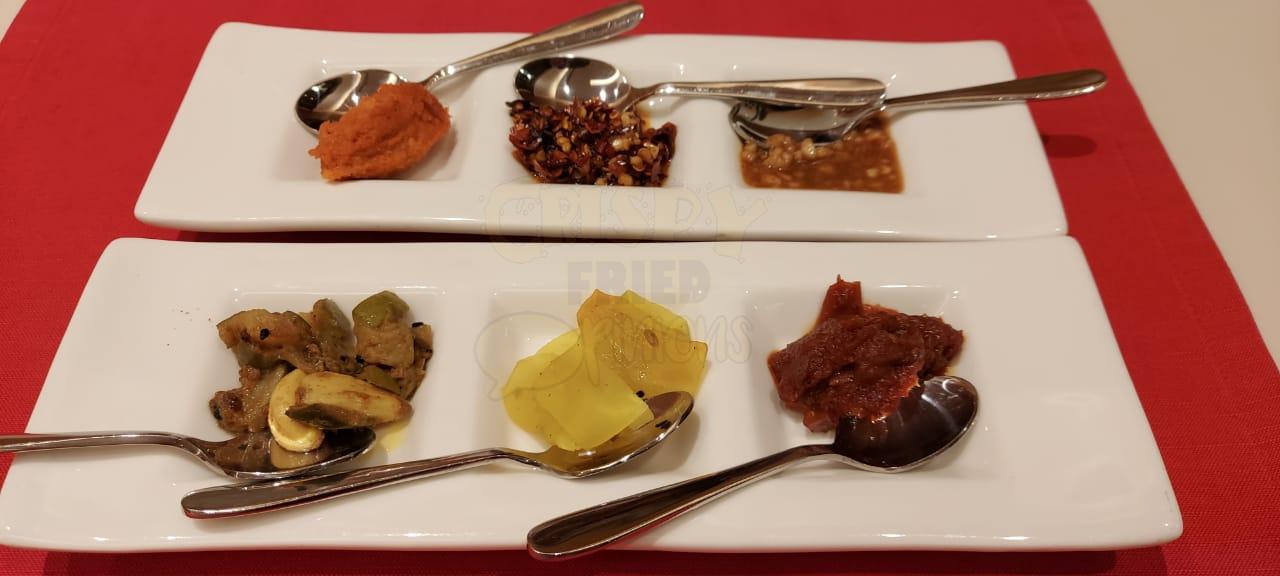 A spiced Dragon fruit topped with puffed ancient rice and lentils, for Amuse Bouche. A very differently presented dish.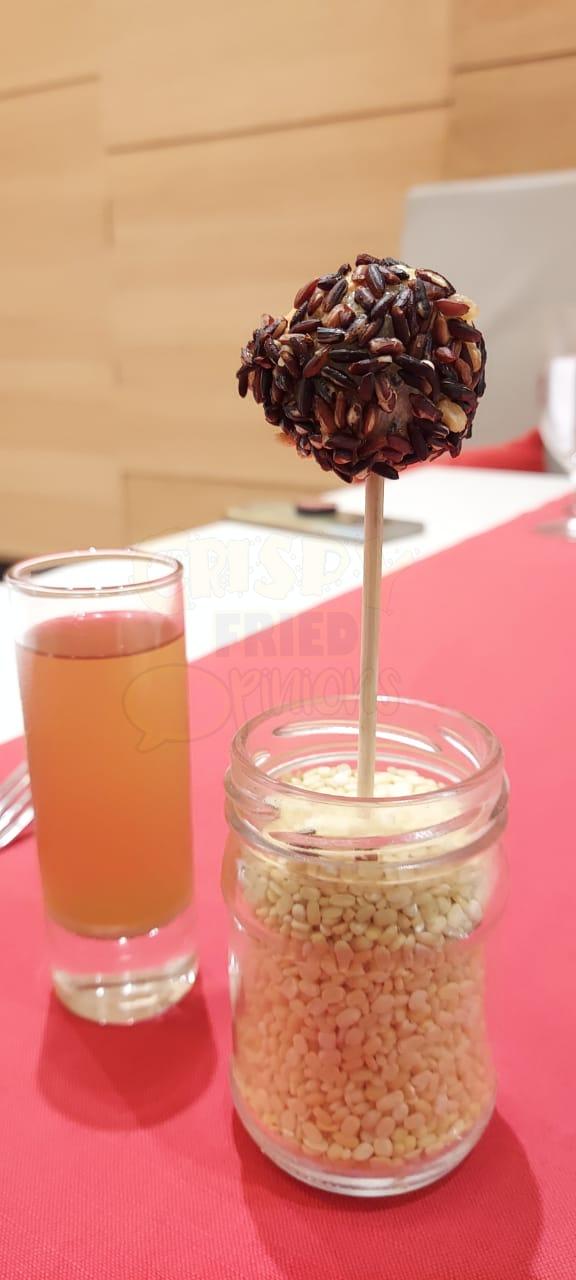 Paanagam, served in a shot glass had everything just rite, loved the punch in it!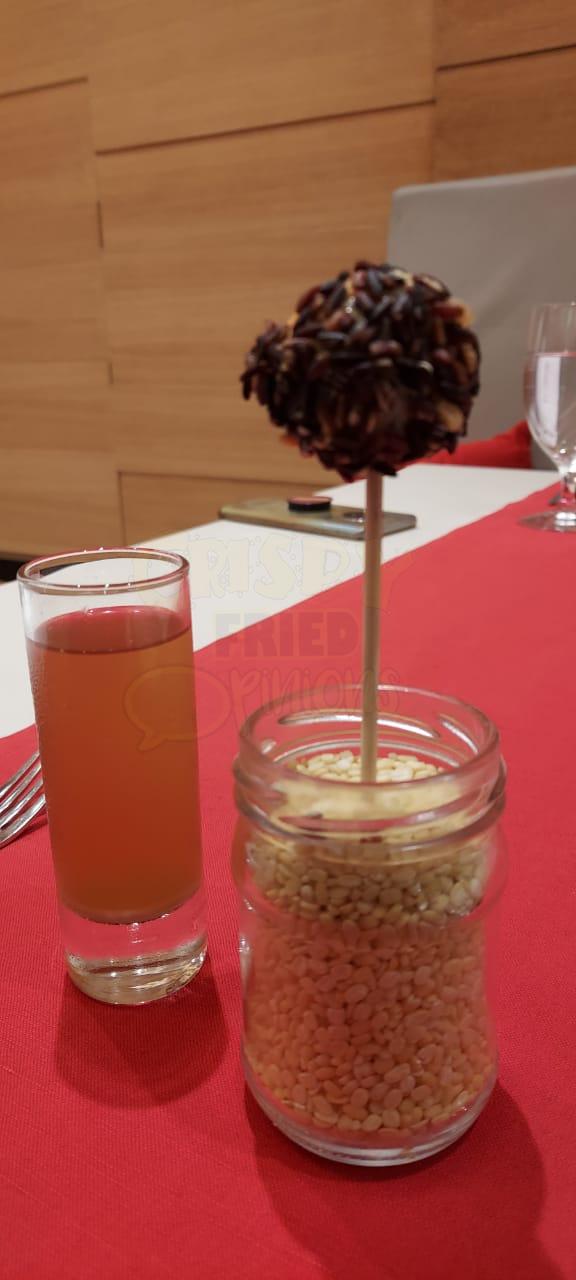 For starters, we got the typical Chennai snack – Keera Masala Vadai, Phnom Penh fried Chicken Wings, and Dau Hu Chien Sa Ot, which was Vietnamese Lemongrass Tofu (from the vegetarian menu). The regular dish in this set menu would be Thit Cuu Sa, Vietnamese Lemongrass Mutton which we were told, was basically a heirloom recipe from a Chettinad family settled in Vietnam.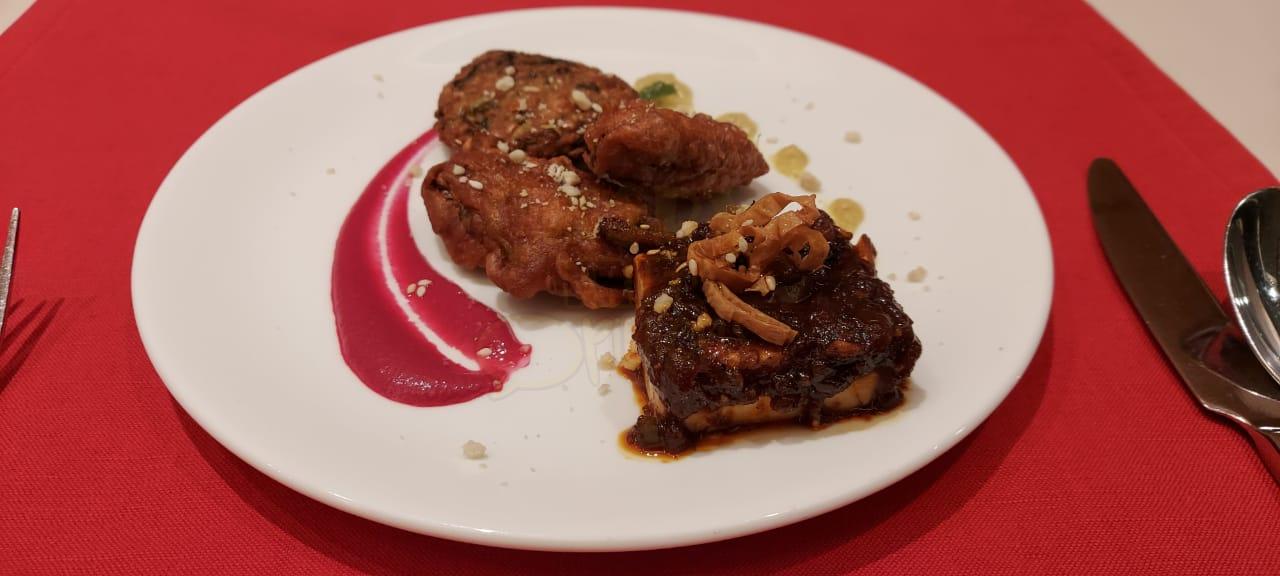 Masala Vadai was good, hot and crispy. Chicken wings was actually deep fried, it was pretty good. I am not a big fan of Wings though. Lemongrass Tofu was melt-in-the-mouth, and very yummy!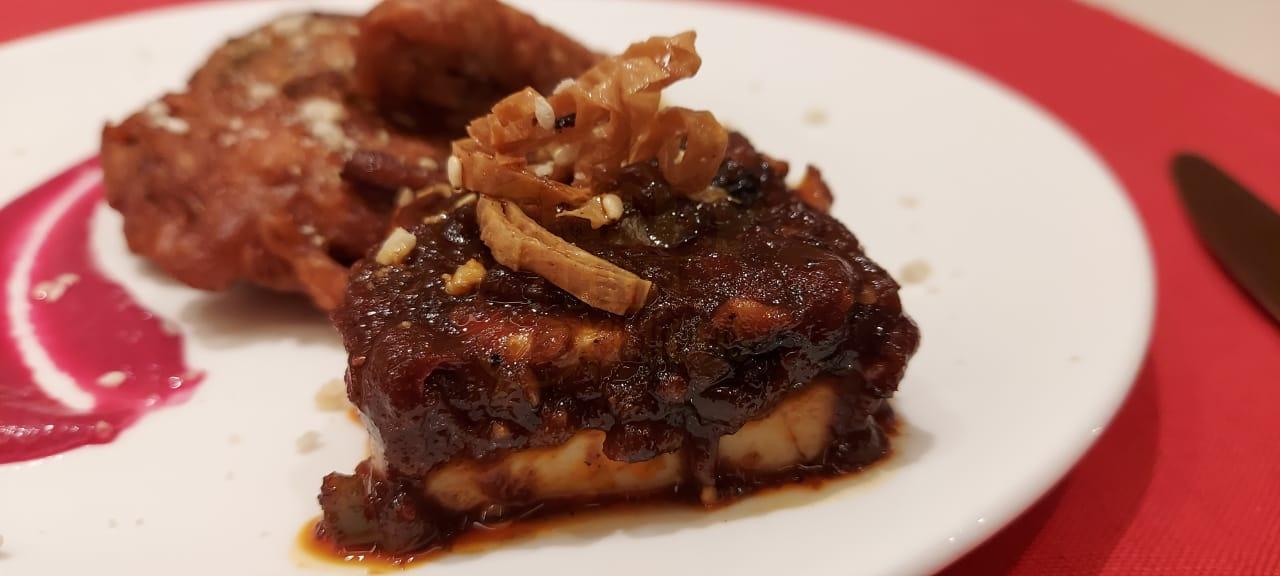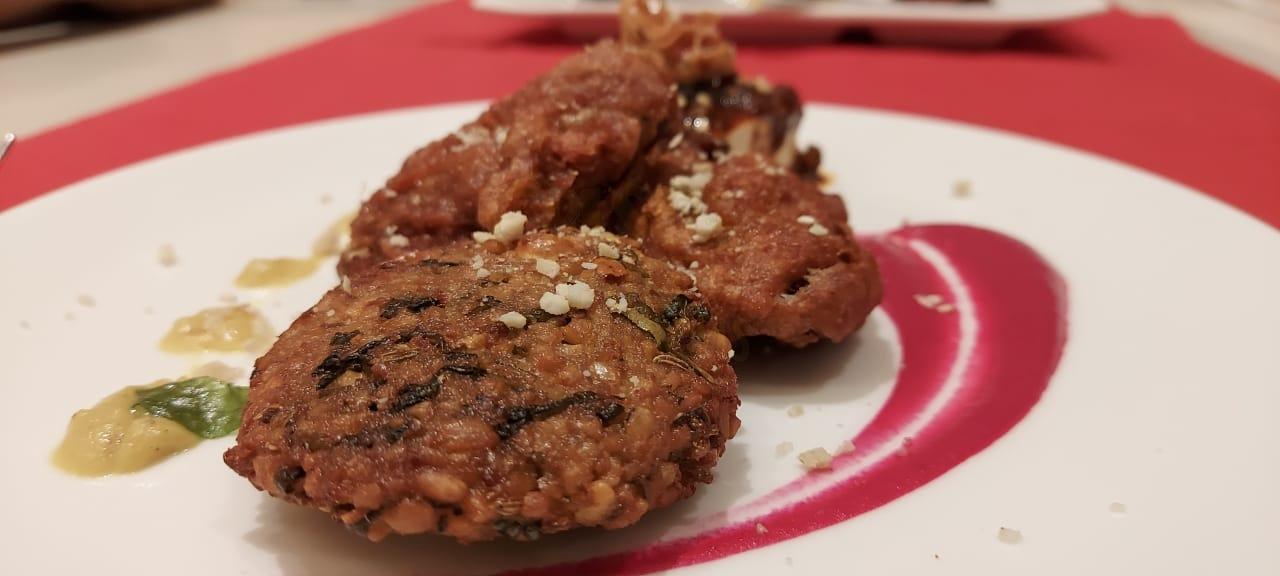 Vietnamese Ga Pho for soup, it was quite a melange of flavors. It had all that you would see in a regular Pho – Pulled chicken, vegetables, thin rice noodles, but the broth had a very familiar flavor, a nice feel of rasam though exactly not it, courtesy the tamarind that went into it. I liked it very much, a heirloom recipe from a Chettinad family settled in Vietnam, we were told.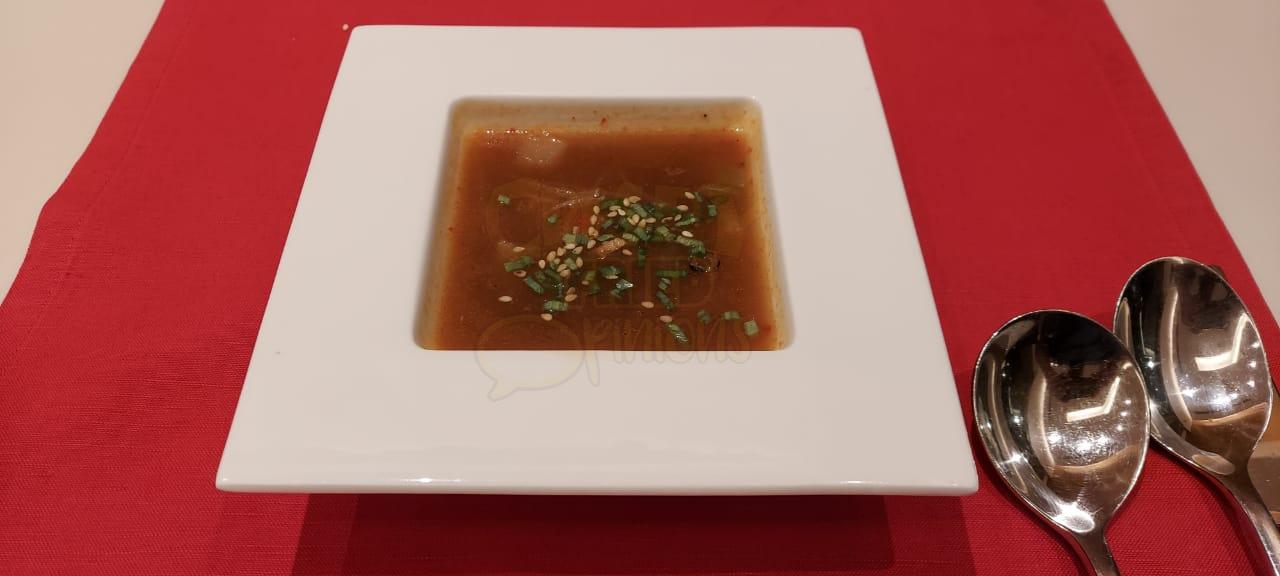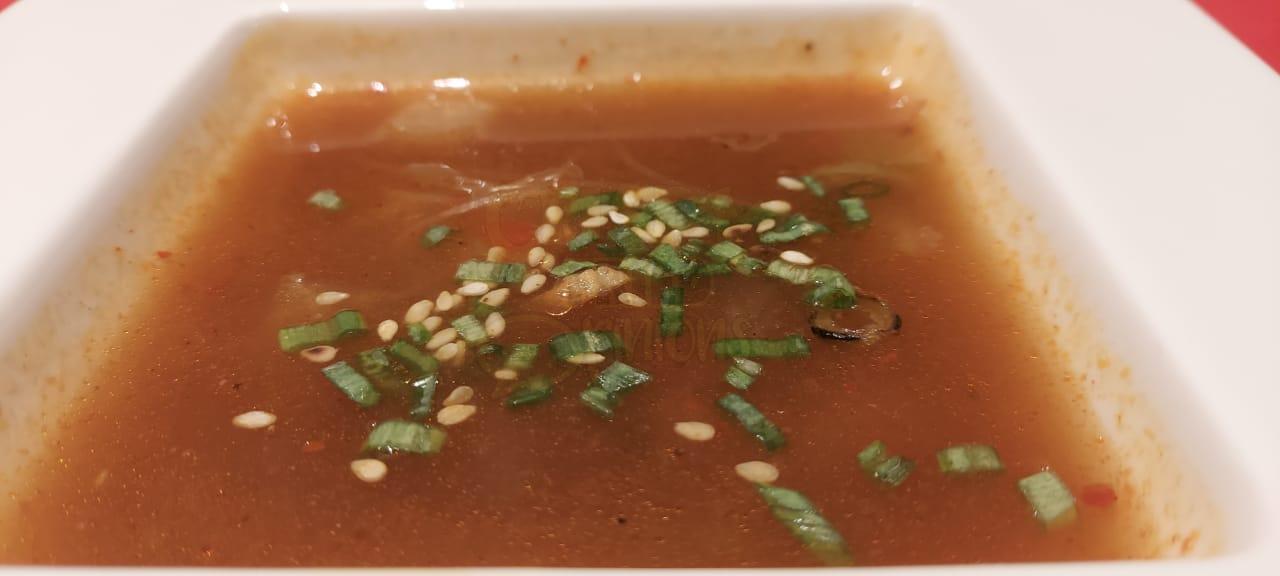 Next to be served was Burmese Atho, along with the Boiled egg! I should say, I am a big Atho fan, and a very frequent visitor to Atho stalls in Second line Beach Road, Chennai. I am so obsessed by it that I actually made an elaborate Atho experiment at home right from the scratch, including the Peyjo. The one served here was decent, a very sophisticated outlook for an Atho with flat noodles, I would say. Sorry for the self promotion, I felt I definitely made it better. 😉 While we were talking to Chef Shri Bala, who spent considerable time on our table explaining minute details about each recipe, I did show her my attempt of this dish too 🙂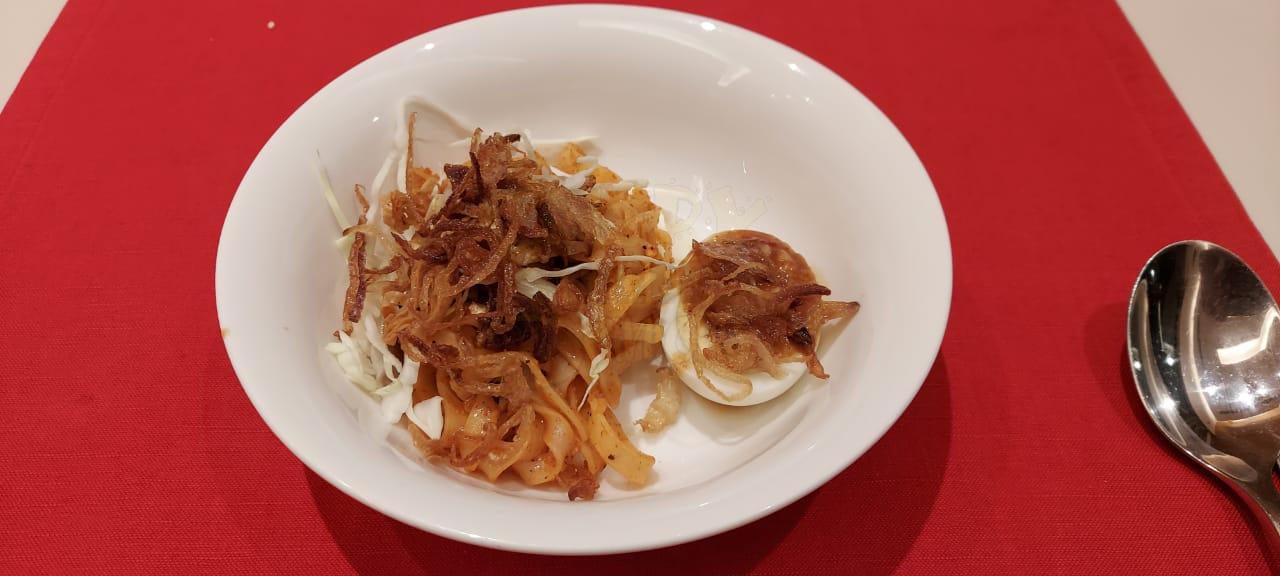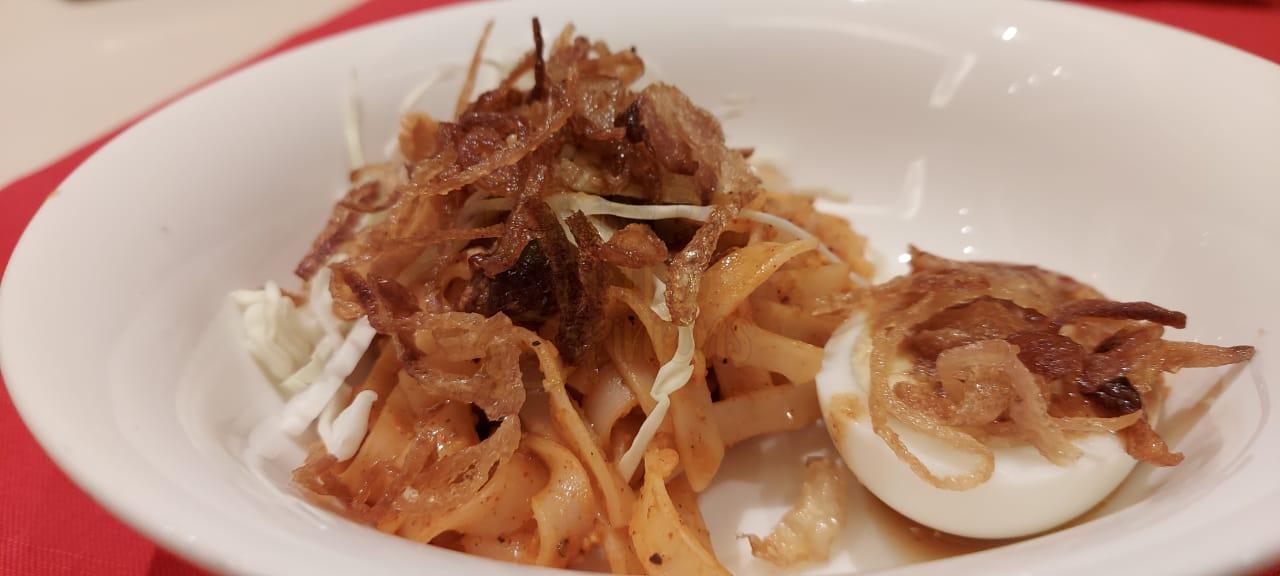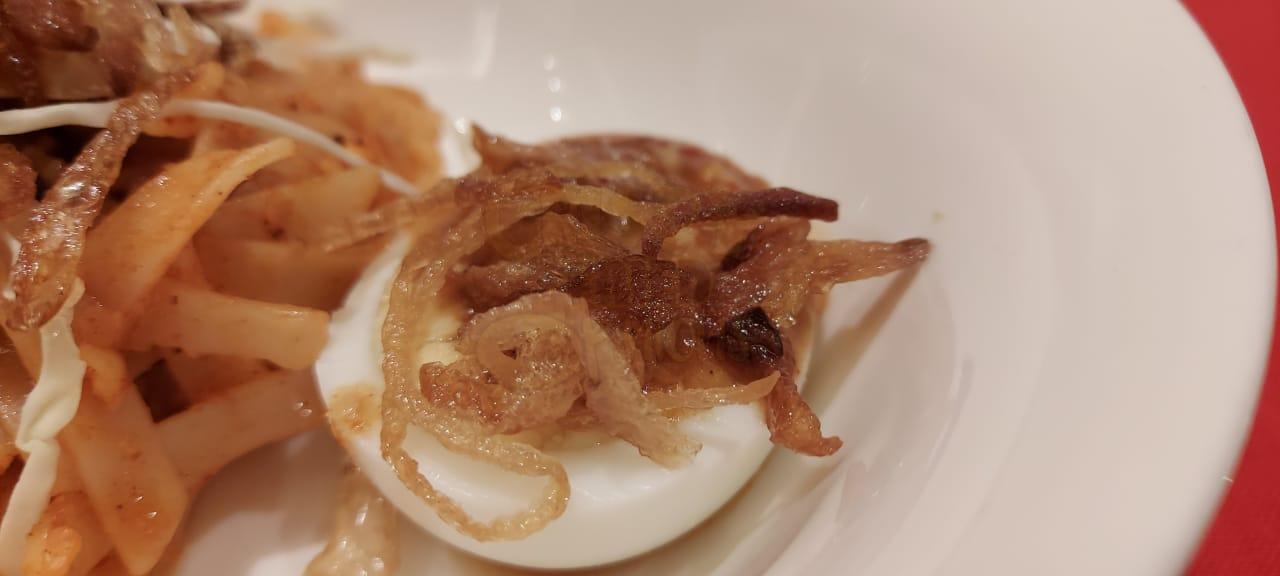 I would have liked the Peyjo a little crispier, it normally is!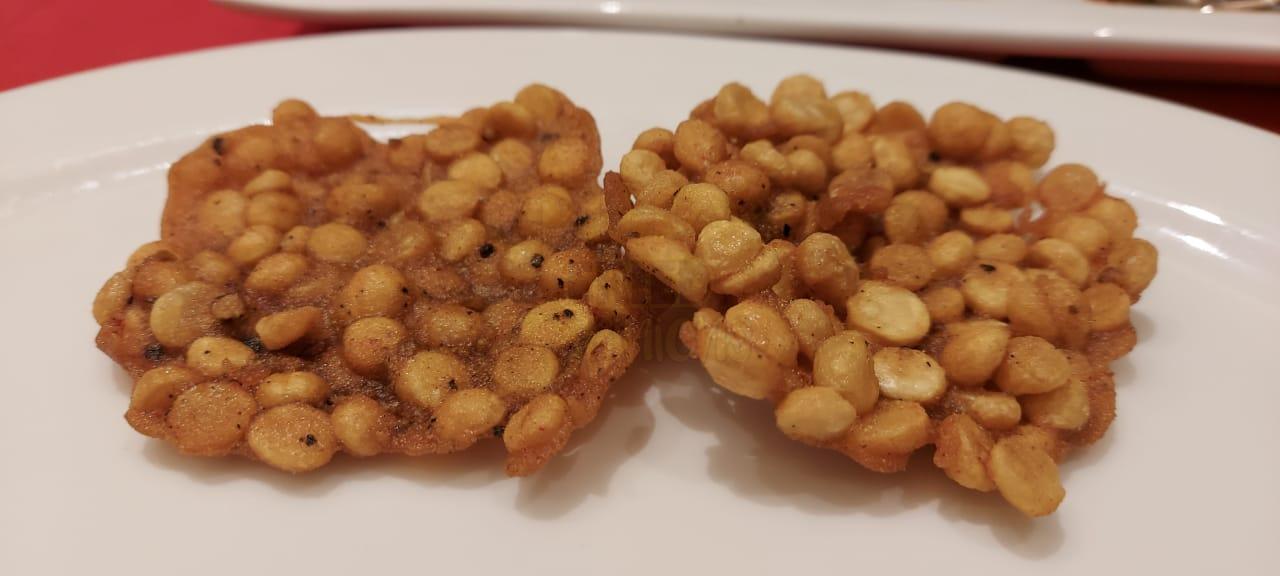 A Lemon Sorbet, for a palate cleanser, how wonderful ! Like how you have roasted coffee beans in a perfume store for a neutralizer, this one was to basically erase strong flavors, preparing your palate for the main course. 🙂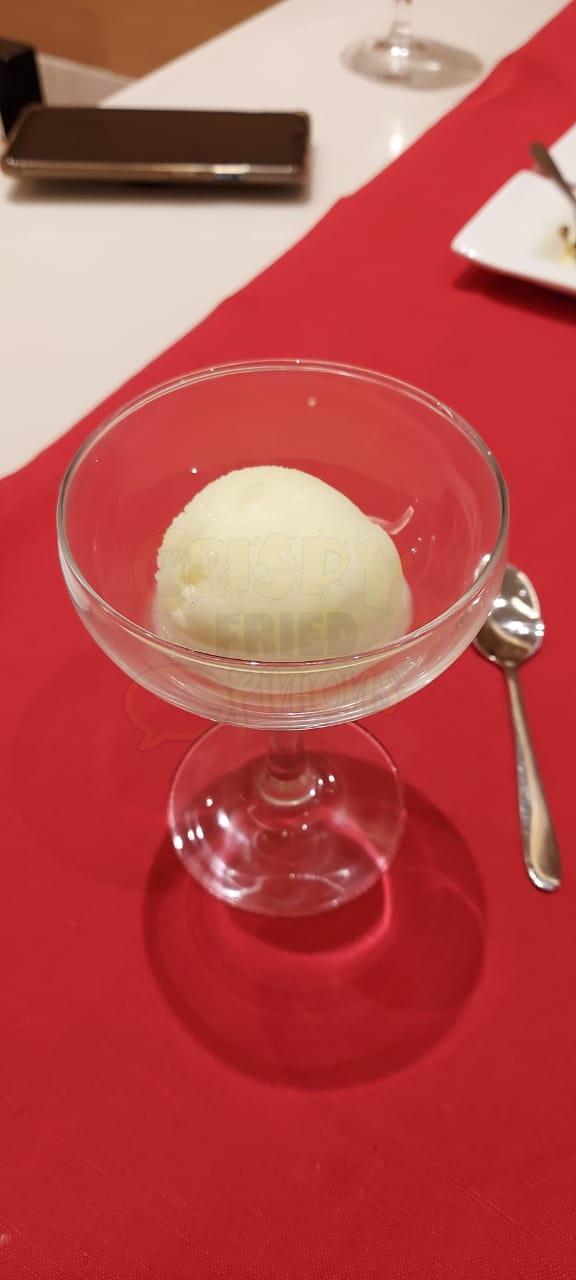 The plate with breads and Puttu arrived, looked wonderful! It had Roast Paan – a Sri Lankan fermented bread with coconut oil, Mani Puttu – also a Sri Lankan steamed rice flour cake topped with grated coconut whose bead-like form gives it the name 'Mani Puttu', Roti Jala – Malaysian Netted Crepes and Roti Canai, which is the equivalent of our Parotta, the flaky flatbread.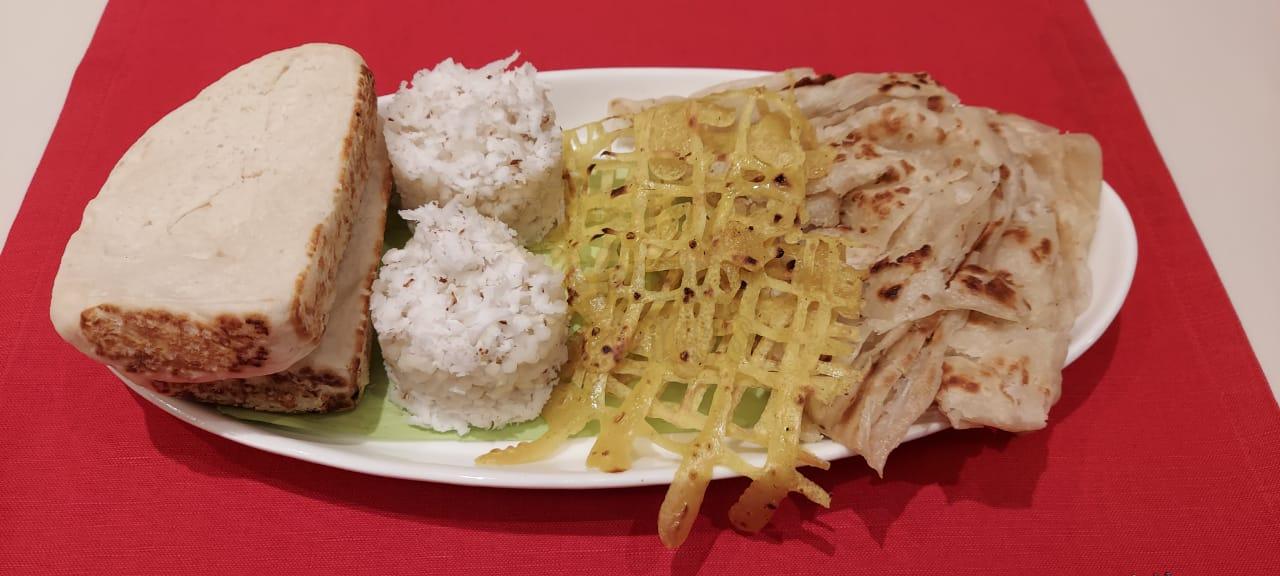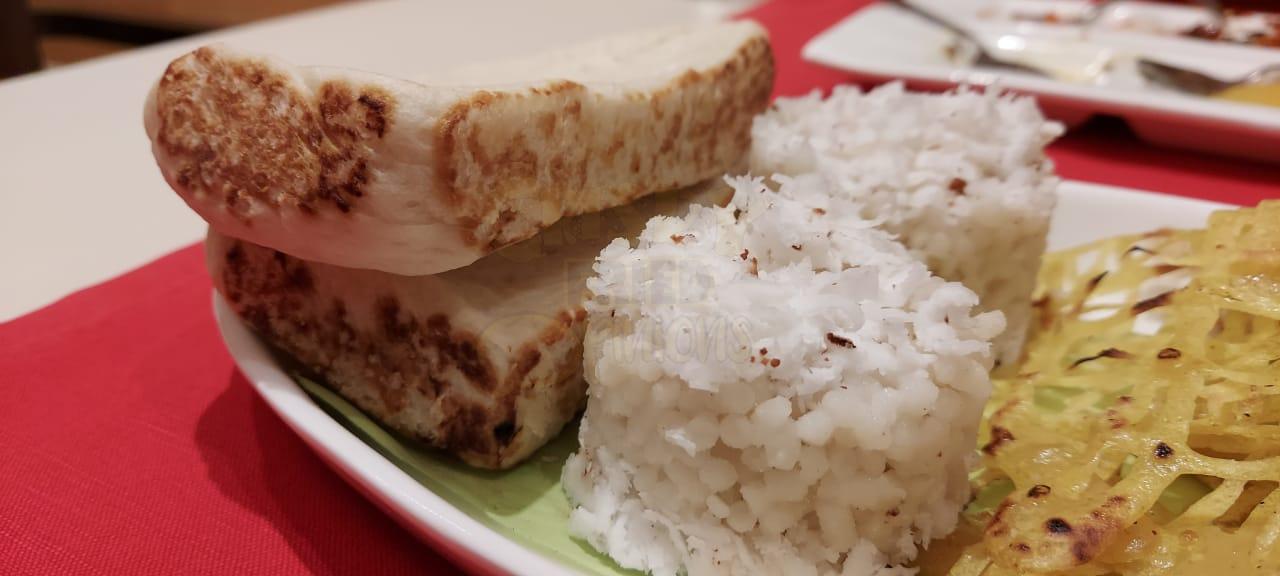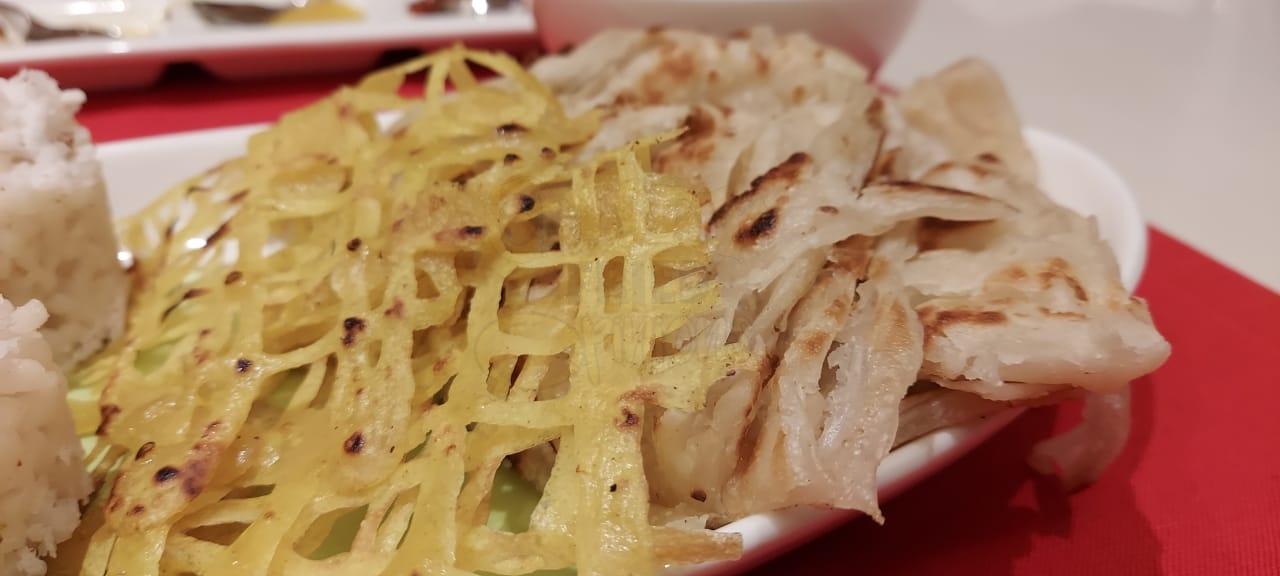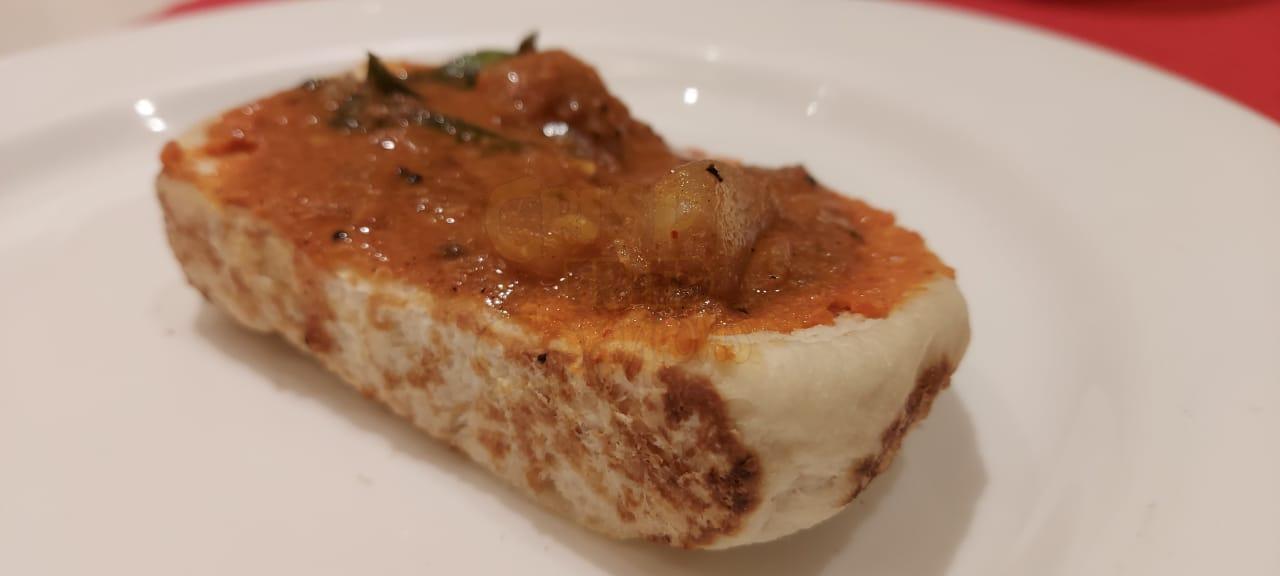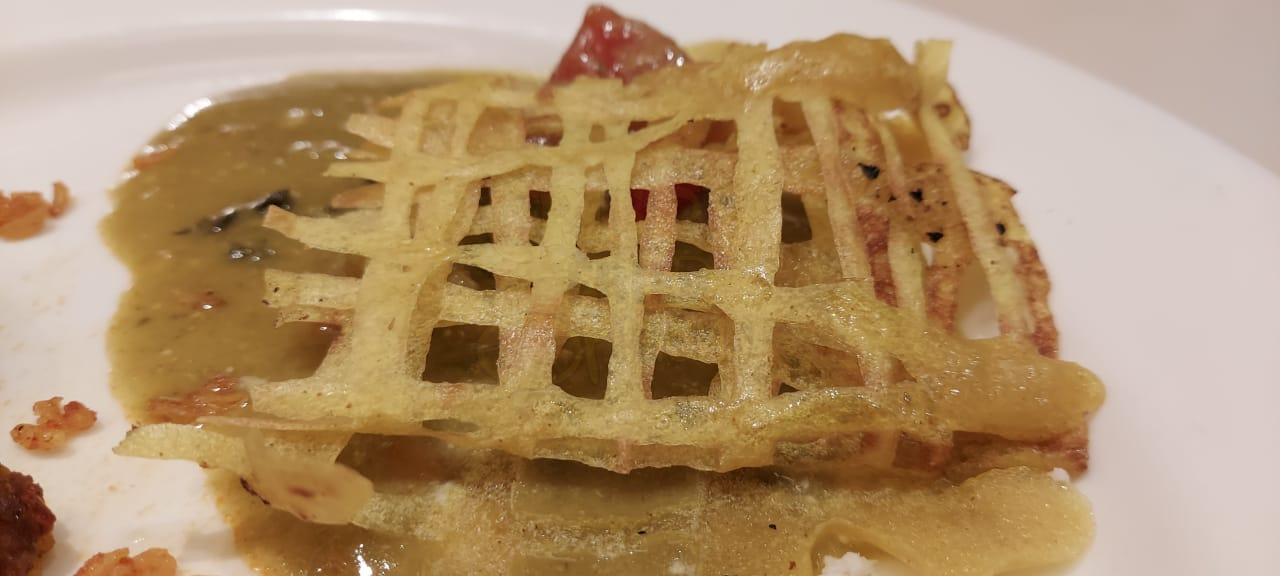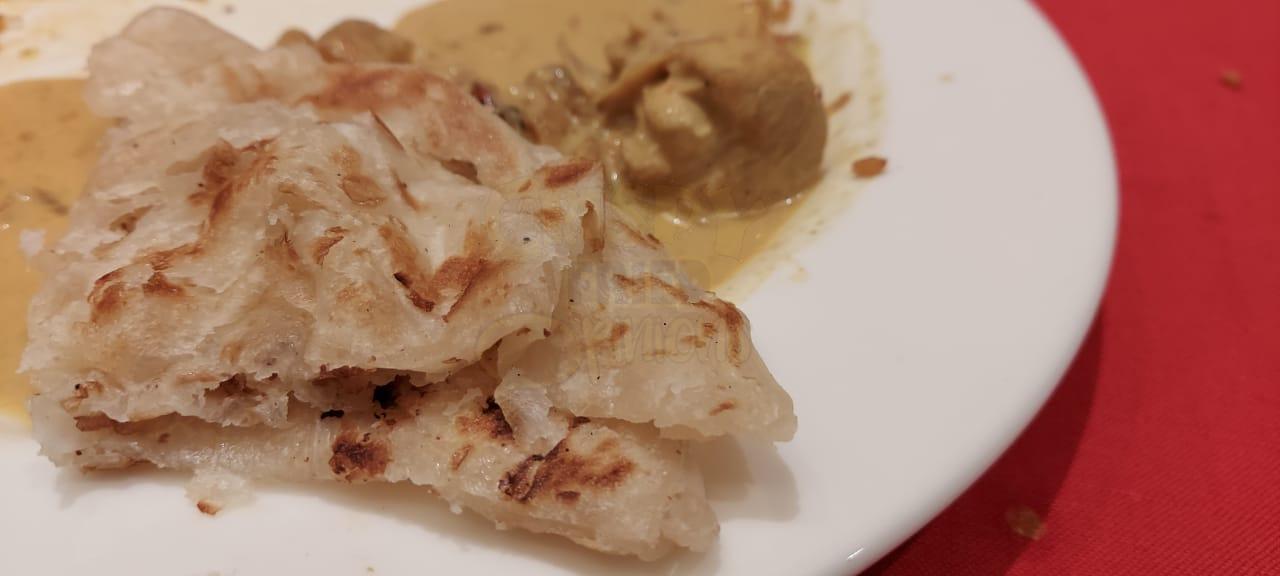 There were plenty of gravies to go with these breads.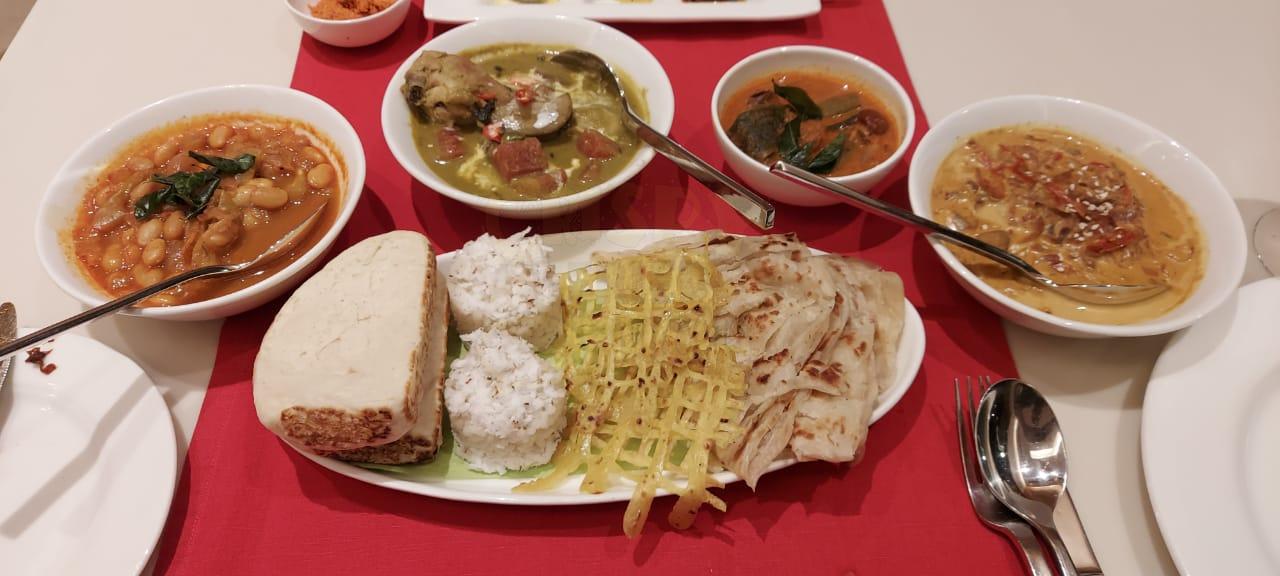 Mocha Mandi, a Chettinad delicacy made with Broad beans, veggies and rice water. The gravy is thin with subtle masala.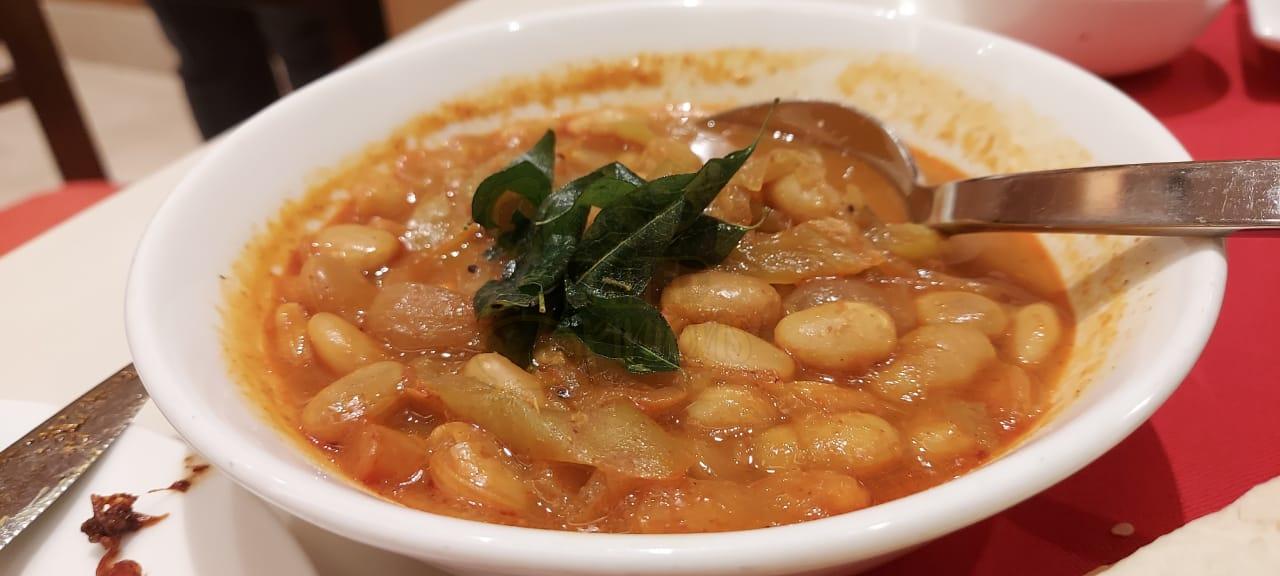 Thai Chicken Green Curry, this was a homestyle Thai Green Curry made with Chicken, eggplant, watermelon and Turkey Berry. It was a bit too sweet to my liking.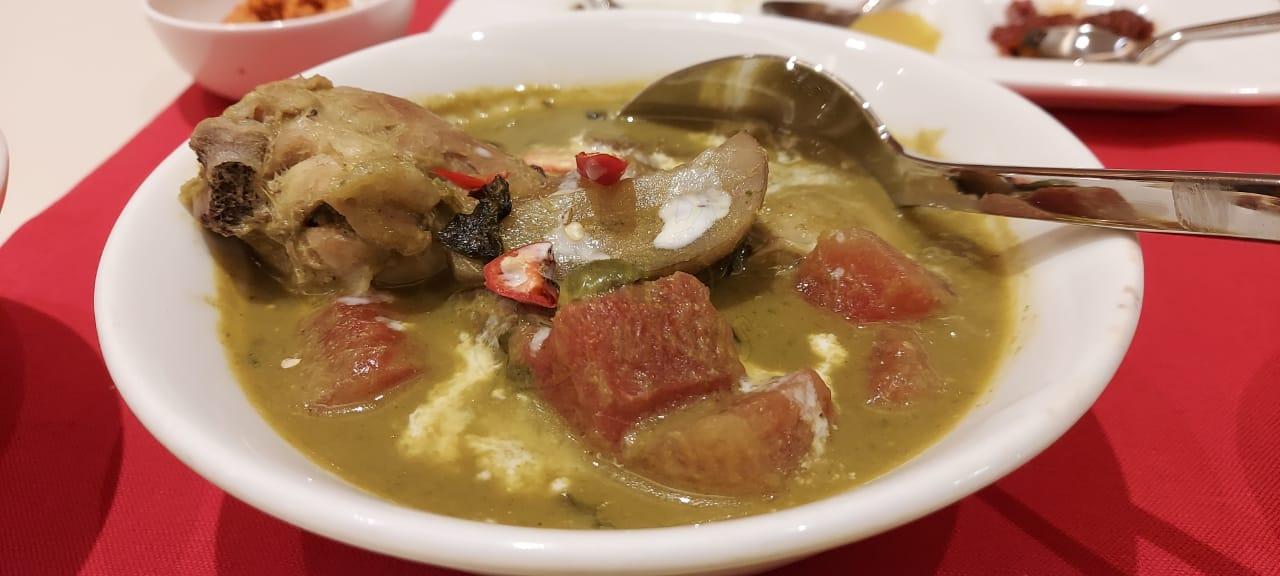 Sri Lankan Kiri Hodhi, according to me, the showstopper of the day. Actually we licked the bowl clean. I would eat this anytime! A coconut milk based gravy can seldom go wrong! Interesting trivia learnt today was that the non-vegetarian counterpart to Sodhi is Hodhi !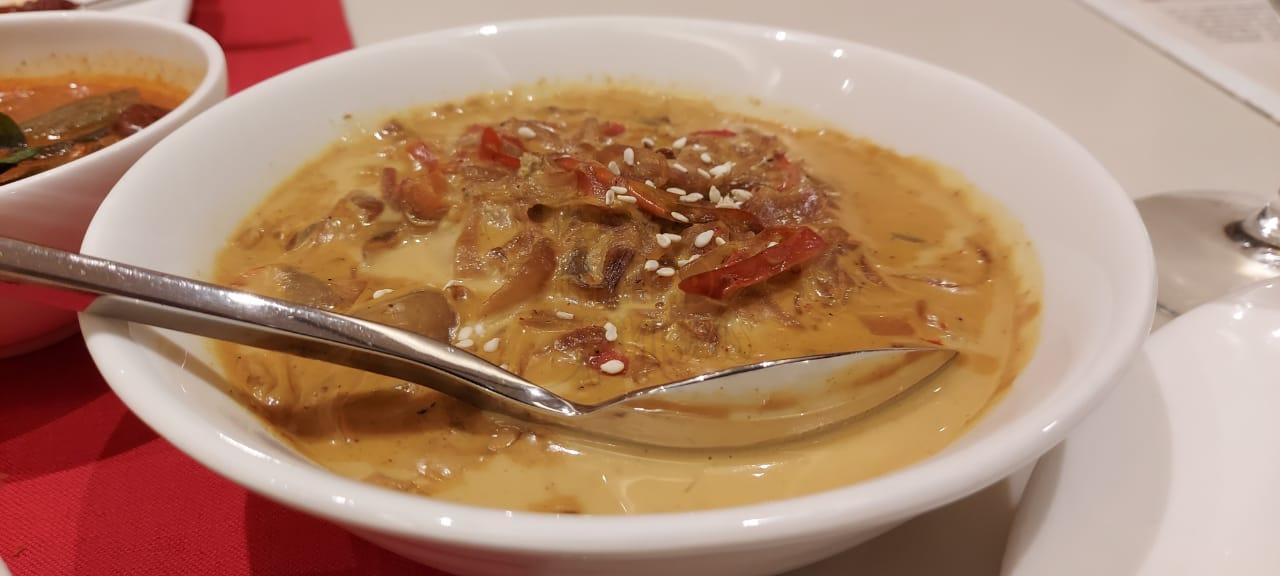 Saiva Meen Kuzhambu, a smoky-flavored tamarind broth with a 'vegan' fish steak that was apparently made with some leaf, didn't quite catch the name. It tasted good.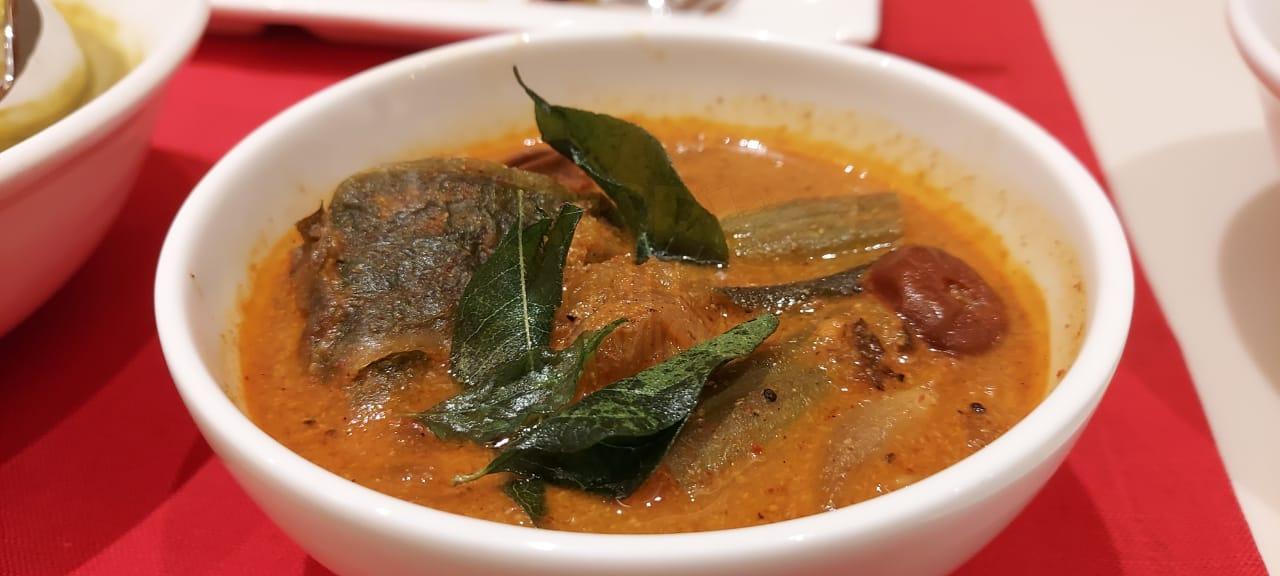 Rice of the day was Paruppu Urundai Biryani, which also had raw jackfruit, the closest visual substitute to Mutton 🙂 This was a tad too spicy for me.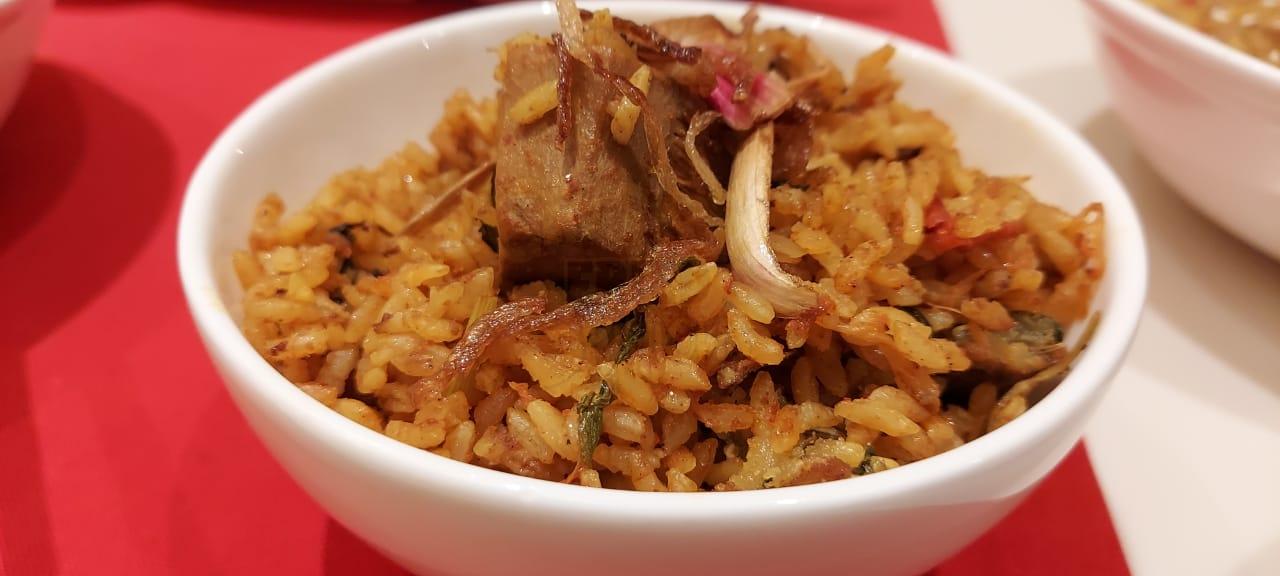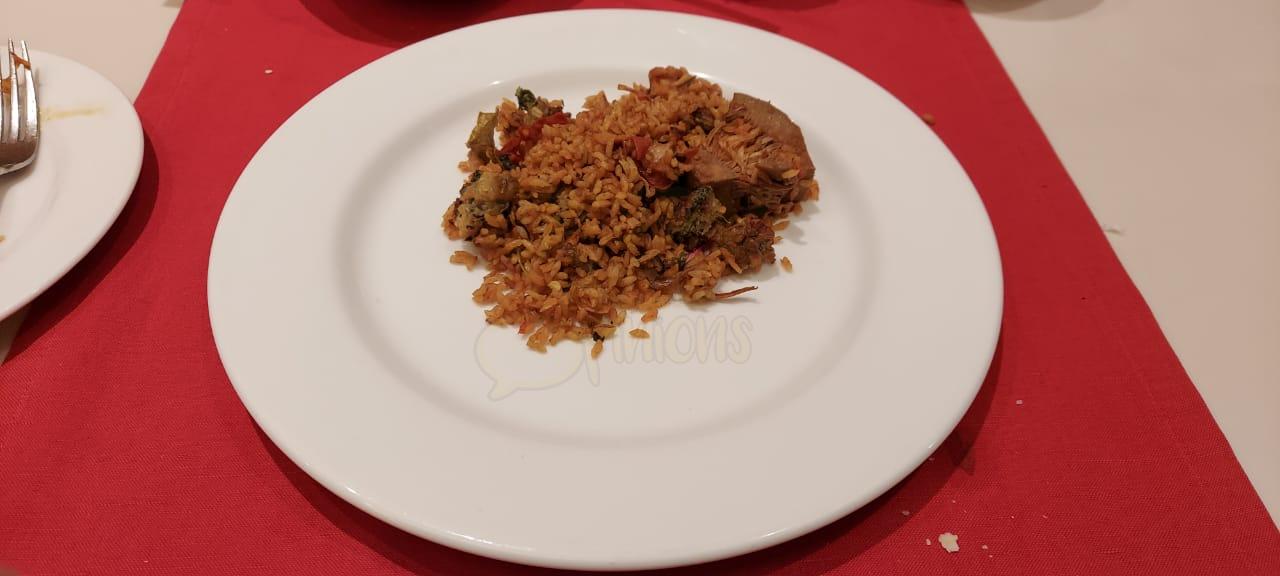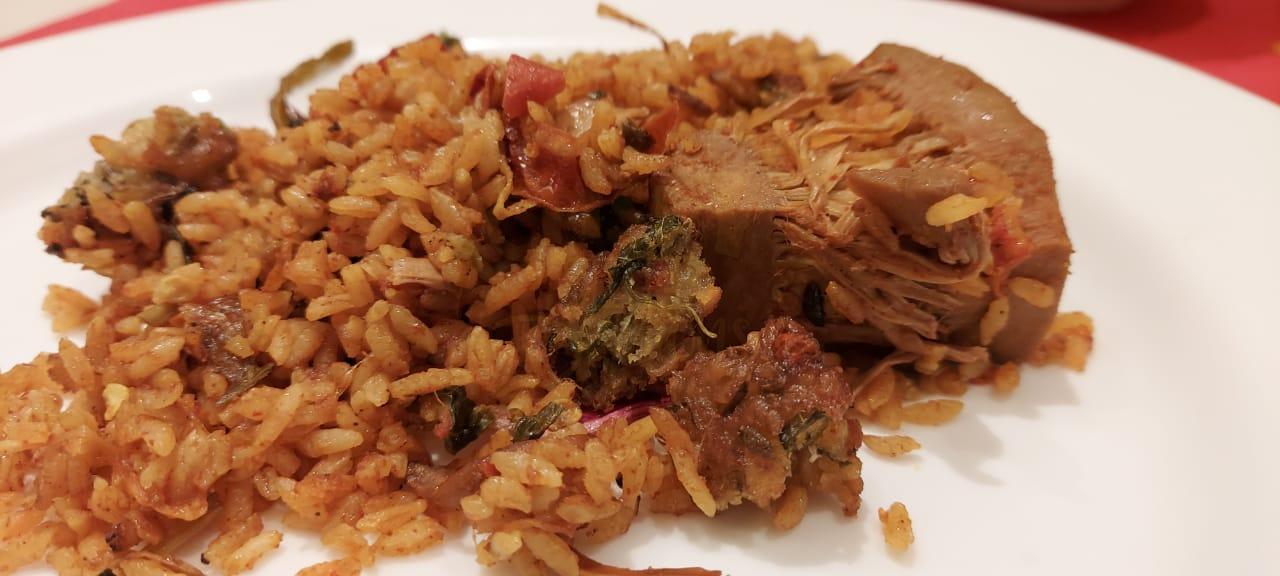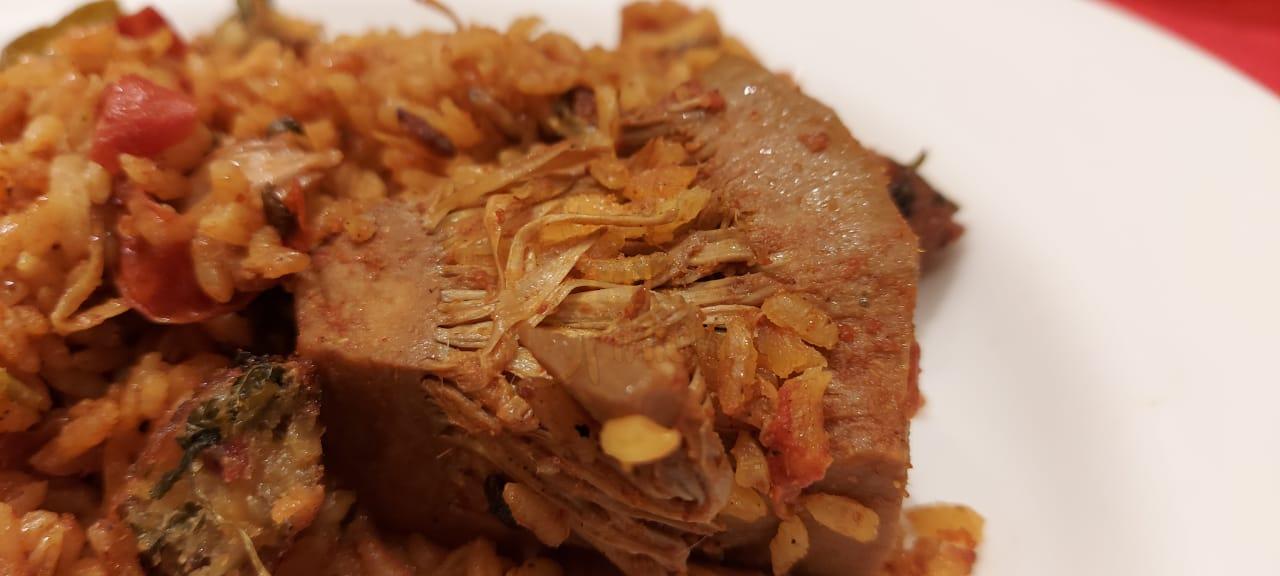 A small shot of neer mor was absolute bliss, after the spicy Biryani.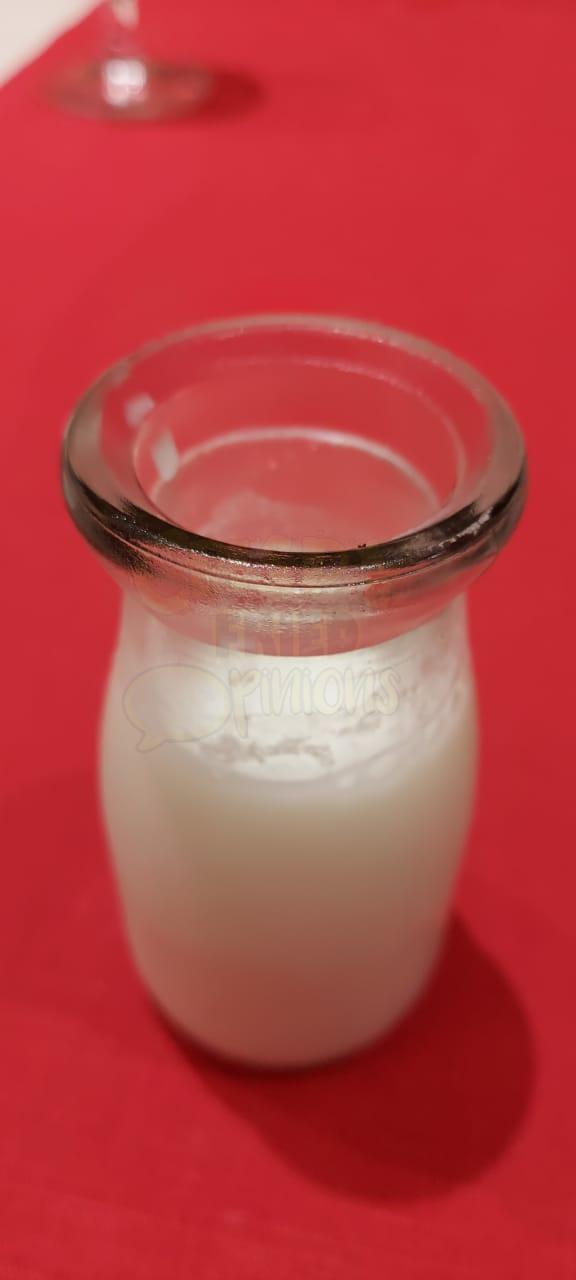 We were quite full by now, and still had desserts to go! We were assured, it was a small portion.
A variant to the Thai/Vietnamese dessert Sticky Rice and Cut Mango, this had Sticky rice rolled on Mukkani – Mango, Banana, and Jackfruit with honey instead.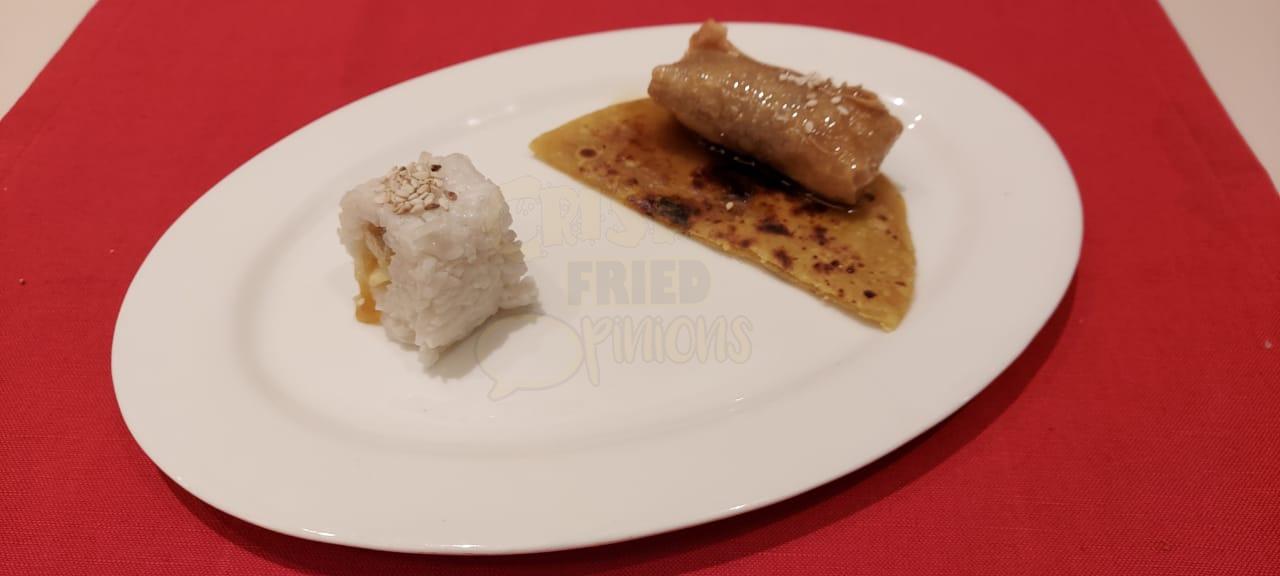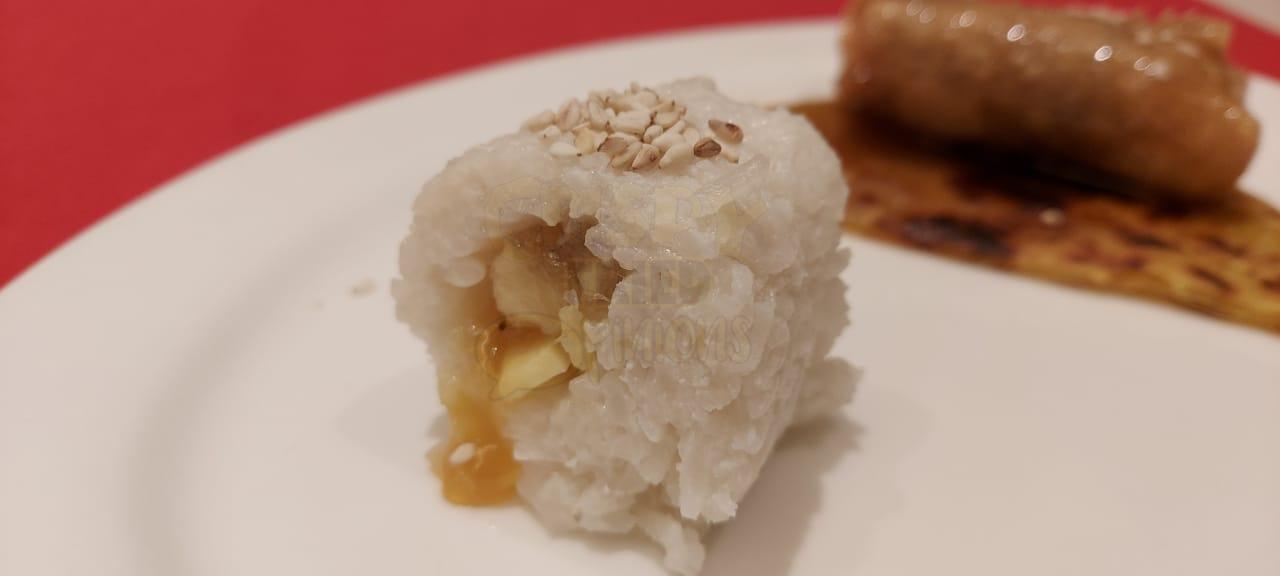 Fruit Spring Roll – Musk Melon stuffed deep fried roll topped with honey/sweet syrup.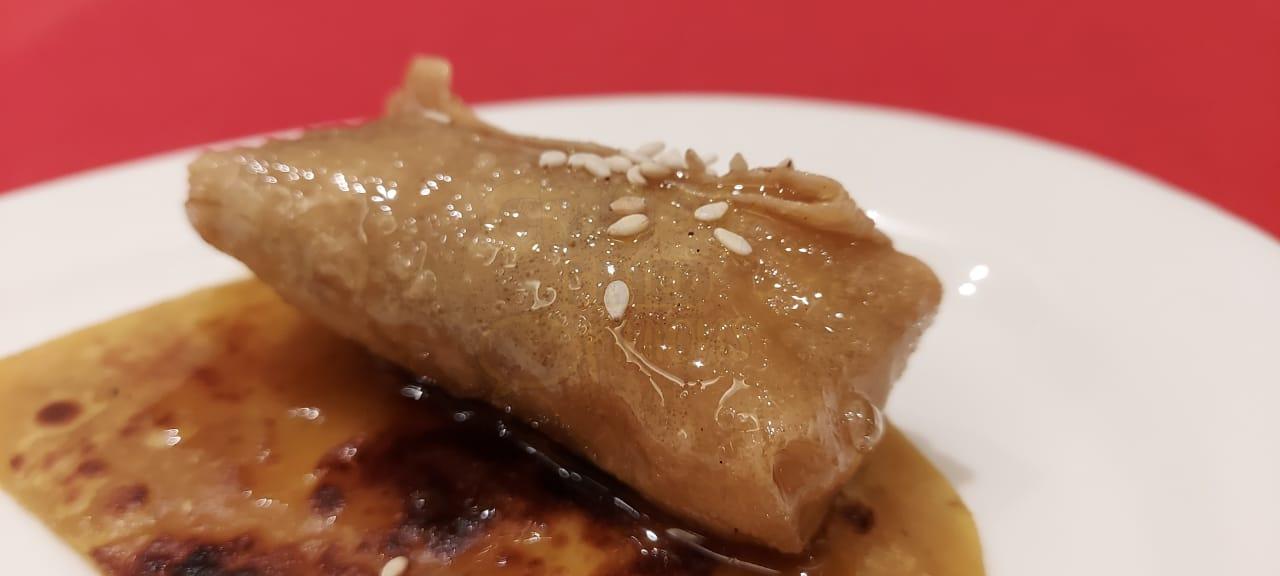 Paruppu Thengaai Poli was Chef's special for the Tamil New Year. A ghee topped coconut-lentils stuffed poli. In fact, if you had noticed, we actually got all the festive dishes served during the course of the meal – Paanagam, Neer Mor, Kosambari and now Pauppu Thengaai Poli. 🙂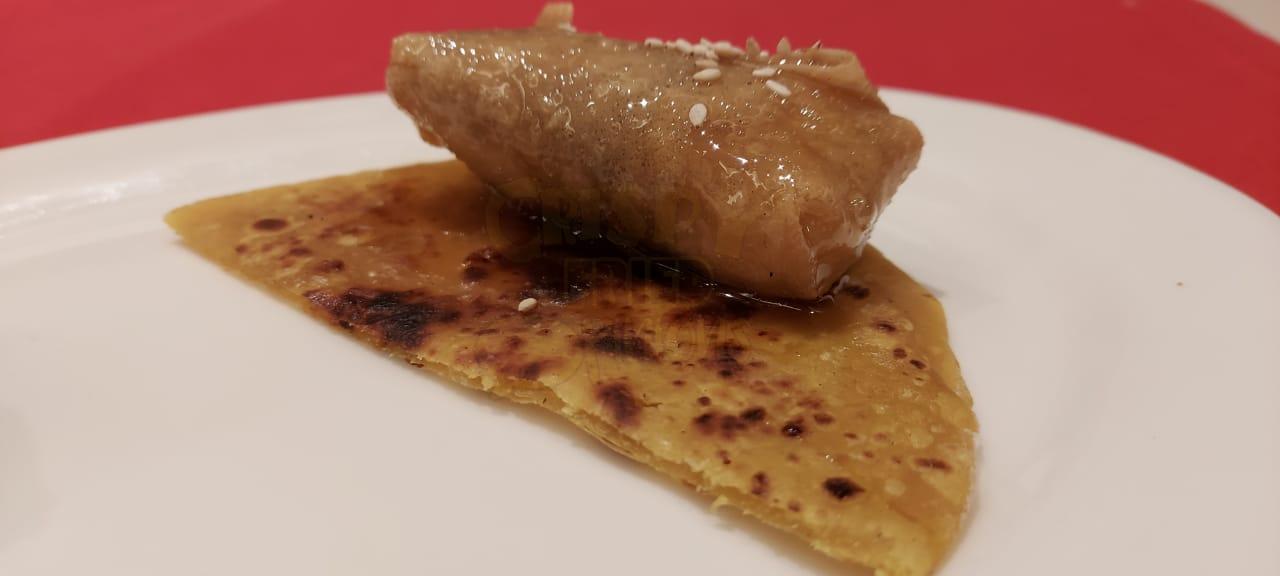 Kavini Arisi Paayasam – Black Rice Kheer you may call it. It was served chilled. A soothing end to a wonderful meal.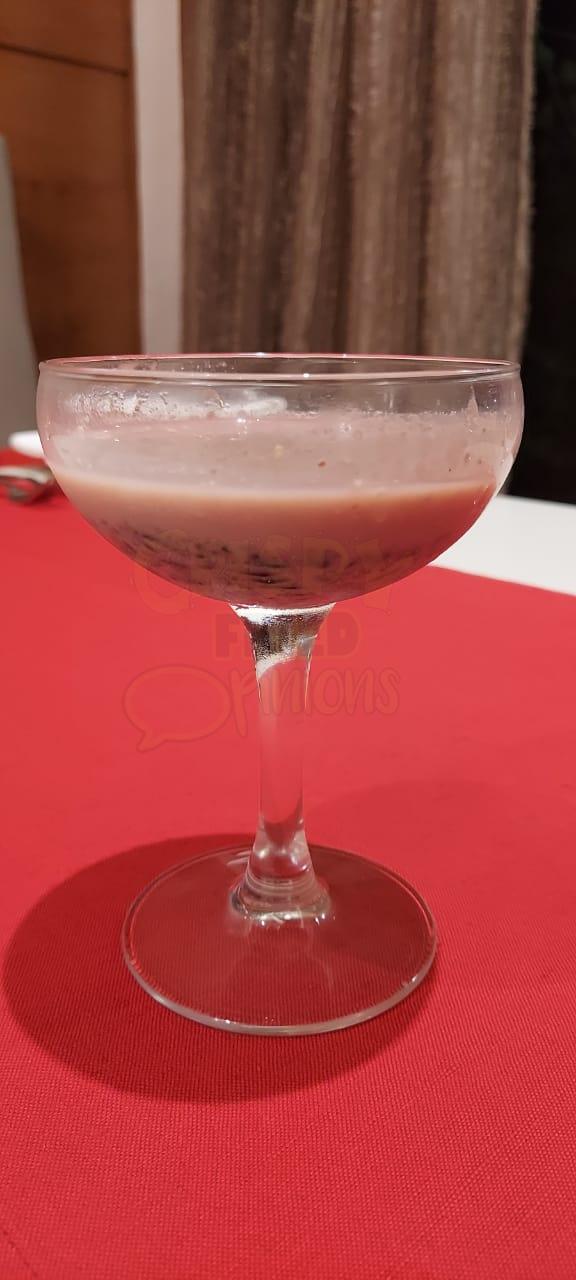 Clicked a picture with Chef Shri Bala, who was kind enough to spend quite some time on our table.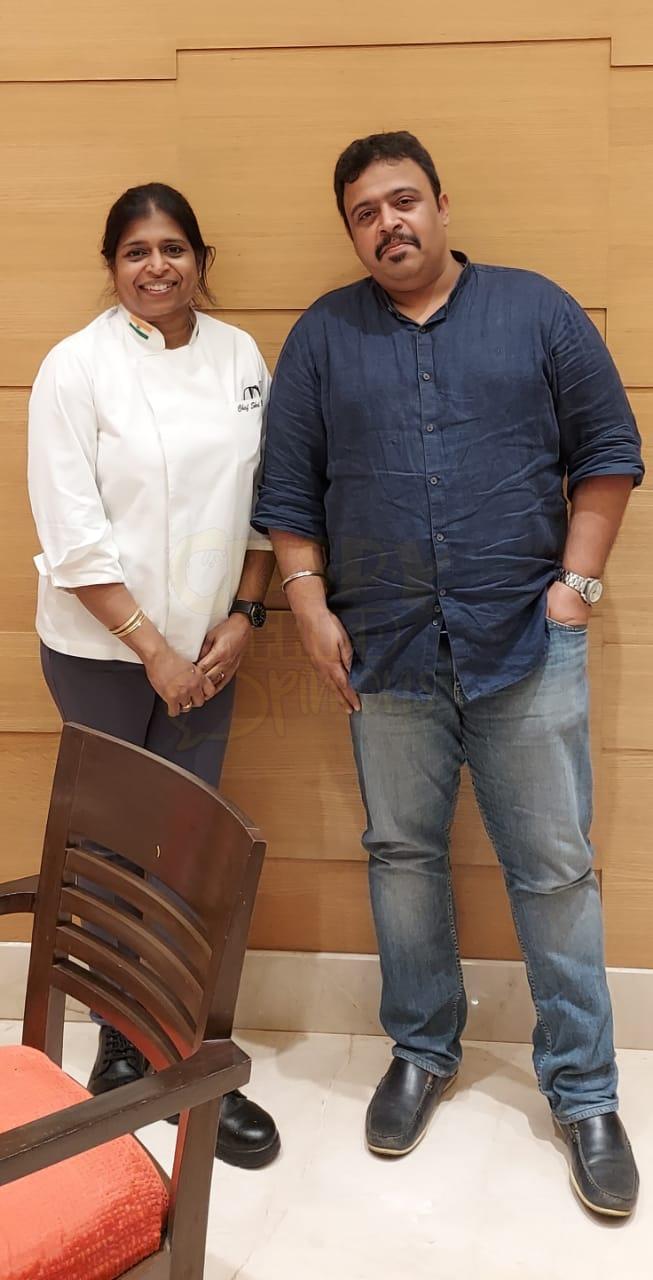 With that, we ended a rather elaborate meal! It was a very nice experience overall! Food was just one part of it, the time spent with the chef understanding what went into each dish was very interesting!
We paid 2.5K in all, after a discount of 10%. The food festival is on for another two days, until the 15th of April.
If you'd ask me if I would have had the same experience if it was just the food and no interaction with the chef? Probably not, but the point of going here was for the experience in totality – the food and the story around it!