Wifey's birthday dinner had to be something special! Decided to surprise the family by taking them to a Korean restaurant as they're fans of K-Dramas and K-Pop. After a quick scan of the various Korean restaurants in the city, zeroed in on Aeseo, in RA Puram.
Getting to the place wasn't an issue as I am not totally a stranger to RA Puram. The nameboard was quite prominent, hard to miss. There was valet parking, it was convenient. The restaurant was located on the second floor of the building. Entry is from inside, and not through the stairs you see in the front.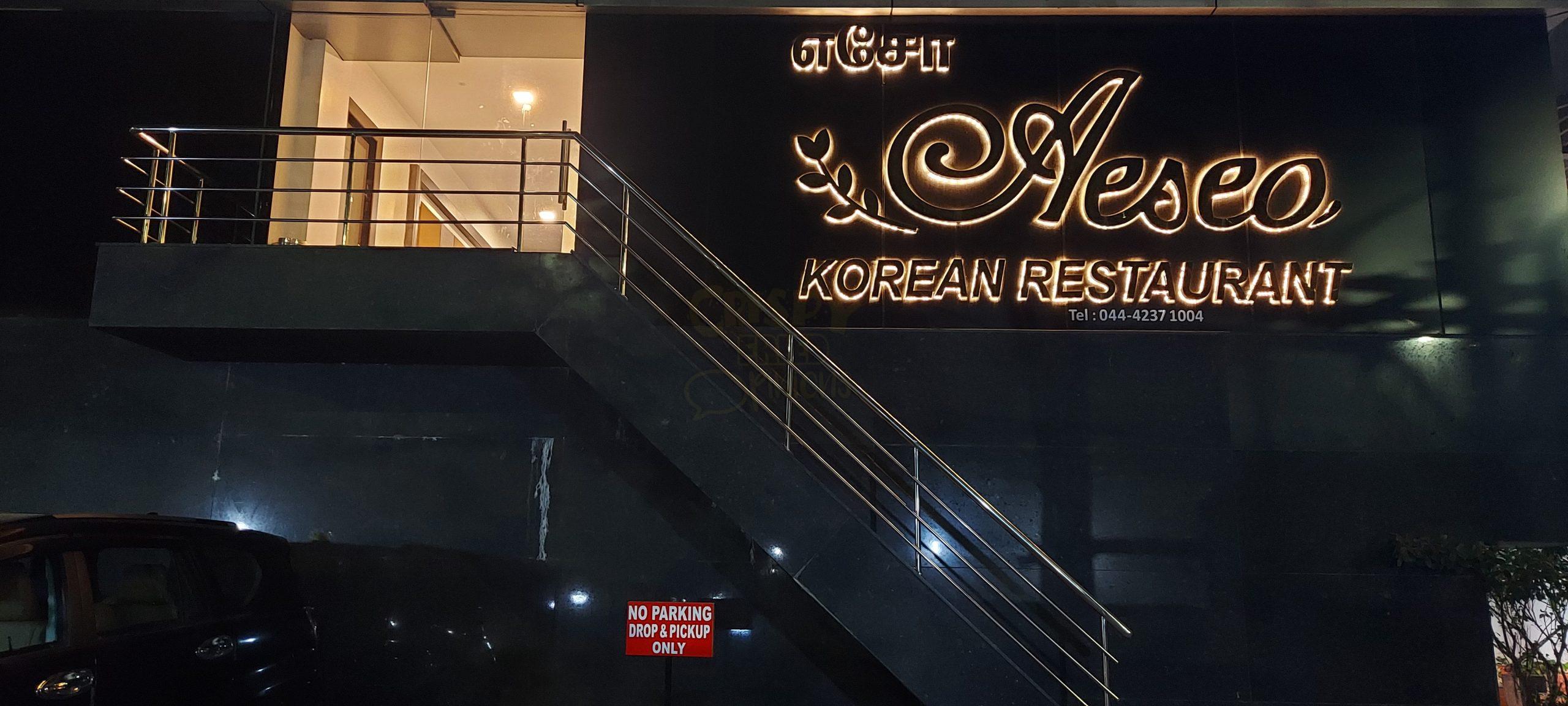 I had reserved a table in advance and we reached at 7PM on dot. Quite surprised to see the place quite busy on a weekday evening. Immediately got a table. The place was nicely designed, interiors were quite worthy of being called an upscale dining. Surprisingly small cacti plants were extensively for the decoration, different and nice.
On first look, each table had a barbecue setup and an individual chimney for exhaust. We later understood how effective it was, as we grilled the meat.
Now over to food. Before I start to write about my experience, would like to set an expectation that this visit was not to cover the breadth of the Korean cuisine, but to try Korean food within our limitations to eating meat. Korean food was a first for us, we've had Japanese a couple of times at Dahlia. Don't ask me what's a Korean dinner without tasting Bulgogi. 🙂 Anyways, this is how our dinner spanned out.
First things first! What's a Korean meal without Soju, I thought! 🙂 It seemed to be a standard order in quite a few tables, ordered a bottle of it. A shot of Soju now and then between food was nice and comforting.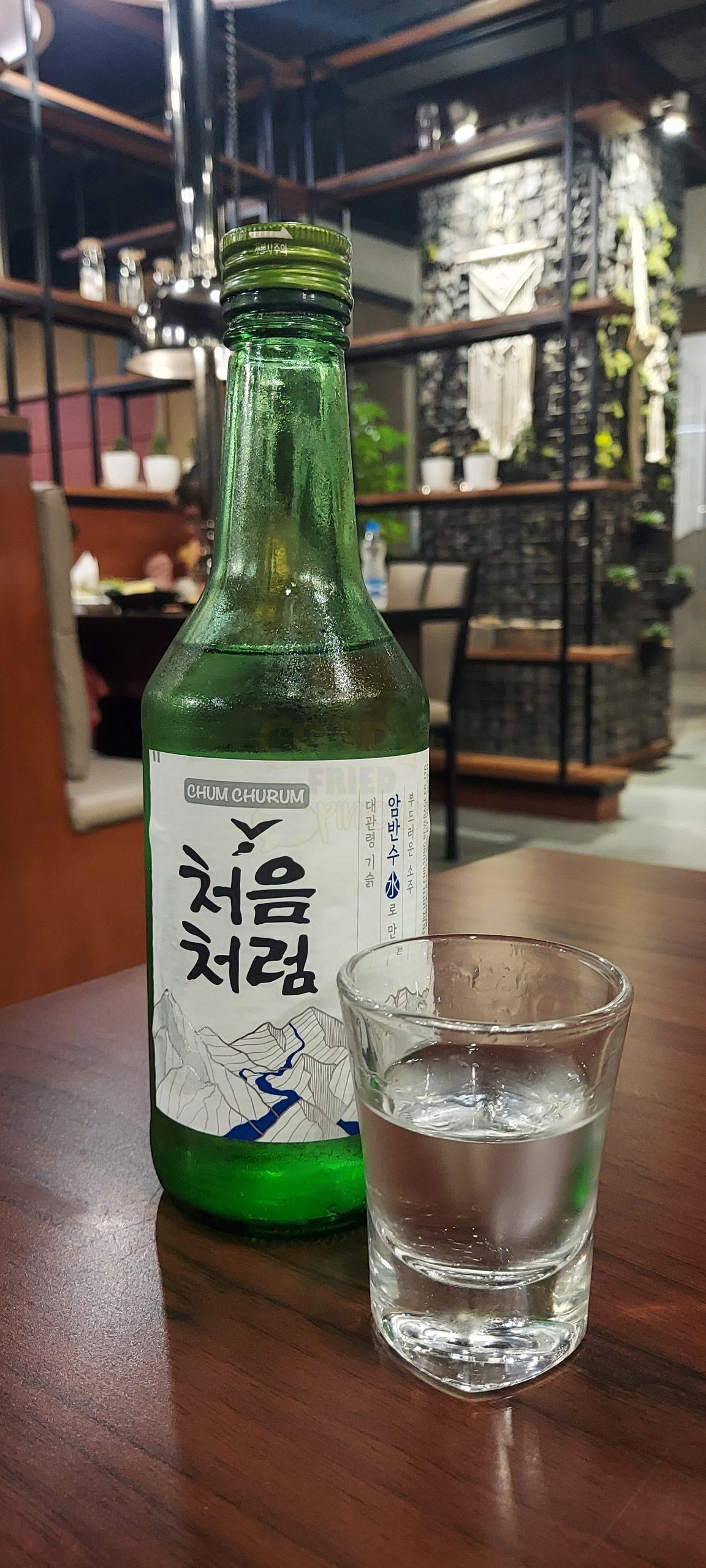 The first thing to come to the table were the sides – Lettuce with a sweet peanut sauce and cornflakes, nicely sauteed flavorsome spinach, Kimchi and honey glazed sweet potatoes. We weren't sure if it was limited or not, so didn't ask for other items except Kimchi again! All of them were tasty.
We started the evening with Dak Galbi Gui. It was basically a Chicken Breast marinated with Soy sauce and Chilli paste, which had to be cut into small pieces, and grilled on the charcoal-grill, on the table. The waitress helped us with that and also explained how it had to be eaten, along with the other sides that were served on the table – soybean paste, mustard sauce, chillies and garlic, lettuce and other Greens. It was quite different and nice, definitely tasty, but somehow the portion size was quite small from what I was thinking!
Kkanso-saeu or Ganso-saeu is basically deep fried Shrimps glazed in a sweet, sour and spicy sauce. From the description, it certainly looked like family would like it, and sure they did.
Gimbap was the next order, quite popular in the Korean cuisine, I was told. We needed a small customization here – we wanted the Fish cake removed from this dish, rest was all okay. Vegetables, Cooked Egg, seasoned rice rolled with dried seaweed and cut into bite-sized portions is what this dish is all about. The person who took the order and the person who served this dish were different. He said this certainly had fish cake in it. So had to ask him to take it back and redo it. It took a very long time to come.
Meanwhile Korean Fried Chicken was another dish we thought we could easily relish! While that was certainly true, the portion size surprised us! It was quite a lot while the Ganso saeu was quite little in portion size. The sauce that came as an accompaniment was too sweet to my liking, we managed with the mustard sauce. This was quite like eating KFC chicken, well cooked on the inside and crispy on the outside. Perhaps it was a little lighter and crispier compared to its American counterpart. We had to pack at least half of it.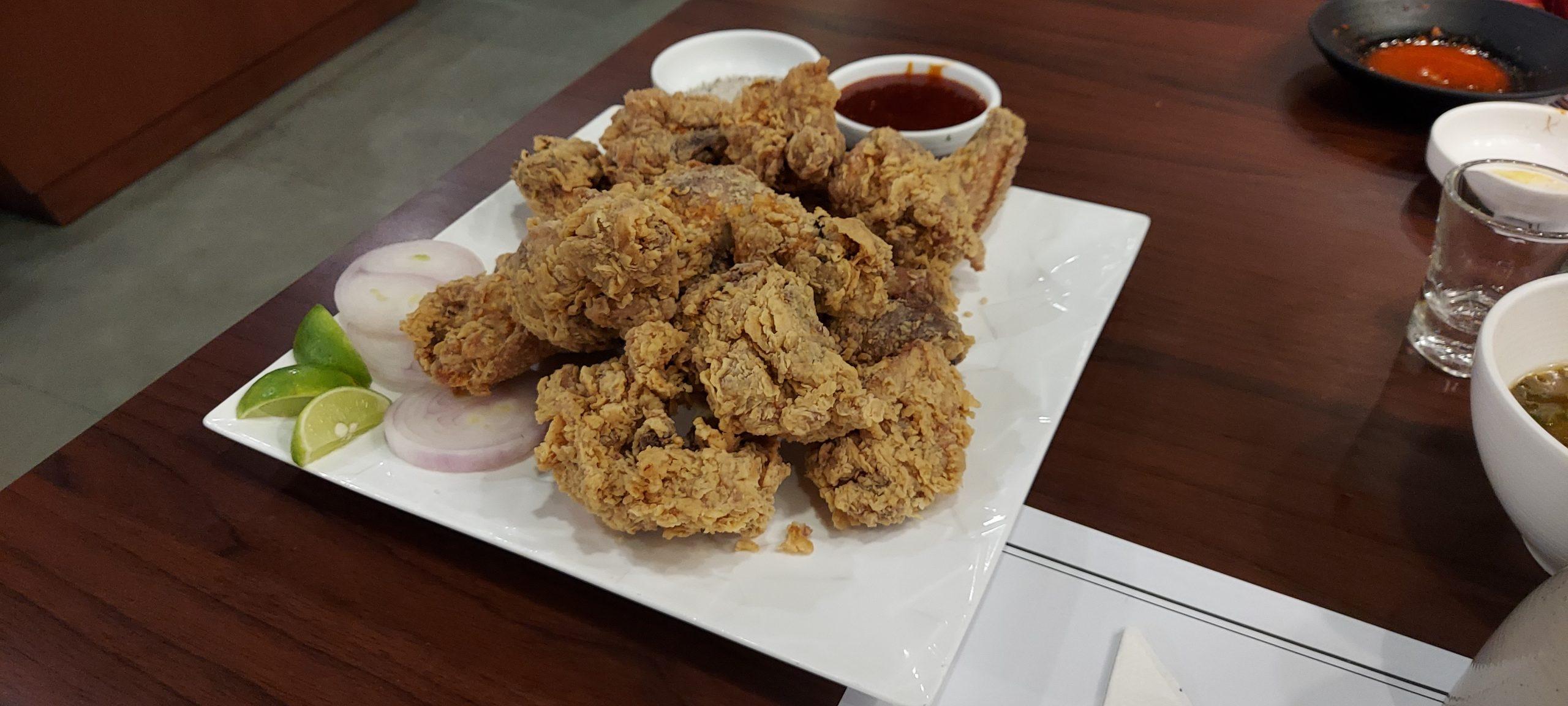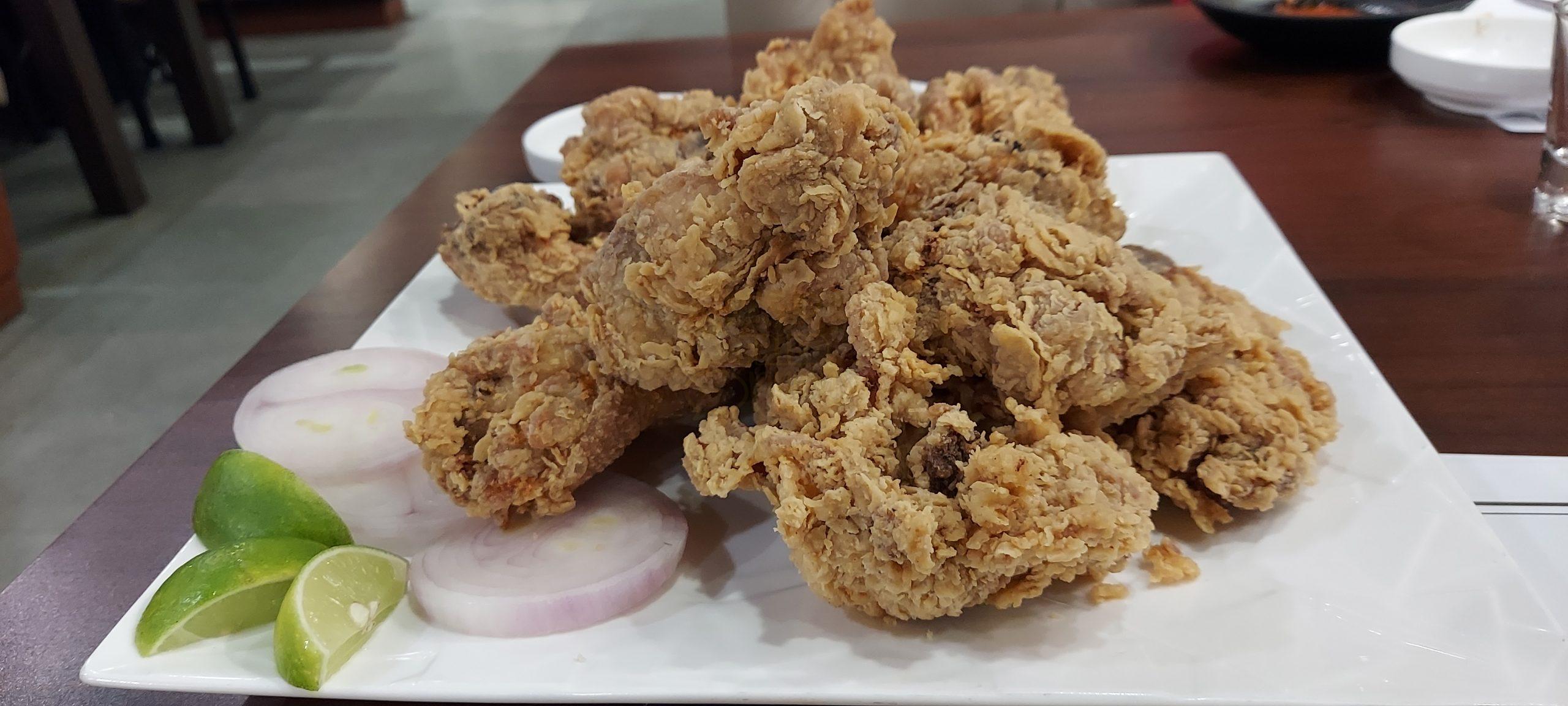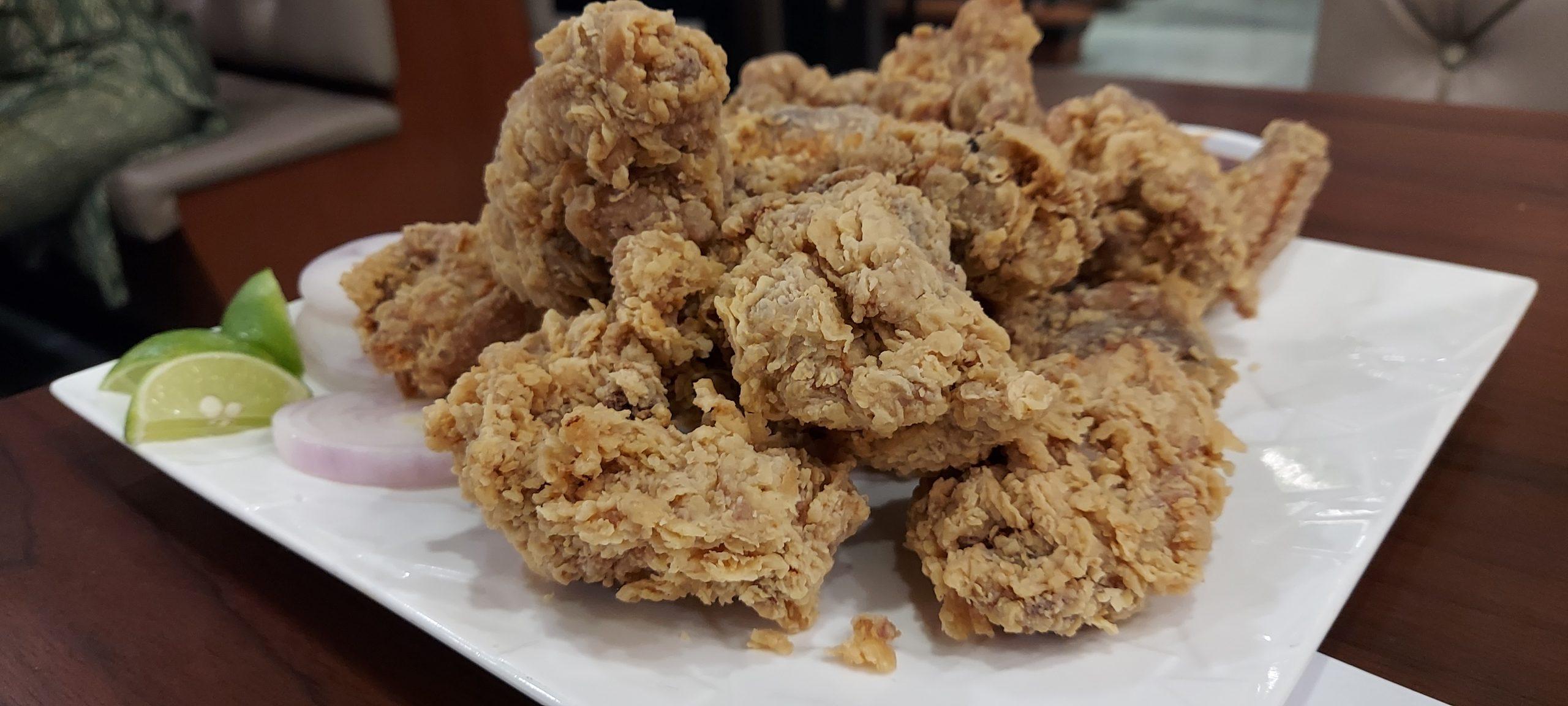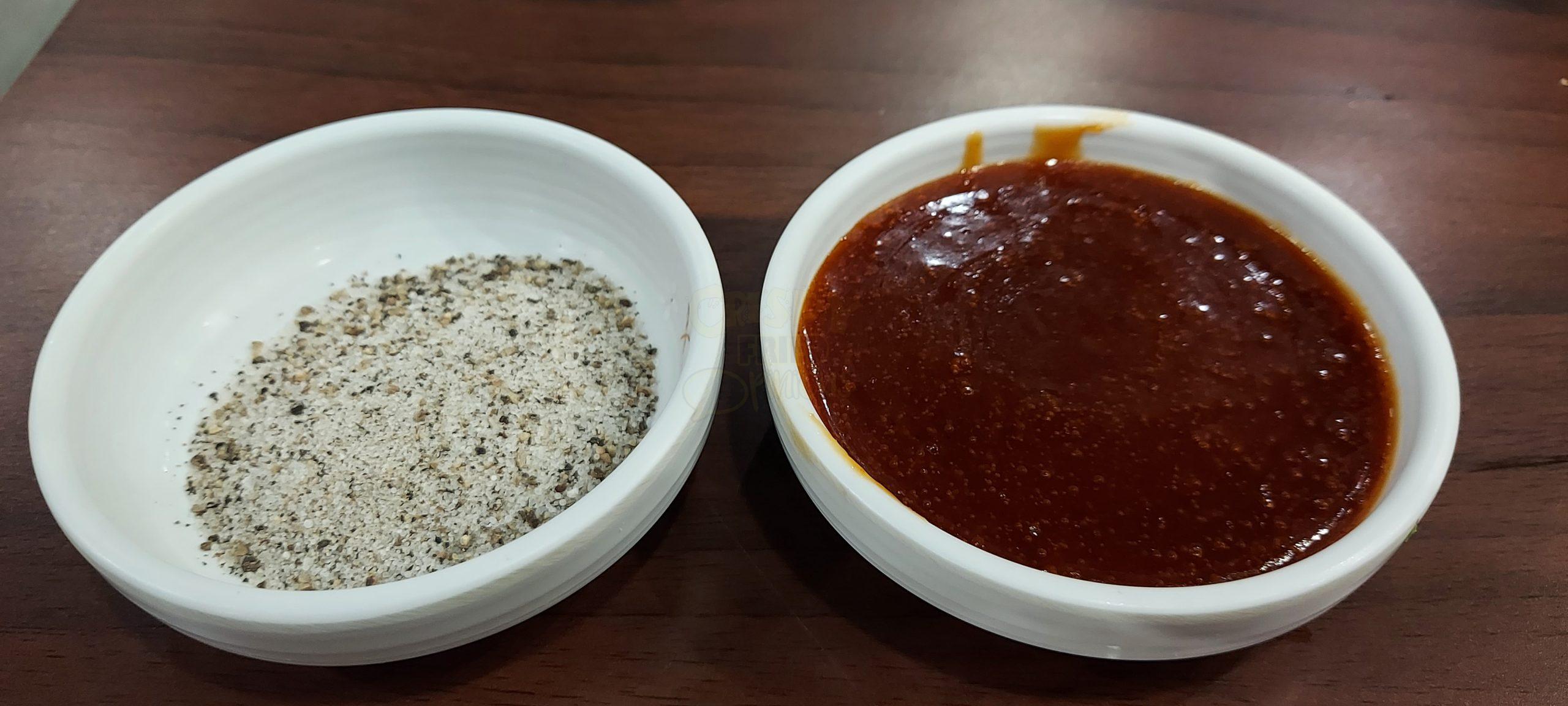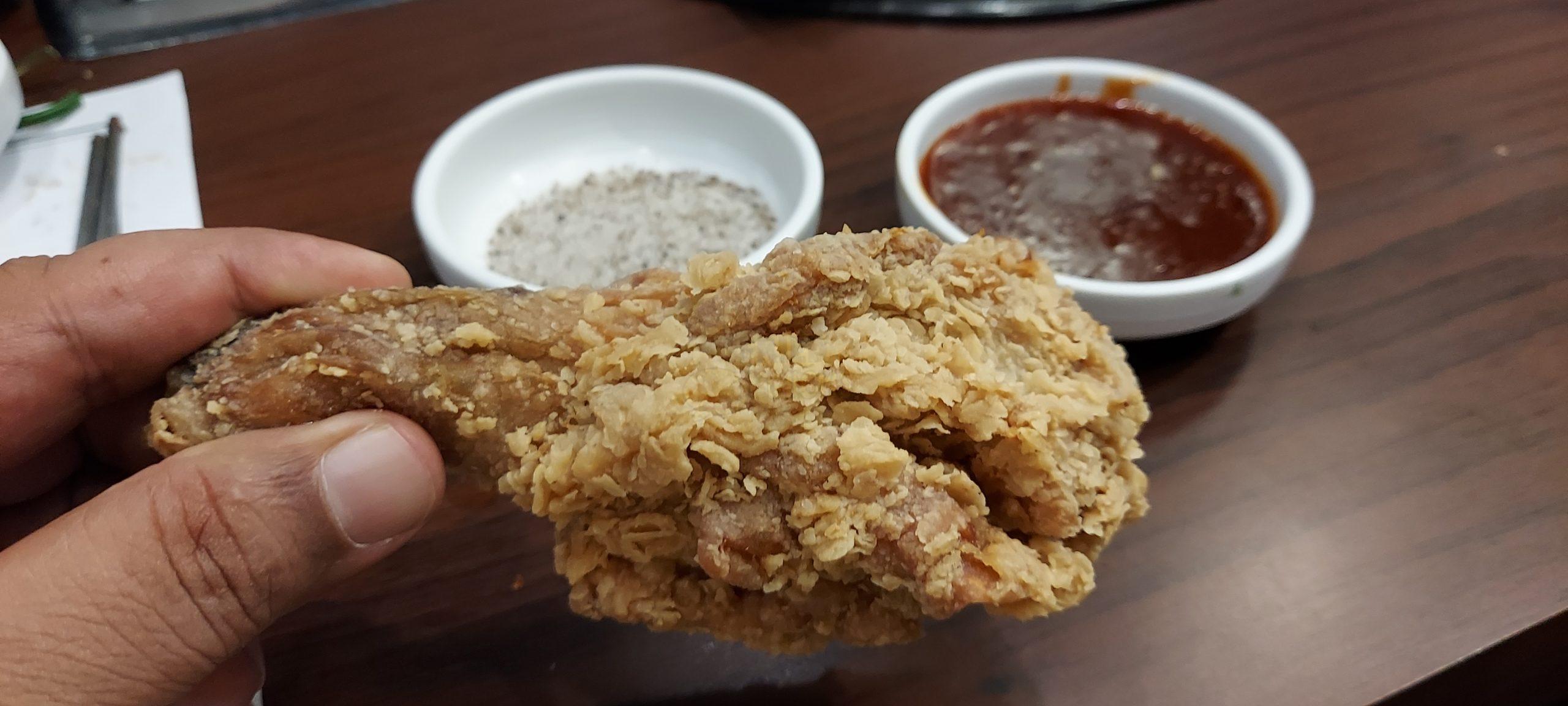 Gimbap came now, along with a Greens soup. The outer covering of seaweed (perhaps Nori) may be an acquired taste, difficult for proper vegetarians, I somehow got used to it in Dahlia, and managed well. The Greens soup was different and good.
We decided to try one of their soupy noodles that are so popular in the K-Dramas, and asked for a suggestion. They recommended Jjamppong, a Korean spicy noodle soup flavored with seafood and Red pepper powder. We requested if the same can be made with Chicken and they obliged. Again, took a while to come, as they were running a full house almost the whole time we were there. Since we were in no hurry, decided to patiently wait. It was quite worth it, we liked the noodles, and the soup itself.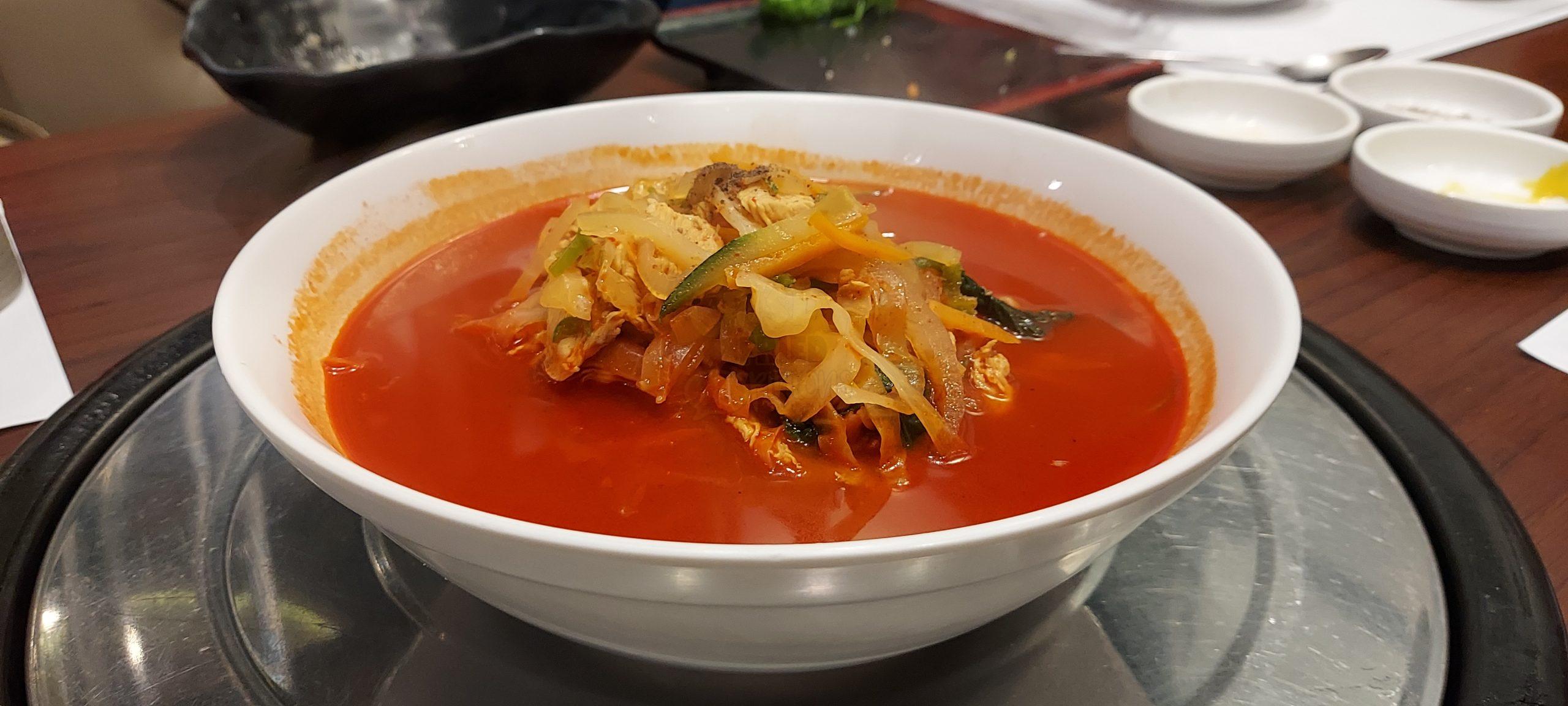 Didn't quite see an elaborate dessert section on the menu, so we checked with them for options. 'A hot sweet pancake topped with Vanilla Ice cream' sounded nice. Hotteok is a very popular street snack in Korea. Ordered one of that and decided to share. It was tasty, we liked it.
When we asked for the check, we got a small complimentary portion of Musk Melon cut into pieces, and Cinnamon Iced Tea, served very chilled. Pleasant end to the meal!
Quite surprised to see so many people effortlessly using chopsticks to eat! While my kids can manage with chopsticks, quite an old-school guy that I am, I stuck to Fork and spoon. 🙂
Yes, the place is expensive and we paid about 7.2K in all. Restaurants serving a foreign cuisine and trying to keep it as authentic as possible have a lot of overheads in terms of importing various ingredients from their country. So expecting the place to be as cheap as a restaurant serving local cuisine would be foolish. That said, at this price range, service could have been a little better. It started off very well, and deteriorated as we progressed to the end of the meal. It wasn't bad attitude at all, just that it got too chaotic for any little personal attention. Took quite some time to make an eye contact to ask for something. Otherwise, it was a very pleasant evening! I certainly liked the food, and I am happy that I have ticked off another cuisine from my list – Korean ! 🙂