When it comes to Japanese food, I'm certainly a novice! I have had very limited exposure to Japanese cuisine primarily due to my restriction to eat seafood, by choice! One of the earliest encounters with Japanese food after I started to blog was at Momoyama. Another wonderful experience was at Aki Bay. Perhaps the most recent outing for Japanese food was at Kabuki. My attempt at making Omurice at home was a super success too. 🙂 That said, don't ask me what is Japanese cuisine without Sushi ! I tried whatever was possible with my limitations and reservations.
Dahlia, perhaps the oldest Japanese restaurant in Chennai, needs no introduction to the foodies in Chennai. The place is located inside a complex on Nungambakkam High Road a little ahead of Lord of the Rings, on the right hand side just as the road bends to the right. It is not easy to spot, as it is quite hidden. There's paid parking within the premises. Since we went by a two wheeler, it was all the more easier. Finally spotted the place!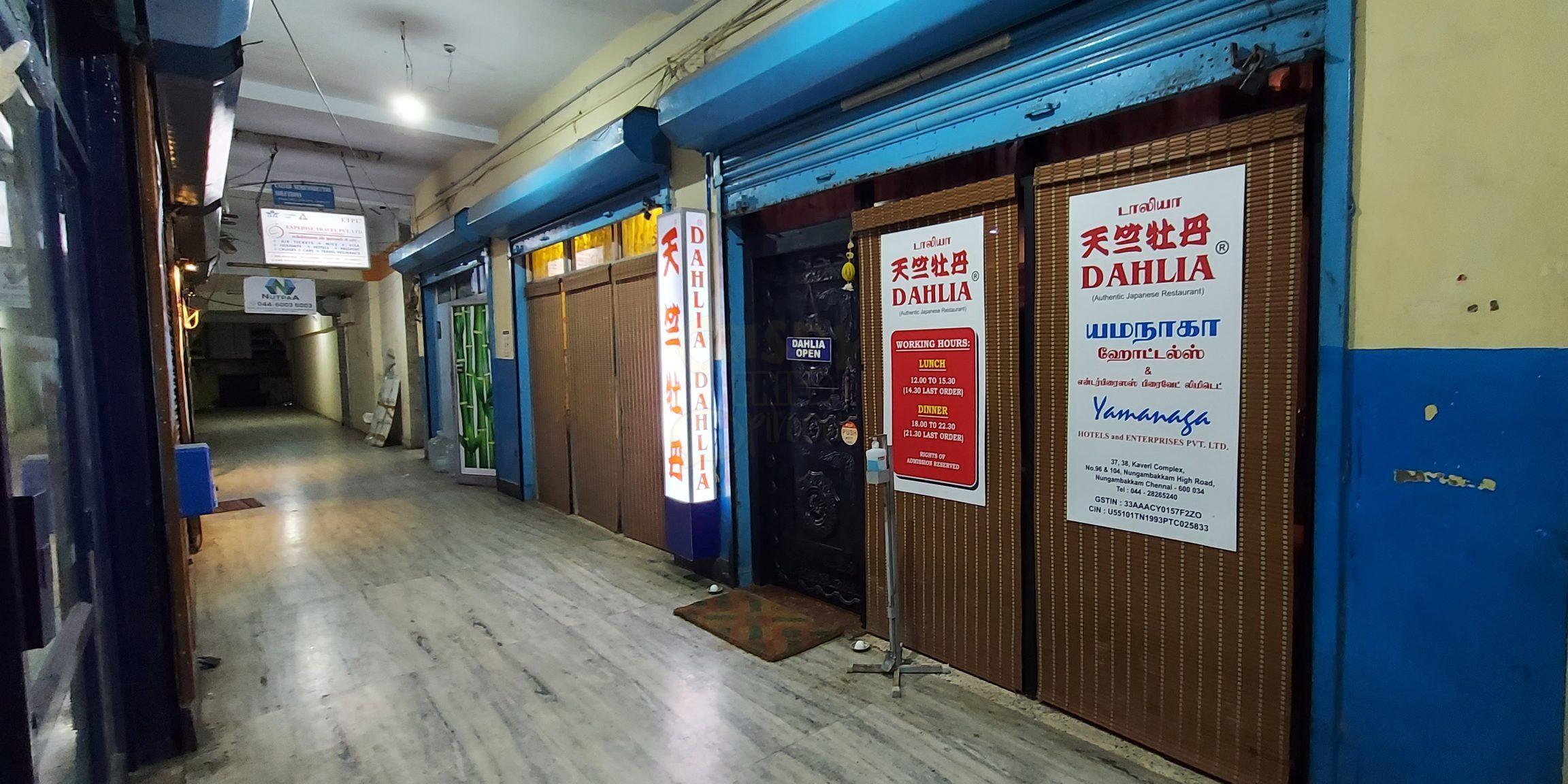 We entered into a nice small restaurant, looked like a basic place with very limited covers. There were three tables that had a Japanese seating, rest of them were regular tables. We opted for the regular one. I had called up and reserved a table for 3 pax at 7PM, we were seated immediately.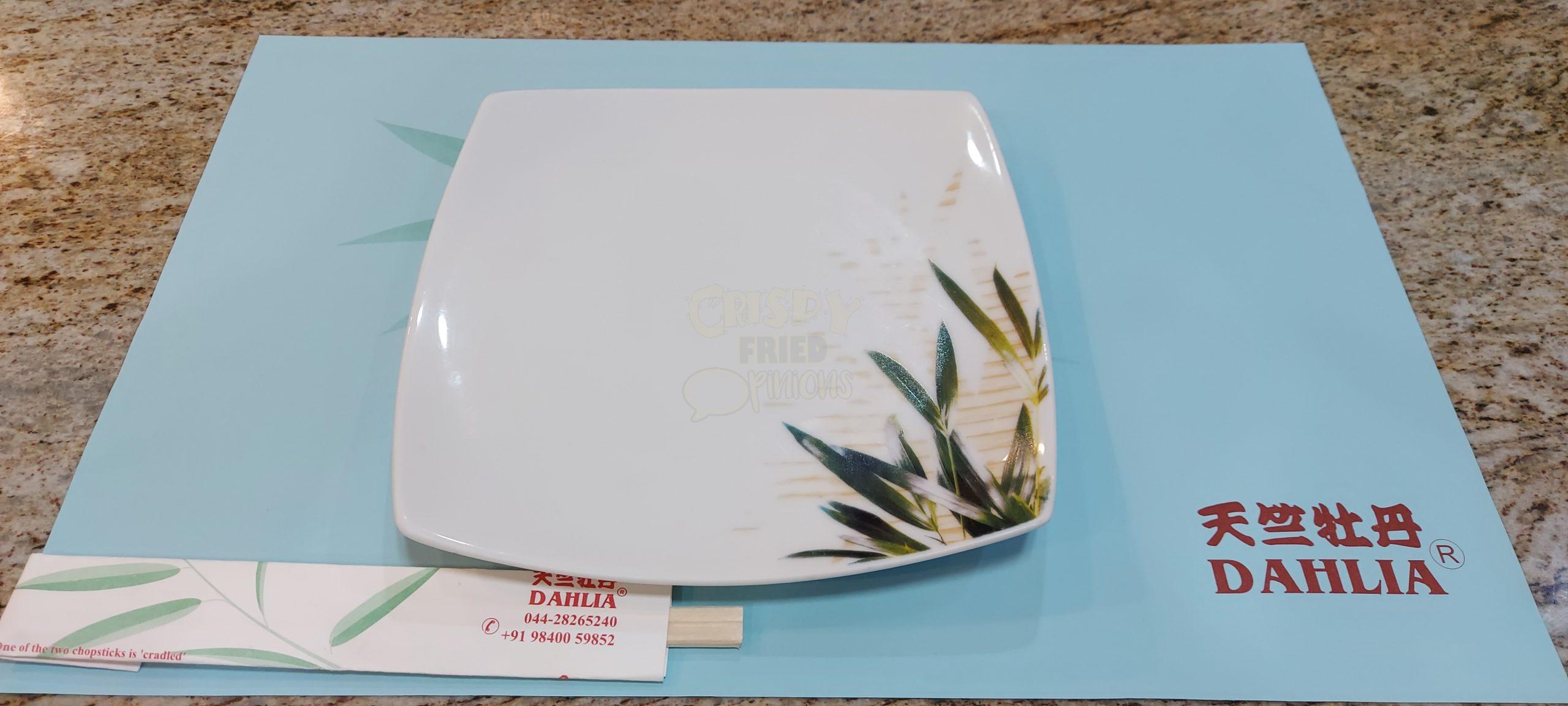 Before I proceed with what we ordered, I should thank the person who waited on our table – Ms. Valli. She was super helpful and helped us to choose the dishes, and patiently explained how they should be eaten. She did check more than once if we were enjoying the food. That certainly made our dining experience wonderful!
Haven't tried Maki rolls ever, and she suggested to try California Maki, minus the prawns, of course. We told her in advance our restriction to eating seafood. Seriously, wow!!!! In my wildest dreams, I didn't think I'd enjoy it as much. The fermented rice, rolled with the seaweed sheet (Nori, I think), with stuffing, it held on quite nicely. We were told to mix a bit of Wasabi in the Soy sauce and mix it well. There was a slightly sweet pickled Ginger shavings served alongside this. We topped it with a couple of shavings of that, dipped it in the sauce and that mouthful was a burst of flavors! The rightly balanced pungency from the wasabi, the flavor of sauce, and the roll itself was super Yummy!
Also ordered an Assorted Maki. There are quite a few veg variants too. Avocado Maki, Red Plum Maki, and so on. We decided to try the assorted. Similar to California Maki, we liked this too. We ate it exactly the same way. The one with the rice covering outside was better than the one without.
My most favorite dish which I have never missed in Japanese restaurants – Chicken Katsu! Breaded chicken cutlet, this can't go wrong! Loved it here too! There was also finely grated cucumber topped with Mayo, I think. The sauce given as accompaniment to the Chicken Katsu was super yummy, I didn't quite catch its name though!
Tofu Teriyaki was our next order. Among the three of us, one was an eggetarian (Not even sure if that word exists!). So had to balance the order with veg/egg dishes too. Tofu was super soft like a jelly, cooked in Teriyaki sauce. Remined me of my attempt at cooking Chicken Teriyaki. Now I realized, I have certainly loved Japanese food, always! 🙂 The Tofu cubes were on a bed of stir-fried veg noodles, soaked in Teriyaki sauce. It was very tasty!
Finally, decided to end with a Tamago Udon. It was basically noodles with cooked egg and onions, in a soup. Not sure if the soup was Misoshiru, but tasted quite like that. We asked it to be served one by three, and they gladly obliged. So we didn't get to see the big bowl. It was served in three small bowls instead. We loved this too.
This place serves Beer and Sake, the Japanese spirit made of fermented rice. Since a small bottle of 200ml was priced at Rs. 1200, decided to just go with a couple of beers. A beer was priced at 400 bucks. We got a complimentary portion of deep-fried squid with the beer, friend loved it. Retrospectively, felt I should have tried the Sake instead, for a complete Japanese experience. That's for next time. Friends were quite happy with the Cold Japanese Tea. Since I wanted the focus to be primarily on food, I'm writing about the drinks in the end. 🙂
That's how our dinner at Dahlia spanned out. As time progressed, the place got super busy, most of them seemed like regulars to the place. Towards the end of the meal, it did take some time to get our order, but that's not even a complaint. We were just catching up with our stories, and we were there for a good two hours. Reservation is certainly recommended on weekends. Perhaps weekdays are relatively less busier.
We paid 3.6K in all, out of which 800 was for beer. The prices on the menu may look a bit intimidating, with a few dishes priced over 600-700, but then when you order correctly, it is quite economical. The owner of the place was a very pleasant lady, who in her brief conversation with us, sounded very friendly.
I should end by saying that this was one of my most enjoyable outings to a Japanese restaurant. I can't wait to come back again, this time with family!