I love visiting places which have an old-world charm to it. Amidst changing trends in the food scene, to be able to retain nearly the same old infrastructure while maintaining food quality over a few decades is not a child's play. One such place is Mari Hotel, in Saidapet.
Having heard a lot about their Vadacurry, wanted to try it out along with a foodie friend. We made up a breakfast plan and consciously decided to go by a two-wheeler so it is easy to ride through the narrow lanes. The place is located in one of the not-so-broad streets in interior Saidapet – V. S. Mudali Street. A typical old-style blue building with a prominent name board , and basic interiors. A board clearly displaying the day's specials placed outside.
We sat in one of the tables meant for six people as you have to share tables unless you're a group of as many the table can seat. 🙂 Ordered their famous Set-Dosai Vadacurry Set for myself and 2 Idlies and a plate of Vadacurry for my friend.
Idlies came first, served with two chutneys, sambhar and the vadacurry we ordered separately. Friend liked the idlies, and the vadacurry too.
I got my Set-Dosai Vadacurry Set just a couple of minutes later. The Dosais were soft, and the two chutneys were fresh and tasty. The star of the breakfast – Vadacurry, was very tasty! It was a very nice accompaniment to the Dosais. I have to mention, during that time there were quite a few people dining in, and almost all of them had vadacurry on their plate. That speaks volumes of this dish. Takeaways was another thing, a steady stream of customers carrying parcels in a brown paper cover, which I presume would certainly be Vadacurry too !
We ordered Ghee Dosai next, and decided to share it among ourselves. What came was a crispy, Dosai, oozing ghee! Perfectly made Ghee Roast! Defintely smaller than the ones you get in Sangeetha, but absolutely tasty! Ordered another plate of Vadacurry and ate it with the Ghee Roast. It was super tasty!
Next was a plate of Pongal, again for the two of us. A very nicely made Pongal, tasted brilliant with Vadacurry and Chutneys. Sambhar may have tasted good, but since it looked a bit watery in consistency, didn't touch it throughout the breakfast.
Finally, Coffee! To be frank, I did not have any great expectation regarding Coffee, and that's exactly how it tasted. We could make out it was coffee! 🙂 An okayish watery coffee.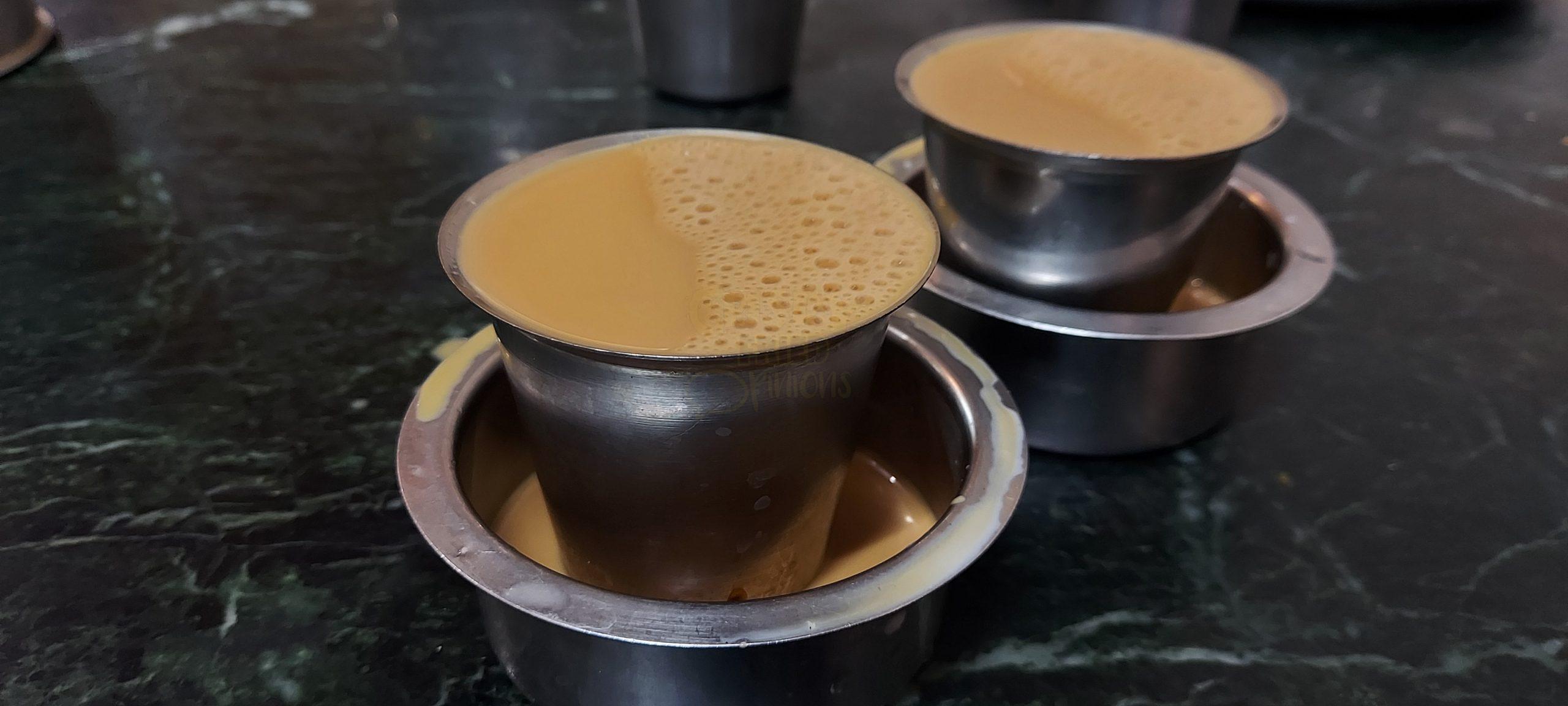 Other than the coffee, every single dish was wonderful! Guess what the total bill amount was ?!?! 225 bucks in all, for a plate of Idly, 1 Ghee Dosai, 1 Pongal, 1 Set-Dosai Vadacurry Set, 2 plates of Vadacurry, and 2 Coffees. If this is not nominal, don't know what else is!
While I certainly like Sangeetha and the likes, this place reiterates the fact that good tasty food need not be exorbitantly priced! The other two places with old-world charm that immediately come to my mind are Parthasarathy Vilas Hotel in Thiruvanaikoil, and Aadhikudi in Trichy. You should check them out too!