Another classmate from school in town, and along with a couple of other classmates, we were catching up for dinner. In fact, I was meeting him after 25 years, and needless to say, was quite excited.
He was staying near Chrompet and wanted me to find some place in the vicinity. The first place that came to my mind was Faruuzi. There aren't too many options around that I haven't tried – A2B, Shri Balajee Bhavan for vegetarian, Buhari, Star Biryani, Faruuzi for non-vegetarian. I chose Faruuzi amongst all these as I haven't been there yet.
The place was pretty good, quite well-lit with decent interiors. It was quite busy, but we managed to find a table right away. After a brief look at the menu, we were ready to order. Not new to Arabian cuisine served in Chennai, the menu was pretty much similar to Zaitoon and Savoury Seashell.
We decided to start with soup, ordered a Lemon Coriander Chicken Soup to be served one by two, and a Tom Yum Prawn soup, also to be served one by two.
Lemon Coriander soup was a clear soup and it was wonderful until I bit into the chicken, it was brittle, hard and smelly. Didn't touch the chicken pieces. The rest of the veggies in the soup were good. Friends seemed to like the Tom Yum Prawn soup.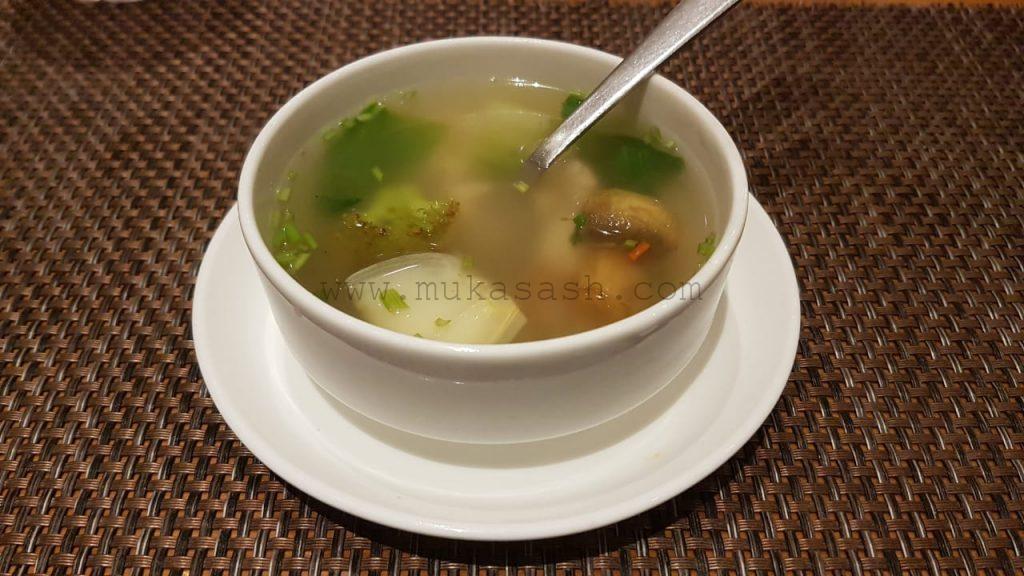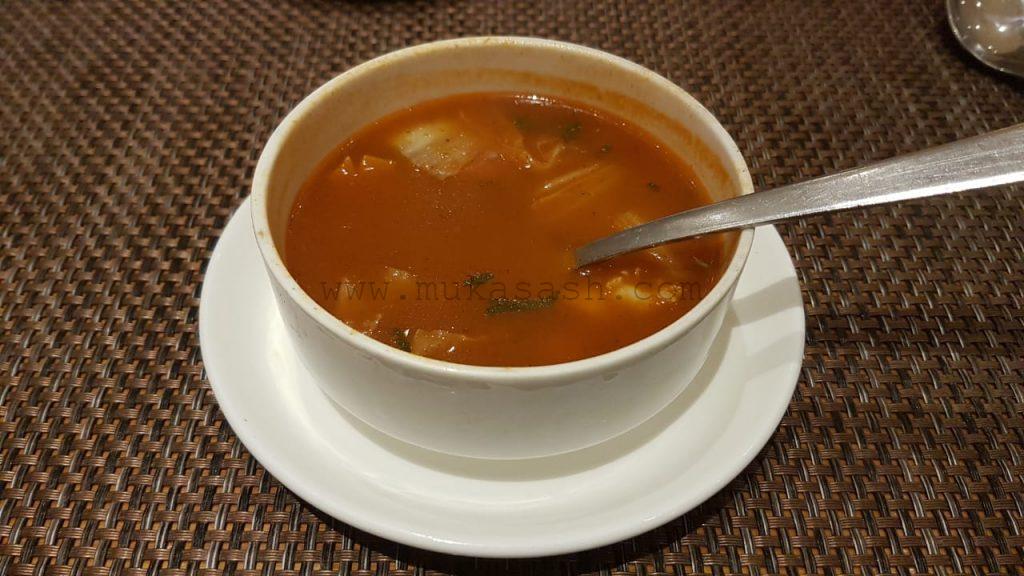 For starters, we ordered a mix of Fish, Prawns and Chicken.
Effa Dejaj was basically tawa-fried thin slices of chicken meat, soft, succulent and very well done. The garlic mayonnaise and hummus along with it was good. We also had kuboos along with it, which was good too. It could have been a tad softer, it was a bit brittle.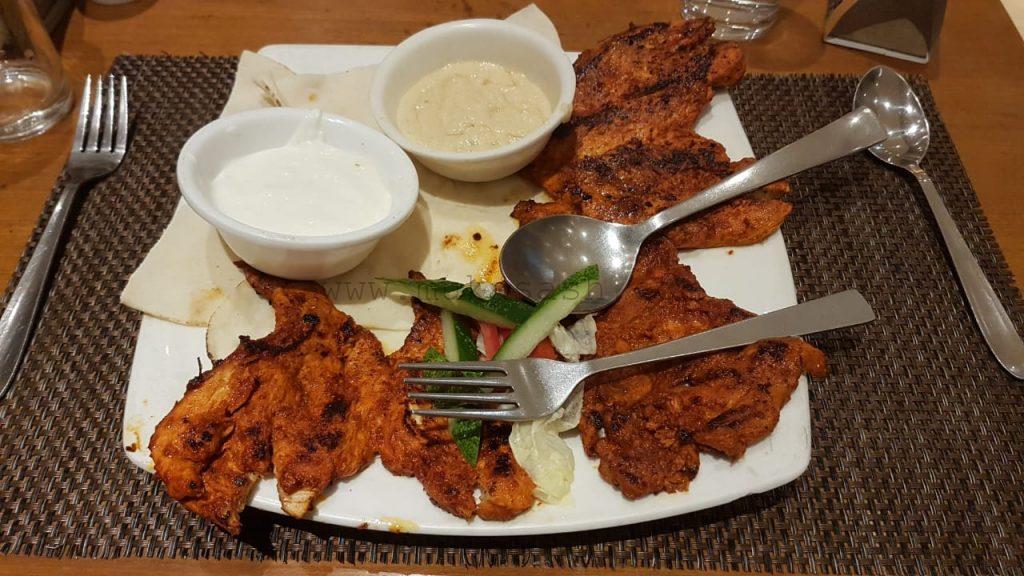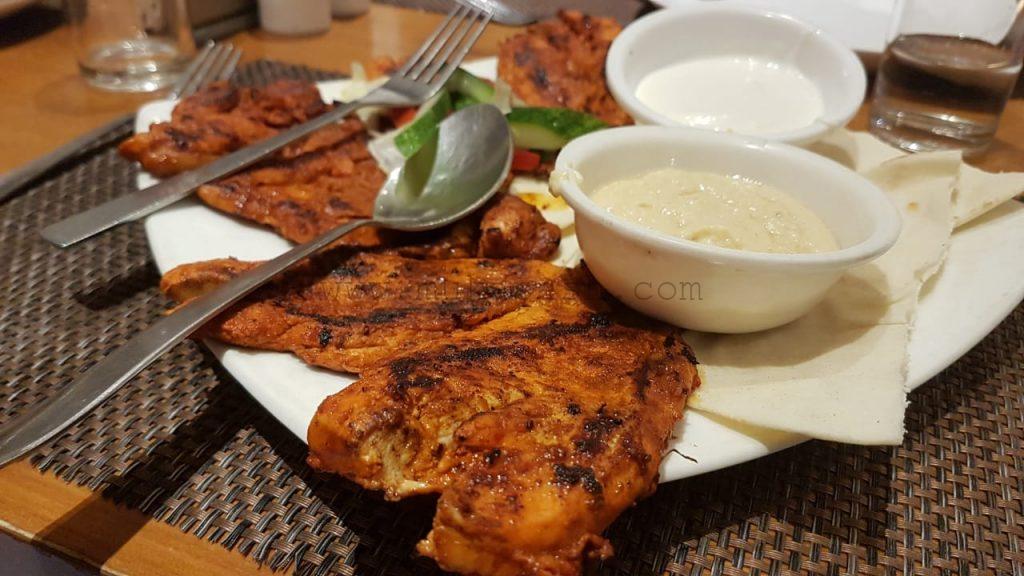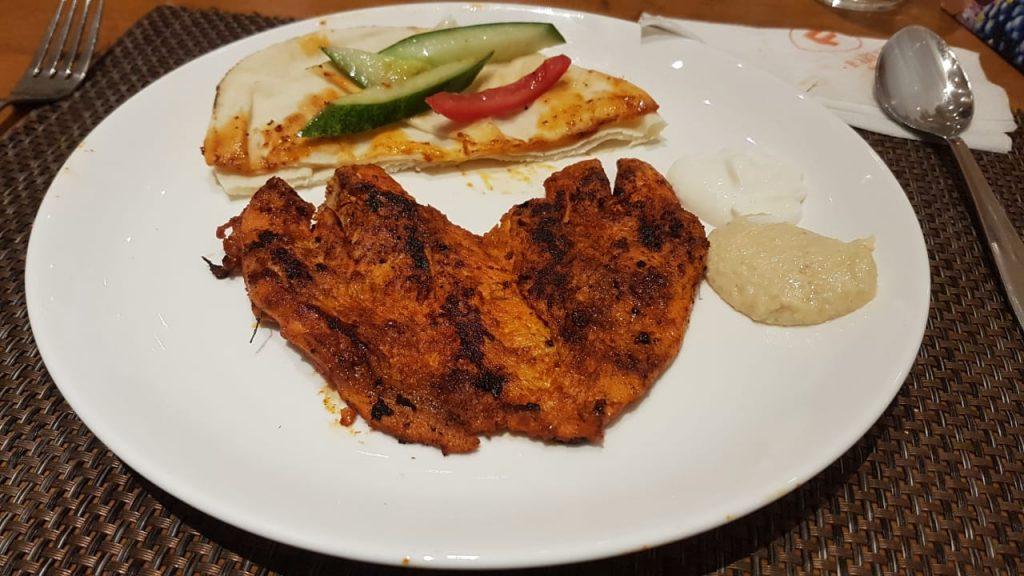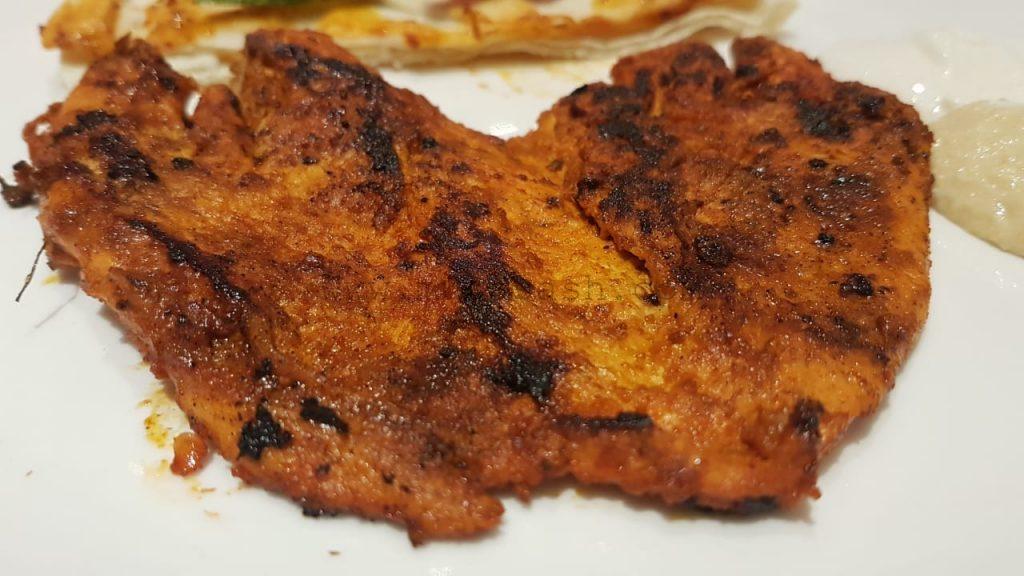 Rubian Faa was grilled prawns in skewers. Friends liked that! One skewer each disappeared in no time.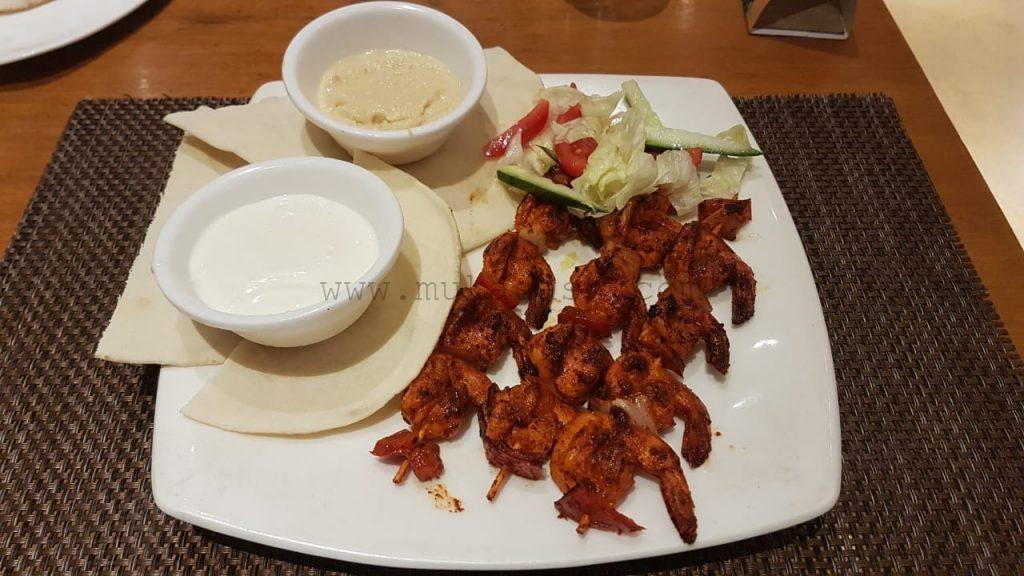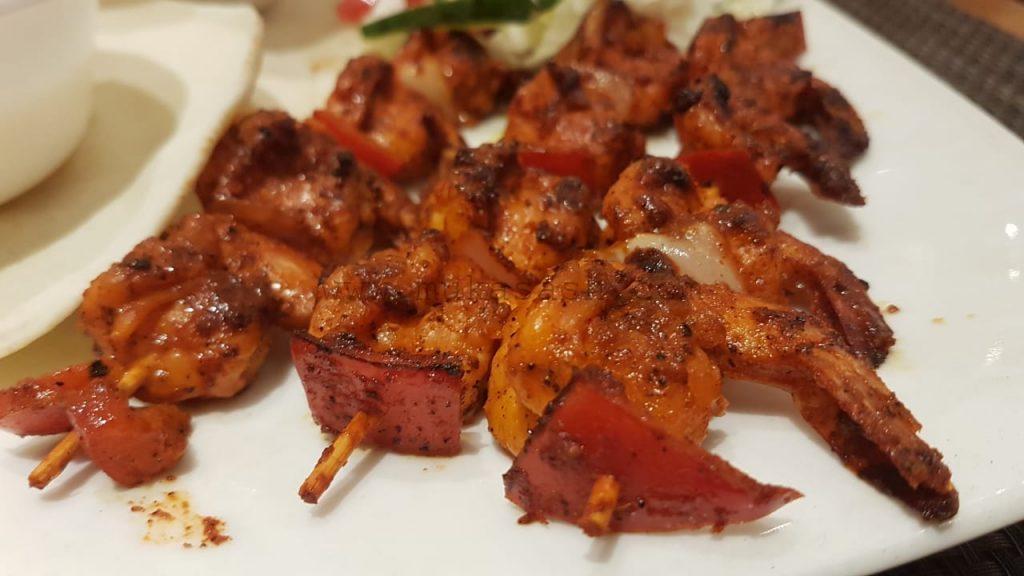 Friend ordered a Grilled Pomfret and that looked wonderful. It had a strong smell, and can trouble non-fish-eating people a bit 🙂 It came with a beautifully decorated tomato rose. The condiments served alongside were tasty.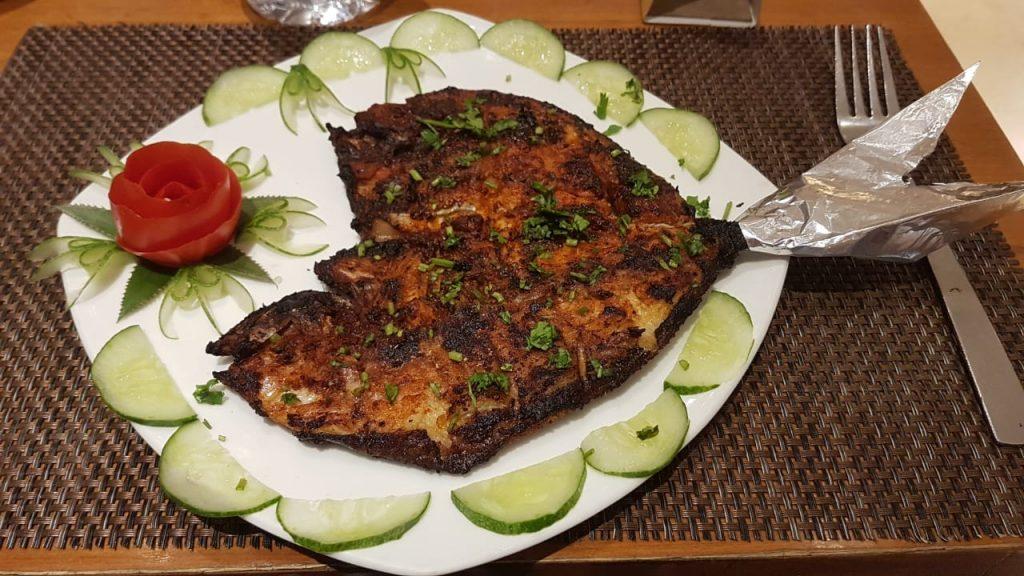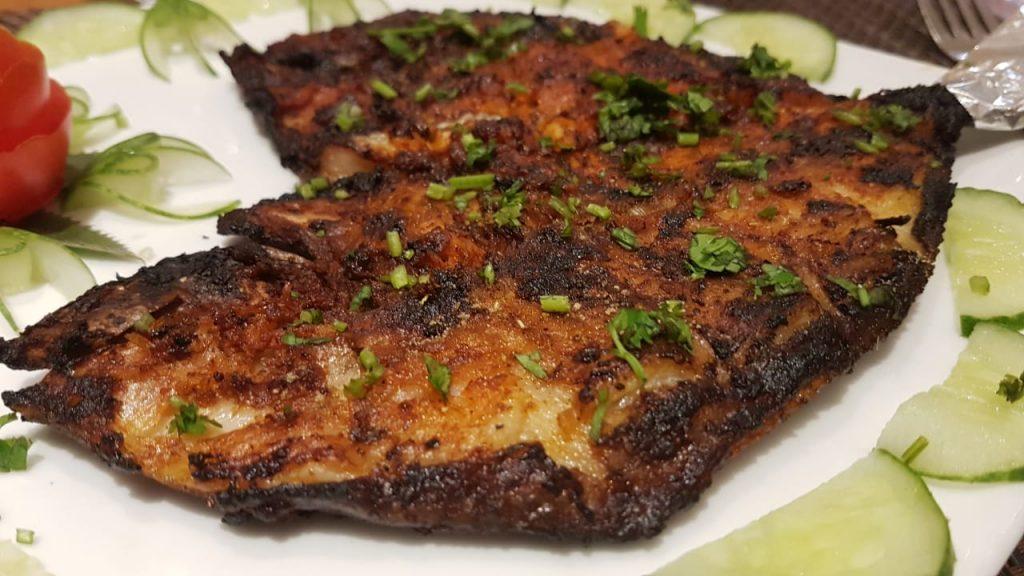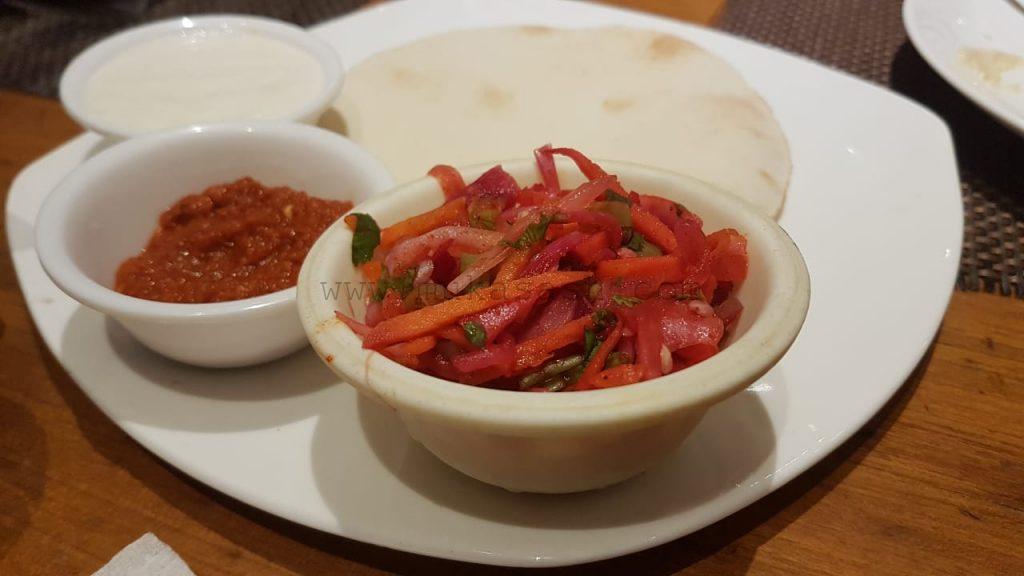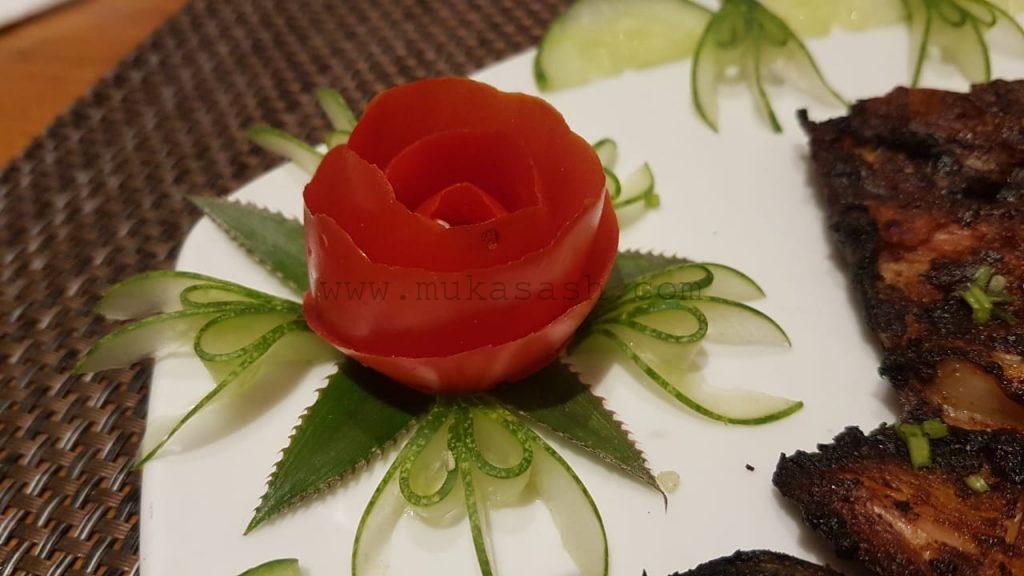 Now, we could have ordered this without asking for suggestion from the waiter. We basically wanted another Chicken starter, different from what we had initially. After all the explanation, the person suggested Dejaj Meshwi. He assured us it will be different from what we initially had. What we got was almost same as the first one in form, and taste. It tasted good, not denying at all, but would have loved some variety.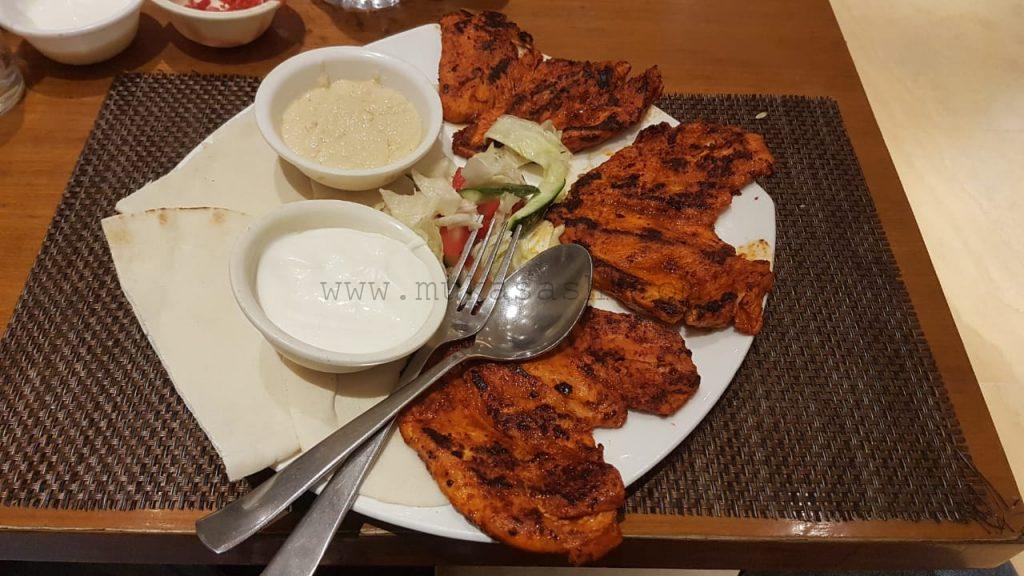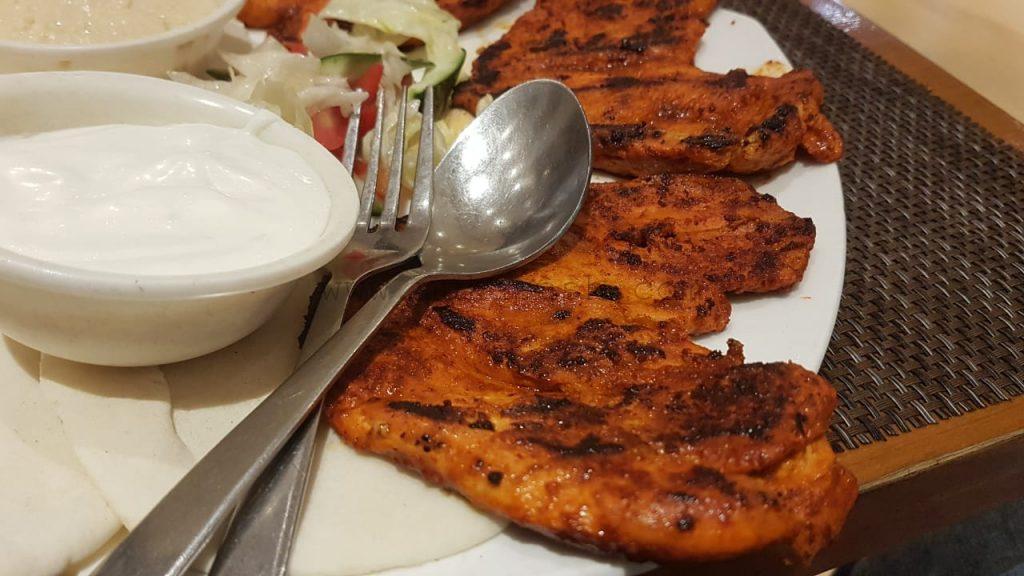 Ordered one portion of Laham Kozi Rice, basically the Arabian pilaf or flavored rice with Meat. It tasted good, and absolutely no complaints. Mutton was very tender and nicely cooked, I was told.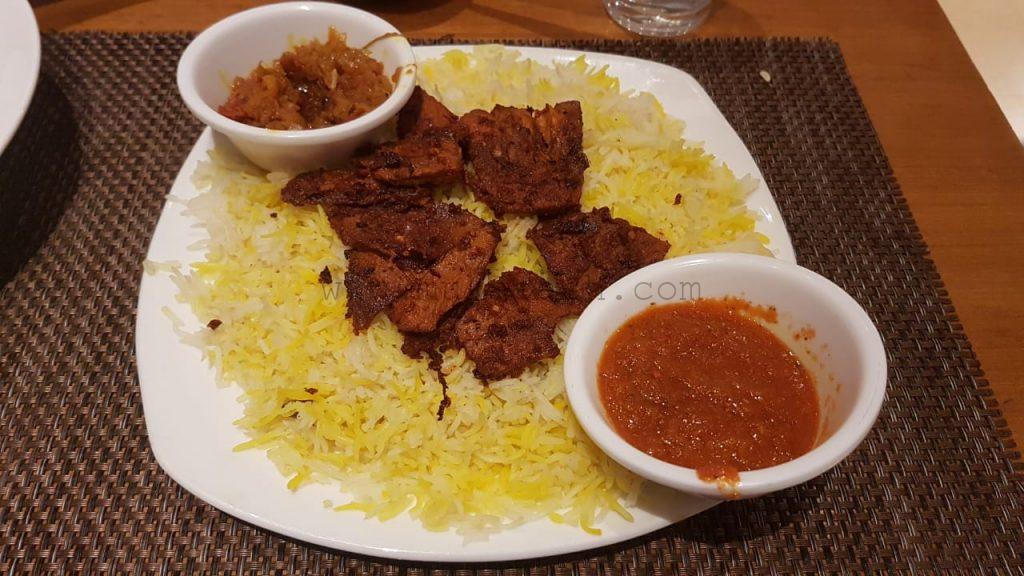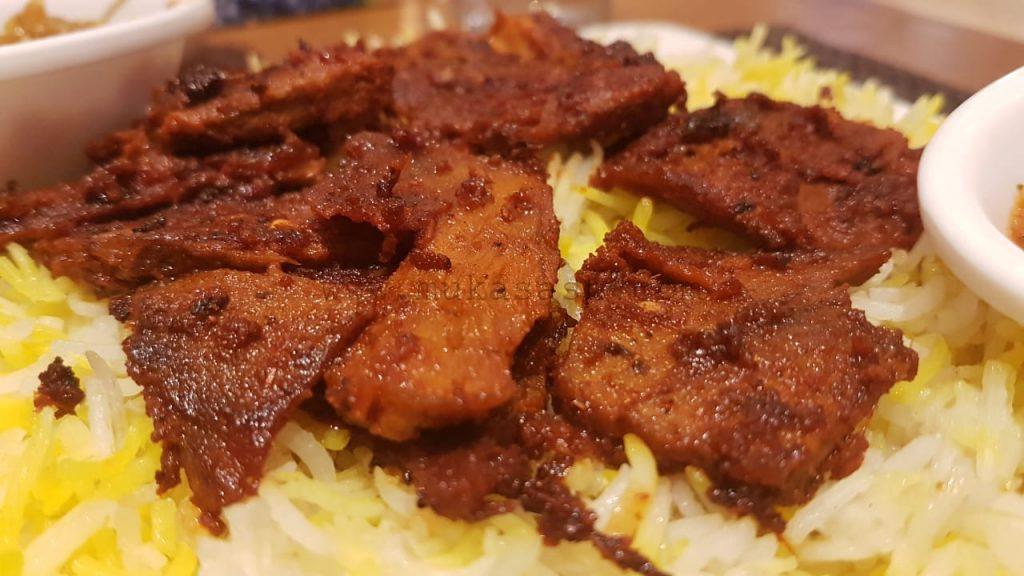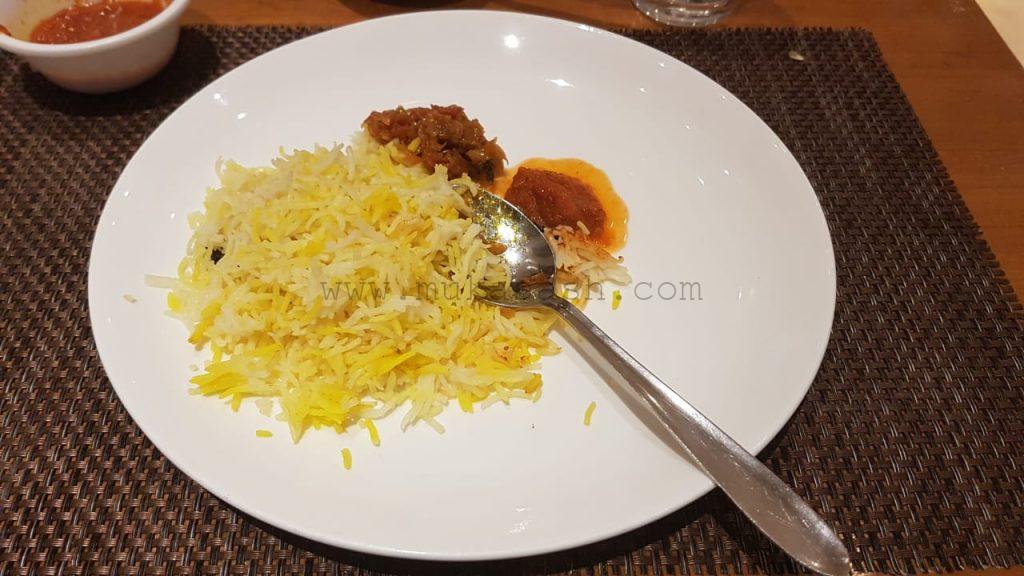 That was the end of main course and we chose Mini Falooda for three of us and a Lime juice for one of us. Falooda was good and so was the Lime juice.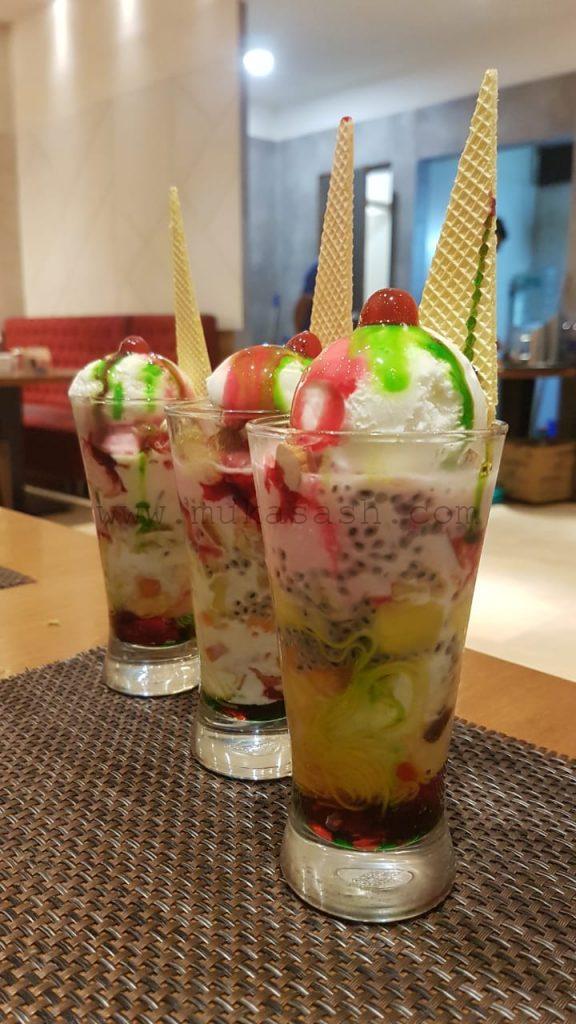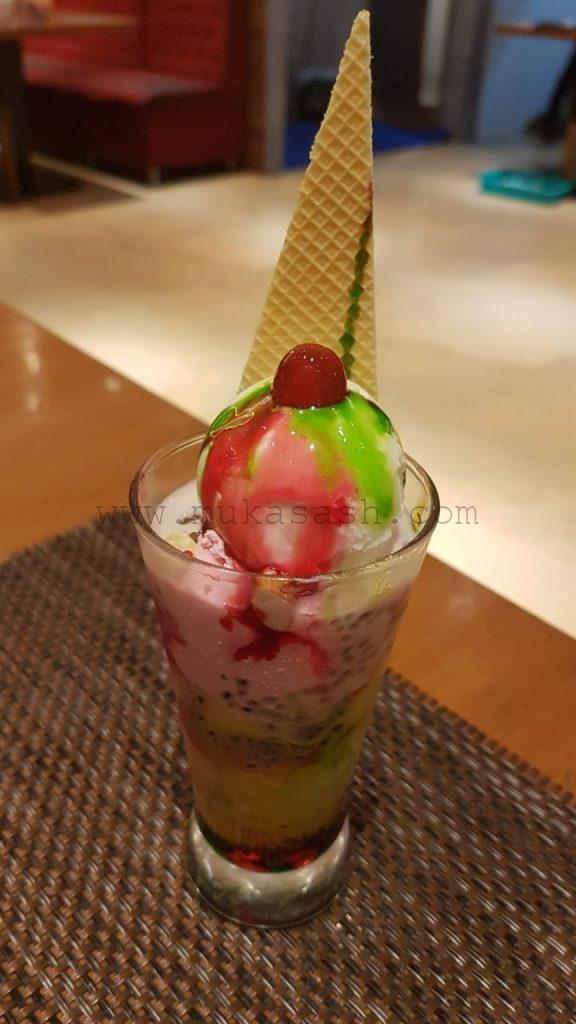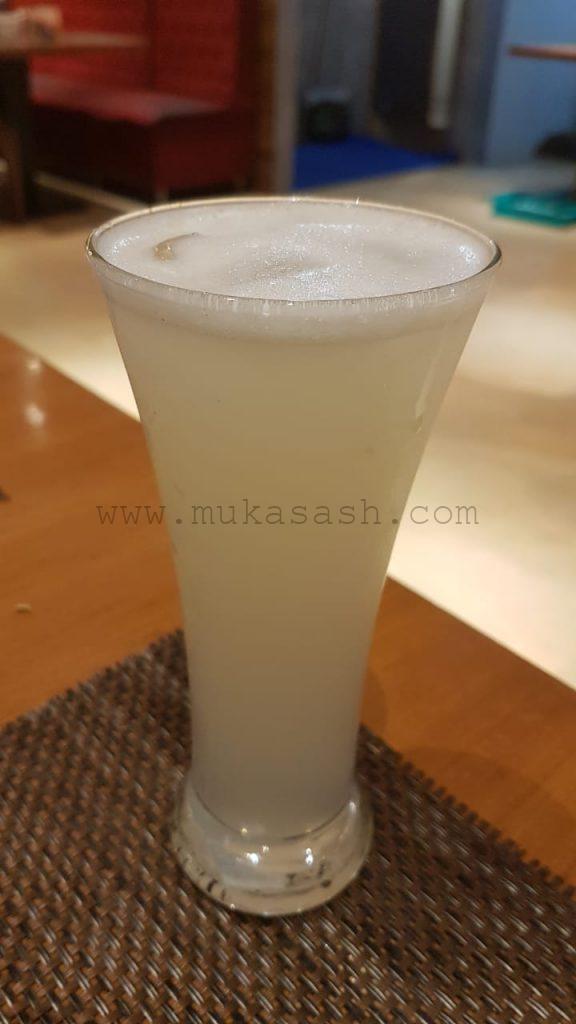 Overall, the dinner was very good. As I said earlier, menu was pretty much what I have had in Savoury Seashell and Zaitoon. Food was tasty, without a doubt, except for one or two small misses. Service was good overall, except for an over-enthusiastic who served me fish in spite of telling him I do not eat fish. It wasn't bad attitude, I am sure, he was just a bit too enthusiastic. So I'm not complaining at all!
We paid 2.8K in all, a very satisfying dinner and Faruuzi is one of the nice places for Arabian non-vegetarian food in and around Chrompet. I'd gladly recommend this place.