Though I have posted this on my Facebook page, this post is primarily to document this wonderful experience on my blog.
A very popular restaurant serving Andhra Meals in the crowded Govindappa Naicken Street in Sowcarpet! Not easy walking through the crowded streets of Sowcarpet, but the love for food made it seem easy! 🙂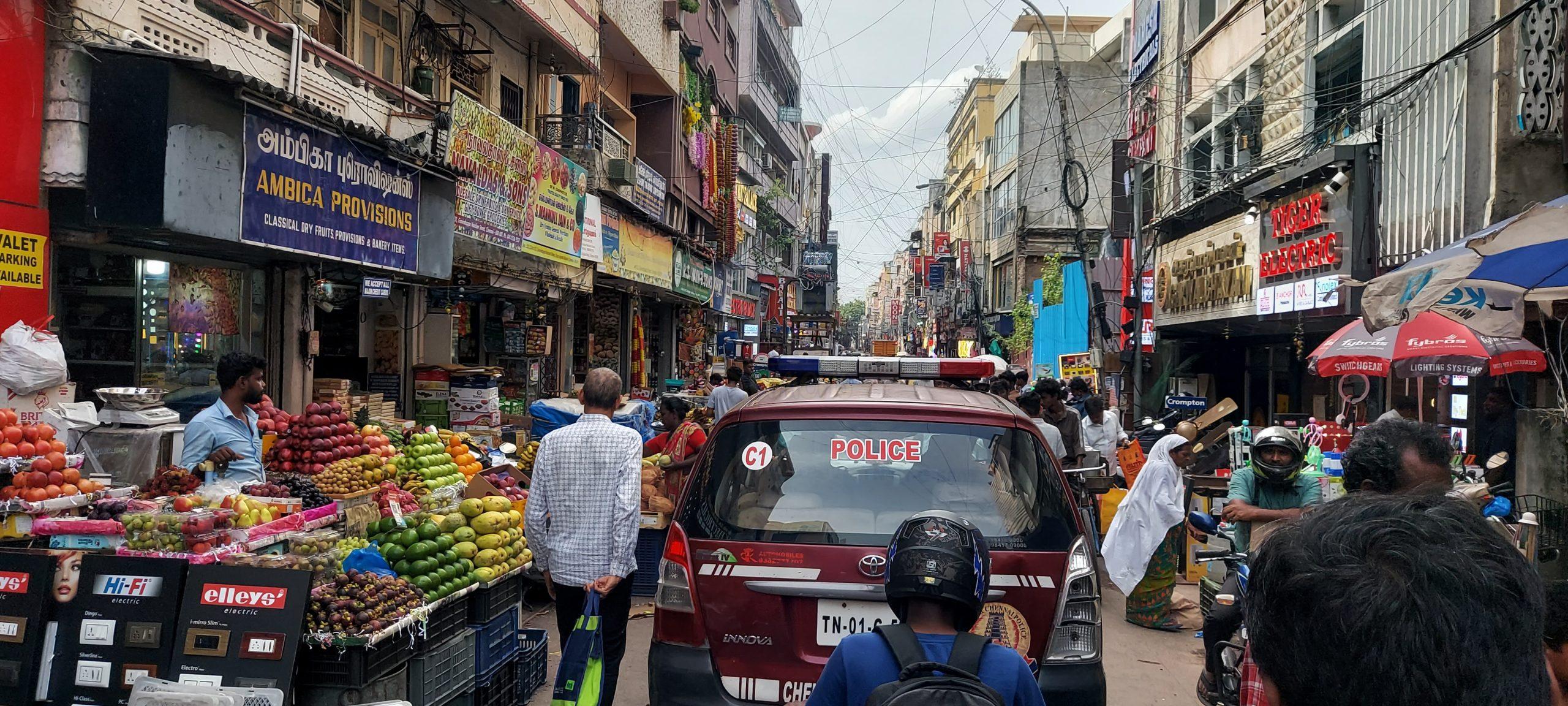 Finally we were there, missed clicking the facade, so here's a picture of the place, courtesy Internet.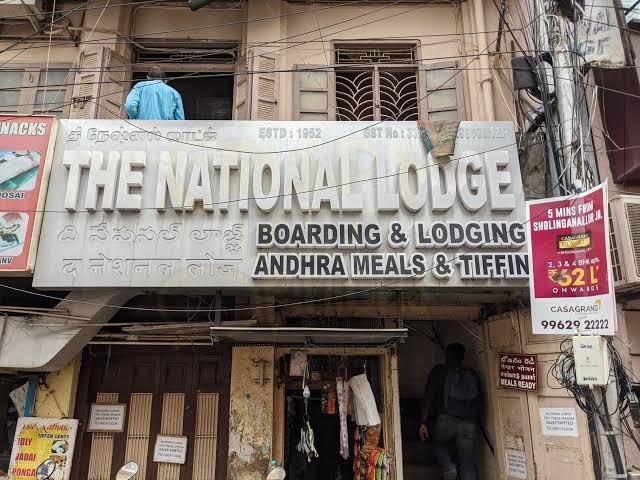 A narrow flight of stairs took us to a crowded counter where you had to purchase a Token for the meal by paying in advance. After a wait of 15 minutes, we got seated in a small room 'B'. It could accommodate 10 pax at a time. There were two dedicated waiters for that room.
Your token is placed on the table reserved for you.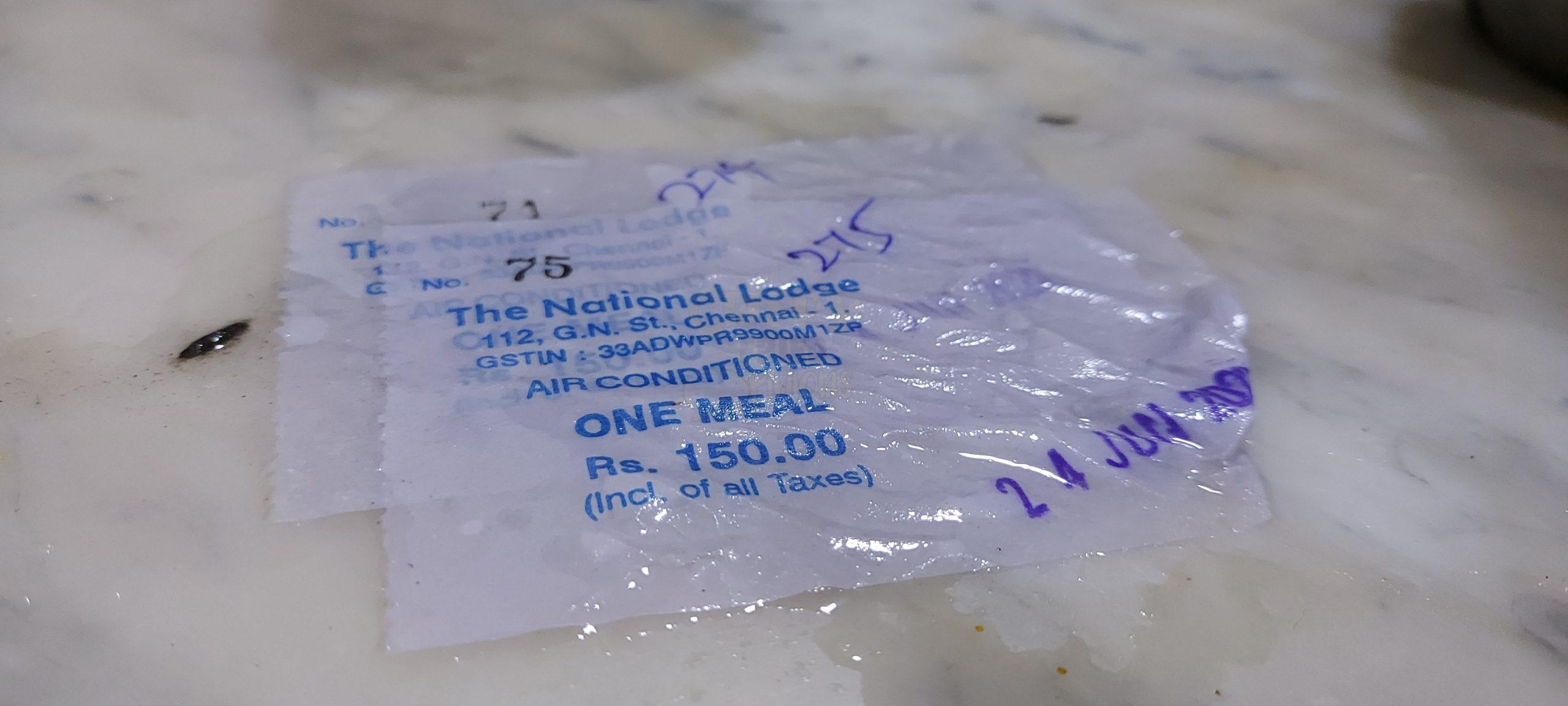 More often than not, a nice plantain leaf is an indicator of good things to follow.
We got these tasty items served one after another – Aavakaaya, Gongura, Tomato pappu, Potato Curry, Raita, Pineapple, kesari, Appadam, majjiga Mirapakaya and Perugu (curds).
That's when the hero of the meal arrived! Rice with Podi and Ghee! Along with tomato pappu, it was brilliant! Mind you, If you have missed this, you have missed a very important part of the meal.
I couldn't ignore Gongura, mixed it with rice and ullipaya, loved it. Aavakaaya with rice followed! Loved everything so far.
Moved on to Majjigapulusu and Kaara Kuzhambu (a more authentic Telugu name would have been great) with a repeat of Appadam and Potato Curry! Had to give Pulusu and Chaaru a miss! Ended the meal with rice and perugu along with the majjiga Mirapakaya.
Kesari was okay, perhaps the only okay-ish dish in the entire meal. No complaints though!
150 bucks for an unlimited meal, and it is very reasonable for what we ate. Overall, a very satisfying lunch and a good outing with a friend! I had a brief chat with the owner and got to know that five generations of their family have been involved in managing this restaurant! It is still so popular because of one reason, food!
If you cannot climb stairs, please ignore this place, it is not for you. Extremely hungry, look elsewhere. The place will be crowded and there will most certainly be a wait time. Do not expect a hi-fi ambience, it will be a normal place. AC makes it very comfortable to dine in spite of the Summer heat. One thing you can be assured of, good food! I'd recommend this place without a second thought.