A place I have been longing to visit right from the time they opened in Chennai! I haven't been to their Pondicherry outlet, so I was all the more eager to try. Finally managed to take my family for breakfast, and I have to say it was a huge expectation mismatch, I'll tell you why!
I clearly knew where the restaurant was located, so we reached without any problem. When you enter into Cenatoph Road from Anna Salai, you have to take the left just before the flyover starts. It was the same place where the restaurant Bharat Bistro was located earlier. They have valet parking, and that was convenient.
We entered into a bright and well-lit place, a store in the ground floor and a cafe on the first floor. The pleasant aroma of baked goodies and freshly brewed coffee hit us as soon as we opened the door! The goodies for takeaway looked absolutely stunning! So fresh, and so wonderful!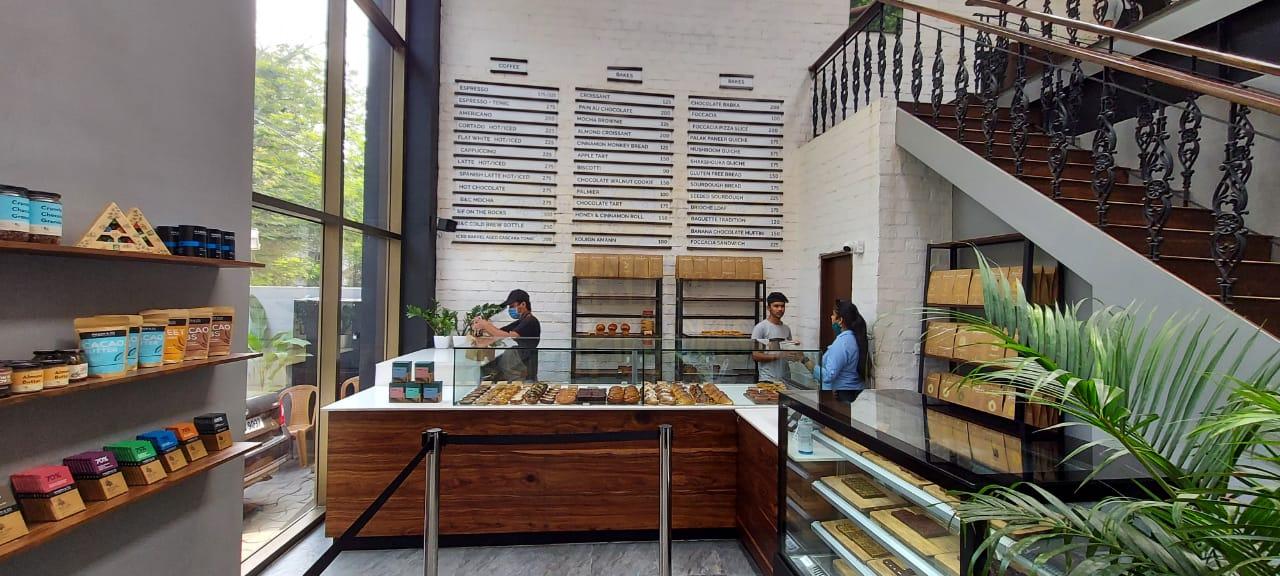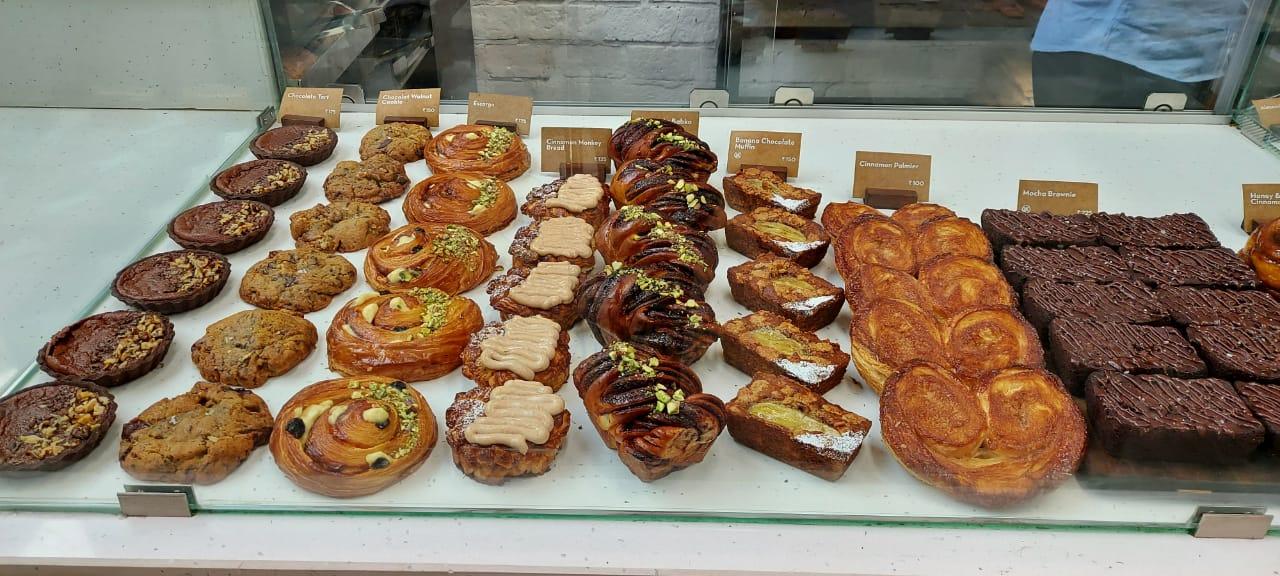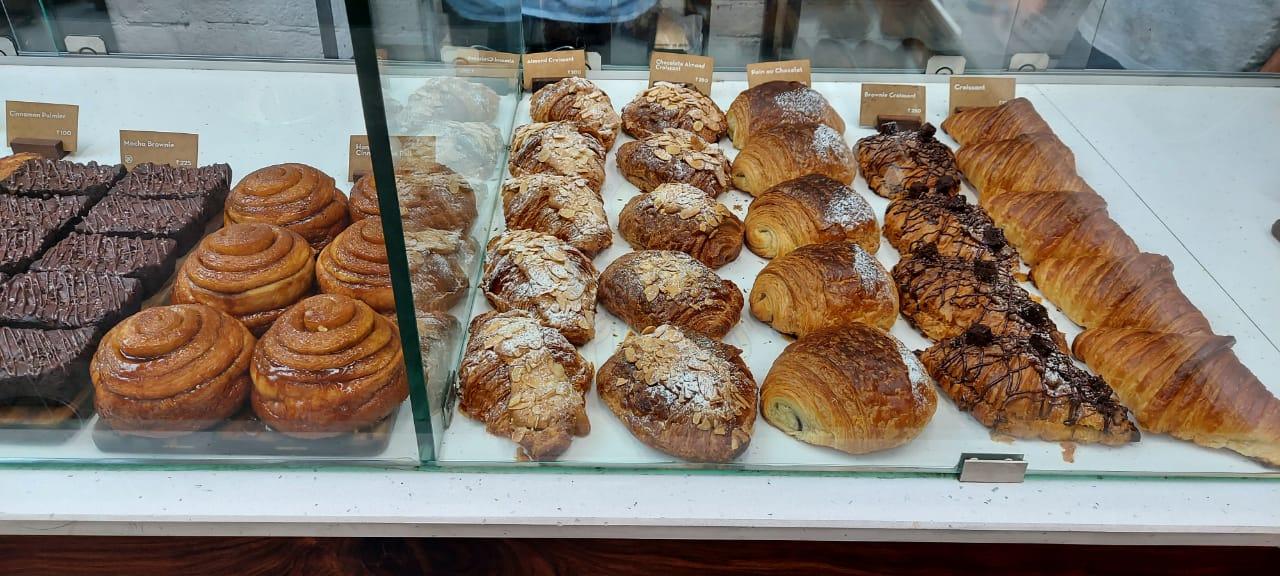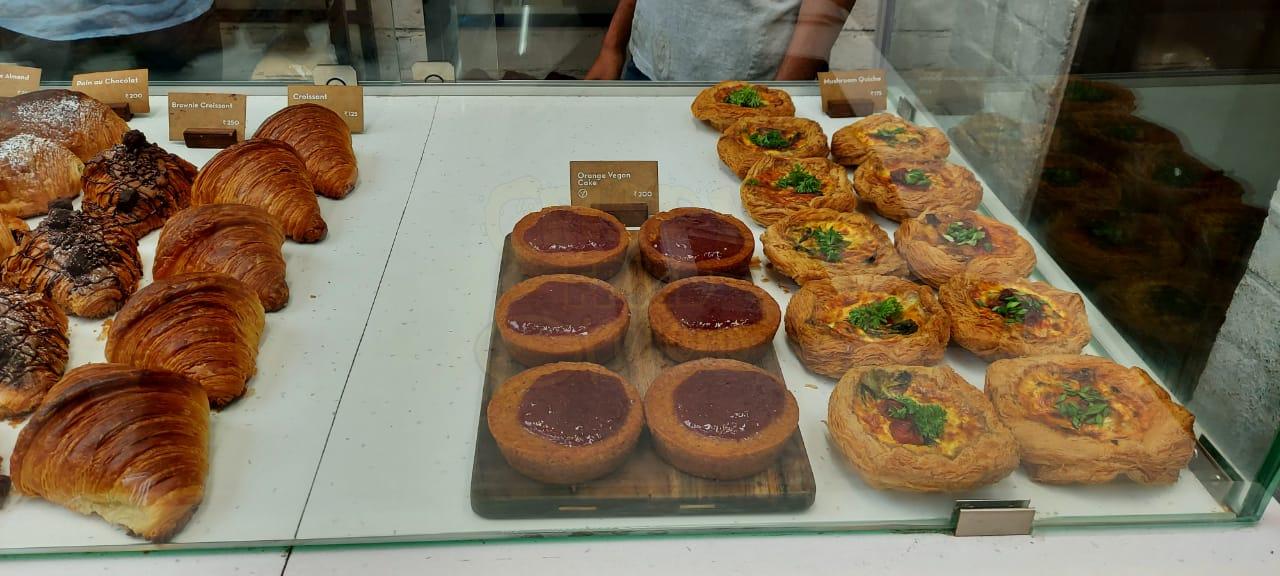 We climbed one floor up to the cafe, and it was almost a packed house at 9AM. Lucky to get a four-seater table right away without a wait. It was not the best of the seats as it was a bit too cramped with the next table, but we decided to adjust as we didn't want to wait. After a brief look at the menu, we were ready to order. We were quite hungry and were in no mood for just a croissant and coffee, or just a sandwich. Decided to order something filling from the plates and bowls section of the menu. The description on the menu seemed quite catchy!
Ordered an Americano, and asked them to serve it immediately as food would take some time to arrive. It was absolutely wonderful! That coffee machine dished out a perfectly brewed coffee!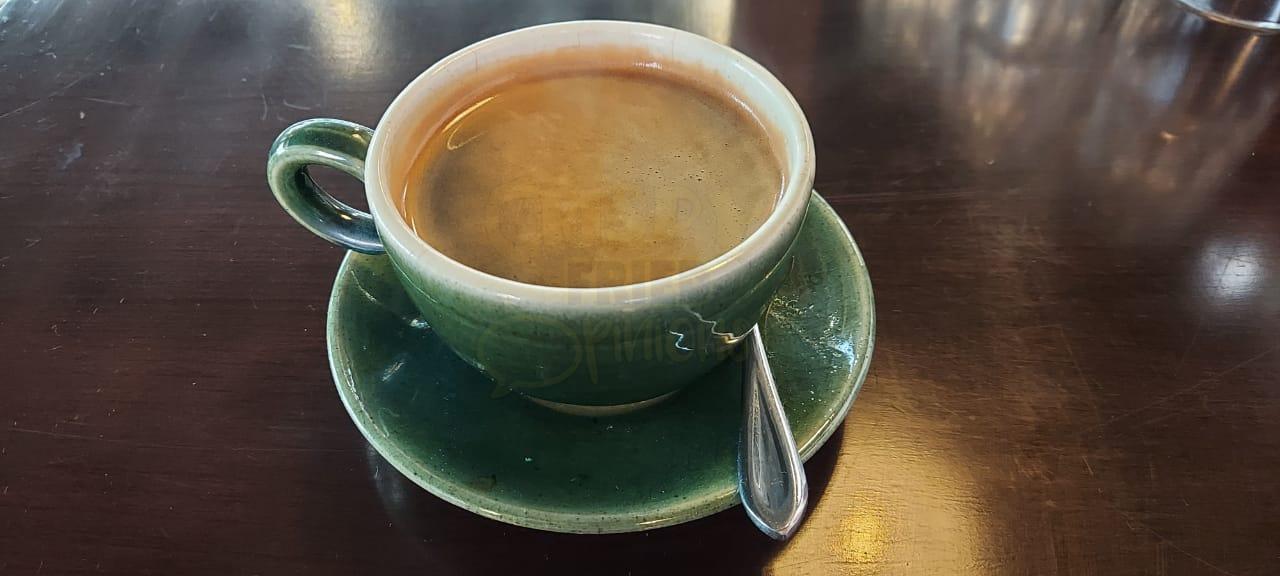 Food arrived in reasonable time and it was actually well plated, and colorful. The place had good diffused light, I was hoping I'd get some decent clicks of food too.
Breakfast Hash – Curry leaf roasted potato and pumpkin hash, fried eggs, Turkish yoghurt, dressed greens, sourdough toast and extra virgin olive oil.
Sourdough bread was wonderful, one of the best I've had. Fried eggs were good, I've started to like slightly runny eggs. Earlier, I would have explicitly mentioned to cook it well. Turkish yoghurt was decent. Didn't find anything special about the potato and pumpkin hash, it was just okay. Not a big fan of salad greens, it was a bit too much for me. I felt this plate wasn't very filling, at least not when I'm hungry.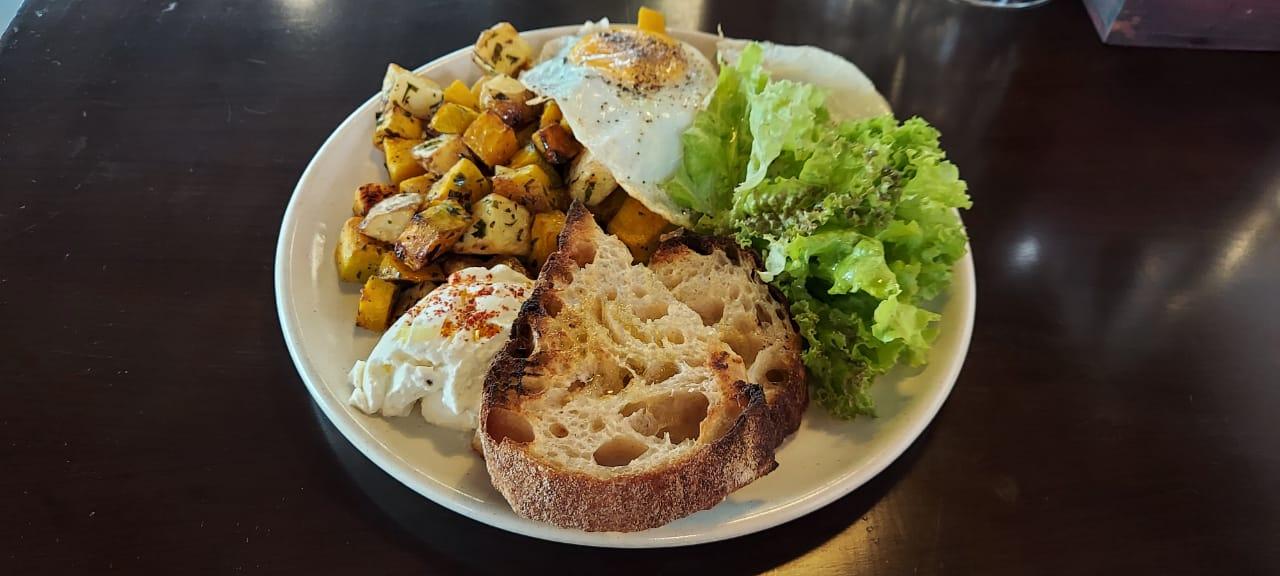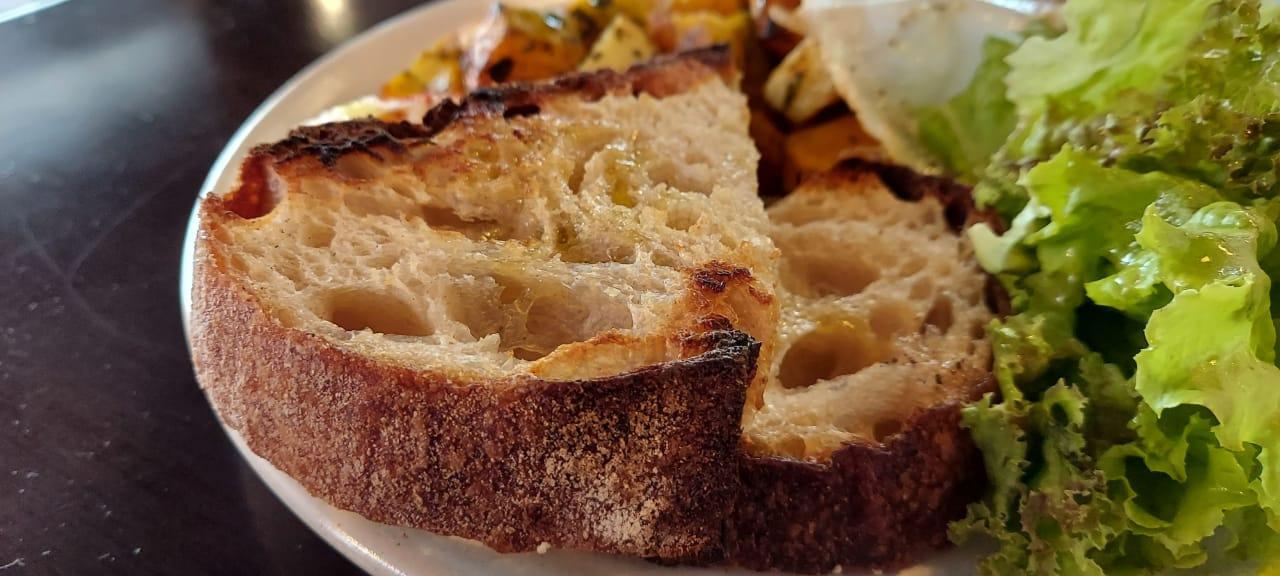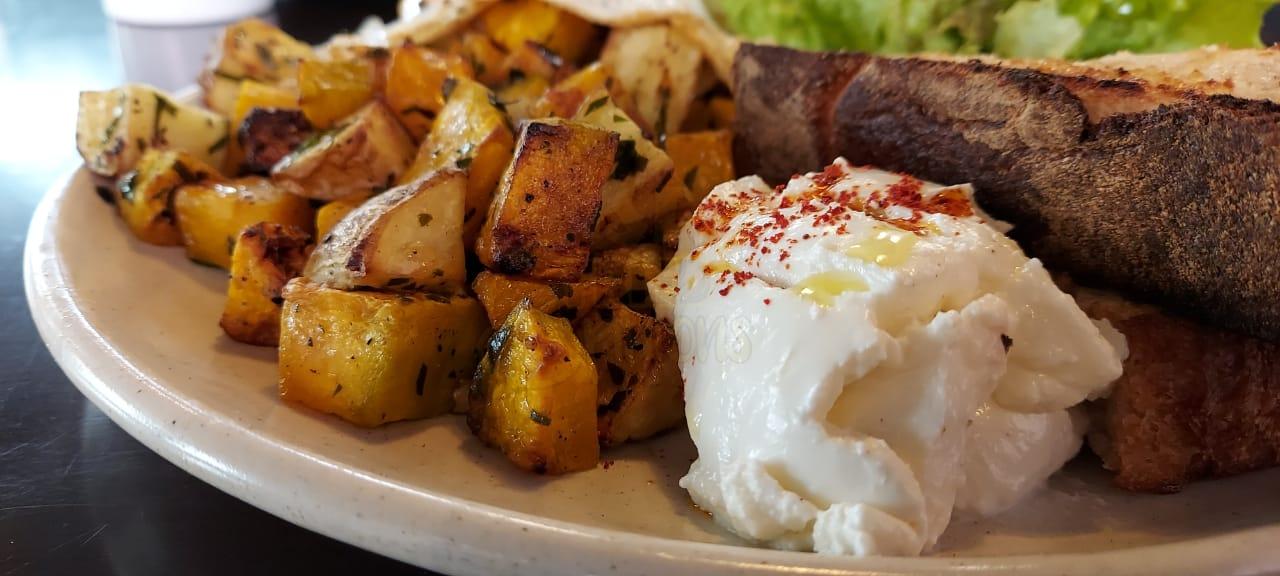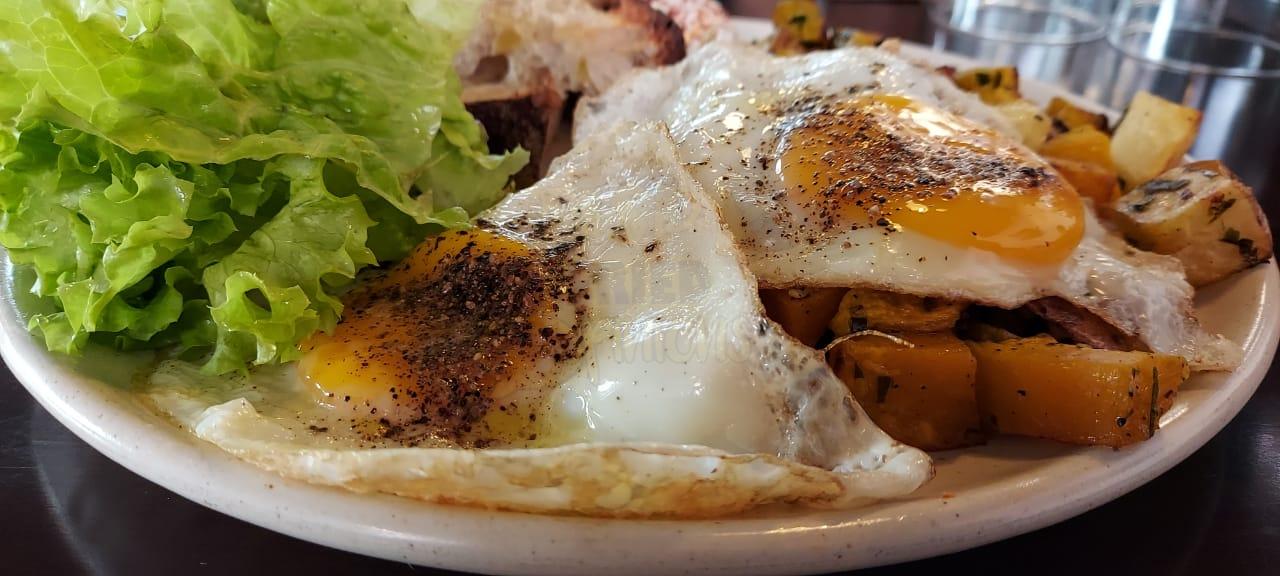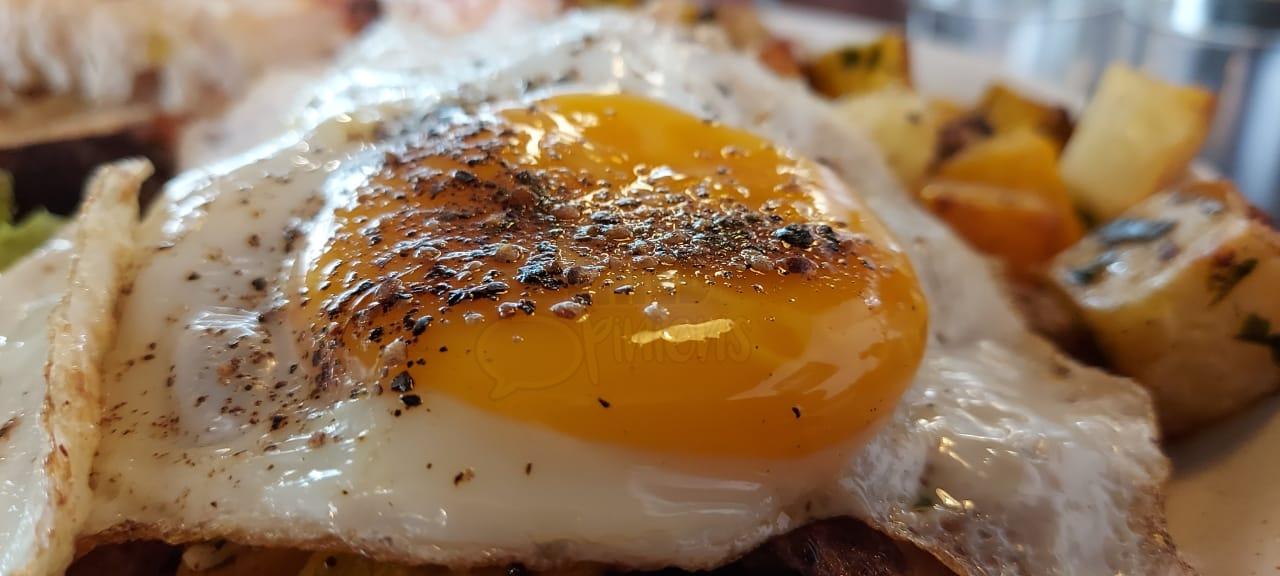 Mezze Platter – Fresh Pita, Beet lentil hummus, spicy Tahini sauce, quinoa tabbouleh, cucumber tzatziki, roasted veggies, dressed greens, hard cooked egg, caper berries and a fresh carrot salad with roasted nuts and seeds.
This was a riot of colors on the plate! Tasted a little of everything! Pita was good, but the hummus was okayish. I would have liked it better without the beet twist. It just didn't feel like the usual hummus at all. Don't know why, but overall, this felt like a very health conscious plate with taste taking a backseat – Carrot salad, Cucumber tzatziki, grilled veggies – carrot, zucchini, and bell peppers. The quinoa tabbouleh was meh, and again dressed greens!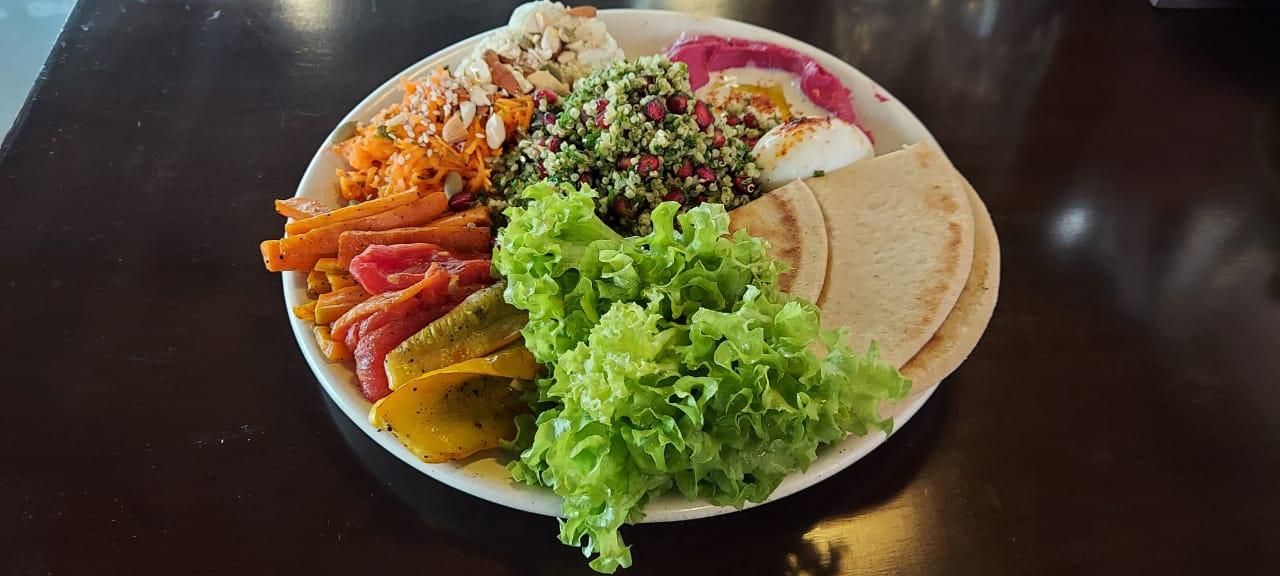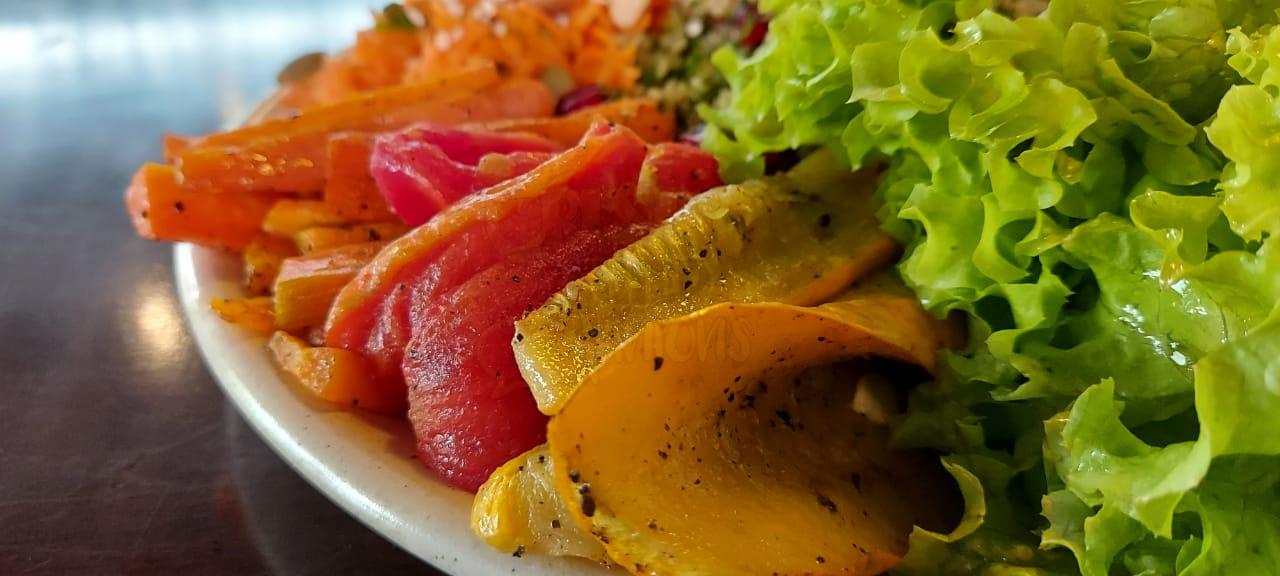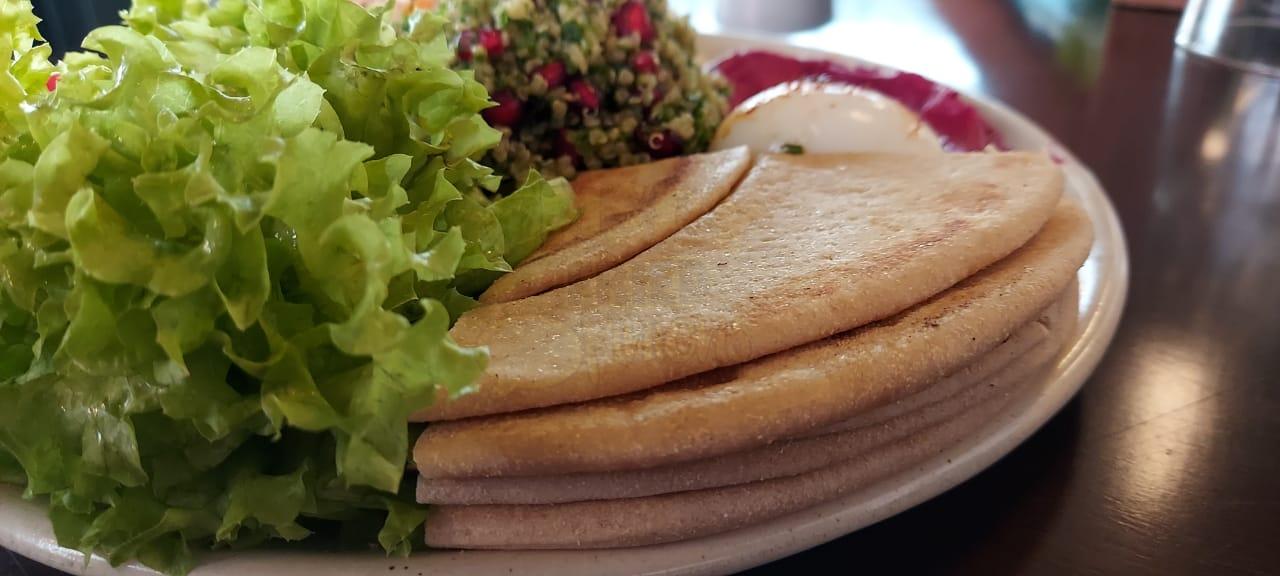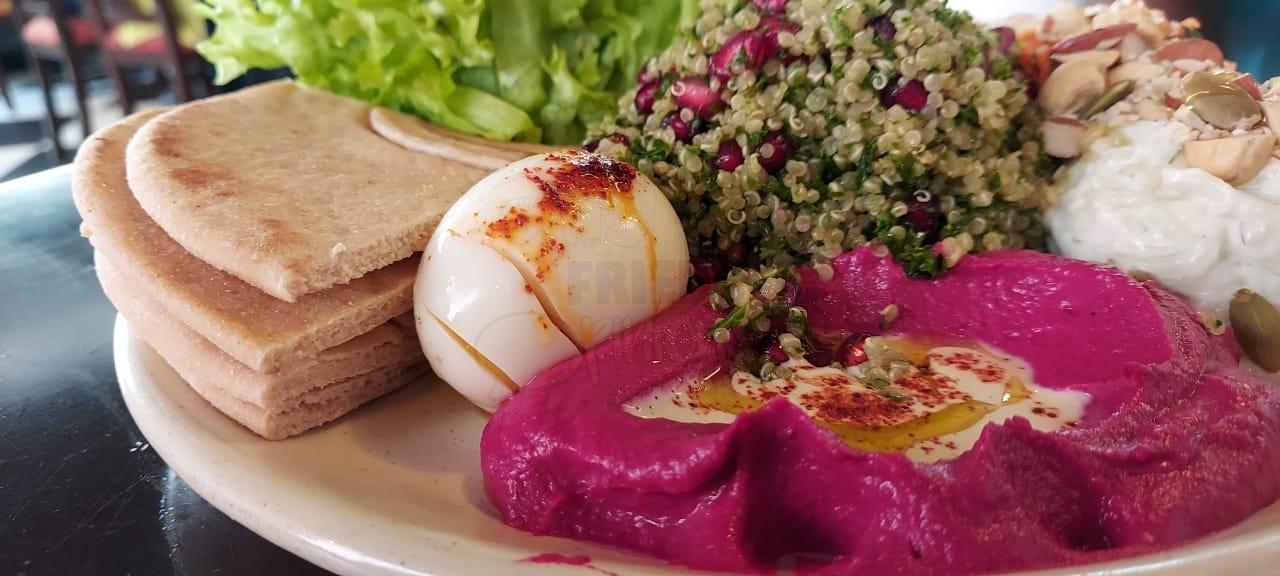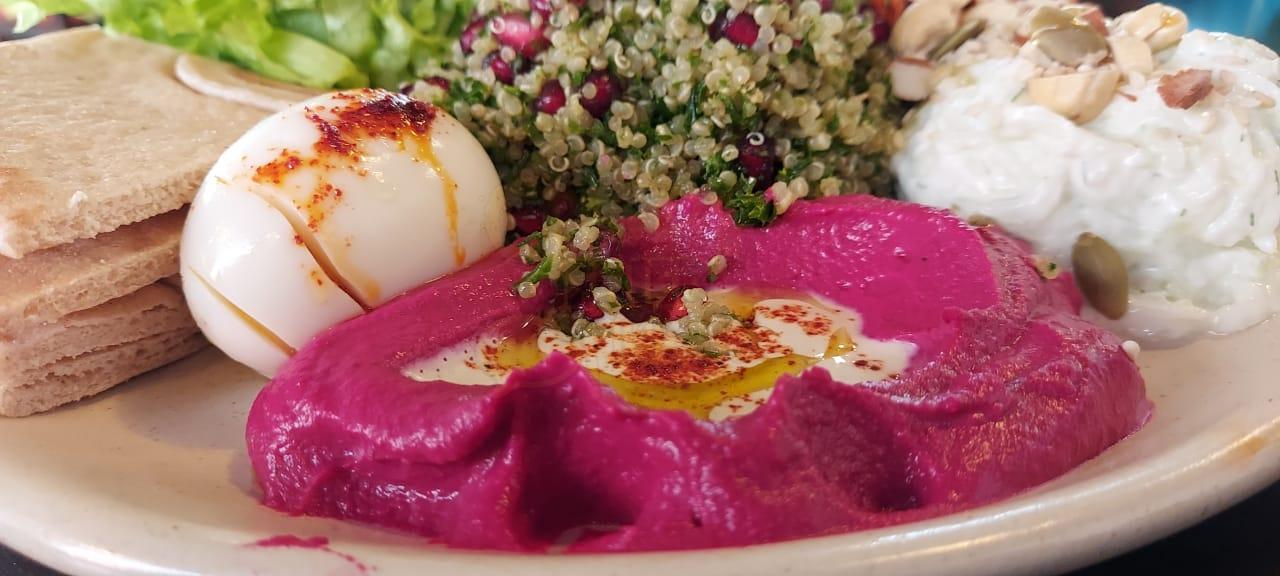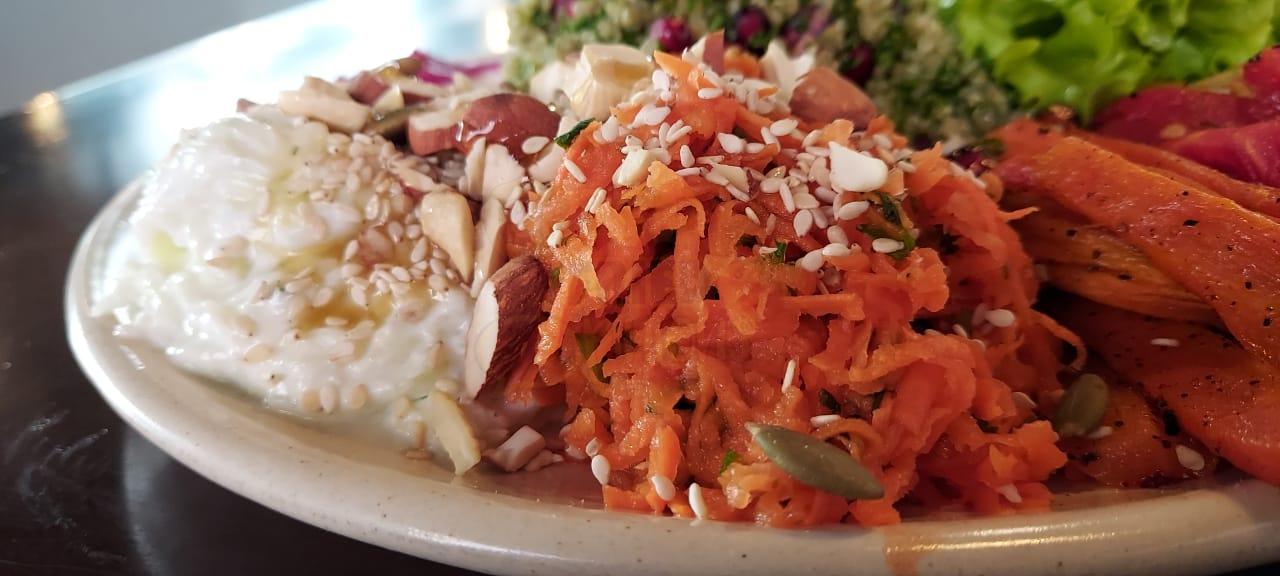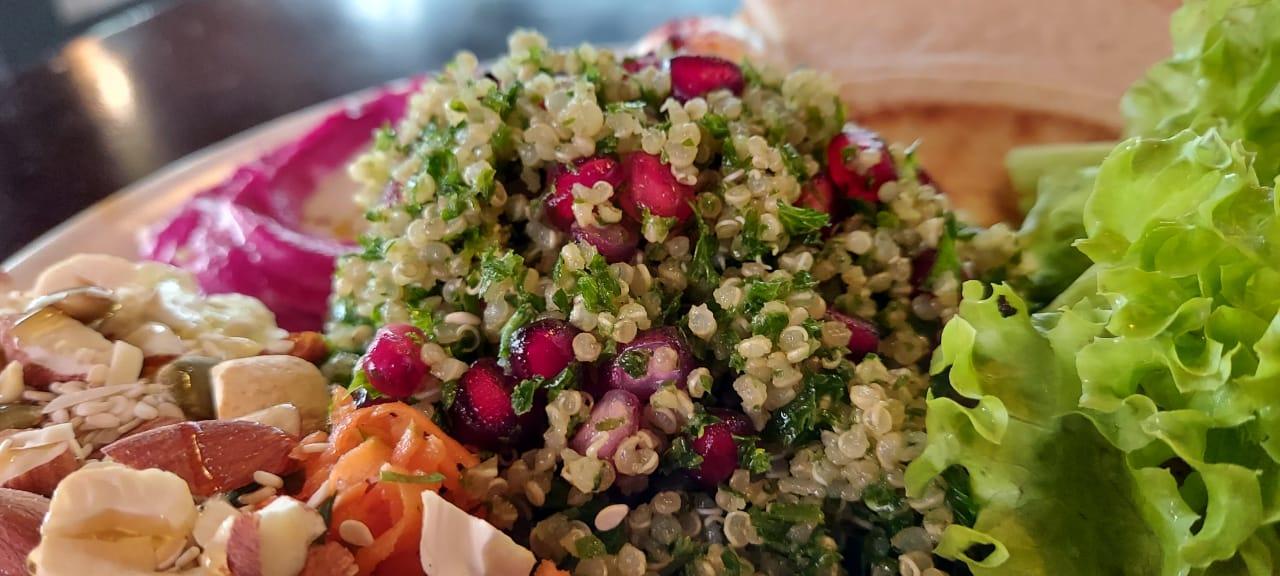 Vegan quinoa and Tofu scramble bowl – Quinoa, Tofu scramble, tomato pesto honey chimichurri and dressed greens.
Tofu scramble on one side, and quinoa on another, it was a hot and cold mix, tasted pretty good, not wow. This could have had a nice accompaniment to make it easier to eat. Dressed greens, again! Wifey managed that pretty well. Didn't see the chimichurri, probably it went into the Tofu scramble.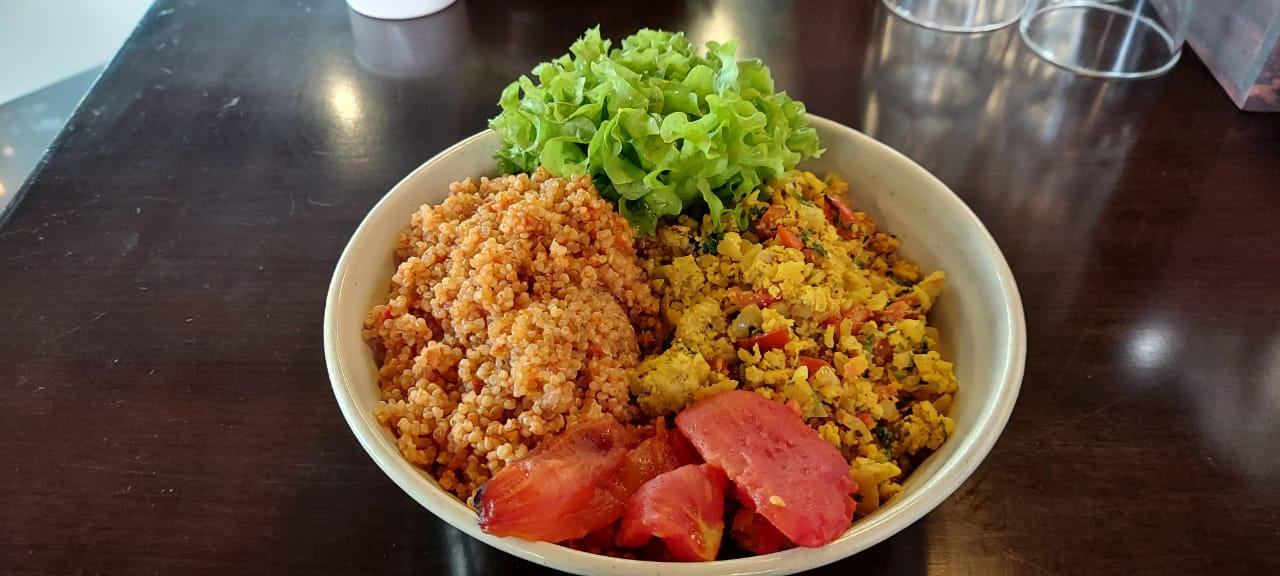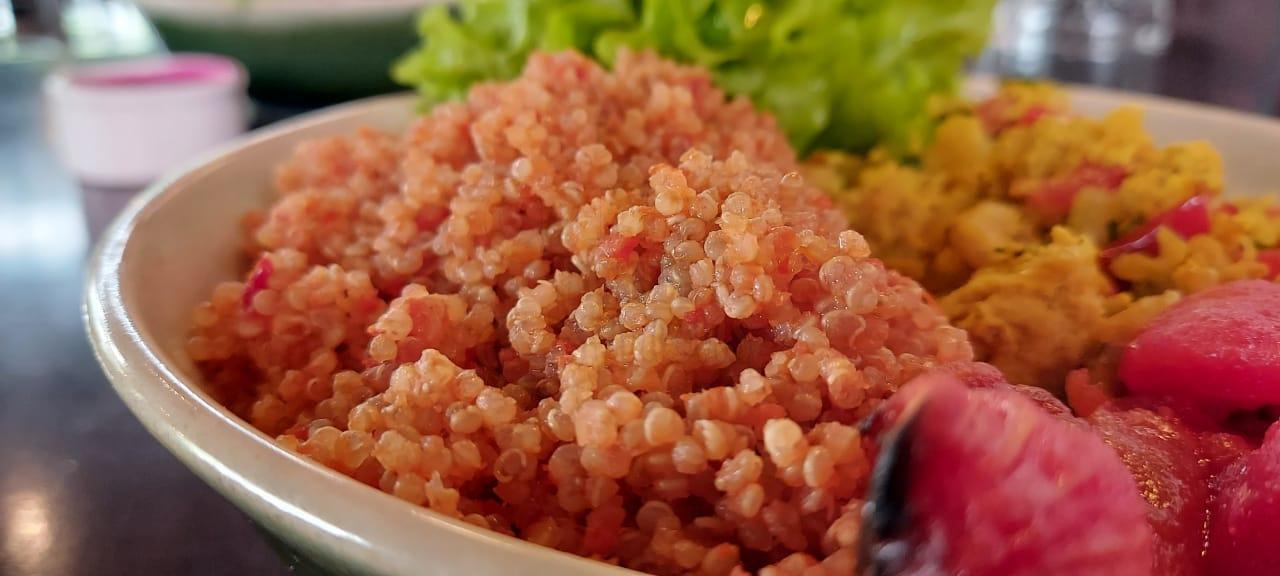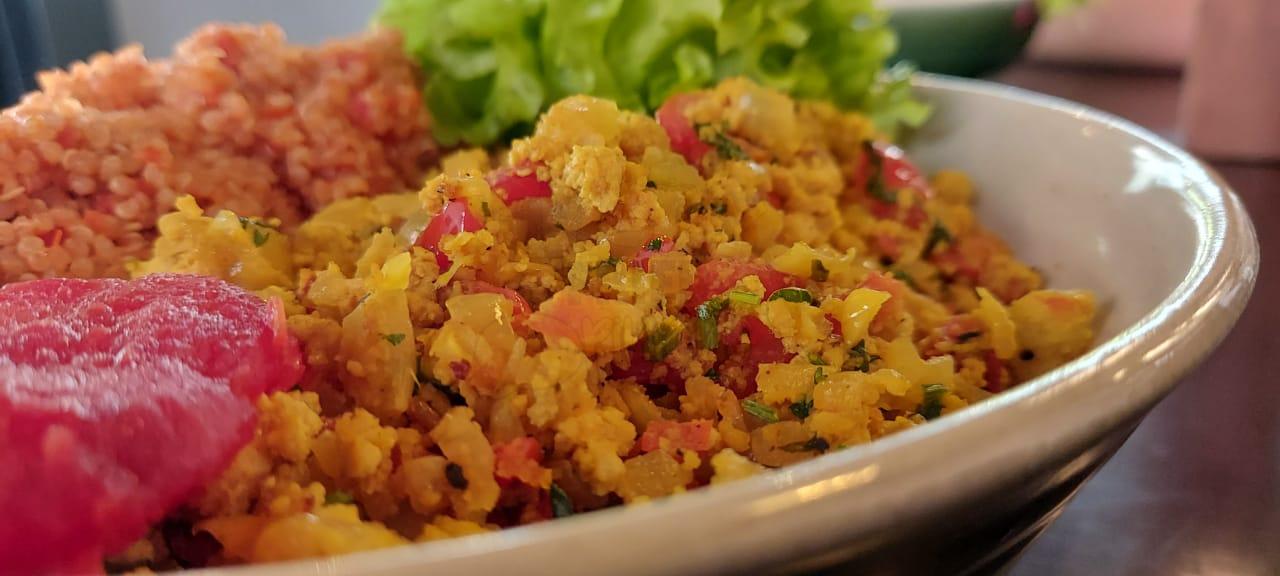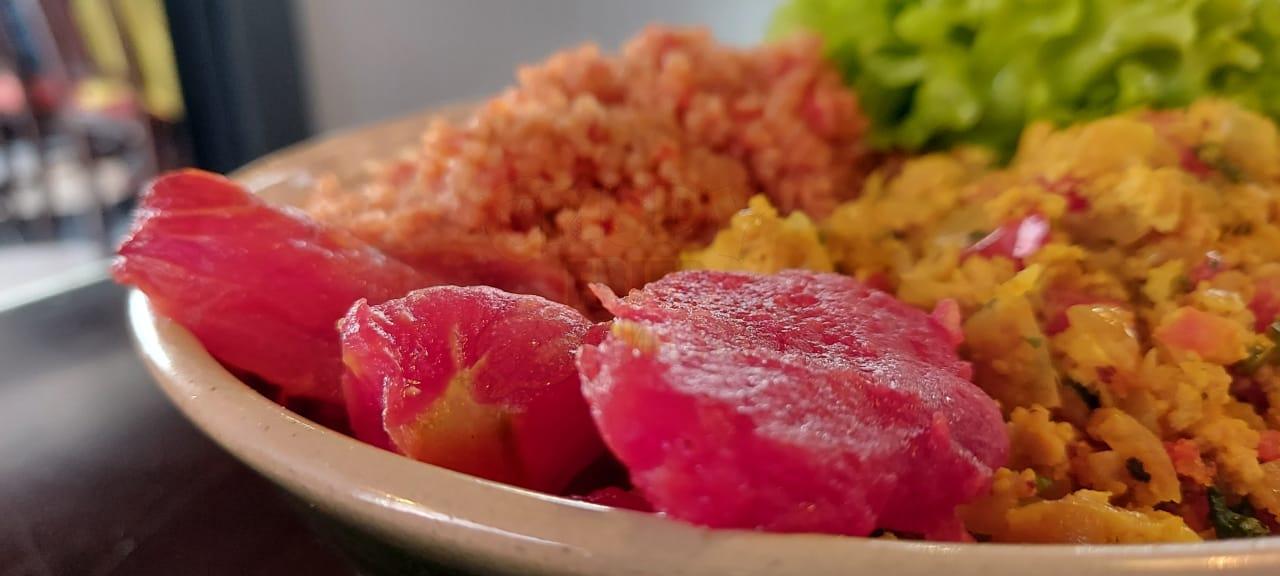 Light and brite bowl (Seemed to be a new addition to their menu) – Can't quite recollect the exact description as it isn't present in their online menu, yet. I think it did say Bocconcini Cheese, marinated onions, dressed greens, and roasted nuts and seeds, probably extra virgin olive oil too.
This was my daughter's order looking at Cheese and Grilled Chicken in the menu description. She wasn't pleased at the first look of it, as it was greens all over the place! Grilled chicken was just okayish, I think it lacked salt. I'm no expert in Cheese, but this was good stuff. Soft and spongy, the closest I can remember is fresh Mozzarella balls I had somewhere. This seemed softer that that though! In spite of consuming the greens now and then, there still was considerable amounts of dressed greens that we decided to let go. The accompaniment along with it was very okayish, didn't like it after a spoon.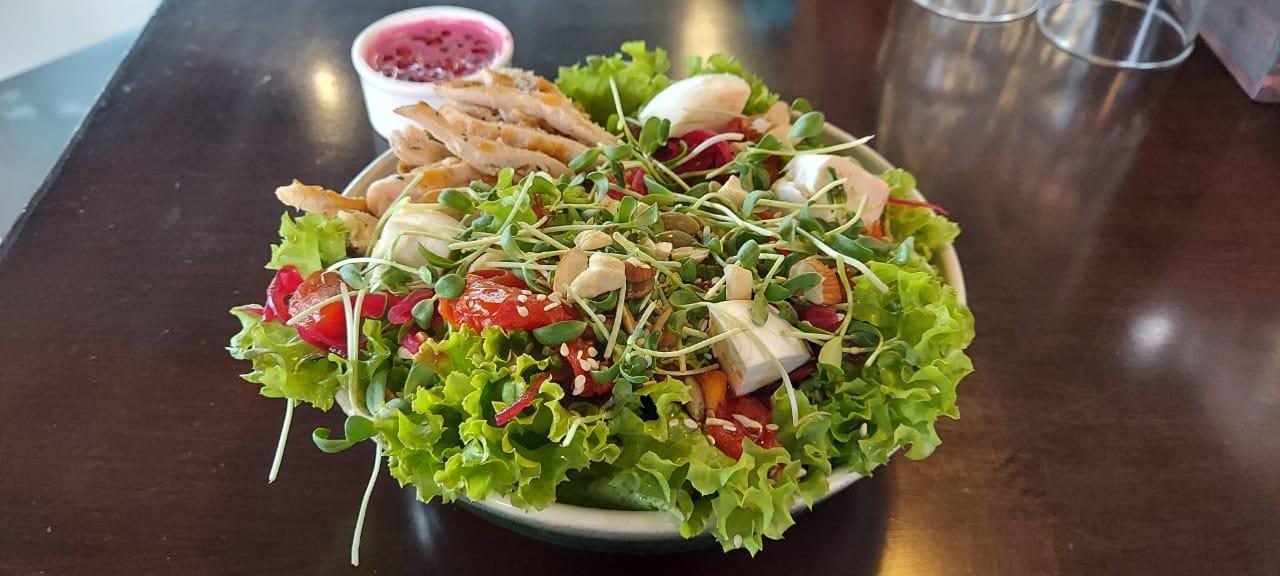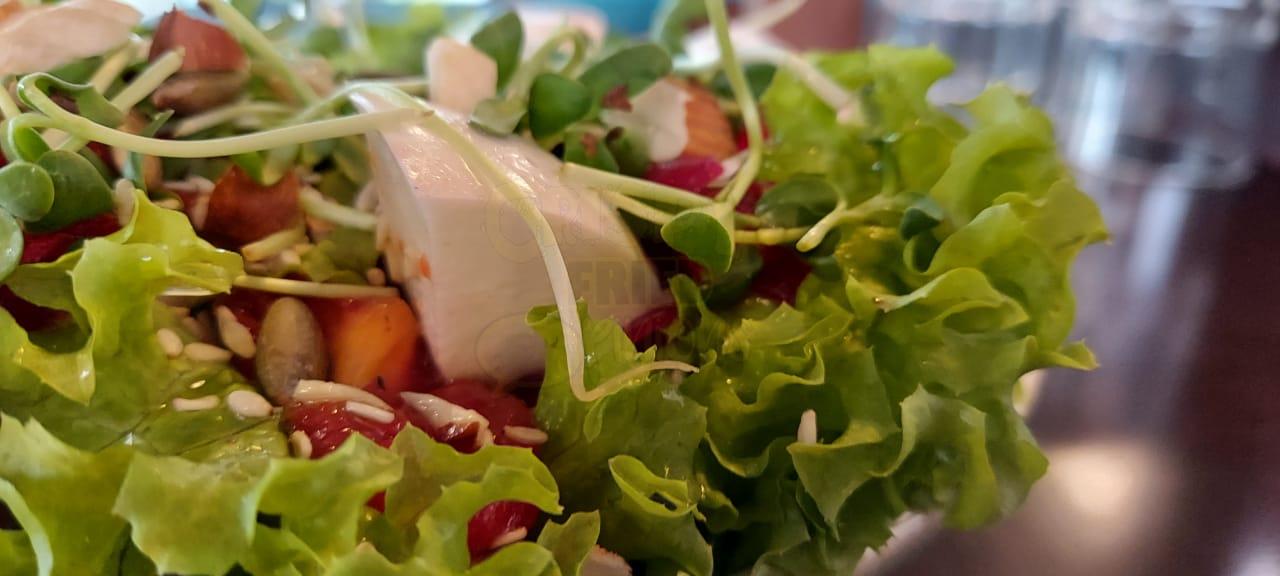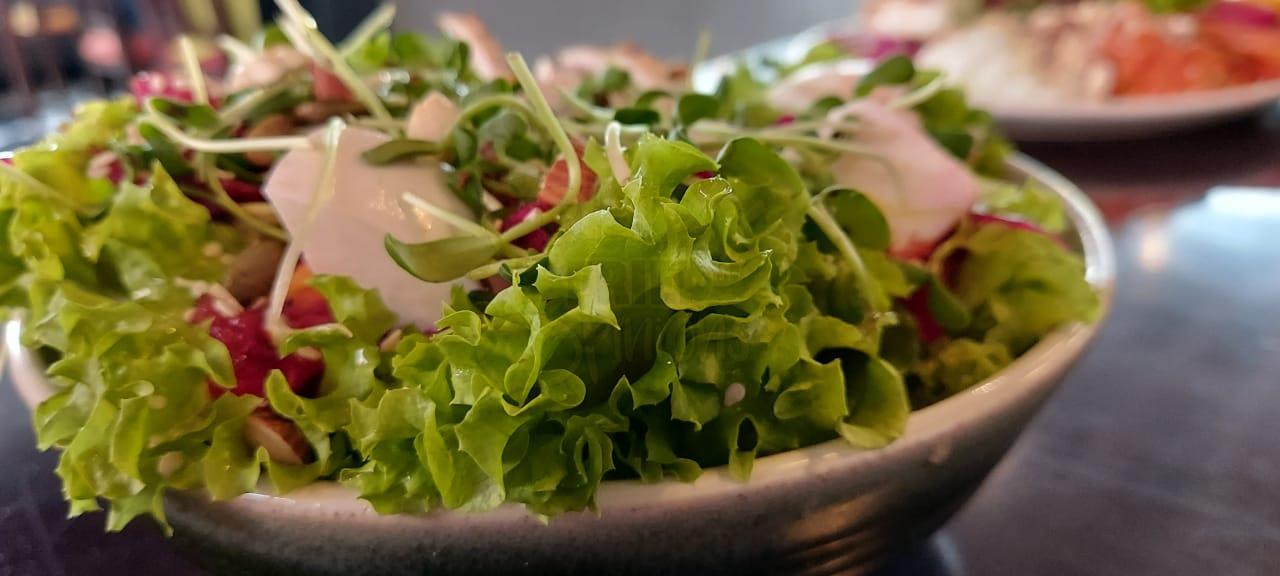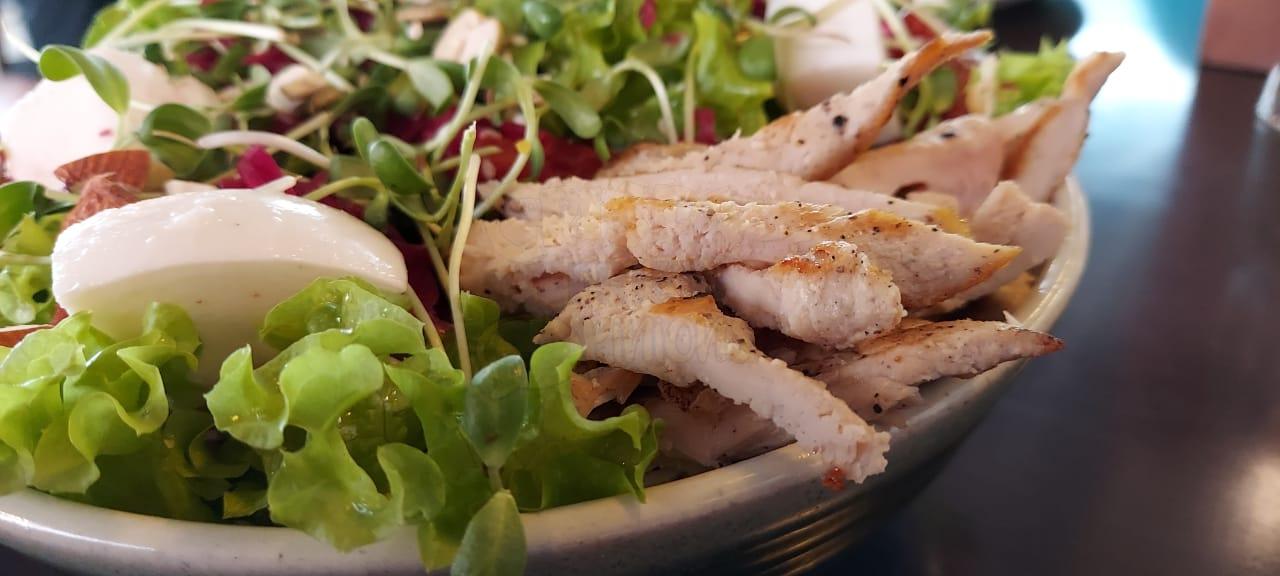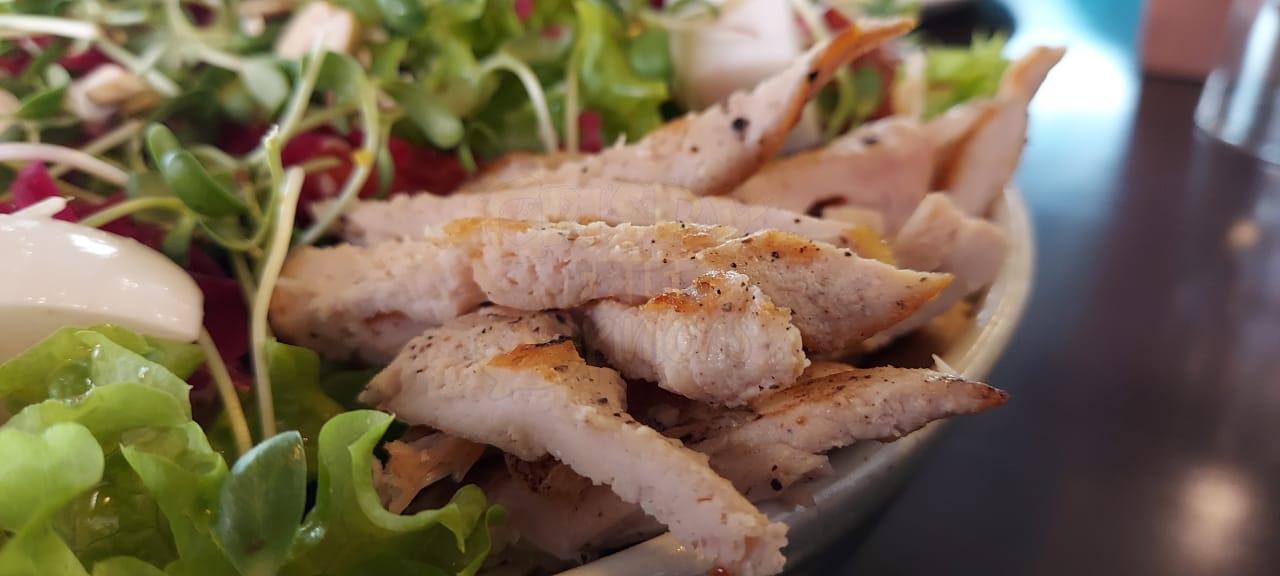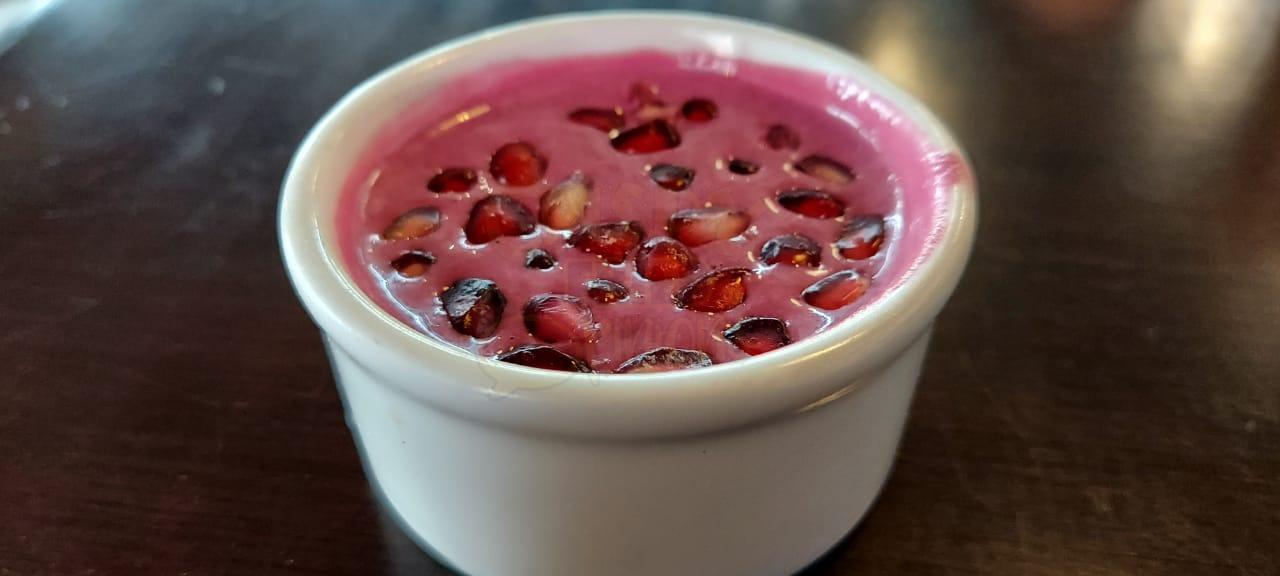 By now, the satisfaction quotient was barely at 50%. Food wasn't bad at all, it was just a huge mismatch in expectation. It felt like we had come to some place focusing more on health than taste. A plate of English or American breakfast would have been bliss, I thought. Retrospectively, we were also thinking if it was just wrong choices from the menu, and we probably should have gone with sourdough toasts, sandwiches, smoothie bowls, and so on.
We decided to quickly grab a couple of goodies from the counter to make things better. We got a Plain Croissant, Brownie Croissant, and a Chocolate Tart. All the three were finger-licking good! The texture of the Plain Croissant was brilliant, son loved it! Daughter was happy with the Brownie Croissant, and Chocolate Tart was wonderful too. Must have been the Dark Chocolate from their own brand. Finally, we managed to up the satisfaction levels, to slightly higher than before.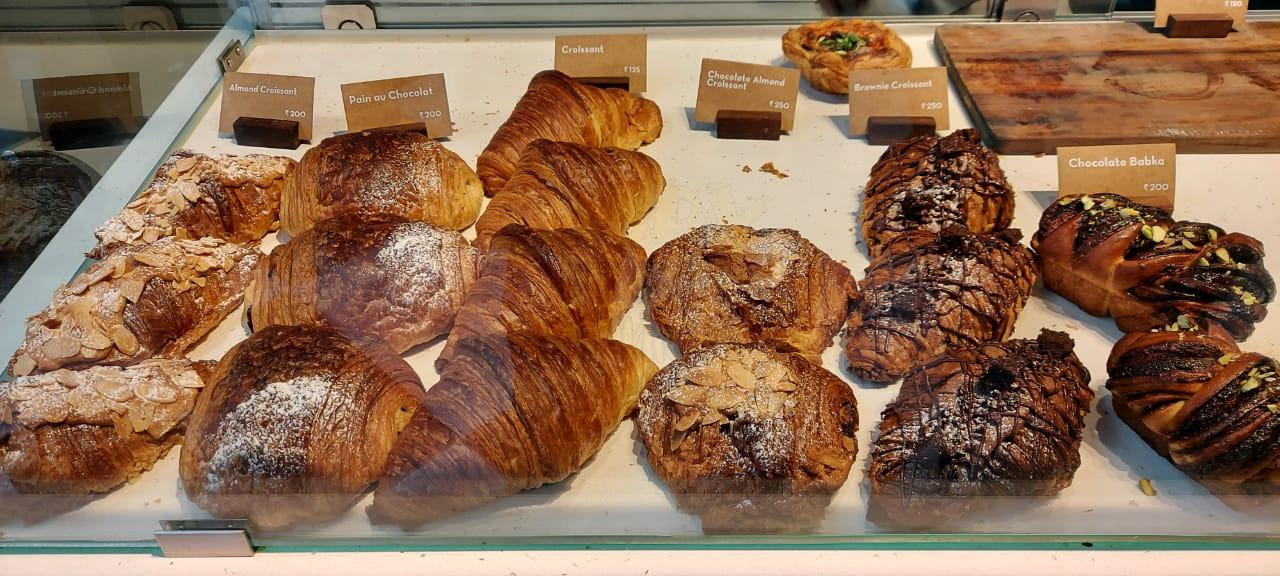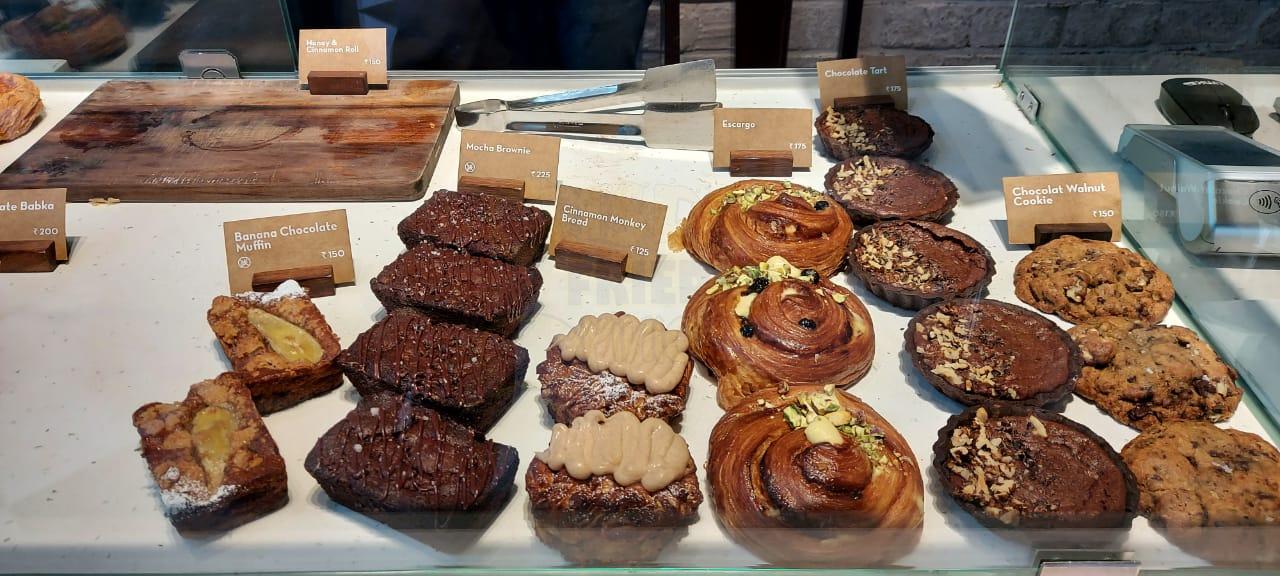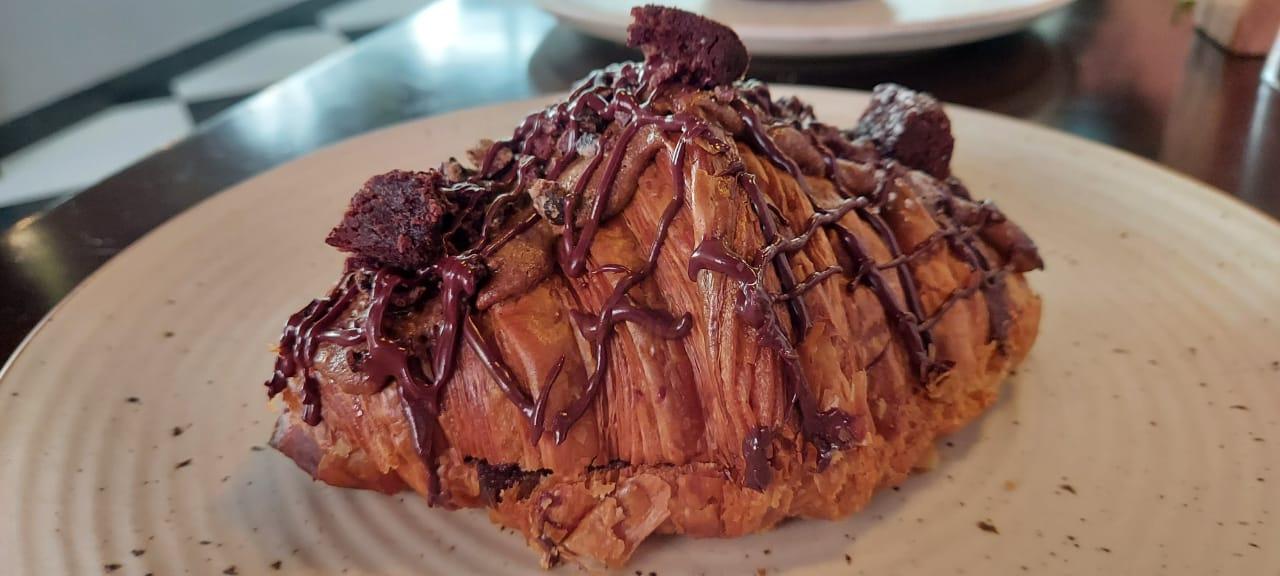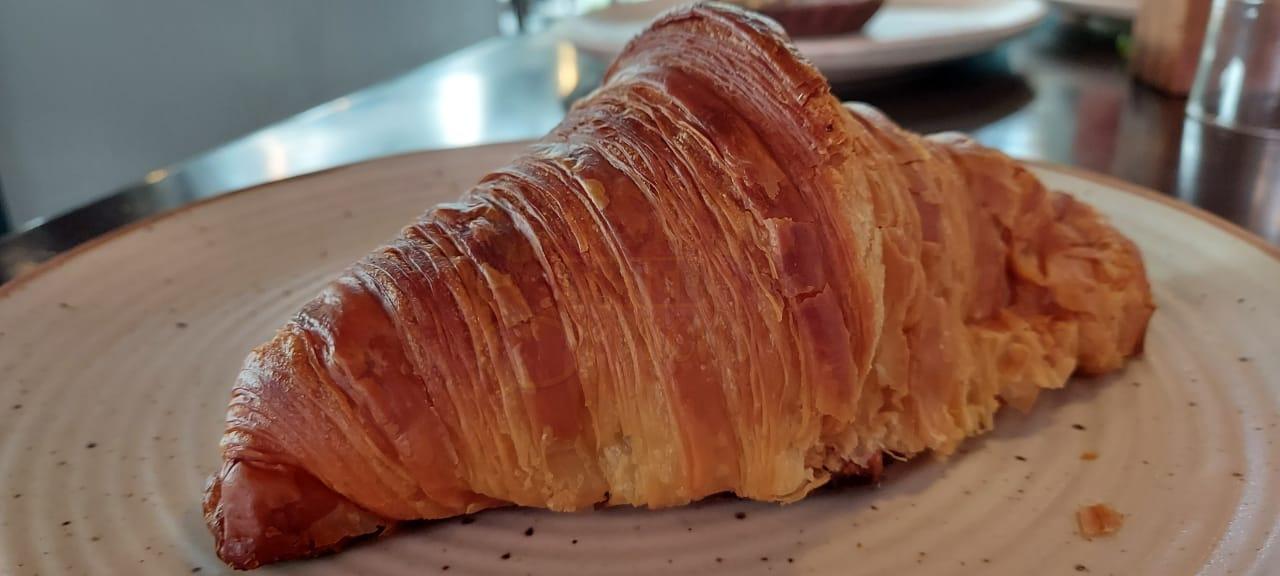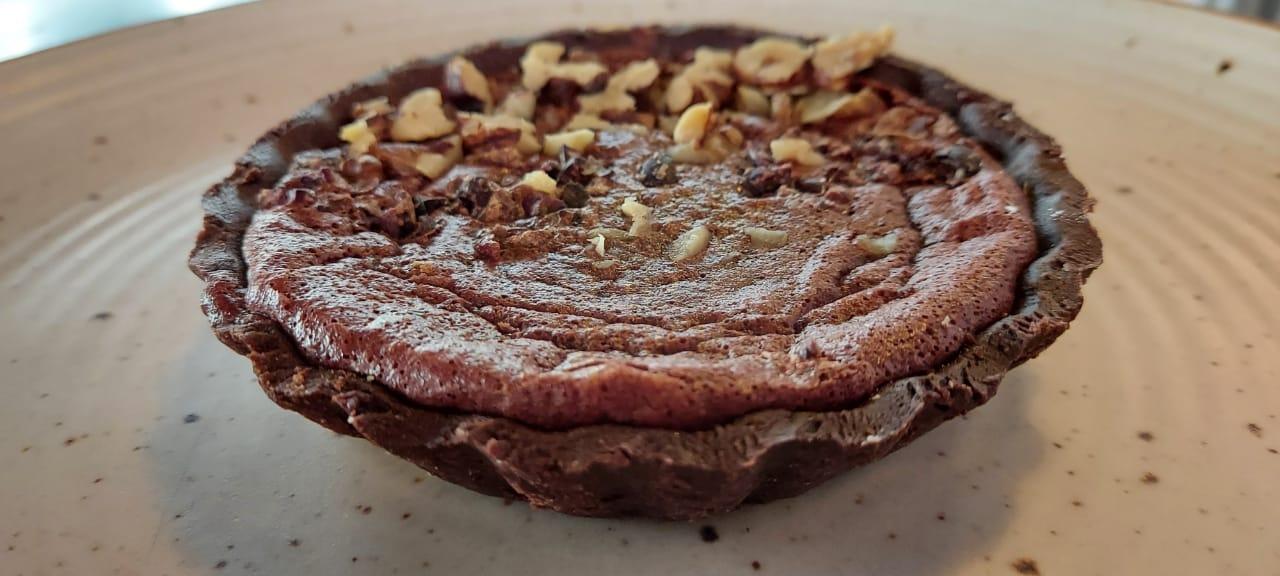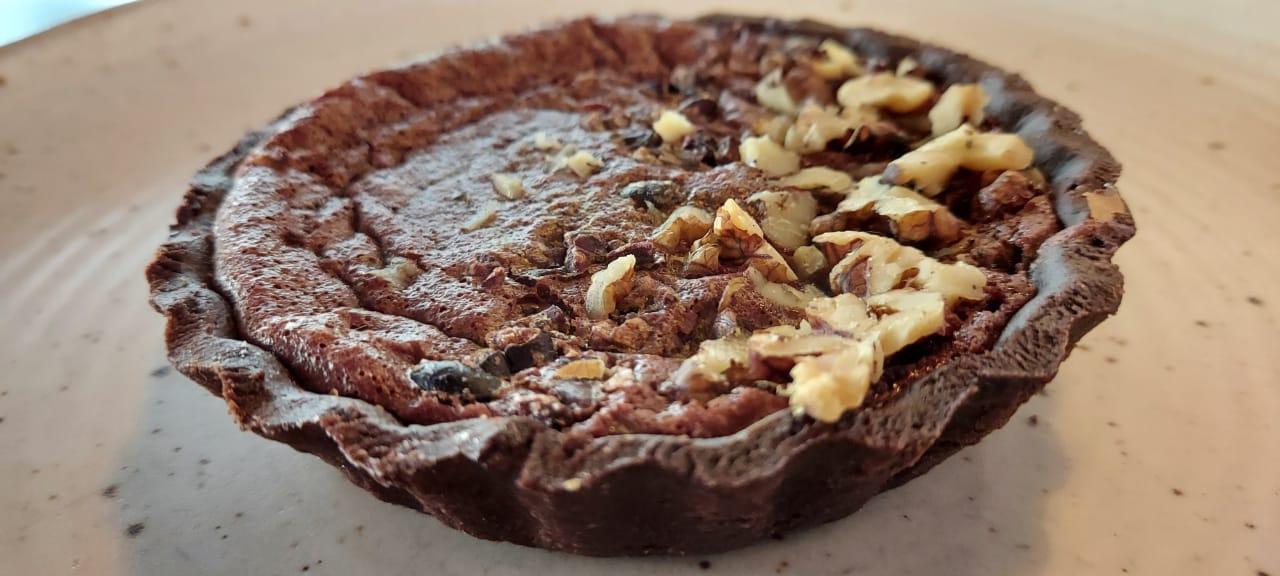 This is a partial self-service kind of a place. You have to pay and place the order, and they serve the dishes on your table. If you need something in between your meal, you need to do the same thing again. That's a bit inconvenient, but manageable.
We paid almost 2K the first time, and a little more than 500 bucks, the second time. 2.5K for breakfast, the place is certainly not cheap, but that isn't even a grudge or a complaint from my side. I'd only like to conclude saying that this certainly is not my kind of a place. I may go back for their goodies from the bakery – The tarts, quiches, croissants, babkas, and probably for a coffee too, most certainly not for breakfast.