Over the years, I've been here quite a few times, but this visit in particular has happened after quite a long time. It was son's birthday and wanted to take the family out to some nice place that would befit the occasion. A quick scan on Zomato app showed a Dining Delights offer of Flat 30% at this place, decided to take it. Bought four coupons for 10 bucks each for 8PM and proceeded there well on time.
Quite a few tables were free when we entered around 8 PM, we got one immediately.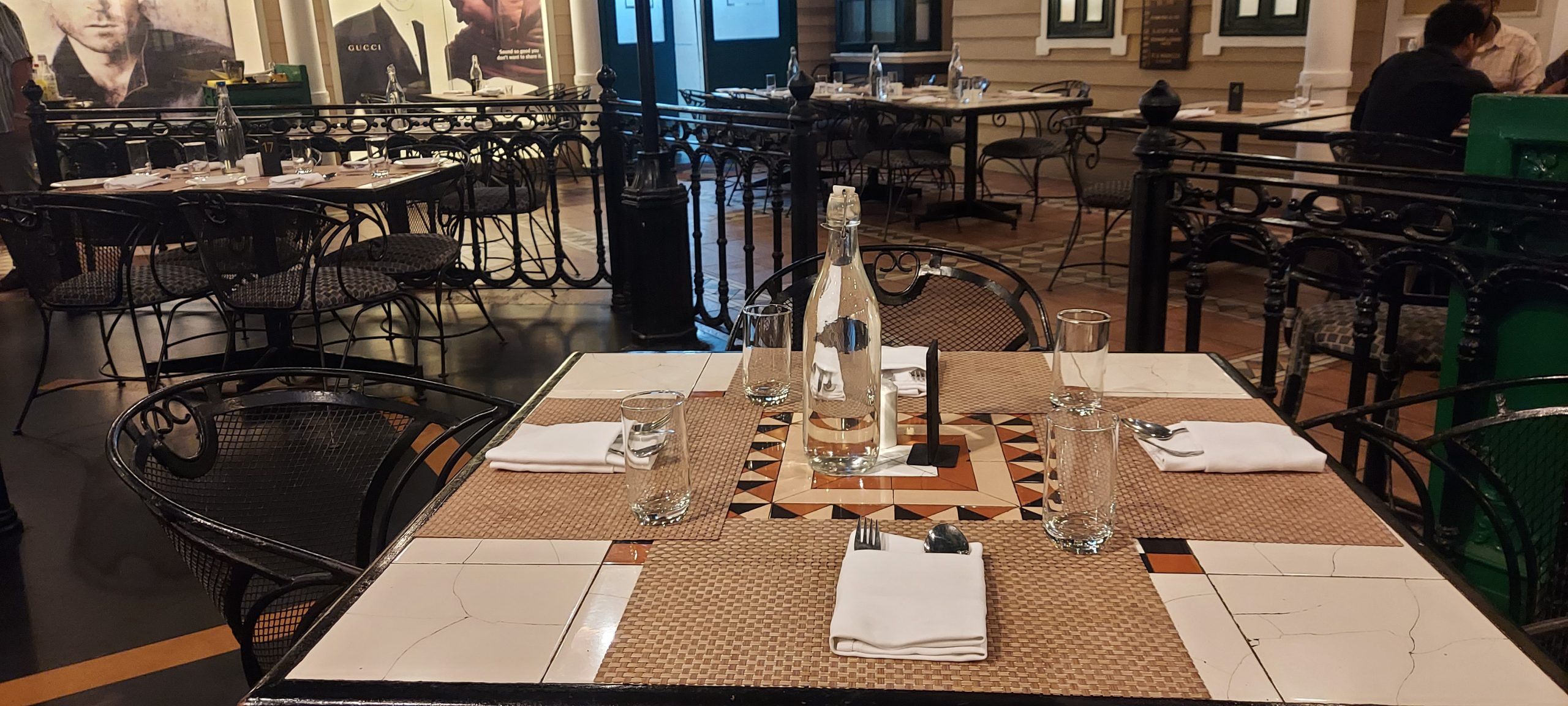 Decided to take a quick tour of the buffet counters before we started.
Crisps and pickled veggies, Soup and breads were one of the first counters.
I should say I was impressed with the salad bar, that was quite an elaborate spread.
Cheese platter and Salami platter, typical elements of a charcuterie board, quite eye-catchy!
Main course with a clear separation for veg and Non-veg dishes.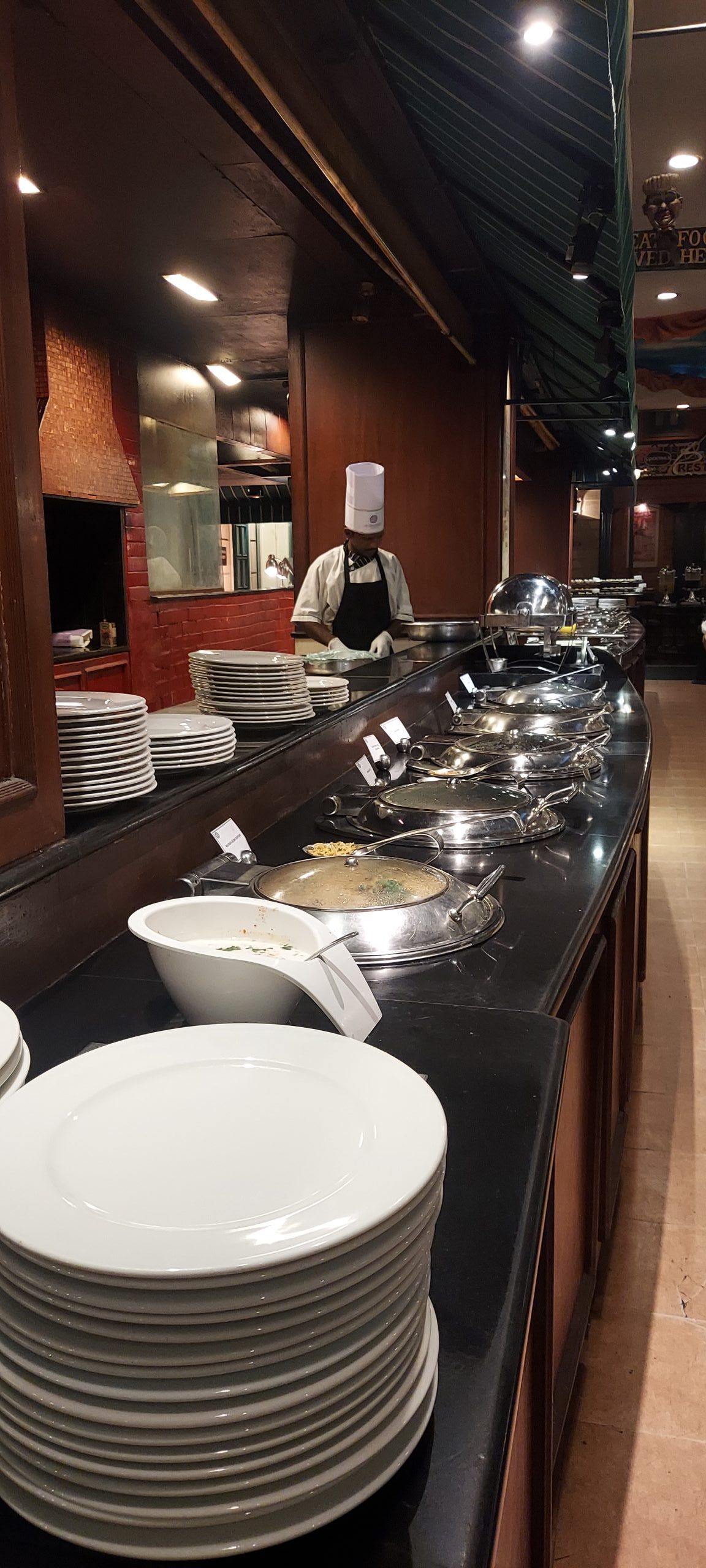 Curd Rice and Dahi Vada, quite prominently showing their importance amidst other dishes! 🙂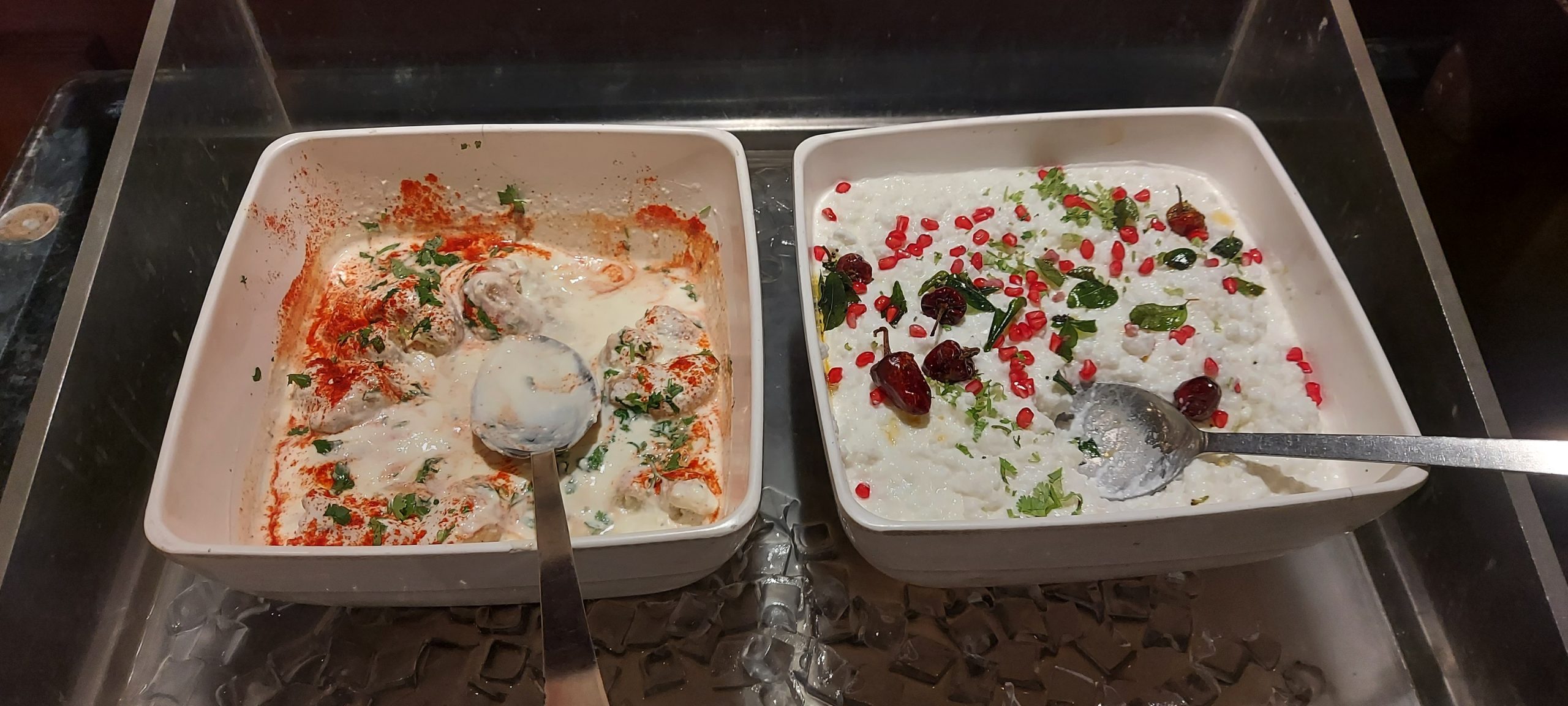 Display of desserts looked good too, quite a spread!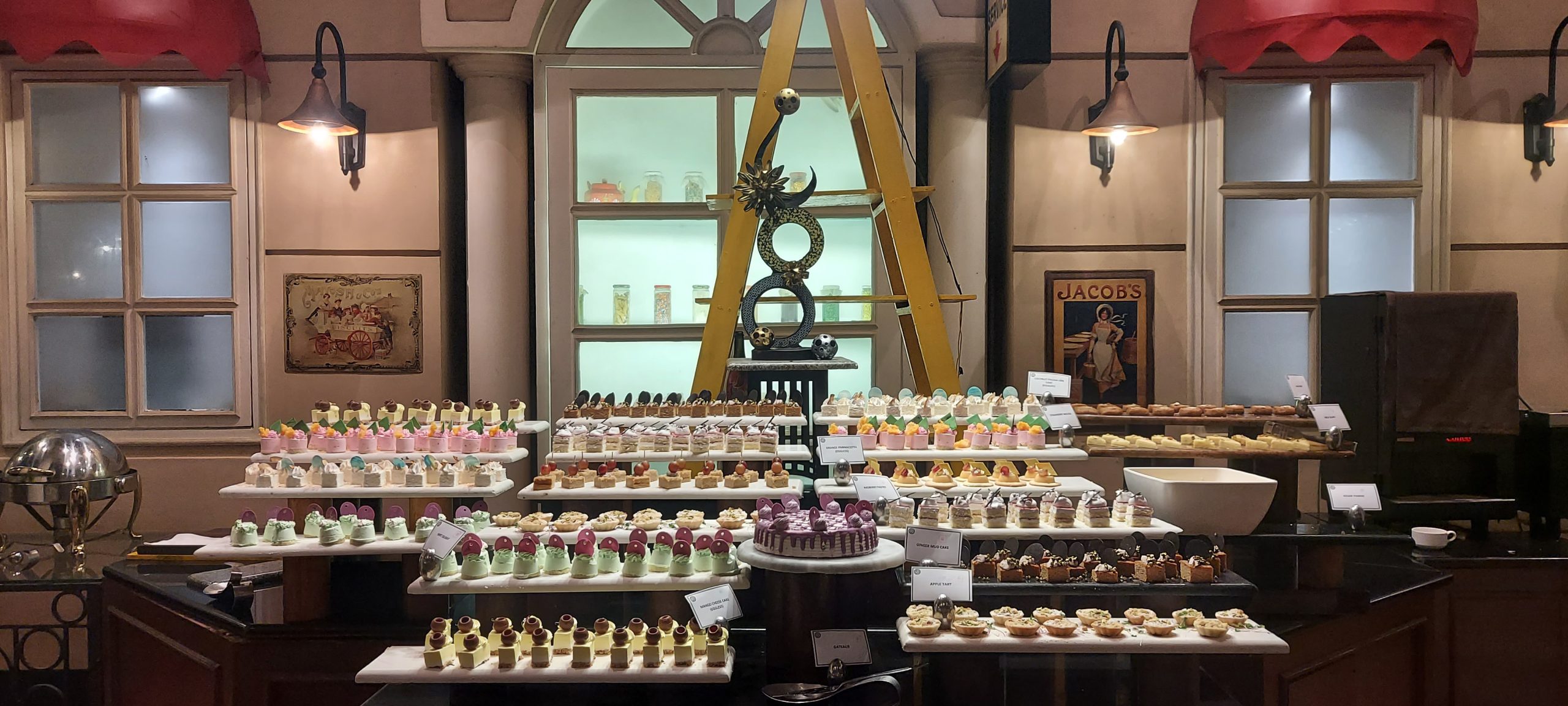 Started with a very tasty creamy Mushroom and Chicken soup. It was wonderful, but picked one of the breads as accompaniment – Focaccia, I presume, which was quite dry.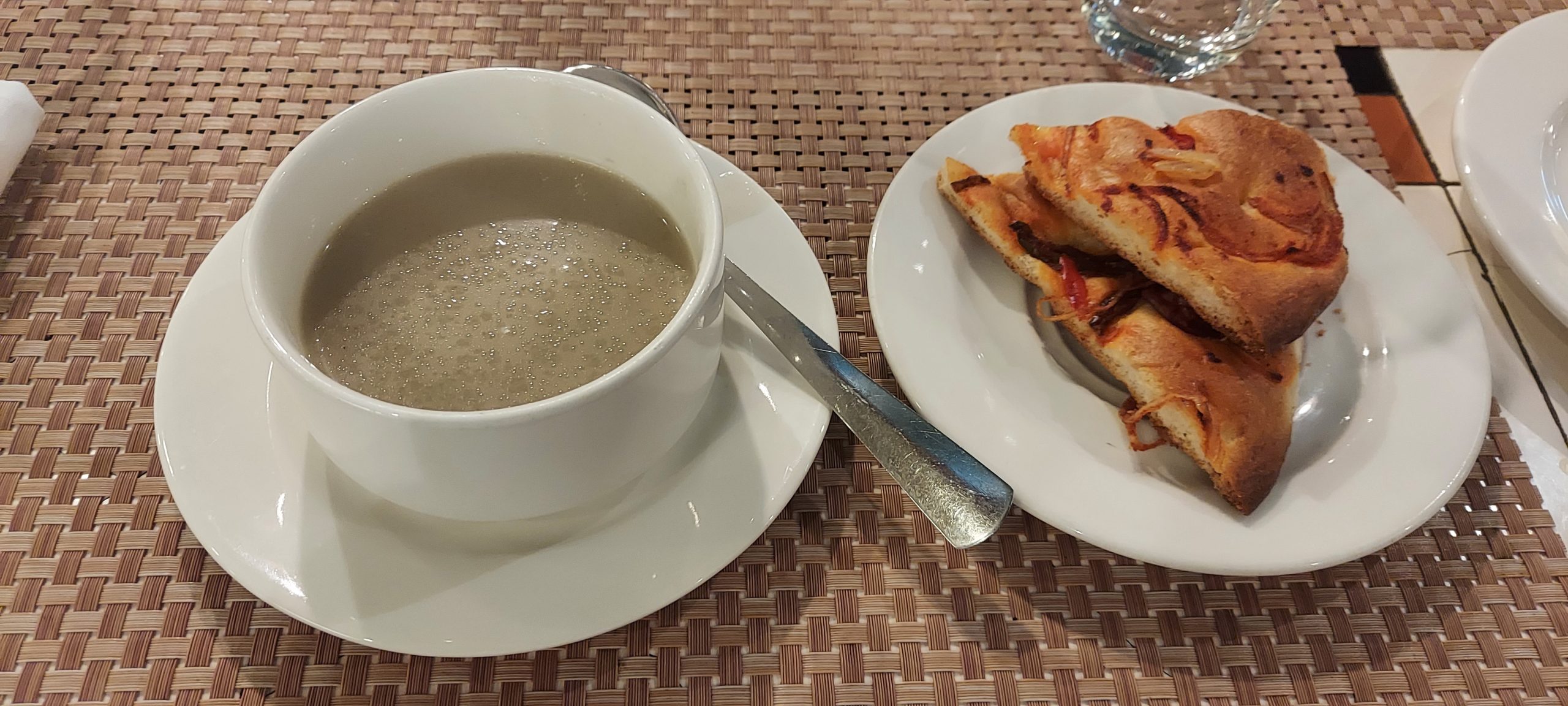 Decided to try all of the salads, so all four of us ate a little of all of these. A few were very good, rest were decent. Greek salad, Roasted Potato and grill pepper salad, Water chestnut and cucumber salad, Chicken and Apple salad, Green beans and Egg salad were all different and tasty.
Ordered a Customary beer, a Sterren pint which was okay! Later realized that I could have ordered a draught instead! :/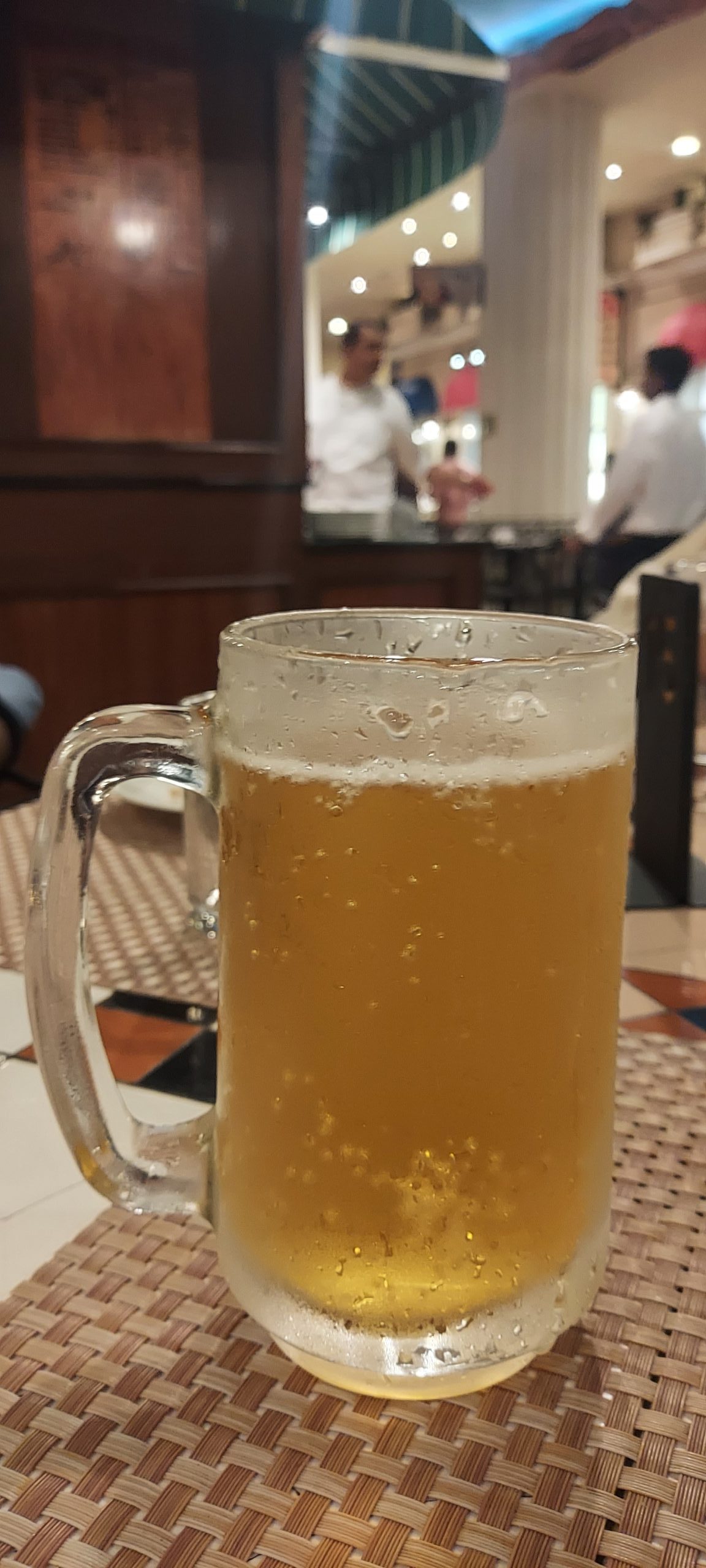 There were only 2 dry non-veg starters – Murgh Tikka and some crispy fish fry. I liked the Chicken Tikka, tasted better than how it looked. Family seemed to like the Fish.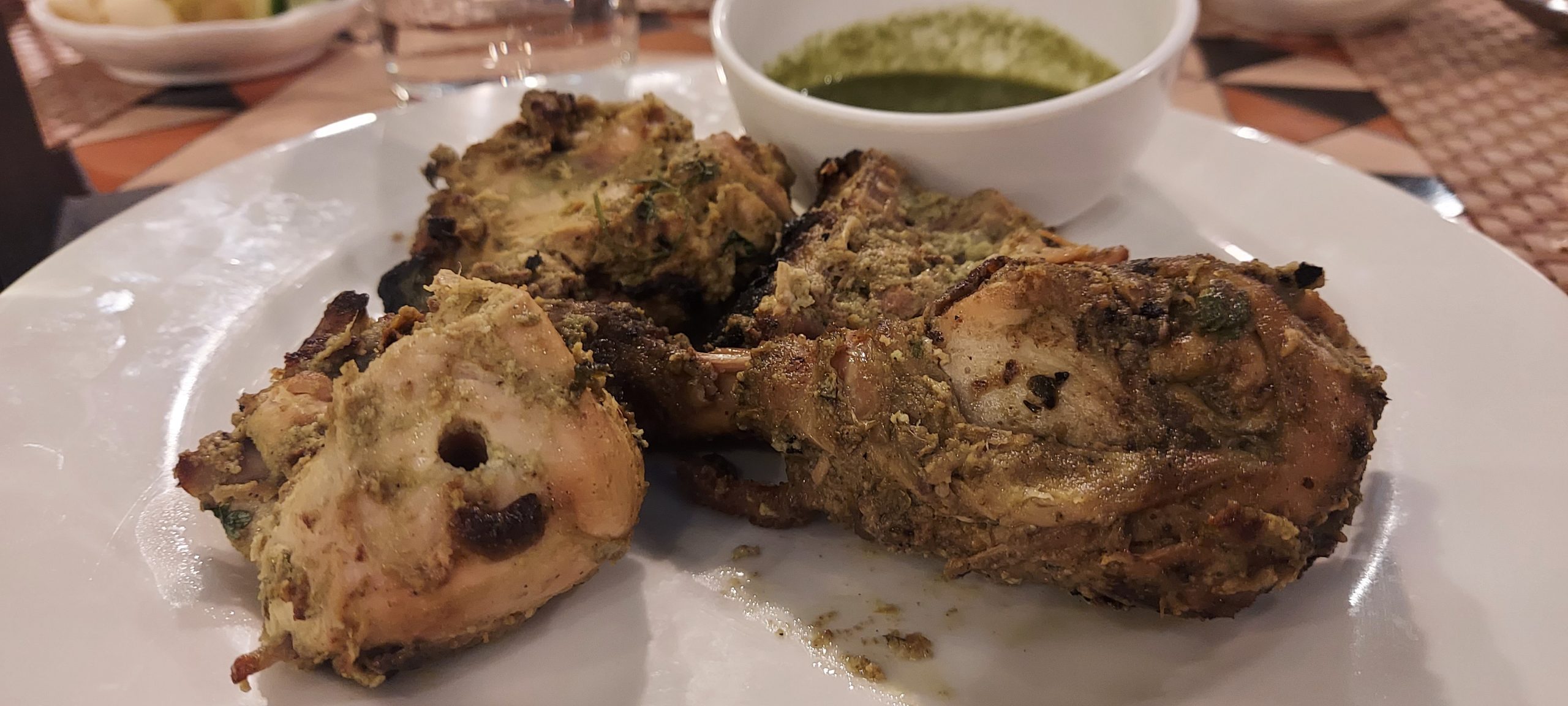 There were a couple of veg starters too – Peri Peri Paneer and Crispy Fried Lotus Stem! Both were wonderful and were a nice accompaniment to my beer!
Mushroom Pepper Fry and Chilli Egg weren't to my liking, dry and chewy! Crisps were good for the beer!
Moved on to main course, just for tasting. Took a very small portion of Chicken Biryani, two spoons of Water chestnut fried rice and a couple of spoons of Pulao too. Paneer Pasanda gravy to taste. I liked all of them, nothing really worth complaining. Did not touch most of the other dishes.
Crab masala, Beef Kofta, Ulli Eral were all out of my radar as I do not eat them by choice. I did not touch a whole lot of South-Indian dishes too.
Decided to go for desserts! Churros was easily the star of the day, had a couple of repeats of that. Family loved it too. The caramel sauce served as accompaniment to it was finger-licking good!
There were quite a few cakes, pastries, mousses, et all. Frankly one or two were good, rest were okay-ish. Somehow had a feeling that most of them weren't as moist as they should have been. Somehow got a feeling that they were dry. Even the panna cotta seemed like it was not going to slide into my throat easily. Nothing bad, but not wow! Apple tart was very good.
Overall, as I mentioned, the tariff was 1800 bucks Nett per pax, and after 30% discount, came to 1200 Nett per pax, which was definitely a steal! I wouldn't complain for this price point, it was definitely good. Paid a little less than 5.5K in all, including the beer.
Definitely one of the places that will make you feel you're having food in a nice posh place, but certainly not a place where every single dish will wow you. This is not just here, but as in most buffets. We enjoyed the relaxed meal, service was courteous though not very proactive at times, but that is not a complaint.
Overall, had a nice evening, and the 30% offer on Zomato Dining Delights certainly made it better for us, price-wise!