'No Oil No Boil' !?!? The entire meal? That got me very curious! It is common knowledge that some nutrients are lost when food is cooked/overcooked, and consuming them in their natural form is the most healthy way, so on and so forth! I definitely wanted to check out how this was being executed in a restaurant. To start a restaurant is one thing, to start one with such a unique concept intrigued me to try.
Located on the Medavakkam – Velachery Main road in Pallikaranai, the place is not very difficult to spot. Google maps will take you there without problems.
In a typical Kalyana Muhurtha Ilai Saappaadu (Plantain Leaf traditional meal), Kosambari, thayir pachadi and in some places Kachumber salad are all typically non-cooked items which is not new at all. My first encounter with Pachcha Puli Rasam was at a restaurant in Erode – Thoppu Varuval. That's when I knew that rasam could be made without cooking/boiling. Couldn't quite contain my excitement to taste a complete thali which wasn't cooked.
Now, there's another element of surprise here! The place is vegan, doesn't use any dairy products. So the term 'thayir' or 'mor' is substituted with coconut milk (thaengaai paal). I'm not very particular about vegan or non-vegan, it is just for information that I am sharing this.
Water served out of earthenware jug, quite apt with the theme 'Natural'.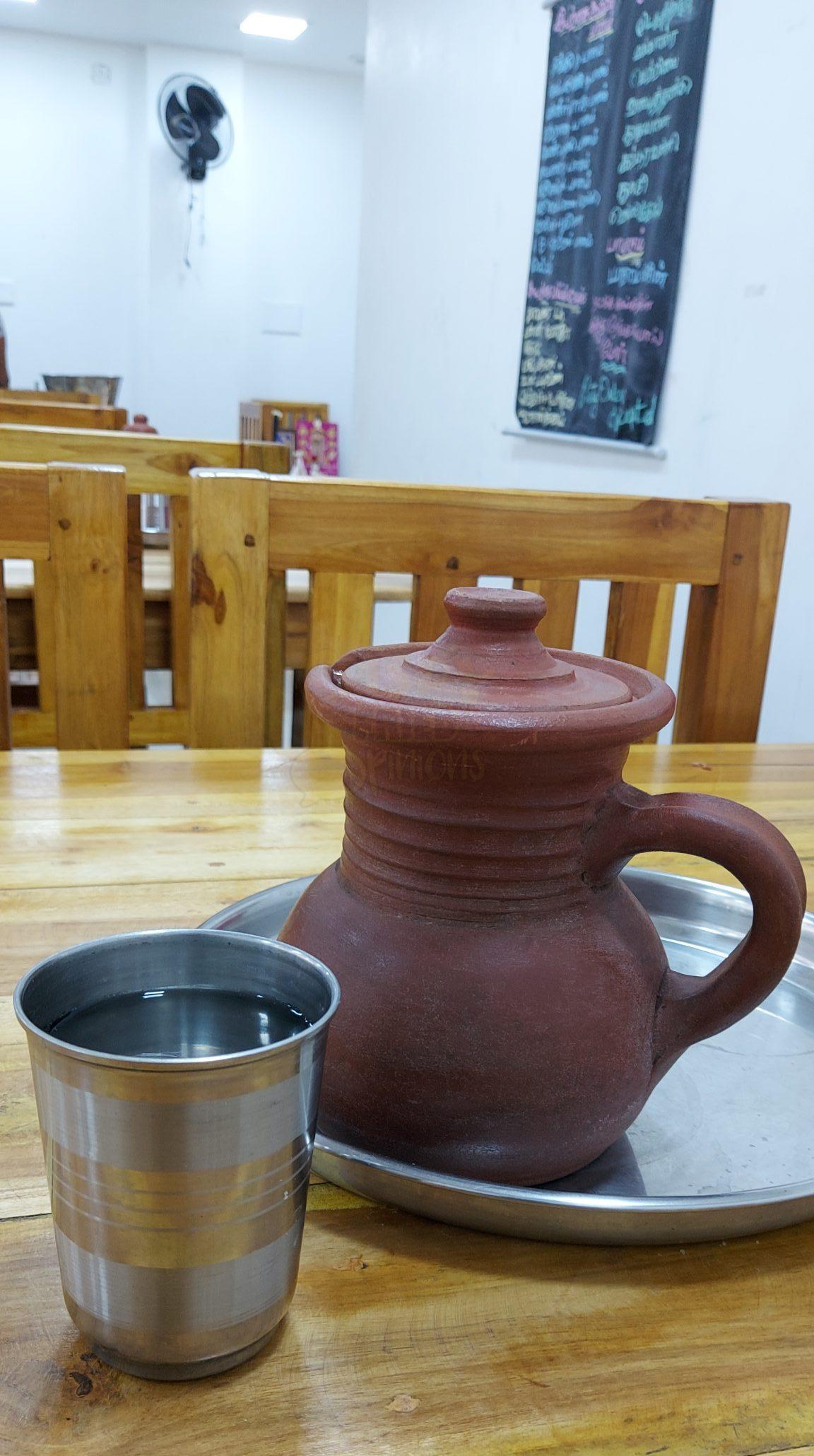 Opted for their 'Unlimited Meals', which was the most prominent item for lunch. There are also about six different variety rice options available, I was told.
Even before the thali arrived, I got a shot of Butterfly Pea energy drink with sabja seeds in it. It was good.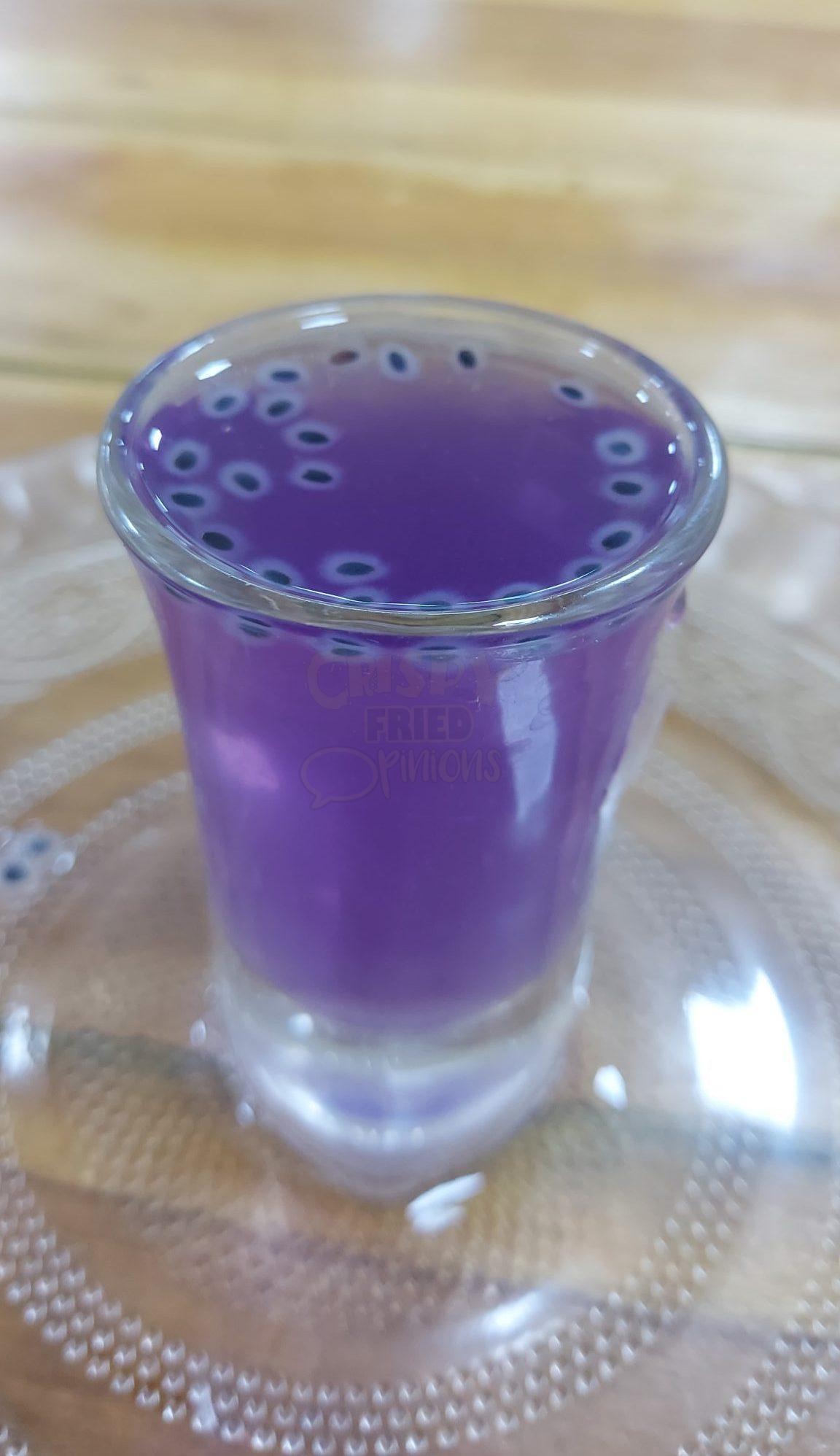 The Thali arrived in a few minutes and Mr. Sri Vignesh personally explained about every single dish before I started to eat.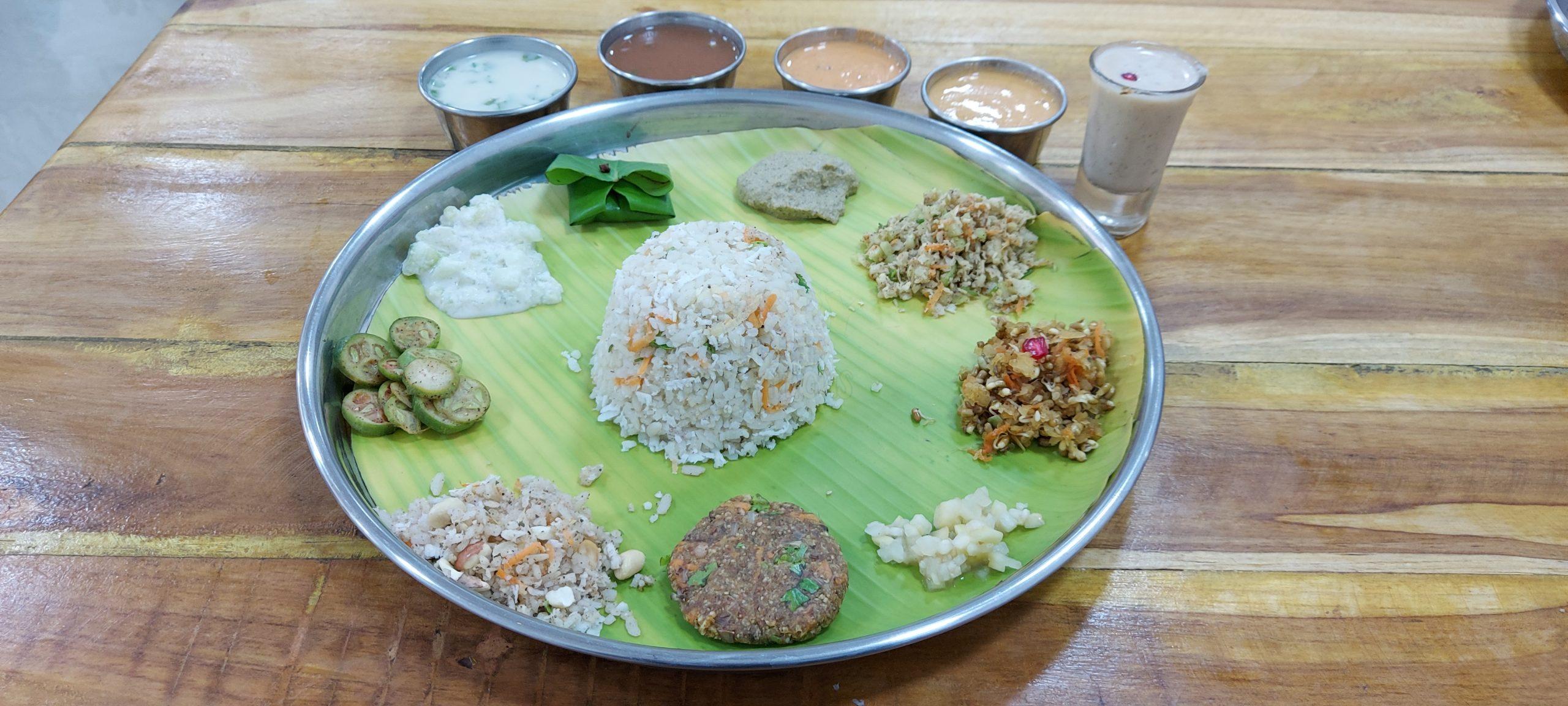 Paarambariya Thooyamalli Aval saadham (Thooyamalli Beaten Rice), Sorakkaai (Bottle gourd) Poriyal, Vettrilai (betel leaf) Thuvayal, Iyarkai Beeda, Vellari (Cucumber) Pachchadi, Kovakkai (Ivy gourd) perattal, Nellikkaai (Amla) Kalavai Saadham, Vaazhapoo (Plantain flower) Vadai, Sorakkaai (Bottle gourd) ooruga, Mulaikattiya Naripayaru (sprouted Mothbean) la Inippu, Venpoosani (White pumpkin) Sambhar, Mulaikattiya Karuppu Ulundhu (sprouted Black gram) la Puli Kuzhambu, Thulasi Ilai (Thulasi Leaves) Rasam, Thaengaaipaal (Coconut Milk) la vellari kalandha Mor, Badam pisin (Almond gum) paal.
The images are in the same order as mentioned above.
It took me a while to get a grasp of all the names, and I must say there was nothing that was even close to being labeled bad! Every single dish was good! No Chilli powder, no green chillies, no oil, no boil, pretty much no cooking at all, no onions for lunch, no garlic except a tiny bit in rasam, no tamarind, no dairy products as in no thayir/mor. Please be informed food is served at room temperature as there is no source of heat in the restaurant. In spite of all this, if the food tasted this good, you should give it to them! There must have been a lot of effort that went into finalizing these dishes in the menu. I'm told Breakfast and Dinner have quite a few tasty dishes too. That's for another time.
Coming to the price point, the unlimited Thali (except a few dishes, rest are unlimited) is priced at 250 bucks which is not cheap. In such a kind of a place, I am definitely not looking at the price point or value for money. In fact you can get one of the best vegetarian meals in Chennai at Andhikkadai, for 95 bucks, so that is not what this post is about. This visit was primarily to experience the concept of no oil no boil, period.
Will I regularly eat here? Possibly not, as there's so much more to be explored. Once in a while, I certainly wouldn't mind. Every place brings a flavor of its own and I'd certainly like to try as many places as possible. Will I recommend this place? Certainly yes! For a unique concept such as this, it is definitely worth checking out! One thing I can certainly say that the food here took me by surprise! Very different and tasty, and I'd certainly like to believe its healthy too!
They also have a lot of products on display for sale, you can check it out if interested.